Staying physically fit in the Philippines can be achieved through a combination of outdoor and indoor exercises such as hiking, surfing, Zumba, and weightlifting. High-intensity interval training (HIIT), circuit training, and Tabata training are also effective workouts.
Working out and maintaining physical fitness can be a challenge, especially here in the Philippines where gyms are scarce and workout routines difficult to find. But with some dedication and know-how, anyone can stay physically fit in this tropical country. In this blog post, we will discuss simple exercises and effective workout tips that you can use to stay healthy in the Philippines.
Philippines' Physical Fitness Culture
The physical fitness culture of the Philippines is one of active and energetic participation. This is seen in the diversity of sports that are popular across the country, such as arnis (a martial art form), basketball and boxing. The enthusiasm for physical activity drives these sports to be recognized internationally and even to be included in the Southeast Asian Games.
The nation has responded positively to popularization efforts by celebrities and organizations, creating an encouraging atmosphere for aspiring athletes. People of all ages take part in activity, whether it be participating or spectating. It is clear that physical fitness is held with high regard in the Philippines and will continue to make its mark worldwide.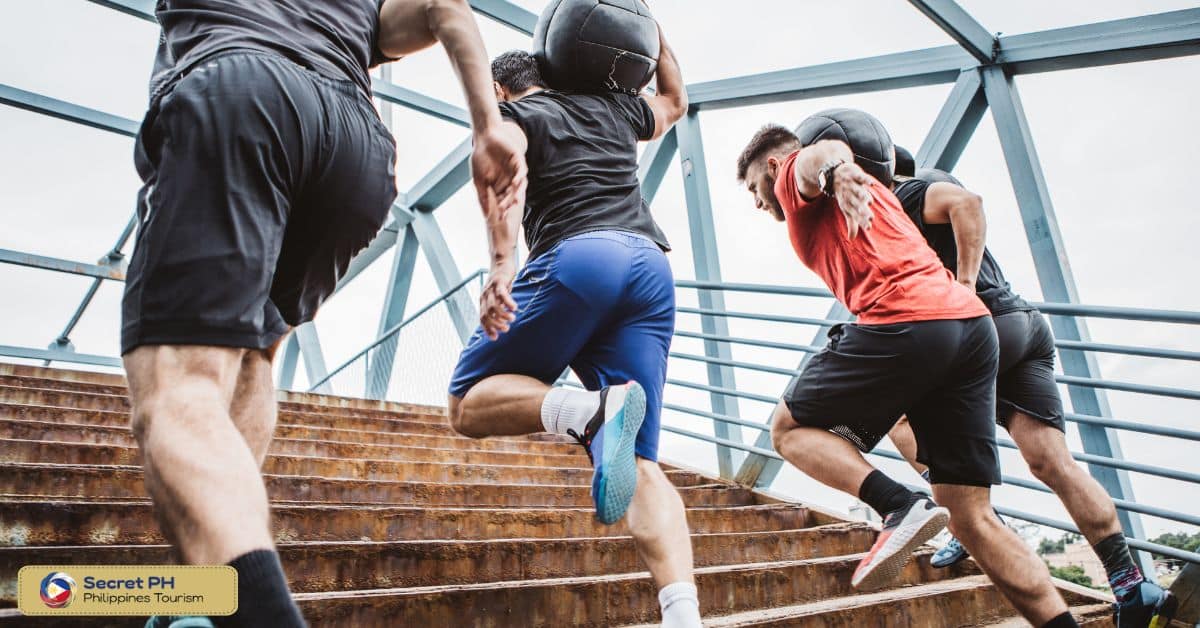 Exercises for staying physically fit in the Philippines
Exercise is essential for staying physically fit and healthy, especially in the Philippines where the heat can take a toll on one's body. Exercising on a regular basis can help boost energy levels and improve overall physical fitness, allowing people to work more efficiently in the day-to-day hustle of city living. There are many ways to exercise that can be tailored to individual preferences. No matter your preference, make sure you put in at least 30 minutes of effective exercising per day as part of your daily routine.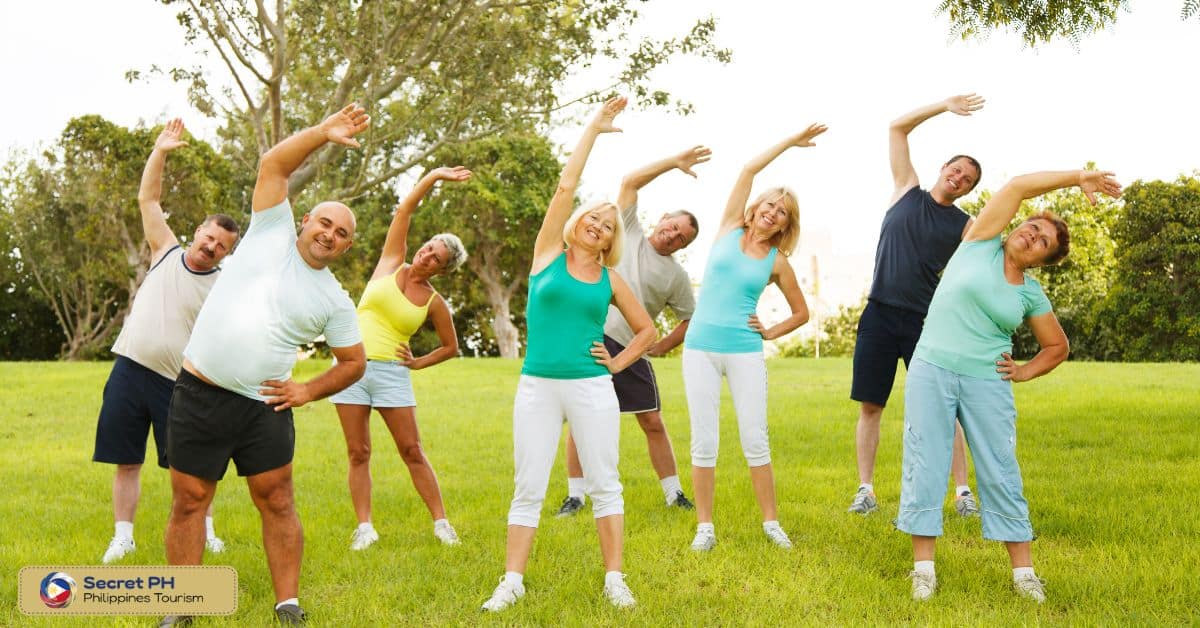 Outdoor activities
Staying physically fit is beneficial for overall health and mental wellbeing, as well as enhancing reproductive health. Taking time to explore nature provides added benefits of reducing stress, improving concentration levels and inspiring creativity. For those not used to engaging in physical activities outdoors, there are many simple exercises that can be done, with workout routines customizable based on fitness goals. With any outdoor activity, proper clothing and hydration are essential for the best results.
Hiking and mountain climbing
Hiking and mountain climbing are some of the best outdoor activities in the Philippines to stay physically fit. This is because they involve traversing different terrains with varying levels of difficulty, which allows climbers to work various muscle groups. Furthermore, such activities can help increase one's endurance as they require sustained physical activity for extended periods of time. What's more, some trails offer spectacular views that make for a unique and enjoyable experience.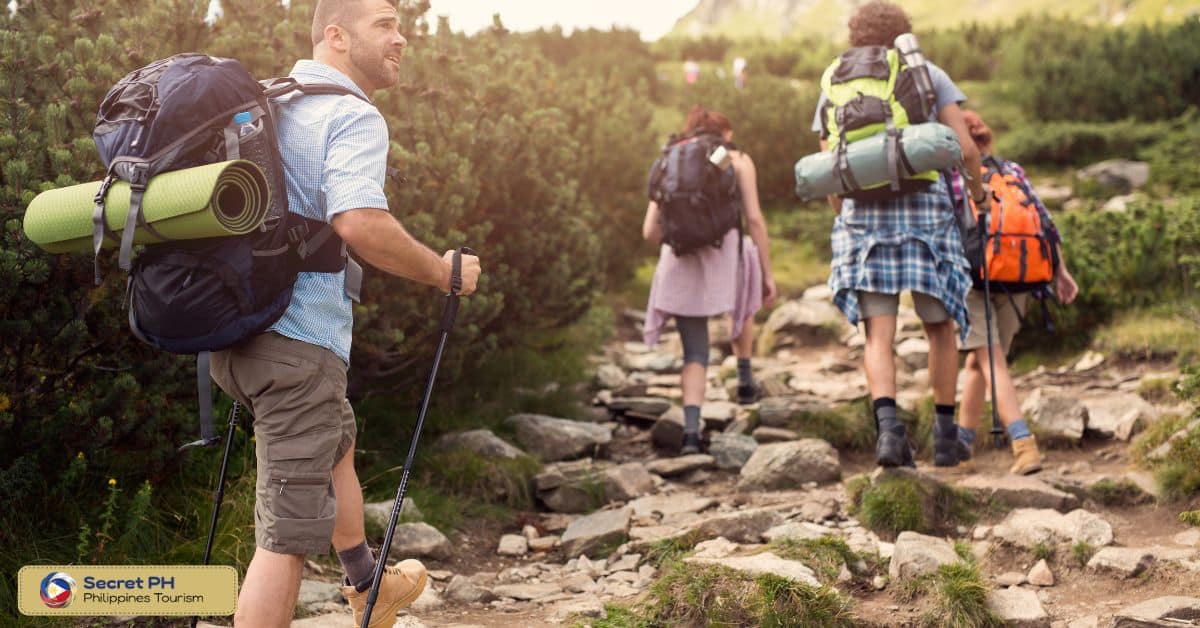 Mount Pulag – Located in Benguet, Mount Pulag is one of the most popular hiking spots in the Philippines. Known for its stunning sea of clouds and majestic sunrise views, hikers can choose between the Akiki, Tawangan, and Ambangeg trails that offer varying degrees of difficulty. At the summit, hikers can enjoy a breathtaking view of the Cordillera mountain range.
Mount Batulao – Situated in Batangas, Mount Batulao is a beginner-friendly hike that offers picturesque views of rolling hills and green landscapes. The trail features several peaks, each providing unique vantage points of the surrounding area. Hikers can also enjoy a refreshing swim in the nearby river or indulge in a local feast at the nearby town.
Mount Apo – Located in Davao, Mount Apo is the highest peak in the Philippines, standing at over 9,000 feet. The trail is a challenging but rewarding experience that offers hikers stunning views of lush forests, rivers, and waterfalls. The trail takes hikers through diverse ecosystems, from mossy forests to rocky terrains, and culminates in a majestic view of the surrounding landscape at the summit.
Surfing and swimming
These are two outdoor activities that can help keep you physically fit while in the Philippines. Surfing is a great activity to enjoy the country's wide variety of beach locations and get your blood pumping. For those looking for a more relaxing experience, swimming is ideal. With its numerous rivers, lagoons, falls, and even hot springs, swimming provides a calming atmosphere to add physical exercise into your daily routine.
Siargao Island – Known as the "Surfing Capital of the Philippines," Siargao Island in Surigao del Norte offers world-class surfing experiences for both beginners and professionals. The island features several surf spots, including the famous Cloud 9, known for its powerful and barreling waves. Siargao also boasts stunning white sand beaches, crystal clear waters, and is home to various marine life.
La Union – Located in Northern Luzon, La Union is a popular surfing destination that offers consistent waves all year round. Beginners can learn to surf in the gentle waves of San Juan beach, while advanced surfers can challenge themselves in the powerful swells of Urbiztondo beach. The town also offers several accommodations, restaurants, and bars that cater to surfers.
Boracay Island – Known for its white sand beaches and crystal clear waters, Boracay Island in Aklan is also an excellent destination for swimming and snorkeling. The island features several beaches, including White Beach, where visitors can enjoy a refreshing swim, relax on the beach, or indulge in various water sports activities. For snorkeling enthusiasts, the nearby Crocodile Island offers diverse marine life and colorful coral reefs.
Beach volleyball and frisbee
Beach volleyball is a fun way to increase cardiovascular strength while engaging with friends and family, while frisbee can be played as an individual or team sport. Both of these activities require minimal equipment and you can play them almost anywhere with sand or grass. Both sports provide an entertaining way to stay physically fit, as they involve dynamic movement both on the run and in more static positions. Not only do beach volleyball and frisbee build physical strength and improve flexibility, but also offer a great opportunity to meet new people and socialize.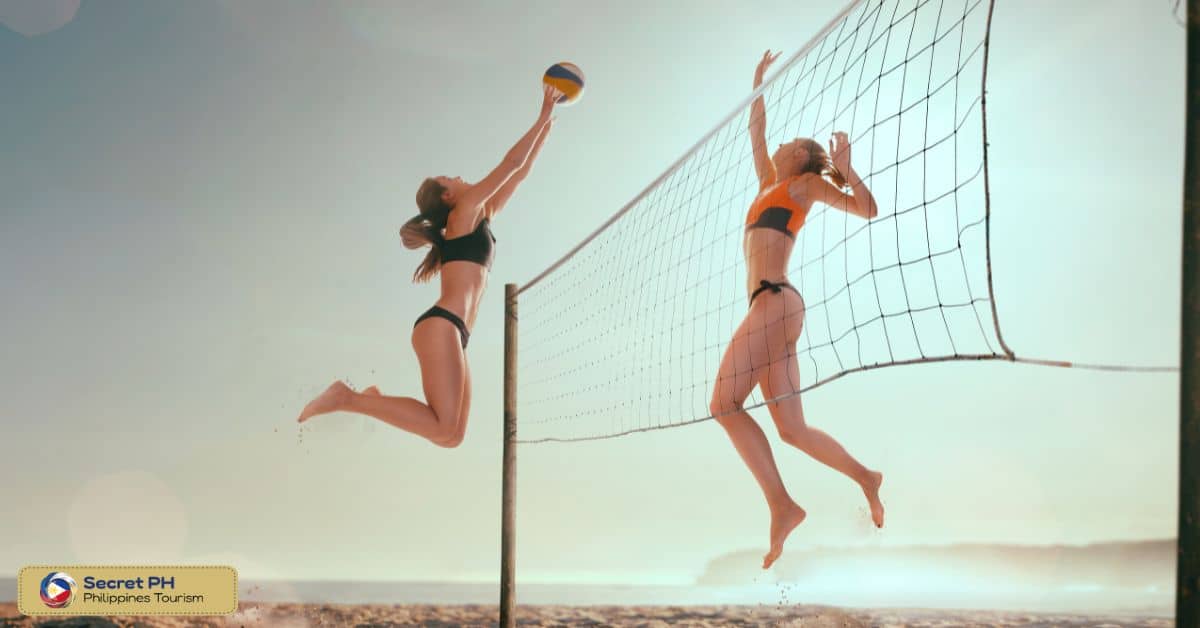 Boracay Island – Boracay Island is not only a popular destination for swimming and water sports, but it is also an excellent place for beach volleyball and frisbee. The island features several beaches with soft, powdery sand that is perfect for playing beach volleyball or throwing a frisbee. Several bars and restaurants along White Beach also offer beach sports equipment rentals.
Puerto Galera – Located in Mindoro, Puerto Galera offers several beaches that are perfect for playing beach volleyball and frisbee. Sabang Beach, in particular, is a popular spot among locals and tourists for its clear waters and a lively atmosphere. Visitors can rent sports equipment and enjoy a game of beach volleyball or frisbee while soaking up the sun.
Pagudpud – Situated in Ilocos Norte, Pagudpud offers several beaches that are ideal for beach sports enthusiasts. Saud Beach, in particular, is a long stretch of white sand beach that is perfect for playing beach volleyball or throwing a frisbee. The beach is also known for its crystal clear waters, making it an excellent spot for swimming and snorkeling.
Indoor exercises
Indoor exercises are a great way to stay physically fit and can help one develop strength, agility, and stamina. Exercise in the Philippines doesn't need to require any special equipment or involve going outside – there are plenty of ways to stay fit indoors. Whatever type of exercise you choose, it will contribute to maintaining physical fitness while stuck inside during the coronavirus pandemic.
Zumba and dance classes
Dancing has become an increasingly popular form of exercise around the world, and in the Philippines, one such trend is Zumba. This Latin-inspired fitness routine is great for those who want to get their heart rate up while shaking a leg or two. It incorporates aerobic and strength-training moves all set to fast-paced music from a variety of genres that's guaranteed to keep you motivated. Not only that, but group classes also make it possible to connect with people in your area and enjoy a dancercise session together.
Gold's Gym
Gold's Gym has branches all over the Philippines and offers various fitness classes, including Zumba and dance classes. With expert instructors and a supportive environment, Gold's Gym provides a fun and challenging workout experience that is suitable for all fitness levels.
Address: 30 Meralco Ave, Pasig, Metro Manila
Opening Hours: Monday – Friday, 6AM – 12AM / Saturday, 6AM – 9PM / Sunday 8AM – 9PM
Phone: +639373755801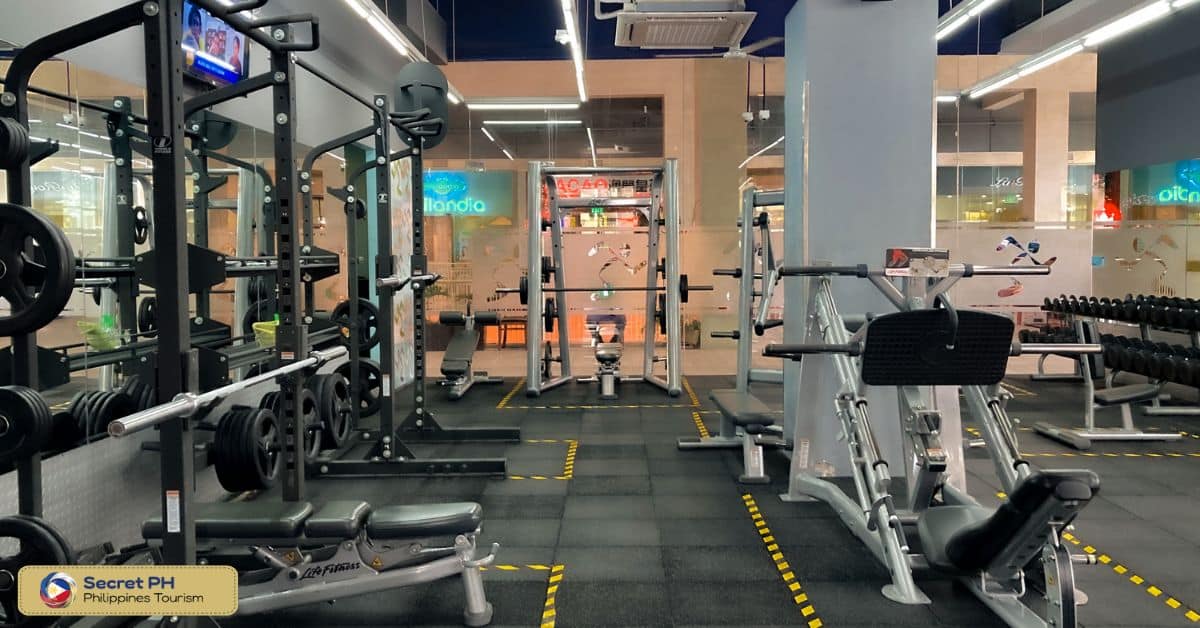 Fitness First
With multiple branches in Metro Manila, Fitness First is a popular gym that offers a wide range of fitness classes, including Zumba and dance classes. The gym provides a welcoming atmosphere and expert trainers who are dedicated to helping participants achieve their fitness goals.
Address: 17th Floor, SM Aura Office Tower 26th Street, corner McKinley Pkwy, Taguig, 1630
Opening Hours: Monday – Saturday, 8AM – 8PM
Phone: (02) 8511 9300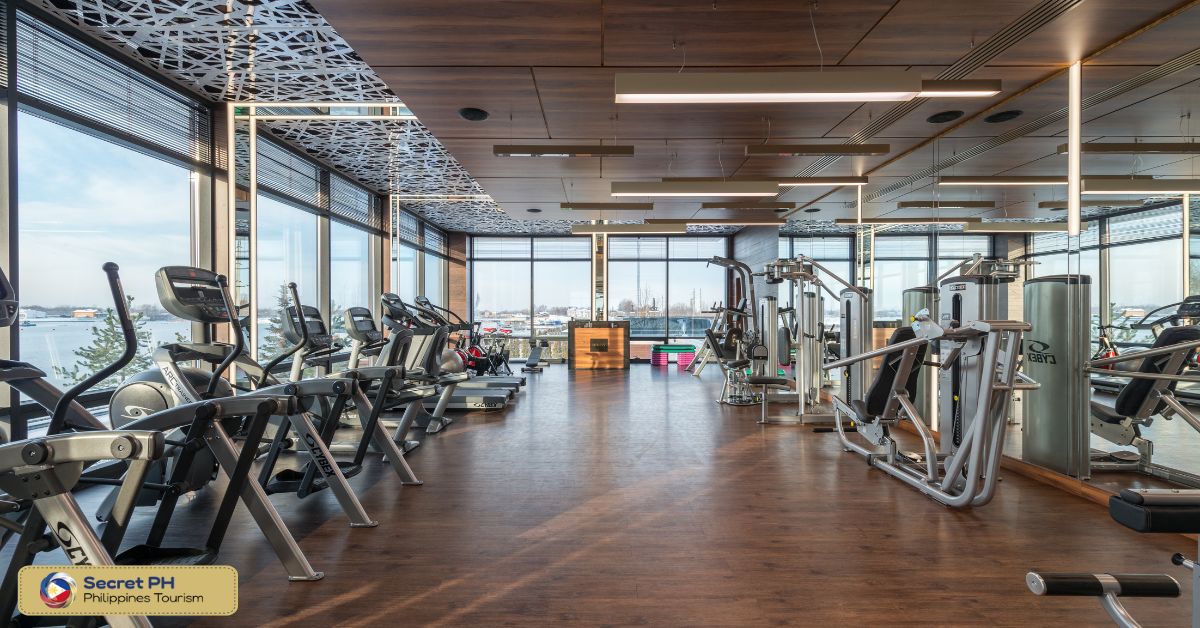 Slimmers World
Slimmers World is a well-known fitness center in the Philippines that offers Zumba and dance classes. The fitness center has several branches across the country and provides a fun and engaging environment for participants to get fit and have fun at the same time. With certified trainers and state-of-the-art facilities, Slimmers World is a great place to get your groove on and burn calories.
Address: JX2F+HF2, Reina Regente St, Binondo, Manila, 1006 Metro Manila
Opening Hours: Monday – Friday, 8AM – 7PM / Saturday 8AM – 5PM
Phone: (02) 8242 1312
Yoga and Pilates
These are excellent ways to stay physically fit in the Philippines. Yoga is an ancient practice that combines physical postures, breathing exercises, and meditation. It helps improve flexibility, strength, balance, and assists with injury prevention. Pilates is a form of exercise popularized by Joseph Pilates back in the 1920s. This type of exercise helps strengthen your core muscles and stabilizes your body while you carry out other activities. It also relieves back or neck pain thanks to its emphasis on core strength and posture alignment.
White Space Mind and Body Wellness Studio
White Space Mind and Body Wellness Studio is a premier wellness center that offers a range of yoga, Pilates, and mindfulness classes. The studio provides a serene and tranquil space that promotes holistic well-being, allowing participants to nurture their mind, body, and soul.
Address: 11 Eastwood Ave, Bagumbayan, Quezon City, 1800 Metro Manila
Opening Hours: Monday – Friday, 10AM – 6PM
Phone: +639175770345
Surya Fitness and Yoga Makati
It is a fitness center located in Makati that offers a wide range of fitness and yoga classes. The center features modern facilities, experienced instructors, and personalized attention, making it a great place to achieve your fitness goals. Surya Fitness and Yoga Makati offers classes such as Pilates, HIIT, Barre, Yoga, and more, ensuring that there is something for everyone regardless of fitness level or experience.
Address: 4th Floor, Medicard Lifestyle Center Bldg., 51 Paseo de Roxas, Corner, Sen. Gil J. Puyat Ave, Makati, 1226 Metro Manila
Opening Hours: Monday – Friday, 7AM – 9PM / Saturday 9AM – 9PM / Sunday 7AM – 6PM
Phone: (02) 8878 5122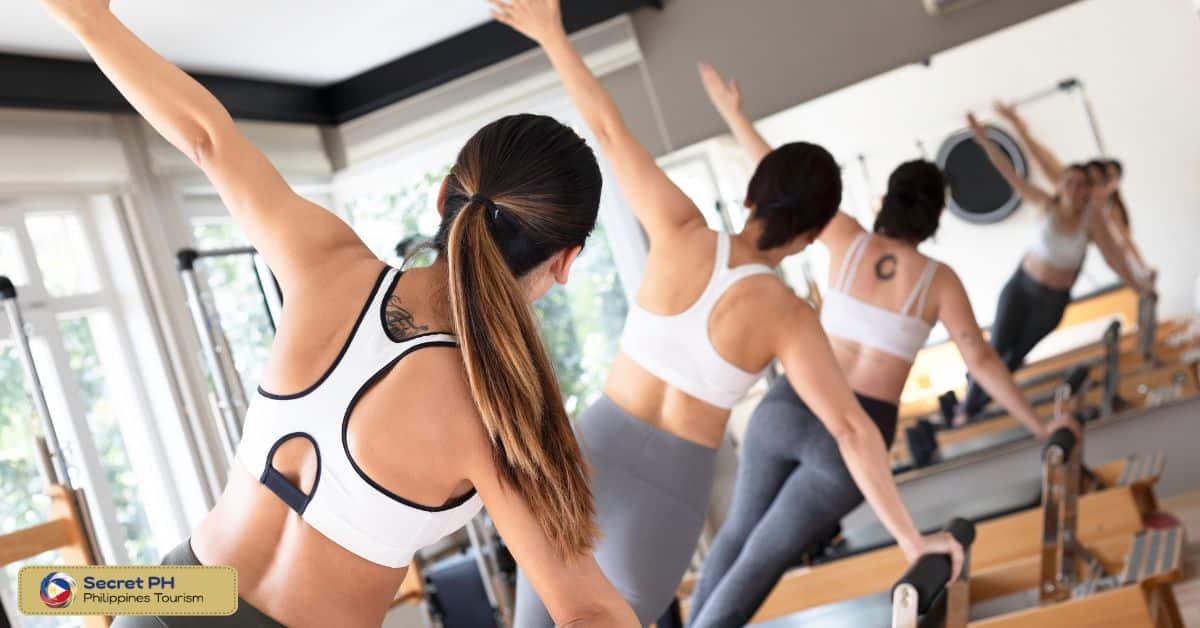 Urban Ashram Yoga
A premier yoga studio in the Philippines that offers a range of yoga classes, workshops, and retreats. With several branches across Metro Manila, Urban Ashram Yoga provides a tranquil and welcoming space for participants to connect with their inner selves and achieve their fitness goals. The studio features certified and experienced instructors, state-of-the-art facilities, and a supportive community, making it a great place to start or continue your yoga journey.
Address: Suite 302, 3rd Level, Brixton, Brixton St, Pasig, 1603 Metro Manila
Opening Hours: Monday – Friday, 6AM – 9PM / Saturday – Sunday 8AM – 5PM
Phone:  (02) 8661 9642
Workouts for staying physically fit in the Philippines
Working out is a great way for people living in the Philippines to stay physically fit and healthy, no matter what age group or level of fitness. There are plenty of workout options available, from low-impact exercises like yoga, tai chi and Pilates to rigorous and intense cardio and strength training exercises. The benefits of remaining active go beyond physical health and include improved energy levels, mental wellbeing and overall happiness. Whatever your fitness goals may be, finding the right type of workout is essential in staying healthy while living in the Philippines.
High-intensity interval training (HIIT)
High-intensity interval training (HIIT) is a great way to get a workout in while staying physically fit, no matter where you are located. In the Philippines, HIIT has become increasingly popular as a form of exercise. It requires short bursts of full effort followed by short periods of less intense activity, getting your heart rate up quickly for an effective and efficient workout.
HIIT can be done anywhere with minimal equipment or none at all, making it an accessible way for Filipinos to stay physically fit during pandemic times. HIIT offers significant health benefits including improved aerobic fitness and lower resting blood pressure – key factors to maintaining overall health and wellness!
Circuit training
Circuit training remains a popular workout choice for those looking to stay physically fit in the Philippines. It entails going through a series of exercises that target different areas of your body, allowing you to optimize your physical ability and strength. This type of exercise has proven to be effective for sculpting figures, increasing muscle endurance and promoting cardiovascular health.
It also requires minimal equipment, making it an accessible way to improve physical fitness. With circuit training, users can enjoy an efficient method of exercise that yields visible results in both strength and stamina. Those interested in making long-term life changes concerning their physical health are encouraged to try this beneficial form of exercising today.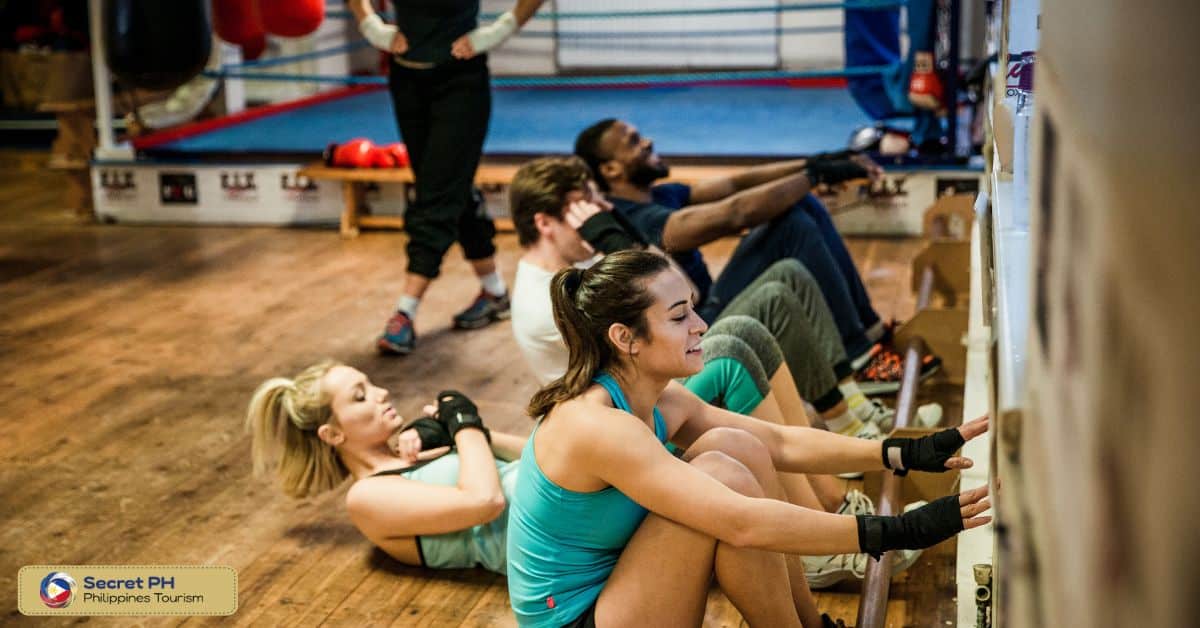 Tabata training
Tabata training is a popular form of high-intensity interval training (HIIT) from Japan and is gaining popularity in the Philippines for its effectiveness in providing quick results. This type of workout consists of a cycling series of 20 second drills with 10 seconds rest periods, typically repeated 8 times. It has been found to be the most productive way to engage large muscle groups in short periods of time, making it ideal for busy individuals with limited free time.
Additionally, it can also be modified to accommodate different fitness levels. As such, it could be an ideal workout solution for those living in the Philippines who wish to stay physically fit despite their hectic lifestyles.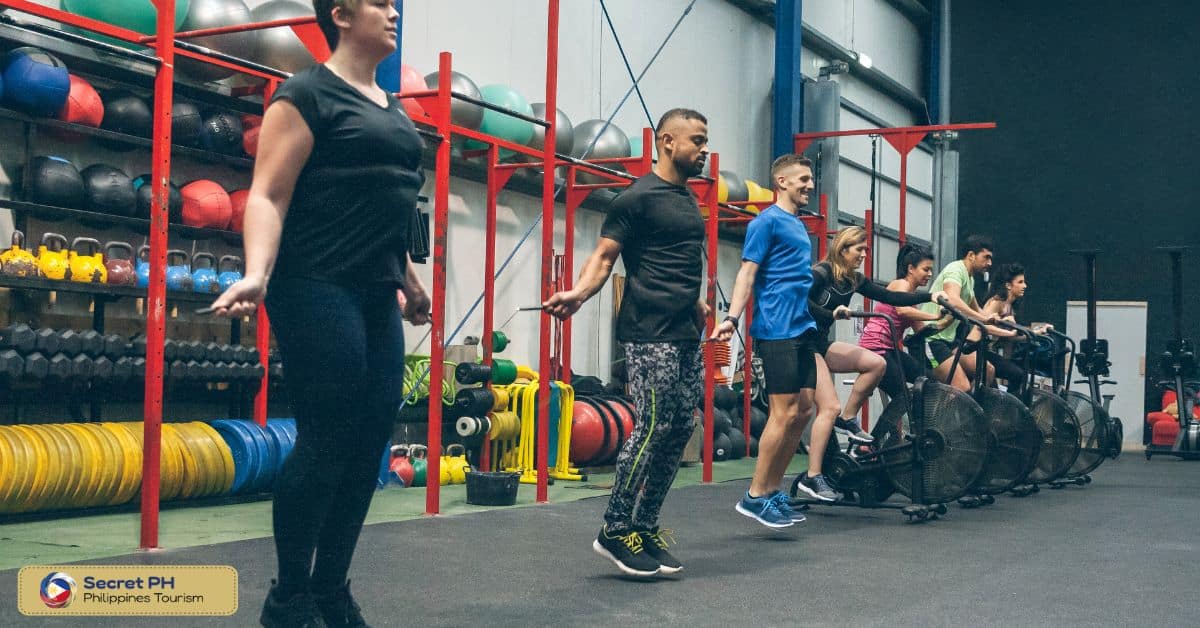 Tips for staying physically fit in the Philippines
With its diverse range of beaches, waterfalls and other natural sights, the Philippines is a great place to stay physically fit. Whether you're looking for a challenging hike or an adventurous scuba dive, there are plenty of ways to keep active in this tropical paradise. But you don't have to go off the beaten path in order to stay healthy. Here are some tips for staying physically fit in the Philippines that anyone can follow from the comfort of their own home.
Eating a balanced and healthy diet
Eating a balanced and healthy diet is the key to staying physically fit in the Philippines. To kickstart your journey, it is important to understand what a balanced diet actually consists of – fruits and vegetables, lean protein, whole grains and legumes, nuts and seeds, and dairy products. It should also be noted that processed foods should be kept to a minimum if one hopes to have an effective diet.
Eating meals high in dietary fiber such as brown rice, oats and bran can help reduce cholesterol levels as well as strengthen one's digestive system. Consuming adequate amounts of fruits and vegetables provides a variety of essential vitamins, minerals and antioxidants which boosts one's immune system. Additionally, limiting unhealthy fats like trans-fats from deep-fried food limits fat storage in the body which contributes towards weight gain.
Staying hydrated
Staying hydrated is key to staying physically fit in the Philippines. First, being conscious of how much liquid you are taking in on a daily basis is important. This can be achieved by either measuring the volume of drinks you consume or relying on your thirstiness as an indicator. It is also beneficial to choose healthier fluid options such as water, herbal tea and natural juices instead of sugary beverages.
Finally, it's important to carry a reusable water bottle with you throughout the day so that when you get thirsty, you have an easily accessible source of hydration available. Taking these steps will help maximize physical fitness potential and maintain peak performance when embarking on any strenuous activities.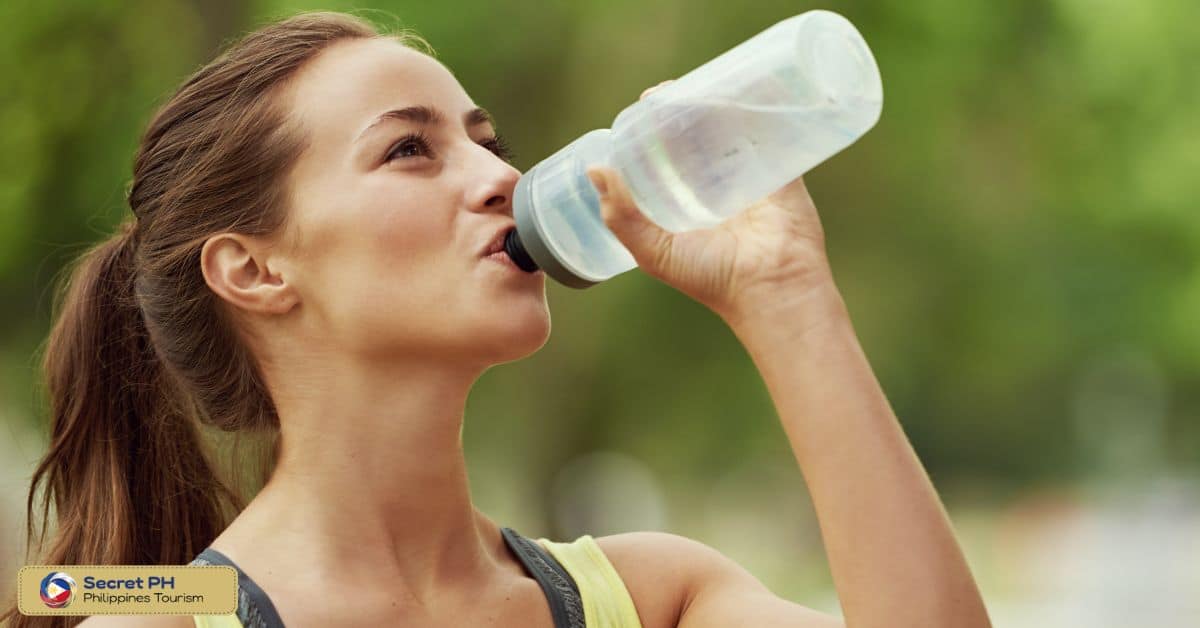 Getting enough sleep
Getting enough sleep is an essential part of staying physically fit in the Philippines. Prioritizing 7-8 hours of sleep per night has numerous benefits, including increased alertness and concentration, better physical health and psychological wellbeing, improved digestion, and even enhanced immunity. However, it may be difficult to get adequate rest in today's busy lifestyle.
To maximize your ability to get enough sleep, you should make sure to avoid caffeine late in the day, block out noise and distracting light with a sleeping mask or ear plugs, create good sleeping habits by having a consistent bedtime routine each night, adjust your room temperature so that it is cool and comfortable for sleeping, try not to do stimulating activities right before bed such as watching television or using electronics like phones or tablets.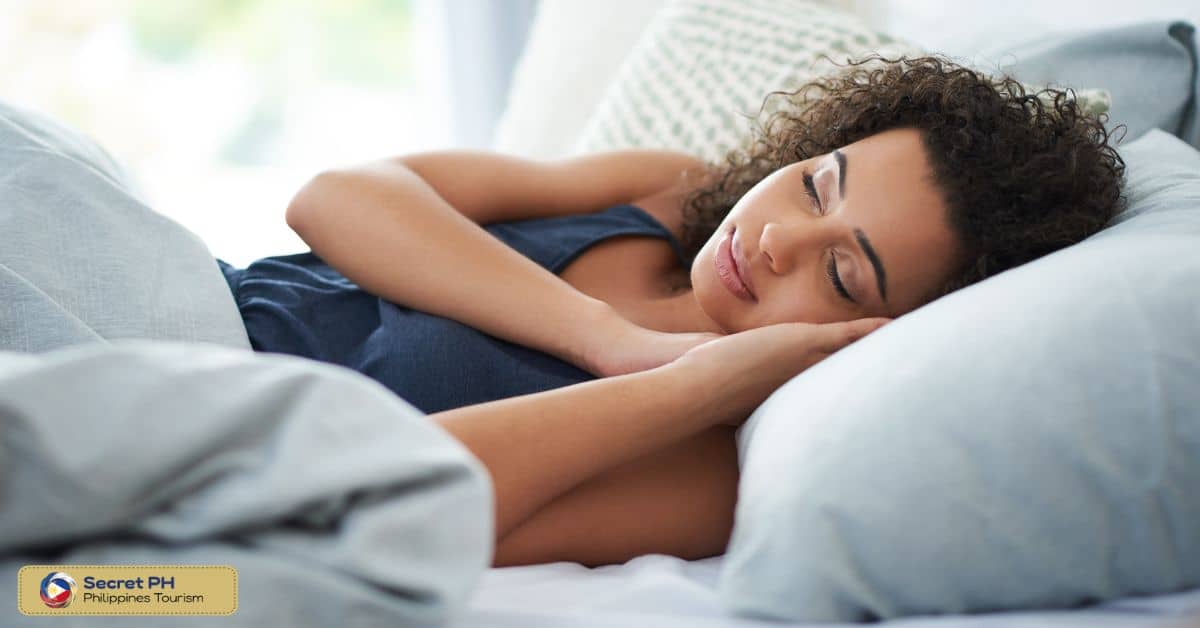 Avoiding a sedentary lifestyle
Filipinos have access to many options that can help them live a physically active lifestyle, but many still suffer from the health effects of a sedentary lifestyle. With its warm weather, the Philippines is ideal for engaging in physical activities outside. Taking advantage of all the opportunities for exercising outdoors is one tip for avoiding a sedentary lifestyle.
Activities such as walking and running are excellent options since they don't require any specialized equipment or even a gym membership. Swimming is easily accessible and considered one of the best exercises to stay in shape. If a home gym is an option, Filipinos can follow online workout programs to maintain a fit body while avoiding going out specifically for exercise. Filipinos can also think outside-the-box by finding ways to be active while at work or around their neighborhood – taking the stairs instead of elevators and walking short errands are some habits which can keep them active throughout the day.
In Conclusion
With the right exercises and workouts, it is possible for anyone to stay physically fit in the Philippines. There are a variety of choices from aerobics, strength-training, boxing and jogging that offer a great way to stay in good shape. In addition to exercise choice, an important part of staying fit is nutrition.
Eating a healthy balanced diet will help maintain body fitness while avoiding health problems associated with an unhealthy lifestyle. Finally, rest is equally important as it ensures recovery after a hard workout and prevents injury. Therefore, make sure to balance exercise with rest and good food and anyone can stay physically fit in the Philippines.