The Spa at Eskaya Beach Resort and Spa in Bohol offers a serene and tranquil environment for guests seeking healing and relaxation. With a range of treatments and therapies, from massages to facials, and a team of skilled therapists, visitors can unwind and rejuvenate amidst the beautiful island surroundings.
In this blog post, we'll explore the various healing and relaxation options available at this tranquil oasis. So sit back, relax, and let The Spa at Eskaya Beach Resort and Spa transport you to a state of ultimate bliss.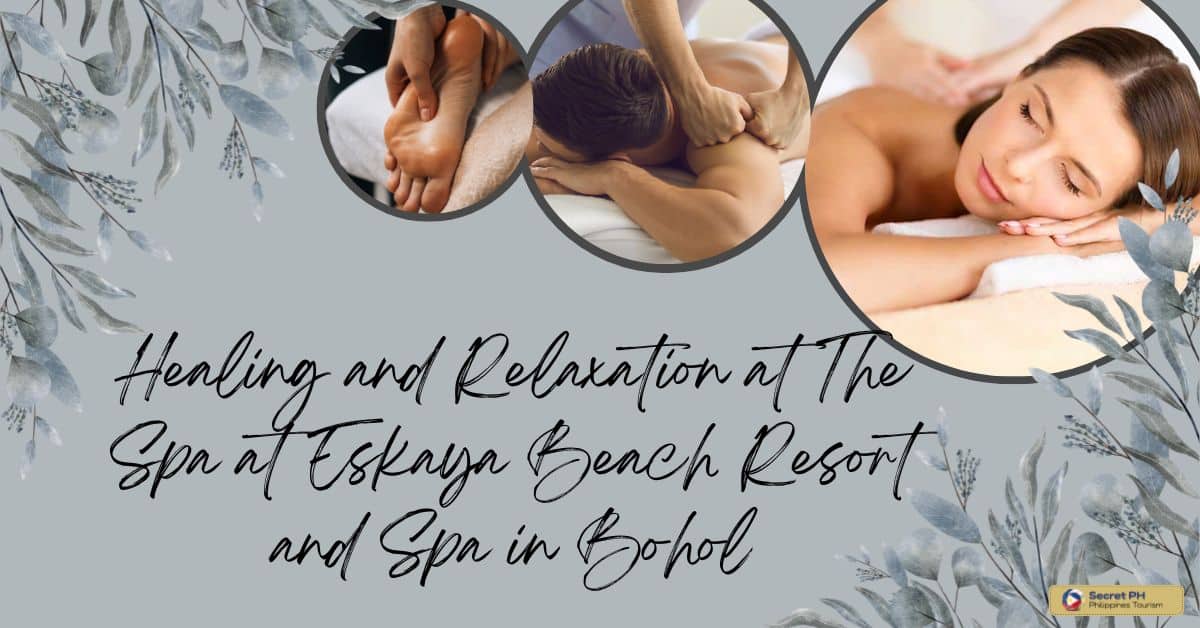 Eskaya Beach Resort and Spa
Eskaya Beach Resort and Spa is a treasure trove of relaxation and adventure located in the beautiful Philippines. This luxurious resort situated in Panglao Island offers the perfect getaway for those who seek a tranquil escape from the hustle and bustle of city life. The resort boasts picturesque views of the crystal-clear blue waters. Guests can enjoy their stunning private white sand beach.
Its lush greenery and landscaped gardens provide a serene ambiance and charm. Its state-of-the-art spa services take guests on an ultimate pampering experience. Eskaya truly embodies sophistication and elegance that one will surely treasure for a lifetime.
Address: HQ2R+V5C, Dao, Panglao, 6300 Bohol
Opening Hours: 24hrs
Phone: (02) 8654 6480
Healing and Relaxation Services Offered
If you're looking for a way to unwind and rejuvenate. Eskaya Beach Resort and Spa in the Philippines is the ultimate destination. With a plethora of healing and relaxation services offered, you are guaranteed to leave feeling refreshed and renewed. From luxurious massages to energizing facials.
Their team of professional therapists are dedicated to providing the highest quality of service to enhance your overall well-being. Whether you're looking for a peaceful escape or seeking relief from stress and muscle tension. Eskaya Beach Resort and Spa's healing and relaxation services are sure to meet your needs.
Massage therapies
If you're looking for a luxurious and rejuvenating getaway in the Philippines. Look no further than Eskaya Beach Resort and Spa. This stunning resort offers a range of massage therapies to help you unwind and heal. Whether you're traveling solo or with a group. Eskaya's healing and relaxation services are not to be missed.
Swedish Massage – This massage technique targets the deeper layers of muscle tissue. It provides a sense of relaxation and relief to the body. Eskaya's professional masseuses use a combination of long strokes, kneading, and circular movements. This is to release tension and improve blood circulation. The Swedish Massage is highly recommended for those who want to relieve stress and improve their overall wellness.
Hot Stone Massage – One of the most popular massage therapies offered in the Philippines is hot stone massage. It is known to melt away tension in the body. The therapist places heated stones on specific points of the body to loosen muscles and increase circulation. As the heat penetrates into deeper muscle layers, it helps ease muscle stiffness, soreness and tension.
Aromatherapy Massage – Using essential oils derived from herbal extracts. This massage therapy is designed to help reduce stress, relieve muscle tension, and promote overall relaxation. The skilled therapists will tailor the treatment to your specific needs. They ensure that you leave feeling rejuvenated and refreshed.
Body treatments
Eskaya Beach Resort and Spa offers a luxurious escape on the beautiful island of Panglao. Their selection of body treatments will help you relax and rejuvenate in a serene oasis. Indulge in a full body massage using premium oils and techniques. It helps to ease away any tension and leave you feeling refreshed.
Body Scrub – Guests can indulge in luxurious body treatments including a rejuvenating body scrub. This pampering experience gently exfoliates the skin to leave it feeling soft, smooth, and refreshed. Using only the finest ingredients. The body scrub is custom blended to suit your individual needs and preferences.
Body Wrap – This treatment uses a blend of traditional Filipino herbs and natural ingredients to detoxify and nourish the skin. The process begins with a relaxing body massage. This was followed by a gentle exfoliation to remove dead skin cells. The therapist then applies the body wrap. It contains a combination of coconut oil, seaweed, and other locally-sourced ingredients, before wrapping the body in a warm blanket. While the treatment may last only an hour, the benefits it provides are long-lasting.
Detoxifying Mud Treatment – This body treatment utilizes mineral-rich volcanic mud to draw out impurities and toxins from the skin, leaving it feeling refreshed and revitalized. The mud is infused with natural oils and antioxidants to nourish the skin and promote cell regeneration. This luxurious treatment is perfect for those looking to relax and detoxify their body while enjoying a tropical paradise.
Facial treatments
Eskaya Beach Resort and Spa offers a luxurious and refreshing facial treatment experience. The resort's skilled estheticians have curated an extensive menu of facial treatments to help rejuvenate your skin, leaving it glowing and radiant. From traditional cleansing facials to advanced treatments like micro-needling and oxygen infusion, Eskaya Beach Resort and Spa has something to suit everyone's needs and desires. The tranquil and serene surroundings of the resort make it the perfect spot to indulge in some self-care and relaxation.
Hydrating Facial – Hydrating facial has been rated as one of the best skin-care treatments for those who want to keep their skin fresh and glowing. This type of facial nourishes, hydrates, and soothes dry and dull skin, providing it with the right amount of moisture to help slow down the aging process. By using various techniques, such as steam, exfoliation, and masks, a hydrating facial helps to promote healthy skin cell growth while leaving your skin looking more radiant and toned.
Anti-Aging Facial – As we age, our skin produces less collagen and begins to lose its elasticity, resulting in fine lines and wrinkles. Anti-Aging Facial is designed to combat these signs of aging and leave your skin looking youthful and rejuvenated. Skincare experts use a combination of advanced techniques and high-quality products to exfoliate, hydrate, and stimulate your skin's natural renewal process.
The Benefits of Spa Treatments
Looking for a way to unwind and recharge your batteries? Consider treating yourself to a spa day! The benefits of spa treatments go far beyond just feeling relaxed – they can also have a positive impact on your physical and mental health. From improving circulation to reducing stress and anxiety, a variety of spa treatments can help you feel your best. Whether you opt for a massage, facial, or body wrap, investing in a little self-care at the spa can be a valuable way to take care of yourself.
Benefit 1: Reduces muscle tension
Spa treatments can provide numerous benefits, one of them being the reduction of muscle tension. From hot stone massages to deep tissue massages, spa therapists use various techniques to loosen tight muscles and alleviate discomfort. By targeting specific areas, these treatments can improve circulation, relieve stress, and promote relaxation. The pressure applied during the massages triggers the release of endorphins – the body's natural painkillers – leaving you feeling rejuvenated and energized. Spa treatments can benefit anyone looking to relieve muscle tension, whether it be athletes, office workers, or those suffering from chronic pain.
Benefit 2: Improves blood circulation
Spa treatments have been known to improve blood circulation, bringing relief to a range of conditions such as muscle stiffness and joint pain. This is because the massages and therapies involved increase the flow of oxygen and nutrients to the cells, stimulating the circulation of blood throughout the body. Improved blood circulation also results in a more efficient removal of impurities and toxins, leaving you feeling rejuvenated and refreshed.
Benefit 3: Reduces stress and anxiety
Spa treatments are an excellent way to reduce stress and anxiety levels. Not only do they offer physical relaxation from massages, but they also rejuvenate the mind with aromatherapy and meditation techniques. The warmth of a sauna or steam room can relieve muscle tension and detoxify the body. Spa treatments have been proven to decrease cortisol levels (the hormone associated with stress), which ultimately leads to a better mood and better sleep.
Benefit 4: Improves sleep quality
Not only do spa treatments produce a sense of deep relaxation, but they may also improve your overall sleep quality. This is because many of the techniques used during spa treatments, such as massage and aromatherapy, work to relieve stress and promote the release of endorphins – chemicals in the body that produce feelings of well-being. These effects can lead to lower cortisol levels – a hormone that's linked to anxiety and insomnia – and an overall more restful night's sleep.
In Conclusion
The Spa at Eskaya Beach Resort and Spa in Bohol offers a relaxing and rejuvenating experience for anyone seeking a break from the stresses of daily life. With a range of services that cater to every need, from massages to facials to manicures and pedicures, this spa provides the perfect oasis of calm in a tranquil atmosphere.
Whether you're looking to unwind after a busy day of exploring the island or just need some pampering, The Spa at Eskaya Beach Resort and Spa is the perfect destination. With expert therapists and world-class facilities, you can leave your worries behind and enjoy a truly soothing and rejuvenating experience.