Experience tranquility and rejuvenation at our world-class wellness center in the Philippines. With luxurious spa therapies, healing treatments, and holistic programs, our expert team provides personalized care. Explore serene surroundings, plan your visit seamlessly, and embark on a transformative journey toward holistic well-being.
Are you looking for the ultimate escape from everyday life? Ready to take a break, reconnect with yourself, and embark on a journey of self-discovery and rejuvenation? Our wellness center in the Philippines offers an oasis of serenity and tranquility.
Join us as we explore the many benefits of our wellness center and discover how a visit can help you create lasting well-being. Let's begin!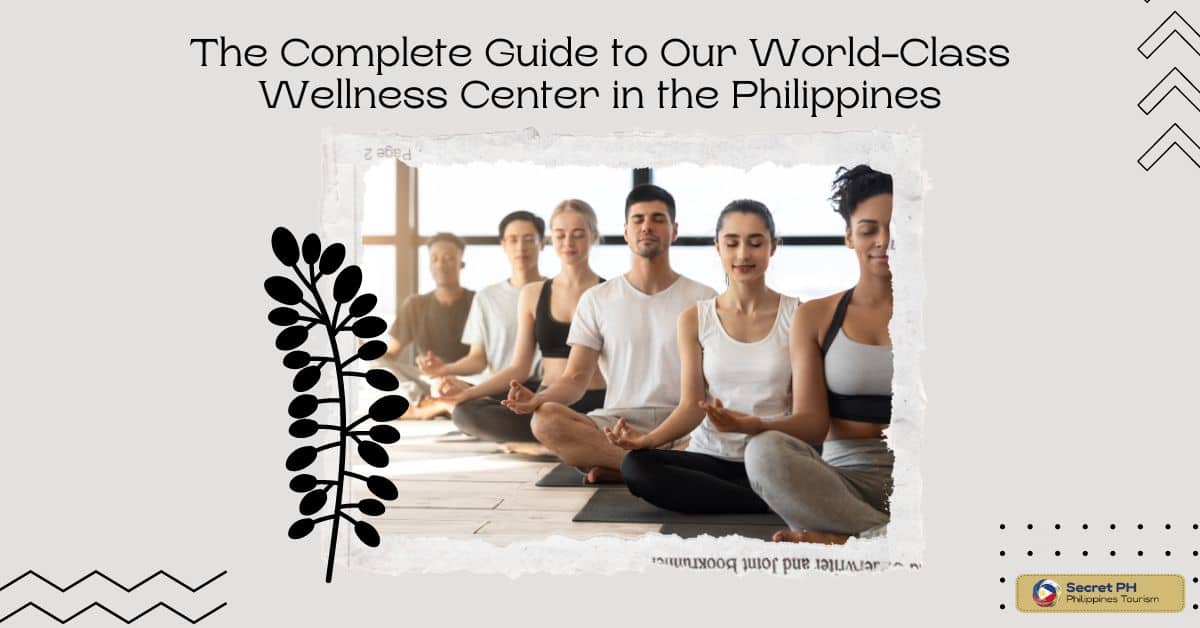 Introduction to Our World-Class Wellness Center in the Philippines
Welcome to our world-class wellness center located in the beautiful country of the Philippines. Our facility is designed to provide you with an exceptional experience that will leave you feeling rejuvenated and revitalized.
From our state-of-the-art equipment to our expert staff, we offer everything you need to achieve your wellness goals. Our services range from traditional spa treatments to cutting-edge health and fitness programs, all tailored to meet your specific needs and preferences.
Whether you are seeking relaxation, weight loss, or simply a healthy lifestyle, our center is the perfect destination to unwind and recharge. Come visit us and experience the best of the Philippines' award-winning wellness industry.
Unveiling the Services and Facilities at Our Wellness Center
At our world-class wellness center in the Philippines, we take pride in offering a wide range of exceptional services and state-of-the-art facilities designed to enhance your well-being and provide a truly rejuvenating experience.
Spa and Massage Therapies
Our wellness center boasts a luxurious spa facility where you can indulge in various massages, body treatments, and therapies. From traditional Filipino hilot massages to Swedish massages and hot stone therapies, our skilled therapists will help you relax, unwind, and relieve stress.
Yoga and Meditation Studios
Whether you're a beginner or an experienced practitioner, our wellness center provides dedicated spaces for yoga and meditation. Join group classes led by expert instructors or enjoy a private session tailored to your specific needs. Immerse yourself in the serene ambiance as you find balance and tranquility.
Fitness and Wellness Classes
Stay active and energized with our fitness and wellness classes. From high-intensity workouts to gentle stretching sessions, our center offers a variety of group exercises such as Zumba, Pilates, and tai chi. Engage in activities that promote physical fitness and overall well-being.
Nutrition and Dietary Counseling
Achieving wellness goes beyond physical activities; it also involves a balanced and healthy diet. Our wellness center provides expert nutritionists and dietitians who offer personalized counseling to guide you in making informed dietary choices. Learn about proper nutrition, meal planning, and strategies to optimize your health.
Hydrotherapy and Sauna Facilities
Experience the healing powers of water with our hydrotherapy facilities. Soak in therapeutic pools, rejuvenate in hydro-massage baths, or enjoy the invigorating benefits of a steam sauna. These facilities are designed to promote relaxation, improve circulation, and enhance detoxification.
Mind-Body Wellness Programs
Explore our mind-body wellness programs that aim to foster harmony and well-being. Engage in workshops and seminars on mindfulness, stress management, and holistic healing practices. Discover techniques to improve mental clarity, emotional balance, and spiritual growth.
These examples are just a glimpse of the comprehensive services and facilities available at our wellness center. Each aspect is carefully designed to cater to your unique wellness needs and provide an unforgettable experience of rejuvenation and self-care.
Creating a Holistic Approach to Wellness: Our Programs and Treatments
Creating a holistic approach to wellness has been our primary goal and mission in serving our clients. Our programs and treatments are designed to address the physical, emotional, and mental aspects of an individual's well-being. We understand that no two people are exactly alike, and that's why we provide customized solutions based on each client's unique needs.
Personalized Wellness Assessments
To kickstart your wellness journey, we begin with a personalized assessment that takes into account your health history, lifestyle, and goals. Our experienced wellness practitioners will work closely with you to understand your unique needs and create a tailored program that aligns with your aspirations.
Integrated Healing Therapies
We offer a variety of integrated healing therapies that combine traditional and modern practices to promote overall wellness. These may include acupuncture, aromatherapy, reflexology, energy healing, and sound therapy. Our skilled practitioners will guide you through these therapies to address imbalances, release tension, and enhance your body's natural healing abilities.
Mindfulness and Stress Management
Our wellness center emphasizes the importance of mental and emotional well-being. Through mindfulness and stress management programs, we provide tools and techniques to help you cultivate a calm and centered state of mind. Learn mindfulness meditation, breathing exercises, and stress reduction strategies that can be incorporated into your daily life.
Detoxification and Cleansing Programs
Detoxification is an essential aspect of our holistic approach to wellness. We offer specialized programs designed to cleanse your body and eliminate toxins, promoting vitality and rejuvenation. These programs may include juice cleanses, herbal remedies, and nutritional support to support your body's natural detoxification processes.
Holistic Fitness and Movement
Exercise plays a crucial role in overall well-being, and our wellness center provides a variety of holistic fitness and movement programs. From yoga and Pilates to dance and martial arts, our experienced instructors will guide you through activities that promote strength, flexibility, and balance, helping you achieve a harmonious mind-body connection.
Nutritional Counseling and Healthy Eating Programs
Nourishing your body with proper nutrition is an integral part of our holistic approach. Our nutrition experts offer personalized counseling, helping you understand the importance of a balanced diet and guiding you toward healthy eating habits. Learn about mindful eating, superfoods, and personalized meal plans that support your overall well-being.
Our goal is to empower you to take charge of your health, embrace self-care practices, and embark on a transformative journey toward optimal well-being.
Meet Our Expert Team: Leaders in Wellness and Healing
Our team comprises experienced professionals who are dedicated to helping clients achieve optimal wellness and healing. We are proud to be based in the Philippines, a country known for its vibrant culture and warm hospitality.
Our team members are highly trained in a variety of disciplines, including physical therapy, massage therapy, nutrition, and more. We are committed to providing compassionate care, tailored to each client's needs.
Whether you're looking to recover from an injury, manage chronic pain, or simply improve your overall health and well-being, our team is here to support you every step of the way. When you visit our center, you can trust that you are in the hands of exceptional professionals who are dedicated to helping you achieve optimal wellness and healing.
Exploring the Serene Surroundings of Our Wellness Center
Nestled in the heart of the Philippines lies our wellness center, an oasis of serenity and tranquility. Step into our world and explore the untainted beauty of nature that surrounds us. Our professionally designed facility is the perfect retreat for individuals seeking an escape from the hustle and bustle of city life.
Our team of experts is committed to providing our guests with a rejuvenating experience that goes beyond pampering. From relaxing massages to organic cuisine, our wellness center offers a multitude of ways to restore your physical and mental well-being.
Take a stroll around our serene surroundings and let the enchanting sounds of nature uplift your spirit. Embark on a journey of self-discovery and leave feeling refreshed and revitalized. Come and discover our wellness center here in the Philippines, where peace and wellness meet.
How to Plan Your Visit: Practical Information and Tips for a Rejuvenating Experience
Planning your visit to our world-class wellness center in the Philippines is an exciting step towards embarking on a rejuvenating journey. To ensure a seamless and fulfilling experience, here are some practical information and tips to consider:
Research and Booking
Start by researching our wellness center's website or contacting our dedicated staff to gather information about the services, programs, and facilities we offer. Explore the various options available and identify the ones that align with your wellness goals. Once you have made your decision, proceed with booking your preferred services or programs in advance to secure your desired dates and times.
Duration of Stay
Consider the duration of your visit based on the programs and treatments you wish to experience. Some guests opt for a day visit, while others prefer a longer stay to fully immerse themselves in our comprehensive wellness offerings. Determine the appropriate length of your visit based on your availability and the goals you aim to achieve during your time with us.
Travel and Accommodation
Plan your travel arrangements, including flights, transportation, and accommodation. Our wellness center may provide accommodation options on-site or have partnerships with nearby hotels and resorts. Consider staying nearby to maximize your convenience and immerse yourself in the peaceful surroundings throughout your stay.
Packing Essentials
Pack appropriate clothing and essentials for your wellness journey. Comfortable attire, including workout clothes, yoga attire, and swimwear, is recommended for various activities and treatments. Don't forget to bring suitable footwear for outdoor exploration and relaxation. Additionally, pack personal items such as toiletries, sunscreen, and any necessary medications.
Communication and Special Requests
Prior to your visit, communicate any special requests or specific needs you may have to our staff. Whether it's dietary preferences, accessibility requirements, or any health concerns, sharing this information in advance ensures that we can provide you with the best possible experience and accommodate your individual needs.
Embrace the Experience
Once you arrive at our wellness center, embrace the experience fully. Set aside any distractions and allow yourself to fully engage in the activities, treatments, and programs offered. Take advantage of the serene surroundings, connect with the expert team, and be open to the transformative possibilities that await you. Embrace the opportunity for self-care, relaxation, and personal growth.
Remember to prioritize self-care during your visit, listen to your body's needs, and communicate openly with our team. Our dedicated professionals are there to guide and support you throughout your wellness journey, ensuring a rejuvenating and fulfilling experience.
By planning ahead and embracing the opportunities available, you can maximize the benefits of your visit to our world-class wellness center and embark on a transformative and rejuvenating experience that nurtures your mind, body, and soul.
In conclusion
At our wellness center, we believe that each individual has their own unique needs and goals when it comes to achieving health and wellbeing. That's why we provide comprehensive services and treatments designed to cater to each guest's individual needs.
From personalized assessments and integrated healing therapies to mindfulness programs, nutrition counseling, detoxification services, holistic fitness classes, and more, we strive to provide a holistic approach that combines physical, mental, and emotional health.
Our goal is to empower our guests to take charge of their wellness and embark on a transformative journey toward optimal well-being. With the support of our experienced team of professionals, you can trust that you are in capable hands as you experience the restorative powers of our world-class wellness center.