Discover tropical indulgence at The Spa at El Nido Resorts Lagen Island. Experience signature therapies, including the Island Harmony Massage and Sea Salt Glow Scrub. Enjoy amenities like steam rooms and plunge pools, while guided nature walks and yoga sessions embrace the island's serene beauty. Relaxation awaits in paradise.
Experience tropical indulgence and relaxation at The Spa at El Nido Resorts Lagen Island. Enjoy signature treatments, luxurious amenities, guided nature walks, and more in a serene paradise setting surrounded by lush greenery and crystal-clear waters.
Soak up the tranquility of this stunning destination while pampering yourself with rejuvenating therapies that will leave you feeling refreshed and revitalized. Come discover a haven of restorative bliss at The Spa at El Nido Resorts Lagen Island.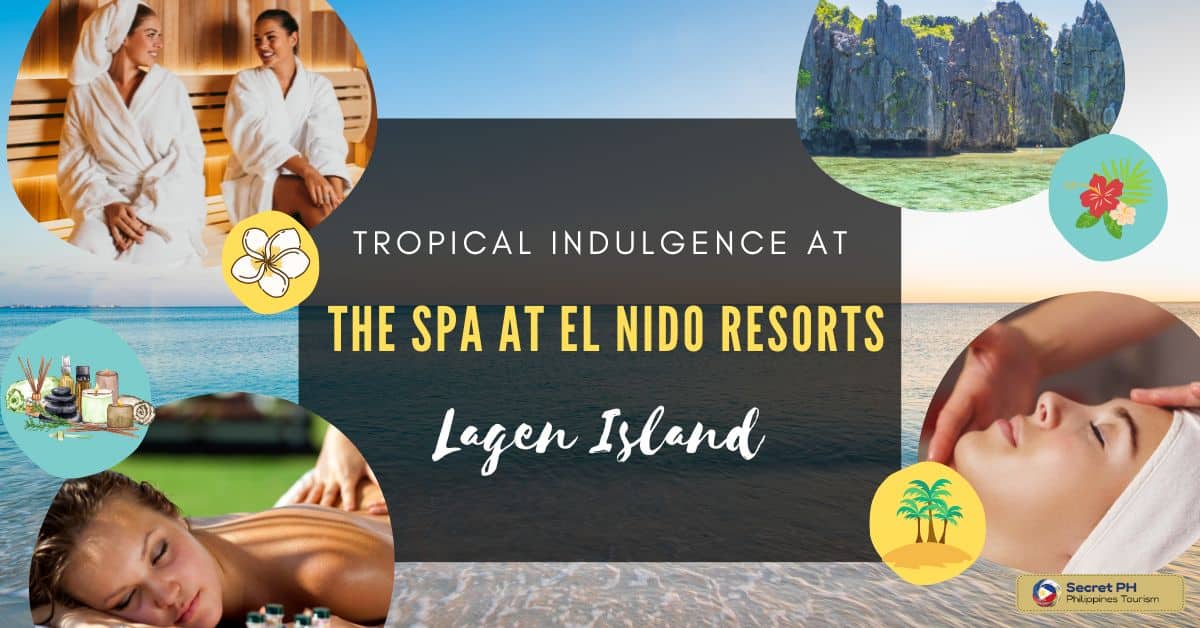 Introduction to The Spa at El Nido Resorts Lagen Island
The Spa at El Nido Resorts Lagen Island is a haven of tranquility and rejuvenation situated in the breathtakingly beautiful landscape of the Philippines.
The spa offers a wide range of treatments and services, including massage therapy, body scrubs, facials, and more, all designed to help visitors unwind and destress from the hustle and bustle of everyday life.
Whether you're looking for a pampering experience or simply want to relax and enjoy the stunning surroundings, the Spa at El Nido Resorts Lagen Island has something for everyone.
So if you're planning a trip to the Philippines, be sure to make time for a visit to this luxurious spa and experience the ultimate in relaxation and renewal.
A Tropical Paradise for Relaxation
Located amidst the breathtaking El Nido archipelago in the Philippines, this spa offers a serene escape from the pressures of everyday life. Surrounded by lush greenery, pristine beaches, and crystal-clear waters, guests can immerse themselves in the natural beauty of the surroundings, creating a tranquil ambiance.
From private cabanas nestled in gardens to open-air pavilions with ocean views, the spa's design harmoniously blends with the tropical environment, enhancing the sense of tranquility. Highly skilled therapists provide a range of luxurious treatments inspired by traditional and modern practices, using natural, locally sourced products to nourish the body and mind.
Additional amenities such as steam rooms, saunas, and plunge pools further enhance the tropical paradise experience, allowing guests to cleanse, detoxify, and invigorate themselves. The Spa at El Nido Resorts Lagen Island offers an unparalleled haven for relaxation amidst the stunning tropical splendor of El Nido.
A Haven for Rejuvenation
The Spa at El Nido Resorts Lagen Island offers a range of indulgent treatments that provide a haven for rejuvenation. These therapies are meticulously designed to pamper the senses, promote relaxation, and restore vitality. Here are three examples of the indulgent treatments available at this tropical paradise:
Tropical Bliss Body Wrap
This luxurious treatment begins with a gentle exfoliation to prepare the skin, followed by the application of a nourishing and hydrating body mask infused with tropical ingredients like coconut, papaya, or aloe vera. As guests are cocooned in a warm wrap, they can surrender to a state of bliss while the mask works its magic, leaving the skin soft, supple, and rejuvenated.
Island Aromatherapy Massage
This indulgent massage combines the healing power of touch with the therapeutic benefits of aromatic essential oils. Guests can choose from a selection of carefully curated blends, each offering unique properties such as relaxation, energy boost, or stress relief. The skilled therapist applies gentle, flowing strokes to release tension, improve circulation, and restore balance, providing a truly blissful and rejuvenating experience.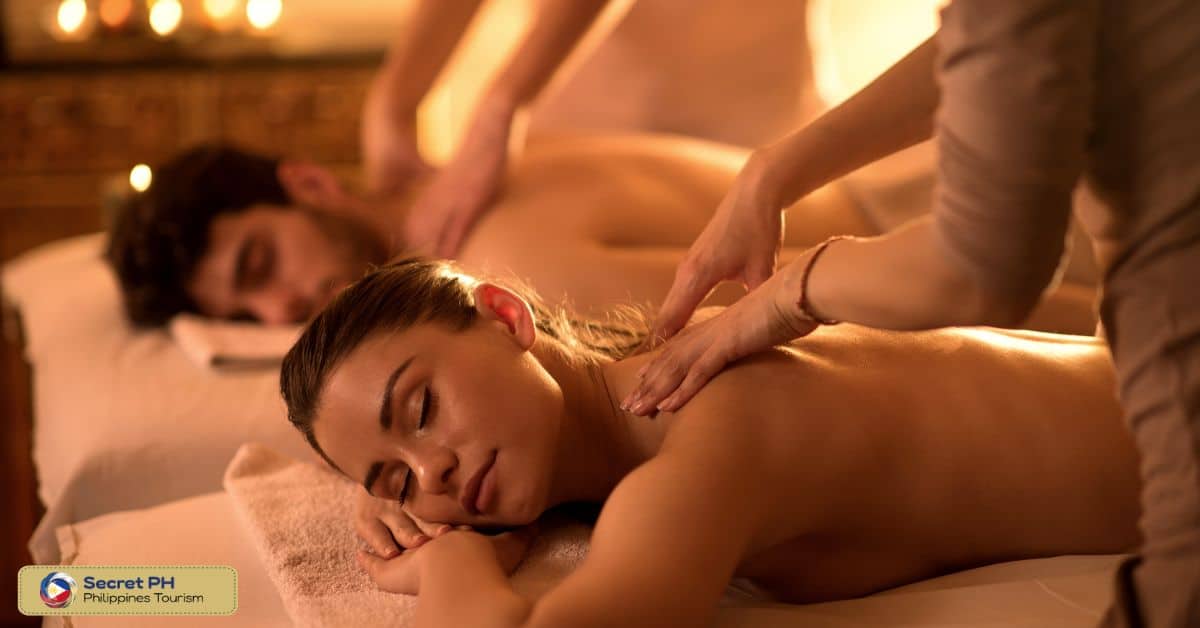 Oceanic Renewal Facial
Designed to revitalize and replenish the skin, this indulgent facial treatment harnesses the natural treasures of the ocean. It includes a thorough cleansing, gentle exfoliation, and a replenishing mask enriched with marine extracts and antioxidants. A soothing facial massage promotes lymphatic drainage and stimulates circulation, resulting in a radiant and refreshed complexion.
Unique Experiences for Mind and Body
The Spa at El Nido Resorts Lagen Island offers a collection of signature therapies that provide exceptional experiences for the mind and body. These unique treatments are meticulously designed to promote relaxation, rejuvenation, and holistic well-being, setting the spa apart as a destination for extraordinary experiences.
One of the standout therapies is the "Island Harmony Massage," drawing inspiration from the serene surroundings of El Nido. This signature massage incorporates flowing strokes, rhythmic movements, and warm, aromatic oils to induce deep relaxation and restore harmony to the body and mind. Guests can unwind as skilled therapists provide a sense of tranquility and release tension.
For an invigorating experience, the "Sea Salt Glow Scrub" harnesses the healing properties of sea salt and nourishing botanicals. This exfoliating body treatment promotes skin renewal, leaving it soft, smooth, and radiant. As therapists gently massage the scrub onto the body, guests are awakened to a revitalizing sensation, both physically and mentally.
The spa also offers specialized signature treatments tailored to specific needs. Guests can indulge in revitalizing facials featuring organic ingredients sourced from the region, or experience wellness rituals that combine massage, meditation, and energy work. Each therapy is crafted to provide a unique and transformative journey, catering to individual preferences and delivering lasting relaxation and well-being.
Expert Hands for Personalized Pampering
At The Spa at El Nido Resorts Lagen Island, skilled therapists provide personalized pampering experiences. With extensive training and a deep understanding of various techniques, these experts tailor treatments to meet individual preferences and needs.
Guests can discuss their goals with their assigned therapist, ensuring a customized spa journey focused on relaxation, stress relief, muscle tension release, or rejuvenation. The therapists' intuitive touch, soothing strokes, and targeted pressure create a harmonious experience, responding to the body's cues for optimal comfort.
Beyond their technical abilities, these therapists foster a nurturing environment, instilling a sense of trust and facilitating deep relaxation. With their dedication and expertise, guests can fully immerse themselves in the expert hands of these skilled professionals, knowing they will receive personalized care and an exceptional spa experience.
Enhancing the Tropical Experience: Additional Amenities and Services
The Spa at El Nido Resorts Lagen Island goes beyond exceptional treatments and therapies, offering a range of additional amenities and services that enhance the tropical spa experience. These offerings are designed to complement the serene surroundings and provide guests with a comprehensive and indulgent journey of relaxation.
Steam Rooms and Saunas: These facilities not only help cleanse the body and promote detoxification but also provide a soothing and tranquil environment to unwind and prepare for the ultimate spa experience.
Plunge Pools: Nestled amidst the tropical paradise, guests can immerse themselves in the cool waters while surrounded by scenic views. The plunge pools provide a revitalizing oasis that rejuvenates the senses and adds to the overall feeling of well-being.
Pre- And Post-treatment Rituals: Guests can enjoy aromatic foot baths, soothing herbal teas, or refreshing beverages, setting the stage for deep relaxation and creating a sense of anticipation or reflection before and after their treatments.
Beauty and Grooming Services: To further enhance guests' well-being from indulgent manicures and pedicures to revitalizing hair treatments, these services offer a touch of pampering that ensures guests feel polished and rejuvenated from head to toe.
Guided Nature Walks: Invite guests to discover the diverse flora and fauna of the surrounding lush greenery.
Yoga and Meditation Sessions: Serene outdoor settings provide an opportunity to connect with nature, finding balance and inner peace.
In conclusion
At The Spa at El Nido Resorts Lagen Island, guests can discover a tropical paradise that offers a haven of tranquility and rejuvenation. With its breathtaking natural beauty, luxurious treatments, expert therapists, and additional amenities, this spa provides an unparalleled experience for the mind, body, and soul.
Whether you're looking for pampering and relaxation, or a journey of wellness and renewal, this magical sanctuary will help you escape the hustle and bustle of everyday life to experience true peace and harmony. Carve out some time for yourself at The Spa at El Nido Resorts Lagen Island–you deserve it!