Escape to our center, the perfect retreat for self-care. Experience expert wellness programs, healing spa treatments, nourishing cuisine, and mindfulness in serene natural surroundings. Prioritize your well-being and discover rejuvenation, leaving you refreshed and transformed. Embrace self-care at its finest.
Unwind and reconnect with yourself in the tranquil beauty of natural surroundings at our wellness center in the Philippines. Our expert team provides tailored programs and healing spa treatments to support your journey toward self-care and personal growth. Escape to Wellness at our center and experience the transformative power of self-care.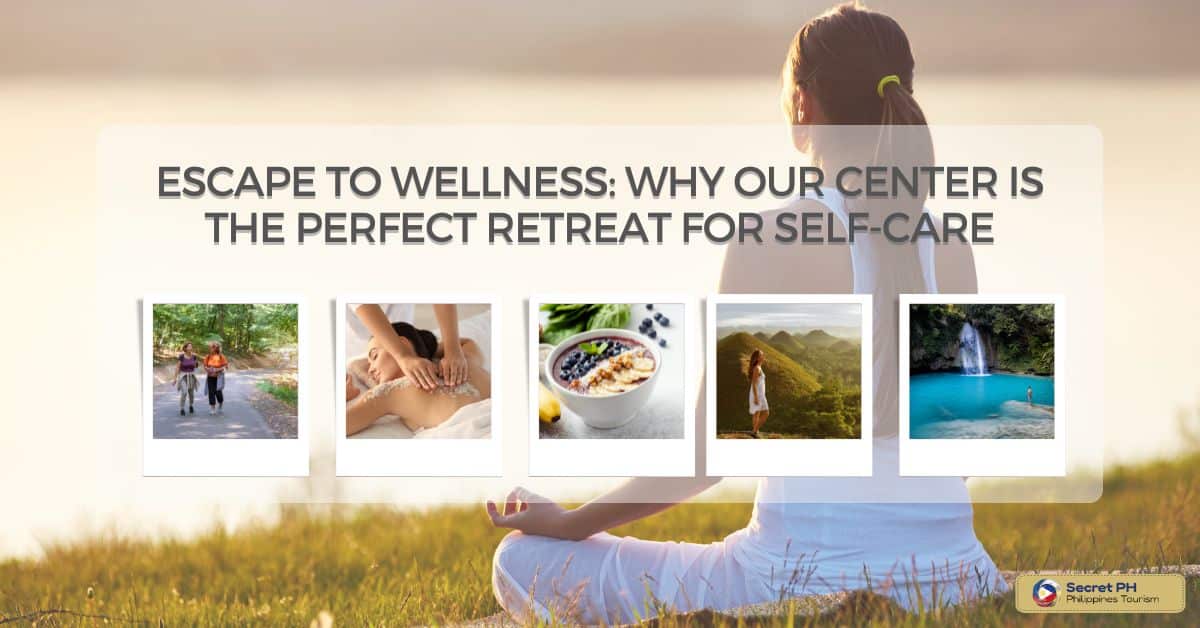 Serene Natural Surroundings: Immerse Yourself in Tranquil Beauty
Immerse yourself in the serene natural surroundings of our center in the Philippines, where tranquil beauty awaits you. Surrounded by lush greenery, pristine beaches, and awe-inspiring landscapes, our retreat provides the perfect setting for self-care and relaxation.
Whether you choose to meditate in a secluded garden, take a leisurely walk along a nature trail, or simply sit by a peaceful pond, the atmosphere is infused with a sense of tranquility. Spending time in nature has proven benefits for reducing stress, improving mood, and enhancing mental clarity.
Guided nature walks, outdoor yoga, and meditation sessions allow you to connect with the sights, sounds, and scents of the natural world, providing an opportunity to unwind and rejuvenate. Disconnect from the outside world and find solace in the harmonious embrace of our serene natural surroundings, where peace, balance, and personal growth await you.
Expert Wellness Programs: Tailored Self-Care for Your Mind and Body
Experience tailored self-care for your mind and body through our expert wellness programs. Our dedicated team of professionals will assess your needs and create a personalized program to enhance your overall well-being.
From physical fitness activities to mental wellness practices like mindfulness and meditation, our holistic approach covers all aspects of your health. Our nutritionists will guide you in developing healthy eating habits, and educational workshops provide valuable knowledge for long-term well-being.
Embark on a transformative journey towards self-discovery and balance, supported by our experienced team every step of the way.
Healing Spa Treatments: Rejuvenate and Revitalize Your Senses
Experience the ultimate rejuvenation with our healing spa treatments at our center. Our skilled therapists provide personalized treatments to cater to your specific needs, offering a comprehensive selection of massages, body scrubs, and facials.
Relaxing Swedish Massage
Experience the soothing touch of our skilled therapists as they perform a classic Swedish massage. Using gentle to medium pressure, long, flowing strokes, and kneading techniques, this treatment eases muscle tension, improves circulation, and promotes deep relaxation. Let the calming ambiance and expert hands rejuvenate your body and restore your sense of well-being.
Detoxifying Body Scrub
Treat your skin to a revitalizing body scrub that exfoliates and purifies. Our therapists will gently massage a blend of natural exfoliants, such as sea salt or sugar, combined with nourishing oils, to remove dead skin cells and stimulate circulation. This treatment helps to improve skin texture, leaving it soft, smooth, and radiant. Enjoy the invigorating sensation and emerge with a renewed glow.
Rejuvenating Facial
Reveal your skin's natural radiance with our rejuvenating facial treatment. Our skilled estheticians will assess your skin's needs and tailor the treatment accordingly, using carefully selected products and techniques. From deep cleansing and exfoliation to hydrating masks and facial massages, this indulgent experience will leave your skin refreshed, revitalized, and glowing. Pamper yourself and let your inner beauty shine through.
Nutritious Culinary Delights: Nourish Your Body with Healthy Cuisine
At our center, we believe that nourishing your body is an essential aspect of self-care. Our culinary team is dedicated to providing you with nutritious culinary delights that not only satisfy your taste buds but also support your overall well-being. Discover a world of healthy cuisine that will leave you feeling energized, refreshed, and nourished.
Farm-to-Table Delights
We source fresh, organic ingredients from local farms to create vibrant and wholesome dishes. Enjoy a variety of farm-to-table delights, such as crisp salads bursting with seasonal produce, hearty grain bowls packed with nutrients, and flavorful vegetable stir-fries. Each bite is a celebration of natural flavors and vibrant colors, ensuring that you receive a nourishing and satisfying dining experience.
Plant-Based Cuisine
Embrace the benefits of a plant-based diet with our delectable plant-based cuisine. From delicious lentil and vegetable curries to hearty quinoa and chickpea salads, our plant-based dishes are crafted to showcase the abundance of flavors and nutrients found in fruits, vegetables, whole grains, and legumes. Indulge in the culinary creativity that combines fresh ingredients and innovative cooking techniques to create meals that are both delicious and healthful.
Superfood Specialties
Experience the power of superfoods through our specially crafted dishes that are rich in antioxidants, vitamins, and minerals. Delight in nutrient-dense ingredients like kale, blueberries, quinoa, and chia seeds, which are incorporated into mouthwatering creations such as antioxidant-rich smoothie bowls, colorful grain salads, and nourishing soups. Our superfood specialties are designed to provide you with a concentrated dose of goodness that supports your well-being from within.
Our culinary team is passionate about creating flavorful, balanced, and nutritious meals that cater to a variety of dietary preferences and requirements. Whether you are vegetarian, vegan, gluten-free, or have specific food allergies, our chefs are dedicated to accommodating your needs and ensuring that you can fully enjoy the culinary delights on offer.
Mindfulness and Meditation: Find Inner Peace and Clarity
Discover inner peace and clarity through mindfulness and meditation at our center. These powerful practices help you cultivate present-moment awareness, reduce stress, and find emotional resilience.
Our experienced instructors guide you through guided sessions and offer techniques that can be incorporated into your daily life. You'll have access to serene spaces for personal reflection and silent meditation.
Whether you're a beginner or an experienced practitioner, our offerings cater to all levels. Embrace the transformative journey of mindfulness and meditation, and experience the profound benefits of finding stillness within.
Engaging Activities: Rediscover Joy and Connect with Nature
At our center, we offer a wide range of engaging activities that allow you to rediscover the joy and connect with the beauty of nature. Immerse yourself in the surroundings and embark on memorable experiences that nourish your soul and rejuvenate your spirit. Here are a few samples of activities we offer:
Guided Nature Walks
Join our knowledgeable guides on a journey through the natural wonders surrounding our center. Explore lush forests, meandering trails, and breathtaking vistas as you learn about the local flora and fauna. These guided walks offer an opportunity to reconnect with nature, awaken your senses, and experience a deep sense of tranquility.
Outdoor Yoga and Meditation
Practice yoga and meditation in the serenity of nature. Engage in gentle yoga poses that harmonize your body and mind, promoting flexibility, strength, and inner peace. Guided meditation sessions amidst the natural beauty of our center enhance your connection to the present moment and deepen your sense of mindfulness.
Adventure Excursions
Embark on thrilling adventure excursions that allow you to embrace the wonders of the outdoors. From hiking to picturesque viewpoints and discovering hidden waterfalls to kayaking along crystal-clear rivers or even snorkeling in vibrant coral reefs, these activities offer a sense of adventure and exploration while immersing you in the natural splendor of the surrounding landscapes.
Creative Workshops
Awaken your artistic side through our creative workshops inspired by nature. Engage in activities such as painting, drawing, or crafting using natural materials. These workshops provide a space for self-expression and allow you to tap into your creativity while being inspired by the beauty that surrounds you.
Sunrise or Sunset Rituals
Witness the breathtaking beauty of the rising or setting sun through special sunrise or sunset rituals. These rituals provide a moment of reflection, gratitude, and intention-setting as you embrace the changing colors of the sky and the peaceful ambiance that accompanies these magical moments.
These engaging activities provide opportunities for rejuvenation, self-discovery, and a deeper connection with nature. They encourage a sense of playfulness, wonder, and awe, reminding us of the joy that can be found in simple moments and the beauty that surrounds us. Engage in these activities and rediscover the joy of being fully present in the embrace of nature's wonders.
In conclusion
At our center, we believe that self-care is essential to living a healthy, balanced life. Our serene natural surroundings and expert wellness programs provide the perfect setting for meaningful transformation and personal growth.
From healing spa treatments to nutritious culinary delights, engaging activities, and mindfulness and meditation practices, we offer an array of experiences that will nourish your body and soul.
Take a break from the hustle and bustle of everyday life, and immerse yourself in a tranquil oasis where you can relax, recharge, and reconnect with your true self. Come to our center in the Philippines and discover inner peace, balance, and profound joy amidst nature's beauty.