Are you ready to explore the wonders of Philippine transportation? If so, this guide is perfect for you!
As a tourist, navigating transportation in the Philippines can be overwhelming. This guide will provide an overview of public transportation, taxis and ride-hailing services, domestic flights, ferries and boats, and renting vehicles. Learn everything you need to know to travel safely and efficiently around the Philippines.
In this blog post, we will discuss the various transport options available in and around the Philippines. Read on to find out more about traveling around this beautiful country!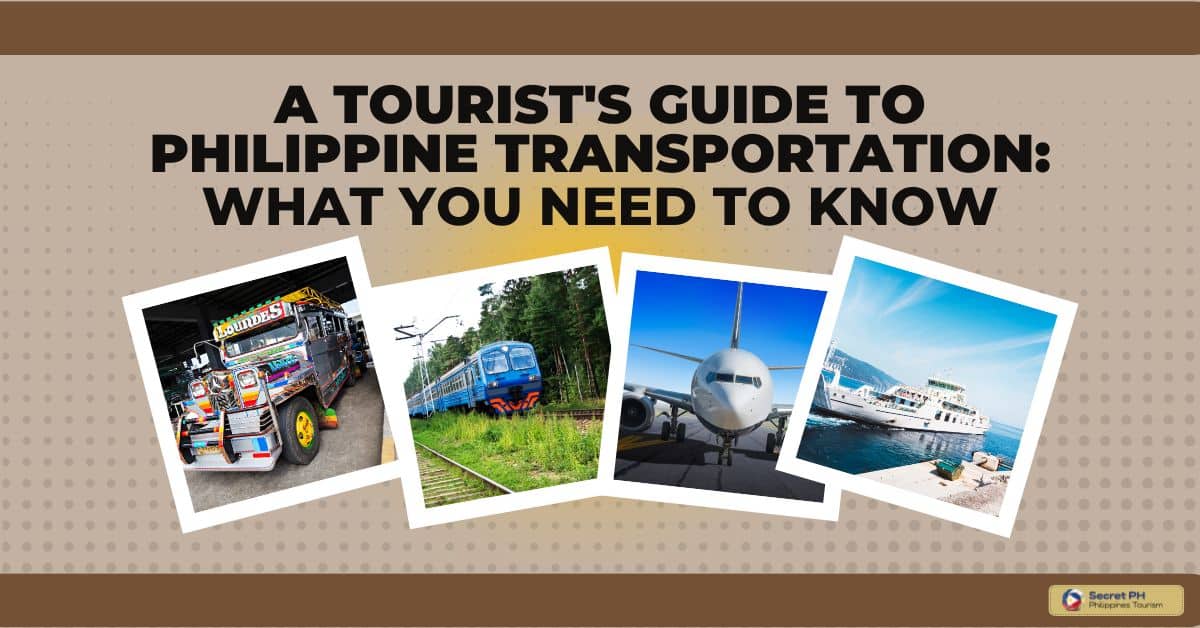 Transportation System in the Philippines
The Philippines has a commendable transportation system consisting of a mix of public and private transportation vehicles. Public modes are buses, jeepneys, tricycles, train systems and the ever-reliable habal-habal (motorcycle) which are accessible in most rural areas where roads allow the small vehicles to pass through. Meanwhile, common forms of private transportation are taxis, Grab cars, shared vans, pick-up trucks and auto rickshaws.
Within Metro Manila there is also transport via bus rapid transit (BRT) and monorail systems. Travelers can get around via land or sea transport as ferries travel between islands in the Visayas Region—a passenger favorite for its scenic views. Overall, travelers can explore beautifully scattered islands by taking advantage of Philippines' efficient modes of transport.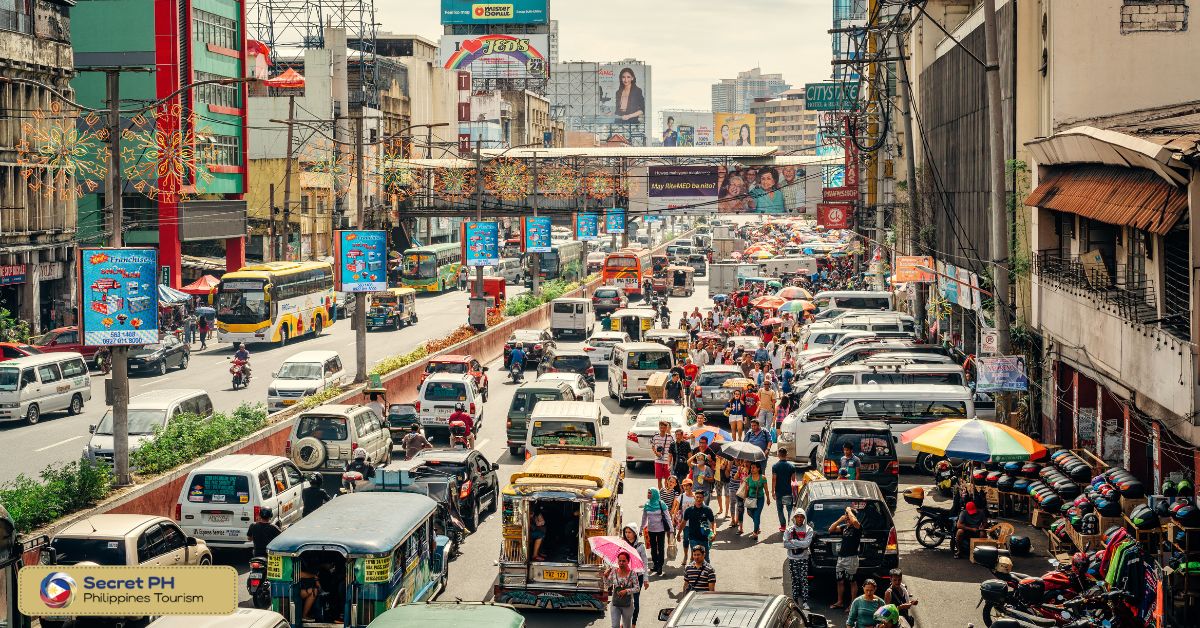 Public Transportation in the Philippines
In most cities and towns in the Philippines, the main public transportation options consist of jeepneys, buses, tricycles, and trains. Jeepneys are large vans or buses with open windows and benches running lengthwise that are decorated with colorful designs. Buses are long, white vehicles that travel on predetermined routes across cities and towns.
Tricycles can also be found in several areas—they are like enclosed motorcycles that have a back seat for passengers. Lastly, passenger trains can connect individuals to various destinations within the country. Each one of these public transportation options offer affordable fares which make it convenient for locals to travel from place to place.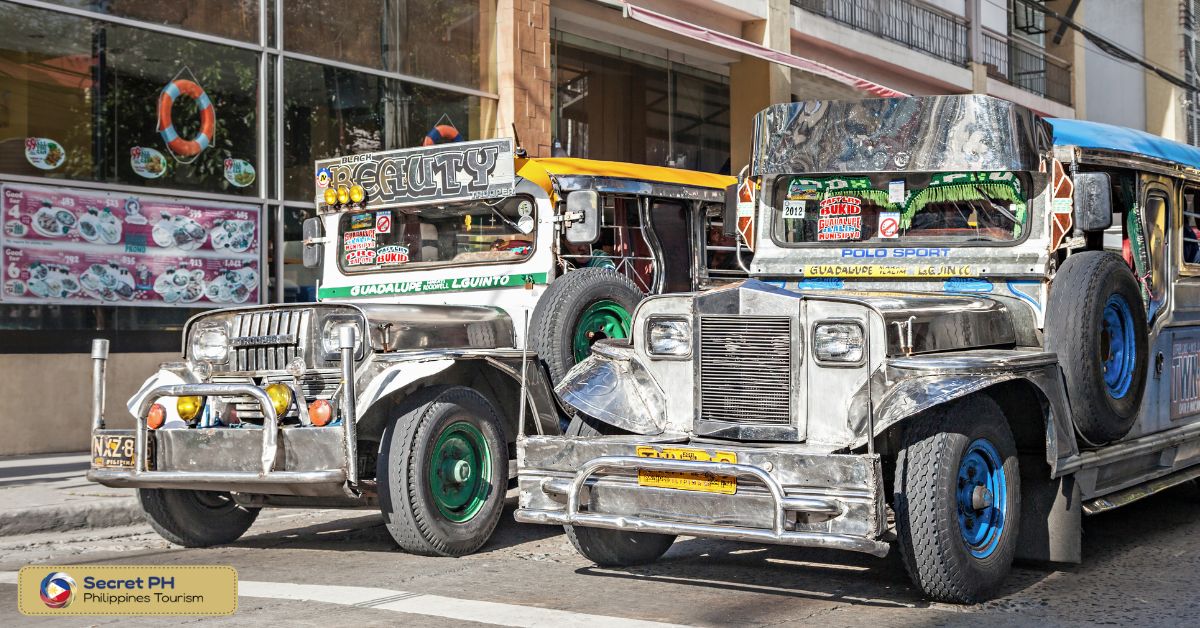 Safety tips for using Public transportation
Public transportation is an integral part of daily life in the Philippines, with various modes of transportation such as jeepneys, tricycles, buses, and trains available in many areas. However, using public transportation can be overwhelming, especially for first-time travelers. Here are five safety tips to keep in mind when using public transportation in the Philippines:
Be mindful of your belongings: Keep your valuables close to you and out of sight. Avoid wearing flashy jewelry or carrying large amounts of cash. It's also a good idea to keep your bag or backpack in front of you and not on your back.
Avoid rush hour: Rush hour in the Philippines can be chaotic and crowded, making it difficult to keep track of your belongings or even move around. Avoid traveling during peak hours, if possible, or plan your trip accordingly.
Sit in well-lit areas: When using public transportation at night, sit in well-lit areas where you can easily see your surroundings. Avoid sitting in the back or in isolated areas of the vehicle.
Follow traffic rules: Public transportation in the Philippines can be fast-paced and erratic, with drivers often disregarding traffic rules. It's essential to be aware of your surroundings and follow traffic rules, such as wearing a seatbelt or crossing the street at designated areas.
Trust your instincts: If you feel uncomfortable or unsafe, trust your instincts and take action. Get off the vehicle at the next stop or ask for help from the driver or other passengers.
Taxis and Ride-hailing Services
Availability of taxi and ride-hailing services in the Philippines has drastically increased over the years, much to the delight of travelers in the region. With a diverse fleet of cars from traditional taxis to luxury sedans, tourists can find a comfortable ride that matches their budget. Professional drivers are well trained to follow safety protocols and serve customers with outstanding service.
In addition to convenience, travelers can also avail exciting financial deals such as discounts, cashback offers and fare saving options. The abundance of taxi services in Philippines lets tourists explore this breathtaking country in comfort and peace of mind.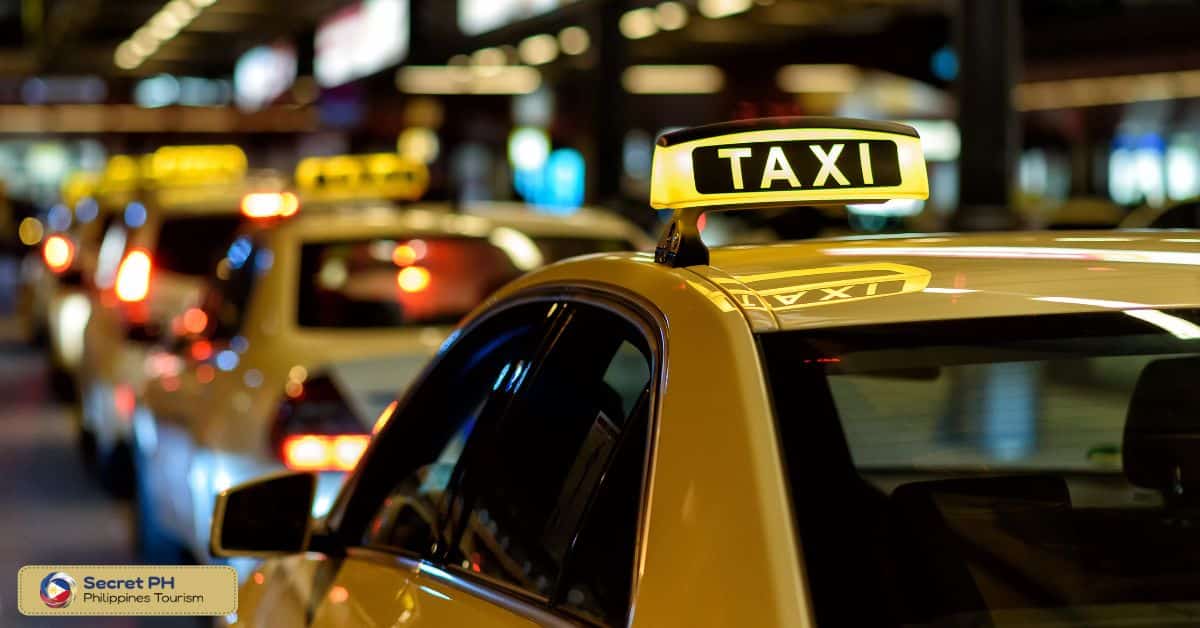 Safety tips for using taxis and ride-hailing services
The Philippines has a vast and diverse transportation system, which includes taxis and ride-hailing services such as Grab and Angkas. While these services offer convenience and comfort, it's essential to prioritize safety, especially when using them at night or in unfamiliar areas. Here are five safety tips to keep in mind when using taxis and ride-hailing services in the Philippines: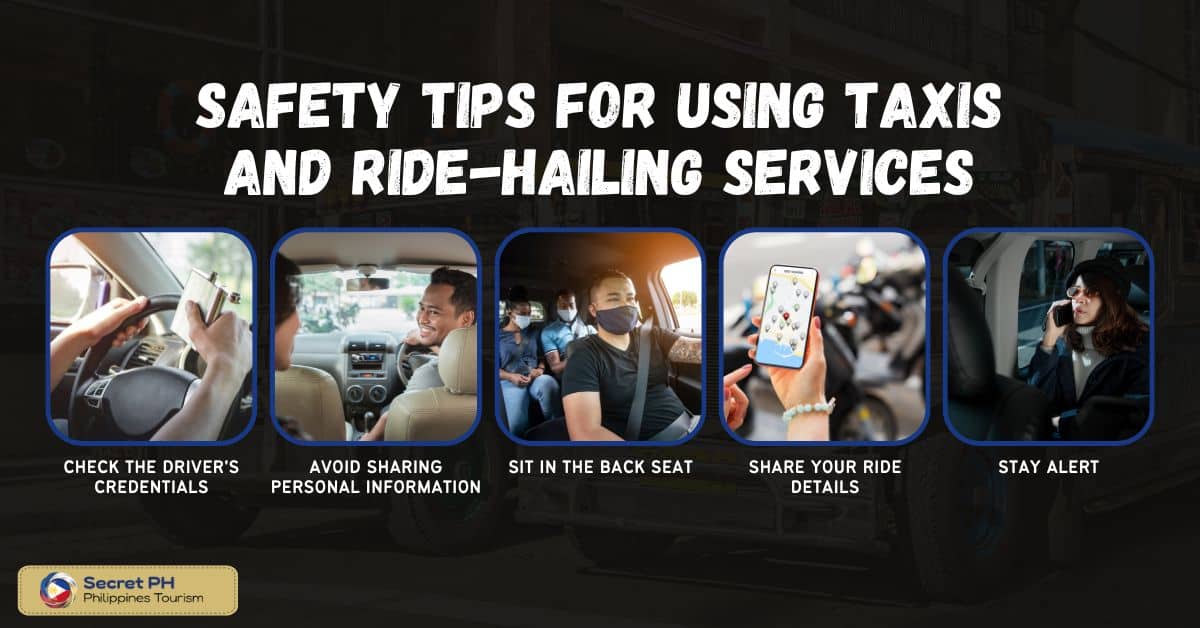 Check the driver's credentials: Before getting into the vehicle, make sure to check the driver's name, photo, and license plate number through the ride-hailing app. In the case of a taxi, take note of the driver's ID and ensure that it matches the name on the vehicle's registration.
Avoid sharing personal information: While it's okay to exchange pleasantries with the driver, avoid sharing personal information such as your full name, address, or financial details. Keep your conversations light and casual.
Sit in the back seat: Sitting in the back seat of the vehicle offers some level of protection from potential harm. It also gives you more space and a clear view of the driver's actions.
Share your ride details: Before starting your journey, share the ride details, including the driver's name, license plate number, and estimated time of arrival, with a trusted friend or family member. You can also use the ride-hailing app's built-in safety features, such as the emergency button, to alert the authorities in case of an emergency.
Stay alert: Always be aware of your surroundings and stay alert throughout the journey. Avoid using your phone or listening to loud music, which can distract you from potential danger. If you feel uncomfortable or unsafe, ask the driver to stop the vehicle and get out as soon as possible.
Domestic Flights
Domestic airlines in the Philippines provide dependable and cost-effective options for those seeking to explore the tropical archipelago. With over 8 million passengers served in 2016, the sector is rapidly expanding to meet the needs of both leisure and business travelers. Many airlines, such as Philippine Airlines and Cebu Pacific Air have emerged to provide regular scheduled services that link cities across the region, as well as affordable charter trips from various destinations.
Other carriers like AirAsia Philippines are leading transformation efforts within the industry – providing more opportunities for today's traveler through web-based ticketing systems, digital payment options, and customized packages. Alongside continued development of additional infrastructure across their network of hubs, domestic air services in the Philippines are ideally positioned to remain a popular method of transportation for people living throughout this beautiful country.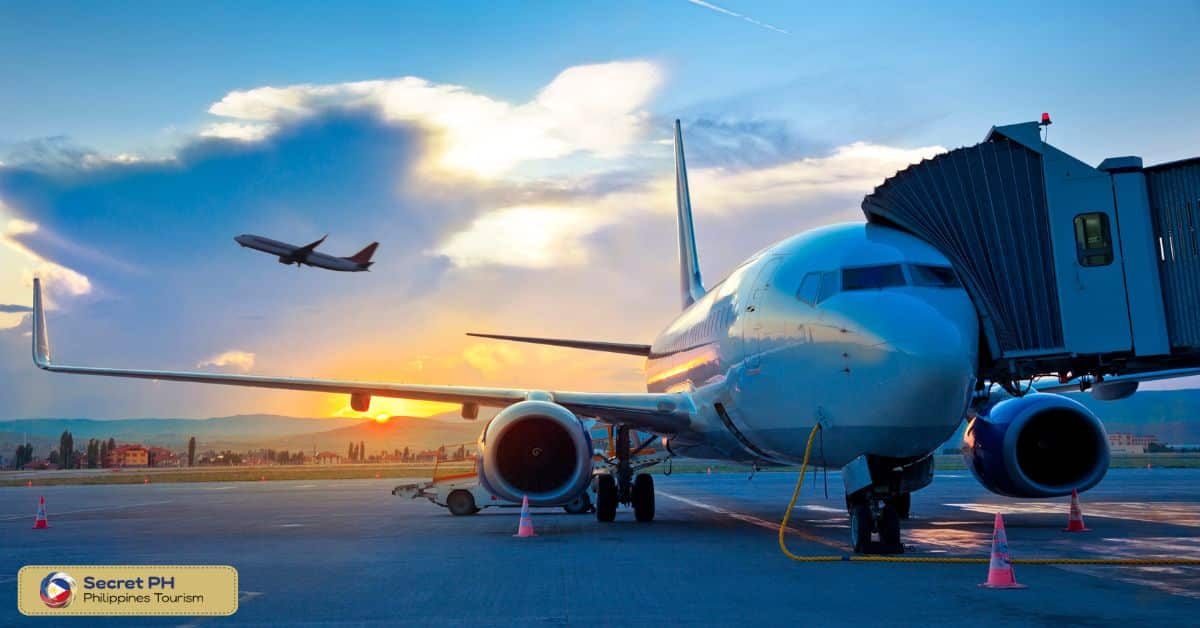 Tips for booking domestic flights in the Philippines
The Philippines is an archipelago, composed of over 7,000 islands, making domestic air travel a popular and convenient means of transportation for locals and tourists alike. However, booking domestic flights in the Philippines can be overwhelming, especially for first-time travelers. Here are five tips to keep in mind when booking domestic flights in the Philippines: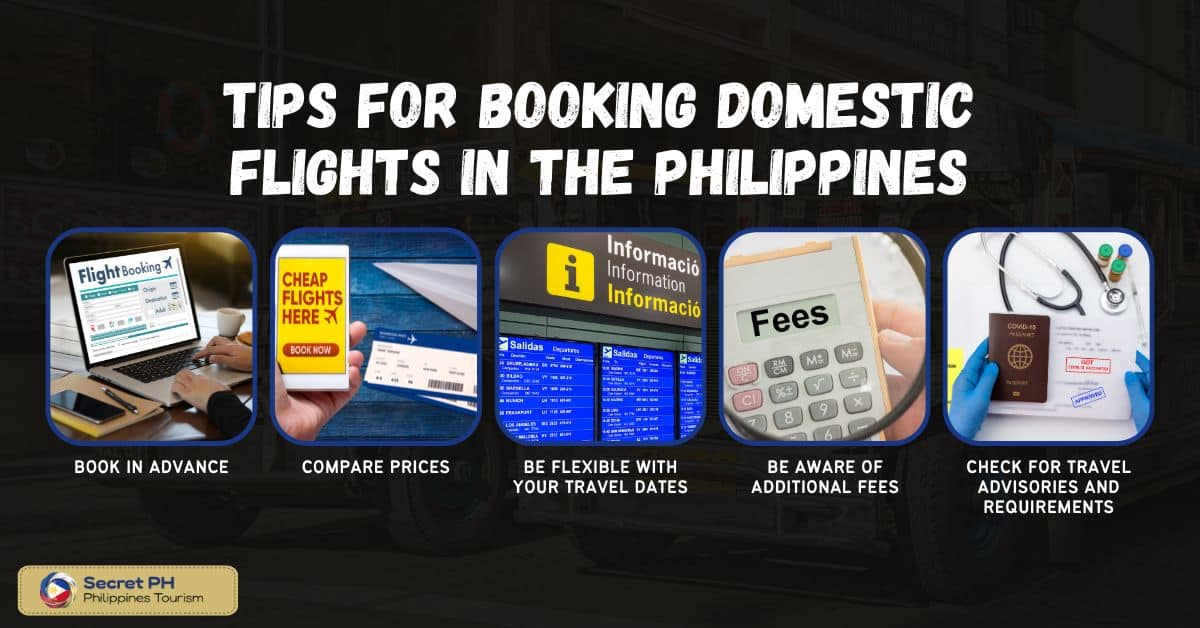 Book in advance: Domestic flights in the Philippines can fill up quickly, especially during peak seasons. To ensure that you get a seat on your preferred flight, book your ticket as early as possible. This will also allow you to avail of cheaper fares.
Compare prices: Before booking your flight, compare prices from different airlines and travel websites. Some airlines may offer lower prices or promos that other airlines don't. By comparing prices, you can find the best deal for your budget.
Be flexible with your travel dates: If your travel dates are flexible, consider booking your flight during the off-peak season. Airfares are generally lower during this time, and you can save money on your ticket.
Be aware of additional fees: Airlines may charge additional fees for checked baggage, seat selection, and other services. Make sure to read the terms and conditions carefully and factor in these fees when comparing prices.
Check for travel advisories and requirements: Before booking your flight, check for any travel advisories or requirements, such as COVID-19 testing and quarantine protocols. Keep in mind that travel guidelines and protocols can change quickly, so stay updated with the latest information.
Ferries and Boats
Ferry and boat transportation options in the Philippines offer plenty of exciting possibilities. The country is full of archipelagic islands, rivers and ports making it ideal for cruise vacations and other aquatic activities, and travelers of all types can make the most out of their exploration by hopping aboard a ferry or boat.
Visiting passengers can choose to embark on larger vessels like ferries which generally provide amenities like beds and meals, while smaller boats allow more intimate island-hopping experiences with direct access to various attractions such as coastal fishing spots or waterfalls. There also exists non-land destinations such as coral reefs for snorkeling, scuba diving and other unforgettable adventure sports on offer.
Safety tips for using ferries and boats in the Philippines
The Philippines is a country composed of thousands of islands, making ferry and boat transportation a common mode of travel for locals and tourists. However, like any mode of transportation, it's essential to prioritize safety when using ferries and boats in the Philippines. Here are five safety tips to keep in mind:
Check the weather forecast: The Philippines is known for its unpredictable weather patterns, which can cause rough seas and strong currents. Before boarding a ferry or boat, check the weather forecast and avoid traveling during typhoon season.
Choose a reputable operator: Select a reputable operator with a good safety record. Do some research and read reviews from previous passengers. Avoid operators that are known for overloading or disregarding safety protocols.
Wear a life jacket: Always wear a life jacket when on a ferry or boat. In the event of an emergency, a life jacket can save your life, especially if you don't know how to swim.
Be mindful of your surroundings: Be aware of your surroundings and listen to the instructions of the crew. Avoid standing near the edges of the boat and follow any safety protocols, such as wearing a helmet when on a speedboat.
Bring emergency supplies: In case of an emergency, it's essential to have emergency supplies on hand, such as a whistle, flashlight, and a first-aid kit. Keep these supplies easily accessible, and know how to use them in case of an emergency.
Renting Vehicles
If you're planning a trip to the Philippines, there are numerous car and motorcycle rental options available to you. Depending on your budget and travel needs, you can rent an SUV, luxury sedan, minivan, electric vehicle or even a jeepney (Filipino-style minibus). Motorcycles can also be rented in various sizes and styles to suit different travelers.
With each rental option comes protection packages such as insurance, roadside assistance and other services that range from basic to comprehensive. It is important to read reviews and research potential rental companies before committing, as some may offer better rates with more reliable vehicles than others.
Safety tips for driving in the Philippines
Driving in the Philippines can be an exciting and convenient way to explore the country, but it can also be challenging, especially for first-time drivers. The Philippines has a reputation for having some of the worst traffic in the world, and road conditions can be unpredictable. Here are five safety tips to keep in mind when driving in the Philippines:
Familiarize yourself with the roads: Get to know the roads you'll be driving on before you set out on your journey. Use a GPS or map to plan your route and be aware of any potential hazards, such as steep hills, sharp turns, or poor road conditions.
Be aware of other drivers: In the Philippines, driving can be aggressive and unpredictable, with many drivers disregarding traffic rules. Be aware of your surroundings and anticipate the actions of other drivers. Keep a safe distance from other vehicles, and avoid sudden maneuvers.
Wear your seatbelt: Wearing a seatbelt is mandatory in the Philippines, and it's crucial for your safety. Make sure you and your passengers wear seatbelts at all times, even for short trips.
Avoid driving at night: Driving at night in the Philippines can be hazardous, with poor lighting and road conditions. If possible, avoid driving at night or stick to well-lit areas.
Keep your car maintained: Regular maintenance is essential for safe driving in the Philippines. Make sure your car is in good condition, with properly inflated tires, working brakes and lights, and a full tank of gas. Check your car before each trip, and have it serviced regularly.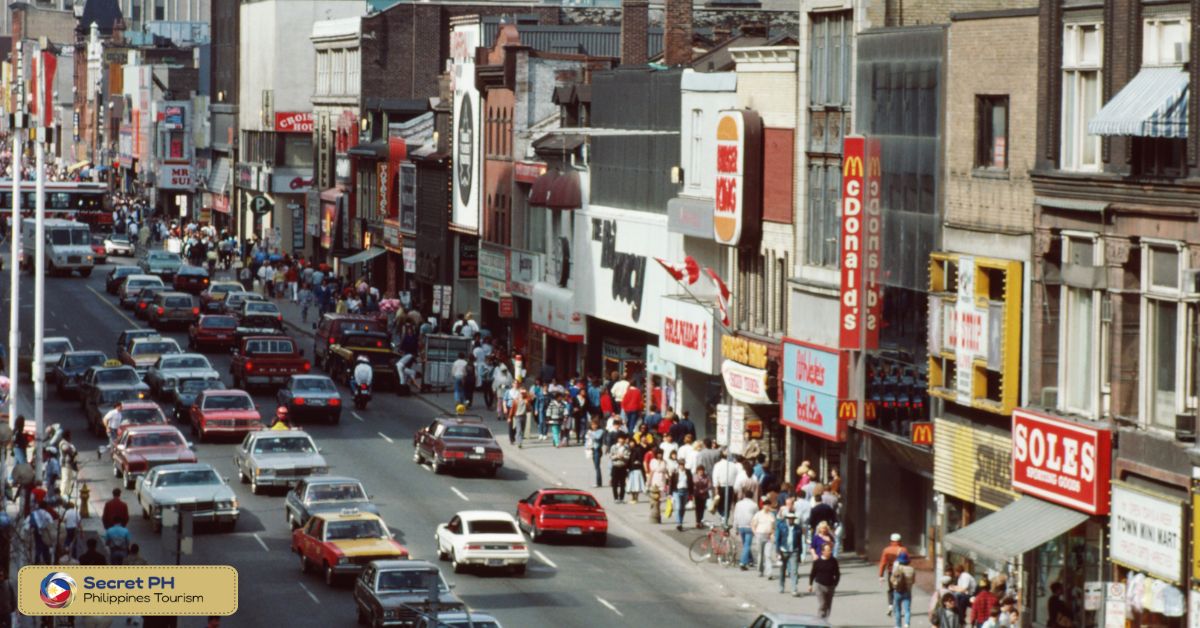 In Conclusion
Utilizing the various modes of transportation available in the Philippines is key to making an excursion to the country an unforgettable experience. From tricycles and ferries to buses and trains, tourists can easily explore all that the region has to offer.
Whether for short-term visits or extended stay, knowledge about Philippine transportation proves invaluable for a stress-free journey through the islands. With a comprehensive understanding of the area's travel system, travelers can rest assured that their trip will be hassle-free.