The Philippines has a variety of transportation options, including jeepneys, tricycles, buses, ferries, pumpboats, and airlines. Each mode has its advantages and disadvantages, and safety concerns and traffic congestion are also important factors. Understanding the main modes of transportation is crucial for travelers and locals to navigate the country efficiently and safely.
In this blog post, we will explore the different types of transportation in the country and discuss how they can best be used by travelers. Join us as we dive into the wonderful world of Philippine transportation!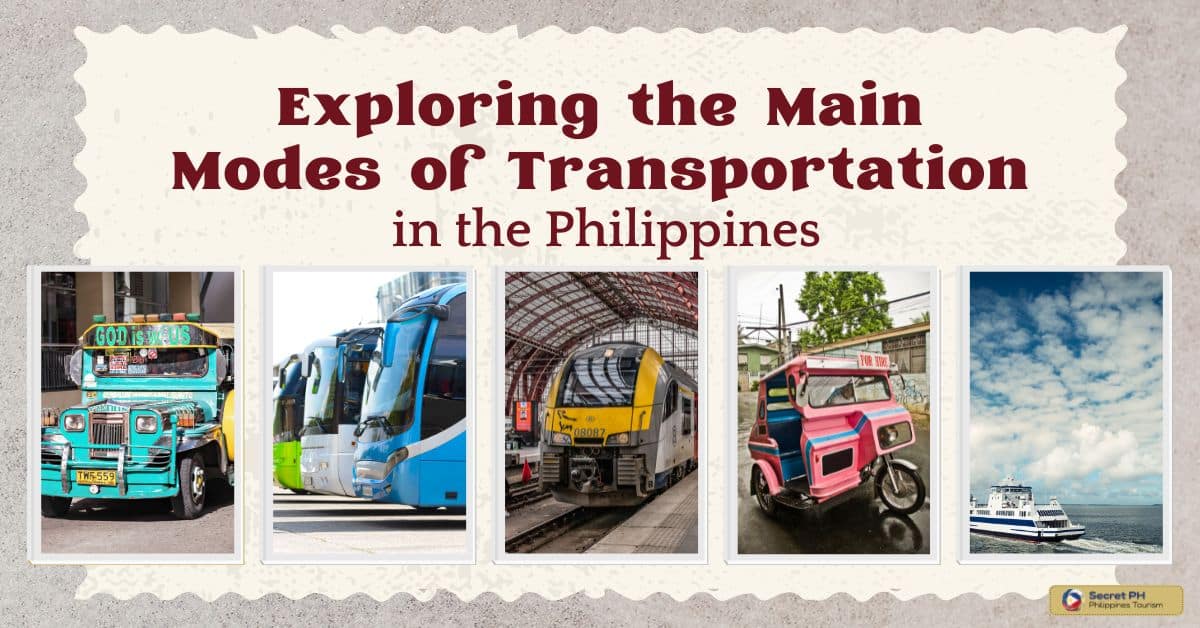 Transportation in the Philippines
The Philippines offers a variety of transportation options for its inhabitants and those visiting the country. The Philippines is equipped with various modes of transport suitable for different budgets and needs. Public transport in the form of buses, jeepneys and tricycles, while domestic flights are common routes for travelers who wish to explore more of the country.
Ferries are also an option. They provide connections between islands, allowing people to easily access different parts of this archipelagic nation. Road conditions at times can be challenging and traffic congested in major cities. Travelers will find that all forms of transportation within the Philippines are efficient and relatively affordable.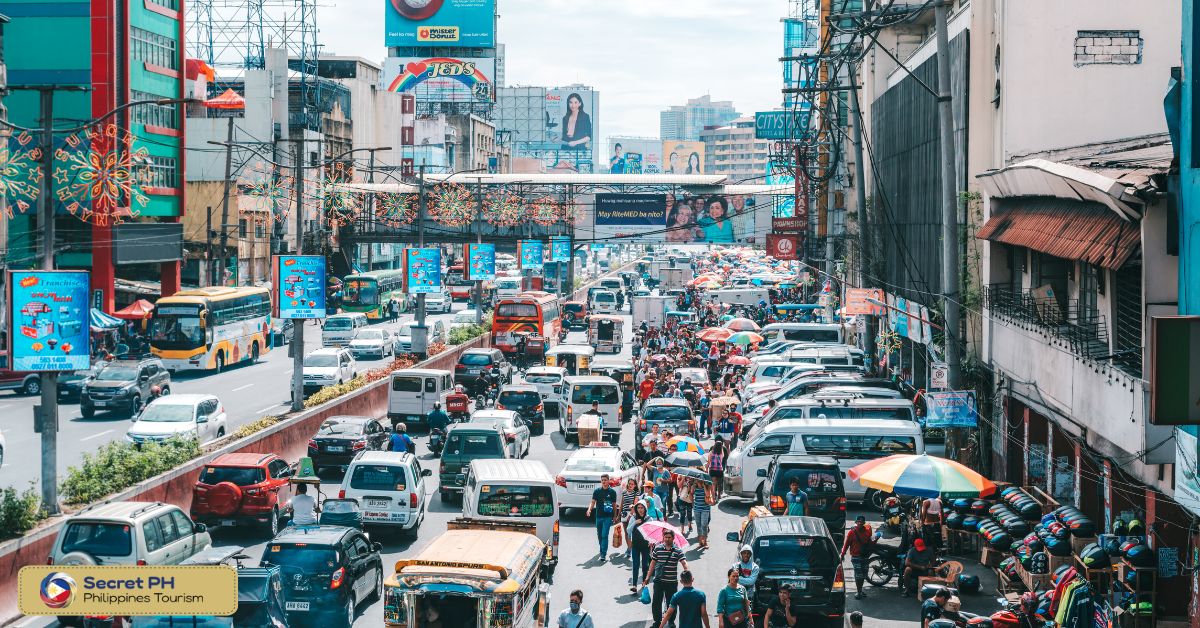 Land Transportation
Land transportation in the Philippines consists of a vast array of vehicles. From traditional bicycles and tricycles, to modern buses and taxis, land transportation remains an integral part of everyday life in Philippines. Aside from providing much needed mobility, it has also become an economic backbone for many Filipinos living in rural areas.
Jeepneys
Jeepneys are an iconic part of Philippines culture with a fascinating history. Designed after two-person military Jeeps used by the United States during World War II. These vehicles emerged in Philippines towns and cities in the 1940s as an inexpensive form of transport by right-of-way drivers.
The Jeepneys' first designs featured a car body that was converted from the military Jeeps that were left behind. There they have gone on to become much more colorful, whimsical and sometimes extravagant designs. Today it remains one of Philippines most interesting forms of public transportation with its vibrant colors and imaginative design, often decorated with religious symbols and images reflecting Philippines culture & identity.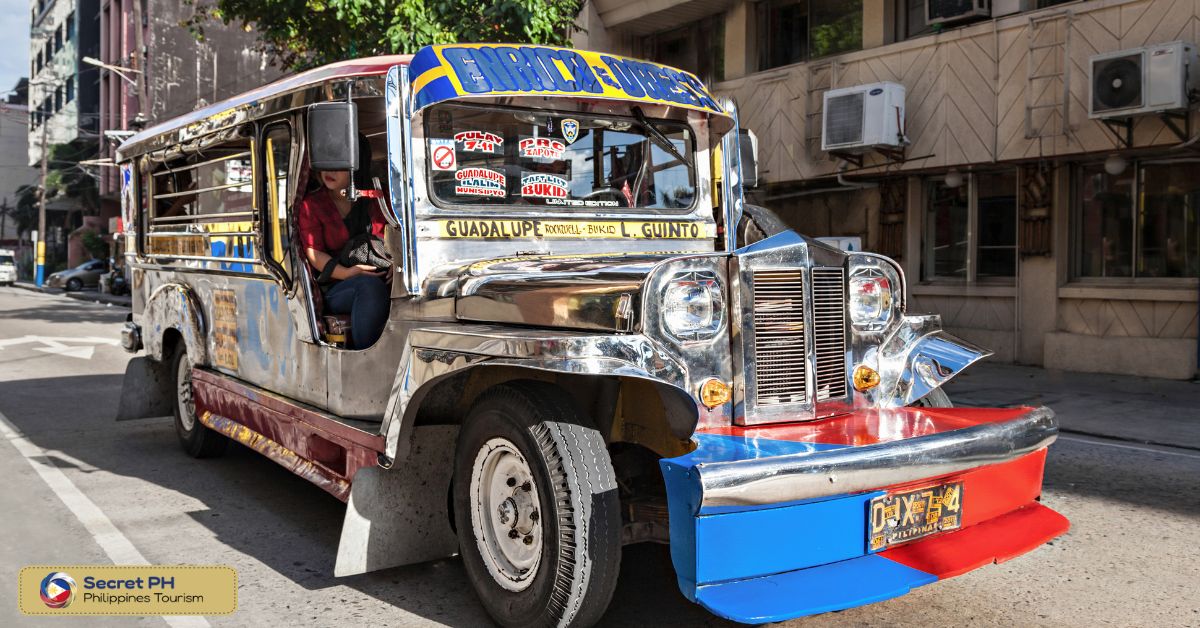 Pros and cons
Jeepneys, the cultural "king of the road" of the Philippines, are an iconic transport system that provide a cheap and convenient way to get around most cities. Despite its popularity, there are many pros and cons associated with this mode of travel. It is thus beneficial for people interested in using jeepney transportation to weigh up these pros and cons before using them.
| Pros | Cons |
| --- | --- |
| Cheap mode of transportation | Lack of proper maintenance and safety checks |
| Unique cultural experience | Often overcrowded and uncomfortable |
| Accessible routes | May contribute to air pollution |
| Frequent stops | No air conditioning or heating |
| Can accommodate large groups | Unpredictable schedules and routes |
| Available almost everywhere | Not suitable for long-distance travel |
Tricycles
Tricycles are a common form of three-wheeled transport in the Philippines that provide practical, low-cost transportation for commuters and businesses. They generally consist of a motorized chassis with a sidecar attached to it. The motor typically uses fuel such as diesel or kerosene, although some are now powered by electric motors.
They vary in size and construction depending on the purpose they serve, but all tricycles feature two wheels in the front and one wheel in the rear, providing passengers with an enclosed protected area at their feet or behind them to store their belongings. Tricycles are less expensive than cars, making them a popular choice for people with limited financial resources seeking transportation in cities and rural areas alike.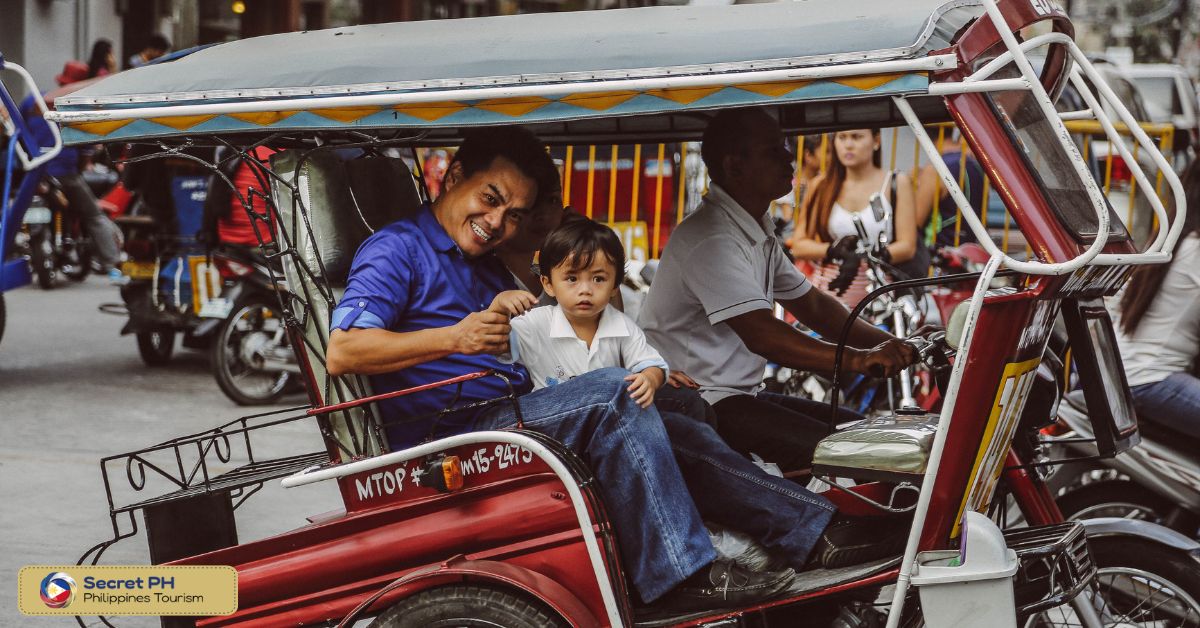 Pros and cons
Tricycles have been a major mode of transportation in the Philippines for many years. Despite the convenience and unique charm tricycles offer, there are both pros and cons to consider before using one for transportation. When weighing up choices between modern vehicles or tricycles, it's important to consider both the pros and cons before making a decision.
| Pros | Cons |
| --- | --- |
| Affordable mode of transportation | Limited passenger capacity |
| Can navigate narrow roads | Not suitable for long distances |
| Able to reach areas inaccessible by larger vehicles | No protection from weather elements |
| Often available 24/7 | Not the safest mode of transportation |
| Easy to hail or find | May not follow traffic laws or regulations |
| May offer a unique local experience | May not have proper safety equipment or gear |
Buses
These are popular modes of transport in the Philippines due to their availability and affordability. They come in a range of sizes and types, either operated by private companies or government commercial transportation companies. Passengers have found that buses provide efficient, convenient, and safe travel as they offer multiple installations such as comfortable seating, air conditioning, and audio and video systems to provide entertainment while traveling.
Safety is of prime importance when riding on buses and the Philippines provides traffic rules stipulating that competent drivers must be on board at all times with up-to-date permits and licenses for safely transporting passengers cross-country. In addition, regular maintenance inspections for defective machines accompany these travel services for optimum passenger satisfaction.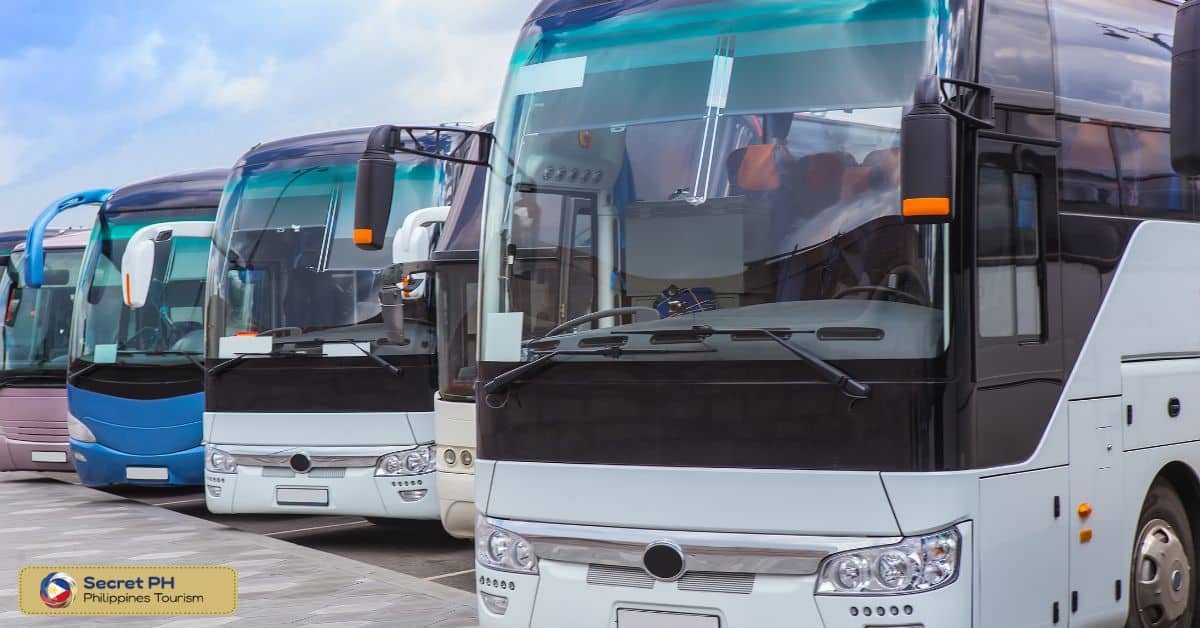 Pros and cons
Bus travel in the Philippines is often among the most economical and efficient ways to get around. With a vast network of buses spanning across the country, it can be a great transportation option. However, as with any mode of transport, there are pros and cons of taking the bus. Depending on whether you're an infrequent traveler or a daily commuter, evaluating these advantages and drawbacks can help you decide whether taking the bus is right for you.
| Pros | Cons |
| --- | --- |
| Cost-effective transportation option | Traffic congestion |
| Can travel long distances | Limited routes in some areas |
| Offers comfortable seating and amenities | Not always reliable or on-time schedules |
| Air-conditioned for comfort | Crowded and uncomfortable during rush hours |
| Available in different classes (ordinary, air-conditioned, etc.) | May not have proper safety equipment or gear |
| May offer express or direct routes | Some drivers may be reckless or inexperienced |
| Accessible routes | Not always suitable for short distances |
Water Transportation
Water transportation plays a major role in the Philippines, as the unique geography of islands and seas connected by ferries, canoes, and other watercraft allows for fast travel between populated locations. From traditional outrigger canoes to modern ferryboats, the Philippines has been a leading producer and user of vessels since ancient times.
Today, vessels are sailing on longer-distance routes around the country – helping people access healthcare, education, and other necessities in remote coastal areas. In all forms, these footings remain crucial for travelers who require an efficient connection between two points that may otherwise be separated by hundreds of miles.
Ferries
Ferries are a popular form of water transportation in the Philippines. They provide an efficient, cost-effective, and safe way of traveling between different parts of the country. Ferries can carry large volumes of personnel and cargo, contributing to a stronger maritime industry both regionally and internationally.
General commuters can choose from a wide range of vessels that are affordable, reliable, and easy to use. Passengers are also provided with onboard entertainment while they travel across the Philippines' waters, creating a smooth and delightful experience that has been enjoyed for years by locals as well as visitors to the Philippines.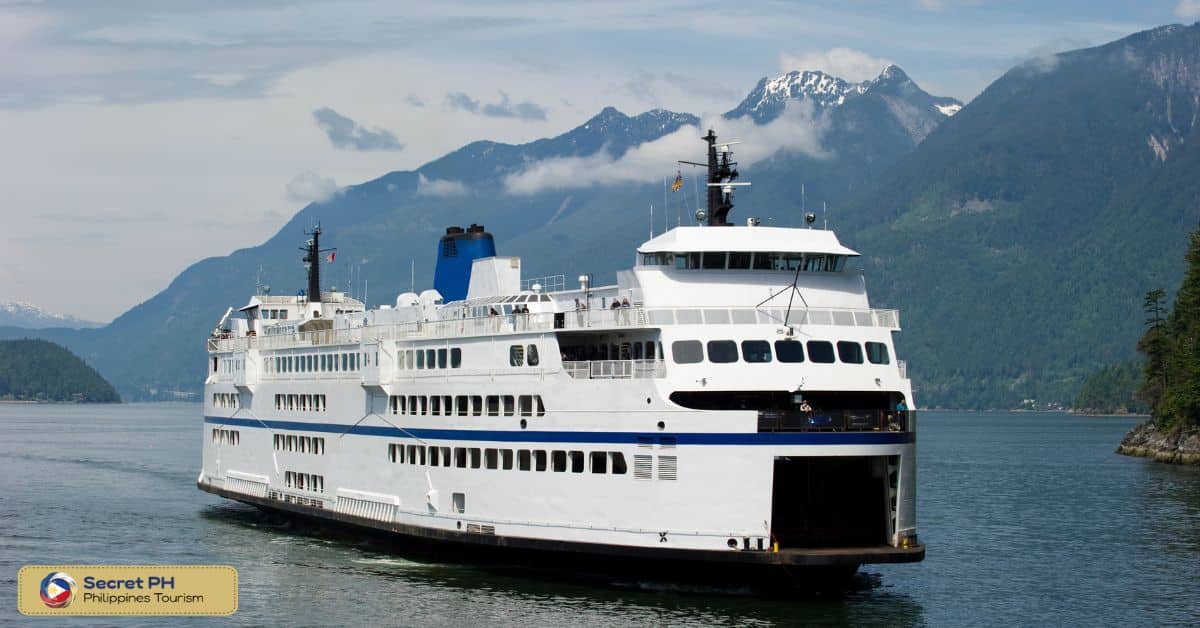 Pros and cons
Ferries are a popular mode of transportation in the Philippines, especially for inter-island travel. They offer several advantages such as affordability, accessibility, and stunning views of the sea. However, there are also some drawbacks to consider, such as safety concerns, weather-related issues, and potential delays.
| Pros | Cons |
| --- | --- |
| Affordable mode of transportation | Safety concerns in case of bad weather conditions |
| Accessible routes | Delayed or cancelled schedules due to weather conditions |
| Scenic views | Crowded and uncomfortable during peak season |
| Often available 24/7 | May not have proper safety equipment or gear |
| Different classes available (e.g. economy, business, etc.) | Can be affected by typhoons and other natural disasters |
| Can accommodate large groups | Overcrowding may lead to safety concerns |
| Can transport vehicles | Some ferry operators may have safety or maintenance issues |
Pump boats
Pump boats offer an efficient and convenient form of water transportation in the Philippines. These vessels are driven by outboard motors, providing a low-emission, fuel-efficient way to travel between nearby islands. The boats are designed to carry anywhere from one to six passengers and their attendant luggage.
Flexible seating arrangements make it easy for passengers to adjust seating according to comfort level and preference. Regardless of the size and shape, pump boats have lightweight hulls that are easy to maneuver along coastlines, enabling passengers with unique access to many of the Philippines' stunning waterfront destinations.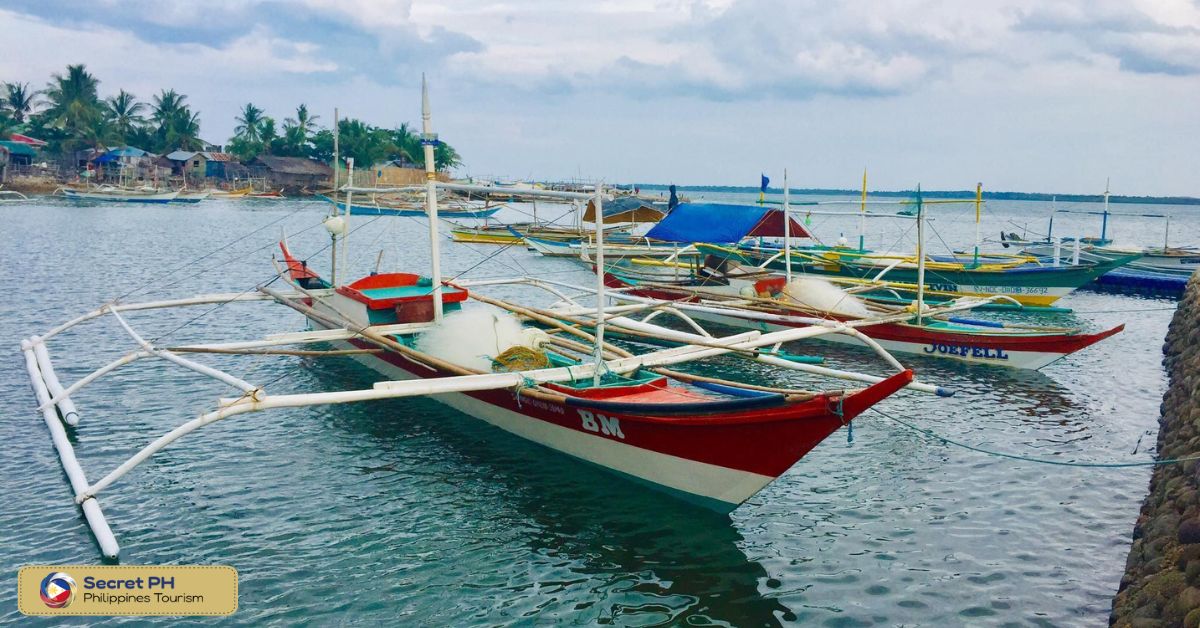 Pros and cons
The Philippines has long used water transportation as a savior when it comes to island-hopping, and pump boats are a reliable tradition. Pump boats can be seen navigating different regions of the Philippines, bringing people and products to and from coastal cities. They offer several advantages but also come with some drawbacks.
| Pros | Cons |
| --- | --- |
| Affordable and accessible | Limited passenger capacity and cargo space |
| Provides employment opportunities | Can be affected by adverse weather conditions |
| Can navigate shallow waters and reefs | May not have adequate safety equipment or emergency plans |
| Can transport goods and supplies | Can be noisy and polluting |
| Can reach remote areas and islands | Lack of regulation and enforcement can lead to accidents |
| Can be customized for different needs | May not have comfortable seating or amenities |
RoRo
RoRo is a form of water transportation that stands for roll-on/roll-off. This type of carriage method is often used within the Philippines to move goods across the ocean without requiring excessive loading and unloading times. Using this method allows goods to quickly be loaded onto a vessel, often using ramps or platforms which can be done with very little effort.
RoRo transport ships are designed to handle vehicles and cargo containers, allowing for increased efficiency in delivery times and cost savings. Goods arrive intact as they do not need to be handled during transit. RoRo shipping is an ideal way to move goods farther distances as it provides advantages in terms of speed, cost-efficiency, and reliability in Philippines.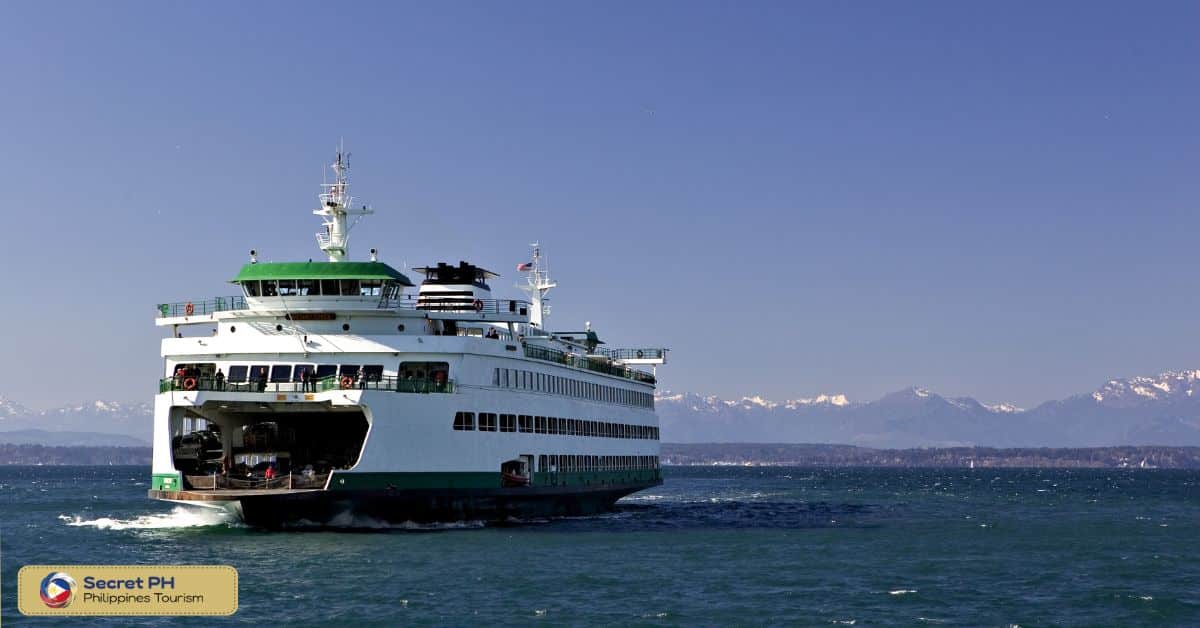 Pros and cons
RoRo – Roll-On/Roll-Off – is a type of water transportation service that allows for goods to be transported efficiently with relative ease. Utilized widely in the Philippines and other parts of the world, this method of maritime transport offers both advantages and disadvantages which must be taken into consideration by those who wish to make use of this method. Understanding the pros and cons of this form of transportation will help ensure a successful voyage.
| Pros | Cons |
| --- | --- |
| Can transport large volumes of cargo | May not be accessible in areas without developed ports |
| Can accommodate a significant number of passengers | High upfront costs for construction and maintenance |
| Shorter travel time compared to land and other sea transport | May not be feasible in areas with shallow waters or rough seas |
| Can carry vehicles and heavy equipment | Weather and sea conditions can impact schedules and operations |
| Can support economic growth and development | Can be vulnerable to accidents and safety issues |
| Can improve accessibility and connectivity between islands | Can contribute to environmental degradation and pollution |
| Can provide employment opportunities | Can be affected by government regulations and policies |
Air Transportation
Air transportation has revolutionized the Philippines, making it easier for people to travel to a variety of locations. Airplanes move much faster than other methods of transport such as cars or buses and can cover much longer distances in shorter time frames. The Philippines is serviced by several domestic airlines and intercontinental services, ensuring that travelers are able to access almost any part of the world with ease.
Advances in technology have created more efficient and user-friendly air travel experiences, with online booking services streamlining the process even further. All in all, air transportation has drastically changed how people move around the Philippines, making it one of the most popular ways to make long-distance trips.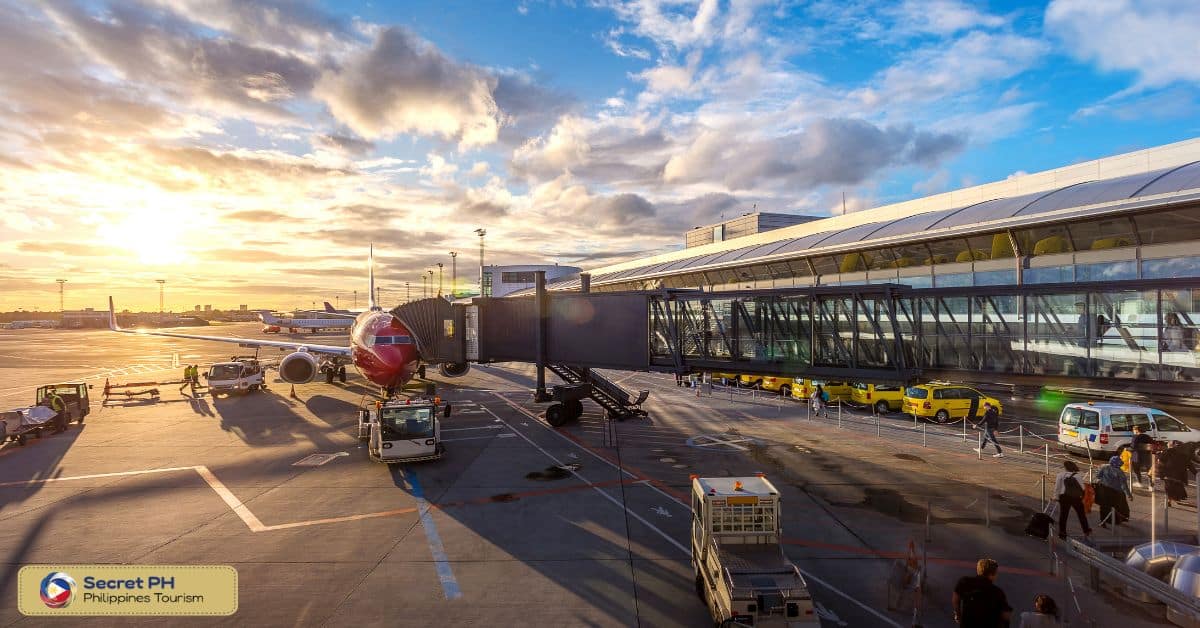 Major airlines
Major airlines provide air transportation services to countries across the globe, including Philippines. With years of experience in the aviation industry, these esteemed companies offer their passengers a safe, comfortable and convenient flying experience. They have an emphasis on sturdily built aircrafts, modern technology and great customer service from the time of booking until the plane reaches its destination.
Philippine Airlines
Philippine Airlines is the flag carrier of the Philippines and one of the oldest airlines in Asia, with its founding dating back to 1941. The airline operates a fleet of over 80 aircraft, serving over 30 domestic and international destinations across Asia, North America, Australia, and Europe. Philippine Airlines offers a range of services, including economy, premium economy, and business class, with in-flight entertainment, meals, and Wi-Fi available on select flights.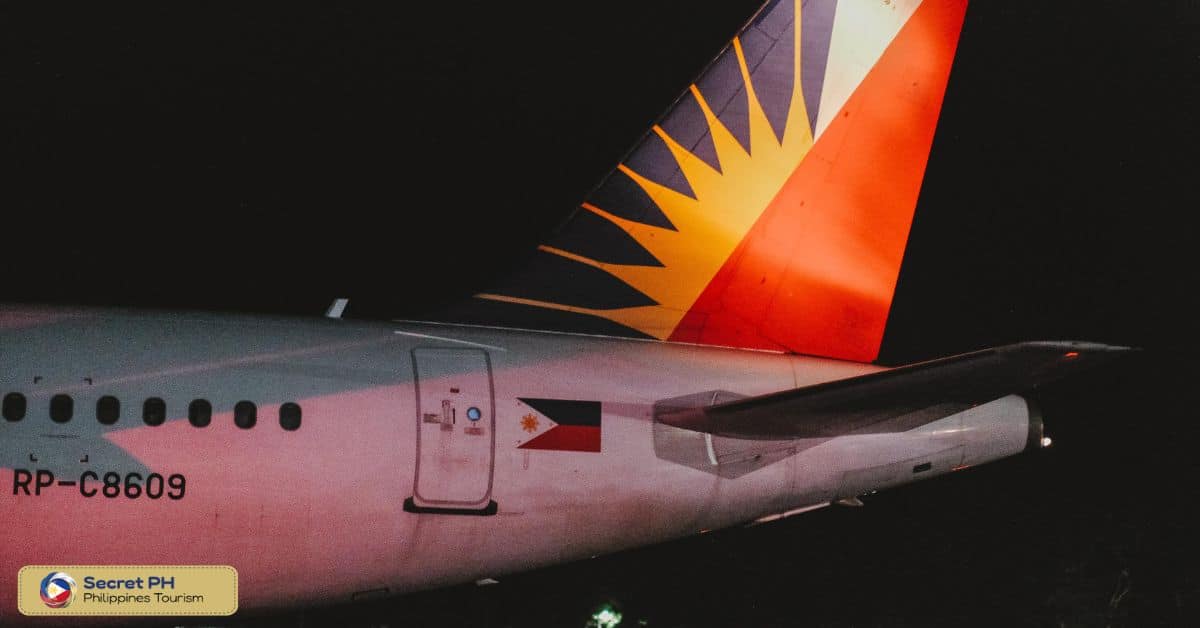 Cebu Pacific
Cebu Pacific is a low-cost airline based in the Philippines, with its main hub located in Manila. The airline was founded in 1996 and operates a fleet of over 70 aircraft, serving over 30 domestic and international destinations across Asia, Australia, the Middle East, and the United States. Cebu Pacific offers a range of services, including economy and premium economy, with the option to add-on in-flight meals, luggage allowance, and seat selection for an additional fee.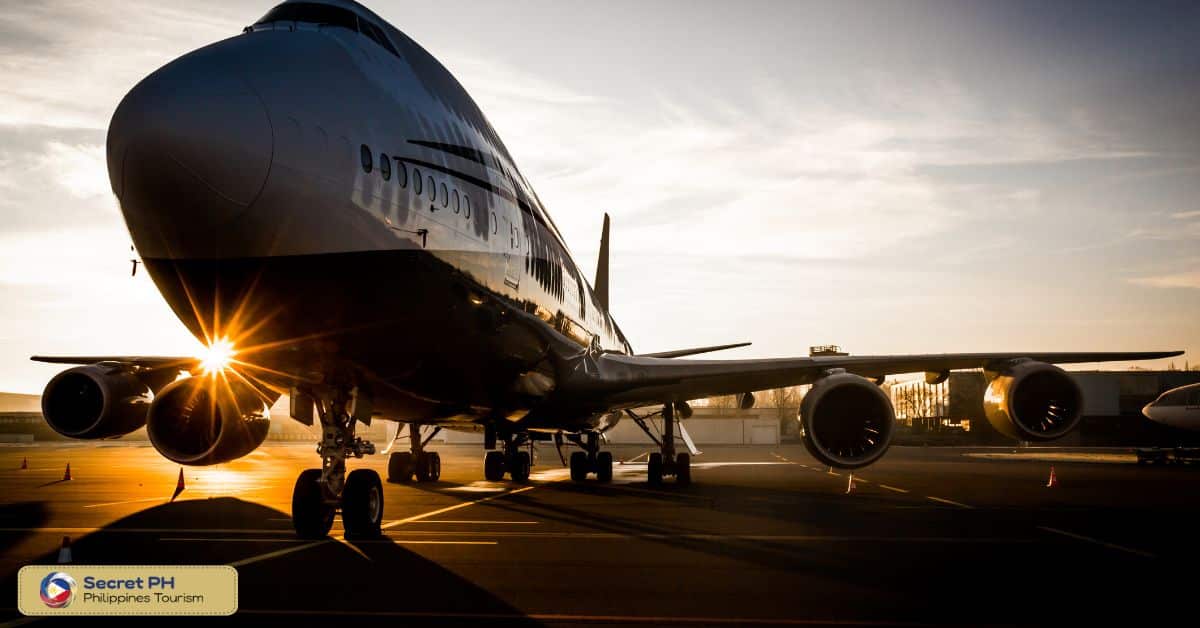 Air Asia
Air Asia is a Malaysian-based low-cost airline that operates in the Philippines, with its main hub located in Manila. The airline was founded in 1993 and operates a fleet of over 160 aircraft, serving over 150 destinations across Asia, Australia, the Middle East, and the United States. Air Asia offers a range of services, including economy and premium economy, with the option to add-on in-flight meals, luggage allowance, and seat selection for an additional fee. The airline is known for its low-cost fares and frequent promotions, making air travel more accessible to a wider range of passengers.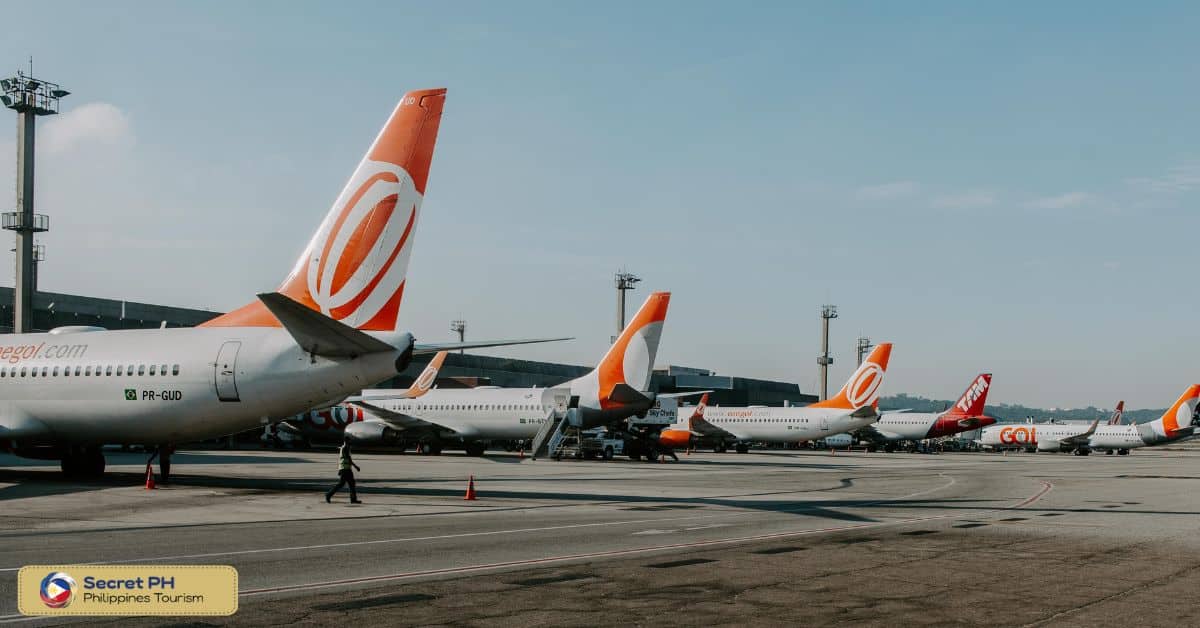 Airports
Airports are a testament to the progress of air transportation, allowing the Philippines and other countries throughout the world to experience a new level of freedom and exploration. As hubs for air travelers, airports provide a vast range of services, such as ticketing and baggage check-in, boarding gates, terminal stores, restaurants, lounges and more. They also offer facilities for sky transportation vehicles such as hangar spaces for aircraft maintenance work and refueling services.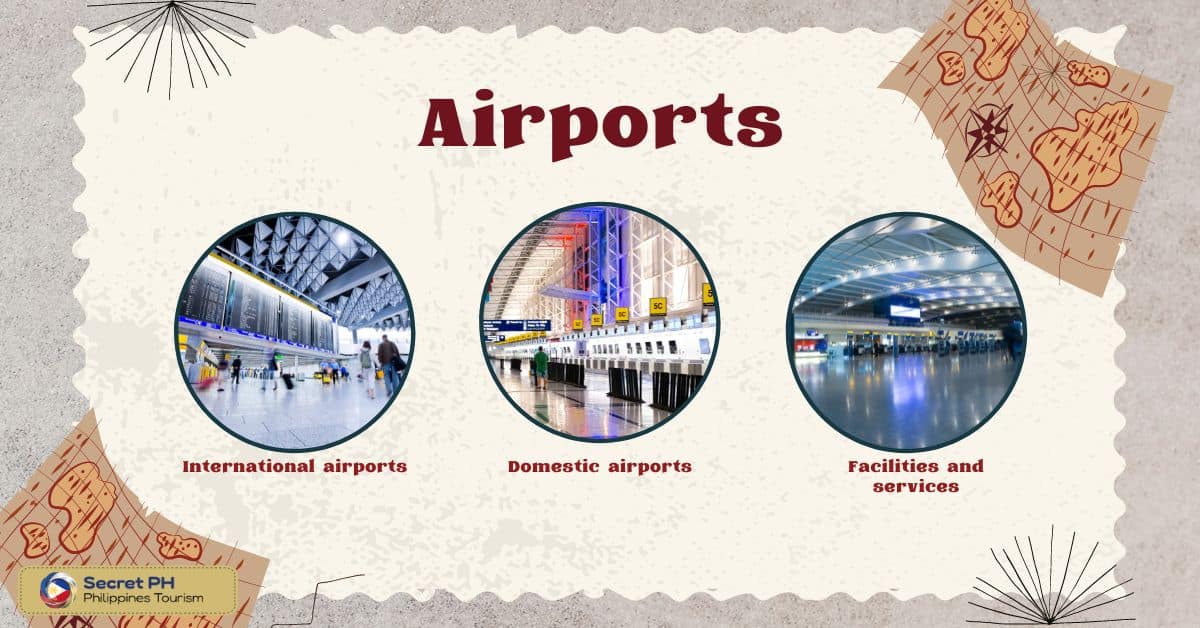 International airports – are large airports that handle international flights, which are flights that cross international boundaries. These airports have customs and immigration facilities to handle the processing of international travelers, including passport control, baggage screening, and customs clearance.
Domestic airports – serve only domestic flights, which are flights that do not cross international boundaries. These airports do not have customs and immigration facilities as passengers do not need to go through the same security checks as international travelers.
Facilities and services – vary depending on the size and location of the airport. However, most airports offer common facilities such as restaurants, cafes, shops, currency exchange, and ATMs. Larger airports may also have lounges, duty-free shops, and hotels. International and domestic airports provide facilities for ground transportation, such as car rental, taxi services, and public transportation like buses, trains or subways.
Safety and Challenges
The Philippines has always faced the challenge of providing safe public transportation to its citizens. From old jeepneys to tricycles, each mode of transportation carries with it its own level of risk. Though immense efforts have been made over the years to ensure safety for these main modes of transportation, a great deal of work is still needed to rise up to the standards that are in place for other countries.
Safety concerns
There are several modes of transportation used by citizens. These include air travel, bus and jeepney rides, and sea trips by ferry. Unfortunately, with the sheer amount of people using each mode every day, safety is a huge concern. Despite this however, areas like overcrowding in public transport still remain an issue that must be addressed in order to ensure passenger safety.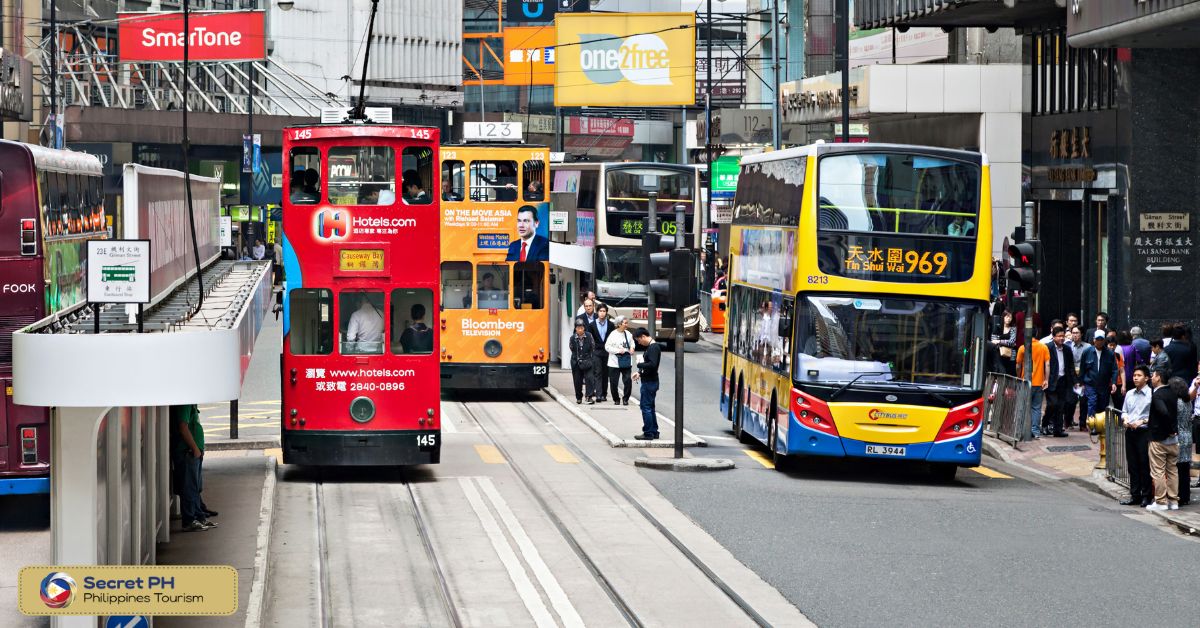 Road accidents
Road accidents are unfortunately an all too common occurrence in the Philippines, with a seemingly increasing frequency. Unfortunately, numerous accidents stemming from motorbikes, cars, and public transport have left people gravely injured or worse – fatalities have become alarmingly frequent.
It is no wonder that safety concerns in relation to the main modes of transportation within the Philippines have been on the minds of many concerned citizens. With unsafe roads often filled with vehicles of varying sizes and capabilities – as well as notoriously chaotic traffic laws – navigating the Philippines' complex roads can prove dauntingly difficult even for experienced drivers.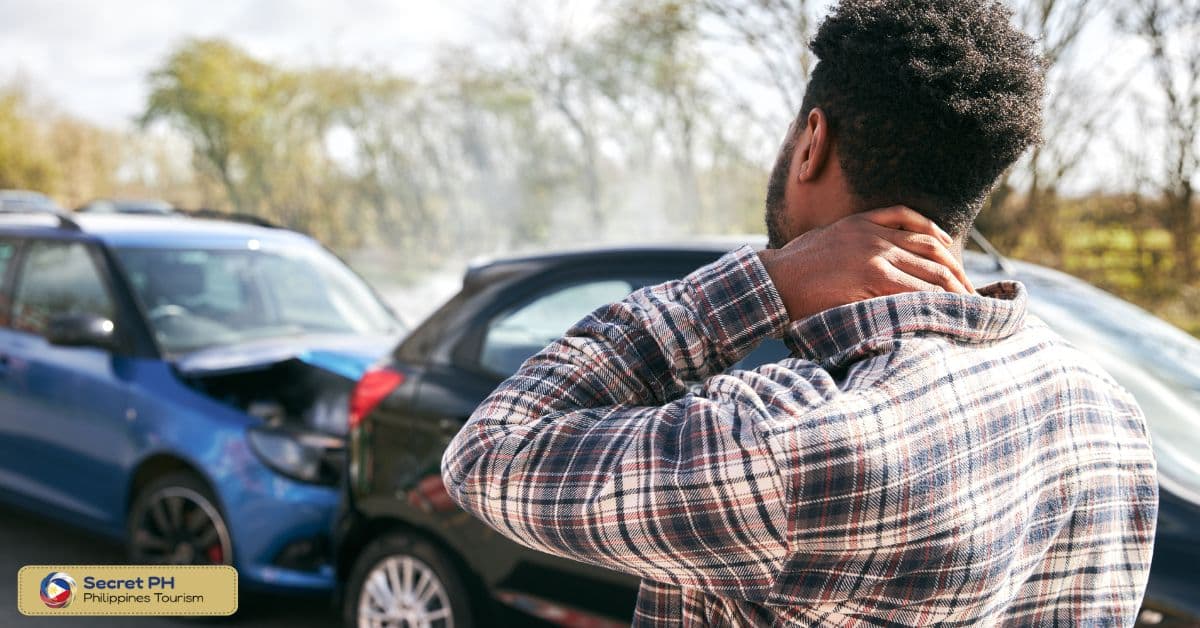 Maritime accidents
Maritime accidents, particularly in the Philippines, have brought to light the safety concerns of using water as a mode of transportation due to preventable hazards and lack of safety regulations. With over 7,641 islands, ferry boats are one of the most common forms of inter-island transportation in the Philippines, yet many ferry companies do not adhere to proper operational standards that could reduce risk and increase safety. Precautionary steps must be taken to protect travelers against unsafe practices while on water and promote compliance with marine safety rules.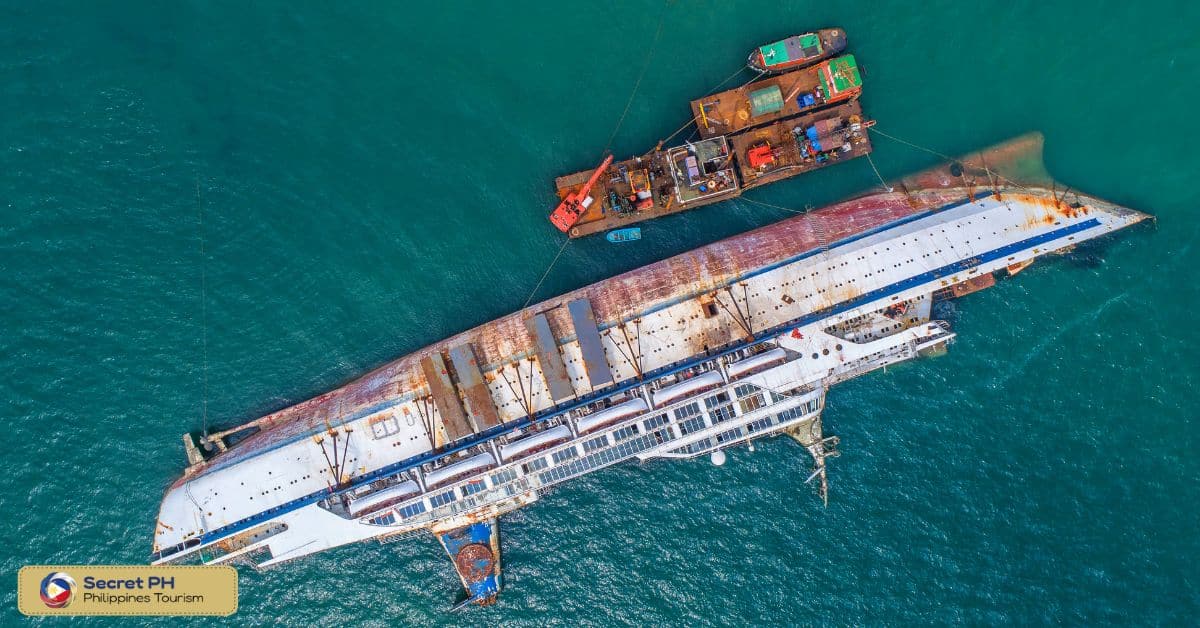 Airline safety
Philippines is one of the many countries that heavily relies on airline safety to move people and goods throughout it. Safety has always been a primary concern for Philippines airlines due to the high number of aircrafts flying over different cities. The Philippines government mandates regular safety inspections and works closely with airlines to ensure all passengers reach their destination safely. Airline safety concerns in the Philippines are taken seriously, and all personnel involved strive to maintain safe operations for every flight.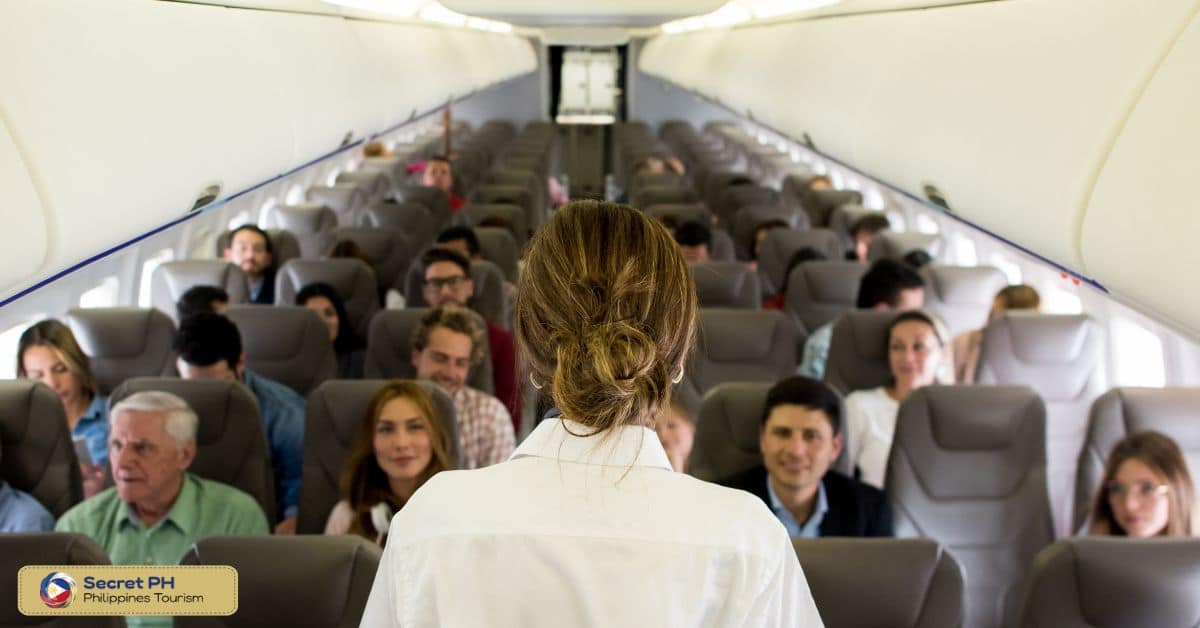 Traffic congestion
Traffic congestion has become an increasingly worrying issue for everyone across the Philippines. As a result of the increasing population and motorisation, disruption in major roads is all too common and affects people's daily lives. The Philippines' main modes of transportation include road, tricycle, jeepney, buses and trains.
Bus and jeepneys are one of the most common forms of transport among Filipinos due to their affordability. Motorcycles and tricycles are typically used in rural areas whereas railways are relatively uncommon due to the limited track network. Although these methods offer some solutions to problems such as air quality and congestion, they still have many limitations when it comes to regulating speed on congested roads.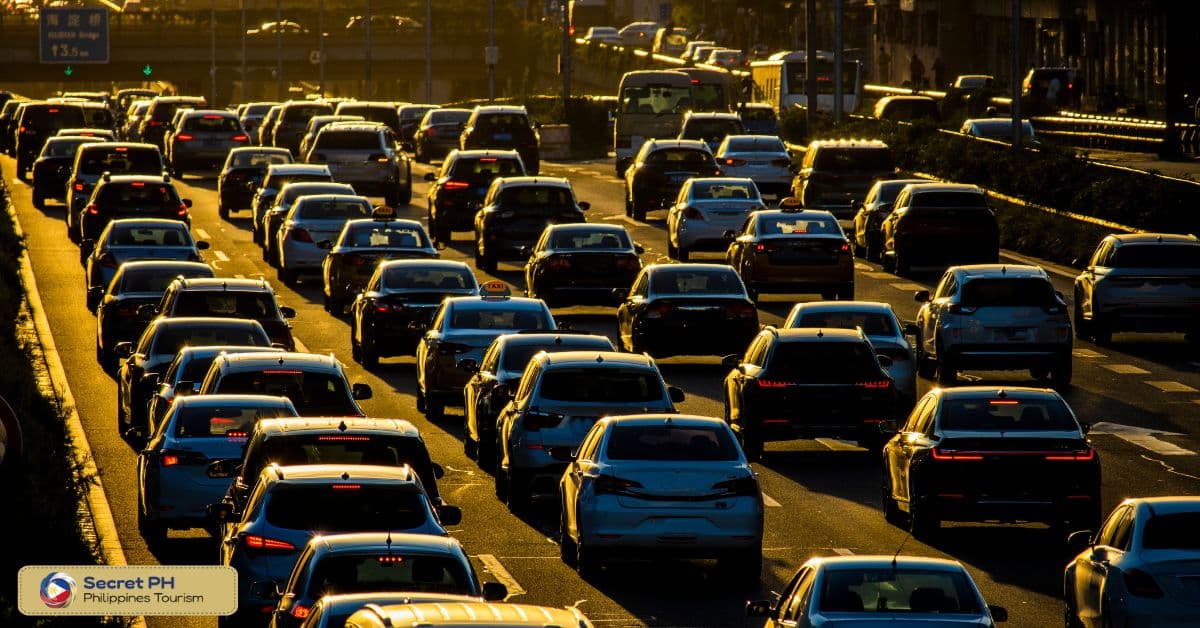 In Conclusion
Philippines is known for its many modes of transportation, ranging from tricycles to white vans. Taking a trip through the Philippines using its different forms of transport proves to be an entertaining and cost effective way of exploring the country.
With transport such as ferries, buses, cars, and cabs the Philippines has various methods for locals and tourists alike to traverse the vast country. Exploring these main modes of transportation in Philippines provides travelers with insight into the culture of this beautiful nation as well as safe means of travel.