The Philippines is a beautiful country, with stunning beaches and lush mountain ranges. Unfortunately, it's also prone to natural disasters such as typhoons, flooding, and earthquakes. These disasters can be devastating for the people of the Philippines – but they can also have a huge impact on animals in need.
The Philippines Emergency Animal Rescue program ensures animal welfare during emergencies by responding to disasters, reuniting lost pets, and finding forever homes for homeless animals. It relies on volunteers and efficient systems to protect and care for our furry friends.
In this blog post, we'll explore what the program is all about, how it works, and why it's so important. So keep reading to learn more about the amazing work they are doing!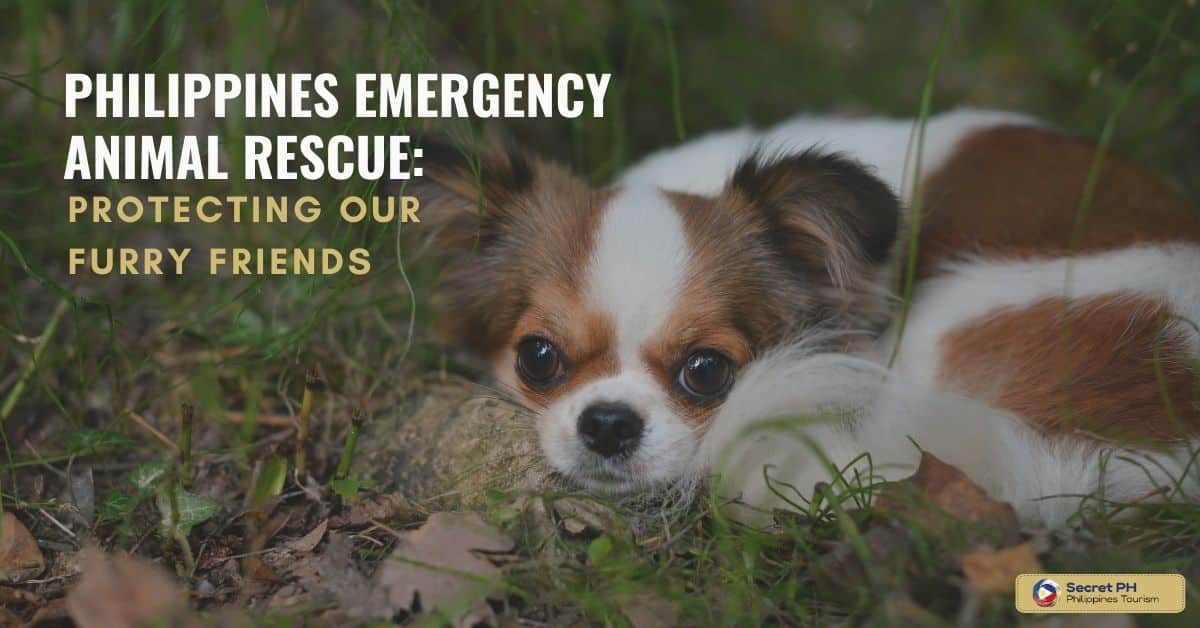 Animal Rescue Efforts During Emergencies
During emergencies in the Philippines, animal rescue teams work tirelessly to save the lives of animals affected by natural disasters. From floods to typhoons, these teams are trained to respond quickly and safely in order to ensure the best outcome for these animals.
They work alongside local authorities, volunteers, and veterinarians to provide vital services such as medical care, food, and shelter for those animals that need it most. Thanks to their hard work and dedication, countless animals have been saved from harm during times of crisis.
These animal rescue efforts are no small feat, but they are critical in ensuring that these vulnerable animals have a fighting chance.
Protecting and Caring for Animals in Crisis Situations
Protecting and caring for animals in crisis situations is a pressing issue around the world, especially in countries vulnerable to natural disasters.
The Philippines, a nation situated in the Pacific Ring of Fire, is often subjected to typhoons and earthquakes that leave animals stranded and vulnerable. It is our responsibility to take action and provide support to these animals during times of crisis.
Whether it is through rescue efforts or the provision of emergency care, every little bit helps. By acknowledging the importance of protecting and caring for animals, we can create a better future for both animals and humans alike.
Let us work together to ensure the safety and well-being of our furry friends in the Philippines and beyond.
Engaging Communities in Emergency Animal Rescue
In the aftermath of a disaster, the well-being of both humans and animals is a major concern. While emergency responders are equipped to handle human casualties, the fate of animals during such times is often overlooked.
Engaging communities is crucial for emergency animal rescue efforts. In the Philippines, for example, typhoons and floods can leave many animals without food and water, making them highly vulnerable.
Awareness and Education
Building awareness about the importance of animal welfare during emergencies is the first step in engaging communities. Educating the public about the risks animals face and the ways they can help create a compassionate and informed response. This can be done through workshops, informational campaigns, and community outreach programs.
Volunteer Recruitment and Training
Mobilizing a dedicated network of volunteers is essential for effective emergency animal rescue. Communities can be encouraged to participate by organizing training programs that equip individuals with the necessary skills to handle animal emergencies. Training sessions may cover animal handling, first aid, rescue techniques, and communication strategies.
Community Emergency Response Teams
Establishing Community Emergency Response Teams (CERTs) specifically focused on animal rescue can be an effective way to engage communities. CERTs comprise trained volunteers who can assist in emergency situations, ensuring a swift and coordinated response. These teams can collaborate with local authorities, animal shelters, and veterinary services to provide immediate assistance to animals in need.
Community Reporting Systems
Encouraging community members to report animal emergencies promptly can significantly improve response times. Establishing dedicated hotlines or online platforms for reporting animal distress or sightings can ensure that information reaches the relevant authorities and rescue teams quickly.
Public-Private Partnerships
Collaborating with local businesses, organizations, and non-profits is another way to engage communities in emergency animal rescue. These partnerships can help secure resources such as vehicles, equipment, and supplies necessary for rescue operations. Additionally, joint awareness campaigns and fundraising efforts can be organized to garner support from the community.
Through community involvement, volunteers can provide much-needed support during these critical times. Whether it's distributing food and water or rescuing stranded animals, empowering the community to take part in emergency animal rescue can make a world of difference.
By working together, we can ensure that both humans and animals receive the urgent care they need in the wake of devastating events.
Providing Safe Havens for Displaced Animals
Providing safe havens for displaced animals is a crucial task that requires concerted efforts from animal welfare organizations and concerned citizens alike. The Philippines, a country prone to natural disasters, has witnessed the devastating effects of typhoons, volcanic eruptions, and earthquakes on animal habitats.
In these situations, thousands of animals find themselves without food, water, and shelter, and at risk of injury or death. That's why animal shelters and sanctuaries have become vital refuges for displaced animals in dire need.
These sanctuaries provide a safe environment for animals to recover, relax, and recuperate while they wait to be reunited with their families or find new loving homes. The provision of safe havens for displaced animals is critical in ensuring their welfare and survival during times of crisis and is an integral part of animal protection efforts in the Philippines.
Ensuring Medical Assistance for Injured Animals
Providing immediate and comprehensive medical assistance for injured animals during emergencies is crucial for their well-being and survival. This requires a coordinated effort involving trained veterinary response teams, well-equipped emergency clinics, and collaboration with animal welfare organizations.
Veterinary professionals and emergency responders must be prepared to offer on-site triage, stabilization, and treatment. Field clinics and mobile veterinary units should be established near affected areas to reach animals in need, while animal shelters and rescue organizations can provide follow-up care and rehabilitation.
Funding through donations and public support is essential to finance the necessary veterinary services. By establishing this network and ensuring timely and effective care, injured animals can have a better chance of recovery and finding a brighter future.
Reuniting Lost Pets and Finding Forever Homes
Reuniting lost pets with their owners and finding permanent homes for homeless animals are crucial aspects of emergency animal rescue, especially in the Philippines where pet adoption rates are still relatively low.
Key points include ensuring proper pet identification, such as collars, tags, and microchips, to increase the chances of a reunion. Reliable reporting systems and resources, like online databases and dedicated hotlines, facilitate the search for lost and found pets.
Temporary shelters provide safe spaces for displaced animals and help owners locate their missing companions. Adoption programs and foster care initiatives help find loving homes for homeless animals.
Public awareness campaigns promote responsible pet ownership and the benefits of adoption. Collaborative efforts involving pet owners, animal welfare organizations, and the community are essential in successfully reuniting lost pets with their families and finding forever homes for animals in need, ensuring their well-being and happiness.
In conclusion
In the Philippines, the Emergency Animal Rescue organization is making a significant impact on the lives of our furry friends. By providing swift and efficient aid whenever an animal is found in distress, they are ensuring that these creatures receive the care and attention they need to recover.
Whether it's rescuing animals from natural disasters or providing much-needed medical attention, the organization's team of experts is always ready to help. Their ongoing efforts have not only saved countless animals but have also helped to raise invaluable awareness about animal welfare in our communities.
With their dedication, there is no doubt that Emergency Animal Rescue will continue to make a positive impact on animal lives in the Philippines and beyond.