Hospitals and police stations are essential for any society to function properly, but in the Philippines these two institutions have a far greater importance. As the country is often affected by natural disasters, having 24/7 emergency response readily available is a life-saving necessity that has the potential to drastically reduce casualties in all types of situations.
This blog post will look at how hospitals and police stations act as a powerful defense against national disasters in the Philippines as well as other dangerous events.
Why the Philippines Needs 24/7 Emergency Response
The Philippines is prone to numerous risks, ranging from extreme weather events to various disasters caused by man-made issues. It is a country of over 100 million people, and each one of them needs an emergency response that is reliable, consistent and available 24/7.
In such urgent times, every minute counts and having access to a system that can quickly respond in emergencies often becomes the difference between life and death. Therefore, the government needs to focus its attention on implementing best practices for Emergency Medical Services (EMS) response systems in order to address the improved safety, security and healthcare standards of its citizens.
Hospitals and Their Role in 24/7 Emergency Response
In the Philippines, hospitals play an essential role in providing 24/7 emergency response. The availability of doctors and nurses around the clock is especially important to ensure that medical needs are swiftly addressed during times of crisis.
Hospitals also provide basic services such as consultations, medication advice, maternity care and life-saving procedures at any time of day or night. It is clear that having a viable 24/7 emergency response system in place is vital for saving lives in the Philippines and hospitals do their part by providing consistent quality healthcare services anytime and anywhere within their coverage area.
The Philippine Heart Center (PHC)
Address: East Avenue, Diliman, Quezon City, Philippines
Phone: (02) 8925 2401
St. Luke's Medical Center
Address: 279 E Rodriguez Sr Ave, Quezon City, Metro Manila, Philippines
Phone:  (02) 8723 0101
Makati Medical Center
Address : 2 Amorsolo St, Makati, Metro Manila, Philippines
Phone: (02) 8888 8999
Role of hospitals in providing medical assistance for emergencies
Hospitals play a critical role in providing medical assistance for emergencies. In the Philippines, access to quality medical care can be hard to come by, making it vitally important that hospitals are available 24/7 to provide emergency help when needed.
Experiencing a medical emergency can be an unpredictable, fast-moving and sometimes life-threatening situation where every second counts. When an emergency occurs, based on the gravity and severity of each case, it may become necessary to immediately be transported to a medical facility or hospital in order to get proper attention from trained professionals equipped with advanced equipment and resources.
| | |
| --- | --- |
| Providing immediate medical treatment for injuries and illnesses | Hospitals are equipped with emergency departments staffed by doctors, nurses and other medical professionals who are able to provide immediate treatment for injuries and illnesses such as broken bones, heart attacks, strokes, and trauma. |
| Stabilizing patients before transfer to specialized facilities | Hospitals are able to provide initial stabilization for patients who require further specialized care, such as surgery or intensive care, before transferring them to specialized facilities. |
| Coordinating with emergency services for patient transport | Hospitals work closely with emergency services such as ambulances to ensure that patients receive the appropriate level of care and are transported to the right facility as quickly as possible. |
| Maintaining emergency equipment and supplies | Hospitals are responsible for ensuring that they have the necessary equipment and supplies to respond to emergencies, such as defibrillators, oxygen tanks, and medical supplies. |
| Providing training and education for emergency response personnel | Hospitals are responsible for providing training and education to medical professionals, including emergency room staff and paramedics, to ensure they are prepared to handle a wide range of emergencies. |
Challenges faced by hospitals in providing 24/7 services
In the Philippines, hospitals must face many unique challenges to provide round-the-clock emergency services. Due to the recent natural disasters and frequent public health crises, offering 24/7 services is increasingly essential for reducing the number of casualties and stabilizing communities during times of crisis.
The challenge becomes managing resources while ensuring there is always a sufficient level of quality care available. This requires healthcare professionals to work long hours, creating burnout and putting their own well-being at risk.
Staffing shortages: Hospitals often struggle to recruit and retain enough medical professionals to staff emergency departments and other critical areas on a 24/7 basis. This can lead to overworked staff and longer wait times for patients.
Limited resources: Hospitals are often stretched thin by budget constraints and limited resources, which can make it difficult to provide the necessary level of care to patients.
Overcrowding: Hospitals can become overcrowded during busy periods, which can make it difficult for staff to provide the level of care required, and can also put patients at risk.
Technology and equipment failures: Hospitals are heavily dependent on technology and equipment, and when these fail, it can disrupt care and put patients at risk.
Coordination and communication challenges: Hospitals often have to coordinate with multiple other healthcare providers, emergency services, and other organizations, which can make it difficult to ensure the smooth flow of patients through the system.
How the government is helping improve hospital services
In an effort to respond to health emergencies around the clock, the Philippine government is increasing the number of hospitals and emergency services providers with 24/7 access. With millions of Filipinos living in remote parts of the country, a vast majority are not always able to access needed medical attention. This new policy aims to address that need, as well as provide quicker response times for emergency events across remote areas.
Why is this important? Well, there are numerous reasons why the Philippines needs 24/7 Emergency Response. Not only will it protect those who don't have easy access to healthcare but also aid in creating a comprehensive national medical care system where everyone has access to medical help when needed- regardless of location or timing.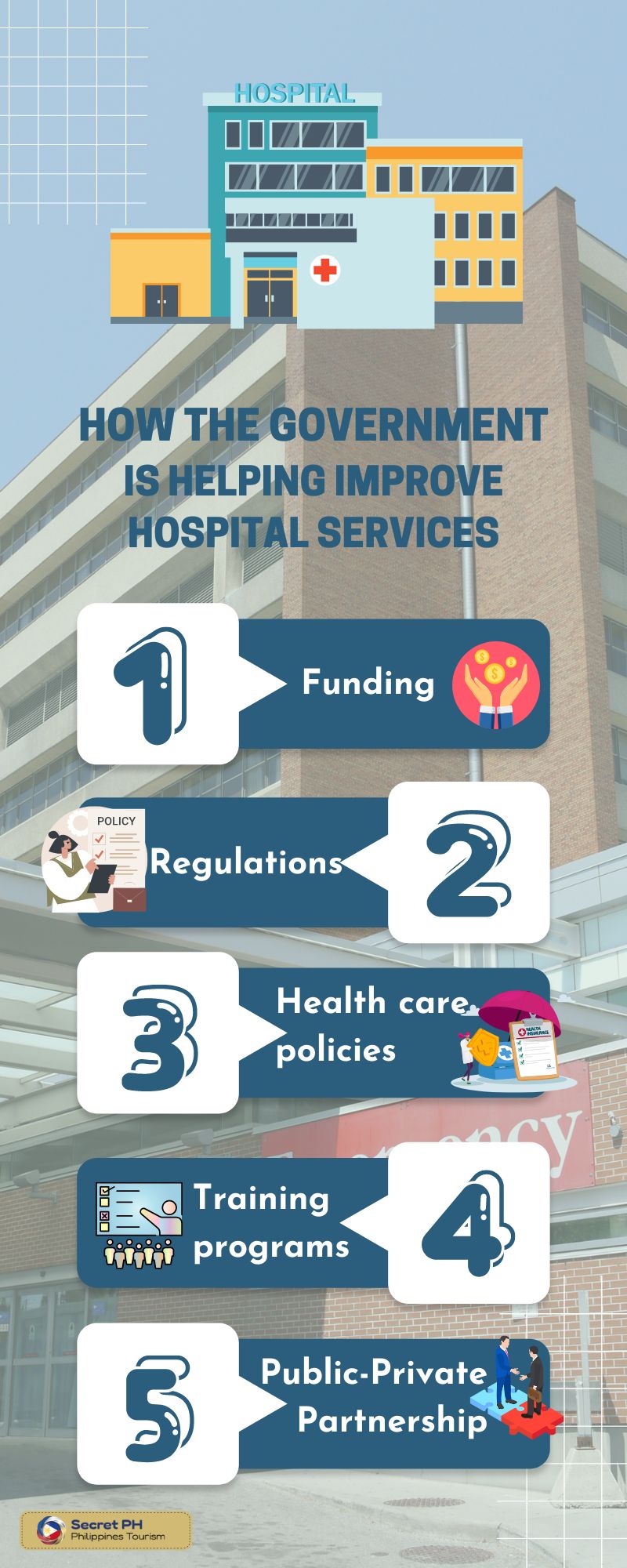 Funding: The government provides funding to hospitals to help them improve their facilities and equipment, as well as to hire additional staff.
Regulations: The government sets regulations and standards for hospitals to ensure they are providing safe and appropriate care to patients.
Health care policies: The government creates policies and programs to improve access to health care services in the country and help make it more affordable.
Training programs: The government also often provides funding and support for training programs for healthcare professionals to ensure they have the skills and knowledge necessary to provide the best possible care.
Public-Private Partnership: The government often partners with private hospitals to improve the healthcare services by providing better facilities and services to the people. This partnership can also help in the improvement of the healthcare system of the country.
Police Stations and their role in 24/7 Emergency Response
Police stations in the Philippines are crucial to 24/7 emergency response. They handle a variety of duties that help to maintain public order and safety, from providing security at public events to responding to unexpected emergencies.
The police are pivotal in making sure that citizens receive assistance as quickly as possible when faced with potentially dangerous or life-threatening situations. A large number of police stations in operation 24/7 adds an extra layer of protection and allows for more efficient response times, ensuring that vulnerable people safety is prioritized and taken seriously.
Philippine National Police Western Visayas Regional Headquarters
Address: MHRJ+G92, Iloilo City Proper, Iloilo City, 5000 Iloilo
Phone: (033) 337 5511
Manila Police District Headquarters
Address: JXFH+R73, J Abad Santos, 216 Zone 21, Manila, 1012 Metro Manila
Phone:  (02) 8252 8450
Role of the police in providing security during emergencies
The safety of the public is always top priority, especially in times of emergency. The role of Philippine police officers in providing security for citizens is an essential one, as it ensures that no matter what time or day, help is just a phone call away.
Why the Philippines needs 24/7 emergency response is because you can never be too prepared when it comes to life and limb; whether it's due to natural disasters or criminal activity, the police are our first line of defense and must always be available to respond promptly. Everyone has their part to play; with dependable police forces willing to step up in times of crisis, we can create a safer world for all Filipinos.
| | |
| --- | --- |
| Maintaining order | The police are responsible for maintaining order and preventing crime and violence during emergencies, such as natural disasters, terrorist attacks, and civil unrest. |
| Responding to emergency calls | The police are responsible for responding to emergency calls and providing assistance to people in need, such as those who are injured or trapped. |
| Coordinating with other emergency services | The police work closely with other emergency services such as paramedics, firefighters, and search and rescue teams to coordinate responses and ensure efficient use of resources. |
| Crowd control | The police are responsible for controlling crowds and ensuring public safety during large public gatherings, protests and other events. |
| Investigating and preventing emergencies | The police also play a role in investigating and preventing emergencies by using intelligence gathering, surveillance and other means to detect and disrupt potential threats before they occur. |
Challenges faced by the police in providing 24/7 services
In this day and age, round-the-clock emergency response is no longer a luxury – it's a necessity. Despite the critical role of the police in providing 24/7 services, they face several challenges that can impede their ability to do so. In a densely populated country like the Philippines, where natural disasters and accidents tend to be commonplace, having reliable access to emergency services is essential.
These include increasing the number of officers available for duty at any given time, utilizing modern technology such as body cameras for protection against groups and individuals alike who might attempt to take advantage of them, and enforcing public safety protocols that have been established internationally. The nation needs these efforts from the police now more than ever as they work tirelessly to keep citizens safe and secure throughout all hours of the day or night.
Staffing shortages: The police can be faced with staff shortages which can lead to longer response times and difficulty in maintaining order during emergencies.
Limited resources: Police departments can struggle with budget constraints and limited resources which can make it difficult to maintain a 24/7 presence in certain areas and to provide necessary equipment and support to officers.
Fatigue and Stress: Police officers may be required to work long hours, night shifts and overtime which can lead to fatigue, stress and burnout.
Dealing with dangerous situations: Police officers are often required to put themselves in harm's way to protect the public, and they may face dangerous situations such as riots, terrorist attacks and civil unrest.
Community relations: The police may face challenges in maintaining positive relationships with the community they serve, especially in areas where there is a history of mistrust or tensions between police and the public.
How the government is helping to improve policing services
In recent years, the government has been stepping up their efforts in improving policing services for citizens all across the Philippines. The new initiatives include assembling 24/7 Emergency Response Teams staffed by trained police personnel and equipped with the latest technology suitable for round-the-clock operations.
This kind of readiness is essential in urban areas, where responding quickly to emergencies can mean the difference between life or death.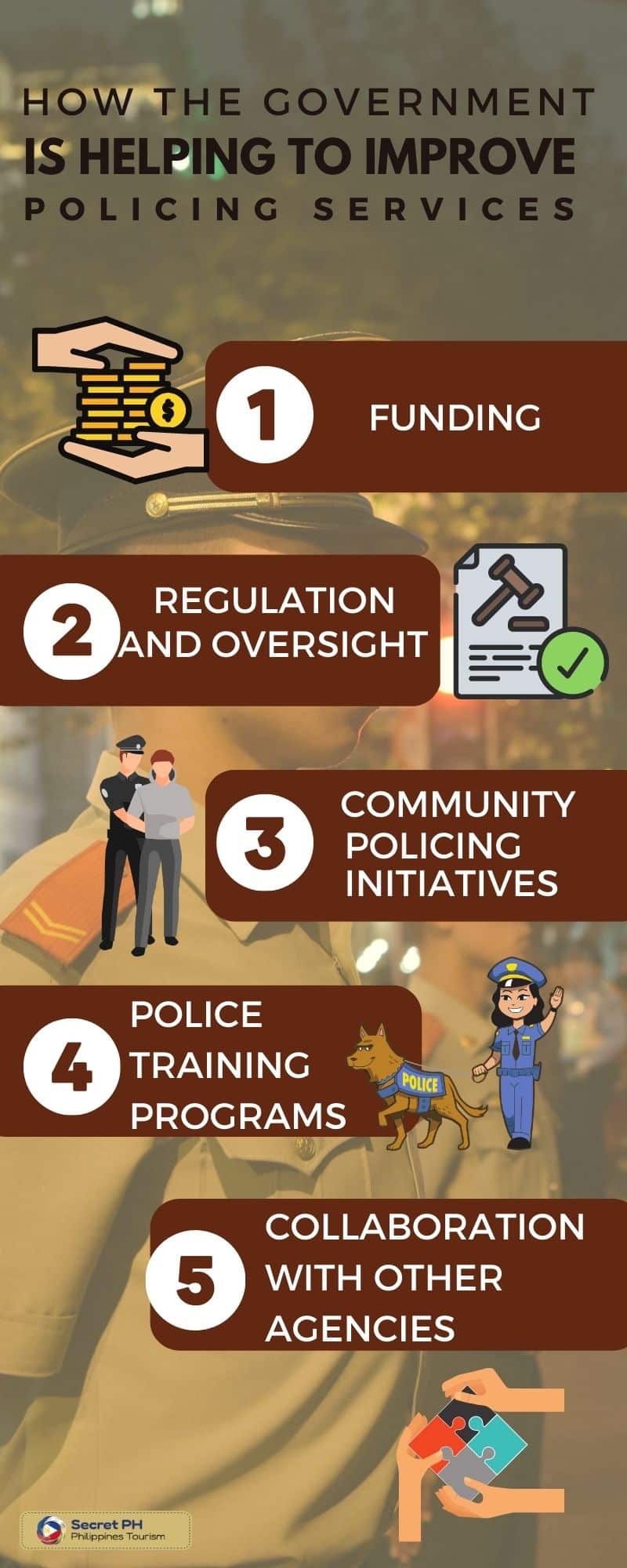 Funding: The government provides funding for police departments to purchase necessary equipment, technology and vehicles, and to cover the expenses of training and recruitment of officers.
Regulation and oversight: The government establishes regulations and oversight to ensure that police departments are operating within the law and providing appropriate services to the public.
Community policing initiatives: The government may create programs and initiatives that focus on community policing, which emphasizes building positive relationships between the police and the community.
Police training programs: The government provides funding and support for training programs for police officers, including in areas such as de-escalation, use of force and cultural sensitivity.
Collaboration with other agencies: The government may support collaboration and cooperation between the police and other agencies such as social services, mental health providers, and other emergency services to address the root causes of crime and public safety issues.
For more information about Philippines' Emergency Hotline click here.
In Conclusion
In the Philippines, 24/7 emergency response is of crucial importance. Natural disasters in the country are frequent, creating an imperative to have infrastructure in place that can respond promptly to a wide range of potential disasters. The government works continually to ensure a robust 24/7 emergency response system is functional and accessible.
This includes investing in modern technology and training personnel to handle specific situations. Moreover, NGOs have formed innovative partnerships with local authorities in order to provide valuable resources and expertise. All these efforts ensure that when disaster strikes, help is never far away and those affected get their much-needed support as quickly as possible. Consequently, the growing focus on 24/7 emergency response services forms an integral part of sustaining safety for people living in the Philippines.