The best time to visit Benguet, a province in the Philippines, is during the dry season from November to April. This period offers pleasant weather, clear skies, and ideal conditions for exploring its breathtaking landscapes, including the famous strawberry fields and stunning mountain views.
In this blog post, we will help you plan your trip to Benguet by exploring the different seasons and highlighting the best time to experience the beauty of this stunning province. So whether you're planning solo travel, a romantic getaway, or a family vacation, read on to find out the best time to visit Benguet and witness its wonders firsthand.
Benguet Province
Nestled in the northernmost part of the Cordillera Administrative Region, Benguet Province is a stunning destination filled with breathtaking landscapes and alluring charm. Known for its cooler weather and picturesque scenery of mountains and rice terraces, Benguet is a perfect place to unwind and appreciate nature. The province is also rich in history and culture, with locals who take pride in their heritage.
From the colorful festivals and delicious cuisine to the vibrant handicraft and art scene, Benguet is a fascinating destination that should be on every traveler's bucket list. With countless activities to enjoy, such as hiking, spelunking, and fruit-picking, visitors will always find something new to experience in this beautiful province.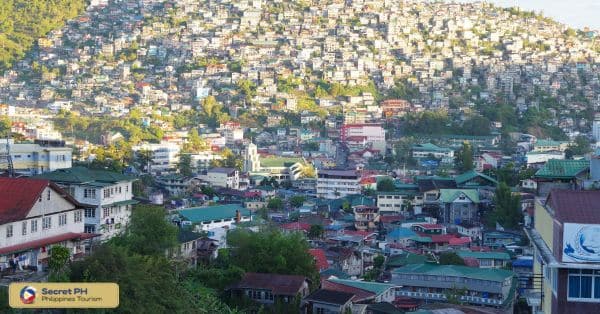 Summer (March to May)
Benguet, a province located in the Cordillera Administrative Region, boasts a warm and dry climate during the summer season, which runs from March to May. With an average temperature of 25 degrees Celsius, the weather in Benguet is certainly conducive to outdoor activities such as hiking and camping. For those looking to escape the hustle and bustle of city life, the province is the perfect destination where visitors can immerse themselves in nature while enjoying the warm and pleasant weather.
Benguet is also known for its magnificent scenery, including beautiful rice terraces, lush mountains, and cascading waterfalls, which are even more breathtaking under clear blue skies with the sun shining bright.
Festivals and events
Nestled in the northern mountainous region of the Philippines, Benguet is not only celebrated for its breathtaking landscapes and cultural heritage but also for its vibrant festivals and events that showcase the vibrant traditions of its people. From the colorful strawberries of La Trinidad to the lively street dancing of the Panagbenga Festival, there is no shortage of exciting happenings throughout the year in Benguet.
Panagbenga Festival – The Panagbenga Festival is a vibrant, month-long celebration in Benguet that showcases the rich culture and traditions of the Cordilleran people. Drawing visitors from all over the world, the festival features colorful parades, live music, dance performances, and street parties. The festival's highlight is the Grand Street Parade, which showcases the breathtaking flower floats that symbolize the town's blooming flowers.
Strawberry Festival – One of the most colorful and lively events in Benguet is the annual Strawberry Festival. Held every March, this festival celebrates the abundance of strawberries in the region, showcasing various products and delicacies made from sweet and juicy fruit. Visitors can enjoy strawberry picking, food trips, and exciting events such as Strawberry Jamming, where musicians from different parts of the country come together to perform.
Outdoor activities
From March to May, Benguet becomes the ultimate destination for those seeking exciting outdoor activities. The region boasts picturesque nature spots such as Ambuklao Dam, Mount Yangbew, and the famous Strawberry Farm in La Trinidad. The warm and sunny climate during this time of year also provides an excellent opportunity for adventures.
Hiking – Hiking is a popular outdoor activity in Benguet during the summer months, from March to May. With its stunning mountain views and beautiful trails, this province is a haven for adventure seekers. Whether you're hiking on a beginner or advanced trail, you'll get to witness breathtaking natural surroundings that will surely leave you in awe.
Trekking – Trekking in Benguet during the summer months of March to May is a must for adventure-seekers. With its lush forests and majestic peaks, Benguet offers some of the best hiking trails in the Philippines. The landscape is dotted with traditional villages, scenic waterfalls, and terraced rice paddies. Trekking through these breathtaking vistas is a great way to immerse yourself in the culture and natural beauty of the region.
Strawberry Picking – Strawberry picking is one of the most exciting and adventurous outdoor activities in Benguet during the summer months of March to May. This activity is perfect for those who love the freshness of nature and the taste of juicy, sweet strawberries. Imagine walking through the lush green fields and enjoying the beauty of nature while you pluck fresh strawberries straight from the bushes. It's not only a fun activity but also a great way to connect with nature and enjoy the bounties of summer.
Rainy Season (June to October)
The rainy season ushers in cooler temperatures and frequent rainfall in the Benguet region from June to October. This change in weather patterns presents unique challenges for those who live and work there. Rivers and streams swell, and landslides become a common occurrence, making transportation and travel difficult.
It's important for residents to prepare accordingly, with proper drainage and flood prevention measures in place. Despite the challenges, the rainy season also brings lush greenery and fresh air, making it a welcome change from the heat of summer.
Activities: Indoor Attractions
When one thinks of Benguet, outdoor activities such as hiking and mountain climbing may come to mind. However, this province in the Northern part of the Philippines also offers a variety of indoor attractions that are worth visiting. For those who love history, the Benguet Museum showcases the province's rich culture and traditions. With these indoor attractions, Benguet is not just a destination for outdoor enthusiasts, but for everyone who seeks a fulfilling and active cultural experience.
BenCab Museum
Nestled in the quaint town of Tuba, Benguet lies the BenCab Museum, a must-visit destination for those exploring the indoor attractions of the province. This museum exhibits the works of the National Artist Benedicto Cabrera, or BenCab, alongside the works of other contemporary artists. Visitors can marvel at the intricacies of the art collection, which includes paintings, sculptures, and indigenous artifacts, while also soaking in the serene landscape surrounding the museum. The museum also offers workshops and events throughout the year, making it an engaging and dynamic experience for all art enthusiasts.
Address: Km. 6 Asin Rd, Tuba, 2603 Benguet
Opening Hours: Tuesday – Sunday (9 AM – 6 PM)
Phone: (074) 442 7165
Emilio F. Aguinaldo Museum
The Emilio F. Aguinaldo Museum is one of the must-visit indoor attractions in Benguet. This museum showcases the fascinating life and accomplishments of the revolutionary leader Emilio Aguinaldo, who played a significant role in Philippine history. The museum has an impressive collection of artifacts and memorabilia that will surely pique your interest. Experience an enriching journey through the life of Emilio Aguinaldo and discover how he fought for the Philippines' independence from Spanish colonial rule. This museum is a perfect blend of history and education that is worth including in your Benguet itinerary.
Address: CJ62+V9F, Happy Glen Loop Rd, Baguio, Benguet
Opening Hours: Tuesday – Sunday (9 AM – 5 PM)
Phone: (074) 661 1797
Baguio Museum
Baguio Museum is a must-visit indoor attraction in Benguet for anyone interested in the rich cultural and historical heritage of the region. The museum boasts a wide range of exhibits that showcase the vibrant customs, traditions, and lifestyles of the different ethnic groups in the province. From ancient artifacts and clothing to artworks and photographs, there is no shortage of fascinating objects to explore here. Visitors can also attend regular events and workshops that aim to promote awareness and appreciation of Benguet's unique culture and identity.
Address: Dot-PTA Complex, Gov. Pack Rd, Baguio, 2600 Benguet
Opening Hours: Tuesday – Sunday (9 AM – 5 PM)
Phone: (063) 444 7451
In Conclusion
If you're looking to experience the best of Benguet, timing is everything. The province is known for its scenic views and abundant produce, but to truly appreciate its beauty and flavors, it's essential to plan your visit during the optimal season. While the region is a year-round destination, the months of February to April offer the best temperatures and stunning blooming flowers known as the Panagbenga Festival.
It's also a great time to witness the thriving strawberry fields and taste the freshest strawberries. For those interested in exploring the Cordillera Mountains, the dry season from November to March will provide the clearest views and manageable hiking trails. No matter what time of the year you visit Benguet, you'll be greeted with cheerful hospitality and a chance to indulge in the wonders of this mountainous paradise.