The Philippines is a country rich in culture and tradition. From Mindanao in the south to Luzon in the north, each region has its own unique customs and festivals that have been passed down from generation to generation.
In this article, we'll explore the diverse cultural heritage of the Philippines, from Mindanao's traditional dances and festivals to the unique practices of the Visayas region and Luzon's fascinating customs. Knowing the role of food in Philippine culture, as well as how music and dance are used as expressions of individual and collective identity.
Finally, we'll look at the challenges and opportunities for preserving traditional Philippine cultural traditions in today's modern world.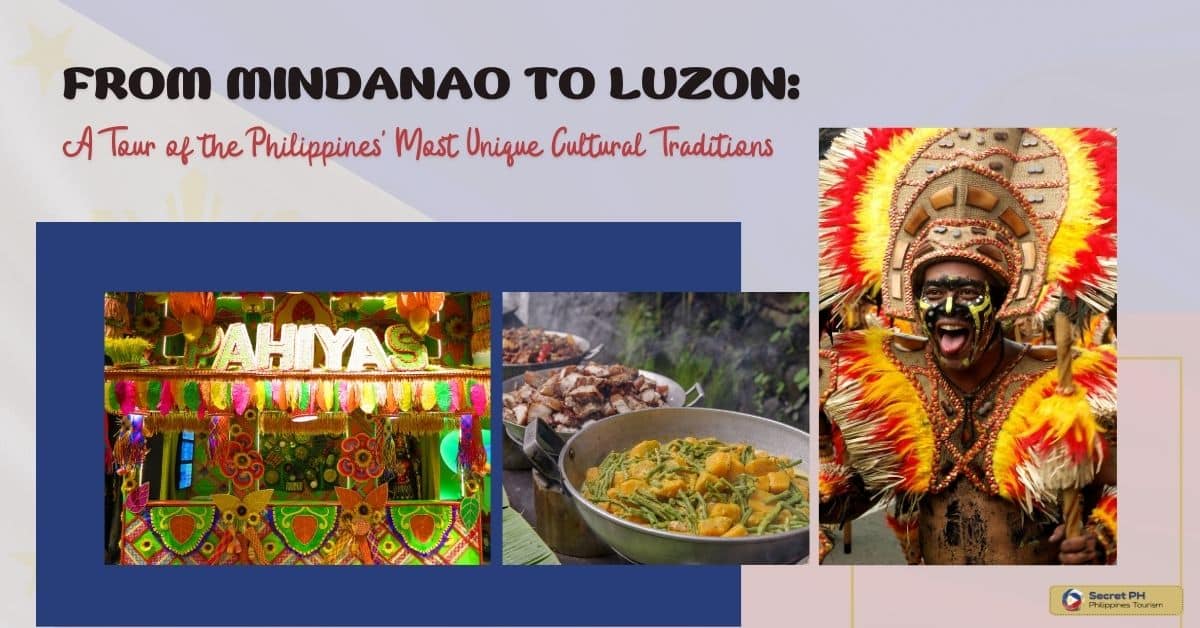 Exploring Mindanao's Rich Cultural Heritage
Mindanao is the second largest and southernmost island of the Philippines. It is home to a variety of ethnic groups, each with its own unique culture and traditions. Among these are the Lumad, Iranun, Tausug, Maguindanao, Maranaw, and Yakan.
Festivals in Mindanao
Mindanao, the second largest island in the Philippines is known for its rich culture and vibrant festivals. Here is a list of some of the most popular festivals celebrated in Mindanao: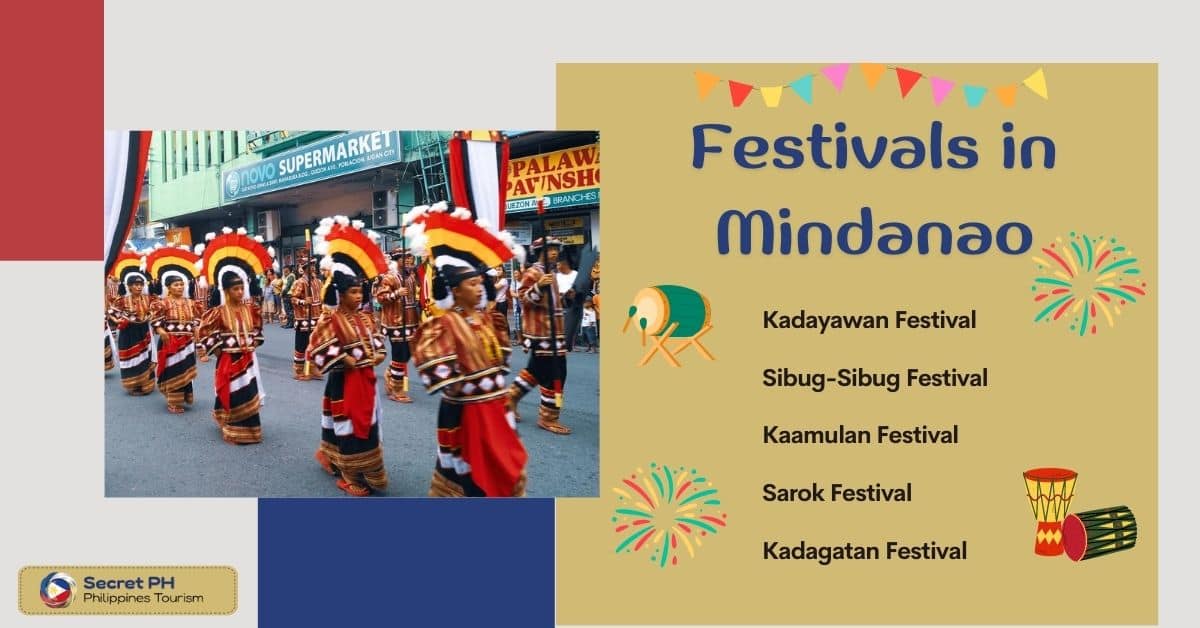 Kadayawan Festival – This festival, celebrated annually in Davao City, celebrates the colorful tribal culture and heritage of Mindanao. It's an explosion of art, music, and dance that aims to showcase the creative spirit of Mindanao's indigenous people.
Sibug-Sibug Festival – This lively festival is held in Zamboanga City to honor St. Paschal Baylon, who is venerated as one of the country's patron saints. The festivities include folk dances, parades, and street theater performances by local tribespeople around different churches within the city.
Kaamulan Festival – Celebrated annually in Malaybalay City, Bukidnon Province, this cultural festival aims to promote unity among seven ethnic groups living in western Mindanao—the Bukidnons, Manobos, Talaandigs Higaonons, and Umayams. It features colorful street pageants full of indigenous costumes and performances depicting pre-colonial customs and traditions from these communities.
Sarok Festival – Also known as "Labas sa Labas" or "Out from Inside" this festival is held annually in General Santos City to celebrate their victory against Japanese forces during World War II. This patriotic celebration includes a parade around city streets featuring veterans dressed in military uniforms marching along with various decorated floats depicting war scenes from the WW II era as well as traditional dances performed by locals dressed up as if straight out of that period in history.
Kadagatan Festival – Held every October 12th to commemorate the Christianization anniversary of Butuan City, this religious fiesta honors St Mary Magdalene with processions around major churches accompanied by bands playing hymns inspired by her martyrdom story.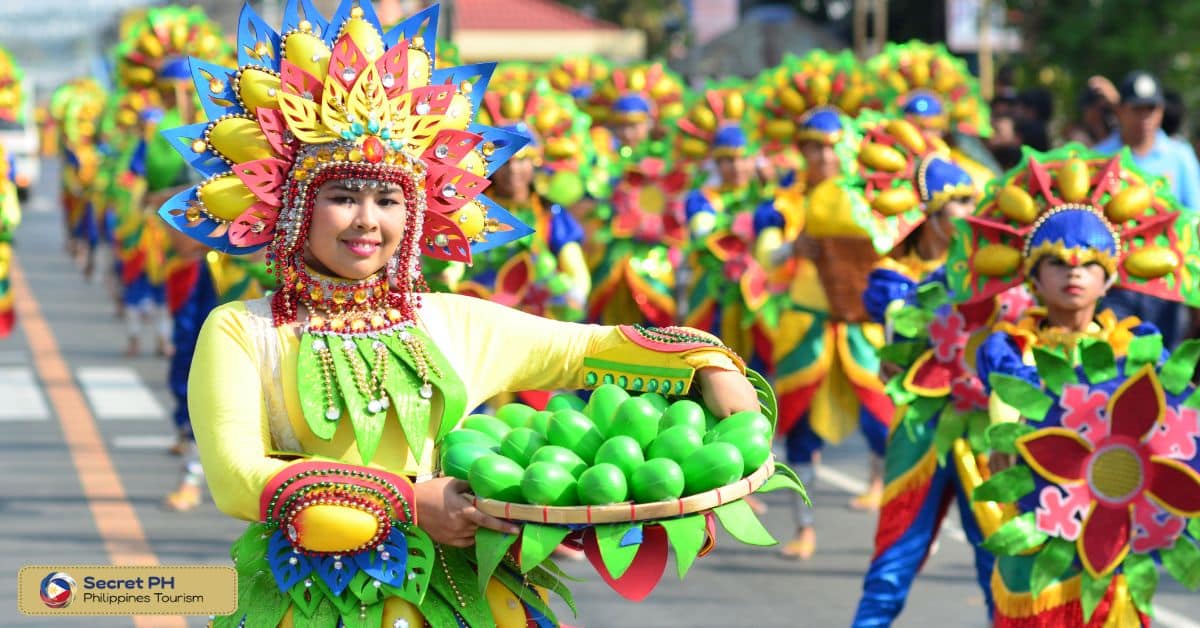 Mindanao's Food and Cuisine
Mindanao is a region in the Philippines known for its diverse cuisines, producing unique dishes that combine indigenous cooking methods with imported ingredients. In this list, we explore some of the most popular and delicious dishes from Mindanao:
Sikwate – a hot chocolate drink made from local cacao beans
Satti – skewers of grilled meat served with chili sauce
Kinilaw – raw fish marinated in vinegar and spices
Puso – steamed rice cooked inside coconut leaves
Pancit Palabok – noodles covered in shrimp sauce, hard-boiled eggs, and chicharron (pork rinds)
Buko Pie – a sweet dessert made from young coconut meat, condensed milk, and cheese
Mani – roasted or boiled peanuts mixed with garlic, salt, and oil
Puto – sticky rice cakes flavored with coconut and sugar syrup
Tinuom – pork cooked in vinegar, ginger root, and onion
Durian candy – candy made from the popular durian fruit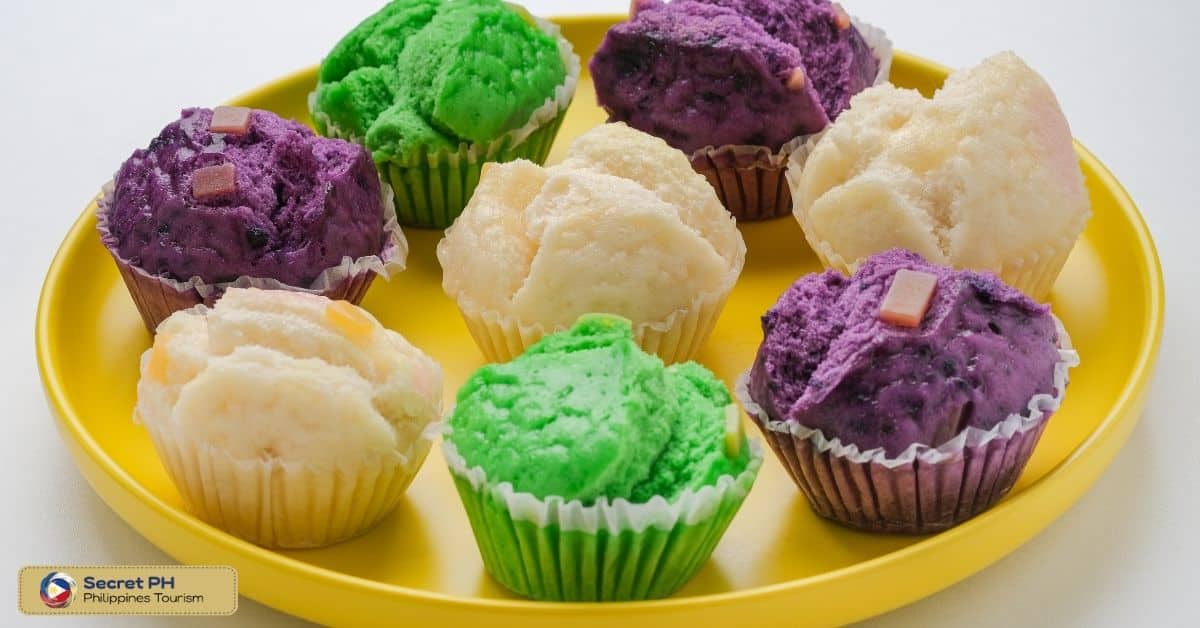 Mindanao Traditional Music
Mindanao, the second largest island in the Philippines, is home to diverse cultures and languages. It also has a wide variety of traditional music styles that have been passed down through generations. Here is a list of some of the most popular and fascinating traditional music of Mindanao.
Salidummay: This is a popular style found in Maranao, Maguindanao, and Manobo cultures. It typically features vocal chants accompanied by percussion instruments such as 'agungs' and 'dabakans' to create a mesmerizing melodic soundscape.
Sama Bangingi: This style originates from 'Tausug' people living in Sulu archipelago and Zamboanga regions in Mindanao. Instruments used are mainly gongs (ganci) but can also include drums and other percussion instruments like lutes or short bamboo flutes (suling).
Piyesta: A festive gathering customarily celebrated after weddings, birthdays, or any other special occasions throughout Mindanao wherein music plays an important role in setting the mood for everyone to enjoy. Drums provide the beat while guitarists sing along with lyrics about love, life, or nature – all very fitting for these joyous occasions!
Kulintang: This type of music originated from Kalibugan-Kalinga culture which can be found in many parts of Mindanao. It involves the use of gong instruments like 'agungs', 'dabakans' and 'kulintangs' with drums and bamboo instruments.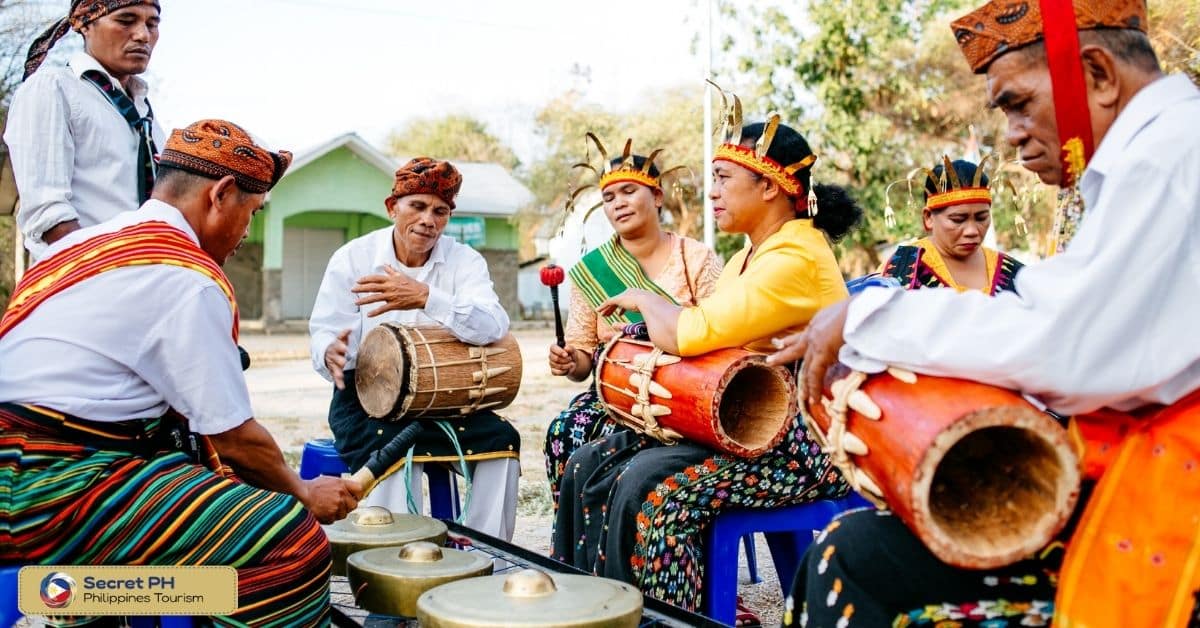 Mindanao Folk Dances
Mindanao is rich in culture and tradition; its traditional dances reflect the unique and vibrant heritage of this island. From the gracefully-executed Tinikling to the rambunctious Singkil, these five traditional dances of Mindanao are sure to captivate audiences with their beauty and spectacular choreography.
1. Itik-Itik: This dance originated from Surigao del Norte, a province in Mindanao. It is believed to be based on the movement of ducks when they are looking for food.
2. Singkil: This dance is said to originate from the Maranao people of Mindanao. It tells a story about a princess who was forced to dance out of danger while avoiding bamboo poles and trees during her escape.
3. Kandingan: This dance is believed to have derived from the Maguindanao tribe of Mindanao. Its movements are based on the graceful and agile movements of the eagles.
4. Pangalay – This Sulu dance traces its roots to ancient folk healing rituals which involve graceful arm movements set against a slow and undulating movement patterning through various Buddhist holy sites throughout Southeast Asia. It is often mistaken by Western observers as a form of ballet due to its delicate yet powerful gestures. 'Pangalay' serves mainly as a spiritual healing ceremony for those in need of physical or psychic healing that transcends language barriers across many cultural divides.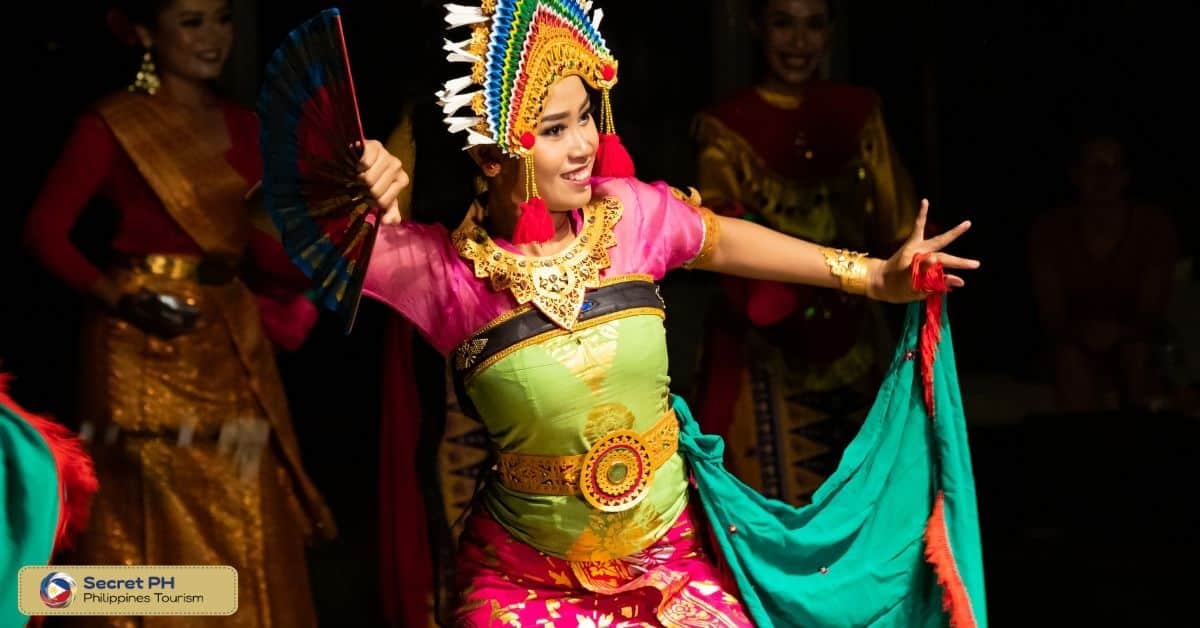 The Unique Customs and Festivals of the Visayas Region
The Visayas region is located in the central part of the Philippines and consists of seven islands: Samar, Leyte, Cebu, Negros, Guimaras, Panay Bohol, and Siquijor. Each island has its own unique culture and customs that have been passed down from generation to generation.
Festivals in Visayas
Visayas is a region in the Philippines deep with culture, and this culture is reflected in the many colorful festivals which take place throughout. Here's a list of some of the most popular festivals taking place throughout the Visayas:
Ati-Atihan Festival – Kalibo, Aklan (January)The Ati-Atihan Festival is an annual celebration of Philippine culture and heritage. It is said to have originated as a pagan ritual, but today it is celebrated in honor of the Santo Niño (Infant Jesus) with colorful parades and street performances featuring traditional drums and costumes.
Sinulog Festival – Cebu City (January)The Sinulog Festival is a colorful celebration of Cebu's Christian faith. It features processions, parades, and street performances with participants wearing vibrant costumes and carrying images of the Santo Niño as they dance to the beat of drums.
Dinagyang Festival – Iloilo City (January)The Dinagyang Festival is celebrated in honor of Señor Santo Niño. It features processions with participants dressed up in traditional costumes and masks as they dance to the beat of drums and perform various rituals on the streets.
Pintados-Kasadyaan Festival – Tacloban City, Leyte (June 29th)The Pintados-Kasadyaan Festival is a religious festival celebrating the Visayan culture. It features traditional dances, colorful costumes, and street processions as participants offer prayers to the Sto Niño.
Masskara Festival – Bacolod City (October 17th to 26th)The Masskara Festival is a celebration of life and happiness. It features colorful street parades with participants wearing masks adorned with smiling faces as they dance to the beat of drums and other traditional instruments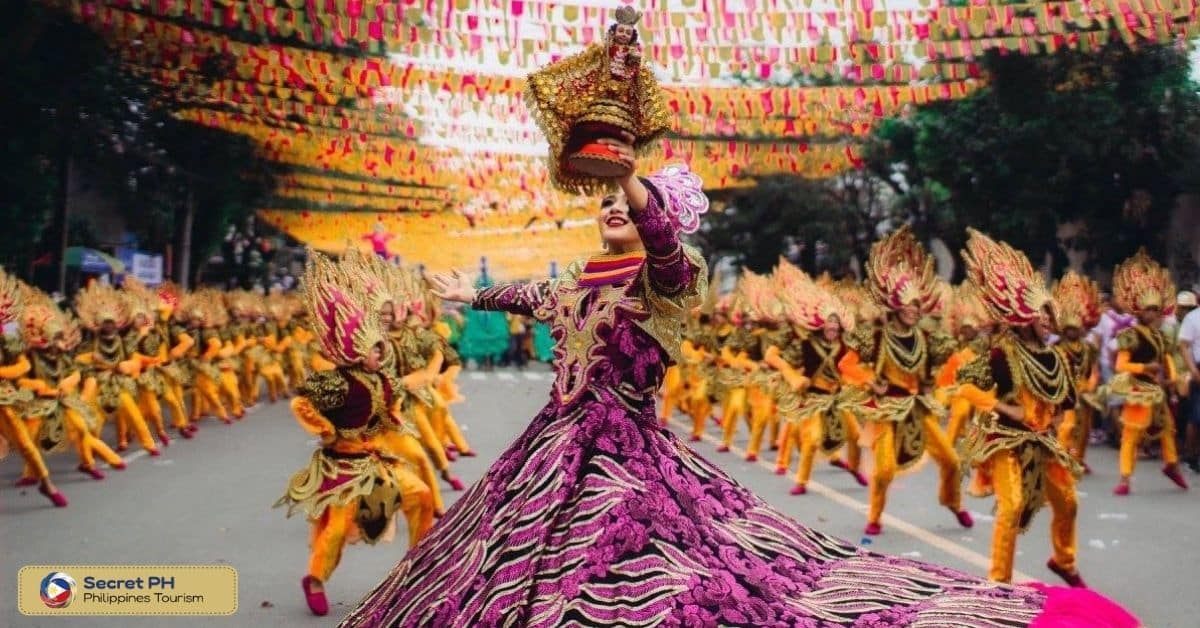 Visayas Food and Cuisine
Visayas is one of the most diverse regions in the Philippines when it comes to food. Its traditional dishes range from simple but flavorful delights, such as 'tinola' and 'adobo', to more complex delicacies like lechon 'manok' and La Paz 'batchoy'. Here are some of the must-try dishes when visiting the Visayas region: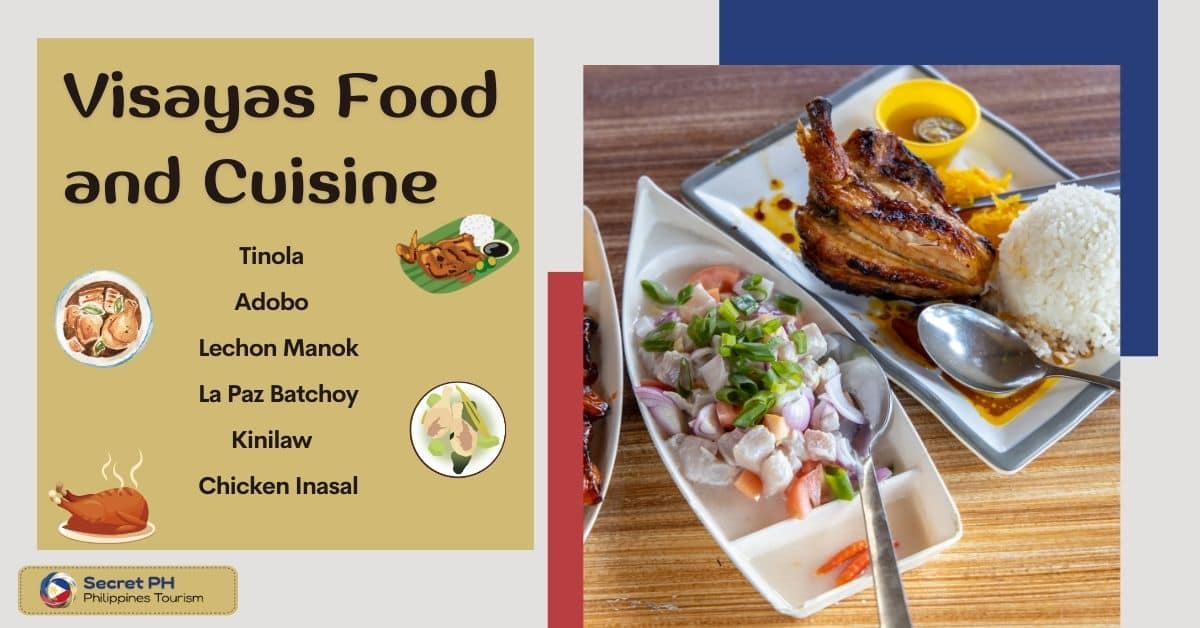 Tinola – A native chicken stew that is made with ginger, garlic, onion, and sometimes spices like pepper flakes or cumin.
Adobo – It consists of various marinades cooked into a flavorful dish.
Lechon Manok – This whole roasted chicken dish is served with dipping sauces such as soy sauce or vinegar. It is usually presented on carved wood platters and served with a side of pickled vegetables or steamed white rice.
La Paz Batchoy – A popular noodle soup dish that originated from Iloilo City in the Visayas region. The soup includes pork pieces, noodles, local shrimp crackers, green onions and other seasonings all mixed together to create an unforgettable savory treat.
Kinilaw – A type of Filipino ceviche that uses raw fish cubes mixed together with ingredients such as lemon juice, onions, peppers, and often coconut cream for added flavor and richness on top of everything else mixed in!
Chicken Inasal – Grilled chicken skewers marinated in garlic vinegar which gives it its signature flavor. Served with steamed white rice or pandesal bread dipped in tangy 'dilis' sauce to complete the meal!
Visayas Traditional Dances
The traditional dances of the Visayas region are a unique and beautiful way to capture its culture and heritage. From the lively Kuratsa to the romantic Mazurka Boholana, these traditional dances of the Visayas will bring audiences captivating stories, mesmerizing music, and graceful movements.
1. Kuratsa – This frenetic war dance is typically accompanied by cheerful vocal music and lively drums. It originated as a courtship dance between boys and girls who exchange flirtatious glances while they dance in circles with each other.
2. Andaluz– A courtship dance originated in Iloilo that is usually performed by two couples with the men holding colorful fans in their hands as they move around each other.
3. Tinikling – This Philippine bamboo dance consists of two people (or more) stepping over and around two slowly clapping bamboo poles.
4. Mazurka Boholana – This is a popular courtship dance from Bohol which features couples moving across the floor in intricate patterns while they try to impress each other with their skillful steps.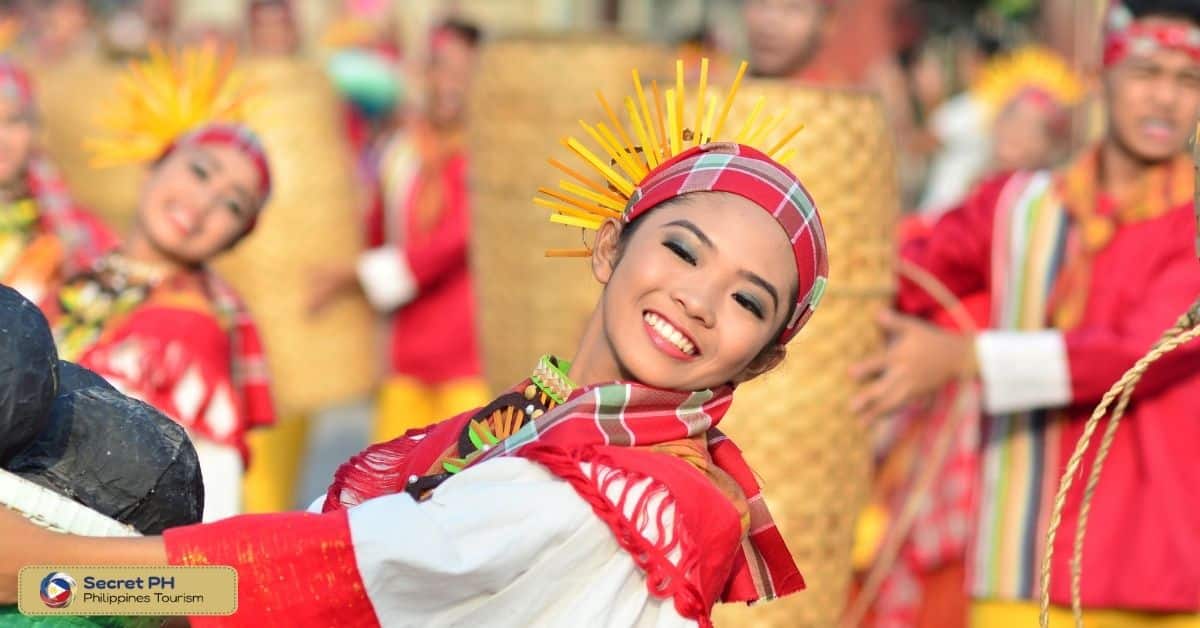 Visayas Traditional Music
The traditional music of the Visayas is an important part of Filipino culture and heritage. The people of Visayas have been making music for centuries, since before colonization and even earlier. This type of music has been kept alive through generations with the help of local artists and musicians. Here is a list of some traditional music from the Visayas:
Subli – A traditional folk dance from Panitan, Capiz that is performed to honor saints or special occasions.
Asik – A courtship dance with Spanish influence that features dramatic movements and props such as swords and handkerchiefs.
Lunsay – Also known as 'lutugin', this is a musical style from Negros Occidental characterized by its fast tempo and use of native instruments like guitars, kulintang gongs, tambourines, cymbals and more.
Balitaw – A popular love song in the Cebuano language sung in pairs as a duet between a man asking questions to his female counterpart who answers with metaphors or similes.
Sugid – An ancient form of poetic storytelling usually accompanied by indigenous instruments such as 'kudyapi' lute or bamboo flutes and metal gongs like 'agong' or 'gangsa'.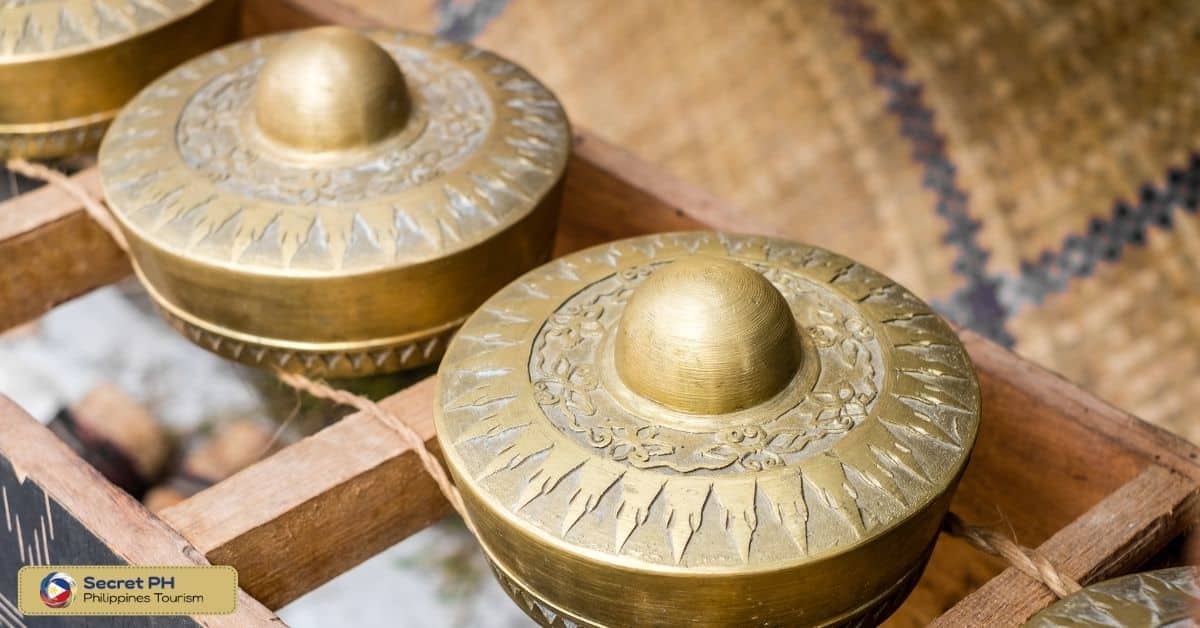 Luzon's Fascinating Cultural Traditions and Practices
Luzon is the largest and northernmost island of the Philippines. It is home to a variety of ethnic groups, each with its own distinct culture and traditions. Among these are the Tagalog, Ilocano, Kapampangan, Pangasinan, Bicolano and Igorot.
Festivals in Luzon
Luzon is the largest island in the Philippines. It is not only home to a variety of cultures and ethnic groups but also hosts a range of unique festivals that provide an insight into its rich heritage. Here's a list of some of the most spectacular festivals you can experience in Luzon:
Kapanahunan Festival – A celebration held every April in Lucban, Quezon, locals dance and sing around a large bamboo archway decorated with leaves and fruits.
Moriones Festival – This festival honors Longinus, the Roman-era centurion who was said to have pierced Jesus' side with a lance at Calvary. It is celebrated in Marinduque for seven days every March or April with a colorful parade depicting him looking for Jesus' body.
Pahiyas Festival – An annual event that takes place in Lucban, Quezon to celebrate St Isidore the Worker's feast day on May 15 by decorating their houses with various produce and decorations made from local materials such as kiping (wafer cookies).
Panagbenga Festival – Also known as Baguio Flower Festival, this event celebrates Baguio City's rich indigenous culture through street dancing competitions while flowers are used as props on stage.
Aliwan Fiesta – Taking place at different venues throughout Metro Manila each April, this week-long festival showcases the best of Filipino cultures through beauty queen competitions, live performances, and popular street parties, culminating in an extravagant fireworks show every night.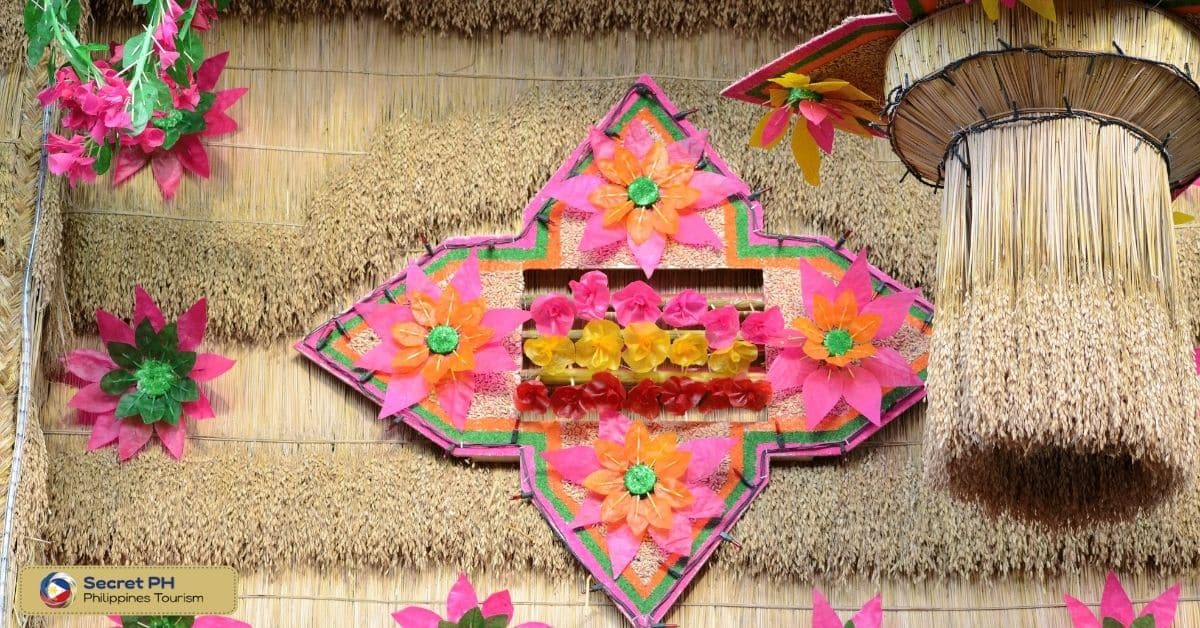 Luzon Food and Cuisine
Luzon, the biggest island in the Philippines, is home to an array of exquisite dishes and flavors. Here is a list exploring the different cuisines and culinary delicacies that make up the food culture of this unique province:
Adobo: A traditional stew of chicken or pork cooked with garlic, vinegar, soy sauce, black peppercorns, and bay leaves.
Sisig: A  savory dish comprising chopped pig ears, snout, and liver that's typically served sizzling on a hot plate.
Sinigang: A classic sour stew made with tamarind or other souring fruits like guava or green mangoes.
Kare-Kare: An oxtail stew cooked in peanut butter with bok choy and eggplant as accompaniments.
Pinakbet: An indigenous vegetable dish composed of squash, sweet potato, eggplant, okra, and beans all mixed together in shrimp paste for a savory flavor.
Pancit Bihon/Canton: Traditional Chinese-Filipino noodles stir-fried with vegetables and meat (like pork or shrimp).
Lumpiang Shanghai/Sariwa: Miniature spring rolls filled with ground pork seasoned with salt, pepper, and garlic powder are usually served as an appetizer.
Luzon Traditional  Dances
Luzon is known for its vibrant culture and traditions, which are expressed through the traditional dances that have been passed down from generation to generation. Here is a list of some of the most popular traditional dances from Luzon: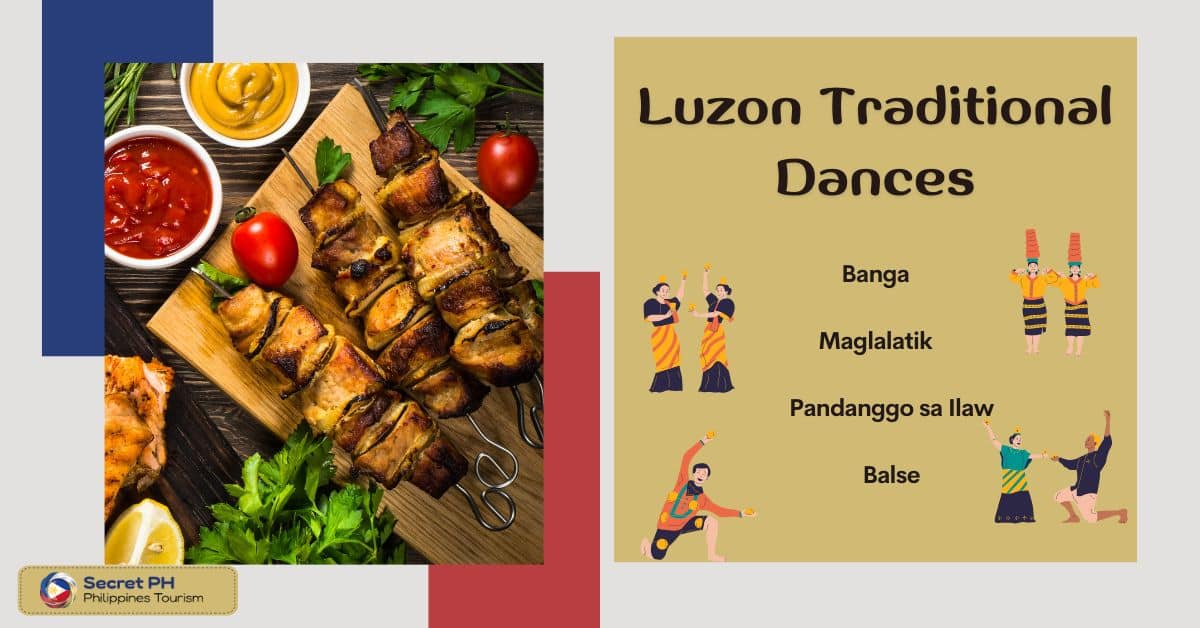 1. Banga – or pot dance is a contemporary performance of Kalinga of the Mountain Province in the Philippines.
2. Maglalatik –  It involves synchronized tapping or slapping on coconut shells installed on each performer's hands, feet, or hips as part of their costume pieces.
3. Pandanggo sa Ilaw –  It involves two performers dancing around an oil lamp, symbolizing the light that guides them through their journey together.
4. Balse – This is a popular dance from the Tagalog region that involves couples dancing around an oil lamp.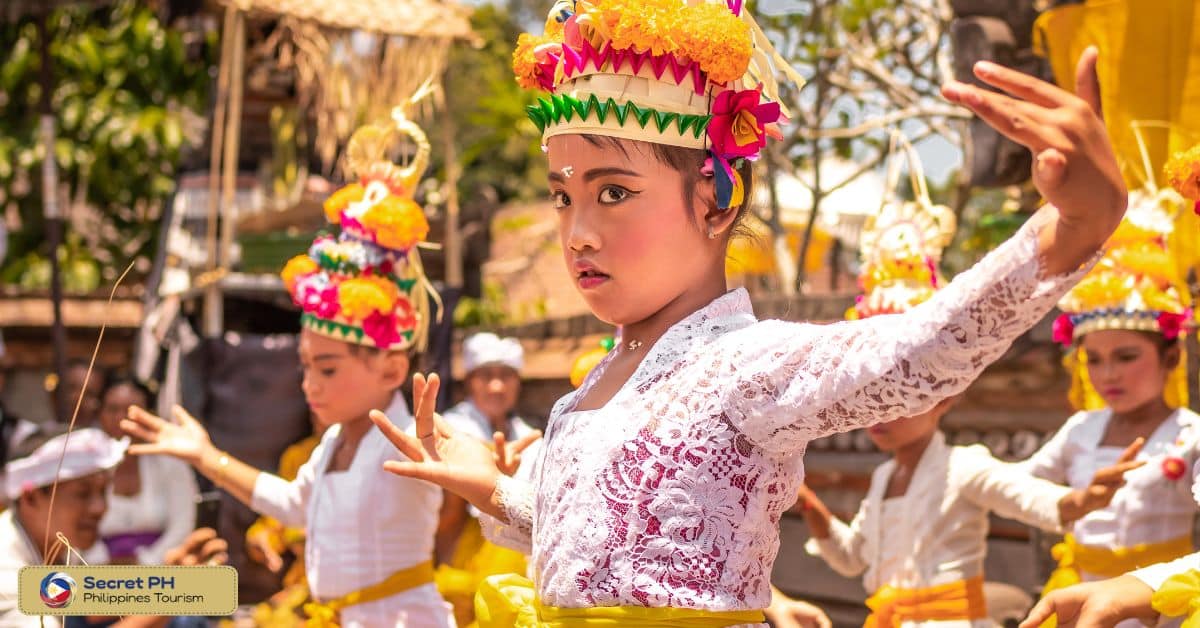 Luzon Traditional Music
The traditional music of Luzon, Philippines is characterized by its unique and captivating sound. This type of music has been played in the area for centuries and has become an integral part of Filipino culture. Here is a list of some traditional music and instruments from Luzon:
1. Pamulinawen – A Ilocano folk song featuring a sorrowful melody, which is often performed by female singers.
2. Bahay Kubo – A traditional Filipino song that tells the story of a farmer who plants vegetables in his garden.
3. Atin cu pong singsing – A Kapampangan folk song that is traditionally performed to celebrate special occasions such as weddings.
4. Sarungg banggi – A Bicolano lullaby sung to put children to sleep and ward off evil spirits.
The Role of Food in Philippine Culture
Food has always been one of the cornerstones of Philippine culture. It is a part of many rituals and festivals and has served as a source of comfort and strength for generations. Here are some ways that Filipino food shapes the nation's culture:
1. Family bonding- Eating together is an important part of life in the Philippines. Creating an atmosphere where family members can chat, laugh, and bond.
2. Community gatherings– Food is often used to bring people together in the Philippines. Community celebrations such as fiestas are occasions when people come together to share meals, music, and fun activities.
3. Traditional recipes– Traditional Filipino dishes are passed down from generation to generation. These iconic meal preparations require skillful preparation and cooking, so they become part of a family's identity over time.
4. Celebrations– Many holidays and festivities are celebrated with special meals that honor the occasion. These feasts bring joy to families by bringing them closer together through delicious food shared with loved ones.
5. Regional cuisine– Every region of the Philippines has its own unique culinary style that reflects its local culture and the ingredients available in the area. From Mindanao's spicy cuisine to Luzon's seafood dishes, each region has its own unique flavors.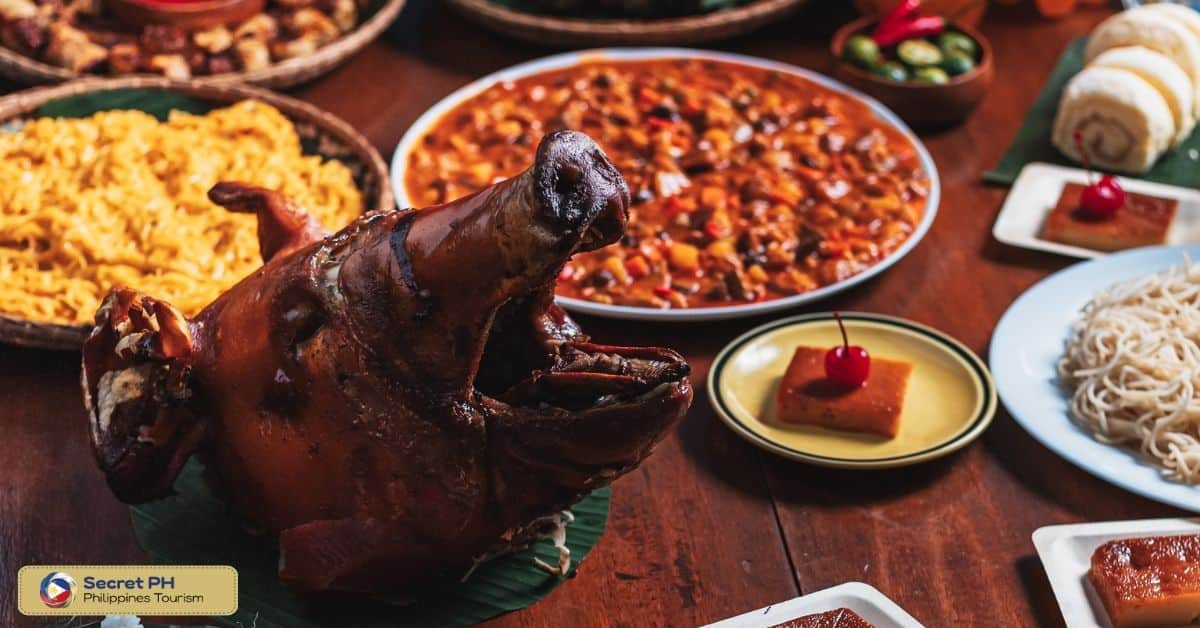 Music and Dance as Expressions of Philippine Identity
Music and dance are an integral part of Philippine culture, used to express identity among the various ethnic groups that make up the nation. Popular instruments include the gimbal (bamboo percussion instrument), kulintang (gong orchestra), and Agung (slit drum).
Traditional dances vary from courtship rituals to displays of martial prowess. Popular dances include the tinkling, singkil, cariñosa and maglalatik. Each dance has its own unique history and purpose, whether it is for storytelling or entertainment.
Music and dance have the power to bring people together, allowing them to connect and celebrate their shared cultural identity. They also provide a sense of pride in the community, which is why they are so important in Philippine culture.
Challenges and Opportunities for Preserving Philippine Cultural Traditions
The Philippines is a country of rich and diverse cultural traditions, with a heritage that dates back centuries. However, the preservation of these traditions is not without its challenges.
From natural disasters to globalization, a range of factors poses a threat to the continued existence of these practices. At the same time, there are also many opportunities for preserving and promoting Philippine culture.
| | |
| --- | --- |
| Challenges | Opportunities |
| Globalization and the spread of Western culture | Emphasis on cultural education and awareness |
| Urbanization and displacement of rural communities | Recognition and support for traditional communities |
| Lack of government funding and support for cultural preservation | Public-private partnerships and community-led initiatives |
| Disinterest among younger generations in traditional practices | Integration of traditional practices into modern contexts |
In conclusion
Philippine culture is a rich and vibrant tapestry composed of many different ethnic groups, each with its own unique customs, traditions, music, dance, food, and language. However, this cultural heritage is under threat from modernization and globalization.  
By encouraging educational initiatives, cultural events, traditional arts and crafts, as well as public-private partnerships, and community-led initiatives, Philippine culture can be preserved for the future. With these efforts, Filipino culture will continue to thrive in the modern world.