In the Philippines, the Bible has long been a source of inspiration and guidance for many Christians, influencing their beliefs and practices in significant ways. But how do Filipino Christians interpret this sacred book?
Discover the vibrant tapestry of interpretations in Philippine Christianity. From Catholic sacraments to Protestant emphasis on social justice, explore diverse perspectives that shape beliefs. Uncover the interplay of history, culture, and faith, fostering dialogue and reflecting the rich spirituality of the Filipino people.
This blog post will explore the various interpretations of the Bible in Philippine Christianity, from traditional views to more progressive interpretations. Come join us as we explore how different people interpret the Bible in a culture grounded in Christian heritage!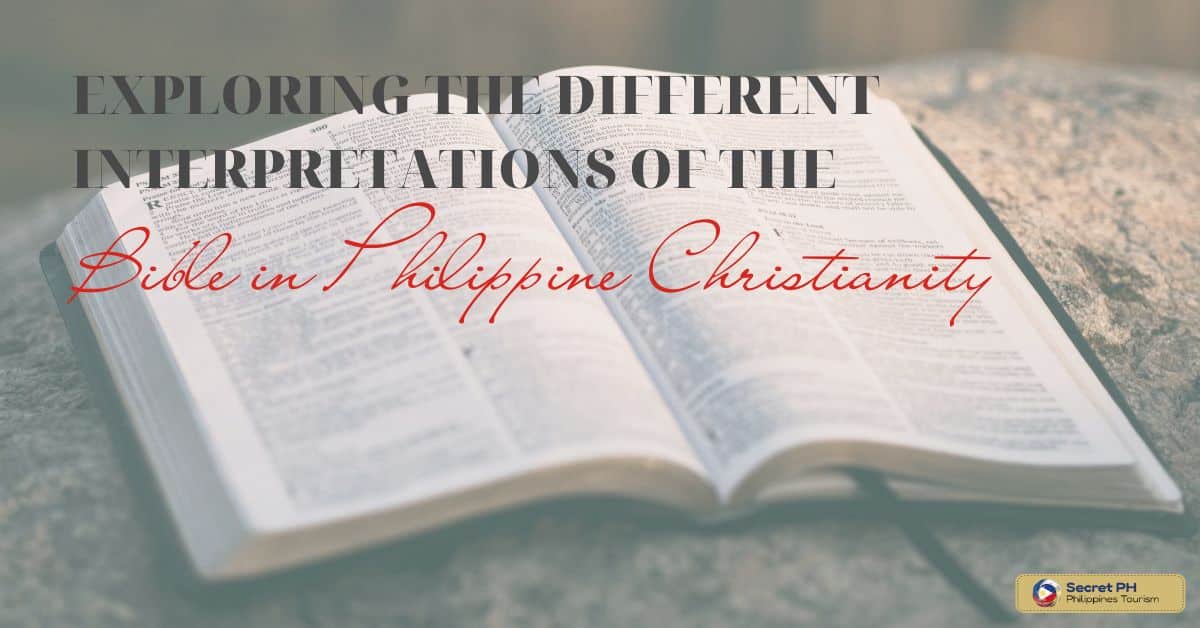 Philippine Christianity's Biblical Perspectives
Philippine Christianity is deeply rooted in Biblical Perspectives. With a population of over 100 million people, the Philippines is one of the largest Christian nations in the world. Christianity was introduced by Spanish colonizers in the 16th century and has since become an integral part of the Philippines' identity.
Christian values such as charity, honesty, and compassion play an important role in the lives and culture of Filipinos. The Bible is highly regarded as the source of truth and guidance in their daily life.
Philippine Christianity emphasizes the importance of a personal relationship with God and the saving grace offered through Jesus Christ. Churches in the Philippines are actively engaged in missionary work, charity endeavors, and community outreach programs.
Overall, Philippine Christianity's Biblical Perspectives continue to shape and influence the lives and faith of millions of Filipinos.
Diverse Approaches to Philippine Christian Beliefs
Philippine Christianity encompasses a rich tapestry of beliefs, influenced by a variety of factors such as history, culture, and denominational affiliations. Within this vibrant religious landscape, there exist diverse approaches to interpreting and practicing Christian beliefs. These different approaches contribute to the unique and multifaceted nature of Philippine Christianity.
Traditional Indigenous Beliefs
In certain regions of the Philippines, Christian beliefs interweave with indigenous practices and customs. This syncretism reflects a blending of traditional animistic beliefs and Christianity, resulting in a distinct spiritual framework. Indigenous approaches often emphasize a deep connection to nature, ancestral spirits, and a holistic understanding of spirituality.
Catholicism
As the dominant Christian denomination in the country, Catholicism plays a significant role in shaping Filipino Christian beliefs. The Catholic Church's teachings, rituals, and sacraments heavily influence the religious practices of millions of Filipinos. Devotion to saints, participation in processions and novenas, and veneration of religious images are common expressions of faith within this approach.
Protestantism
Protestant denominations have gained considerable influence and presence in the Philippines, with a wide range of theological perspectives and practices. Some Protestant groups emphasize personal faith and a direct relationship with God, while others focus on social justice and community outreach. Biblical literalism, charismatic worship, and emphasis on individual salvation are key aspects of certain Protestant approaches.
Evangelicalism
Evangelical Christianity has seen significant growth in recent decades, attracting a diverse range of followers. Evangelical Christians emphasize the importance of personal conversion, evangelism, and the authority of Scripture. Worship styles can vary, from contemporary and expressive forms to more traditional and conservative practices.
Charismatic and Pentecostal Movements
Charismatic and Pentecostal expressions of Christianity emphasize the experience of the Holy Spirit, spiritual gifts, and manifestations such as speaking in tongues, healing, and prophecy. These movements place a strong emphasis on the transformative power of the Spirit and the direct involvement of believers in the supernatural.
Liberation Theology
Originating in Latin America and finding resonance in the Philippines, Liberation Theology promotes a socio-political interpretation of Christianity. It emphasizes the biblical mandate to address social injustices, alleviate poverty, and advocate for the marginalized. Liberation Theology seeks to bridge the gap between faith and action, encouraging Christians to engage in activism and social transformation.
The Bible's Significance in Different Philippine Christian Groups
The Bible is a cornerstone of various Christian groups in the Philippines, and its significance cannot be overstated. From Catholics to Protestants, the Holy Book plays a central role in shaping beliefs and practices.
In the predominantly Catholic Philippines, the Bible is praised for its ability to transform individuals and communities alike. It is seen as a source of guidance, comfort, and inspiration. Protestant groups, such as the Evangelicals, emphasize the Bible's authority and role as the ultimate source of truth.
For them, studying and interpreting the Scriptures is a crucial part of their worship and spiritual growth. Despite some differences in interpretation and practice, the Bible remains a unifying force that brings together Filipinos of different Christian beliefs and traditions.
Bible Interpretations and Their Impact on Philippine Society
Interpretations of the Bible have had a significant impact on Philippine society. Christianity has been a dominant religion since the Spanish colonial period, and the Bible served as a foundational text for missionaries seeking to spread their message. However, the interpretations of this text have varied throughout history and have caused social and political divisions in the country.
Moral and Ethical Standards: With teachings on justice, compassion, honesty, and love serve as guiding principles for personal conduct and social interaction.
Social and Political Engagement: Motivating them to advocate for marginalized groups and fuel movements for social justice, poverty alleviation, and human rights.
Gender Roles and Relationships: Impact societal norms and expectations related to gender roles and relationships. They can either reinforce traditional norms or promote inclusive and egalitarian perspectives, influencing family structures and societal attitudes.
Education and Social Services: Shape education and social services in the Philippines, as Christian schools integrate biblical teachings into their curricula and Christian organizations engage in charitable activities guided by principles of compassion and service.
Religious and Cultural Diversity: Enhance religious and cultural diversity in the Philippines, fostering dialogue and cooperation among different religious groups. They shape expressions of faith, practices, and rituals, enriching the cultural tapestry of the country.
A deeper understanding of Bible interpretations and their historical and cultural contexts can help foster empathy and dialogue among communities in the Philippines.
Navigating the Diverse Interpretations of the Bible in Philippine Christianity
The Philippines is well-known for its predominantly Christian population. However, with over 80 million Filipinos practicing Christianity, interpreting the Bible can vary greatly between denominations and even individual churches.
With this diversity, navigating the different interpretations of the Bible can be challenging for both locals and visitors to the country. It is crucial to understand the cultural and historical context of Philippine Christianity to truly grasp the intricacies of the varying interpretations of the Bible.
As the Philippines continues to evolve and grow, it is essential to appreciate and respect the diverse interpretations of the Bible as a way to strengthen the country's cultural and religious heritage.
In conclusion
Exploring the different interpretations of the Bible in Philippine Christianity is a complex and fascinating topic. The Philippines' unique history and culture have shaped its religious practices, resulting in varied interpretations and contributions to Christian theology.
From charismatic movements to Liberation Theology, Philippine Christianity offers a rich tapestry of beliefs and practices. As scholars continue to study this topic, it is important to approach it with an open mind and a willingness to learn from different perspectives.
By doing so, we can gain a deeper understanding of the role of religion in Philippine society and the world at large.