The Philippines is an archipelagic nation of over 7,000 islands in the western Pacific Ocean. With its diverse natural beauty, vibrant culture, and hospitable people—it's no wonder why the Philippines is a must-travel destination in Asia.
Consider adding the Philippines to your travel bucket list for stunning beaches, unique cuisine, rich culture and history, thrilling outdoor activities, affordable options, easy transportation, and diverse destinations. Experience the warmth of the locals and immerse yourself in the vibrant nightlife and colorful festivals. The Philippines is a must-visit destination for every traveler.
Here are 10 reasons why you should add this remarkable country to your list of must-see destinations.
1. Beautiful Beaches and Island Hopping Adventures
The Philippines is known for its breathtaking beaches and stunning island hopping adventures. With over 7,000 islands, the country boasts some of the most beautiful beaches in the world. From the famous white sand beaches of Boracay to the hidden gems of Palawan, the Philippines has something for every beach lover.
One of the best ways to experience the beauty of the Philippines is through island hopping. Hop from one island to another and explore the different beaches, coves, and lagoons. The crystal-clear waters, colorful marine life, and picturesque landscapes make island hopping in the Philippines an unforgettable experience.
The Philippines is home to some of the world's most stunning beaches and islands. Here are just a few of the popular ones:
Boracay: Known for its white sand beaches, Boracay has become one of the country's top tourist destinations. It is an ideal spot for swimming, diving, snorkeling, and other water activities.
Palawan: This island is known for its stunning limestone cliffs, lagoons, and bays. Visit El Nido for some of the best snorkeling in the country.
Siargao: If you're looking for an adventure-filled vacation, Siargao is the place to be. Surfing, sailing, kayaking, and other water sports are popular activities here.
Cebu: This vibrant city has a lot to offer visitors. Enjoy its diverse culture, bustling nightlife, and stunning beaches.
Bohol: Bohol is known for its beautiful Chocolate Hills and Tarsier Sanctuary. It is also a great spot for diving, fishing, and other outdoor activities.
2. Unique Culture and History to Discover
The Philippines has a unique and fascinating culture that dates back centuries ago. The country is home to over 150 distinct ethnolinguistic groups and countless indigenous tribes, each with its own language and customs.
Visitors can explore the vibrant markets, colorful festivals, and traditional dances, and visit centuries-old churches scattered throughout the islands. The country is also home to many UNESCO Heritage Sites and national parks, including the Rice Terraces of Banaue and Tubaha Reef National Marine Park. A trip to the Philippines will provide you with a glimpse into its rich history and culture that makes it so unique.
3. Mouth-Watering Cuisine and Delicious Street Food
The Philippines is a food lover's paradise, offering a diverse and delicious cuisine that draws inspiration from Chinese, Spanish, and Malay influences.
In addition to its mouth-watering cuisine, the Philippines is also famous for its delicious street food. The country offers a wide variety of tasty snacks that are perfect for on-the-go eating. Popular street food destinations include Manila's Quiapo Market and Binondo (the world's oldest Chinatown), where you can sample some of the country's most iconic street food dishes.
Here are some of the most delicious Filipino cuisine:
1. Adobo – a flavorful meat stew
2. Lechon – a succulent roasted pig
3. Sinigang – a tangy soup made with tamarind
4. Skewered meats and fish balls
5. Grilled corn and banana cue
6. Lumpia – a deep-fried spring roll
7. Halo-halo – a popular dessert made with shaved ice, evaporated milk, jelly, and sweetened beans
8. Bicol Express – a spicy stew made with pork, chili peppers, coconut milk, and shrimp paste
9. Sisig – a sizzling pork dish prepared with chili peppers and onions
10. Palabok – a noodle dish topped with pork, shrimp, eggs, and other ingredients.
4. Thrilling Outdoor Activities and Adventures
The Philippines is an outdoor enthusiast's paradise. With its diverse and rugged terrain, there are plenty of opportunities for adventurous activities such as trekking, mountain biking, cave exploring, rappelling, river rafting, and more. For adrenaline junkies, the country offers a range of thrilling outdoor experiences like bungee jumping and skydiving.
The Philippines is also a great destination for scuba diving and snorkeling. With its clear waters, vibrant coral reefs, diverse marine life, and shipwrecks – it's no wonder why the country is one of the best spots for underwater exploration in the world. There are also plenty of dive sites to choose from.
Here are some of the thrilling outdoor activities available in the Philippines:
Surfing: Enjoy the waves at popular surfing spots such as Siargao Island, Baler, and La Union.
Diving: Immerse yourself in the spectacular coral reefs and marine life of Tubbataha Reef, Apo Island, and Coron.
Hiking & Climbing: Explore the stunning views and challenging trails of Mount Pulag, Mount Apo, and Mount Pinatubo.
Kayaking & Canoeing: Paddle through turquoise waters and explore hidden lagoons in El Nido or Batanes.
Caving: Experience an incredible adventure as you descend into caves in Sagada and explore their deep chambers.
Zip-lining: Have a thrilling experience as you soar through the air atop ziplines in Cebu and Bohol.
Rappelling & Rock Climbing: Conquer vertical walls and push your limits with rappelling or rock climbing adventures in Ilocos and Mindanao.
Wakeboarding: Enjoy the thrill of wakeboarding in some of the country's best spots, including Subic Bay and Boracay.
ATV Riding: Race through sand dunes and off-road tracks in La Union, Cagayan De Oro, and Pampanga.
Skydiving: Get the adrenaline rush of a lifetime with skydiving in Cebu and Mactan.
5. Hospitable Locals and Vibrant Nightlife Scenes
The Philippines is known for its warm and hospitable locals who are always ready to welcome visitors with a smile. Filipinos are known for their kindness, generosity, and sense of humor, making the country a welcoming destination for travelers.
Aside from the friendly locals, the Philippines also offers a vibrant nightlife scene that caters to different preferences. From trendy rooftop bars and nightclubs to karaoke bars and live music venues, the country has something for everyone.
Popular nightlife destinations include Makati and Bonifacio Global City in Metro Manila, Boracay, and Cebu City. The country is also known for its colorful festivals and street parties, such as the Sinulog Festival and the Ati-Atihan Festival, where you can experience the lively and festive atmosphere of the Philippines.
6. Festivals and Celebrations to Experience
The Philippines is home to a variety of colorful festivals and celebrations throughout the year. From sacred religious ceremonies to vibrant street parties, the country offers a unique blend of culture and traditions. Whether it's honoring patron saints or celebrating the harvest season, Filipinos know how to throw an unforgettable celebration.
Carnivals, parades, processions, and pageants are among the most popular activities in the Philippines. These festivities often feature unique costumes, traditional dance performances, live music, and colorful decorations.
One of the best ways to experience these celebrations is to join in on the revelries and become a part of the local culture. Even if you don't understand all of the customs and traditions, you can still enjoy the vibrant atmosphere and lively street parties.
Here are the most exciting festivals and celebrations in the Philippines:
1. Ati-Atihan Festival – A lively street party honoring the Santo Niño de Cebu in Kalibo, Aklan
2. Sinulog Festival – An annual festival held on the third Sunday of January to honor the Sto. Niño de Cebu
3. Pahiyas Festival – A unique harvest festival celebrated in Lucban, Quezon
4. Dinagyang Festival – An extravagant festival honoring the Sto. Niño in Iloilo
5. MassKara Festival – A vibrant street party held every October in Bacolod City
6. Panagbenga Festival – Also known as "The Flower Festival", this is a month-long celebration held in February in Baguio City
7. Moriones Festival – A unique Easter observance celebrated on the island of Marinduque
8. Kadayawan Festival – An annual festival that celebrates the culture and heritage of the Davao people.
7. Affordable Travel and Accommodation Options
The Philippines is a budget-friendly travel destination, offering affordable travel and accommodation options for visitors. With a favorable exchange rate and a low cost of living, you can enjoy a comfortable and enjoyable trip without breaking the bank.
There are plenty of budget-friendly accommodation options in the Philippines, ranging from hostels and guesthouses to budget hotels and homestays. You can also find affordable transportation options such as local buses and jeepneys, which are the most popular mode of transportation in the country.
Food and drinks are also relatively cheap, with a variety of street food and local restaurants offering delicious meals at affordable prices. With affordable travel and accommodation options, you can explore the beauty and culture of the Philippines without worrying about your budget.
8. Stunning Natural Wonders and Biodiversity
The Philippines is blessed with some of the most spectacular natural wonders in the world. From majestic mountains and lush forests to vibrant coral reefs and pristine beaches, this archipelagic nation offers a wide variety of stunning landscapes.
This beautiful country is also home to an incredibly diverse array of wildlife and plant species. Whether you're trekking through lush rainforests or snorkeling in crystal-clear waters, you'll be amazed at the abundance of life that exists in these areas.
The Philippines is home to over 10,000 species of plants and animals, including rare and endangered species. It is also home to over 500 species of birds, making it one of the top bird-watching destinations in Asia.
No matter what type of traveler you are, the Philippines has something for everyone. Here are just a few of the incredible sights that await visitors in this remarkable country:
1. Maria Cristina Falls– A remarkable twin falls with a powerful cascade located near Iligan City
2. Pagsanjan Falls– A popular waterfalls destination that can be accessed by canoe or through hiking and rappelling
3. Puerto Princesa Subterranean River National Park– An 8.2 km river located in the Palawan province, complete with stunning limestone formations and flora and fauna that can only be found in the area
4. Mayon Volcano- The world's most perfect-coned volcano, located in the province of Albay
5. Mount Pulag- A popular hiking destination that is home to some of the country's rarest flora and fauna species
6. Mount Apo– The tallest mountain in the Philippines, located on Mindanao Island
7. Tarsiers– The world's smallest primates found in Bohol, living in their own conservation area
8. Whale Sharks– Giant sea creatures that can be seen up close off the coast of Oslob
9. Philippine Eagles– The world's largest eagle species, with a population of about 500 individuals known to inhabit the forests of Luzon Island
10. Dugong– A large marine mammal that can be seen in parts of Palawan and Bohol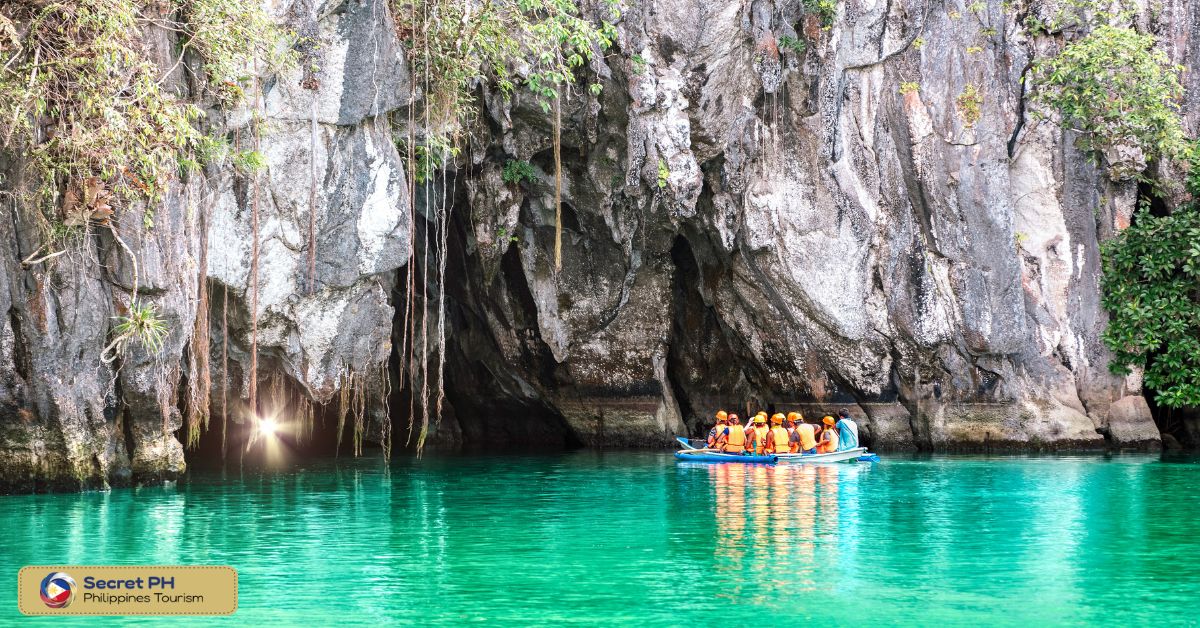 9. Easy Transportation and Accessibility
Getting around in the Philippines is relatively easy, with various modes of transportation available for visitors. From public buses and jeepneys to taxis and tricycles, you can easily travel around the country and explore its many attractions.
The country also has a well-developed air transportation system, with several major airports located in key cities such as Manila, Cebu, and Davao. Domestic flights are relatively affordable and can take you to various destinations around the country in a short amount of time.
There are also several ferry services that can take you to different islands, offering scenic views of the country's beautiful coastlines. With easy transportation and accessibility, you can easily plan and navigate your trip to the Philippines.
10. Diverse Destinations for Every Traveler's Preferences
The Philippines offers a diverse range of destinations that cater to every traveler's preferences. Whether you're looking for a relaxing beach getaway, an adventure-filled trip, or a cultural immersion experience, you can find it all in the Philippines.
Beach lovers can head to popular destinations such as Boracay, Palawan, and Siargao, which are known for their pristine beaches and crystal-clear waters. Adventure seekers can explore the country's rugged terrains, trek through its mountains, or go island-hopping to discover hidden coves and lagoons.
For those who want to learn about the country's culture and history, there are several UNESCO World Heritage Sites and museums that offer a glimpse into the Philippines' rich cultural heritage. With diverse destinations to choose from, the Philippines is a perfect destination for any type of traveler.
In conclusion
The Philippines is an amazing destination for travelers of all types. From stunning beaches and unique cuisine to thrilling outdoor activities and vibrant festivals, this archipelagic nation offers something for everyone.
With its hospitable locals, affordable travel options, easy transportation, diverse destinations and natural wonders—it's no wonder why the Philippines should be at the top of your travel bucket list. So what are you waiting for? Come and explore this wonderful country and experience all that it has to offer!