The Chocolate Hills of Bohol are a breathtaking natural landmark located in the Philippines. These unique hills, composed of limestone formations, offer panoramic views and outdoor activities for visitors. Whether you're a nature lover or an adventure seeker, the Chocolate Hills are a must-see destination that you won't want to miss.
In this blog, we'll dive into the history, geography, and attractions of this natural wonder, and provide tips on how you can plan the perfect visit. So get ready to be wowed by the Chocolate Hills of Bohol, a landmark that you'll surely treasure.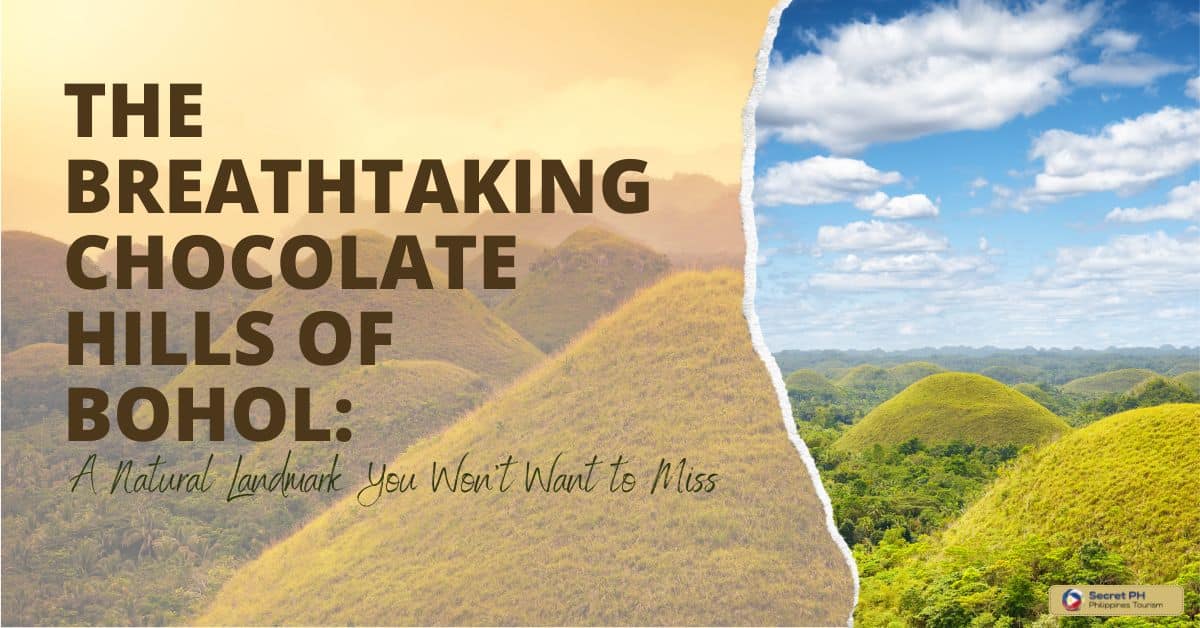 History and Origin of the Chocolate Hills
The Chocolate Hills are a legendary natural tourist attraction in the Bohol province of the Philippines. These cone-shaped hills were formed ages ago by the uplifting of coral deposits and their composition of limestone that overlaid a hard basalt core.
Swaying fields of grass, which turn to chocolate brown during dry season, decorate these oddly shaped mounds ranging from 98 to 164 feet tall and numbering in excess of 1,776 hills across an area of 50 square miles.
While it remains unknown exactly who first named them, it is theorized that when Spanish explorers arrived in the 16th century, they noticed how much the grass-covered austere landscape resembled cocoa beans stacked up against one another, giving birth to their now famous name.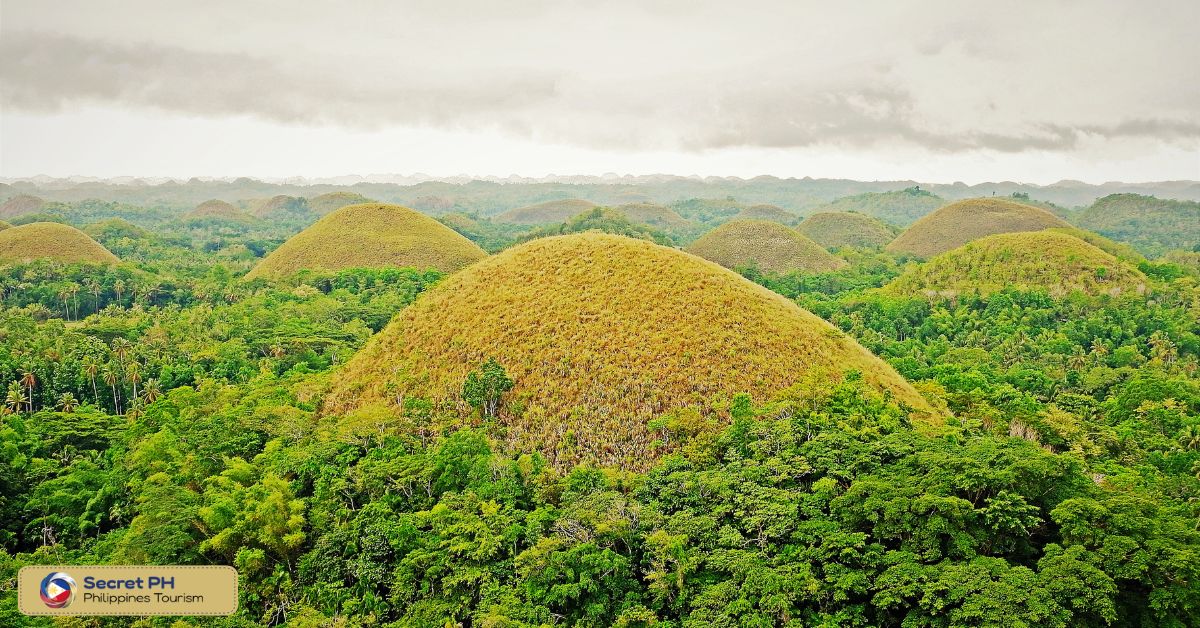 Why Visit the Chocolate Hills?
The Philippines is home to the world-renowned Chocolate Hills, a spectacular landscape formation comprised of 1,268 perfect and exceedingly uniform hills rising up to 120 meters in height. Located in Bohol province, these verdant hills are especially stunning during the dry season when they turn chocolate brown.
Some believe that the hills were formed by an ancient volcano while others credit an underwater earthquake, but whatever their origin may be, there is no denying their visual impact. A must-see destination, the Chocolate Hills offer visitors a unique glimpse into the Philippines' incredible geography and a chance to experience one of its most iconic sites.
Unique Natural Landmark
Philippines is home to some truly spectacular sights, including the Chocolate Hills. These unique natural landmarks stand out against the lush green backdrop of Bohol island, beckoning visitors to explore and discover the beauty of this destination.
Situated in the province of Bohol, they are world-famous and considered one of Philippines' natural wonders. Characterized by its more than 1,200 cone-shaped hills, this very unusual landscape serves as an unforgettable reminder of Philippines' cultural identity as well as its breathtakingly beautiful sceneries.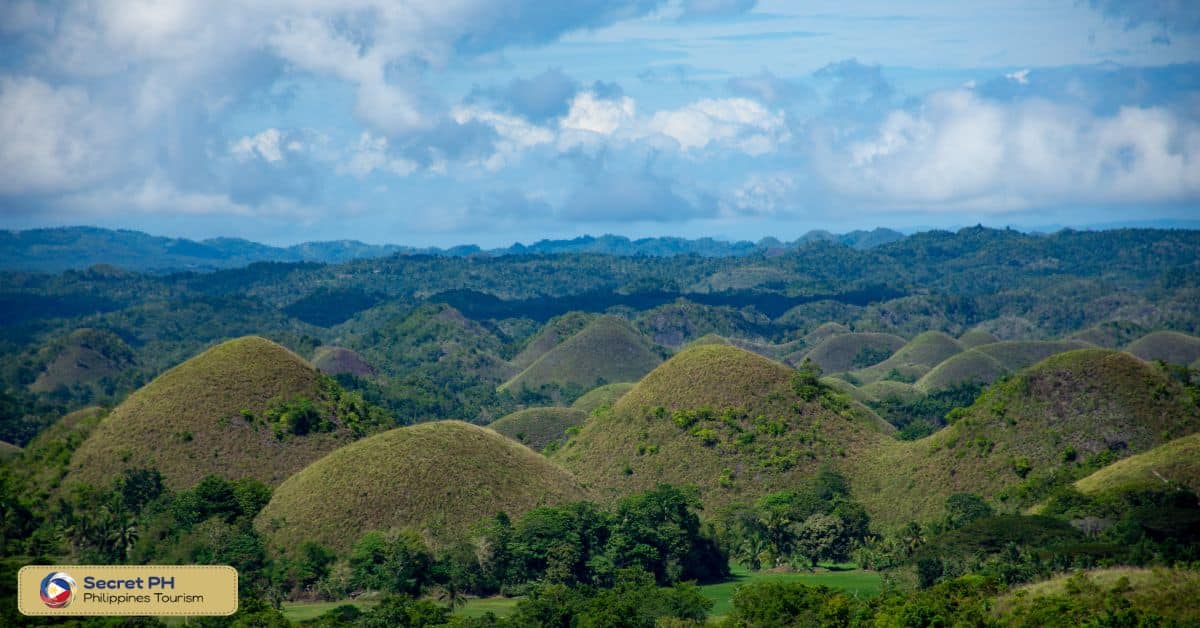 Activities and Attractions in the Area
Whether you're interested in outdoor activities, history, or wildlife, there are plenty of attractions and activities to choose from in the area around the Chocolate Hills.
Viewpoint Areas: Take in the breathtaking views of the Chocolate Hills from one of the popular viewpoint areas such as the Chocolate Hills Complex or the Bohol Bee Farm. These locations offer panoramic views of the hills and the surrounding countryside.
Outdoor Activities: Adventure seekers can enjoy a variety of outdoor activities in the area, including hiking, mountain biking, and ATV tours. Take a leisurely stroll through the hills or challenge yourself with a more strenuous hike.
Tarsier Conservation Area: See the world's smallest primates up close at the Tarsier Conservation Area. This conservation area is dedicated to the preservation of these unique and endangered animals.
Baclayon Church and Museum: Visit the historic Baclayon Church and Museum, a 16th-century church that has been well-preserved over the centuries. The museum showcases the rich history and culture of the area.
Loboc River Cruise: Enjoy a scenic river cruise along the Loboc River, where you can see lush vegetation and local communities. This relaxing and peaceful activity is a great way to take in the natural beauty of the area.
Man-Made Forest: Take a stroll through the man-made forest, a 2-kilometer stretch of mahogany trees that provides a shady escape from the tropical heat. This is a perfect location for a picnic or a peaceful walk in nature.
Things to Do at the Chocolate Hills
Philippines is home to an iconic natural wonder, the Chocolate Hills. With nearly 1,700 hills spread across the Bohol province, there are plenty of opportunities for exploration and adventure. Along with taking in the stunning views from one of the tallest hills, visitors can learn about the Chocolate Hills' rich geological history at local museums and attractions. Here are some things to do at the Chocolate Hills:
Sightseeing Tours
The Philippines is home to a stunning natural wonder: the Chocolate Hills. Located in Bohol, these 1,268 grass-covered mounds crowned with bushes are one of the Philippines' most iconic sights. Visitors looking for Things to Do at the Chocolate Hills can enjoy sightseeing tours for an up-close view and exploration of this incredible landscape.
There are plenty of vantage points from where visitors can experience its majestic beauty, as well as a variety of activities to do in and around the Chocolate Hills. From zip lining across lush valleys to sampling delicious local cuisine, there's no shortage of experiences to be had when visiting this unique UNESCO World Heritage Site.
Hiking and Biking Trails
Located in Bohol province, tourists can experience truly spectacular views year-round at this majestic tourism site. Aside from sightseeing, there are plenty of things to do at the Chocolate Hills like hiking and biking on its breathtaking trails.
Discover lush vegetation and fauna, learn about the local culture by visiting the nearby heritage churches, and take pictures that will make friends back home jealous of your adventure! An unforgettable experience awaits visitors to the Philippines most iconic landmark—the Chocolate Hills.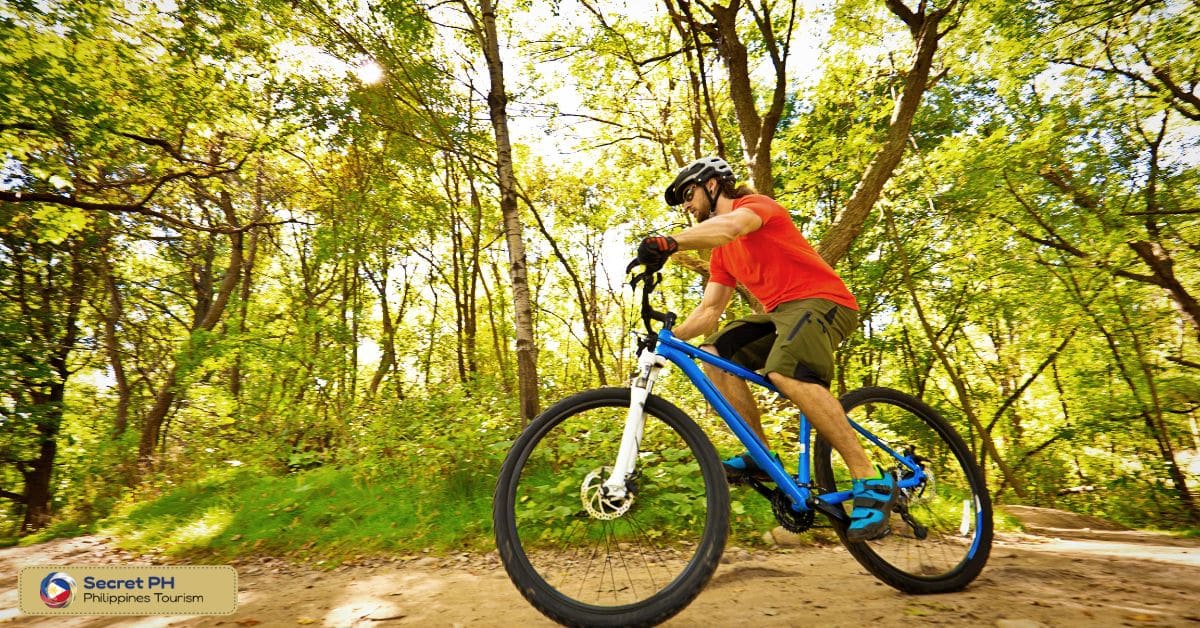 Zipline Tours
The Philippines' Chocolate Hills provides a picturesque and diverse landscape made up of volcanic hills covered in green grass. Visitors to the area can explore the terrain with fun activities such as hiking, biking, picnicking and even camping.
Other popular attractions that travelers should not miss are the Zipline Tours, which will take you soaring over the hills – an unforgettable experience that is sure to thrill. You can also take a riding tour around the chocolate hills to find famous landmarks like Chocolate Hill Viewpoint or explore nearby caves and specialty shops.
Restaurants and Bars
A trip to this destination is full of enjoyable activities, such as trekking and biking through the hills, partaking in a helicopter ride for spectacular views spanning miles away, or shopping for souvenirs in the nearby village.
Once you've worked up an appetite there are many excellent restaurants and bars offering traditional Philippines flavors or favorite international meals. Truly there's something for everyone at the Chocolate Hills!
How to Prepare for Your Trip
Preparing for your Philippines trip should be exciting and satisfying. Make sure you plan ahead of time and make the most thorough preparations to ensure your trip is an enjoyable experience. All of this allows you to have a relaxed journey while making sure that no detail is overlooked in planning an unforgettable Philippines trip.
Booking Accommodations
Travelling to the Philippines, specifically the Chocolate Hills, is an amazing experience. However, before you take off on your journey, it's important that you prepare for a successful and enjoyable trip.
This includes creating an itinerary, researching local customs and laws, and planning safety measures. Taking these steps ahead of time can help ensure that your trip goes smoothly.
Packing Essentials Tip
When planning a trip to the Chocolate Hills in Bohol, it's important to pack the essentials to ensure a comfortable and enjoyable experience. Here is a list of items to consider packing for your trip:
Sun protection: This includes a hat, sunglasses, and sunscreen. The tropical climate and intense sun in the area can cause sunburn and skin damage, so it's important to protect yourself.
Comfortable clothing: Light and breathable clothing is recommended, especially during the warm and humid months. Consider packing quick-drying and moisture-wicking fabrics for outdoor activities.
Footwear: Good quality walking or hiking shoes are essential for exploring the hills. Consider bringing a pair of sandals or flip-flops for when you're not hiking.
Hydration: Bring a refillable water bottle to stay hydrated throughout the day.
Insect repellent: Mosquitoes and other insects can be a nuisance in the area, so bring insect repellent to keep them at bay.
Camera: Capture the memories and stunning views of the Chocolate Hills with a camera or smartphone.
Cash: Some of the attractions and activities in the area may only accept cash, so it's good to have some on hand.
Personal toiletries: Pack your usual toiletries such as toothbrush, toothpaste, shampoo, and soap.
In Conclusion
Visiting the Philippines' Chocolate Hills is an experience that should not be missed. Not only are they a UNESCO World Heritage Site boasting over 1,268 grass-covered hills, but also a unique and crucial example of biodiversity in the area.
From January to May, a beautiful sunflower field can also be seen on the slopes. With easy access by road and air, tourists will have no problem getting to the incredible sights. Don't hesitate any longer – plan your trip to the Philippines now and get ready to explore its iconic Chocolate Hills!