Apayao is a breathtakingly beautiful province in the northern Philippines. Nestled in the Cordillera mountain range, this mountainous region offers stunning views and many outdoor activities.
Discover Apayao's charm with a range of accommodations from traditional homestays to modern hotels. Indulge in unique culinary delights like pinuneg, papaitan, and dinakdakan. Immerse yourself in culture and natural beauty for an unforgettable experience in this captivating province of the Philippines.
In this guide, we'll explore the best places to stay in Apayao and what to eat when you're there. So if you're looking for an unforgettable journey full of exploration, relaxation, and delicious food, Apayao should be at the top of your list! Read on for more.
Why Visit Apayao
Nestled in the northern region of the Philippines, Apayao is a hidden gem for travelers looking to explore the beauty of Southeast Asia. Known for its awe-inspiring natural attractions, such as the stunning Dupag Rock Formation and the crystal-clear waters of Penablanca Lake, Apayao offers endless opportunities for outdoor adventures.
Whether you're looking to brave the rapids of the Chico River or go on an exhilarating trek through the lush Sierra Madre Mountains, there's something for every nature enthusiast in this serene province.
But Apayao isn't just about breathtaking scenery: the province is home to a rich cultural heritage, including a vibrant tapestry of indigenous communities with their own unique customs and traditions.
A visit to Apayao is truly a one-of-a-kind experience that offers the perfect blend of adventure and culture.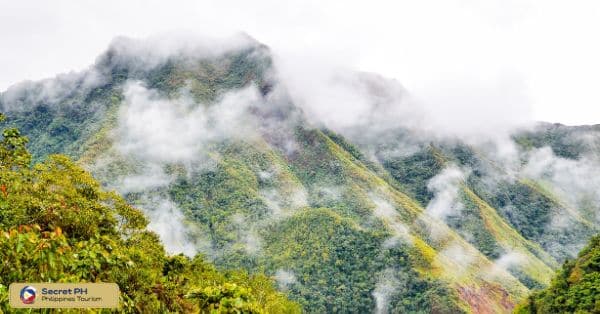 Where to Stay in Apayao
Apayao has a great selection of accommodations to suit all budgets and preferences. From cozy mountain lodges with stunning views of the surrounding landscape to luxurious hotels in the bustling city center, you're sure to find something that's perfect for your stay.
Gummon Traveler's Inn
If you plan on staying in Apayao, Philippines, the Gummon Traveler's Inn is an ideal choice for your lodging needs. This inn offers comfortable and convenient accommodations for travelers who want to explore the hidden gems of this beautiful province.
Located in the heart of the town, the Gummon Traveler's Inn is easily accessible and close to local attractions and restaurants. With its affordable rates and top-notch service, it is perfect for budget-conscious travelers.
Whether you are a solo adventurer or a family on vacation, this inn has something for everyone. Book your stay now and experience the warm hospitality of Gummon Traveler's Inn!
Address: R77J+VR8, Unnamed Road, Conner, Apayao
Phone: 0906 945 0458
Star Jewel Lodge Apayao
If you're planning on visiting the Philippines and looking for a comfortable and affordable place to stay in Apayao, you might want to check out Star Jewel Lodge. Nestled in the heart of the Cordillera mountains, this lodge offers stunning views of the surrounding landscapes.
With its cozy and tastefully decorated rooms, friendly staff, and a range of amenities like air conditioning, free Wi-Fi, and a 24-hour front desk, you'll feel comfortable and well taken care of during your stay.
You can also explore nearby attractions like the Kaparkan Falls and Mt. Puguis. Whether you're a solo traveler or traveling with friends and family, Star Jewel Lodge can be an ideal base camp for your Philippine adventure.
Address: Kabugao – Pudtol – Luna – Cagayan Boundary Rd, Luna, Apayao
Phone: 0921 560 3331
Borromeo Residence (Tourist Inn)
If you're looking for a place to stay in Apayao, look no further than the Borromeo Residence. This tourist inn offers comfortable accommodations at an affordable price. Located in the Philippines, the Borromeo Residence is the perfect home base for exploring this beautiful area.
The rooms are clean and well-appointed, and the staff is friendly and helpful. Whether you're traveling for business or pleasure, you'll find everything you need at the Borromeo Residence. So why wait? Book your stay today and start making memories that will last a lifetime!
Address: 89QH+3J5, Luna, Apayao
Phone: 0905 759 3779
What to Eat in Apayao
Pinuneg
Pinuneg is a traditional delicacy that is a must-try when visiting Apayao, a province located in the northern part of the Philippines. This food is made from a combination of ground pork meat and wild greens, wrapped in the small intestine of a pig, seasoned with salt and spices, and then smoked.
The process of making it is time-consuming, but it is worth the effort as the flavor is distinct and savory. Pinuneg is commonly served during special occasions, such as weddings and fiestas. It is best paired with Apayao's native rice wine, called "tapuy".
Trying this dish is not only an opportunity to taste a unique, traditional Filipino cuisine, but it also allows one to appreciate the local culture and heritage.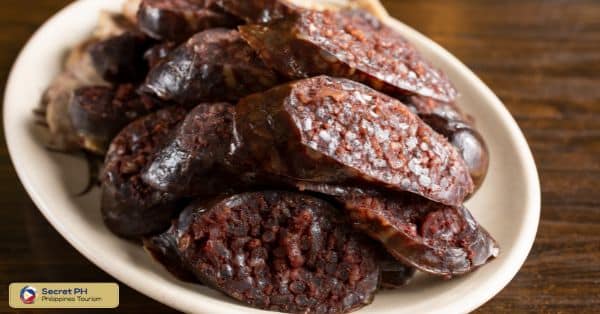 Papaitan
When it comes to delicious cuisine in the Philippines, Apayao boasts a must-try dish known as Papaitan. This traditional dish made from goat or cow innards and flavored with bile creates a unique and flavorful taste that is sure to delight any foodie.
Papaitan is often served with rice and is especially popular in the Cordillera region of the Philippines. Its bold flavors and distinctive appeal make it a top pick for those looking to explore the diverse culinary offerings of the Philippines.
So, if you're ever in the area, don't miss out on the opportunity to try Papaitan and savor the taste of authentic Filipino cuisine.
Dinakdakan
When it comes to Apayao's culinary treasures, one dish that stands out is Dinakdakan. It is a traditional Filipino dish made with pig's ears, liver, and face that are boiled, grilled, then tossed in a vinegar-based dressing and chili peppers.
The dish is a delectable combination of flavors and textures, with the soft and chewy pig parts balanced by the tangy and spicy sauce. Dinakdakan is a staple in the province of Apayao and an excellent choice for those who love their meat dishes.
So if you find yourself in the Philippines, make sure to add this must-try dish to your food itinerary and savor its authentic flavors.
Sinampalukan
Sinampalukan is a traditional Filipino soup dish that hails from the northern province of Apayao in the Philippines. This flavorful soup is made with chicken cooked in vinegar and infused with a rich blend of ginger, tomatoes, onions, and various herbs and spices.
What sets it apart from other Filipino soups is its distinct sour taste, which comes from the use of cane vinegar. It is a perfect meal on a chilly day as it warms your body and satisfies your appetite.
So, if you're looking for a tasty, hearty, and uniquely Filipino dish to try out, make sure to add Sinampalukan to your list and experience the taste of Apayao.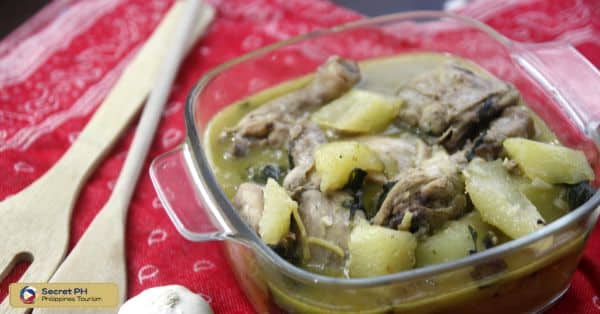 Tupig
If you find yourself wandering the province of Apayao, be sure to try out one of the popular delicacies in the region – the Tupig. Tupig is a traditional Filipino rice cake made from glutinous rice mixed with coconut milk, brown sugar, and grated coconut meat, all wrapped in banana leaves and grilled to perfection.
What sets Apayao's Tupig apart from other versions found in the Philippines is the inclusion of peanuts, lending a subtle nutty flavor to the pastry. Locals enjoy Tupig as a favorite snack, especially during special occasions like weddings and fiestas.
With a chewy texture and sweet coconut flavor, Tupig is a must-try in Apayao for foodies and curious travelers alike.
In conclusion
When visiting the beautiful province of Apayao in the Philippines, one cannot help but be enamored by its natural wonders and cultural heritage. But where to stay and what to eat add to the overall experience of the trip.
With its lush forests, Apayao has several accommodations that offer a unique and immersive stay in nature. From traditional huts like the Ifugao house to homestays with local families, there is no shortage of options.
When it comes to food, the province boasts a cuisine that is delicious and reflective of its heritage. Must-try dishes include the Pinikpikan soup and the famous Kiniing. No matter where you decide to stay, one thing is for sure- the food in Apayao is an adventure in itself, and the perfect complement to a memorable experience.