The Philippines' climate is characterized by a unique interplay of wet and dry seasons, which affects the country's weather patterns and natural resources. Understanding this climate system is essential for adapting to its impacts on agriculture, water resources, and other sectors.
This blog post explores the unique climate of The Philippines, going through an analysis of its seasonal variations, average temperature and precipitation regimes. So stick around to explore the various intricacies that makes The Philippines' weather such an interesting phenomenon.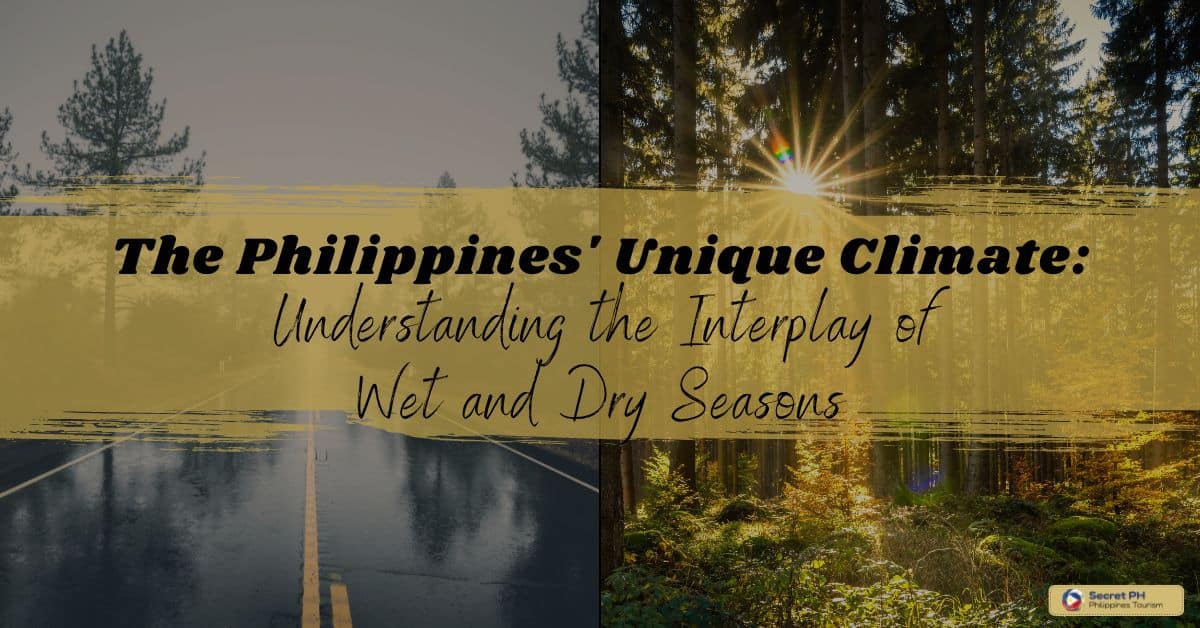 Characteristics of Wet and Dry Seasons in the Philippines
The Philippines is a remarkable country to visit, where you are bound to experience wet and dry seasons depending on which area you find yourself in. Its wet season typically falls between the months of June and November, with these months seeing an exceedingly high amount of rainfall with strong thunderstorms; while its dry season runs from December to May.
This dry spell brings sunny days and blistering heat but also makes way for occasional typhoons that cause powerful winds and relentless rains. During this seasonal period, mountains can be seen towering from afar over the vast grasslands that sustain life and support local farming endeavors; otherwise hidden by monsoons during wetter times.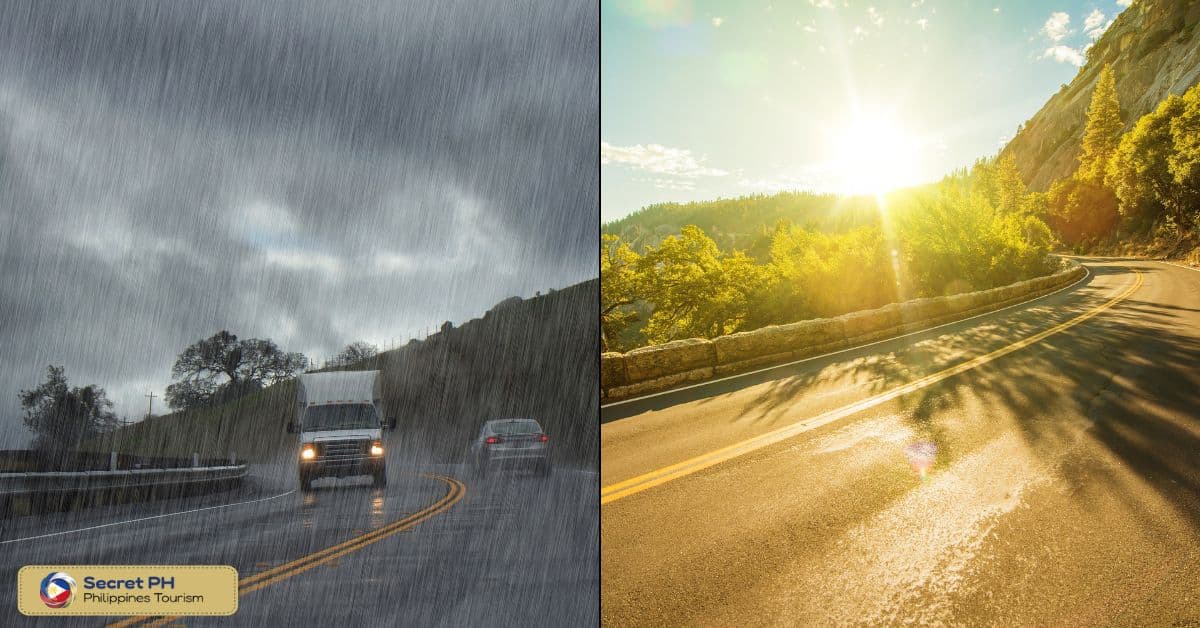 Wet Season
Philippines is a country blessed with two rainy seasons in a year, known as "wet season". This wet season starts from the months of June and ends around November. As this season passes, it brings a reduction in temperature throughout the Philippines. It results in heavy to medium rainfall that continues until October, when the dry season starts. This period of wet season makes the Philippines one of the hottest countries in world during this time due to its humid weather conditions.
Weather patterns during the wet season
In the Philippines, the wet season typically lasts from June to November. During this period, conditions are usually marked by heavier rainfall and higher humidity, with occasional typhoons and tropical storms.
The typical weather pattern during this time is cycles of abundant rain followed by periods of clear skies. Temperatures tend to vary throughout the season with daytime temperatures around 30°C (86°F), cooling off in the evenings and mornings. The wet season provides a great environment for rainforests and plant life in general which contributes heavily to sustaining unique local wildlife ecosystems.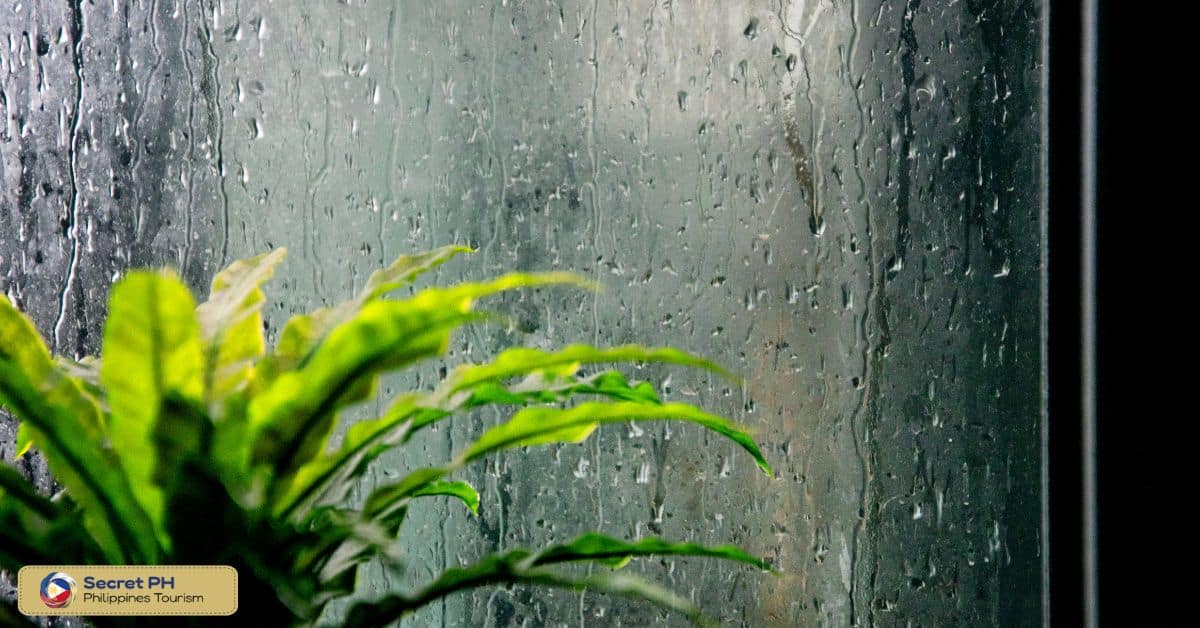 Causes of the wet season
The Philippines is one of many countries that experience the wet season. This season is primarily caused by two atmospheric events—the Intertropical Convergence Zone (ITCZ) and the South-West Monsoon winds. The ITCZ is an area where air from both the Northern and Southern Hemispheres converge, allowing for naturally rising hot air and rising humidity levels.
Simultaneously, the South-West Monsoon winds are high pressure surface winds that blow into land, pushing rain clouds to become heavy with moisture, eventually causing rain. These combined atmospheric events factor prominently in the Philippines' wet season each year, bringing much needed relief to the Philippines' tropical climate.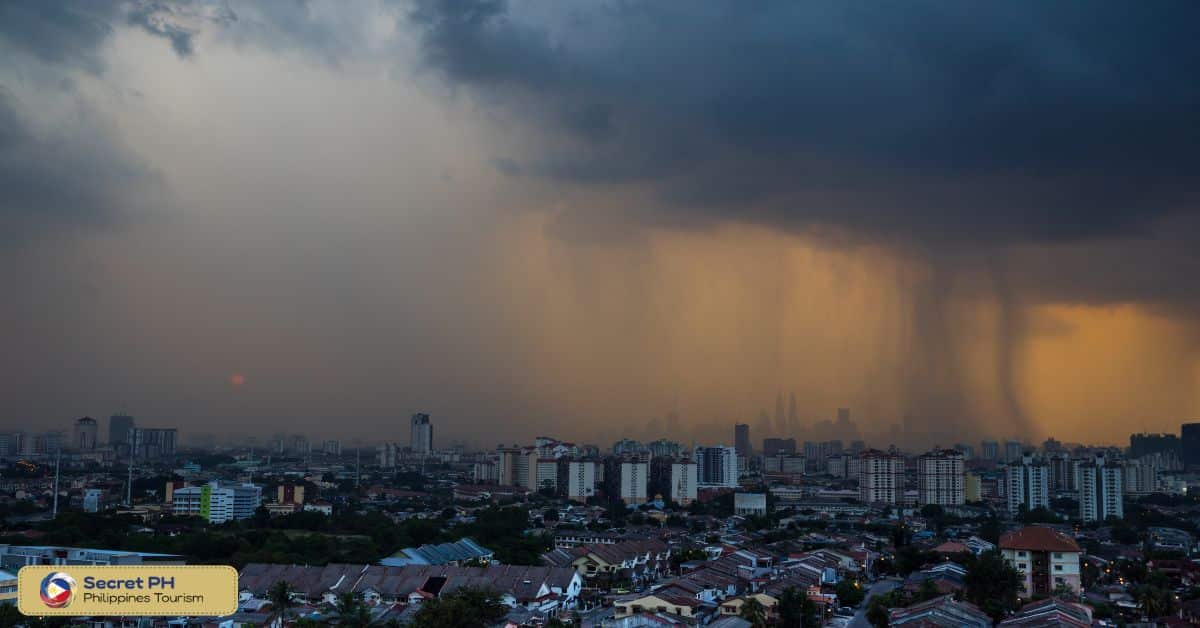 Effects of the wet season on the country
The Philippines, being a tropical country, experiences a wet season that brings with it heavier rainfall and thunderstorms. This is of great benefit to the land as it allows for more growth of vegetation and richer pastures. Without these periods of rain, much of the crops would not be able to survive due to dry weather.
The wet season also serves another purpose in that it helps the Philippines' people to save on water storage costs since most homes are supplied with water from large rain catchment areas set up around the country. During this time of year tourist activity is notably increased due to better weather conditions which can provide an economic boost for local businesses and attractions.
Dry Season
The Philippines experience a dry season that typically occurs between the months of December and May, depending on the region. The dry season typically marks the beginning of low rainfall and increased temperatures in some parts of the country, while other areas may have decreased rainfall but increased humidity. It is important to note, however, that this pattern can vary from year to year based on regional conditions and climate patterns.
Weather patterns during the dry season
During the Philippines' dry season, it is very common for unexpected weather patterns to occur. This period is typically accompanied by temperatures that range from cool mornings to hot afternoons, while violent thunderstorms can easily roll in during the evening hours.
Low humidity levels and constant winds throughout the day add the element of unpredictability that comes with changes in temperature and can create extreme cooling or warming effects. As such, preparing for all types of conditions is highly recommended during this time of year.
Causes of the dry season
The Philippines experience a dry season between the months of November and April. This is caused by environmental factors including the decreased quantity of rainfall, increased temperature, and higher levels of evaporation. Certain areas in Philippines can go for up to four months without receiving any amount of rainfall.
This occurs due to pressure systems created in parts of Asia at this time of year. The Philippines have adapted various methods of combating the effects of this dry season by implementing conservation projects such as training communities on how to better manage water usage and resources.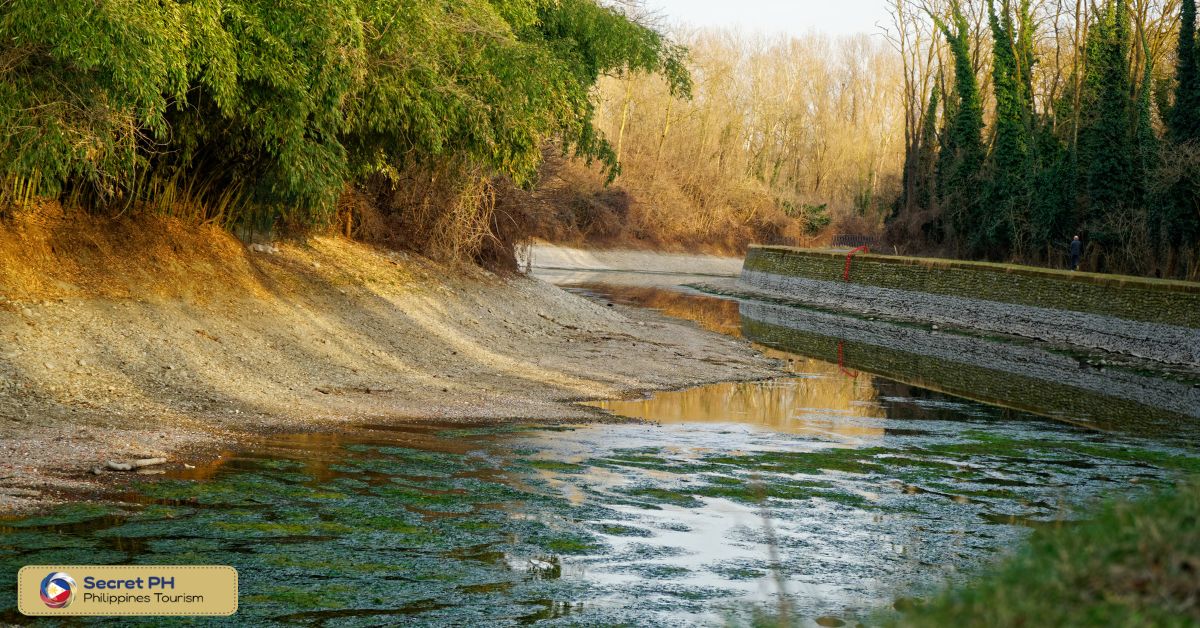 Effects of the dry season on the country
The Philippines, like many countries across the globe, experiences a dry season from December to May. During this time period, much of the country is susceptible to water scarcity, an additional strain on the Philippines' already limited resources due to the lack of rain.
Not only does this cause a shortage in fresh water supplies, it also has a negative effect on other critical aspects of life such as food and health security as water access is essential for agricultural production and hygiene. People face considerable difficulties with limited access to one of the most basic life-sustaining elements. Solutions such as developing alternative sources like desalination may prove beneficial in alleviating some of these issues until rainy season returns and brings back necessary rainfall.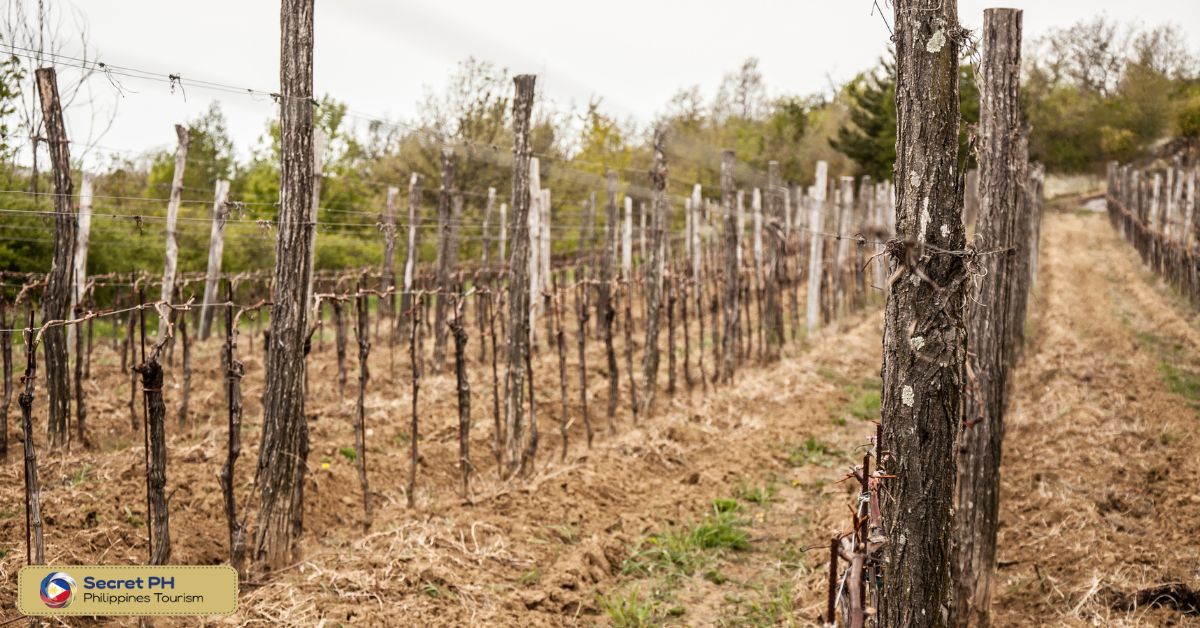 Interplay between Wet and Dry Seasons
The interplay between wet and dry seasons in the Philippines creates a unique and dynamic environment. The wet season brings heavy rainfall and occasional typhoons, which replenish water sources and support agriculture.
In contrast, the dry season features lower humidity and temperatures, making it a more comfortable time for outdoor activities. However, prolonged dry spells can lead to drought and water shortages.
Factors that affect the shift between seasons
The Philippines is subject to two distinct seasons: the wet season, from June to October, and the dry season from June to November. The shift between these two seasons is primarily determined by the interplay between monsoon winds coming from the southwest and southeasterly trade winds.
The Philippines also experiences a break between seasons as well known as Amihan. This is caused when cold winds (Amihan) blow down from China, which halts the southeast trade winds, change temperatures significantly and prevents moisture in the atmosphere reducing rainfall.
Another factor that affects this shift is El Niño/La Niña currents in the Pacific Ocean which further influence wet and dry season patterns. This results in drastic changes such as torrential rains in some areas or droughts that require swift action from concerned authorities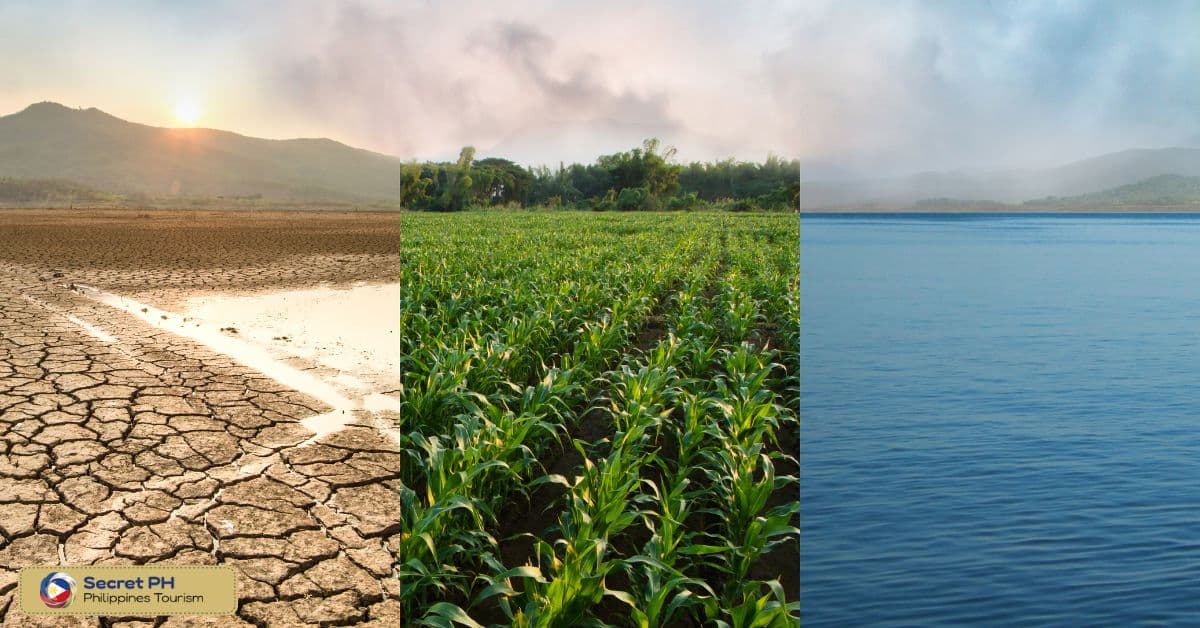 Impact of climate change on the interplay of wet and dry seasons
The Philippines, like most countries in the tropics, is continuously affected by climate change. This has had a direct impact on the interplay of wet and dry seasons. Rising temperatures have led to days with much higher evaporation and longer dry periods between rainy ones.
Certain regions in the Philippines are also becoming increasingly exposed to heavier and more erratic rainfall, resulting in massive floods that wreak havoc on infrastructure. In addition, prolonged dry seasons caused by climate change could lead to water scarcity and agricultural drought affecting both human lives and nature in the Philippines.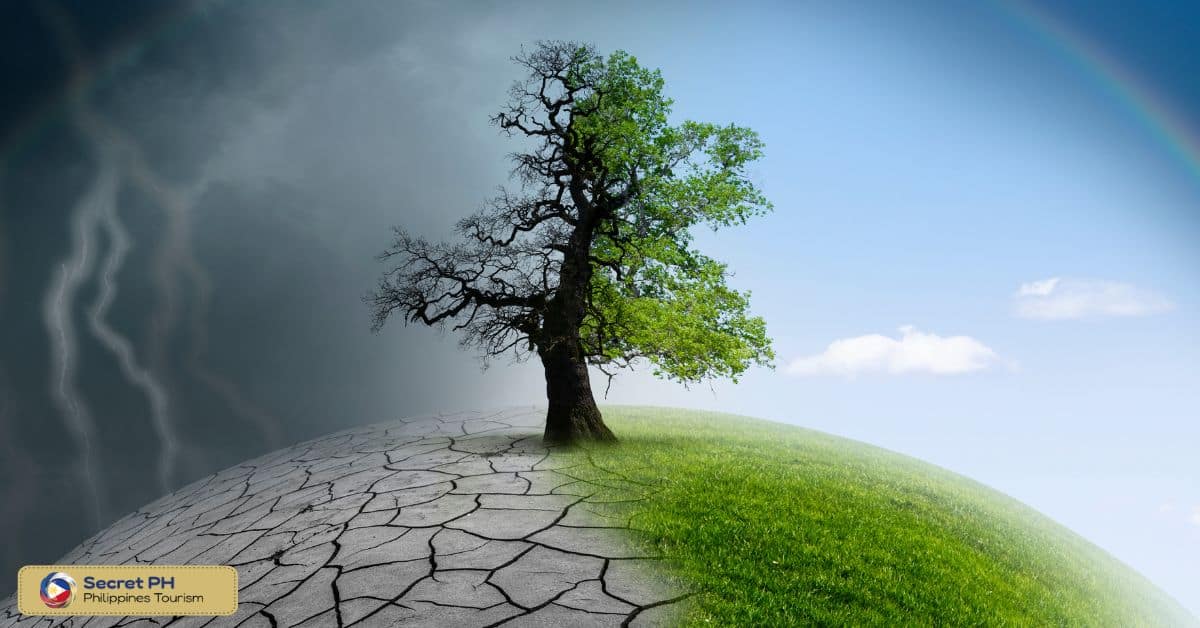 The importance of balancing the wet and dry seasons in the Philippines
The Philippines is a tropical archipelago known for its distinct wet and dry seasons. Balancing the two is particularly crucial, as it affects the livelihoods of many Filipinos. With an ample amount of water resources during the wet season, farmers are able to make use of their land to produce food crops such as rice and vegetables.
On the other hand, during the dry season when water is scarce, fishermen make use of this opportunity to pursue their trade more actively. striking a balance between wet and dry seasons helps ensure that there is ample supply of both food crops and fish for Filipinos' consumption which contributes to improved national welfare and economic productivity.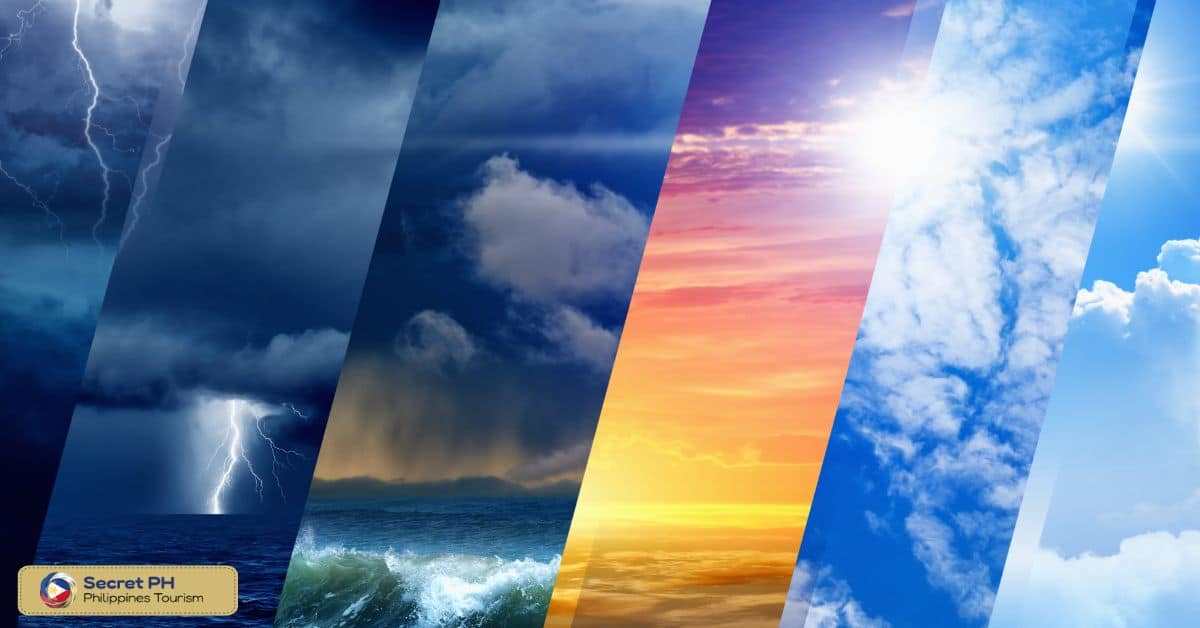 In Conclusion
Philippines is situated in the tropical belt of earth and it experiences typical tropical climate, which is characterized by wet and dry season. Philippines enjoys a consistently warm temperature through most part of the year, with coastal areas being more humid than the mountain regions.
The primary factor determining Philippines' unique climate is its interplay of wet and dry season, with varying temperatures and humidity levels throughout the country. This interplay helps to maintain Philippines's eco-systems and is critical to its economy as it heavily relies on agriculture production. Understanding Philippines's unique climate plays an important role to ensure sustainable socio-economic growth over time.