Ecotourism in the Philippines plays a crucial role in conserving biodiversity, promoting sustainable practices, and providing economic benefits to local communities. However, it faces challenges such as limited resources, government policies, and lack of awareness. To achieve a balance between nature conservation and tourism, the Philippines must prioritize and promote ecotourism through community-based initiatives, partnerships, and certification standards.
In this blog post, we will explore the importance of ecotourism in the Philippines and how it can help protect the country's unique ecosystems while promoting sustainable economic growth. Join us as we delve into this fascinating topic and discover why ecotourism is more important than ever for the future of the Philippines' environment and economy.
Ecotourism in the Philippines
The Philippines is becoming an increasingly popular destination for ecotourists. It is due to its abundant biodiversity and unspoiled natural attractions. The country boasts a variety of UNESCO World Heritage Sites, such as the Puerto-Princesa Subterranean River National Park. The Philippines also offers cultural experiences including traditional dances, music, and festivals.
The abundance of outdoor activities available in the Philippines make it a perfect vacation spot for ecotourists looking to explore nature while also experiencing local culture. Managed ecotourism initiatives are growing as sustainable tourism initiatives increase in popularity throughout the country.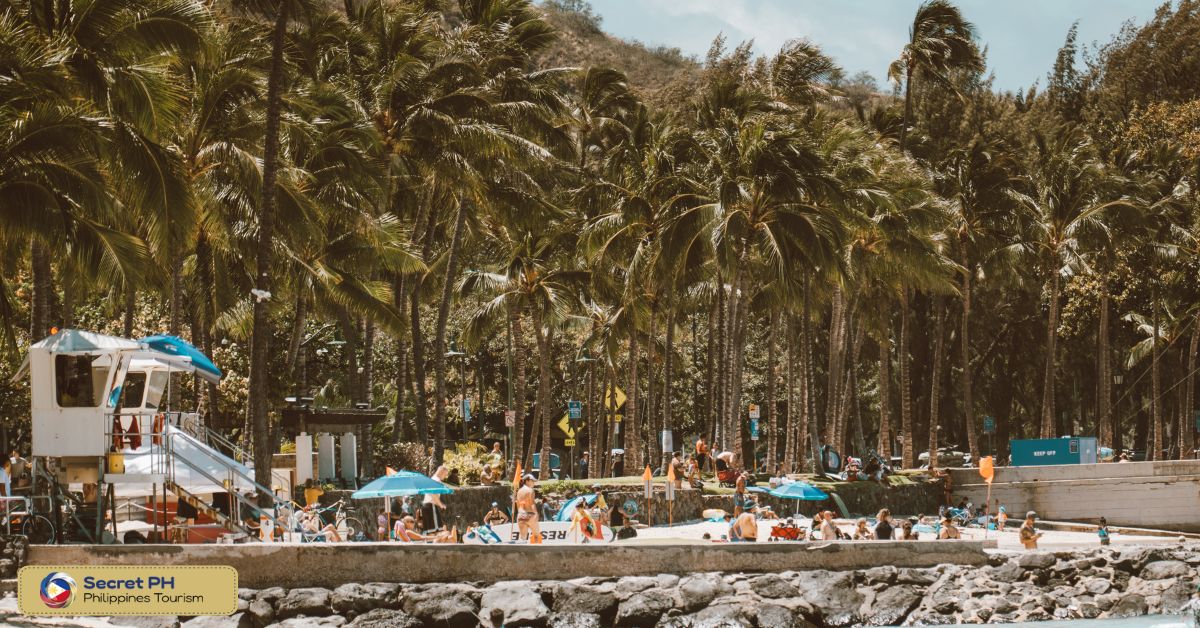 The Importance of Ecotourism in the Philippines
Ecotourism has been gaining popularity in recent years. More people become aware of the impact of tourism on the environment. Ecotourism plays a crucial role in promoting sustainable tourism practices while preserving the country's natural resources.
Preservation of biodiversity
The government has recognized the need to protect their fragile ecosystems. Responsible ecotourism practices support conservation efforts and help local communities benefit from natural resources. Ecotourists have the opportunity to get up close and personal with some of the most extraordinary natural places on earth. As well as immerse themselves in educational experiences about the local culture and environment in some areas. By buying into responsible ecotourism packages which comply with industry standards, people are able to support an industry.
Economic benefits
The economic benefits of ecotourism in the Philippines are considerable. This type of tourism helps to contribute to the country's GDP growth.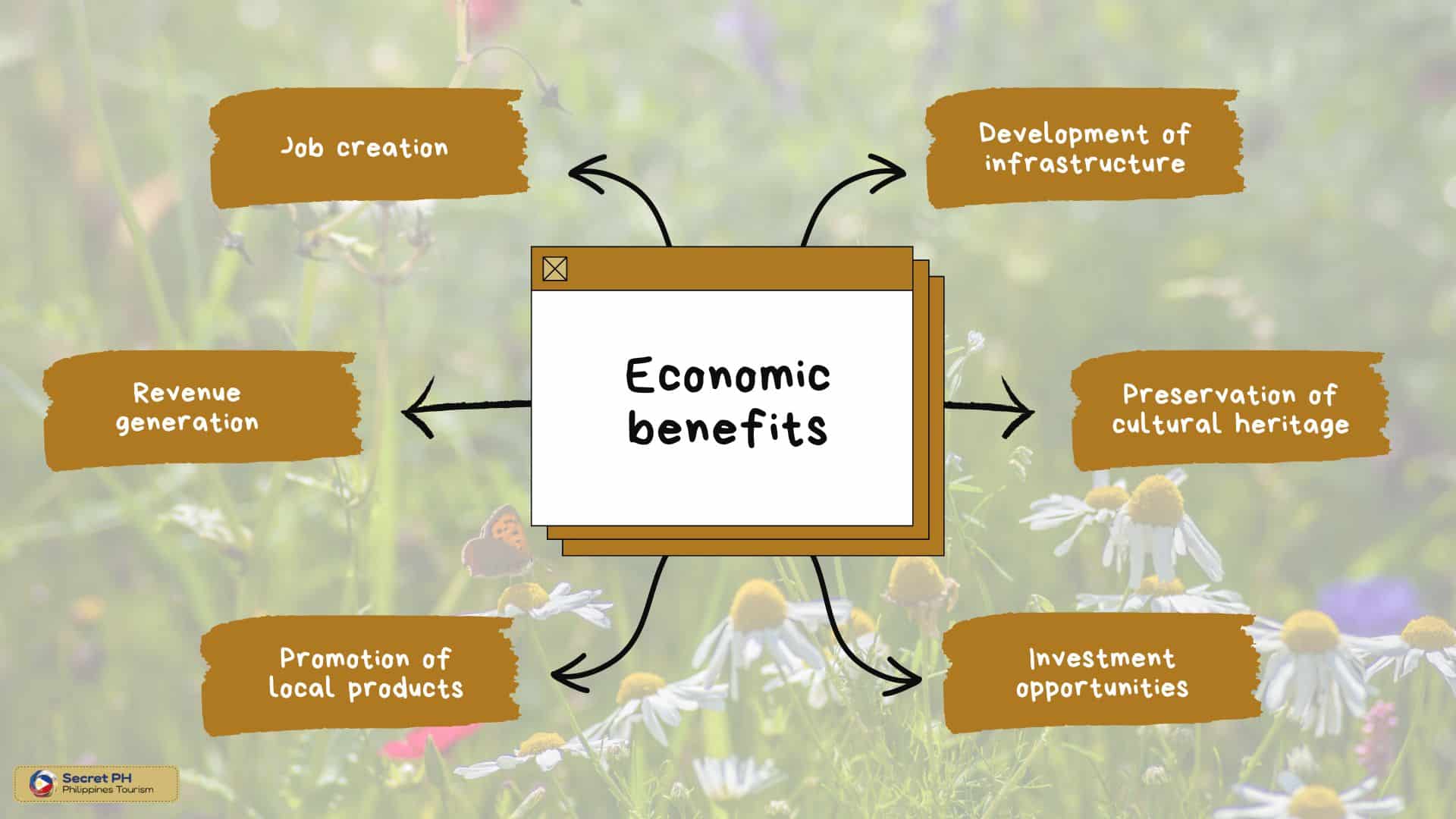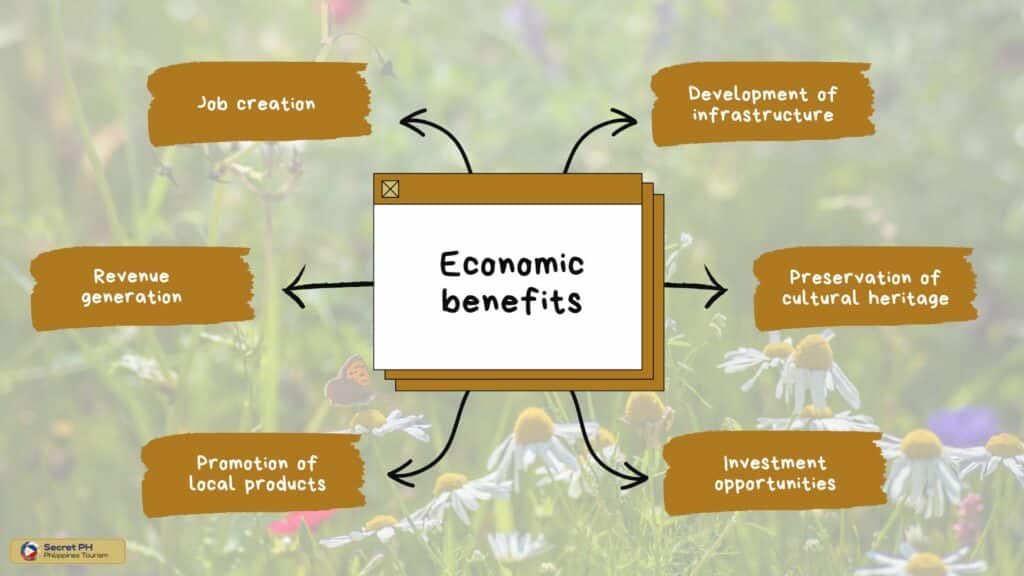 Job creation: Ecotourism provides employment opportunities for local communities, including tour guides, accommodation providers, and other related businesses.
Revenue generation: Ecotourism contributes to the country's economy by generating revenue from entrance fees, accommodation fees, and other tourism-related expenses.
Promotion of local products: Ecotourism provides an opportunity for local businesses to showcase their products and services, including food, handicrafts, and other souvenirs.
Development of infrastructure: Ecotourism can encourage the development of infrastructure such as roads, transportation, and communication systems, which can also benefit local communities.
Preservation of cultural heritage: Ecotourism can help preserve cultural heritage sites and practices, which can attract tourists interested in learning about the local culture.
Investment opportunities: Ecotourism can attract foreign investors who are interested in supporting sustainable tourism practices, which can provide additional economic benefits to the country.
Cultural preservation
It is important to preserve and protect the country's unique cultural identity for future generations to appreciate. Ecotourism is one avenue through which this goal can be achieved. It helps to bring in revenue that can be used to support preservation initiatives.
By deepening knowledge of their environment, citizens ultimately gain a better sense of wellbeing. This encourages travelers to visit the Philippines responsibly. With a focus on sustainability and ethical practices. Ecotourism in the Philippines serves as an effective means for conserving cultural heritage.
Boosting local communities
The Philippines is home to roughly 7,641 islands and boasts incredible biodiversity. Ecotourism provides an excellent opportunity for the country's citizens to embrace their local environment. Through activities like bird watching or fishing trips, ecotourists can interact with nature in a safe manner while helping growing local economies.
Ecotourism helps give the country a distinct identity amongst travelers. It creates additional streams of foreign currency that can benefit impoverished rural communities. By exposing tourists to preserved environments they might foster the importance conversations within the broader tourism industry.
Ecotourism as a tool for conservation
Ecotourism is a powerful tool that has allowed Philippines to make progress in protecting its natural resources. It relies on responsible travel by conscious tourists that want to actively help the environment. This type of tourism encourages people to learn more about their surroundings. And also use sustainable consumption habits by reducing their impact and consumption of natural resources. Philippines is home to many incredible site visits filled with tropical forests that threaten to be lost if not managed sustainably.
Environmental education
Ecotourism is becoming a popular tool for conservation around the world. This type of tourism involves visiting natural areas in a sustainable manner and allows people to learn more about the environment, thus instilling a sense of stewardship in those who visit. It gives people insight into how human activity impacts nature. This understanding can then be taken home with them, contributing to wider environmental education. Local communities often benefit from ecotourism due to the employment opportunities it creates.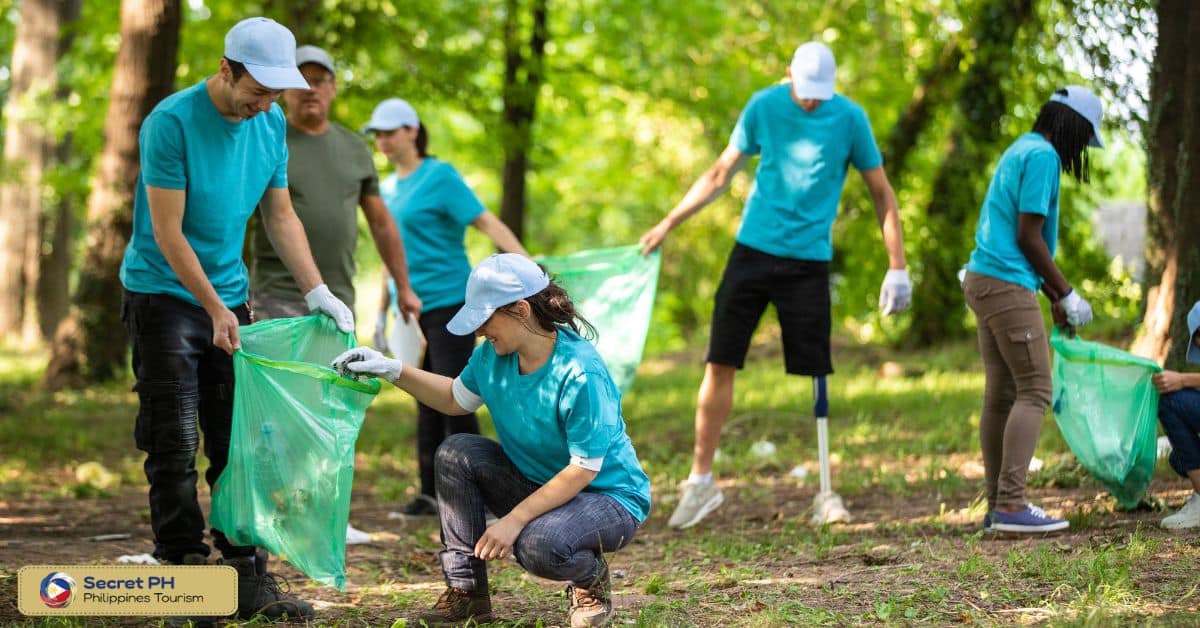 Conservation funding
The Philippines is a nation that has abundant natural resources. It's teeming with wildlife and breathtaking coral reefs. The potential of ecotourism as a tool for conservation funding is enormous in this area. Ecotourism relies on preserving the delicate balance between humans and nature. This creates sustainable businesses in which profits are used for conservation initiatives.
It provides an opportunity for local people to benefit from the economy created by tourists. This type of tourism gives visitors a chance to experience the Philippines' natural beauty firsthand and appreciate its value, while also introducing funding into local efforts to conserve it.
Promoting sustainable practices
It provides an avenue for nature lovers to enjoy the Philippines' numerous natural attractions. It is also helping in preserving these beautiful and fragile places. Ecotourism activities, such as guided tours and educational seminars, introduce visitors to the Philippines' unique flora and fauna. This allows them to learn about conservation efforts and sustainable practices that are being implemented in the area. Many ecotourists invest in local businesses or help with clean-up initiatives. By encouraging ecotourism in the Philippines, we can continue to bring awareness of our incredible landscape.
Challenges in promoting ecotourism in the Philippines
Promoting ecotourism in the Philippines can be a challenge due to the unique environmental and cultural dynamics of the country. Tourism is an industry that is mainly focused on coastal areas. Meaning that natural resources in inland regions are often left unexplored and unprotected. Here are some of the challenges in promoting ecotourism in the Philippines:
Limited resources and infrastructure
A major challenge to promoting ecotourism in the Philippines is the limited resources and infrastructure in place. Due to limited financial resources available, there has not been much investment into creating eco-friendly sites. This causes a lack of proper upkeep of existing parks, reserves or villages. Inadequate infrastructure can be seen in land and water transportation systems. As well as navigation issues near islands and lakes which are known destinations for eco-tourists.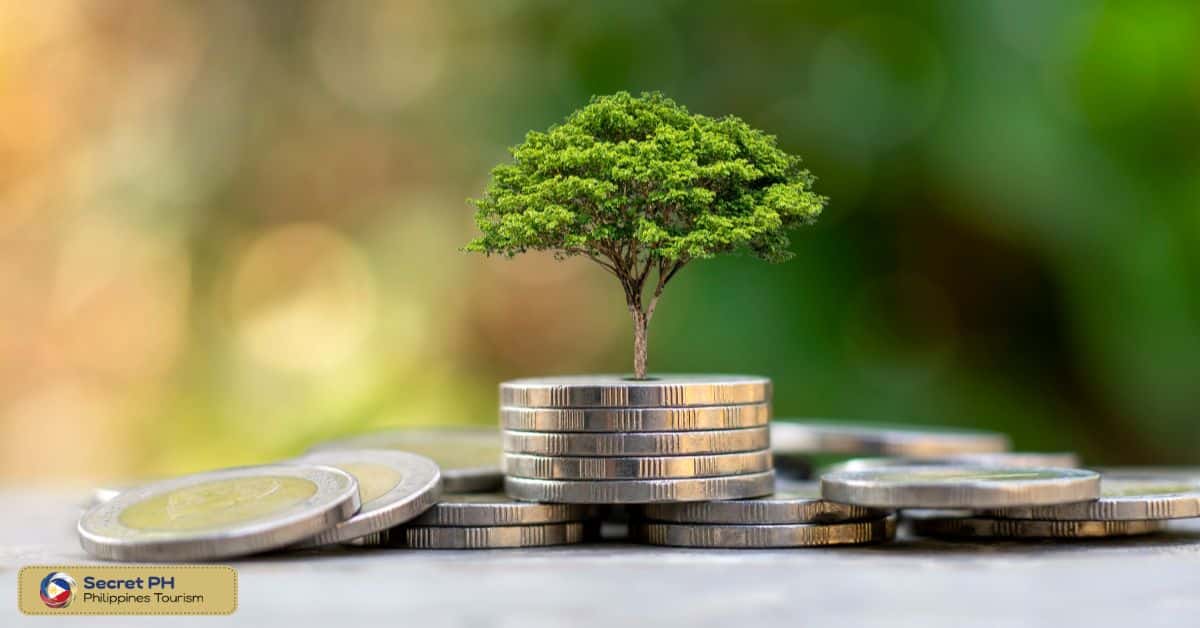 Government policies and regulations
The Philippines have made a commitment to promote ecotourism. However there are numerous government policies and regulations which create challenges that must be addressed. These include limited funding for training, development and infrastructure in less accessible areas. Also, uncertainty about access rights for local communities, the need for more detailed environmentally friendly visitor guidelines, and the lack of readily available ecotourism initiatives.
Regional authorities often operate multiple multi-agency initiatives that can make implementation of ecotourism promotion difficult to coordinate. To be successful in promoting ecotourism in the Philippines, it is essential to adhere to government policies.  At the same time providing incentives to foster partnerships between local governing bodies and tourism stakeholders.
Lack of awareness and understanding
Although the Philippines is becoming increasingly popular in the ecotourism field, there remains a significant lack of awareness and understanding with regards to the sector. This has caused trouble in promoting the country as a suitable destination for ecotourism. Many potential visitors are unaware of the ecological initiatives or green policies that have been put in place.
This limited understanding can sometimes stretch further our local communities as some may not be aware of the benefits or opportunities. Therefore, increased education and public engagement around ecotourism must be prioritized within in the Philippines.
Best practices in ecotourism in the Philippines
The Philippines is an absolute paradise for ecotourism. With its stunning national parks, breathtaking beaches, and deep oceanic abysses, it's no wonder ecotourists are flocking to experience the beauty of this country. For those looking to engage in responsible eco tourism, there are some best practices that should not be overlooked.
Community-based ecotourism
Community-based ecotourism is an increasingly popular concept of tourism. This seeks to ensure visitors and the local population benefit from a meaningful connection with nature. The Philippines has highly committed to strive for the best practices in ecotourism. They work with communities and local organizations on different initiatives. That includes promoting sustainable agriculture, conducting community-led research projects, and developing eco-tourism management plans.
Each of these initiatives has been studied extensively to ensure ethical practices are followed. By engaging in activities like conservation, stewardship and rehabilitation efforts that support the original ecosystem, the Philippine model achieves long-term sustainability in rural areas.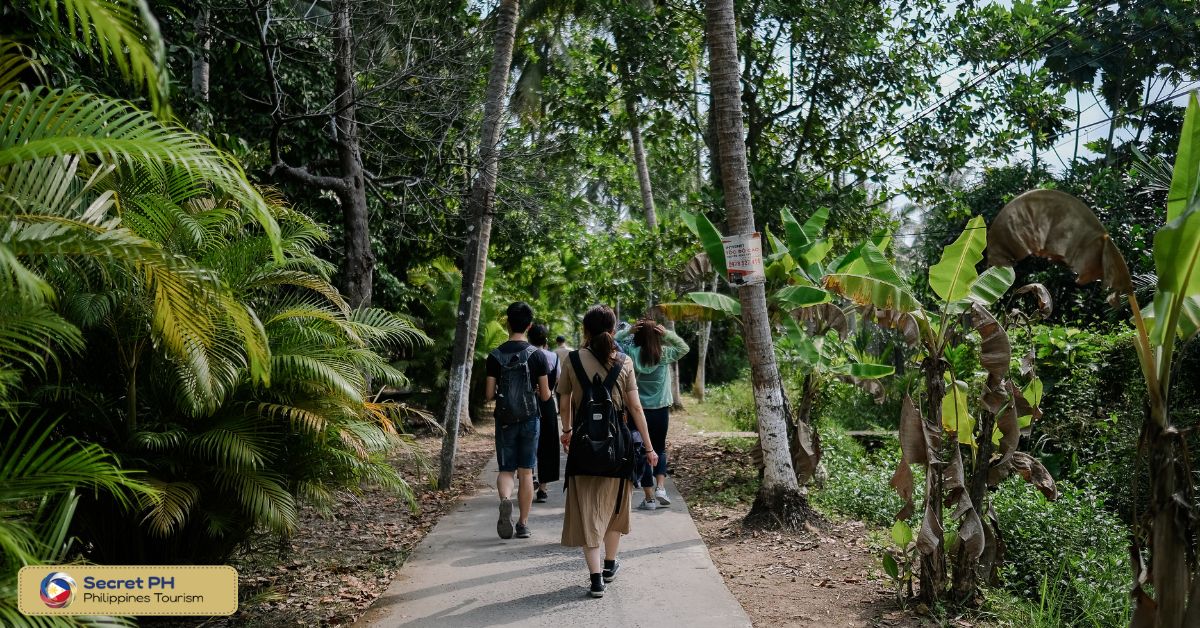 Partnerships and collaborations
Partnerships and collaborations are essential to the success of ecotourism in the Philippines. By working together to implement best practices, locals, tourists, and stakeholders can ensure that these activities remain sustainable.
One example of an effective collaboration is the Kalikasan Local Ecotourism Program which brings together community leaders.  The local government units (LGU's), private tourism businesses, and environmental conservation groups. Through this program, valuable knowledge has been shared between the partners leading to improved regulations and processes for promoting ecotourism.
Ecotourism certification and standards
Ecotourism certification and standards are essential for providing travelers with an experience that meets their expectations. It also preserves the biodiversity of the local ecosystems. Several organizations have set industry-leading standards to ensure that best practices are being met in the field of ecotourism.
These include creating guidelines regarding habitat protection, management of water and other resources. Conservation of natural features, commitment to cultural sensitivity and inclusion. The access to facilities such as safe drinking water, waste management training and programs as well as meaningful employment opportunities for locals.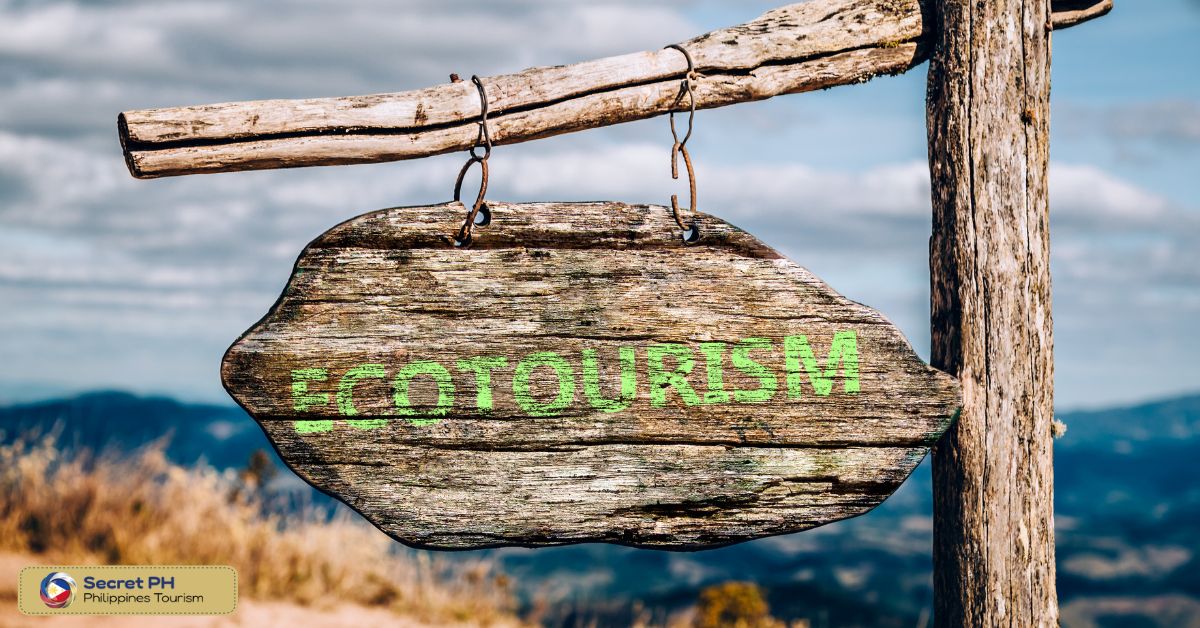 In Conclusion
The Philippines can benefit greatly from ecotourism, as it could bring in valuable income while also helping to conserve delicate ecosystems. Balancing conservation and tourism needs to be done properly though, with careful management of tourist numbers and development.
It is vital to strike the right balance so that vulnerable species can be saved or encouraged to thrive, and tourists' experience will not be affected. Ecotourism can bring about significant benefits for the environment in the Philippines and beyond, especially if regulations are put in place to protect natural habitats and species.