El Nido, an entrancing beach and nature destination in the Philippines, is a travel spot not to be missed. Its unique blend of stunning beaches and lagoons, lush jungles, and giant limestone cliffs make it a paradise for those looking for incredible sightseeing and adventures.
Discover the allure of El Nido, Philippines, and escape to this stunning beach and nature destination for a truly unforgettable vacation. It is a perfect place that offers unparalleled experiences! 
From adrenaline junkies to laidback travelers alike, there is something here for everyone – all set against the warm Filipino hospitality that will make your stay incredibly memorable.
History and Culture of El Nido
El Nido, located on the northwestern tip of Palawan Island in the Philippines, is a real paradise. A picturesque combination of pristine white sand beaches and densely forested hillsides provides great opportunities for hiking and exploring diverse wildlife in their natural habitats.
El Nido holds cultural and historical significance; its caves were first inhabited by ancestors of the Tagbanwa people almost 5,000 years ago. The area has stories of pirates who occupied its coastlines throughout Spanish colonial times, which explains why the locals have, until today, retained their culture of fishing, boat building, and fishing net weaving.
The local artisans take pride in producing visual works inspired by ancient motifs, which tourists can find vestiges of upon visiting various galleries to stroll through with delight.
It is without a doubt that El Nido encompasses all its resources with elegance, allowing it to be one of the most alluring destinations for travelers from all over the world due to its unique beauty.
Natural Wonders of El Nido
El Nido has a wealth of natural wonders waiting to be explored. From stunning beaches dotted with majestic limestone karsts to world-class snorkeling and diving spots, it's heaven for nature lovers.
Its thick jungles are home to endemic species like the Palawan peacock-pheasant and the Philippine mouse-deer, while its lagoons offer a unique glimpse into the best marine life in Southeast Asia.
The Different Beaches in El Nido, Palawan
El Nido is a fantastic beach and nature destination in the Philippines. It boasts an array of breathtakingly beautiful beaches, each with its own distinct charm.
Nacpan Beach is said to be one of the most picturesque stretches of sand around El Nido, offering stunning views of the ocean and majestic cliffs.
Las Cabanas Beach offers wide, golden sands ideal for relaxing on and is conveniently located near restaurants and shops.
For those looking for a secluded getaway, Twin Beach offers powdery white sand, deep blue waters, and verdant jungle vegetation – perfect for a peaceful retreat away from the bustle of modern life.
With so many incredible beaches, El Nido is truly an alluring place to explore!
Islands and Islets
El Nido is also known for its stunning array of islands and islets, three of which are Bacuit Bay, Miniloc Island, and Lagen Island.
The three unique destinations provide a sensory feast for travelers seeking sweeping natural scapes by boasting lush green mountains, majestic karst limestone formations, and isolated beaches.
Miniloc Island is surrounded by picturesque blue lagoons and secluded white beaches, where visitors can unwind and have some alone time with nature. The island also features several dive sites filled with vibrant coral gardens packed with colorful fish that make snorkeling or diving here truly illuminating.
While both Bacuit bay and Lagen Island are located near Miniloc, they both offer different aquatic experiences.
The former boasts open sea-kayaking opportunities, while the latter showcases diverse topography such as caves, secret lagoons, and waterfalls best enjoyed from stand-up paddleboards and mangrove kayak tours.
With such vast options available to explore these lustrous botanical enclaves, it's no wonder El Nido has become an alluring destination for beach-goers searching for seclusion and peace.
Activities and Adventures in El Nido
El Nido is a dream destination for tourists looking for adventure. Make the most of your El Nido trip with these exciting adventures!
Snorkeling and Scuba Diving
El Nido is well known for its watersports offerings. Particularly popular are snorkeling and scuba diving experiences.
With dozens of picturesque dive sites just waiting to be explored, El Nido serves up some of the best snorkeling and scuba diving opportunities you could ask for.
From shallow reefs bursting with a kaleidoscope of life above 40 feet underwater to vibrant coral gardens hiding creatures that most of us may never have the opportunity to see in their natural environment, it'll be a memorable experience.
You never know what strange or beautiful creatures you may encounter while navigating these diverse areas – if El Nido sounds like your type of aquatic adventure, why not try?
Kayaking and Island Hopping
This mesmerizing beach and nature destination offers the ideal outdoor environment for kayaking and island hopping. Providing visitors with the opportunity to explore caves, lagoons, and hidden beaches, kayaking, and island hopping tours are highly popular among travelers.
Taking a guided tour around El Nido's archipelago is an unforgettable experience that will ensure your visit to this beautiful part of the world remains permanently etched in your memory.
Whether it's swimming, paddling along limestone cliffs, taking picturesque photos, or lounging on powdery-soft beaches, adventuring through El Nido is beyond anyone's wildest dreams.
Surfing and Kiteboarding
El Nido is also an ideal destination for experienced surfers and kiteboarders seeking adventure. With year-round warm temperatures, flourishing marine wildlife, and unspoiled coral reefs, El Nido presents many opportunities to explore the exciting world of surfing and kiteboarding.
Whether you're just starting out or an experienced athlete, you'll find challenging yet enjoyable waves that will satisfy everyone. There are plenty of places to rent gear or join a local class if you'd like to brush up on your skills before plunging in with an instructor-led activity.
A thrilling journey awaits: take the plunge and experience the allure of El Nido's awe-inspiring beaches today!
Rock Climbing and Rappelling
Rock climbing and rappelling in the El Nido is a thrilling experience for outdoor adventurers. The coastal city is renowned for its limestone cliffs, allowing climbers of all skill levels to explore its craggy terrain.
The range of challenges makes it a great spot for newbies or experts alike — rock climbers can take on single-pitch routes or tackle long multi-pitch challenges with large exposure. For beginners, many locations offer guides and training courses that are fun as well as educational.
Rappelling takes advantage of the airy heights found along the coast and offers a unique way to explore the islands from above. Both activities are popular enough that instructors, equipment rental, and transportation to climbing spots are easy to find.
With awesome limestone formations and plenty of challenging routes, Rock Climbing and Rappelling in El Nido provide an unforgettable jungle adventure.
Trekking and Hiking
Trekking and hiking in El Nido is a great way to experience all the beauty and adventure it offers. With trails varying from easy to moderate level, there's something for everyone.
Many tour guides will help you make the most of your trip since El Nido is nestled amongst some steep terrain and natural limestone formations. Take in nature's awe-inspiring sights while trekking through these mountains; snap pictures along the way!
Whether you'd like a leisurely hike or an intense excursion, trekking and hiking in El Nido is a wonderful way to explore the spectacular scenery.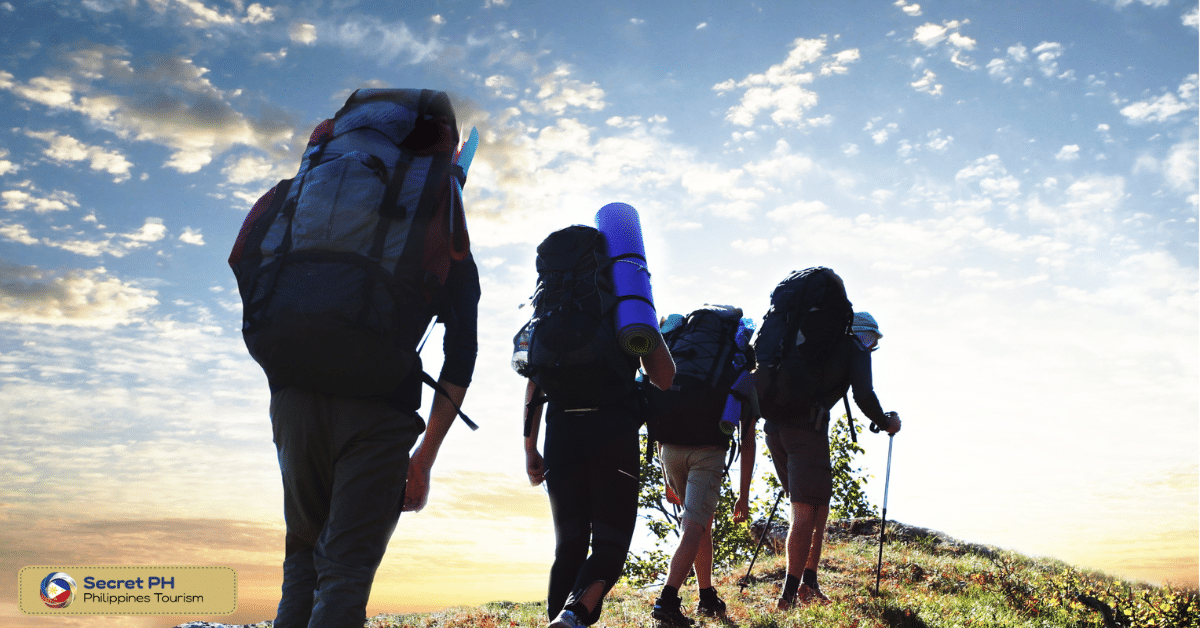 Accommodation in El Nido
El Nido has something for everyone, regardless of the size and budget of their vacation. Accommodation options for any budget are available in El Nido, from beach huts and resorts to luxury boutique hotels.
Set against beautiful white beaches, many resorts feature gorgeous swimming pools where visitors can cool down after a day under the sun. Places like Sitio Daplac Beach Resort & Restaurant and Timbaan Beach Resort offer services ranging from comfortable stays and kayak rentals to delectable local cuisine.
In addition, some accommodation offers packages that include visits to iconic locations such as Big Lagoon and Seven Commandos Beach or even scuba diving excursions into crystal clear waters.
With these unbeatable choices scattered across its breathtaking beaches, El Nido is easily one of the top spots in the Philippines for travelers looking for an immersive beach experience.
In Conclusion
El Nido truly is a paradise for beach-goers and adventurers alike. Whether you're looking for an adrenaline-filled adventure or want to relax in the sun on powdery sand – this alluring destination has it all!
From picturesque dive sites to hidden lagoons, from luxury resorts with pools overlooking crystal clear waters to treks through dense jungle terrain – This place will make your unforgettable stay one. So what are you waiting for? Pack up those bags and get ready to experience the beauty of El Nido today!