Mangrove snakes are fascinating creatures that have adapted to their environment and play an important role in the local ecosystem.
The Mangrove Snake is a venomous reptile living in Philippine mangroves. Adapted to brackish water, they prey on fish and crustaceans, using their venom to immobilize prey. However, habitat loss and illegal collection for the pet trade threaten their survival. Studying their biology and behavior is crucial for their conservation.
In this article, we'll look closer at the habitat, physical characteristics, venom, feeding habits, reproduction cycle, conservation status and threats of these reptiles, their interactions with humans, and their importance in maintaining balance in the ecosystem.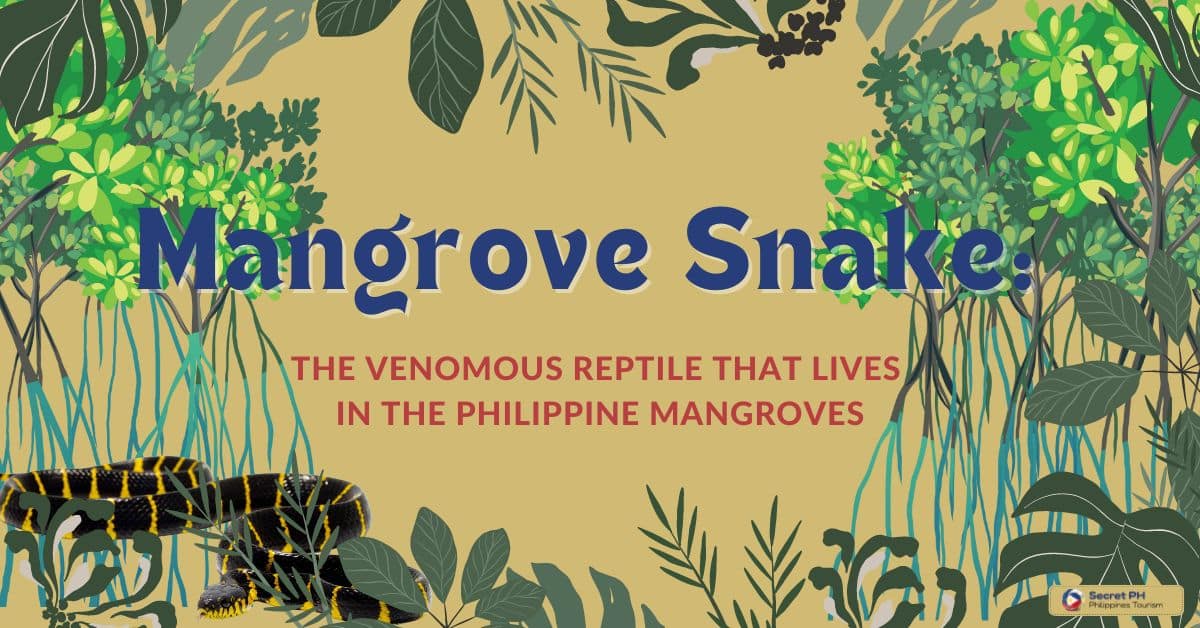 Habitat and Distribution of Mangrove Snakes in the Philippines
Mangrove snakes (Boiga dendrophila) are found in the mangrove forests of the Philippines. These forests are located along the coastlines of the country and are characterized by a mixture of freshwater and saltwater, as well as by the presence of mangrove trees. The snakes have adapted to living in these brackish water habitats and are excellent swimmers.
Mangrove snakes are distributed throughout the Philippines, from the northern island of Luzon to the southern island of Mindanao. They can also be found on smaller islands in between.
However, due to their elusive nature and the difficulty of conducting surveys in mangrove forests, their true distribution is poorly understood. As a result, more research is needed to understand their range and population size in the Philippines fully.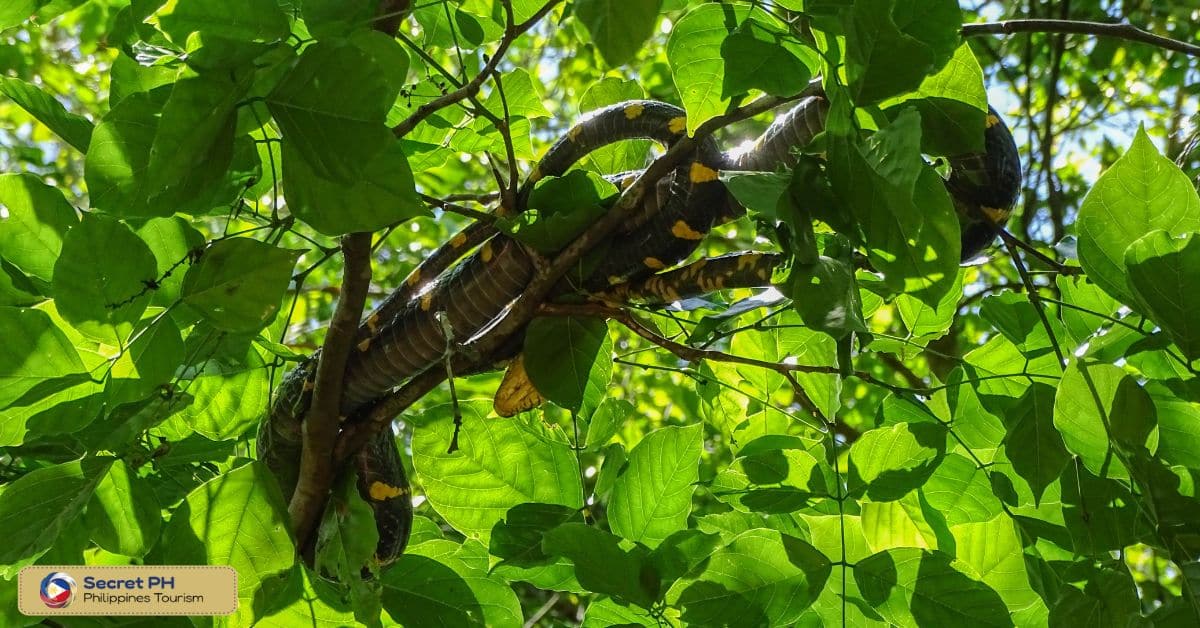 Physical Characteristics of Mangrove Snakes
Mangrove snakes are a type of venomous reptile found in the Philippines' mangrove forests. These snakes possess a set of unique physical characteristics that allow them to thrive in this unique ecosystem. In this post, we will explore the physical features that make mangrove snakes stand out from other snake species.
Size and Appearance
Mangrove snakes are relatively small when compared to other venomous snake species. They typically grow to be around 1-2 meters long, with a slender and cylindrical body. Their coloration varies, but most mangrove snakes have a brown, gray, or greenish color on their upper body, with yellow or white bellies. Some species also have distinctive black markings or bands on their body, making them easy to recognize.
Eyes and Scales
Mangrove snakes have large eyes that help them to hunt and navigate through the intricate root system of the mangrove trees. They also have a series of specialized scales that help them to climb trees, move easily across the water, and burrow into the mud. These snakes have keeled scales that provide a better grip on both land and water surfaces.
Fangs and Venom
Like all venomous snakes, mangrove snakes have a pair of large, fang-like teeth located in the front of their mouth. These fangs are specially adapted for delivering venom into their prey. Mangrove snake venom is typically neurotoxic, meaning that it affects the nervous system of its prey, causing paralysis and eventual death.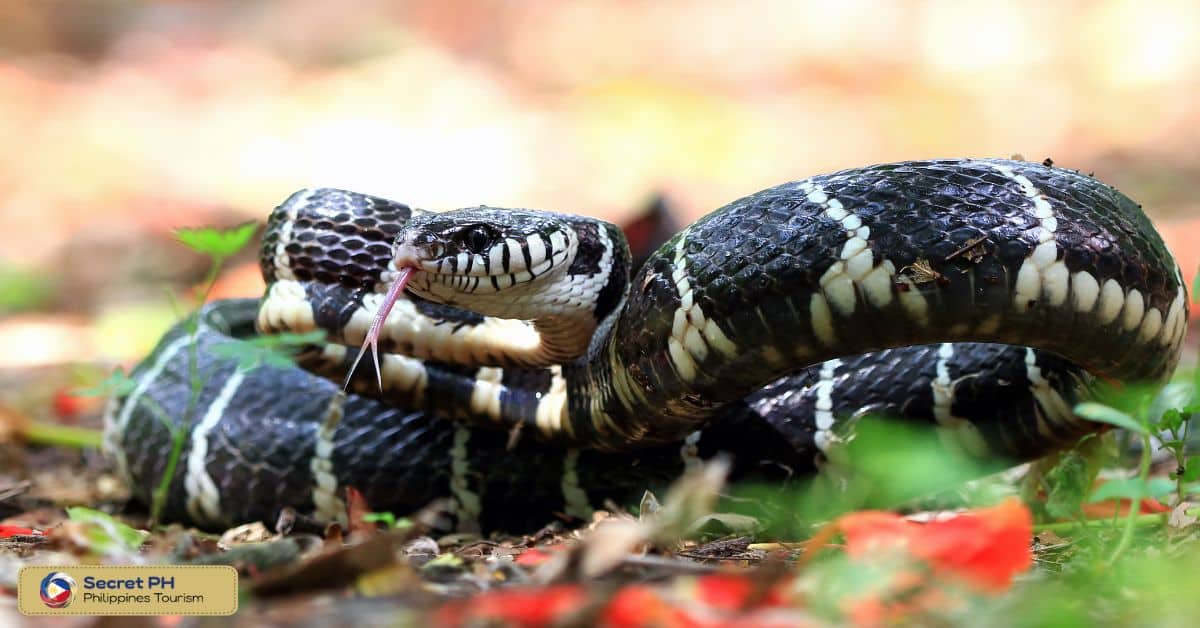 Venom and its Effects on Humans and Prey
When it comes to venomous reptiles, the Philippine mangroves are home to some of the most unique and dangerous species. One of these species is the venomous snake known as the venom, also referred to as the temple viper.
What is Venom?
Venom is a toxic substance produced by certain animals, including snakes, spiders, and scorpions. When injected into prey or predators, the venom can cause a range of effects, from pain and swelling to paralysis and death.
How Venom Affects Humans
For humans, the venom can have serious consequences. When the venom enters the body, it can cause local and systemic effects. Local effects include pain, swelling, and tissue damage at the site of the bite. Systemic effects can include nausea, fever, rapid heartbeat, and difficulty breathing. In severe cases, the venom can lead to heart failure or respiratory failure, which can be fatal.
How Venom Affects Prey
On the other hand, for prey, venom is an effective weapon. The venom of the venom snake is particularly potent and can immobilize its prey in a matter of seconds. Once the prey is immobilized, the snake can easily consume it.
Feeding Habits and Prey of Mangrove Snakes
Mangrove snakes are carnivores and their diet consists mainly of fish and crustaceans. They are excellent hunters and have several adaptations that allow them to catch and consume their prey.
One of the main adaptations of mangrove snakes is their venomous bite, which immobilizes their prey. They use their sharp fangs to deliver a quick bite, injecting venom into their prey that quickly paralyzes them.
This venom is not harmful to humans but can be deadly to smaller animals. Once the prey is immobilized, the snake will then swallow it whole. Mangrove snakes also have a highly flexible jaw that allows them to consume prey that is larger than their own head. This flexibility is useful for consuming larger fish or crustaceans in their environment.
Reproduction and Life Cycle of Mangrove Snakes
Mangrove snakes are adapted to their unique ecosystem and play an important role in maintaining the balance of their environment. Here, we will explore the reproduction and life cycle of mangrove snakes.
Reproduction
Mangrove snakes are oviparous, meaning that they lay eggs to reproduce. Females will typically lay a clutch of 5-15 eggs, which they will then guard until they hatch. The incubation period for mangrove snake eggs is around 60-70 days. Once the eggs hatch, the young snakes are fully independent and will immediately begin to hunt for prey.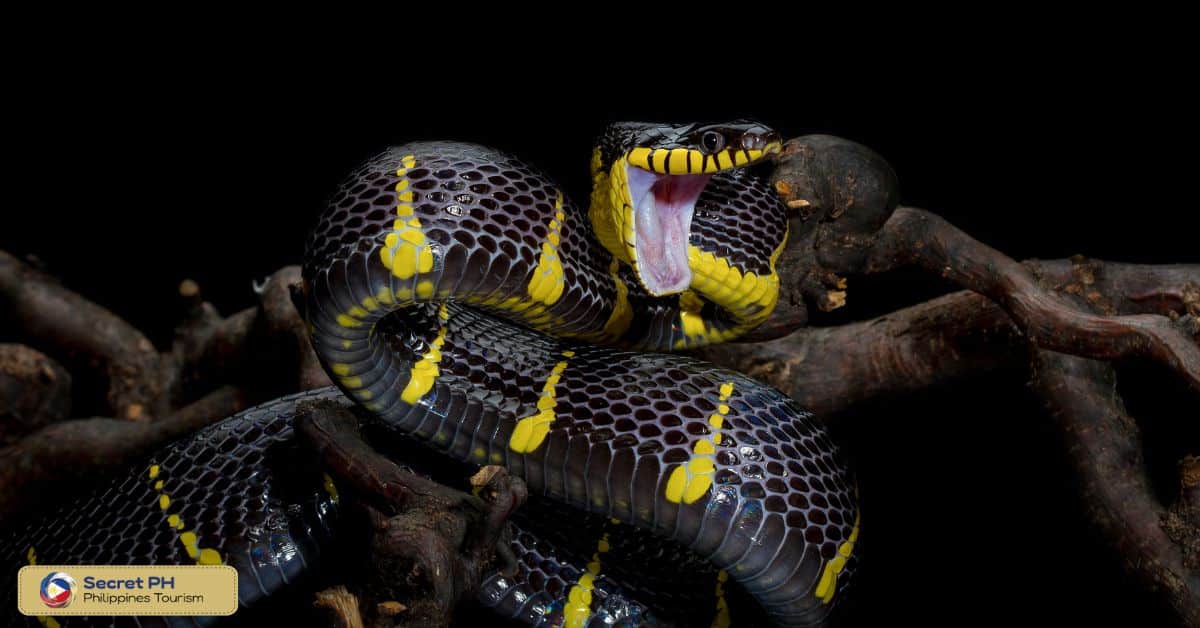 Life Cycle
Mangrove snakes have a relatively long life span, with some individuals living up to 20 years in the wild. As juveniles, they will consume small fish and crustaceans, gradually moving on to larger prey as they grow. The snakes will shed their skin periodically as they grow, with shedding occurring more frequently in younger individuals.
Mangrove snakes are also known for their arboreal behavior, often climbing trees in search of prey or to escape predators. They are also excellent swimmers, and will often take to the water to hunt or move between different areas of their habitat. Overall, their unique adaptations and behaviors have allowed them to thrive in the complex and challenging environment of the mangrove forests.
Conservation Status and Threats to Mangrove Snakes in the Philippines
The conservation status of mangrove snakes in the Philippines is uncertain. Although they are not currently listed as endangered, ongoing threats to their habitat and population size make them vulnerable to extinction.
Habitat loss due to land development and deforestation has resulted in a reduced range and population size for this species. In addition, illegal collection for the pet trade has become an increasing threat as well.
The Philippine government is taking action to protect mangrove snakes by establishing protected areas and laws against illegal collection. In addition, research and education programs are helping to increase awareness of the importance of these reptiles in maintaining balance in the local ecosystem.
Finally, captive breeding programs may help protect this species from extinction, by providing a source of individuals for reintroduction into the wild. However, more research and conservation efforts are needed to ensure that mangrove snakes remain an important part of the Philippine environment.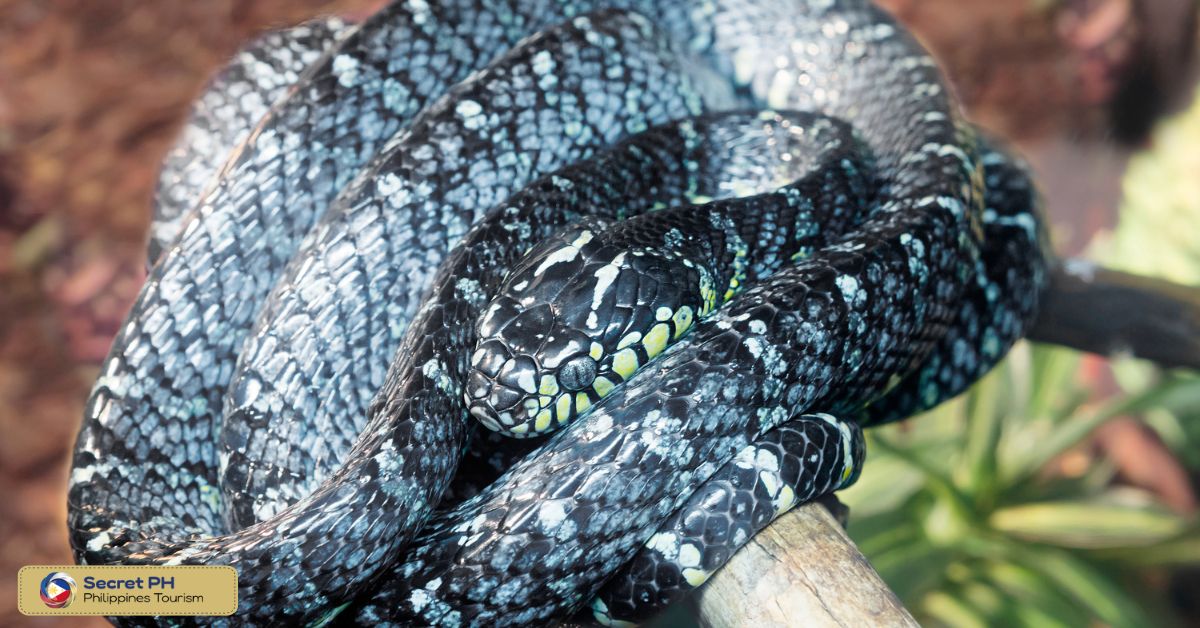 Interactions with Humans and Importance in Ecosystems
Despite their dangerous reputation, these snakes play a crucial role in maintaining the delicate balance of the ecosystem. They also have interactions with humans that can be both positive and negative.  Here, we'll explore the interactions Mangrove snakes have with humans and the importance of their role in the Philippine mangroves.
Importance in Ecosystems
As a top predator in the mangrove food chain, mangrove snakes play an important role in controlling populations of fish and crustaceans. They help to maintain a balance of prey species, preventing the overpopulation of any one group. In addition, as they consume dead and decaying organic matter, they contribute to the nutrient cycling of the ecosystem.
Interactions with Humans
Unfortunately, mangrove snakes are also often targeted by humans. They are illegally collected for the pet trade, where they can fetch high prices due to their attractive coloration and venomous nature. This trade has led to population declines in some areas. In addition, habitat loss due to coastal development and deforestation also threatens the survival of mangrove snakes.
Despite these challenges, there are efforts underway to study and conserve mangrove snakes in the Philippines. These efforts include research into their biology and behavior, as well as the establishment of protected areas to safeguard their habitat. By working to protect this important species, we can help to ensure the health and balance of mangrove ecosystems for generations to come.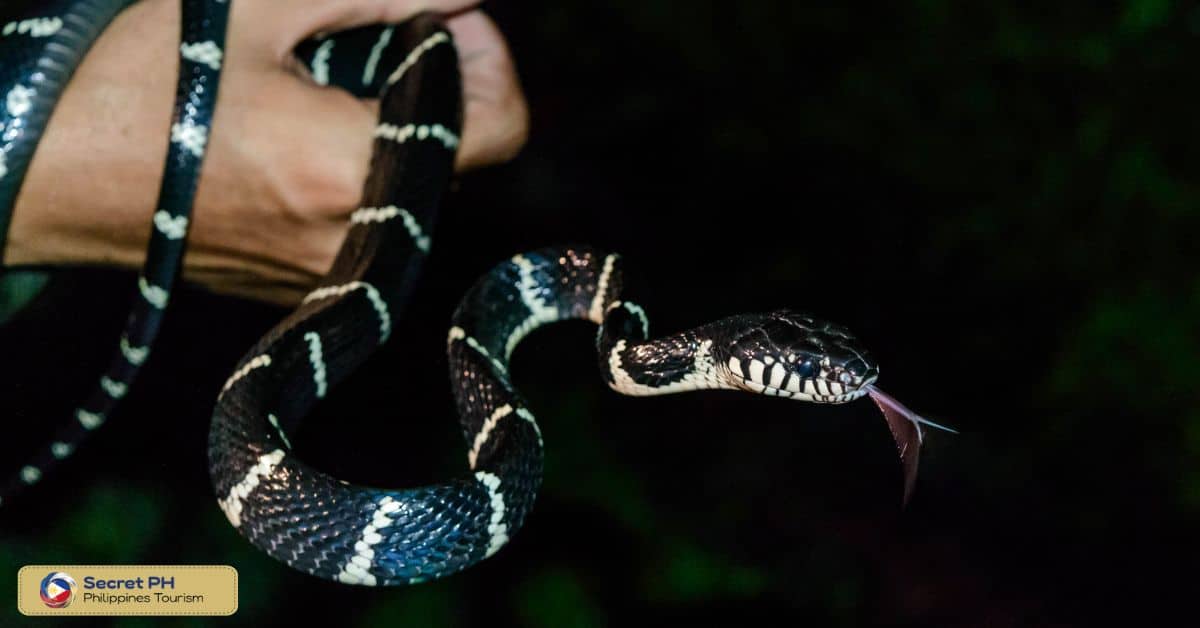 Interesting Facts about Mangrove Snakes
Mangrove snakes are venomous reptiles, but their venom is not harmful to humans. Instead, it is specially adapted to their diet of fish and other aquatic prey. Mangrove snakes have long and slender fangs that are located in the front of their jaws. Their venom is used to subdue and kill fish, but it is not potent enough to cause harm to humans.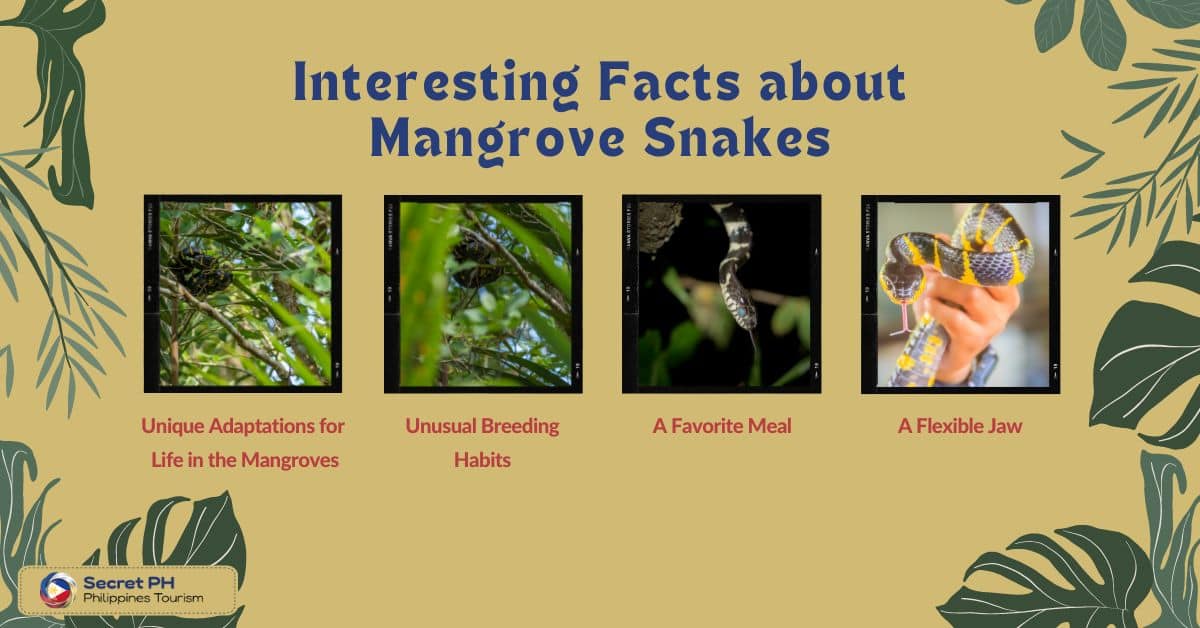 Unique Adaptations for Life in the Mangroves– Mangrove snakes have a number of unique adaptations that allow them to thrive in the challenging and often dangerous environment of the mangroves. These adaptations include the ability to swim long distances and to survive in low-oxygen environments. Mangrove snakes are also able to camouflage themselves effectively in their surroundings, making them difficult to spot and catch.
Unusual Breeding Habits– Mangrove snakes have unusual breeding habits that are quite different from those of other snake species. These snakes are oviparous, which means that they lay eggs that hatch outside the body. However, mangrove snake mothers do not guard their eggs and instead leave them to fend for themselves. The baby snakes hatch fully formed and are ready to swim and hunt for prey from the moment they emerge from their eggs.
A Favorite Meal: Fish- As mentioned earlier, mangrove snakes primarily feed on fish. However, they do occasionally eat other aquatic creatures such as crabs and shrimp. To hunt their prey, mangrove snakes use specialized sensory organs called pits, which allow them to detect the movement of fish in the water.
A Flexible Jaw– Mangrove snakes have an incredibly flexible jaw that allows them to swallow prey that is much larger than their own head. This ability is essential for their survival, as many of the fish that they hunt are larger than the snakes themselves.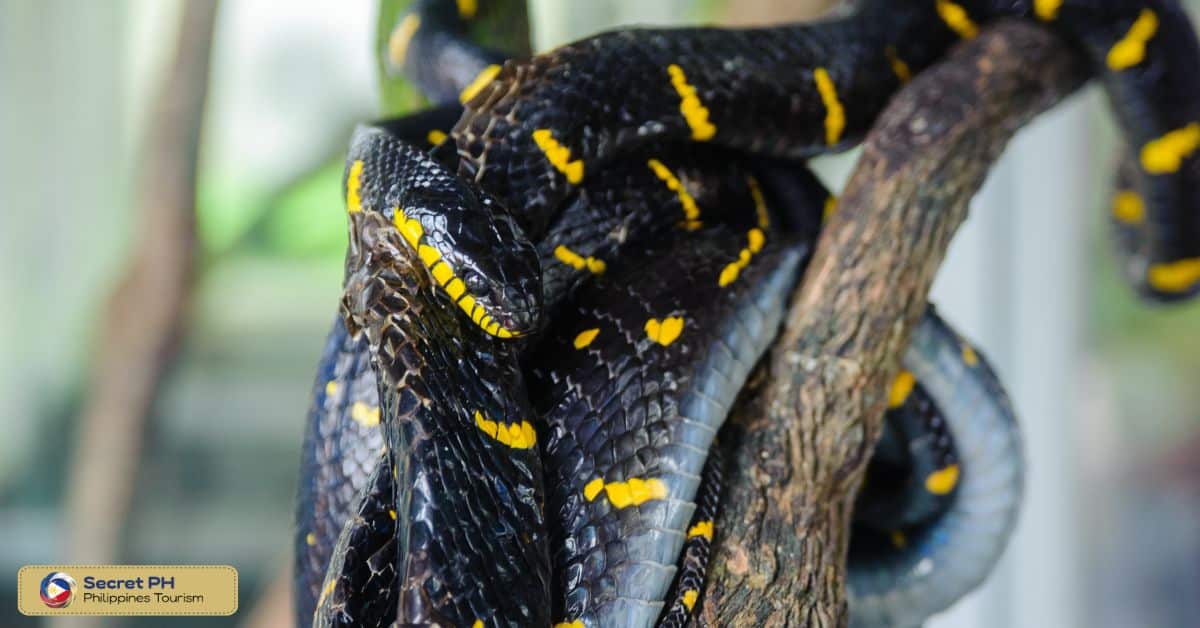 In conclusion
The Mangrove Snake is a fascinating and important species of reptile that has adapted to life in the unique environment of Philippine mangroves. Despite their dangerous reputation, they play an important role in maintaining balance in their local ecosystem and are threatened by habitat loss and illegal collection for the pet trade. By understanding more about these snakes and their importance, we can work to conserve them for future generations to enjoy.
This is essential for the survival of this species, and other wildlife that rely on mangrove habitats for their survival. By taking steps to protect these areas and by working together with local communities, we can ensure that Mangrove Snakes continue to thrive in the Philippines for many years to come.