The Philippines is a country with an incredibly rich and colorful culture, heavily influenced by its historical colonization. Experience the beauty of Filipino culture through its vibrant festivals and events! From grand parades in honor of patron saints to firework displays on New Year's Eve, there are plenty of occasions in which you can truly experience Filipino culture.
With a little bit of research, you can easily plan a trip to one of these amazing events and experience the culture, history, and traditions that make the Philippines so special. So don't wait any longer—start planning your journey to a Filipino festival or event today!
History of the Philippine Festivals and Events
The Philippines is a country with a rich cultural heritage, with influences from its indigenous tribes, Spanish colonizers, and American occupiers. Festivals and events have always been an integral part of Philippine culture, dating back to ancient times. Indigenous tribes would celebrate important events such as harvests, weddings, and births with traditional music, dance, and rituals.
During Spanish Era
When the Spanish colonizers arrived in the Philippines in the 16th century, they brought with them their own religious customs and traditions. These were eventually adopted and adapted by the locals, leading to the creation of new festivals and events that merged indigenous and Spanish elements.
The most notable of these is the Ati-Atihan Festival, which is held annually in Aklan and is considered the mother of all Philippine festivals.
During American Era
During the American occupation of the Philippines in the early 20th century, American influence was also reflected in Philippine festivals and events. For example, the celebration of Independence Day, which was originally held on July 4th, was moved to June 12th to commemorate the Philippine Declaration of Independence from American rule.
Overall, Philippine festivals and events reflect the country's diverse cultural heritage and history. They continue to play an important role in preserving and promoting traditional music, dance, and cuisine and are an essential aspect of Philippine culture.
The Significance of Festivals in Philippine Culture
Festivals are a significant part of Philippine culture and heritage. Celebrations bring color, music, dance, and tradition to life during traditional occasions such as Christmas, New Year, and Easter. They are also celebrated during times of harvest, harvest-driven festivals, socio-religious festivities, and more.
Not only are they a wonderful way for Filipinos to honor their religious beliefs but also to show their connection with past generations through culture and traditions being passed down from one generation to the next.
Festivals help bring Filipinos together to socialize, share stories about their lives as well as learn from one another. They are vibrant occasions where members of many communities gather in unity every year and truly represent the great diversity in Philippine culture.
Popular Festivals to Experience
The Philippines is a vibrant country filled with diverse cultures and traditions. From spectacular religious celebrations to colorful festivals, the country has something for everyone. One of the best ways to experience the beauty and uniqueness of Filipino culture is by attending one of its many popular festivals.
Below are the amazing events that feature vibrant costumes, lively music, delicious food, and plenty of activities to keep visitors entertained:
Ati-Atihan Festival
The Ati-Atihan Festival has celebrated annually in the town of Kalibo, Aklan in the Philippines. The festival is usually held in the third week of January and is a cultural event that honors the Sto. Niño (Child Jesus). The festival is known for its colorful parade and street dancing where participants are adorned in indigenous costumes and paint their faces to resemble the Ati people, the first settlers of the island.
The festival is a blend of indigenous and Christian traditions, it also features music and performances, religious processions, and lively street parties. It's one of the most vibrant and exciting festivals in the Philippines, drawing thousands of visitors each year
Sinulog Festival
The Sinulog Festival is an annual celebration in the Philippines, held every third Sunday of January in the city of Cebu. It is a major cultural event full of vibrant activities and performances. The festival centers around street dancing called "Sinulog", where participants dance to old traditional music while also incorporating religious rituals.
Colorful costumes, lively music, and yells for their patron saint make the parade dynamic and entertaining for both locals and tourists. With its rich cultural background, Sinulog Festival attracts thousands of visitors from different countries each year.
Kadayawan Festival
Kadayawan Festival is a colorful and vibrant event that celebrates the culture and tradition of the locals in Davao City, Philippines. It is usually held each August as a tribute to prosperity and good harvest.
During this time, the streets are ablaze with excitement and joy, with festivities including indigenous tribes showing their culture through traditional songs and dances, elaborate costumes for street parades, flower festivals showcasing local blooms, and an abundance of delicious food.
Moriones Festival
The traditional Moriones Festival is held every year from Holy Monday to Easter Sunday in Marinduque, Philippines. It is a religious-cultural celebration marked by vibrant parades and theatrical reenactments of the life and journey of Saint Longinus. Local farmers and fishermen take part in this unique festival wearing colorful costumes and masks based on biblical characters. Locals recreate the search party for Longinus led by Pilate, as well as the hunting and eventual persecution of the saint by Roman soldiers.
People gather around to see priests or local elders dressed up in vibrant costumes performing theatrical interpretations of stories related to the festival. The whole village celebrates this joyous event with street parties, food bazaars, brass bands, singing, and dancing throughout the week.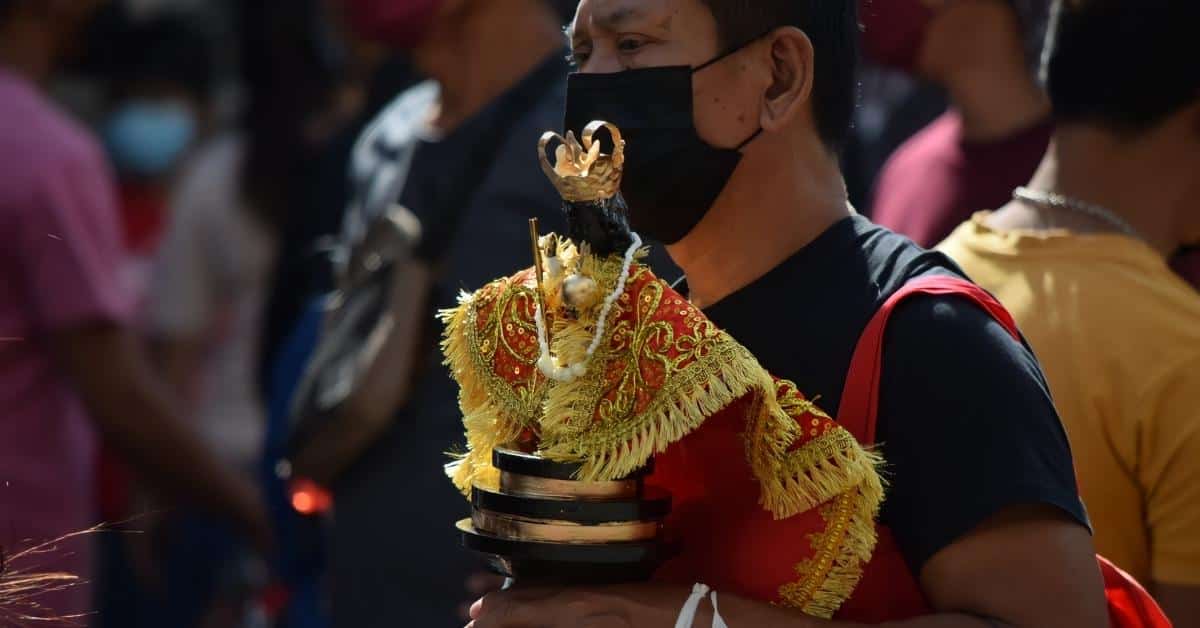 Panagbenga Festival
The Panagbenga Festival is an annual, one-month-long flower festival held in Baguio City, Philippines from the first of February until the last of March. The celebration commemorates Baguio's remarkable transformation from a devastated landscape to the "Summer Capital of The Philippines".
During this festive season, various activities are held throughout the city to entertain locals and foreign tourists alike. The highlight of the celebration is the Grand Street Parade which showcases vibrantly decorated floats filled with thousands of flowers as well as energetic and lively dances by people dressed in traditional costumes. If you plan on experiencing Panagbenga firsthand, expect to be surrounded by vibrant colors and strangers all eager to embrace a feeling of unity and joy.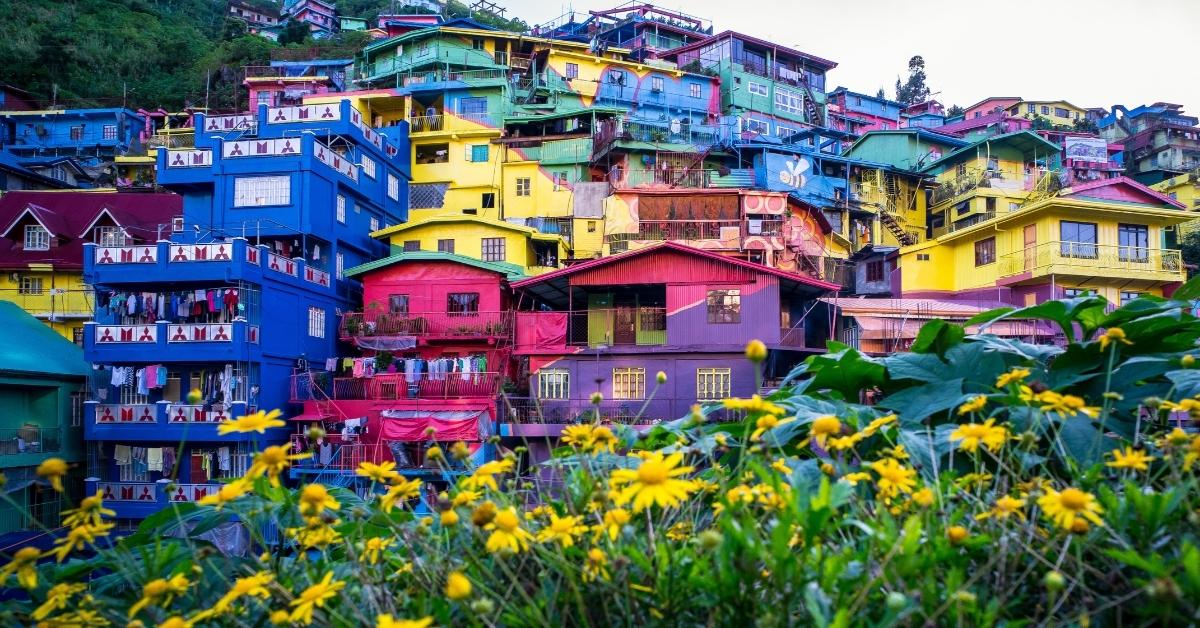 Dinagyang Festival
The popular Dinagyang Festival, celebrated every fourth Sunday in January in Iloilo City in the Philippines, is an exciting religious and cultural event that lasts for days! Hundreds of street performers mesmerize the public with tribal chants and energetic dance performances. Costumed tribesmen simulate a battle using real weapons such as spears and bows-and-arrows.
By nightfall, the city lights up with colorful fireworks displays to close the day's festivities. The festival culminates in grand awards ceremony awarding local artists who have performed their best rituals and displays throughout the week. Dinagyang is truly an unforgettable experience you must witness if you are ever in Iloilo City!
Pahiyas Festival
The Pahiyas Festival is an important annual celebration in Lucban town, located in the Quezon province of the Philippines. Held each year on 15 May, during the festival local residents hang dazzling displays of multi-colored rice wafers and other local products from the facade of their homes. The walls and roofs become an art gallery with all these decorations, with bright kiping, replicas of fruits and vegetables, shells, ribbons, and strings creating a festive burst of color!
Visitors can also enjoy processions with dancers in beautifully decorated costumes, live music, and vibrant parades honoring Saint Isidore the Laborer. It's no wonder that this amazing event has been a major attraction for tourists from all over the world since 1957!
MassKara Festival
Held annually in Bacolod City, Philippines, the MassKara Festival takes place every October. As a vibrant celebration of life and happiness, MassKara brings together spectacular floats, stunning street dancers with amazing costumes, creative masks that light up the night sky, and nonstop music and dancing.
It's a festival where smiles are shared among friends and strangers alike – sometimes even by people who do not belong to the city. The joyfulness is contagious as every street corner comes alive with performances from local artists creating unique energy throughout Bacolod City for the entire month of October!
Obando Fertility Rites
The Obando Fertility Rites is a religious festival held annually in Obando, Bulacan, Philippines. It is usually celebrated in the third week of May. The festival is a celebration of the town's patron saints, Saint Pascual Baylon, Saint Clare, and Our Lady of Salambao.
The festival is a unique blend of Christian religious beliefs, pagan customs, and traditions. The main highlight of the festival is the colorful street dance called "Kasilonawan", where participants dance to the beat of drums and gongs, and pay homage to the saints with offerings of fruits and flowers.
The festival is also known for the ritual of "Paninilbihan", where couples who are hoping to have children dance in front of the saints' images. The festival is a vibrant celebration of faith, fertility, and tradition, drawing thousands of visitors each year.
Higantes Festival
The Higantes Festival is a fun and unique cultural event held annually on November 22 in the city of Angono, Philippines. This vibrant celebration honors San Clemente, the patron saint of farmers. For two days, colorful 10-foot-tall wooden effigies called "Higantes" march through town accompanied by musical instruments and bright costumes.
Crowds of people line the streets to watch the procession, which ultimately stops at the local church for a mass and other religious activities. The Higantes symbolize strength in honor of San Clemente and remind people to never give up despite life's struggles. Afterward, small lanterns are lit in town as well as in homes across Angono as a sign of respect to their patron saint.
Philippine Food Festivals
The Philippines is a country known for its vibrant culture and rich history, which is reflected in its culinary traditions. The food of the Philippines has been shaped by a combination of influences from all over the world, including China, Spain, Indonesia, and India.
This mix of cultures has created an incredibly diverse range of dishes that can be found at festivals all over the country. Here are our top picks to must-attend food festivals:
Longganisa Festival
The Longganisa Festival is an exciting and highly anticipated event. It takes place in Vigan City in Ilocos Sur, Philippines, and typically takes place sometime during the months of August or September every year. This festival celebrates the diverse styles of longganisa, or sausage, made by locals around the area. During this celebration, folks can sample a variety of longganisa such as Lucban and Chorizo de Vigan.
There's lots of traditional singing, live bands, and parades – that's why it is so popular! Local vendors sell their homemade flavors of longganisa to attendees from all over the country, top-notch chefs prepare special dishes for participants to enjoy, and cooks compete for bragging rights in a friendly cooking competition held at the fest.
Suman Festival
The Suman Festival is a well-known celebration that takes place annually in Yangon, Myanmar. It is a festival dedicated to the spirit of this ancient city and showcases the region's amazing culture and history. Taking place on April 7th every year, it is full of colorful parades, folk dances, traditional music, and fireworks displays.
The Suman Festival is truly an incredible experience – visitors get a firsthand look at the warm hospitality and rich heritage this place has to offer.
Manggahan Festival
The Manggahan Festival is an exciting and unique celebration held in Guimaras, Philippines. Set in the midst of nature for three days each year, this festival can be experienced from May 16th to 18th. Here, locals showcase their vibrant culture through colorful dance presentations and cultural contests, as well as displaying the province's farm produce.
A highlight of this event is a street parade with participants dressed in their traditional attire which serves to emphasize the importance of upholding the community's customs while also recognizing its local heritage.
Lanzones Festival
Every year, the small town of Camiguin in the Philippines celebrates the traditional Lanzones Festival. The festivities take place around mid-October and crowd the cobblestoned streets with tourists, locals, food vendors, and street entertainers. It is not only a delightful cultural festival but also a time to thank ancestors for their blessing of abundance during harvest season.
The locals pay homage by decorating several archways with colorful lanzones fruits while various activities, such as parades of drums, native royalty pageants, and beauty contests attract visitors from all over. Attendees are also treated to incredible culinary delights unique to the region. Lanzones Festival marks an important holiday for Filipinos signifying prosperity and joy, a perfect chance for everyone to come together and celebrate!
Lechon Festival
The Lechon Festival is one of the most exciting events to take place in the Philippines! Holiday revelers from all over the country come together on December 23rd in Balayan, Batangas, to celebrate this much-anticipated festival. During this two-day event, guests can sample delicious roast pig cooked and prepared using traditional Filipino techniques.
Prepare for a full day's worth of activities including live music and folk dancing, food markets featuring authentic recipes, arts & crafts booths with handmade souvenirs, a competitive roasted pig contest –– where each participating family will select their own signature pork variety –– and more!
Planning Your Festival Experience
Attending a festival in the Philippines can be an amazing experience! From exciting cultural activities to delicious local cuisine, festivals are a great way to explore the country's vibrant culture and customs. But before you embark on your journey, it's important to plan ahead for a successful and enjoyable experience. Here are some helpful tips on how to plan your festival experience in the Philippines so that you can make the most of your time there:
Research different festivals in the Philippines: Start by researching different festivals that take place in the Philippines, such as Sinulog Festival, Ati-Atihan Festival, Kadayawan Festival, Pahiyas Festival, and many more. Look for information on the dates, locations, and activities that take place during the festival.
Decide on a festival and location: Based on your research, decide on a festival and location that you would like to attend. Keep in mind factors such as travel time, cost, and accommodation options.
Plan your travel itinerary: Once you have decided on a festival and location, plan your travel itinerary. This includes booking flights and accommodation, arranging transportation, and making any necessary reservations.
Research the festival schedule: Look up the schedule of the festival you are attending and make a plan of which events you want to see and participate in. Many festivals have a parade, cultural shows, and food and artisan fairs.
Pack accordingly: Be sure to pack appropriate clothing and gear for the festival, including comfortable shoes, sunscreen, and a small bag for personal belongings. Make sure you have enough cash as well.
Be ready for the culture: The Philippines is a diverse country with different customs and cultures. Be ready to be immersed in the local culture and participate in the festival's rituals and traditions.
Be prepared for the heat: the Philippines is a tropical country and the festival season is usually held during the summer months. Be prepared for the heat and bring appropriate gear to stay cool and hydrated.
Have Fun: Most importantly, have fun and enjoy the festival experience! The Philippines is known for its vibrant and lively festivals, so be sure to immerse yourself in the culture, meet new people, and make memories that will last a lifetime.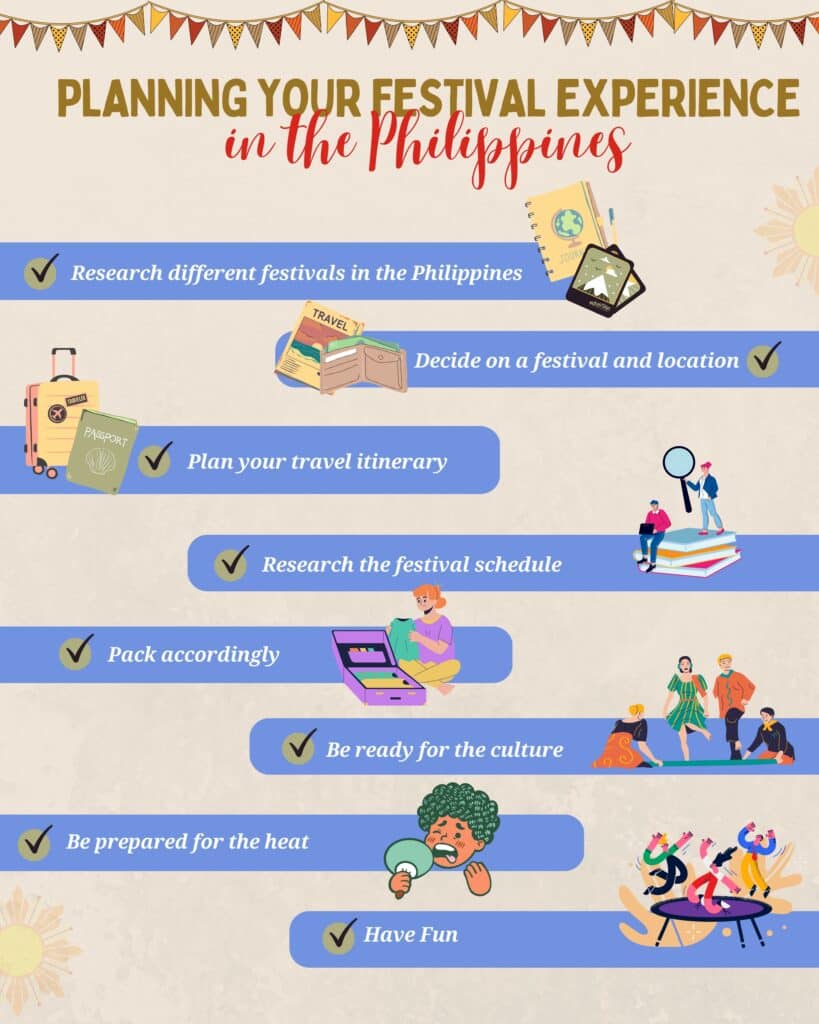 Tips When Visiting During Festivals or Events
When visiting a city or town during a festival or event, there are certain tips you should keep in mind to make sure your experience is enjoyable and safe. Here are some essential tips for visitors when attending festivals and events:
Research the festival schedule and plan accordingly.
Book accommodations and transportation early, as they can fill up quickly during popular festivals.
Pack appropriate clothing and gear, including comfortable shoes and sunscreen.
Bring enough cash, as some vendors may not accept credit cards.
Be respectful of local customs and traditions.
Be prepared for the heat and bring appropriate gear to stay cool and hydrated.
Have fun and immerse yourself in the local culture.
Be cautious of pickpocketing and keep valuables safe.
Be mindful of the COVID-19 restrictions and guidelines in place.
Immersing Yourself in Philippine Culture through Festivals and Events
There are countless festivals and events that accurately capture the spirit and culture of the Philippines. From experiencing colorful parades to singing and dancing with fellow Filipinos, you can never go wrong when immersing yourself in true Philippine traditions. As an example, consider attending one of the famous Sinulog Festival celebrations in Cebu where millions of devotees celebrate both everyday life as well as give homage to their Patron Saint—the Santo Nino.
You will be delighted by the crowd's constant chants, dances, and colorful costumes while being given unique opportunities to sample a variety of local cuisines like native rice cakes, candied fruits, and delicious halo-halo desserts. And if you're feeling adventurous, why not take part in a festival ritual or two? Step into Philippine culture by participating in colorful reenactments revealing the age-old stories that created this amazing country's vibrant heritage.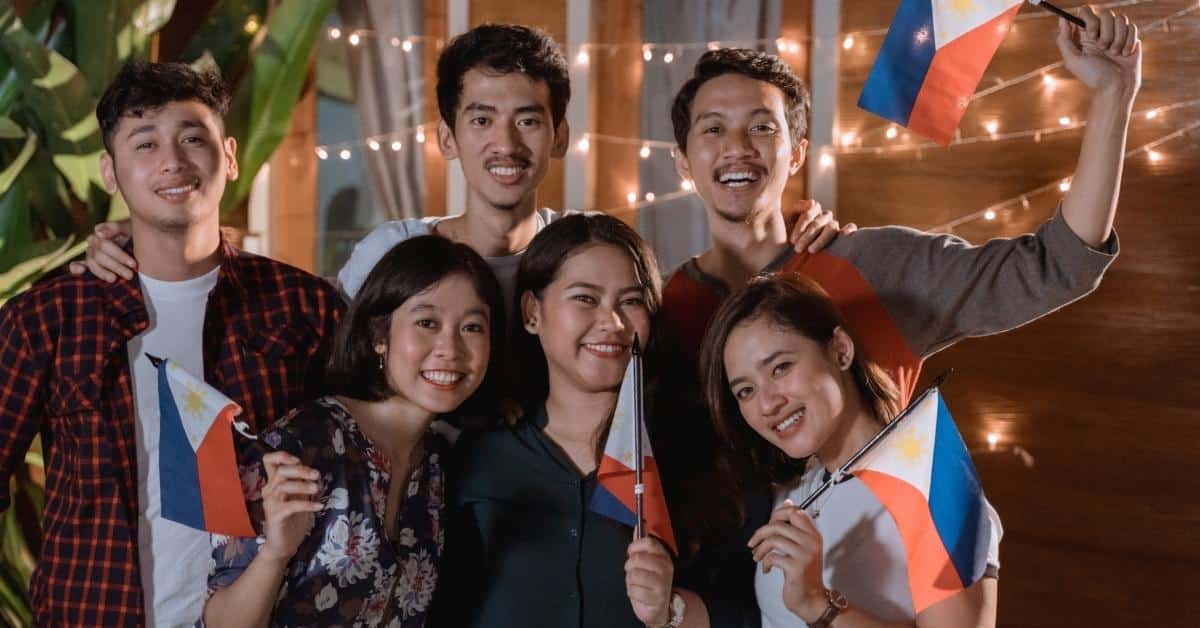 In conclusion
Festivals and events in the Philippines are a great way to experience its rich culture, history, and traditions. Whether it's celebrating with other Filipinos at the Sinulog Festival or admiring colorful parades at the Ati-Atihan Festival, there is something for everyone in this vibrant country. So what are you waiting for?
Plan your next trip to the Philippines and immerse yourself in the culture, traditions, and beauty that make this diverse country so special.