Join and experience the vibrant celebration of Ati-Atihan Festival held annually in Kalibo, Aklan, Philippines. Known as the "mother of all Philippine festivals," this exciting carnival draws people from all over the world with its captivating drum beats and never ending parades of colorful costumes.
Come along and witness first hand one of the most traditional and vibrant celebrations known to man. Let us celebrate and embrace diversity together at Kalibo's Ati-Atihan Festival!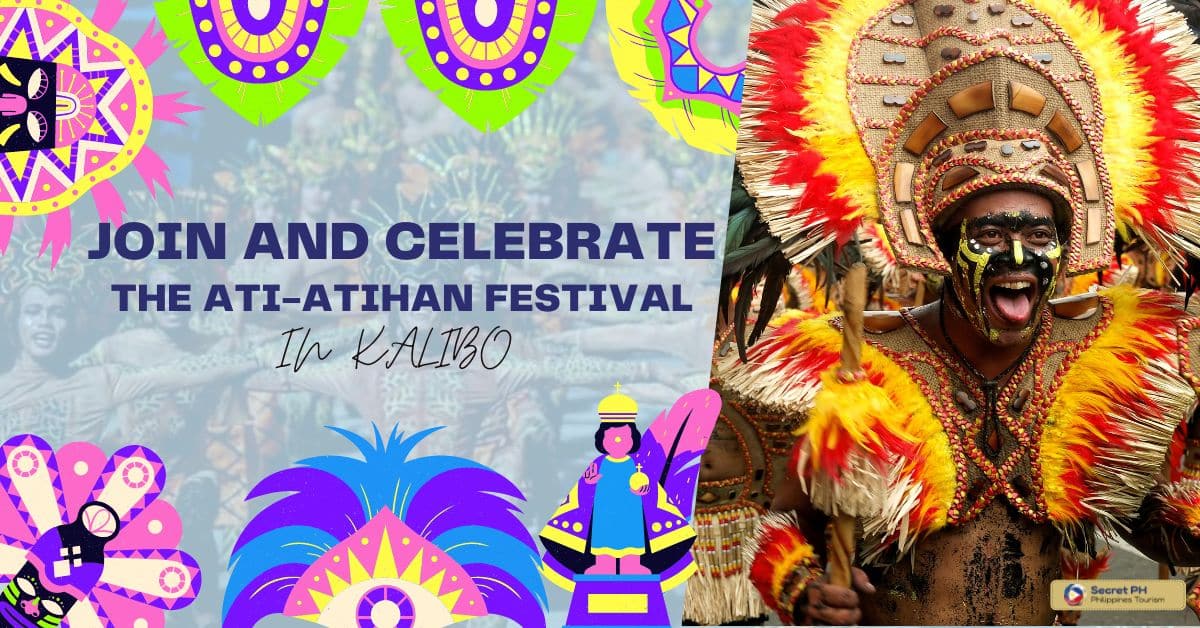 Ati-Atihan Festival and Its Significance
The Ati-Atihan Festival is an annual celebration held in Kalibo (Region 6), Philippines every January. The festival is considered one of the biggest and most popular in the country, attracting thousands of visitors and participants each year. This three day festival pays homage to Santo Nino, with street festivities featuring traditional drumming, native food and performances from local tribes.
This event also serves as a showcase for the local economy and its people's vibrant culture. The Ati-Atihan Festival is significant because it unifies people from different backgrounds through merrymaking. All are encouraged to dress in costumes mimicking warriors from prehistoric tribes and take part in a festive parade along Kalibo's streets, touting bright colors that often draw attention all around.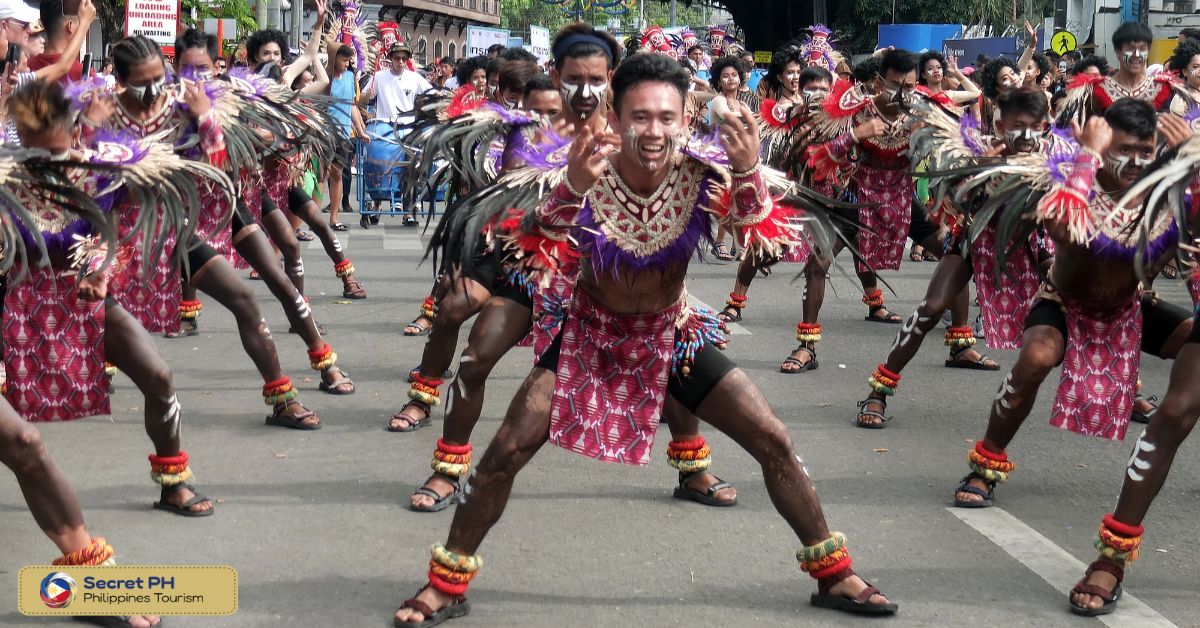 History and Origins of the Ati-Atihan Festival
Originating as a pagan ritual over 800 years ago, the Ati-Atihan Festival pays homage to the Santo Niño, considered an important symbol of Filipino heritage and national identity.
The festival's roots lie with pre-Spanish Filipinos who gathered to honor their deity through song and dance each January. Over time, more elements were added such as colorful costumes and processions that eventually evolved into one of the most popular festivals in all of Southeast Asia.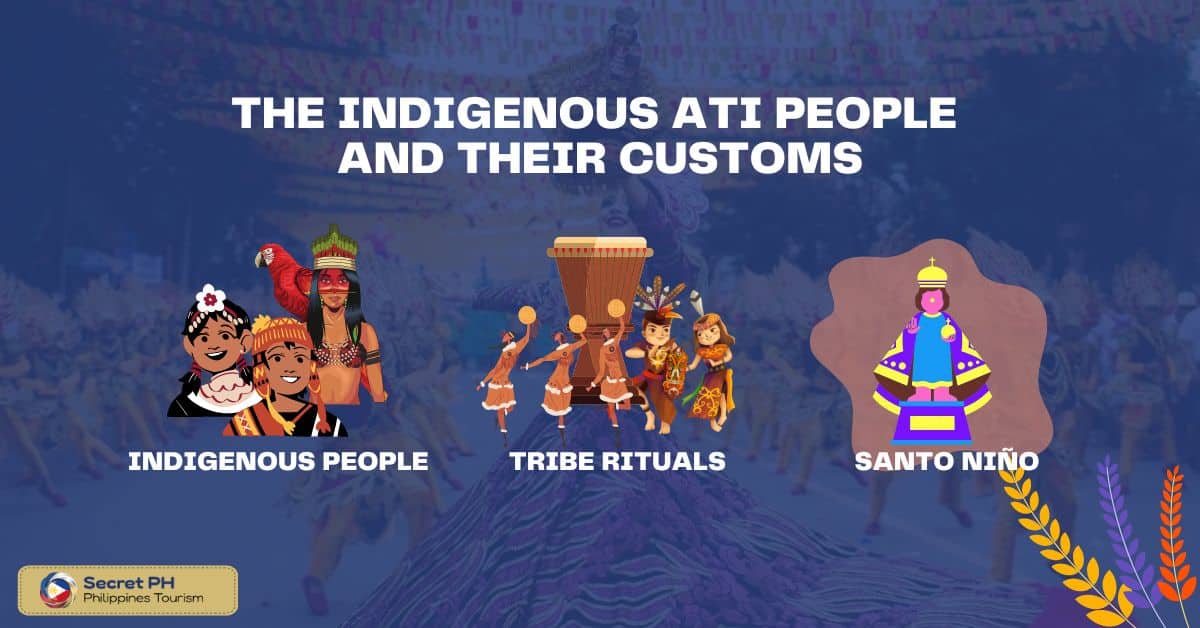 The Indigenous Ati People and Their Customs
The Ati people are an indigenous group in the Philippines that has been historically connected to the Austronesian cultural heritage. The Ati-Atihan Festival is celebrated in January and is a traditional, ethnographic celebration related to the native culture of the Ati people.
The origins are believed to have come from Christianization rituals and acts of thanksgiving during harvest times. These rituals would include music, dancing, and merrymaking all in honor of their God, Santo Nino. The festivities became so popular that it wasn't just celebrated at harvest time but on the third Sunday of January when the feast occurs.
The arrival of the Spanish and the merging of cultures
The Ati-Atihan Festival has been celebrated for centuries to commemorate the arrival of the Spanish. History states that the local Ati tribe welcomed Spanish seafarers with a dance, which eventually evolved into an annual event celebrated today.
After their arrival, spicy indigenous dishes and traditional customs were embraced by the additions from other native tribes and settlers from Spain, giving new life and meaning to these ancient traditions. Today, beauty pageants, parades and religious processions are part of the yearly festivities as revelers paint their faces in black soot and wear bright costumes as a sign of cultural pride throughout this joyous celebration.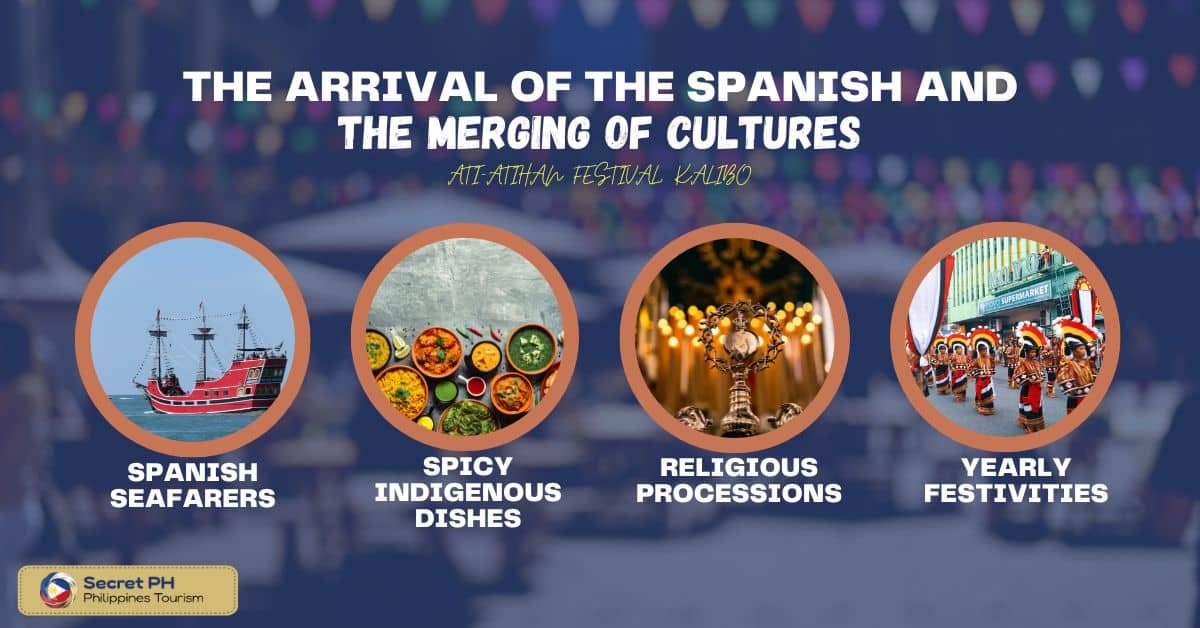 How the festival came to be celebrated
History reveals that it originated from a much earlier tribal gathering known as "Halaran". It was celebrated in honor of the Sto. Niño, with datus and chieftains from different islands making their way to Panay Island to pay tribute to its ruler Datu Bankaya.
The celebration attracted many friendly rivalries among these tribes and was eventually adopted as an expression of joy over Bankaya's hospitality. Over time, its traditions have been modified yet remain rooted in original intent: to express devotion honoring the Sto. Niño.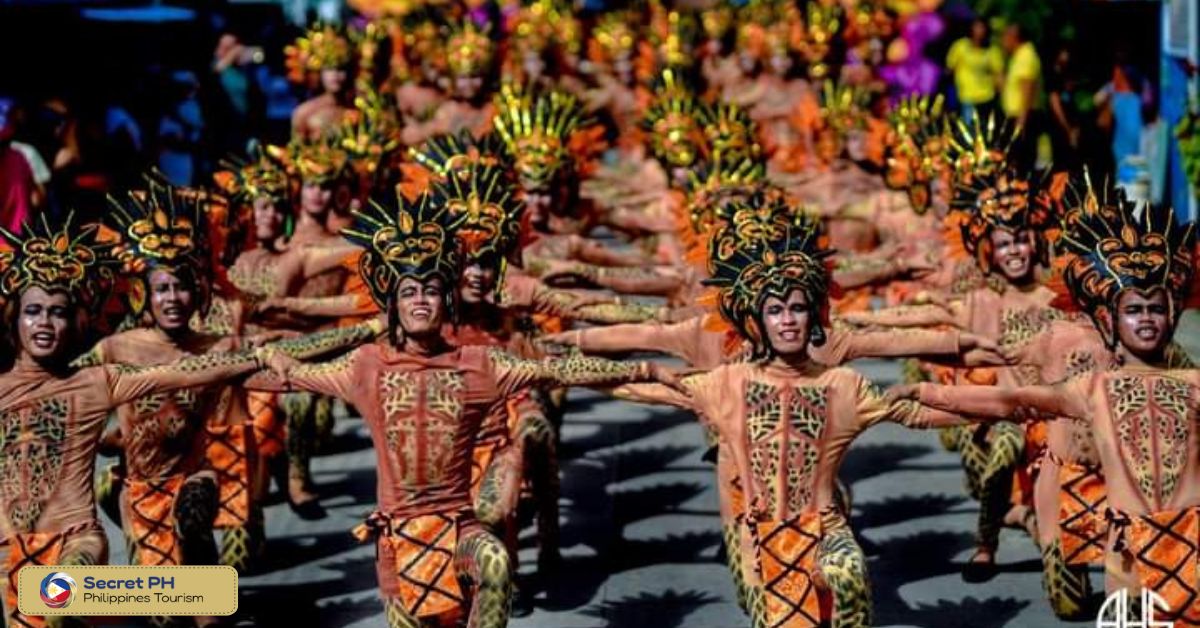 Highlights of the Ati-Atihan Festival
The Ati-Atihan Festival held in Kalibo, Aklan is a vibrant cultural celebration that honors the Sto. Niño de Cebu. Held annually for three days and nights, the festival carries with it a spirit of festivity and fun. From colorful costumes and frenzied street dancing to nightly parties and other festivities – like processions, parades and native games – filled with the sounds of drums and Chinese gongs, Ati-Atihan is a feast for the senses that draws visitors from across the world.
The colorful and vibrant costumes and masks worn by participants
One of the highlights of the annual event is the delightful costumes and masks worn by participants. This living mosaic of brilliant garments and vibrant masks, full of energy and euphoria, create an amazing experience. Dancers move through the streets wearing their beautifully embroidered t-shirts and traditional costumes made from bright fabrics, making it glow with enthusiasm.
The lively music and dancing
Every year, locals and tourists alike flood the streets of Kalibo to celebrate this joyous festival. Highlights of the Ati-Atihan Festival include different musical performances by local bands playing traditional instruments, such as drums and gongs, as well as mesmerizing street dances that feature colorful costumes and headdresses. During this three-day celebration, participants can join in on the festivities by swaying to the rhythm of the music or taking part in one of these performances.
The religious processions and ceremonies
The highlight of this festival is a large procession where the participants dance, shout and blow horns to invoke spirits and show devotion to Santo Niño (Infant Jesus). Many believe that these celebrations were adapted by Spanish colonialists who continued the tradition in holy Christian processions to celebrate different religious holidays such as Epiphany or Three Kings' Day.
The street parties and parades
The celebration is headed by street parties, parades, and traditional music which marks its vibrant atmosphere. Highlights of this festival includes different tribes from different parts of Panay Island – Ati-Atihan tribes wearing unique costumes painted with charcoal and ashes that represent their tribal roots as well as parading accompanied by musicians playing drums.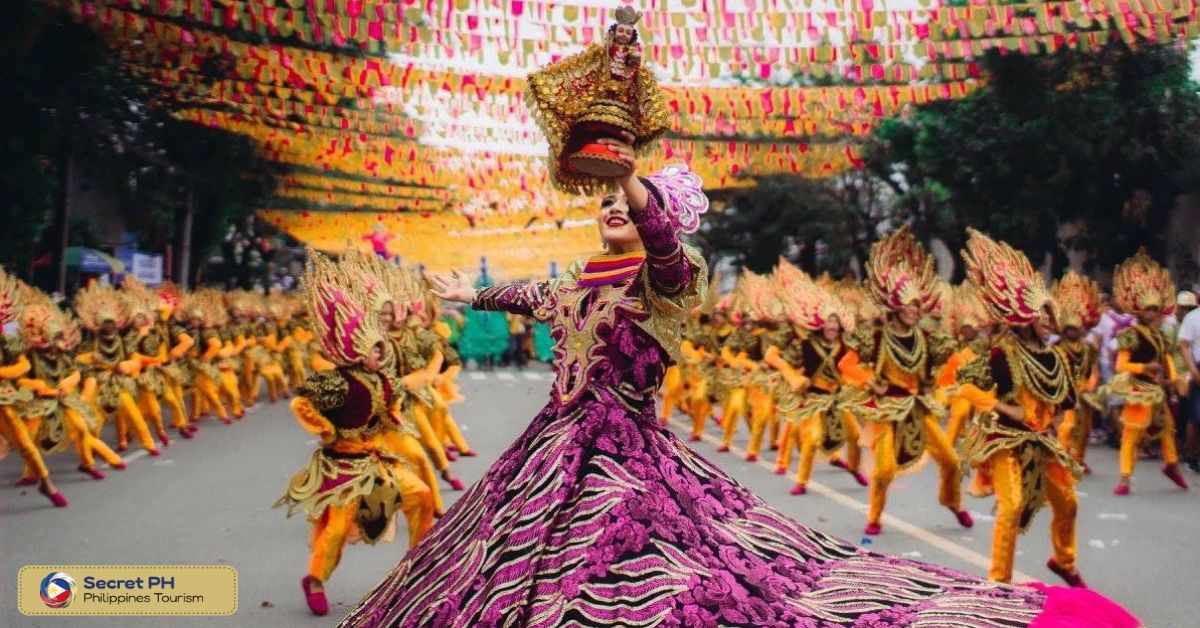 How to participate in the Ati-Atihan Festival
To fully participate in the Ati-Atihan Festival, it is important to plan ahead and be prepared for the lively street parties, parades, and religious ceremonies. We will share tips on how to find accommodation, what to wear, and what to bring to ensure that you have a memorable and enjoyable experience at the Ati-Atihan Festival.
How to find accommodation in Kalibo
Here are a few tips to help you secure a place to stay:
| | |
| --- | --- |
| Book in advance | The earlier you book, the more likely you are to find a place to stay. Start your search at least a few months before the festival, to ensure that you have a variety of options to choose from. |
| Look for deals and discounts | Many hotels and resorts offer special rates and packages for the Ati-Atihan Festival. Keep an eye out for promotions and deals to save on your accommodation. |
| Stay in a nearby town | If you're unable to find accommodation in Kalibo, consider staying in a nearby town such as Numancia or Makato. These towns are located close to Kalibo and are well connected by public transportation. |
| Opt for homestay | Experience the local culture and stay with a local family or community. You can find homestay options at affordable prices through online platforms or by contacting local tourism offices. |
| Be open to different accommodation options | Consider alternative accommodation options such as hostels, guesthouses, and vacation rentals to save on cost. |
How to prepare for the festival (e.g. what to wear, what to bring)
Preparation is key when it comes to participating in the Ati-Atihan Festival. To ensure you are ready for this fun and exciting event, consider what to wear and what to bring. Dressing festively is a must! Here is a list of things to keep in mind when preparing for the Ati-Atihan Festival:
Dress appropriately
The festival is a lively and colorful celebration, so it's a good idea to wear bright and comfortable clothing. Opt for lightweight, and breathable fabrics, and consider wearing a hat to protect yourself from the sun.
Wear comfortable shoes
The festival involves a lot of walking and dancing, so make sure to wear comfortable shoes . Avoid wearing heels or other shoes that will be hard to walk in.
Bring sunscreen
The festival takes place outdoors, so it's important to protect your skin from the sun. Make sure to bring sunscreen and reapply it throughout the day.
Bring a refillable water bottle
Staying hydrated is essential, so bring a refillable water bottle to keep yourself hydrated during the festival.
Bring a small bag
You will want to bring a small bag to carry essentials like your phone, wallet, and sunscreen. Make sure to choose a bag that is comfortable to wear and that you can easily carry around all day.
Bring cash
Some street vendors and food stalls may not accept credit cards, so make sure to bring cash with you.
Prepare for the weather
The festival takes place in January, which is the peak of the dry season, so it can be hot and dry. Make sure to prepare for the weather by bringing a light jacket or sweater in case it gets cool at night, and a raincoat or umbrella in case of unexpected rain.
Be respectful of the culture and customs
The Ati-Atihan Festival is a religious and cultural celebration, so make sure to be respectful of the customs and traditions of the local people.
How to join in on the street parties and parades
To join in on the festivities, one can dress up in traditional tribal attire, or partake in various activities such as drumming and dancing. All of these activities make it easy to enjoy the celebration no matter how experienced someone may be.
In Conclusion
Join and celebrate the Ati-Atihan Festival in Kalibo. This unique culture and celebration takes place every third Sunday of January to honor the Santo Niño, or Baby Jesus. Visitors from all over flock to Kalibo to experience the festivities firsthand.
The vibrant cultural offerings include costumes from tribal apparel, to religious garb, choreographed dance performances using drums, gongs, and traditional instruments. Join in on this festival and embrace the culture that comes with it!