Vigan City, located in the northern Philippines, is a UNESCO World Heritage Site renowned for its well-preserved Spanish colonial architecture and cultural heritage. From its historical landmarks and local festivals to its traditional crafts and cuisine, Vigan City offers a rich and unique experience for travelers seeking to explore Philippine culture.
Vigan City isn't just about history – it's also home to vibrant festivals, mouth-watering delicacies, and warm hospitality that make visitors feel at home. In this blog post, we'll take you on a journey through Vigan City's fascinating past and present, from its historic landmarks to its lively celebrations. Join us as we discover the unique culture of Vigan City and why it's worth a visit!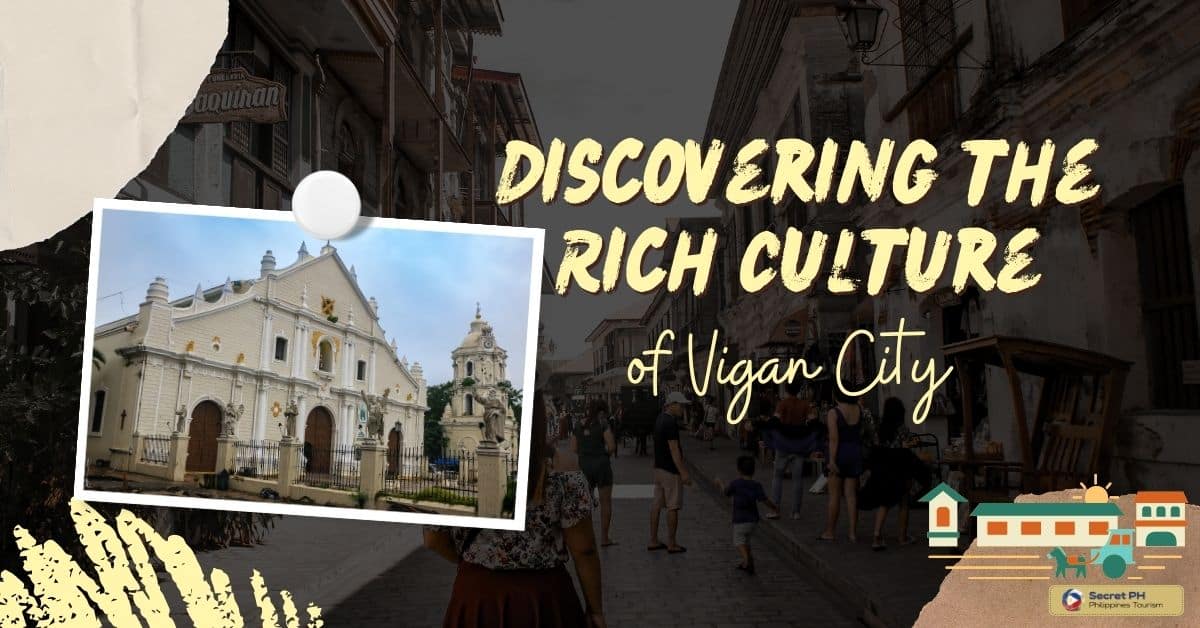 The Rich Culture of Vigan City
Vigan City, located in the combined provinces of Ilocos Sur and Ilocos Norte. It is known as a city with a rich culture. It's a melting pot of various regions within the country. This includes many cultural practices, beliefs, music, and even language. Due to its wide variety of ethnic groups living in and around the city, you can find fascinating traditional festivals throughout the year.
The streets of Vigan City are also lined with beautiful Spanish colonial-style architecture and houses that help to further immerse visitors into their local experience. The locals are always very welcoming and you will definitely walk away feeling enriched by your experience in this amazing city.
Vigan City's History and Background
Vigan City was founded in the late 1500s and is a UNESCO World Heritage Site today. At the time of its founding, Vigan City was an important trading port due to its close proximity to the riverbanks. This allowed easier access to the sea. While much of its original architecture has been preserved and restored. Modern renovations have allowed it to become a bustling center for tourists.
Neighbors mingle with both local merchants and foreign travelers. As they explore traditional empanada stands and enjoy traditional festivities. Vigan City holds a unique spot in Philippine history. It is both a historical and cultural destination for locals and tourists alike.
Influence of Spanish colonialism on Vigan City's culture
Vigan City's culture has been greatly impacted by Spanish colonialism. The cultural hub of the Philippines' North Luzon region is filled with colonial-era architecture. This includes unique European and Oriental-style houses and cobblestone streets. The city was also the home of wealthy Ilocanos who formed an influential minority in Vigan City during the Spanish colonial period.
Locals adapted Spanish language and customs while creating their own hybrid traditions. This features Chinese, Japanese, Mexican, American and other influences from around the world. As a result, Vigan City has become renowned for its delicious traditional dishes. Also known for its colorful festivals which feature music and dance from multiple cultures. It is also home to one of Southeast Asia's oldest churches.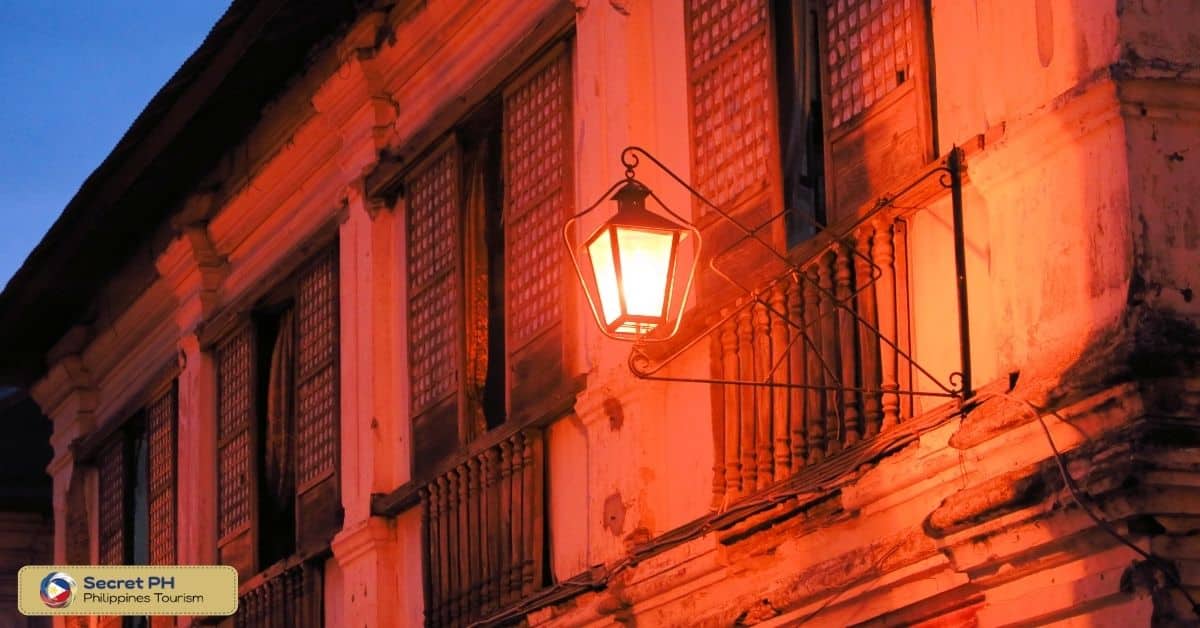 Vigan City's Cultural Attractions
Vigan City is widely known for its unique cultural attractions. The historical town of Vigan is truly a sight to behold. With its cobblestone streets, ancestral homes and churches, it's easy to see why it has been declared a UNESCO World Heritage Site.
Calle Crisologo
Vigan in the Ilocos region of the Philippines is blessed with a historic streetscape. Calle Crisologo is one of Vigan's most famous streets, serving as a tribute to its historical roots. From cobblestone-paved roads and Spanish influenced colonial architecture. Visitors of Vigan can find Calle Crisologo to be an amazing display of what life was like in Vigan many years ago. The street is also common place for traditional Vigan attractions. This includes calesa-rides and souvenir shops, giving you a truly unique experience.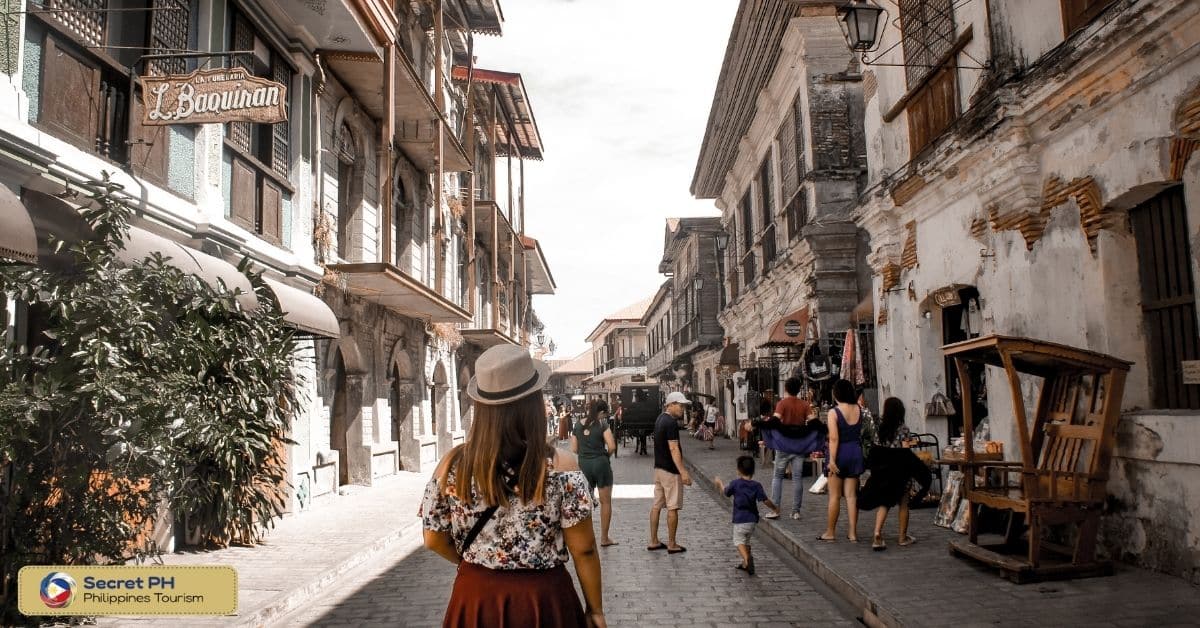 Things to do when visiting
This picturesque cobblestone street features centuries old buildings of illuminating red brick. There are shops with overflowing traditional Vigan souvenirs. Food vendors constantly busy serving their local delicacies. The horse carriages offer visitors a ride down this historic site.
Walking along this quaint street takes you back to Vigan's Spanish colonial-era days. It is one of the most progressive cities in Southeast Asia. With so much to explore and appreciate in Vigan, taking a leisurely stroll through Calle Crisologo's countless attractions should definitely be on your itinerary.
Address: H99Q+X84, Crisologo, Vigan City, Ilocos Sur
Opening Hours: 24hrs
For more information, click here.
Vigan Heritage Village
Vigan is known as the "Cradle of Filipino Culture" because it plays host to numerous preserved ancestral houses. Being designated as a World Heritage Site by UNESCO in 1999, Vigan Heritage Village contains many historically important sites such as Vigan Cathedral, Plaza Burgos and Calle Crisologo.
Things to do when visiting
Vigan Heritage Village in the Philippines is a must-visit for anyone looking to experience a unique cultural richness. Vigan offers an exciting variety of activities ranging from sightseeing Vigan's centuries old buildings. Shopping for its iconic handmade terra-cotta and flame-gun stoneware pots. Sampling its delicious local cuisine, participating in Vigan themed activities, and learning more about Vigan's incredibly rich history.
Address: H9CQ+FFP, Crisologo, Vigan City, Ilocos Sur
Opening Hours: 24hrs
For more information, click here.
Baluarte Zoo
Vigan's Baluarte Zoo is a favorite tourist attraction in the northern Philippines. The Baluarte Zoo has become a must-see for visitors and locals alike. Set atop sprawling grounds, the zoo offers entertainment and education. Those who seek to learn more can visit the zoo's educational center that showcase some of Vigan's history and culture.
Things to do when visiting
During your trip to the zoo, you can explore and observe the variety of rare animals and birds. The European-style zoo also houses a number of educational exhibitions that showcase information about the surrounding ecosystem. For those seeking active adventures, Baluarte offers bike rentals, so you can make your way around its vast grounds. Enjoy activities such as horseback riding and safari tours.
Address: H92G+GV7, Quirino Boulevard, Tamag, Vigan City, 2700 Ilocos Sur
Opening Hours: Monday – Sunday, 8AM – 6PM
Phone: (077) 722 7186
Vigan Cathedral – Metropolitan Cathedral of the Conversion of St. Paul
Also known as the Metropolitan Cathedral of the Conversion of St. Paul. It was a historic Roman Catholic church located in Vigan City in the Philippines. It was built in 1641 by Fray Diego de Herrera and has been a landmark of Vigan City for almost 400 years. Vigan Cathedral is considered one of the oldest and most well-preserved churches in the entire Philippines.
Things to do when visiting
When in Vigan allows for both tourists and locals to get to know the history of the area. You can observe its detailed stone carvings or pay your respects at the Shrine of the Our Lady of Charity. While there's plenty more to explore and experience within Vigan City itself, Vigan Cathedral provides an unforgettable experience.
Address: Burgos St, Vigan City, Ilocos Sur
Opening Hours: Monday – Sunday, 7AM – 5AM
SCHEDULE OF MASSES:
Monday – Friday 6:00 AM (Ilocano) | 5:15 PM (Ilocano)
Saturday 6:00 AM (Ilocano) | 5:00 PM (English – Anticipated)
Sunday 6:00 AM | 7:30 AM | 9:00 AM | 10:30 AM (English) | 3:30 PM | 5:00 PM
Bantay Church Bell Tower
Dating as far back as 1521, the tower is said to be one of Vigan's oldest structures. Crafted from brick and granite stones, the tall bell tower stands guard over the Vigan Cathedral.
Things to do when visiting
It is a six-storey belfry with four gigantic bells from different periods that echo throughout the land. From its walls, you can see Vigan and the Abra River. When you reach the top of Bell Tower, your view will be broadened as you enjoy a 360 degree perspective of Vigan. At night, you can also admire its beauty when illuminated by lights from nearby Vigan City proper.
Address: 003 Rizal St, Bantay, Ilocos Sur
Opening Hours: Monday – Sunday, 8AM – 5:30 PM
Phone: +639164520623
Vigan City's Culinary Delights
The mouthwatering dishes draw tourists from across the globe. Vigan's cuisine has something for every palate. Vigan has a rich and varied food scene with various local delicacies to appeal. Despite Vigan's growing popularity as a tourist destination, locals remain fiercely proud of their city's delectable gastronomic offerings.
Vigan longganisa
Vigan longganisa is a type of savory-sweet sausage originating from Vigan. It is a dried sausage made out of coarsely ground pork combined together with Vigan's finest ingredients such as garlic, brown sugar, annatto seeds and sauce.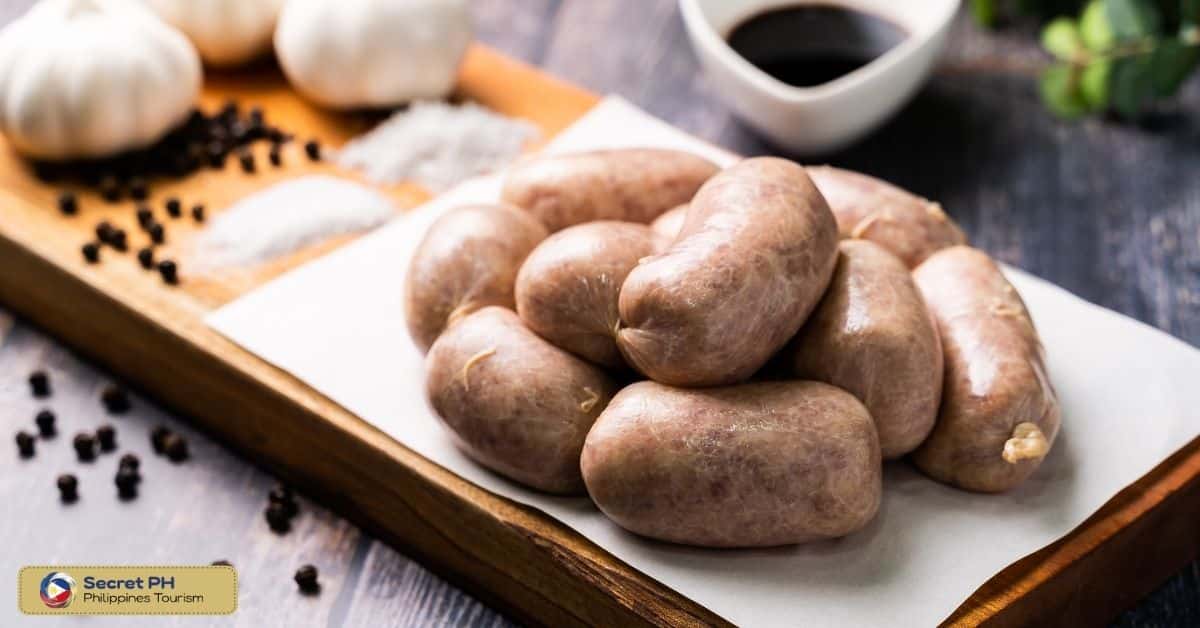 Empanada
They are filled or enveloped with different kinds of ingredients like ground beef, pork, chicken, tuna and vegetables. It is often served as an appetizer or snack. You can find them everywhere in Vigan. It is usually cooked deep-fried but some bakeries make them oven-baked. These flavorsome pastries make for a wonderful accompaniment to hot tea or coffee.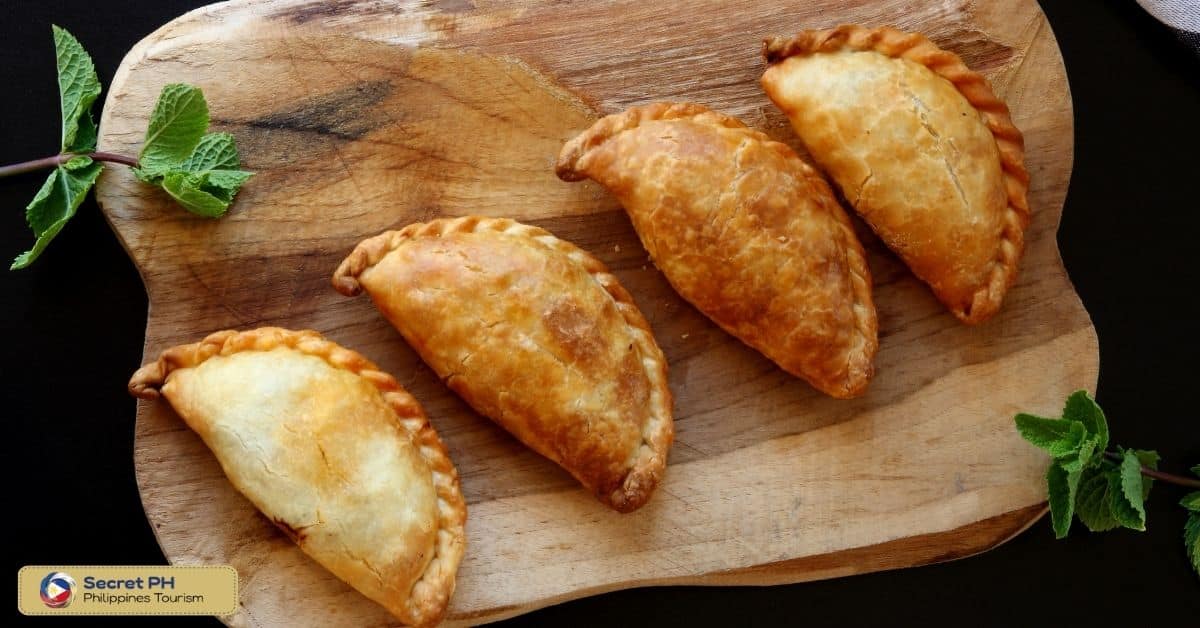 Bagnet
Bagnet is a popular dish hailing from Vigan. It is made by boiling or deep frying pork until it achieves a crunchy texture. Bagnet is usually served as an entrée with various sauces and condiments. It features prominently on menus in Vigan and has become something of an icon among local cuisine.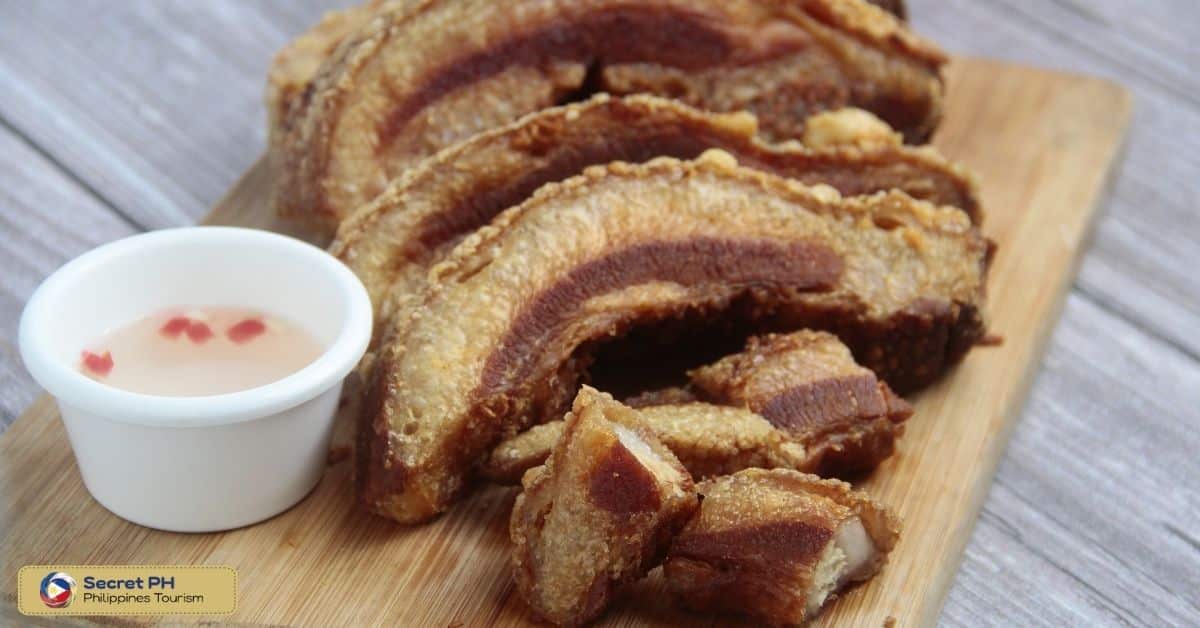 Sinanglaw
It consists of pork innards, such as intestines and liver. Sautéed in a mixture of soy sauce, oyster sauce, calamansi juice, and chili peppers. The Vigan region is famous for its unique cuisine that stands out among others. Although Sinanglaw may seem unappealing to some due to its ingredients. It has a distinct flavor that's definitely worth giving a try!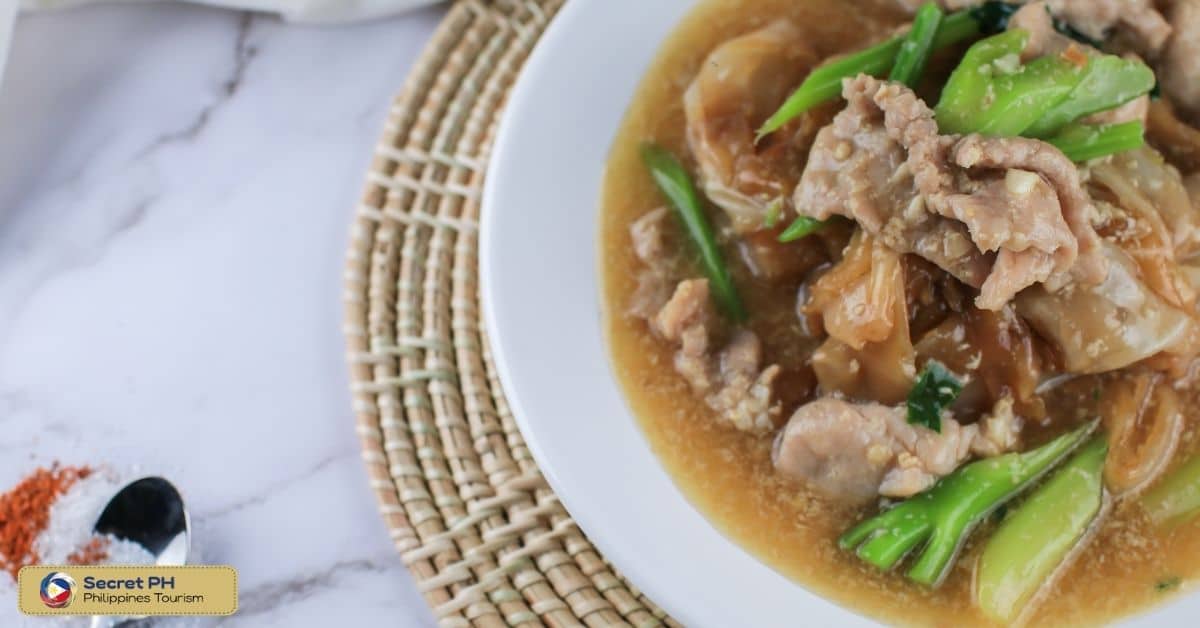 Vigan City's Festivals and Celebrations
Vigan City is vibrant and bustling with a wide array of festivals and celebrations. Travelers can explore Vigan's past through its heritage destinations and splendid traditions.
Binatbatan Festival of the Arts
The Binatbatan Festival of the Arts is an annual event held in Vigan every last week of April or first week of May. It celebrates traditional and contemporary art and heritage. It brings together artist, scholars, students and spectators who celebrate Filipino history and culture.
The festival features performances from different genres including music, dance and theater. Art exhibitions across various mediums such as photography, painting and graphic arts. Community tours through Vigan's architectural wonders such as their cobblestone streets.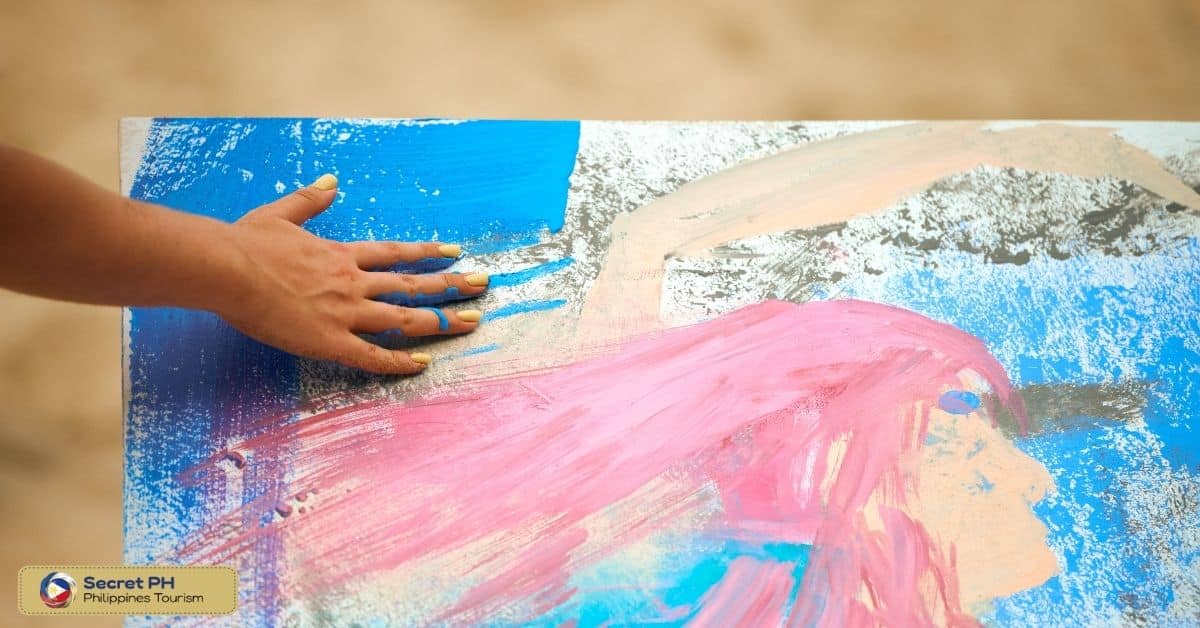 Viva Vigan Festival of the Arts
Viva Vigan Festival of the Arts is a yearly event celebrated every first week of May. This festival honors Vigan's vibrant culture and celebrates the city's history, music, art, and dance through colorful parades and performances.
Viva Vigan offers something for everyone, from exciting carnival games to opportunities to learn about Filipino street art. Visitors can also take part in workshops led by local artists on topics such as photography and embroidery.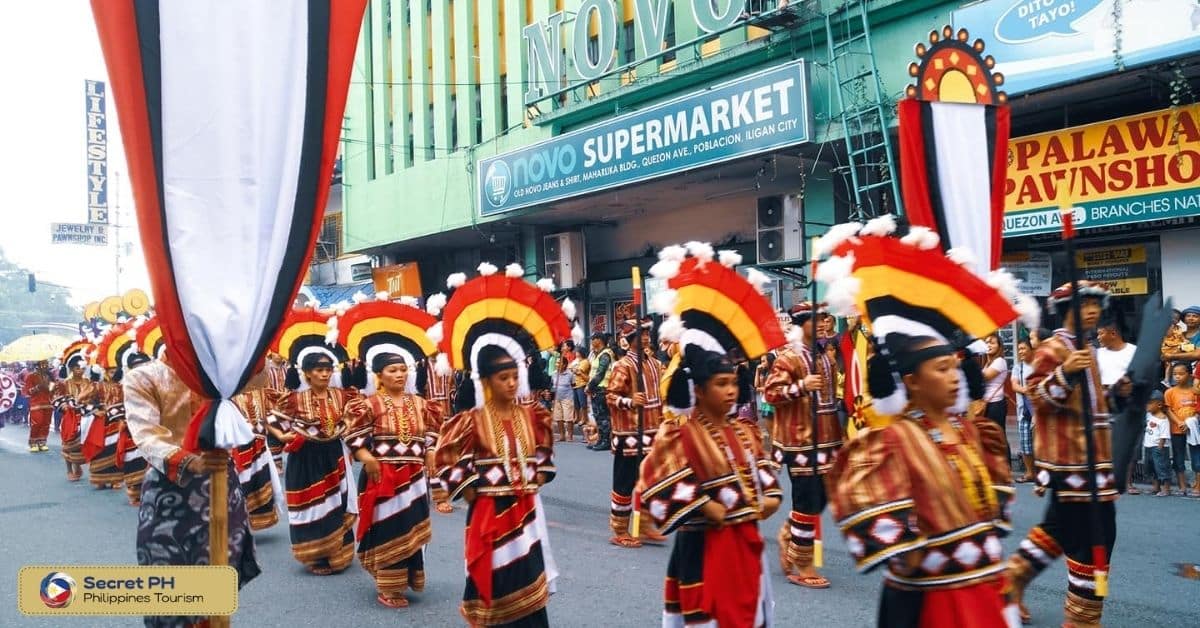 Longganisa Festival
This festival celebrates Vigan's local specialty, Vigan longganisa ( Filipino sausage ). Every January 22nd – 25th, the city of Vigan hosts the event to educate and showcase Vigan's heritage and culture through food.
Participants from all over the country gather in Vigan to celebrate this traditional feast. With a highly-anticipated parade each year, people from all walks of life get a chance to sample exquisite dishes made with Vigan's longganisa.
Vigan City's Traditional Crafts and Products
Vigan is known for its wide selection of products from textiles to furniture. The city's renowned craftspeople create intricate tapestries and beautiful furniture using Vigan's signature style of design. Vigan's signature style includes a mix of Filipino influences, Chinese influences, and Spanish influences that creates unique pieces for those looking for something special.
Pottery
One of Vigan's traditional crafts and products is pottery. Vigan pottery has been practiced for centuries and is an integral part of the city's heritage. Vigan pottery employs traditional earthenware methods such as spinning, hand-building, glazing, and firing to craft beautiful products.
Abel cloth
Able cloth employs a unique cultural weaving technique practiced since the 1700s. An abel loom is used to knit each piece together by hand. All materials used are organic and locally-sourced. One of its key visual identities is its characteristic use of bright colors and bold designs that reflect the city's distinct culture and history.
Burnay jars
They are earthenware jars that feature intricate hand-molded designs, hailing back to a time when native Philippines craftsmen. They used hand tools to create them out of clay dug directly from the ground nearby. The dark, glossy vibrant colors these jars boast come from being fired in low oxidation kilns and burned for several days.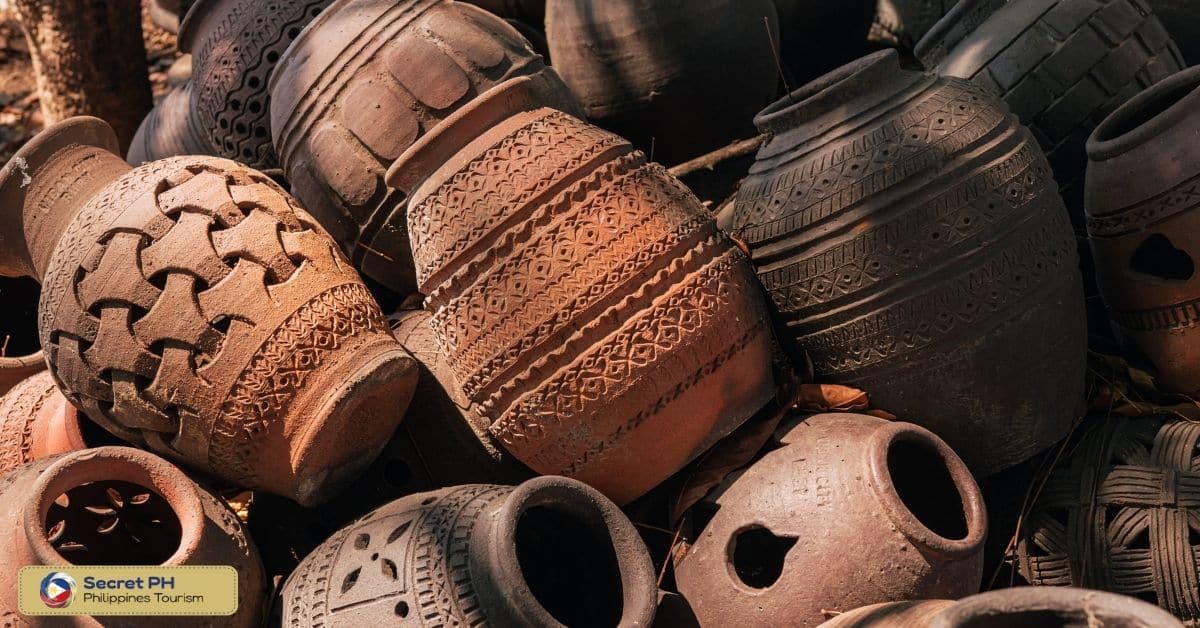 Vigan tiles
This type of ceramic ware is known for its vibrant colours and intricate designs. Pieces like these are unique mementos from the Philippines to be treasured for years to come.
Tips for Visiting Vigan City
It offers many opportunities to experience the country's rich culture and history. Whether you are looking for historical attractions, natural wonders or an array of cuisine, this city is the perfect place to get away. Here are some tips to make your trip to Vigan City a memorable one.
Wear comfortable shoes
Vigan City's main attraction is its heritage village, which is a large area of cobblestone streets and narrow alleys. Wearing comfortable shoes is essential to navigate the area with ease.
Visit during the cooler months
Vigan City is located in the northern part of the Philippines and can get quite hot and humid during the summer months. The best time to visit Vigan is during the cooler months of June to August, where temperatures are milder and pleasant.
Try the local cuisine
Vigan is known for its unique culinary offerings, such as longganisa (a type of sausage), empanada (a fried pastry filled with meat and vegetables), and bagnet (deep-fried crispy pork belly). Make sure to try these local specialties to fully experience Vigan's culture and cuisine.
In Conclusion
Vigan City is an example of Philippines' rich culture. This beautiful city is home to many historical sites, as well as countless flavors and smells that define Philippines' history.
From the intricate designs of the city's buildings to its tasteful cuisine, Vigan City is a place that does not forget to be modern despite all its age-old creations scattered around it.