Calaguas Island is a hidden gem waiting to be discovered. With pristine beaches, crystal-clear waters, and plenty of activities, it's the perfect destination for those seeking adventure and relaxation. Explore the island's hidden treasures and immerse yourself in the local culture for an unforgettable experience.
It's truly a nature lover's paradise. With rich marine life and ample opportunities to relax away from the hustle and bustle of city life. Be amazed at its surreal beauty and incredible scenery that will leave you wishing your visit would never end.
Calaguas Island
Calaguas Islands is a group of islands situated in the Philippines, specifically within the province of Camarines Norte. It consists of two main islands, Calaguas and Guintinua. The views from these islands are stunning and breathtaking. Sandbars stretching for kilometers on end; crystal-clear blue waters that span out until it merges with cobalt skies.
Not only does this archipelago boast its undeniable beauty, Calaguas also offers many activities for tourists. There are water sports, nature hikes and trekking trails, which can be explored by curious travelers. Unforgettable experiences await you to make your stay in Calaguas Island truly remarkable.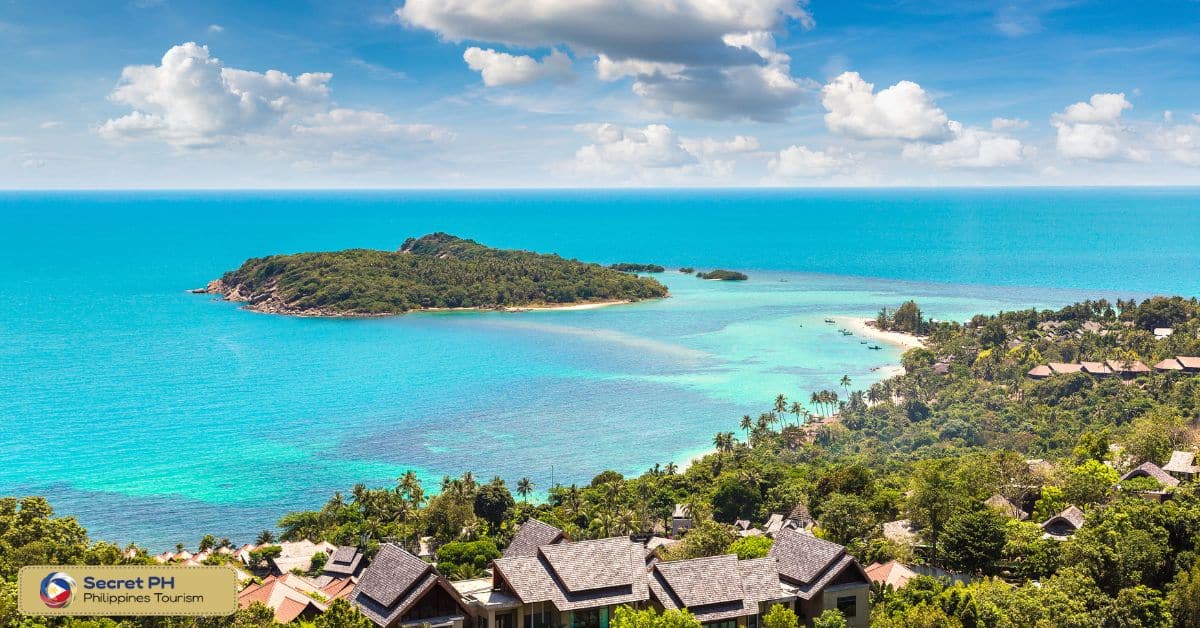 The Hidden Gem of Calaguas Island
Calaguas Island is located in the Philippines, about 350 kilometers southeast of Manila. It can be easily accessed from the mainland. Because the island is located within a region that is shielded from typhoons. It offers an enjoyable and relatively safe climate for visitors throughout the year. Depending on the time of year, visitors may also enjoy activities like snorkeling and camping as they explore this beautiful destination.
Address: FWFQ+849, Calaguas, Camarines Norte
For more information, click here.
Beaches and waters
The beaches and waters of Calaguas Island, Philippines are a sight to behold. The crystal-clear waters surrounding the island are teeming with marine life, making it a great destination for diving and island hopping. Come and experience the beauty of Calaguas Island's beaches and waters for yourself.
Mahabang Buhangin Beach
One of the Philippines' most treasured beaches is Mahabang Buhangin Beach, located on Calaguas Island. Visitors to this almost forgotten paradise can enjoy a lush coconut palm tree shoreline. There's a crystal-clear blue waters, and white sandy beaches.
All of which make it an excellent place for sunbathing and swimming. Its remote location has made it one of the Philippines' best-kept secrets, but more and more people are discovering this hidden gem each year.
Address: FWGQ+48F, Mahabang Buhangin Beach, Tinaga Island, Mangcawayan, Calaguas Island, Vinzons, 4603 Camarines Norte
Opening Hours: Monday – Sunday, 6:00AM – 10:00PM
Phone:  +639757400099
Balagbag Beach
Balagbag Beach, located on the Philippines' Calaguas Island, is a breathtaking slice of paradise for beach lovers. Its white sands and crystal-clear waters make it a popular destination for travelers.
The area surrounding Balagbag is largely devoid of tourist infrastructure. Visitors often take to camping and exploring the surrounding forest's hidden gems. There are several natural coves and caves nearby that are worth exploring.
Address: Calaguas iIsland, 4603 Vinzons, Camarines Norte
Opening Hours: Always Open
Phone: +639165585662
Tinaga Island Beach
Tinaga Island Beach is a popular destination in the Philippines. Located on Calaguas Island, the beach offers its visitors a tranquil environment with crystal clear water perfect for swimming and enjoying activities. Locals love to come here for camping, picnics, and to simply relax and take in the refreshing ocean breeze. With its shallow waters, it's an ideal spot for those just learning how to swim.
Address: Mahabang Buhangin, Mangcawayan, Calaguas Islands, Vinzons, Philippines
Opening Hours: Always Open
Phone: +639206611018
Activities and attractions
Philippines is famous for having endless tourist attractions and exciting activities. For nature lovers, a visit to Calaguas Island is a must-do. The island's crystal clear waters, unspoiled white sand beaches and lush greenery are some of the scene-stealers for people. Here are some of the activities to enjoy:
Island hopping
Island hopping in Calaguas Island is a popular activity for tourists. Visiting this remote and pristine island paradise in the Philippines is a must. Aside from enjoying the beautiful beaches and natural attractions, island hopping in Calaguas also provides visitors with the opportunity to immerse themselves in the local culture and experience the warm hospitality of the Bicolanos, the region's indigenous people.
Snorkeling and diving
Snorkeling and diving in Calaguas Island are popular activities for visitors looking to explore the island's rich marine life and underwater beauty. Located in the province of Camarines Norte in the Philippines, Calaguas Island boasts crystal-clear waters that are perfect for snorkeling and diving.
Snorkeling in Calaguas Island offers a chance to see a wide variety of colorful fish and coral formations, as well as other sea creatures such as sea turtles, rays, and octopuses. Snorkelers can explore the shallow waters near the island's beaches or venture out to nearby reefs.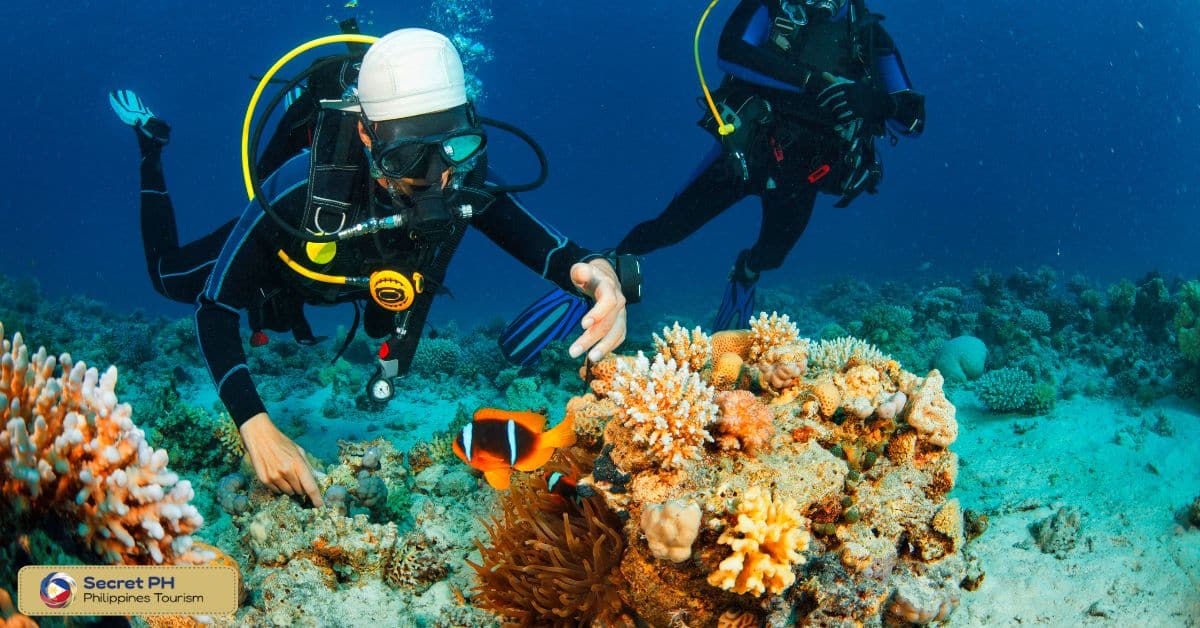 Trekking
Trekking in Calaguas Island, located in the Philippines, is an exciting and breathtaking experience that allows visitors to explore the island's natural beauty. The island is known for its pristine white sand beaches, crystal-clear waters, and lush green hills, which make it an ideal destination for trekking enthusiasts.
The trekking trails in Calaguas Island offer stunning panoramic views of the island and the surrounding sea. The trekking routes vary in difficulty, from easy to challenging, and are suitable for all levels of trekkers.
Tips and Reminders
Calaguas Island is a beautiful spot for most beach-lovers and outdoor adventurers alike. Before hitting Calaguas Island, it would be best to remember several tips and reminders to make the most out of your journey. Here are some of the tips to remember:
Best time to visit
Visiting Calaguas Island is an incredibly rewarding experience, and the best time to plan your trip is during dry season for an effortless voyage. The months of February to May offer favorable weather with clear skies and balmy temperatures – perfect for swimming, trekking and lounging on the beach!
When organizing such a trip, it's important to remember certain tips and reminders beginning with checking the forecast before setting off and being fully aware of the local laws. Bring basics like sun protection, mosquito repellent and plenty of water, but most importantly: packed enthusiasm and a camera to capture every moment.
Budget and expenses
Budgeting and handling expenses are two essential components for financial stability. Calaguas Island is a great example of budget-friendly vacation spot, where you can explore the wild beauty of nature without breaking your bank account. Before embarking on any journey however irrespective of its cost, it pays off to follow some tips and reminders to keep up with your finances during the trip.
First and foremost, research ahead to ensure that all needs are properly taken into consideration such as tickets, hotel reservations, meals, activities and transportation. Setting aside a small "emergency" fund will provide peace of mind in the event of unforeseen events. And lastly, tracking your spending by writing down all expenses allows you to stay within your budget and maximize the enjoyment from your adventures.
Responsible tourism practices
Responsible tourism practices are emphasized especially when it comes to Calaguas Island. Calaguas Island is particularly vulnerable because of its unique yet fragile ecosystem, so it is important to take caution while planning a trip there.
Respect the rules, adhere to best waste disposal practices, be careful when camping and hiking and make sure not to bring non biodegradable items or engage in activities that disturb the flora and fauna in the area.
Safety precautions
Safety precautions are important to be taken into consideration in order to fully enjoy its natural beauty. Before setting off on your Calaguas Island adventure, make sure to bring along mandatory items.
Prepare for different weather conditions as Calaguas Island can get quite hot during the day or sometimes even have unexpected rainfalls. Inform someone of your whereabouts at all times; wear sturdy shoes; keep an eye out for harmful animals; avoid wearing flashy jewelry or expensive items; follow established rules; and pay attention when crossing rocky terrain.
In Conclusion
Set off to discover Calaguas Island, and you will be rewarded with an unforgettable experience. With stunning coral reefs and only a handful of visitors each year, this paradise is truly a hidden gem worth discovering.
Whether you are an experienced traveler or a new adventurer, the camaraderie created from the unique environment. Rugged terrain of Calaguas Island makes this destination an obvious choice for anyone seeking an outdoor adventure. So, don't hesitate to explore this natural wonder before the secret gets out!