Pride parades and LGBTQ+ events have been growing in popularity and importance in the Philippines, promoting acceptance and advocating for equal rights. Despite challenges such as discrimination and lack of legal recognition, the events continue to empower the LGBTQ+ community and encourage diversity and inclusion.
In this blog post, we will explore some of the most significant pride parades and LGBTQ+ events in the Philippines, highlighting their impact on society and how they have helped shape attitudes towards diversity. Join us as we celebrate love, acceptance, and inclusivity in this vibrant country!
History of Pride Parades and LGBTQ+ Events in the Philippines
The Philippines has a history of pride parades and LGBTQ events dating back to the 1970s, when the first Mass for Gays was held in 1976. It became an annual event, until 2003 when it was followed by the first ever LGBT Pride March in Manila which had over 300 participants.
The annual Metro Manila Pride March is also held annually, with more events added every year in other major cities around the Philippines. These marches and celebrations serve to bring visibility to issues faced by queer Filipinos and many people come out during these events to express their various identities.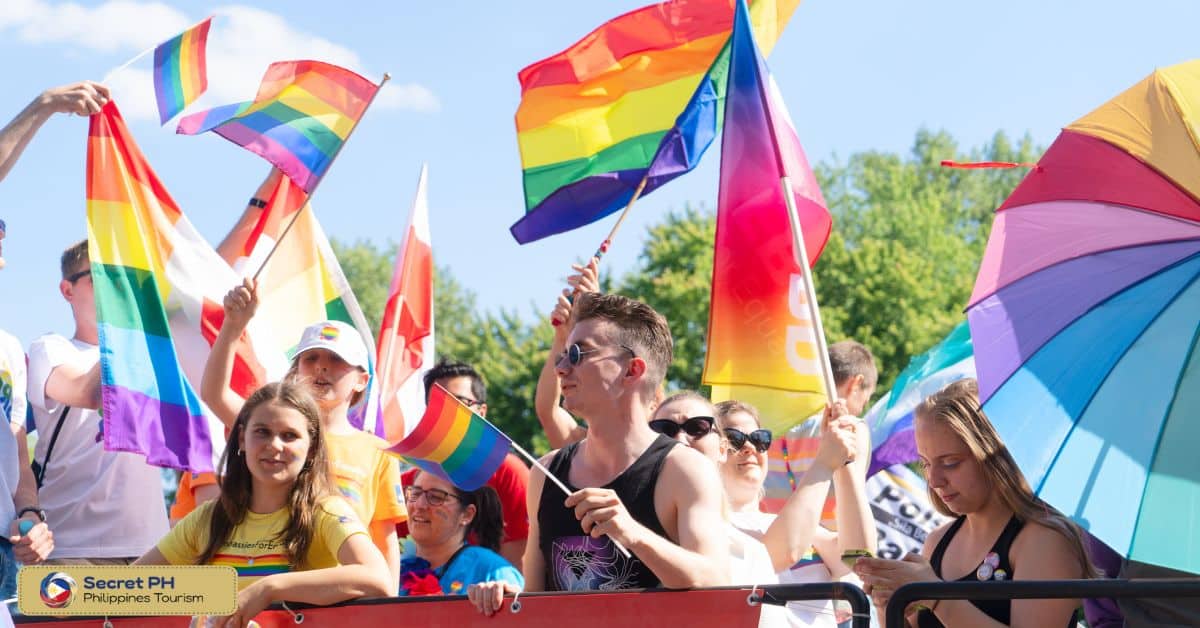 Pride Parades and LGBTQ+ Events in the Philippines
Every year people from all walks of life come together to celebrate beauty, life, and acceptance at various pride parades. These celebrations bring together allies of the community as well as members past and present to dance down city streets.
The first Pride March in the Philippines
On 26 June 1994, the first-ever Pride March is scheduled to be held in Marikina City. This march symbolizes an important step forward in choosing respect and tolerance rather than discrimination and exclusion.
Pride parades are meant to advocate visibility, unity and equality among all individuals regardless of sexual orientation or gender identity, encouraging self-empowerment across different communities.
Growth and evolution of LGBTQ+ events in the country
The growth and evolution of LGBTQ+ events around the country has been monumental in recent decades. Such events were relatively small and consisted of members of local organizations. Today, many cities have established large-scale annual gatherings for their LGBT communities to come together.
The Pride parades that take place in major cities such as New York City and Los Angeles draw record attendance each year. Showcasing the tremendous progress made toward achieving acceptance regardless of sexual orientation. LGBTQ+ themed cruises are now offered around the world. It allow members of all genders to celebrate queer culture while exploring new destinations.
Popular LGBTQ+ events and festivals in the Philippines
The annual Metro Manila Pride March was founded in 2011 by the LGBT Voice. It works to promote equal rights and respect for all citizens regardless of sexuality or gender identity. It draws hundreds of thousands of participants from around the country.
Another popular LGBTQ+ happening is held in Baguio City each summer when delegates from all over the Asia Pacific region gather for The International Lesbian Youth Camp. This inspirational event is open to anyone who identifies as LGBTQI between the ages of 18 and 26. This provides an opportunity for those attending to gain knowledge about their rights as members of the queer community.
Significance of Pride Parades and LGBTQ+ Events in the Philippines
Pride parades and other LGBTQ+ events in the Philippines are incredibly important to the community. They celebrate diversity, individualism, and queerness.  Also serving as a much-needed reminder that gender identity, and sex should not be limited by social norms or traditions.
Promoting acceptance and understanding of the LGBTQ+ community
Pride parades and other LGBTQ+ events are extremely important because they symbolize the need for acceptance. These events serve to foster a wide span of understanding among people about the underrepresented influential segment of society.
They offer members of the LGBTQ+ community an opportunity to express themselves freely. Send powerful messages that promote self-love and solidarity among them. Pride parades inspire many participants to feel hopeful, and proud.
Advocating for LGBTQ+ rights and equality
Taking a stand in the fight for rights and equality is something that many advocates in the LGBTQ+ community have made. To spread awareness and enforce change. Pride Parades and events are regularly held throughout the country. This allows for a phenomenal platform for voices to be heard.
Discussions on issues faced by members of this community can be brought to light. These inspiring marches help chip away at discriminatory practices. Pride parades help create understanding amongst Filipino communities so that everybody can learn to accept one another's differences.
Empowering the LGBTQ+ community and promoting self-expression
Pride parades and LGBTQ+ events are an important part of empowering the LGBTQ+ community. They enable members of the community to come together in solidarity. Forming a sense of its own culture and identity. Something that is particularly important for communities who have not always had a voice.
These events provide an outlet for those who want to express themselves freely. For members of the LGBTQ+ community who may feel isolated, these rallies can provide much needed support. This can bring a greater feeling of security and happiness when they know they have people standing with them.
Challenges Faced by the LGBTQ+ Community in the Philippines
The Philippines is home to a large and vibrant LGBTQ+ community. Its members face a number of unique challenges. Legal recognition has been extremely slow to come about and discrimination in the workplace is still commonplace. Trans individuals, in particular, often have difficulty making ends meet.
Discrimination and stigmatization
Discrimination and stigmatization are two of the major challenges faced by the LGBTQ+ community. This can range from hostile attitudes or unfair treatment due to their sexual orientation or gender identity. It was expressed in verbal, physical or written forms as well as prejudices and stereotypes.
Such discrimination not only violates fundamental human rights but has a significant impact on how LGBTQ+ individuals experience their own lives. Advocacy groups and social networks have been created to support those affected by this discrimination.
Lack of legal protection and recognition
A significant challenge is the lack of legal protection and recognition. Same-sex marriage has yet to be legalized. There are no laws criminalizing discrimination against LGBTQ+ individuals. As a result, members of this community are denied certain rights commonly enjoyed by heterosexuals. This includes inheritance, employment opportunities, access to housing and government positions. This also leads to a lack of resources for medical care or support services.
Need for more inclusive policies and practices
LGBTQ+ persons face high levels of discrimination, with some members believing they require separate protection under the law. The lack of legal protection and recognition prevents them from enjoying the full range of rights that are taken for granted by many others in society.
There is a dearth of public awareness related to LGBTQ+ rights, due to limited visibility as well as a lack of education on gender issues. It is imperative for both government officials and committed civil society leaders to create more inclusive policies and practices which respect cultural diversity, create safe spaces for discussion, promote awareness-raising campaigns focused on equality and inclusion.
In Conclusion
Celebrating diversity via Pride Parades and LGBTQ+ events in the Philippines is a way of creating unity and understanding between people. Through these events, Filipinos are able to share their cultures, beliefs, and lifestyles while learning more about others.
Messages of pride, acceptance and comfort have been brought to many individuals across the nation who have previously felt voiceless or ostracized. This newfound sense of community has created an intersection for people's different identities and outlooks on life which has helped to pave the way for building bridges between communities and citizens.