Carmella Falls in Apayao, Philippines, is a serene oasis tucked away in nature's embrace. Surrounded by lush greenery and cascading waters, it offers a peaceful escape from the chaos of city life. With its pristine beauty and tranquil ambiance, Carmella Falls invites visitors to experience a slice of paradise and find solace in its serene surroundings.
In this guide, we will explore the tranquility of Carmella Falls. We'll also provide practical information on how to reach the falls, what activities to expect when you arrive, and tips for making the most of your visit.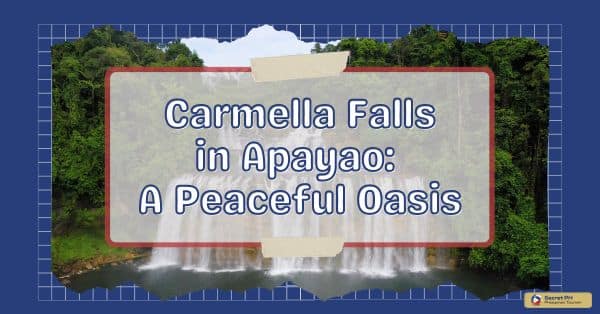 Natural Beauty Unveiled: Exploring the Serenity of Carmella Falls
Carmella Falls presents a captivating display of natural beauty that leaves visitors in awe. As you venture into this serene oasis, you'll be greeted by a breathtaking landscape adorned with lush greenery and vibrant flora. The cascading waters of Carmella Falls create a symphony of soothing sounds, adding to the overall tranquility of the place.
Exploring Carmella Falls offers a sensory feast for nature enthusiasts. Whether you choose to hike along the well-marked trails or simply find a peaceful spot to sit and admire the surroundings, the serenity of the falls is bound to leave a lasting impression.
Capture stunning photographs, breathe in the fresh air, and let the enchanting ambiance wash away your worries. The natural beauty of Carmella Falls is a testament to the splendor of untouched wilderness, and a visit to this serene haven promises a truly rejuvenating experience.
Location and Accessibility: How to Reach Carmella Falls in Apayao
Carmella Falls is located in the province of Apayao, Philippines, making it a perfect destination for nature lovers seeking a tranquil escape. To reach Carmella Falls, one can first travel to the town of Conner, which serves as the jump-off point for the adventure.
From Conner, a short and scenic trek awaits, taking you through verdant forests and picturesque landscapes. The journey to the falls offers an opportunity to immerse yourself in the natural beauty of the region.
It is advisable to wear comfortable shoes, bring sufficient water, and consider hiring a local guide for a safe and enjoyable journey. With its serene location and accessibility from Conner, Carmella Falls beckons adventurers to embark on a memorable exploration of nature's wonders.
For pictures, booking, and more information, click here.
For directions, click here.
Tranquility at Its Best: Experience the Calmness of Carmella Falls
Carmella Falls offers a serene and peaceful escape from the chaos of everyday life. As you step into this natural oasis, a sense of tranquility envelops you, inviting you to unwind and find solace in its calming ambiance. The gentle sound of cascading water, the cool mist that kisses your skin, and the breathtaking beauty of the surroundings all contribute to a truly immersive experience of calmness.
Whether you choose to sit by the falls and bask in its soothing presence or take a leisurely stroll through the surrounding greenery, the tranquility of Carmella Falls creates a perfect setting for relaxation and rejuvenation. The stress and worries of the outside world melt away, replaced by a sense of inner peace and harmony.
The serene atmosphere of Carmella Falls is a testament to the power of nature to restore and renew. Offering visitors a precious opportunity to escape, unwind, and connect with the tranquility that resides within.
A Perfect Retreat: Indulge in Nature's Bliss at Carmella Falls
Carmella Falls presents itself as a perfect retreat for those seeking to immerse themselves in nature's bliss. This hidden gem offers a sanctuary where visitors can escape the hustle and bustle of everyday life and embrace the serenity of their surroundings. The lush greenery, pristine waters, and awe-inspiring landscapes create an idyllic setting that rejuvenates the mind, body, and soul.
Indulging in nature's bliss at Carmella Falls means surrendering to the enchantment of the surroundings. Take a refreshing dip in the crystal-clear waters of the falls, letting the coolness invigorate and invigorate you.
Embark on a hike through the surrounding trails, breathing in the fresh air and embracing the natural beauty that unfolds at every step. The tranquil ambiance invites you to disconnect from the outside world and reconnect with the essence of life itself. Making Carmella Falls an ideal destination for those seeking a perfect retreat in the embrace of nature's bliss.
Immersive Activities: Things to Do and See at Carmella Falls
One of the best ways to explore Carmella Falls is on foot. The hike to the falls takes about 45 minutes, and it's a moderate trek that's suitable for all fitness levels. Along the way, you'll be rewarded with stunning views of the surrounding mountains and valleys.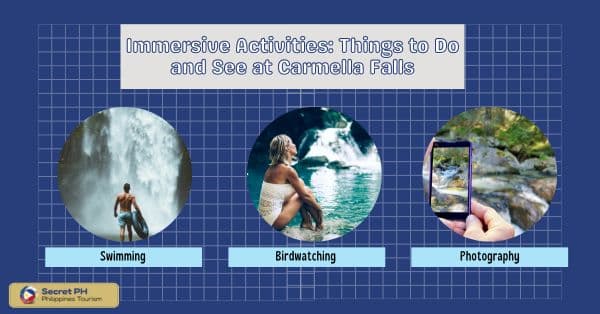 Swimming
After a challenging hike, there's nothing quite like taking a refreshing dip in the cool waters of Carmella Falls. The falls themselves are about 20 meters high, and the pool at the base is deep enough for swimming. There are also several smaller pools nearby that are perfect for soaking or wading. Be sure to bring your swimsuit and a towel, and don't forget to take plenty of photos!
Birdwatching
If you're a bird lover, Carmella Falls is a great place to spot some of the Philippines' most beautiful species. The area is home to a wide variety of birds, including kingfishers, hornbills, and several species of parrots.
You can bring your binoculars and try to spot them on your own. Or you can hire a local guide who can help you identify the different species and tell you more about their behaviors and habitats.
Photography
With its stunning natural beauty, Carmella Falls is also a photographer's paradise. You can also take portraits of yourself or your companions against the stunning backdrop of the falls. Just be sure to bring plenty of memory cards and batteries!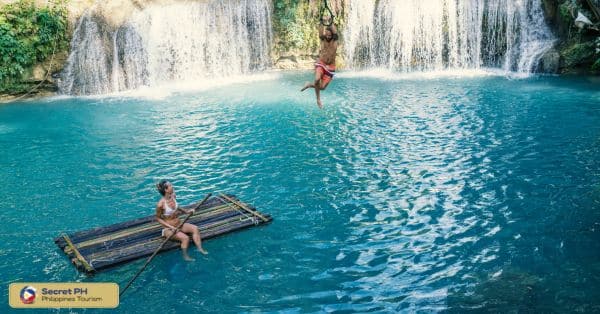 Flora and Fauna: Discovering the Biodiversity around Carmella Falls
Aside from its breathtaking beauty, it is also home to a diverse range of flora and fauna that are unique to the region. Here, we will take a closer look at the biodiversity around Carmella Falls and what makes it so special.
The Flora of Carmella Falls
The flora around Carmella Falls is incredibly diverse and offers a glimpse into the rich biodiversity of the Philippines. By exploring the plant life around Carmella Falls, we gain a deeper appreciation for the importance of preserving our natural heritage.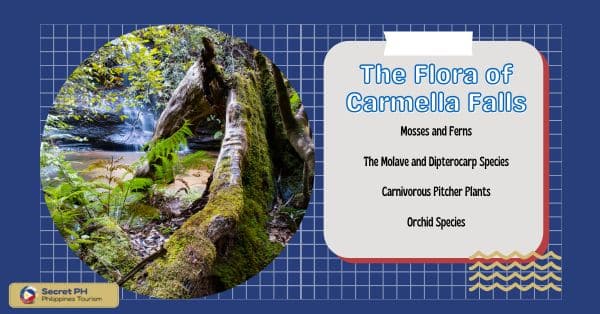 1. Mosses and Ferns– Mosses and ferns are abundant around Carmella Falls, thanks to the humid environment and ample water supply. These plants provide essential habitats for other organisms and help regulate the local climate.
2. The Molave and Dipterocarp Species– The forests around Carmella Falls are dominated by the Molave and Dipterocarp tree species, which tower above the other plants. These trees play a critical role in stabilizing the soil, preventing erosion, and providing shelter for other organisms.
3. Carnivorous Pitcher Plants– One of the most interesting plants you can see around Carmella Falls is the pitcher plant. This plant is carnivorous and feeds on insects that get trapped inside its "pitcher," which is a modified leaf structure.
4. Orchid Species– The forests around Carmella Falls are also home to numerous orchid species, which add color and beauty to the natural landscape. Some of the orchids you can spot in the area include the vanda, dendrobium, and cattleya varieties.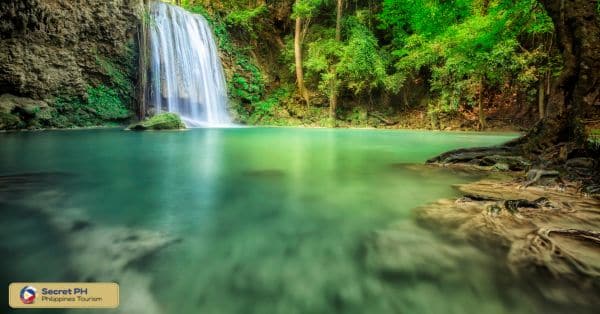 The Fauna of Carmella Falls
The fauna around Carmella Falls is diverse and fascinating, providing a glimpse into the rich wildlife of the Philippines. By exploring the animal species in the area, we gain a deeper appreciation for the importance of preserving our natural heritage.
1. Birds–  One of the most notable birds you can spot is the Philippine eagle, which is one of the rarest bird species in the world.
2. Mammals– The forests around Carmella Falls are home to various mammal species such as civets, deer, and wild boars. These animals play an essential role in the ecosystem by helping to control the insect population and spreading seeds.
3. Reptiles and Amphibians– The warm and humid environment around Carmella Falls is perfect for reptiles and amphibians. Some of the species you can find in the area include the Philippine monitor lizard, reticulated python, and various frog and toad species.
4. Insects– As with any natural habitat, insects are abundant around Carmella Falls. Some of the insects you can spot in the area include butterflies, dragonflies, and beetles.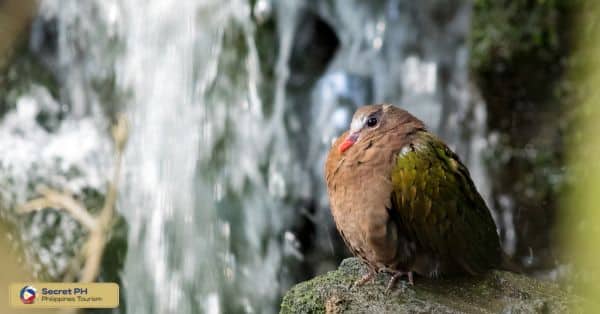 Conservation Efforts: Preserving the Pristine Environment of Carmella Falls
These conservation efforts are crucial for preserving the natural beauty of Carmella Falls and its surrounding environment. By protecting the natural habitat, we can ensure that future generations can continue to enjoy this unique and pristine landscape.
Protection of Biodiversity: Efforts are underway to protect the diverse range of plant and animal species that call Carmella Falls home. This includes the identification and protection of endangered species, as well as the preservation of their natural habitats.
Reforestation: Deforestation is a major threat to the natural environment, and efforts are underway to restore areas that have been damaged by logging and other human activities. Reforestation efforts are also aimed at reducing erosion and improving soil quality.
Sustainable Tourism: While tourism can have a positive impact on the local economy, it can also put pressure on the natural environment. The conservation efforts at Carmella Falls are focused on promoting sustainable tourism practices that minimize the impact on the environment.
Community Engagement: Engaging with local communities is essential for successful conservation efforts. The conservation team at Carmella Falls is working closely with local communities to raise awareness about the importance of protecting the environment and developing sustainable livelihoods that are compatible with conservation goals.
Education and Outreach: Education and outreach programs are key to raising awareness about the need for conservation efforts. The conservation team at Carmella Falls is working to educate visitors and local communities about the importance of protecting the environment.
Practical Information: Tips and Guidelines for Visiting Carmella Falls
This majestic waterfall offers a serene, picturesque atmosphere that attracts visitors from all over the world. Here are some tips and guidelines for visiting Carmella Falls in Apayao Philippines.
Wear appropriate clothing and footwear: It is recommended to wear comfortable clothes and sturdy shoes with good grip as the trail leading to the falls can be slippery and rocky.
Bring plenty of water and snacks: The hike to the falls can take around an hour or more, so it's important to stay hydrated and energized. Bringing enough water and snacks is a must.
Hire a local guide: Hiring a local guide is highly recommended as they are familiar with the area and can provide assistance if needed. They can also give you some interesting insights into the history and culture of Apayao province.
Respect the environment: As with any natural wonder, it is important to respect the environment by not littering, damaging plants, or disturbing wildlife.
Be prepared for changing weather conditions: The weather in Apayao can be unpredictable and can change quickly. It is advisable to bring rain gear and a light jacket.
Don't forget your camera: Carmella Falls offers breathtaking views that are worth capturing. Don't forget to bring your camera or smartphone to take some stunning photos.
Follow safety guidelines: Always follow safety guidelines, such as staying on designated trails, avoiding steep areas and not swimming too close to the falls.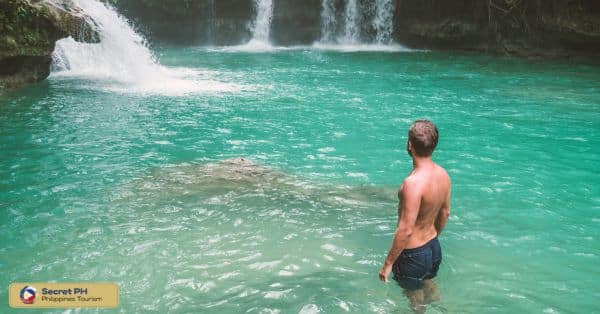 In conclusion
Carmella Falls is a stunning natural wonder that offers visitors the opportunity to experience nature's beauty and immerse themselves in an oasis of tranquility. With its diverse wildlife, lush forests, and spectacular waterfalls, it's easy to see why Carmella Falls has become a popular destination for those seeking a perfect retreat.
It is essential to promote responsible tourism and conservation efforts in order to safeguard the area's unique biodiversity for future generations. By taking the steps outlined above, you can have a safe and enjoyable visit to Carmella Falls that will leave you with lasting memories of its stunning beauty.