Looking for the perfect vacation destination that's off the beaten path? Look no further than Benguet, the mountainous province in the Cordillera Administrative Region of the Philippines.
Benguet, nestled in the breathtaking Cordillera Mountains, is the perfect destination for your next vacation. With its cool climate, picturesque landscapes, and vibrant culture, this Philippine province offers a refreshing escape. From exploring the iconic strawberry fields to hiking through stunning trails, Benguet promises an unforgettable and rejuvenating getaway.
Whether you're looking to explore the great outdoors, learn about traditional farming techniques, or just relax and take in the scenery, Benguet has something for everyone. So pack your bags and get ready for an unforgettable adventure in one of the Philippines' most underrated destinations!
Benguet as a Tourist Destination
Nestled in the northern part of the Philippines, Benguet is a province that boasts stunning natural beauty and rich cultural heritage. Home to the breathtaking Cordillera Mountains. Visitors can explore stunning rice terraces and picturesque landscapes that will evoke a sense of awe and wonder. Benguet's cool climate and lush greenery make it a perfect destination for outdoor enthusiasts who seek adventure and relaxation. Visitors can hike trails to majestic waterfalls, go camping, and even enjoy strawberry picking in the city of La Trinidad.
In addition, Benguet's cultural heritage is a notable aspect of its charm. The province showcases the vibrant culture of the Igorot people through their customs. Also, their traditional clothing, and dances that depict folklore and historical events. Benguet is a must-visit destination for anyone seeking to immerse themselves in the beauty of nature and the richness of culture.
Exploring Benguet's Natural Wonders
Nestled in the northern region of the Philippines, Benguet is a province that never fails to impress with its naturally-formed wonders. From forested mountains, picturesque cliffs, and glistening waterfalls. Benguet boasts some of the most breathtaking landscapes in the country. Its culture and traditions are also deeply rooted in nature's beauty. Exploring its hidden gems offers a glimpse into the history and way of life of the local tribes.
Whether you're an adventurer seeking hiking trails of varying degrees of difficulty, a nature-lover looking to unwind in peaceful surroundings. A photographer hungry for picture-perfect vistas, a visit to Benguet's natural wonders is definitely worth the trip.
The Majestic Mount Pulag
Mount Pulag is the highest peak in Luzon and poses a challenging but rewarding trek for hikers. With its majestic slopes and breathtaking views, this mountain stands tall among the natural wonders of the Philippines. The hiking trails on Mount Pulag offer a range of difficulties, catering to both novice and experienced hikers.
These trails take visitors through diverse terrain, from lush forests to open grasslands, and offer an opportunity to discover the unique flora and fauna of the region. Whether you're an avid hiker or a nature enthusiast looking for an unforgettable adventure, Mount Pulag offers an experience like no other.
Address: HVXX+3C5, Kabayan, Benguet
Phone: +639498223922
The Enchanting Strawberry Farms of La Trinidad
Nestled in the outskirts of La Trinidad, Benguet lies a wondrous sight that attracts travelers from far and wide. The Strawberry Farms of La Trinidad is a picturesque sight to behold. Acres of fields beautifully carpeted with bright red strawberries. This charming location is not only a sight for sore eyes but also a great opportunity for fruit picking. Visitors can indulge in the joy of picking fresh strawberries straight from the fields.
Not only is it a fun experience, but it's also a chance to learn a thing or two about farming. Also, get a taste of the sweetest strawberries the country has to offer. The Strawberry Farms of La Trinidad offer an enthralling experience that will leave you itching to come back for more.
Address: FH5P+2F3, La Trinidad, Benguet
Opening Hours: Monday – Sunday (7 AM – 7 PM)
The Stunning Rice Terraces of Atok
The Rice Terraces of Atok is a UNESCO World Heritage Site that holds great cultural significance in the Philippines. These terraces have been carefully cultivated by the indigenous people for over 2,000 years. It has become symbolic of the strong connection between humans and nature. The steep, mountainous terrain of Atok did not deter the Ifugao people from creating an intricate irrigation system.
This allowed them to cultivate rice on the terraces. Exploring these terraces gives visitors insight into the ingenuity of the Ifugao people and their sustainable farming practices. As a renowned World Heritage Site, the Rice Terraces of Atok are also a testament to the international recognition of the importance of preserving ancient cultural practices.
Address: 4J, JQ H4, Atok, 2612 Benguet
For pictures and more information, click here.
Cultural Experiences in Benguet
Located in the mountainous region of the Philippines, Benguet is a province rich in cultural diversity and unique experiences. Known for its stunning rice terraces and rich agricultural heritage. Benguet also boasts a myriad of cultural experiences that showcase the local traditions and customs of its people. Whether it's walking through the colorful markets filled with handicrafts and locally-grown produce.
Also, participating in the indigenous rituals and ceremonies, Benguet offers a truly immersive experience that will leave a lasting impression on visitors. Step out of your comfort zone and indulge in the vibrant cultural tapestry that Benguet has to offer.
The Igorot people and their rich traditions
The Igorot people of Benguet boast a rich history and culture. Their traditional practices have been preserved over centuries. Visitors can experience the vibrant customs firsthand. From the Kankana-ey language to the many ethnic subgroups. The Igorot people offer a unique insight into a world vastly different from Western culture. Their traditional dances and music express their appreciation for nature and deep respect for their ancestors.
Visitors can also witness the Igorot's ability to adapt and change with the times while still preserving their cultural identity. Whether it's participating in a traditional burial or learning how to weave traditional garments. Igorot people provide cultural experiences that are both educational and entertaining.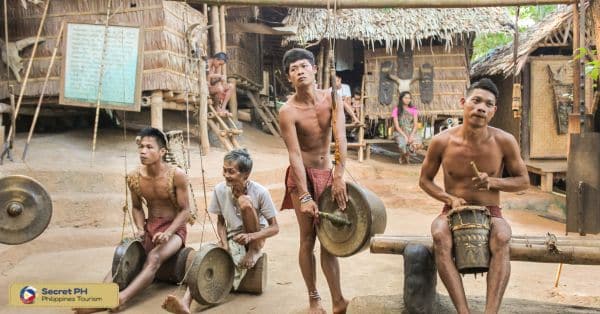 Benguet's Delightful Cuisine
Nestled in the mountains of Cordillera lies the province of Benguet, home to a delectable cuisine that reflects its unique and rich culture. This highland region boasts a diverse range of traditional dishes that are not only delicious but also distinct in flavor and ingredients. Albeit a challenging terrain for agriculture, Benguet is known for its production of fresh and high-quality vegetables, which are mainstays in their dishes.
One of the most notable dishes is Pinikpikan, a chicken dish that is prepared through a unique and meticulous process of hitting the live chicken with a stick before cooking it. Other favorites include Tinola ng Baka, a beef stew made with local vegetables, and Etong or Etag, a smoked pork dish that is usually served with rice. Benguet's delightful cuisine is not only enjoyed by locals but also celebrated by food enthusiasts across the country.
The Farmer's Daughter Restaurant
Located in the heart of Benguet, The Farmer's Daughter Restaurant is a haven for those who want to indulge in mouth-watering dishes while taking in scenic views of the surrounding mountains. The restaurant's emphasis on using locally-sourced ingredients showcases the region's rich agricultural produce, resulting in dishes that burst with flavor and freshness. From Filipino favorites like bulalo and pinikpikan to international fare like pasta and burgers, The Farmer's Daughter Restaurant offers a diverse menu that caters to all tastes.
Address: Tam-awan Village, Long Long Benguet Rd, Baguio, 2600 Benguet
Opening Hours: Monday – Friday (9:30 AM – 4:30 PM) / Saturday – Sunday (10 AM – 4:30 PM)
Phone:  (074) 428 1253
GOODTASTE RESTAURANT
GoodTaste Restaurant is a must-visit culinary destination for anyone traveling to Benguet. Their menu offers a wide variety of delicious Filipino dishes, from savory meats to flavorful noodles and refreshing desserts. With its inviting atmosphere, friendly staff, and generous portions, GoodTaste never disappoints. Whether you're looking for a quick bite or celebrating a special occasion, this restaurant is the perfect spot to savor the flavors of Benguet.
Address: Otek St, Baguio, Benguet
Opening Hours: Monday – Sunday (6 AM – 10:30 PM)
For pictures and more information, click here.
Il-lengan Cafe
Il-lengan Cafe is a must-visit spot in Benguet for coffee and pastry aficionados. Known for its cozy atmosphere and fresh pastries, this cafe is the perfect spot for a midday break. From homemade cakes to freshly brewed coffee, there's something for everyone at Il-lengan Cafe. Its talented baristas and friendly staff make every visit enjoyable and memorable.
Address: Rimando Rd, Brgy.Trancoville, Baguio, 2600 Benguet
Opening Hours: Wednesday – Sunday (9 AM – 10 PM) / Monday – Tuesday (9 AM – 9 PM)
Phone: +639978005944
Accommodation Options in Benguet
Nestled in the Cordillera Region of the Philippines, Benguet is a province that draws a lot of attention from tourists and visitors. Known as the Salad Bowl of the country, this region boasts an abundance of fresh produce, scenic landscapes, and rich cultural heritage. Whether you're up for an adventure or a zen-like retreat, Benguet has it all.
With an array of accommodation options ranging from homestays to luxury hotels, you're sure to find something that suits your taste and budget. So pack your bags, grab your camera, and get ready to embark on a journey of a lifetime.
The Manor at Camp John Hay
Nestled in the pine-clad mountains of Benguet, The Manor at Camp John Hay stands as a peaceful and luxurious retreat from the bustle of city life. The hotel's classic charm, cozy atmosphere, and stunning views of the surrounding landscape provide the perfect backdrop for a relaxing vacation. With a variety of room options ranging from deluxe rooms to presidential suites, The Manor can accommodate any traveler's needs.
Guests can indulge in the hotel's various dining options, which offer a culinary journey through local and international cuisine. Whether it's lounging in the fireplace lounge, playing a round of golf, or taking a scenic hike, The Manor at Camp John Hay is the perfect destination for a rejuvenating and unforgettable mountain getaway.
Address: Ordonio Dr, Camp John Hay, Baguio, 2600 Benguet
Phone: (074) 424 0931
For booking and more information, click here.
Azalea Hotels & Residences Baguio
Azalea Hotels & Residences Baguio is the perfect accommodation choice for those who want to experience the breathtaking beauty of Benguet. Situated in the heart of Baguio City, this hotel offers a luxurious yet affordable option for travelers wanting to explore the surrounding area. Designed with a modern touch, Azalea's rooms are equipped with all the necessary amenities to ensure a comfortable and relaxing stay.
With its excellent location, guests can easily access many of Baguio's popular attractions such as the Baguio Botanical Garden and Burnham Park. The hotel also offers a range of facilities including a fitness center, restaurant, and a roof deck which provides stunning views of the city and its surroundings. Azalea Hotels & Residences Baguio will undoubtedly provide an unforgettable experience for all those who visit.
Address: 7, 2600 Leonard Wood Loop, Brgy, Baguio, 2600 Benguet
Phone: +639178611641
For booking and more information, click here.
Microtel by Wyndham Baguio
If you're looking for a comfortable and affordable stay in Baguio, Microtel by Wyndham is definitely worth considering. Located in the heart of the city, this hotel provides guests with easy access to the popular attractions within Benguet. With rooms that are designed to provide comfort and relaxation, you can rest assured that your stay will be worthwhile.
Microtel's facilities also offer a wide range of amenities such as complimentary breakfast and Wi-Fi, a fitness center, and a business center. From its prime location to its cozy rooms, Microtel by Wyndham is an excellent choice for anyone looking for a comfortable stay in Benguet.
Address: Upper Session Rd, Baguio, 2600 Benguet
Phone: (074) 619 3333
For booking and more information, click here.
Tips for a Memorable Benguet Vacation
Whether you're a thrill-seeker or simply seeking a serene getaway, Benguet offers a picturesque landscape and a wealth of experiences that stay with you long after your vacation is over. Nestled in the Cordillera mountains of the Philippines, Benguet boasts breathtaking scenery, vibrant culture, and a bounty of attractions to explore.
To ensure your Benguet vacation is one to remember, we've compiled a list of tips to help you make the most of your time in this idyllic region. From sampling local delicacies to discovering hidden waterfalls, there's something for everyone in Benguet. So grab your backpack and get ready for an adventure of a lifetime.
Tip 1: Best time to visit Benguet
Benguet, a province located in the Cordillera mountain range in the northern part of the Philippines, is known for its stunning landscapes, rich culture, and friendly locals. To make the most out of your Benguet vacation, you should consider the best time to visit. That said, the perfect time to enjoy Benguet's magnificent views and outdoor activities is from February to April. This window of time typically offers milder weather conditions, less rain, and better visibility for sightseeing.
So, pack your bags and get ready to bask in the picturesque beauty of Benguet during the peak season. Whether you're planning to trek through its rugged mountain trails, visit its charming towns or sample its famous strawberries, the best time to visit Benguet is undoubtedly between February and April.
Tip 2: Essential items to pack for a trip to Benguet
Planning a trip to Benguet, the picturesque province nestled in the heart of the Cordillera mountains, promises an adventure like no other. From exploring the stunning landscapes of Sagada and Baguio City to immersing yourself in the vibrant local culture. Benguet has something to offer every traveler.
To ensure a smooth and enjoyable journey, it's essential to pack the right items. Here are five must-have essentials that will enhance your experience and keep you prepared for the wonders that await you:
Sturdy Hiking Boots: Benguet is a nature lover's paradise, known for its breathtaking hiking trails and challenging terrains. Active adventurers won't want to miss the opportunity to conquer the iconic Mount Pulag or explore the scenic trails of the Ampucao-Sta. Fe Ridge. Packing a pair of sturdy hiking boots will provide ankle support, protect your feet from uneven surfaces, and enhance your overall hiking experience.
Layered Clothing: Benguet's climate is characterized by cool temperatures, especially in higher elevations. To combat the varying weather conditions, pack layered clothing options. A light jacket or fleece will keep you warm during chilly evenings, while breathable t-shirts or tank tops are ideal for sunny daytime adventures. Layering your clothing allows you to adapt to temperature changes throughout the day and ensures your comfort during your trip.
Water Bottle and Snacks: Exploring the natural wonders of Benguet can be a physically demanding activity, and it's crucial to stay hydrated and energized. Bring a reusable water bottle to fill up at various water sources along your journey. Additionally, pack some nutritious snacks like energy bars, nuts, or fruits to keep your energy levels up during long hikes or while exploring remote locations with limited food options.
Travel First Aid Kit: Safety should always be a top priority when embarking on an adventure. A travel first aid kit is an indispensable item that should be part of your packing checklist. Include basic supplies such as band-aids, antiseptic ointment, pain relievers, and any necessary prescription medications. This kit will come in handy for minor injuries or ailments that may occur during your trip.
Waterproof Backpack: Whether you're chasing waterfalls in Kabayan or exploring the enchanting caves of Atok, it's crucial to protect your belongings from unexpected rain showers or water splashes. Invest in a waterproof backpack to keep your valuables, camera, and electronics safe and dry. This way, you can fully immerse yourself in the beauty of Benguet without worrying about water damage.
Tip 3: Transportation options and getting around Benguet
When planning a vacation in Benguet, transportation options and getting around are essential components to consider. Luckily, there are several ways to navigate the province and explore its stunning landscapes. Local buses and jeepneys are cost-effective options for those on a budget, while private cars and vans offer more flexibility and convenience.
Adventurers may also choose to rent motorcycles or bicycles to explore the winding roads and scenic trails. Walking is another great way to experience Benguet's charming towns and villages. Whatever your preferred mode of transportation, preparation is key. Be sure to research routes and schedules in advance and consider hiring a local guide to navigate unfamiliar terrain.
In Conclusion
Benguet truly is the perfect destination for your next vacation. From the stunning mountain landscapes to the rich culture and traditions of the Igorot people. There is something truly special about this province. Whether you are in search of adventure, relaxation, or simply a new cultural experience, Benguet has it all. Take a dip in one of the province's natural hot springs, and go hiking in the Cordillera Mountains.
Also, immerse yourself in the local traditions and practices. Whatever your interests may be, Benguet offers an unforgettable experience that is sure to leave you feeling refreshed and inspired. So why not book your ticket and explore this hidden gem of the Philippines? You won't regret it!