Baguio City Market is a bustling destination where visitors can find an array of local produce. Known for its vibrant atmosphere, this market offers a wide range of fresh fruits, vegetables, flowers, and handicrafts. With its rich cultural heritage and abundance of local delicacies, it's a must-visit for anyone seeking an authentic shopping experience.
Whether you're a local looking for the freshest ingredients for your home-cooked meals, or a tourist seeking unique souvenirs to remember your trip by, the market offers an unforgettable shopping experience. In this blog post, we'll explore the vibrant sights, sounds, and flavors of Baguio City Market, and discover why it's one of the best places to shop for local produce in the country.
Baguio City Market
Baguio City Market is the bustling hub of commerce in the heartland of the Cordillera Mountains. Known to locals as "ukay-ukay central," it is a must-visit destination for tourists who want a taste of authentic Filipino street shopping. The market is open seven days a week. The stalls are filled with a wide array of goods, from fresh fruits and vegetables to self-made crafts. Visitors can explore the intricate maze of alleys and streets amid a horde of avid shoppers and vendors.
Bargaining is encouraged, and haggling over prices is a typical part of the trade. For a truly immersive experience, the market offers a variety of local delicacies. It will undoubtedly appeal to every traveler's taste buds. Along with its sensational bargains and exciting shopping ambiance. Baguio City Market provides a genuine glimpse into the local way of life.
A Vibrant Array of Local Produce
Baguio City Market is where you'll find a vibrant array of local produce that is sure to excite your taste buds. Nestled in the heart of the Philippines, the market offers a truly unique culinary experience that celebrates the region's rich cultural heritage. From the bright, juicy strawberries to the crisp, leafy greens and succulent dragon fruit. There's no shortage of fresh, delicious ingredients to choose from. Whether you're a seasoned chef or a curious foodie, you'll find plenty to explore and discover in this bustling marketplace.
Fresh fruits and vegetables
Nestled in the northern region of the Philippines, Baguio City boasts a thriving market of fresh fruits and vegetables that are sourced locally. This vibrant array of produce is a testament to the city's rich agricultural heritage. It is a great attraction for tourists and locals alike. From crunchy carrots to fragrant strawberries, crisp lettuce to juicy pineapples, Baguio City Market has something for everyone.
The market is teeming with activity as vendors call out to customers. This displays their colorful wares with pride. For those seeking to sample the best of Baguio's produce, this bustling market is the place to be.
Flowers and ornamental plants
Baguio City Market is a vibrant hub for local produce. The selection of flowers and ornamental plants is no exception. With an impressive range of colors and fragrances, it's no wonder that many visitors flock to this section of the market. From vibrant sunflowers to delicate roses. Shoppers can find an array of colorful blooms to decorate their homes or gift to loved ones.
The market also offers unique finds like exotic orchids and showy blossoms native to the region. With the bustling energy of the market and the beauty of the plants. A trip to the flower and ornamental plant section is an unforgettable experience.
Indigenous products and handicrafts
Nestled in the mountainous region of the Philippines lies the quaint city of Baguio. It is renowned for its colorful market that showcases an array of local produce. The city's market is a unique blend of traditional and modern influences. This provides visitors with a glimpse into the lives and traditions of the indigenous communities amid an urban setting. Baguio is known for its handicrafts made by skilled artisans that reflect the culture and heritage of the Cordilleran people.
These products ranges from woven textiles, intricate wood carvings, and beautiful jewelry. They are a testament to the creativity and craftsmanship of the locals. As you browse the market, you can learn about the meaning behind each item and the intricate process of creating them.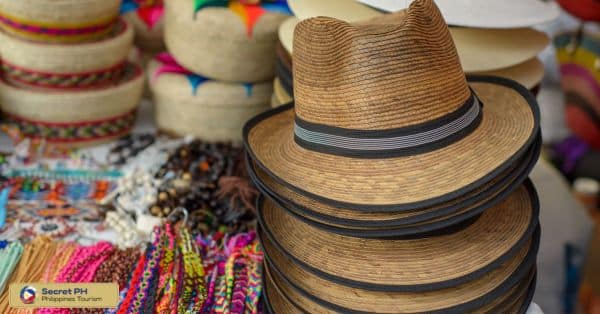 Shopping experience at Baguio City Market
Baguio City Market is a treasure trove of unique finds, fresh produce, and authentic Filipino goods. This bustling market offers a shopping experience like no other. From the savory aroma of freshly grilled meats to the colorful array of handicrafts and textiles every corner of this market is brimming with sensory delight. Stroll through the narrow alleys and discover an expansive variety of local delicacies, from vibrant sacks of fresh vegetables to steaming hot pansit (Filipino noodle dish).
Lively atmosphere and bustling crowds
The Baguio City Market is a hub of activity and energy that truly embodies the lively spirit of the Philippine people. Visitors to this bustling market can expect to be surrounded by a vibrant atmosphere and bustling crowds each person eager to explore the many stalls and vendors selling a wide array of goods and merchandise. From fresh produce and food items to handmade crafts and clothing, there is always something new and exciting to discover at Baguio City Market.
More than just a shopping experience, the market is also a central hub for social interaction, with locals and visitors alike gathering to enjoy the lively atmosphere and engage with one another.
Interacting with friendly vendors
Interacting with friendly vendors while shopping at the Baguio City Market is an experience that is worth trying. The bustling market is packed with friendly and eager vendors who are always ready to assist you with anything that you may need. Whether you are on the hunt for unique souvenirs, fresh produce, or handcrafted trinkets, you'll find a wide array of goods here. These vendors are not just people who sell products, but they are also knowledgeable about the area and offer tips about the best things to do and places to visit in the city.
Bargaining and negotiation tips
When visiting the bustling Baguio City Market, honing your bargaining and negotiation skills can be essential for getting the best deals and enjoying a satisfying shopping experience. The market offers a wide array of goods, including fresh produce, handicrafts, clothing, and souvenirs. To make the most of your time and money, here are five active voice bargaining and negotiation tips to help you navigate the vibrant market: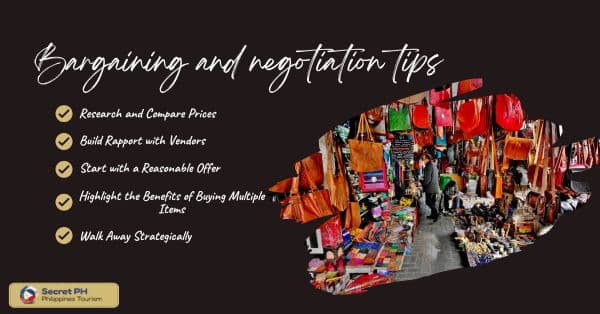 Research and Compare Prices: Begin by researching the average prices of the items you intend to purchase in Baguio City Market. Armed with this knowledge, you can confidently engage in negotiations. Compare prices from different vendors within the market to find the best deals before making a purchase.
Build Rapport with Vendors: Establishing a friendly rapport with vendors can work wonders during negotiations. Approach vendors with a smile and engage in polite conversation to create a positive atmosphere. A good rapport can increase the chances of securing better prices and building long-term relationships.
Start with a Reasonable Offer: When initiating the negotiation process, make a reasonable offer that takes into account the market prices and the item's quality. Present your offer confidently, but be prepared for counteroffers. Starting with an acceptable price shows respect for the vendor and opens up the negotiation process.
Highlight the Benefits of Buying Multiple Items: If you plan to buy several items from the same vendor, use this as leverage during negotiations. Mention that you are a bulk buyer and emphasize the convenience of purchasing everything from one seller. This tactic may lead to discounted prices or additional freebies.
Walk Away Strategically: Sometimes, walking away can be a powerful negotiation tactic. If the vendor is unwilling to meet your desired price, politely thank them and start walking away. Often, this creates a sense of urgency and may prompt the vendor to reconsider their offer or call you back with a better deal. Maintain a respectful demeanor throughout the process to leave the door open for future negotiations.
In Conclusion
Baguio City Market is undoubtedly a must-visit destination for anyone looking for fresh, locally-grown produce and a unique cultural experience. From the bustling morning market to the quieter night market, visitors have many opportunities to browse and buy delicious fruits, vegetables, and other products. Shopping at Baguio City Market means not only supporting local farmers and artisans but also immersing oneself in the vibrant community of Baguio City. It is truly a one-stop-shop for all your produce needs, and an experience that cannot be missed.