Discover the beauty of Camiguin Island through this guide. From its stunning beaches and waterfalls to its rich history and culture, this enchanting island in the Philippines offers a unique and unforgettable travel experience. Get tips on accommodations, attractions, and food to make the most out of your trip.
Whether you're a first-time visitor or a returning traveler, this guide will provide you with all the information you need to plan an unforgettable trip to this magical island. So pack your bags, and get ready to be enchanted by the beauty of Camiguin!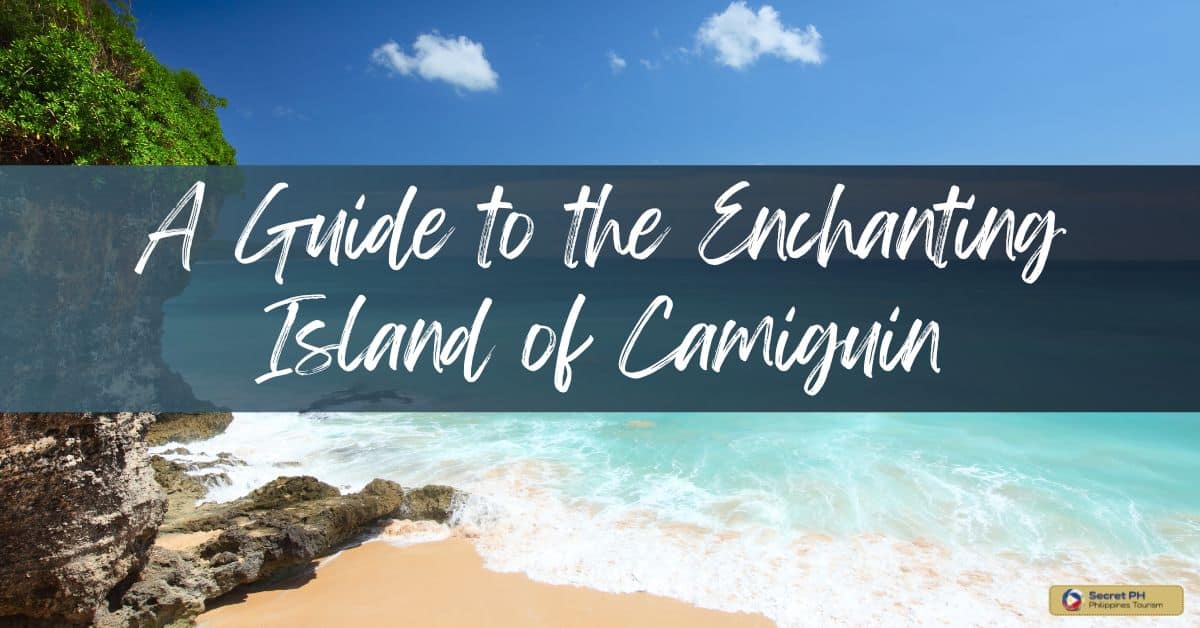 The Enchanting Island of Camiguin
The Island of Camiguin is an island paradise located in the northern Philippines. It is known for its peaceful atmosphere, vibrant nature and pristine beaches. Here, visitors can experience a variety of activities from swimming and snorkeling in the crystal clear waters to exploring the mystical Montbon Cliff and hiking up the majestic Mt. Vulcan for spectacular views. Home to seven volcanoes, Camiguin offers some of the best natural scenery in all of Southeast Asia.
Despite its small size, the island offers many attractions, including several hot springs, stunning waterfalls and ruins from a long-lost sunken church – remnants of volcanic eruptions centuries ago. Visitors can also participate in traditional festivities with locals or visit any of the stunning beach resorts dotting the coastlines – perfect for relaxation and soaking up some sun.
Getting to Camiguin
Getting to Camiguin Island is an adventure in itself. With several transportation options available, travelers can choose the most convenient and budget-friendly mode of transportation to reach the island. Here is a table that summarizes the different ways of getting to Camiguin Island.
| Mode of Transportation | Description | Travel Time | Cost |
| --- | --- | --- | --- |
| Air Travel | Camiguin Airport is located in Mambajao town. Cebu Pacific and Philippine Airlines have regular flights from Cebu and Manila. | 1 hour (from Cebu) | Starts at PHP 2,500 (one way) |
| Sea Travel | Ferries and RoRo (roll-on, roll-off) ships travel from the ports of Cagayan de Oro and Balingoan to Camiguin. | 2-4 hours | Starts at PHP 150 (one way) |
| Land Travel | From Cagayan de Oro, take a bus or van to Balingoan port. From there, take a ferry or RoRo ship to Benoni port in Camiguin. | 3-4 hours | Starts at PHP 200 (one way) |
Note: Travel time and cost may vary depending on the mode of transportation, season, and availability of tickets. It is recommended to book in advance, especially during peak season, to ensure a hassle-free trip to Camiguin.
Accommodations
When looking for the perfect beach vacation, look no further than Camiguin Island in the Philippines. This tropical paradise is littered with interesting accommodations that are sure to make your stay enjoyable and comfortable. The diverse selection of lodging options mean that travelers from all walks of life can find an accommodation just right for them at a budget they can afford. Arguably one of the most unique destinations in South East Asia, guests on Camiguin Island will find a wide array of accommodation styles and amenities to suit their needs.
Hotels and resorts
Hotels and resorts in the Philippines offer a wide range of options that accommodate practically any budget. From luxurious beachfront bungalows to simple hostels, there is something suitable for everyone. Those looking for a tropical paradise should consider Camiguin Island with its white sandy beaches, crystal-clear waters and spectacular dive sites. With its overabundance of leisure activities including hiking, snorkeling and dolphin watching, it's the ideal place to get away from the hustle and bustle of the city and have an unforgettable vacation experience.
Balai sa Baibai
Balai sa Baibai is a hidden gem nestled in the pristine beauty of Camiguin Island in the Philippines. With two beach resorts and four hotels featuring prime views of breathtaking landscapes, Balai sa Baibai offers a wonderfully diverse range of accommodation style for travelers of all kinds. Whether guests desire a room with ocean vistas, outdoorsy cabana settings, or luxurious amenities like private pools— Balai sa Baibai has something suited to their getaway needs.
Address: Agoho, Mambajao, 9100 Camiguin
Phone: +639569365402
For bookings and more information, click here.
Bintana Sa Paraiso – Binunsaran
Enjoy a unique experience at Bintana Sa Paraiso-Binunsaran, one of the top rated hotels and resorts in the Philippines. Visitors will find the right balance of beauty and serenity to escape from the hustle and bustle of the city. Whether you're looking for a romantic getaway or simply coming with your family or friends, this picturesque paradise has everything you need to relax. It's also close to some of Camiguin's most exotic beaches and natural attractions, making it perfect for nature lovers and adventure seekers alike.
Address: 6P74+4V, Mambajao, Camiguin
Phone: +639970683570
For bookings and more information, click here.
Nypa Style Resort Camiguin
Nypa Style Resort Camiguin is a great choice for those in search of a peaceful getaway in the Philippines. This resort delivers an aura of relaxation and serenity with its lush tropical gardens and calming ocean views. Offering 15 comfortable dwellings, Nypa Style Resort Camiguin provides all the necessary amenities such as free WIFI, air conditioning, a parking lot, and 24-hour front desk service. Its restaurant serves delicious and locally-sourced Filipino dishes, while its spa-like atmosphere provides guests with a refreshing environment to unwind.
Address: Bug Ong, Mambajao, 9100 Camiguin
Phone: +639954587655
For bookings and more information, click here.
Homestays and guesthouses
Homestays and guesthouses offer a unique way for travelers to explore the Philippines, in particular Camiguin Island. These accommodations typically keep prices lower than hotels, while still offering the necessary amenities like free Wi-Fi, breakfast or private bathrooms. They may be family owned and operated, thus giving travelers an opportunity to truly immerse themselves in the culture of this beautiful area. With garden terraces often providing stunning views of breathtaking beaches as well as enchanting rain forests, homestays and guesthouses are a great way to get a personalized experience while stepping away from the crowds.
Camiguin Volcano Houses
These homestays and guesthouses provide travelers with a unique opportunity to experience rural island life and explore the natural beauty of active volcanoes in the region. From rustic huts made from bamboo and thatch roofs to modern bungalows set against picturesque countryside, these places provide comfortable and convenient accommodation for visitors of all ages. Guests can revel in a mix of adventure, relaxation and cultural exploration.
Address: 6M6X+9XR, Mambajao, Camiguin
For bookings and more information, click here.
Paguia Cottages
Whether you prefer a luxurious homestay or a more budget-friendly guesthouse, Paguia Cottages has something for everyone. Situated on beautiful Camiguin Island, it is surrounded by lush greenery, majestic volcanoes and crystal clear waters – making it the perfect spot to relax and take in the beauty of nature. From intimate cooking experiences with local chefs to outdoor activities that let you explore the surrounding area, Paguia Cottages strive to ensure their guests have a unforgettable stay.
Address: 6MV6+FV6, Mambajao, Camiguin
Phone: (088) 387 9018
For bookings and more information, click here.
Janca Vacation Rentals
Janca Vacation Rentals offers comfortable and convenient homestays and guesthouses in the sun-drenched Camiguin Island. Relaxation awaits with a stay at one of their carefully curated properties, featuring amenities such as air conditioning, swimming pools and BBQ grills to make your vacation an unforgettable experience. Enjoy boutique hospitality with warm local hospitality ensured by their friendly staff.
Address: Camiguin Circumferential Rd, Catarman, Camiguin
Phone: +639366529870
Top Attractions in Camiguin
Camiguin, located in the Philippines, is known for its stunning natural beauty. A popular destination for tourists and locals alike to explore, Camiguin has many top attractions that offer something for everyone. From exquisite waterfalls and lush green mountains to hot springs and grandiose volcanoes, visitors are able to take in the breathtaking scenery throughout their visit. It is no surprise that people flock to this charming island each year to discover all that it has to offer.
Sunken Cemetery
The Sunken Cemetery, located off the northern coast of the Philippines Province of Camiguin, is one of the most popular attractions in this stunningly beautiful island. Lasting evidence of a volcanic eruption millions of years ago, visitors can now explore its mesmerizing graveyard form aboard glass-bottom boats. As if this setting wasn't atmosphere enough, Spanish crosses and coral formations come together to make the experience even more captivating. For those on either a day trip or passing through for longer, exploring the Sunken Cemetery will prove to be an unforgettable experience.
Address: 6J4M+P54, Catarman, Camiguin
Opening Hours: Monday – Sunday, 8AM – 4PM
For more information, click here.
Katibawasan Falls
Katibawasan Falls are one of the most popular attractions on the beautiful island of Camiguin. As the highest waterfall on the island, it stands 25 meters tall and cascades over mossy rocks into a basin below. Around its base, visitors can enjoy a pleasant jungle trail with wildlife abound, as well as its nearby hot springs. At the top of the falls there is a natural pool which is perfect for cooling off. The cool waters and lush surroundings make Katibawasan Falls an ideal destination for travelers looking to relax or have a refreshing dip in a tropical paradise.
Address: 6P79+767, Mambajao, Camiguin
Opening Hours: Monday – Sunday, 6AM – 5PM
For more information, click here.
Ardent Hot Springs
Ardent Hot Springs, located on the beautiful tropical island of Camiguin in the Philippines, is one of the area's top attractions. Soothing hot springs run through the area and are open to public access during daylight hours. The clear water is rich in minerals, and visitors can relax in it or choose to use a naturally built slides and pools that were created over hundreds of years when nearby Mount Hibok-Hibok was an active volcano. Swimming pools are open for children and families to enjoy, providing a peaceful escape from everyday life.
Address: Mambajao, Camiguin
For more information, click here.
Old Spanish Church Ruins
This architectural marvel dates back to the 16th century and consists of a bell tower as well as ornate stone walls that still partially stand today. Despite its age, a visit here can be incredibly moving; it provides an incredible insight into the past while bearing witness to the resilient spirit of this beautiful region. It's no wonder why tourists flock here year-round—the Old Spanish Church Ruins truly make for a unique experience.
Address: 6J2M+QVH, National Highway, Catarman, Camiguin
Opening Hours: Monday – Sunday, 8AM – 4PM
Phone: +639555303788
Food and Dining
Camiguin Island in the Philippines is an exciting vacation spot with delicious cuisine to explore. From open-air markets and beachside restaurants to local dives and roadside stands, foodies of all palettes can find something to tantalize their taste buds. Visitors coming to the island should not miss out on the opportunity to savor the flavors of Filipino dishes. For those looking for international fare, there are plenty of options too!
Traditional dishes
One of the best ways to experience the culture of a place is through its food. Camiguin Island, known for its rich cultural heritage, is no exception. With a blend of influences from Visayan, Mindanaoan, and Spanish cuisines, Camiguin offers a unique gastronomic experience for travelers. Here are five traditional dishes that you must try when in Camiguin.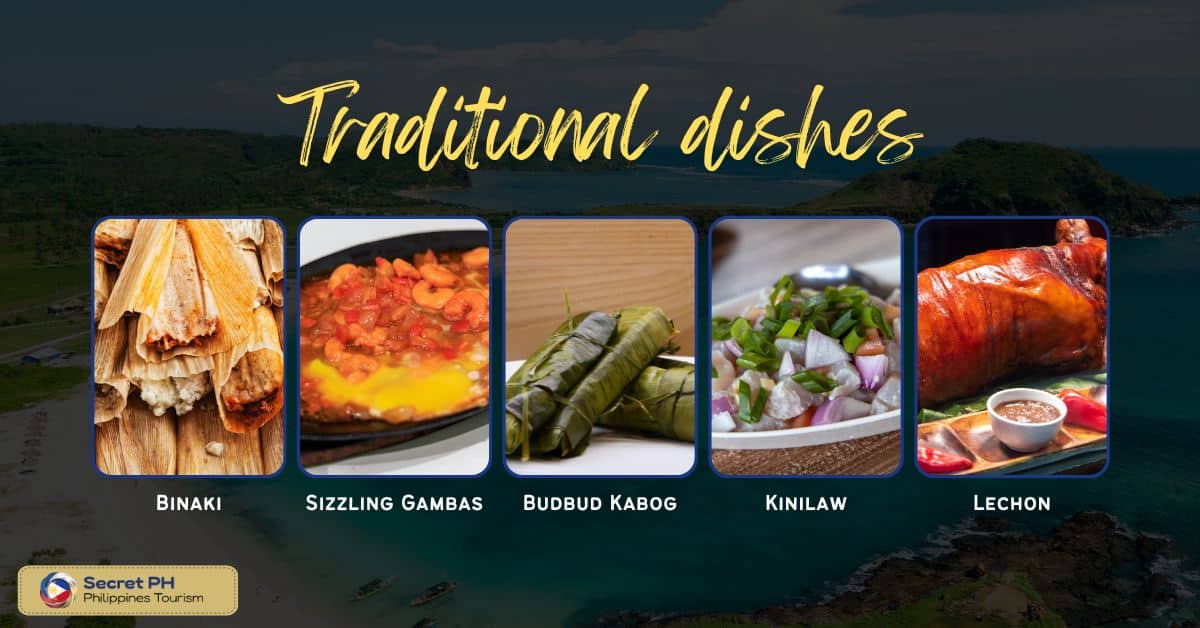 Binaki – A popular snack in Camiguin made of ground corn, coconut milk, and sugar, wrapped in corn husks and steamed. It has a sweet and savory taste, and is perfect to pair with hot coffee or tea.
Sizzling Gambas – A seafood dish made of shrimps sauteed in garlic, onion, chili peppers, and tomato sauce, served on a sizzling plate. This dish has a tangy and spicy flavor that will leave your taste buds craving for more.
Budbud Kabog – A local delicacy made of ground kabog (wild millet) mixed with coconut milk and sugar, wrapped in banana leaves and steamed. It is often paired with hot chocolate or coffee, and is a perfect breakfast or snack option.
Kinilaw – A popular seafood dish in the Philippines, kinilaw is made of fresh raw fish or seafood marinated in vinegar, lime or calamansi juice, onion, chili peppers, and ginger. Camiguin's version of kinilaw uses fresh tuna or tangigue (Spanish mackerel) caught from the island's waters.
Lechon – A Filipino staple, lechon is a roasted whole pig that is stuffed with spices and herbs, and is often served during special occasions. Camiguin's version of lechon has a distinct flavor, owing to the island's unique ingredients and roasting technique.
Local restaurants and food stalls
Camiguin Island, located in the Philippines, is known for its delicious local cuisine. Whether it be in a restaurant or at one of the many food stalls around the island, visitors to Camiguin Island have no shortage of mouth-watering meals to choose from. The restaurants provide traditional Filipino dishes with a modern twist; meanwhile, the food stalls offer classic Filipino favorites like BBQ and barbeque dried fish that are sure to tantalize tastebuds. With so many wonderful options available, savoring every meal while visiting Camiguin Island should be easy!
Guerrera Restaurant/Guerrera Rice Paddy Villas
Both Guerrera Restaurant and Guerrera Rice Paddy Villas are known throughout the region for their delicious local cuisine. The restaurant is a great spot to sample some of the local dishes, including seafood-based stews, grilled fish and traditional pastries. At Guerrera Rice Paddy Villas, meanwhile, guests can experience a true Philippine treat – sweet rice boiled in banana leaves and complemented with shredded coconut or rolling out rice dough.
Address: Pearl Street, Rocky Village Yumbing, Mambajao, Camiguin
Opening Hours: Monday – Sunday, 12PM – 2:30PM / 5PM – 9PM
Phone: +639704441477
CheckPoint Camiguin
CheckPoint Camiguin is located in the Philippines on the beautiful island of Camiguin. This destination provides visitors with a wide variety of restaurants and food stalls that offer unforgettable culinary experiences. At these establishments, visitors can enjoy freshly caught seafood, succulent barbecued meat, flavorful northern Mindanao-style dishes, and unique regional cuisine.
Address: Yumbing, Circumferential Road, Mambajao, Camiguin, 9100 Camiguin
Opening Hours: Monday – Sunday, 5AM – 10PM
Phone: (088) 387 9531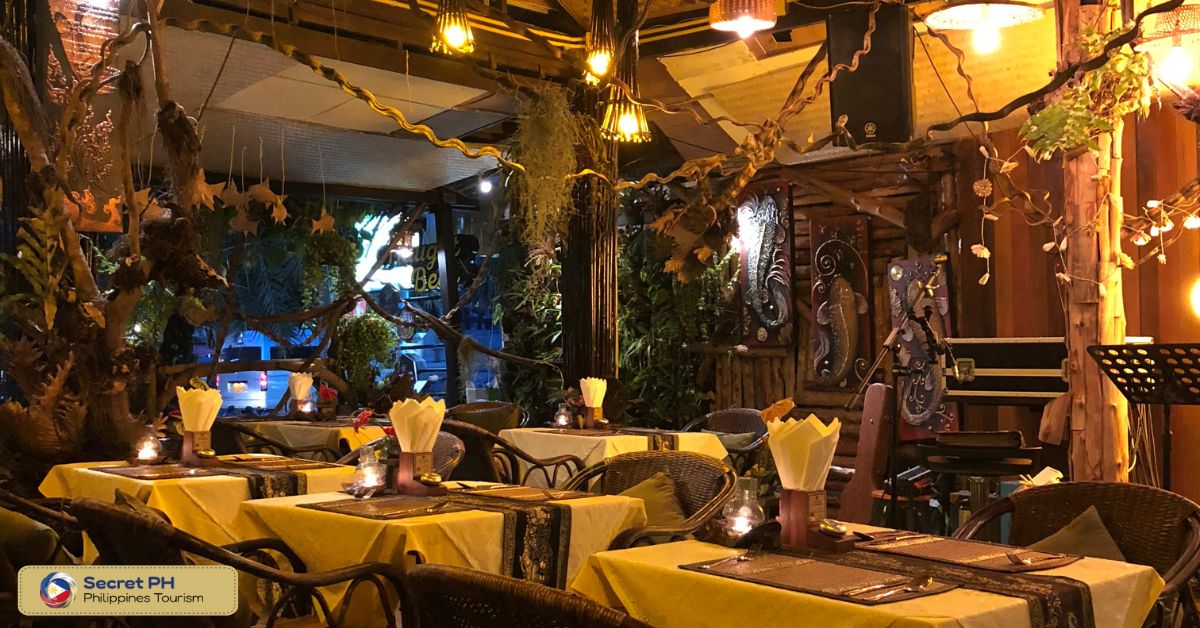 Alex Restaurant + Bar
Alex Restaurant + Bar is the go-to destination for both locals and tourists looking for a delicious dose of culture from the Philippines. This spot features a tantalizing selection of traditional Filipino dishes prepared with time-tested recipes passed on through generations. From creamy chicken adobo to crispy Kare-Kare, visitors can take pleasure in great-tasting food that's authentically Philippine.
Address:  6MR7+RCH, Mambajao, 9100 Camiguin
Opening Hours: Monday – Thursday, 11AM – 10PM / Friday & Saturday, 11AM – 12AM / Sunday 11AM – 11PM
Phone: +639452163984
Festivals and Events
Camiguin Island is home to a wide range of festivals and events that celebrate both traditional culture and wild nature. Every year brings such celebrated occasions. Revelers flock to Camiguin Island's lively festivities that showcase local crafts and performances, with plenty of photo expeditions to exotic sights and backdrops across the island. Immerse yourself in all this delightful island has to offer – attend one of Camiguin Island's unique festivals today!
Lanzones Festival
This festival is celebrated every third week of October with lively parades and gathered activities that highlight the island. The major festivities during this week-long event include music concerts, culinary competitions, photo and visual art exhibits, a trade fair featuring local products, and a biathlon competition. Many people from surrounding cities come to experience this unique festival that celebrates the abundant lanzones fruit found on the island. The Lanzones Festival continues to bring joy to Camiguin locales and tourists alike as they gather together each year to partake in its festivities.
Panaad Festival
The Panaad Festival is an annual event held in Camiguin Island every Holy Thursday and Good Friday. This popular festival brings together locals and tourists alike to celebrate the culture, diversity, and history of this beautiful island. People come from throughout the region to enjoy traditional Filipino food, drinks, music, and dance. Although Panaad Festival only takes place once a year for four days but surely makes a lasting impression on all its visitors.
Practical Tips and Advice
Located in the Philippines, Camiguin Island is a wonderful destination providing captivating views and unspoiled beaches that are ideal for visitors looking to explore nature. There are some practical tips and advice to consider before visiting the island that can ensure a safe and enjoyable visit. All in all, following these practical tips can add value to any visitor's experience while enjoying Camiguin Island's beauty.
Best time to visit Camiguin
For those looking for a truly unique and unforgettable experience, there is no better time to visit than from March through May. During these months of the year, you can expect warm temperature throughout the day and cool nights – optimal conditions for laying out on the beach or exploring Camiguin's breathtaking natural beauty. This time period offers fewer tourists than other months which makes it easier to explore its hidden gems.
Local customs and practices
This will help them have a more enjoyable experience, as cultural respect is important when traveling abroad. Being aware of appropriate behavior can also help prevent travelers from inadvertently offending locals. Knowing some basic facts about the culture in this region can make all the difference, such as taking off shoes or sandals at religious places, avoiding public displays of affection, refraining from loud conversation, and adhering to religious holidays and festivals.
The Local Government Unit is also a valuable resource for visitors seeking insight into local customs and practices. With this information in hand, visitors will be able to truly immerse themselves in the unique culture of Camiguin Island while having an amazing and memorable trip.
Safety and security
It is important to take practical precautions such as being vigilant of your surroundings and not putting yourself in risky situations. Additionally, it is advisable to use a form of transportation that has a visible identification number and wear protective gear when using rented bikes or motorized vehicles. As for personal belongings and valuables, make sure to keep them safe by locking your doors if staying at an accommodation or refrain from displaying any expensive items in public areas.
Health and wellness
To make sure you have an enjoyable trip focused on maintaining your health and wellness, ensure you take simple precautions to keep yourself safe. Bring along your go-to remedies to prevent any issues should you encounter them. Pack comfortable shoes and clothing that will allow you to explore without risk of overheating or sunburn. Don't forget to factor in plenty of time for rest so that you can really enjoy your time while exploring this captivating island.
In Conclusion
A Guide to the Enchanting Island of Camiguin provides an essential overview of this magnificent destination in the Philippines. It allows travelers to plan a fun and safe experience, whether they're enjoying exciting outdoor activities or themselves immersed in its captivating culture.
No matter what type of traveler one is, they are sure to find something on this magical island that will suit their unique needs. With detailed information about getting there, accommodation options, activities, and more—many travelers who have just read this guide for advice often can't wait to share their unforgettable adventure!