Benguet is a province in the Philippines known for its lush greenery, majestic mountains, and refreshing climate. Situated in the Cordillera Region of Luzon, it is a spectacular destination for nature lovers looking to explore some of this country's unique natural beauty.
Benguet captivates nature lovers with its diverse attractions. Admire Baguio Botanical Garden, conquer Mount Pulag, and explore enchanting waterfalls. Immerse in Baguio City's culture, hike Mount Ulap, and enjoy La Trinidad's flower fields. Indulge in fresh produce, savor local cuisine, and unwind in Asin-Tuel hot springs.
Whether you are an avid trekker or simply want to experience the province's culture and cuisine, Benguet has something for everyone. Benguet offers the perfect mix of natural wonders, cultural experiences, and relaxation for all. Here are 10 of the best things to do in Benguet that will make your visit unforgettable.
1. Explore the Stunning Baguio Botanical Garden
Immerse yourself in the natural beauty of Baguio Botanical Garden, a serene oasis nestled in the heart of Baguio City in Benguet. This enchanting garden is a haven for nature lovers, featuring a diverse collection of plant species and picturesque landscapes. As you stroll along the winding paths, you'll be greeted by vibrant flowers, towering trees, and tranquil ponds, creating a peaceful atmosphere that invites relaxation and contemplation.
Baguio Botanical Garden also offers a glimpse into the cultural heritage of the region, as it showcases the traditional huts of various indigenous tribes in Benguet. These huts serve as living museums, allowing visitors to learn about the unique customs, traditions, and way of life of the local communities.
It's an opportunity to appreciate the rich cultural tapestry of Benguet while surrounded by the splendor of nature. Whether you're seeking solace in nature or seeking cultural insights, a visit to Baguio Botanical Garden is sure to leave you captivated by its beauty and inspired by its cultural significance.
Address: 37 Leonard Wood Rd, Baguio, 2600 Benguet
Opening Hours: 6 AM–6 PM
For directions, click here.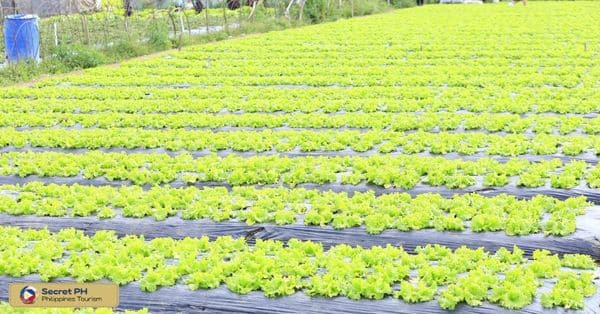 2. Trek to the Majestic Mount Pulag
Embark on a thrilling adventure to Mount Pulag, the highest peak in Luzon and one of the most majestic mountains in the Philippines. This iconic summit stands at an impressive elevation of 2,922 meters, offering breathtaking panoramic views and a sense of awe-inspiring grandeur.
Trekking to Mount Pulag is a rewarding experience that takes you through diverse ecosystems, including mossy forests, grasslands, and the famous "Sea of Clouds." As you ascend to the summit, you'll witness mesmerizing sunrises and sunsets, with the ethereal sea of clouds stretching out below, creating a truly magical spectacle.
The challenging but rewarding journey to the peak is a testament to your determination and will reward you with unforgettable vistas and a profound sense of accomplishment. Mount Pulag is a must-visit destination for nature enthusiasts and adventure seekers, offering a unique opportunity to witness the beauty and serenity of the Philippine highlands from its highest vantage point.
Address: Kabayan, Benguet
Phone: 0744447428
For pictures, booking, and more information, click here.
For directions, click here.
3. Discover the Enchanting Beauty of Benguet Waterfalls
Prepare to be enchanted by the mesmerizing beauty of the waterfalls in Benguet, Philippines. This region is home to numerous cascading wonders that captivate the senses and leave visitors in awe of nature's power and grace.
Immerse yourself in their enchanting ambiance as you feel the cool mist on your skin and listen to the soothing sounds of rushing water. These waterfalls are often nestled amidst lush greenery, creating a picturesque setting that invites tranquility and relaxation. Whether you're seeking adventure or seeking solace, a visit to the waterfalls of Benguet is a truly enchanting experience that will leave you feeling refreshed and rejuvenated.
Here is a list of the must-visit waterfalls in Benguet.
1. Hydro Falls
Address: 9H7X+HFG, Tuba, Benguet
Opening Hours: 6 AM–6 PM
For directions, click here.
2. Mangta Falls
Address: RM52+776, Bakun, Benguet
For directions, click here.
3. Tekip Falls
Address: QMW6+Q42, Bakun, Benguet
For directions, click here.
4.Bayokbok Waterfalls
Address: GHCH+GR9, La Trinidad, Benguet
For directions, click here.
4. Badi Falls
Address: Badi Falls, Kapangan, Benguet
For directions, click here.
4. Immerse Yourself in the Cultural Heritage of Baguio City
Immerse yourself in the rich cultural heritage of Baguio City. Known as the "Summer Capital of the Philippines," this charming city offers a unique blend of traditional and modern influences that reflect its diverse history and cultural roots.
Explore the colorful and bustling Baguio City Market, where you can discover an array of local handicrafts, fresh produce, and traditional delicacies. Take a stroll along Session Road, the city's main thoroughfare, lined with shops, restaurants, and art galleries, showcasing the vibrant art and music scene of the region. Don't miss the opportunity to visit the Baguio Museum, where you can delve into the city's past through its extensive collection of artifacts and exhibits that highlight the indigenous cultures and colonial history that have shaped Baguio City.
Immersing yourself in the cultural heritage of Baguio City means engaging with the warm and welcoming locals, participating in traditional festivals and events, and embracing the unique traditions and practices that make this city truly special. Whether it's savoring traditional cuisine, attending a vibrant street parade, or simply appreciating the architectural landmarks, Baguio City offers a captivating cultural experience that will leave you with a deeper understanding and appreciation of the region's heritage.
For directions, click here.
5. Embark on an Adventurous Hike to Mount Ulap
Embark on an exhilarating adventure by hiking to Mount Ulap, a scenic mountain located in Benguet, Philippines. This thrilling trek offers a perfect combination of stunning landscapes, challenging trails, and a rewarding sense of accomplishment at the summit.
As you ascend Mount Ulap, you'll be treated to breathtaking views of rolling hills, verdant landscapes, and distant mountain ranges. The trail takes you through pine forests, mossy woodlands, and grassy slopes, creating a diverse and captivating hiking experience. Along the way, you'll encounter picturesque viewpoints, such as the Gungal Rock and Ambanao Paoay Peak, where you can pause to admire the panoramic vistas and capture memorable photographs.
The hike to Mount Ulap is not only about the physical challenge; it's also an opportunity to connect with nature and immerse yourself in its tranquility. The fresh mountain air, the peaceful ambiance, and the stunning natural beauty all contribute to an unforgettable adventure. Whether you're an experienced hiker or a nature enthusiast seeking a thrilling escapade, embarking on a hike to Mount Ulap is sure to leave you with lasting memories and a deep appreciation for the wonders of Benguet's mountain landscapes.
For directions, click here.
6. Experience the Cool Climate and Scenic Views of Atok
Experience the refreshingly cool climate and breathtaking scenic views of Atok, a municipality nestled in the mountains of Benguet. Known for its high elevation and picturesque landscapes, Atok offers a tranquil retreat for those seeking respite from the heat and a chance to immerse in the beauty of nature.
As you venture into Atok, you'll be greeted by lush green valleys, rolling hills, and terraced vegetable gardens that stretch as far as the eye can see. The cool mountain breeze sweeps through the air, creating a refreshing atmosphere that invigorates the senses.
Take a leisurely stroll along the mountain roads, and you'll be treated to panoramic views of mist-covered peaks, vibrant flower fields, and idyllic rural scenes. The beauty of Atok is not only a feast for the eyes but also a rejuvenating experience for the soul.
For directions, click here.
7. Marvel at the Colorful Flower Fields of La Trinidad
Marvel at the kaleidoscope of colors in La Trinidad's vibrant flower fields, a delightful sight for nature enthusiasts and photography lovers alike. La Trinidad is renowned for its stunning floral landscapes that come alive in a burst of hues, creating a visual spectacle that is truly captivating.
As you wander through the flower fields of La Trinidad, you'll be greeted by a patchwork of vibrant blooms, including the famous sunflowers, chrysanthemums, and various other blossoms that paint the landscape with their radiant colors. The fields stretch as far as the eye can see, offering endless opportunities for picturesque moments and captivating photographs. Whether you're wandering through the fields or simply admiring the view from a distance, the sight of the colorful flower fields in full bloom is a feast for the senses.
Beyond their visual appeal, the flower fields of La Trinidad also contribute to the local economy and cultural heritage. The town celebrates its flower festival, the Panagbenga Festival, which showcases the beauty and abundance of the region's flowers.
It's a vibrant and joyous event that brings together locals and visitors in a celebration of nature's splendor. A visit to the flower fields of La Trinidad is not only an opportunity to marvel at the natural beauty but also to experience the rich culture and traditions that are deeply intertwined with these magnificent floral displays.
For directions, click here.
8. Visit the Strawberry Farms and Enjoy Fresh Produce in Benguet
Indulge in a delightful agricultural experience by visiting the strawberry farms in Benguet. Known for its cool climate and fertile soil, Benguet is renowned for producing some of the finest strawberries in the country. A trip to these farms allows you to immerse yourself in the enchanting world of strawberry cultivation and enjoy the freshest produce straight from the source.
In addition to strawberries, Benguet is a treasure trove of other fresh produce. The region's fertile lands yield an abundance of vegetables, such as lettuce, carrots, broccoli, and more. Visiting local markets and farm stands allows you to sample and purchase a wide variety of freshly harvested vegetables, ensuring a farm-to-table experience like no other.
Whether you're a food enthusiast, a health-conscious traveler, or simply appreciate the flavors of freshly picked produce, a visit to the strawberry farms and the opportunity to enjoy the bountiful harvest of Benguet is an unforgettable culinary adventure. If you're looking to indulge in some fresh and juicy strawberries, here's a list of strawberry farms in Benguet that you should visit.
1. La Trinidad Strawberry Farm
Address: FH5P+2F3, La Trinidad, Benguet
Opening Hours: 7 AM–7 PM
For directions, click here.
2. Strawberry Fields
Address: FH2J+6HH, La Trinidad, Benguet
Opening Hours:  24 hours
For directions, click here.
3. Benguet State University Strawberry Farm
Address: FH4P+35R, La Trinidad, 2601 Benguet
Opening Hours: 6 AM–6 PM
For directions, click here.
9. Indulge in Local Cuisine and Delicacies
Indulge your taste buds in the flavors of Benguet's local cuisine and delicacies, a culinary adventure that promises a delightful exploration of the region's unique flavors and culinary traditions. From hearty mountain dishes to delectable snacks and treats, Benguet offers a diverse array of culinary delights that are sure to satisfy any food lover.
Benguet is also known for its fresh produce, and you can indulge in a variety of fruits and vegetables that are grown in the region's fertile lands. Exploring the local cuisine and delicacies of Benguet is not just a gastronomic delight but also a celebration of the rich cultural heritage and flavors that make this region truly special.
Here are some of the must-try local delicacies and cuisine of Benguet.
Pinikpikan – This dish involves a ritualistic method of slaughtering and preparing a chicken. The meat is then cooked in a flavorful broth with ginger, onions, and other spices.
Ube Jam – A sweet spread made from boiled and mashed ube mixed with condensed milk, sugar, and butter. It has a thick and creamy consistency that is perfect for spreading on bread or crackers.
Strawberry Jam – A classic jam made from fresh strawberries, sugar, and lemon juice. It has a sweet and tangy flavor that is perfect for spreading on toast, waffles, or pancakes.
Peanut Brittle – A crunchy and sweet treat made from caramelized sugar and roasted peanuts. It has a hard yet brittle texture that shatters when bitten into.
Pinuneg – This is a type of sausage made from pork blood, diced pork meat, and spices. It's typically grilled and served with rice and vegetables.
10. Relax and Unwind in the Serene Ambiance of Asin-Tuel Hot Springs
Find serenity and rejuvenation in the tranquil surroundings of Asin-Tuel Hot Springs, a hidden gem nestled in the picturesque mountains of Benguet. This natural oasis offers a perfect escape from the hustle and bustle of everyday life, inviting you to relax and unwind in its soothing warm waters.
As you dip into the mineral-rich hot springs, you'll feel the stresses and tensions melt away. The therapeutic properties of the springs are believed to provide various health benefits, including muscle relaxation and improved blood circulation. Whether you choose to soak in the natural pools or indulge in a rejuvenating spa treatment, the serene ambiance of Asin-Tuel Hot Springs envelops you, creating a sense of peace and tranquility.
Surrounded by lush greenery and cascading waterfalls, the setting of Asin-Tuel Hot Springs is as enchanting as the waters themselves. The gentle sound of flowing water and the crisp mountain air further enhance the calming atmosphere, allowing you to fully immerse yourself in the natural beauty of the surroundings.
Address: GH7H+HQG, Asin-Tuel Rd, La Trinidad, Benguet
For directions, click here.
In conclusion
Benguet offers a plethora of exciting experiences for nature and outdoor enthusiasts. From hiking the majestic Mount Ulap to marveling at La Trinidad's colorful flower fields, visiting the strawberry farms, indulging in local delicacies, and unwinding in Asin-Tuel Hot Springs, this province has something for everyone.
Whether you're seeking an adventurous escape or a tranquil retreat, Benguet promises a journey that is sure to leave you with lasting memories and a deep appreciation for the beauty and culture of this enchanting region. So make sure to explore all the wonders that Benguet has to offer on your next visit!