The Philippines is no stranger to typhoon season, so it's important for people living in the area to be prepared. Severe weather can cause damage to property or even death if precautions are not taken.
To prepare for a typhoon in the Philippines, it's important to have a plan for evacuation, understand the risks of flooding and landslides, and be prepared for power outages and communication disruptions. Stock up on supplies, familiarize yourself with evacuation routes and keep informed about the latest weather updates.
With proper preparation, you can be confident that you and your family are as safe as possible before, during, and after a storm.
Preparing an Emergency Supply Kit
Preparing an emergency supply kit is essential for any family in the Philippines. With monsoons and typhoons that can arrive without warning, it's important to be prepared.
A basic emergency supply kit should include items such as food, water, a first-aid kit, flashlights, batteries, blankets, extra clothing and shoes, and a whistle.
Food should include non-perishable items with a long shelf life, such as canned beans, soups, fruits, vegetables, and grains. Water should be stored in containers that can hold enough for one person's needs for at least five days.
A first-aid kit should include bandages, medical tape, antiseptic wipes, gauze pads, and a thermometer. Flashlights should be equipped with extra batteries in case of power outages.
Blankets can provide warmth during cold nights. Also, additional clothing such as socks and hats can help protect against weather changes. A whistle can be used to signal for help if needed.
Additional items that can be added to an emergency kit include a portable radio, dust masks, and matches.
In addition, it's important to keep important documents such as identification cards and birth certificates in the kit in case they are needed during an evacuation.
It's also important to plan ahead for any pets or other animals, as they may need to evacuate with the family.
A pet emergency kit should include items such as food, water, a leash or harness, medication, and an identification tag.
By preparing an emergency supply kit, families in the Philippines can feel more secure knowing that they are ready for any weather-related emergencies that may arise.
Being prepared can help reduce the risks and stresses associated with such events.
Securing Your Home and Property
Securing your home and property is essential in the Philippines, where natural disasters such as typhoons and monsoons can occur without warning.
It's important to take steps to protect your home from potential damage before a storm hits.
One of the most important things to do is make sure that windows, doors, and other openings are properly secured. Shutters should be installed or storm doors should be put in place to protect windows from flying debris.
You should also check that shutters and doors are securely fastened and all locks are working properly.
It's also important to secure any outdoor items such as furniture, grills, and gardening tools.
These items should be tied down or stored in a secure area away from the home. It's also important to check that any trees around your home are healthy and not at risk of falling during a storm.
It's also important to ensure that your roof is in good condition, as it can be damaged during a storm.
It's also important to inspect the foundation of your house and check for any cracks or weaknesses that could make it vulnerable to damage from flooding or strong winds.
Finally, it's essential to have an emergency plan in place for when a natural disaster occurs. This should include information on where family members should meet in case of evacuation, as well as who should be contacted and what supplies should be taken.
By taking the necessary steps to secure your home and property, you can ensure that your family is protected during natural disasters.
Taking preventive measures now can help reduce the risks associated with these events.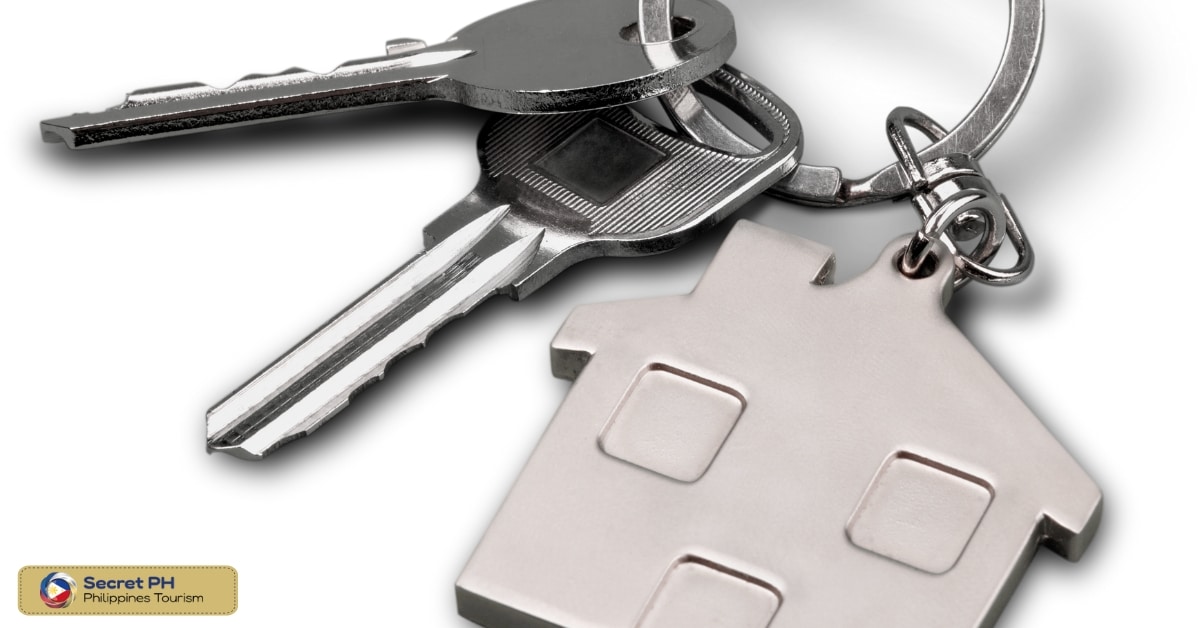 Evacuation Planning and Preparedness
Evacuation Planning and Preparedness are crucial steps in preparing for a typhoon in the Philippines. In case of severe weather, it may become necessary to evacuate to a safer location. Proper planning and preparation can help ensure that you and your loved ones are safe during and after a typhoon.
Here are some key steps to help you with evacuation planning and preparedness:
Identify potential evacuation routes: Familiarize yourself with different evacuation routes from your home to a safer location. Plan multiple routes in case one is blocked or inaccessible.
Choose a safe location: Determine a safe location where you and your family can go in case of an evacuation. This could be a relative or friend's home, a government shelter, or a hotel outside the typhoon's path.
Gather important documents and supplies: Make sure you have important documents such as IDs, insurance policies, and emergency contact information. Pack a bag with essential supplies such as food, water, clothing, and medications.
Make transportation arrangements: If you do not have your own vehicle, make arrangements for transportation in advance. This could include carpooling with neighbors or contacting local authorities for assistance.
Create an emergency communication plan: Establish a way for family members to communicate and stay in touch during an evacuation. This could include designated meeting places and designated out-of-area emergency contact persons.
Practice the evacuation plan: Regularly practice the evacuation plan with your family to make sure everyone is familiar with the steps and understands their role in the process.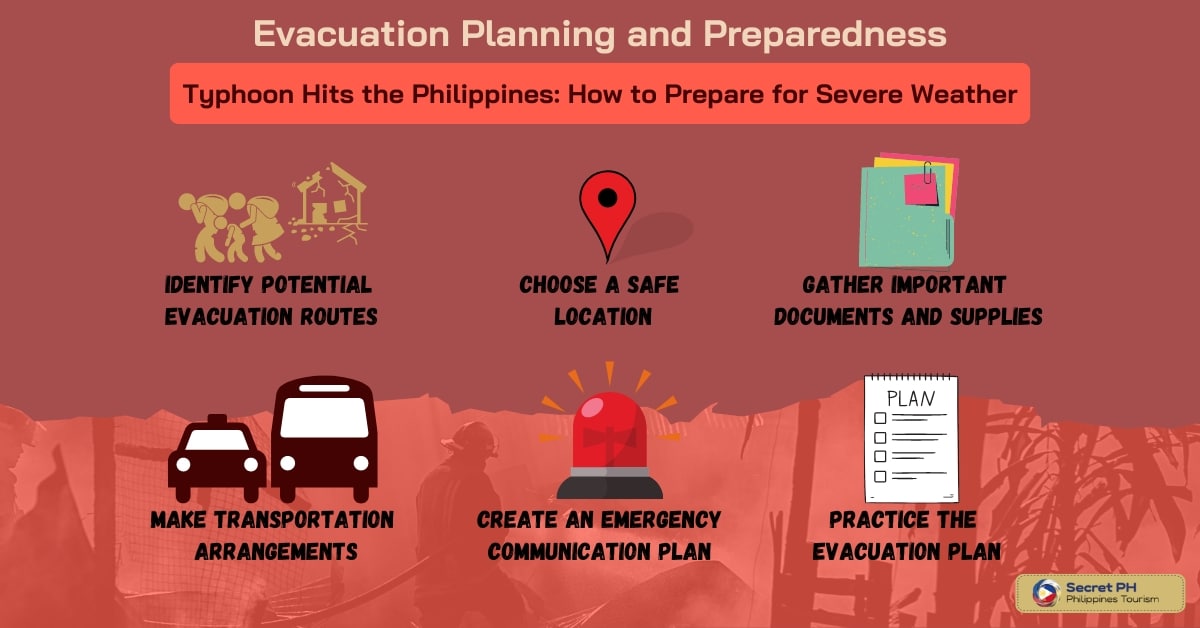 Staying Informed about Typhoon Updates and Warnings
In the Philippines, staying informed of the latest typhoon updates and warnings is essential for staying safe and secure. The Philippine Atmospheric Geophysical and Astronomical Services Administration (PAGASA) should be the first source of information for anyone living in any part of the nation.
From their website or weather app, important details about upcoming storms can be found including possible landfall locations, storm paths, wind speeds, rainfall totals, or any other advisories that may have been issued.
Additionally, residents should rely on local government announcements from various media platforms where officials may provide evacuation plans, close schools, or any other precautions that may help protect people in an affected region.
Staying informed by a reliable source of information is key to having peace of mind during typhoons.
Understanding the Risks of Flooding and Landslides
Understanding the risks of flooding and landslides is an important aspect of preparing for a typhoon in the Philippines. Both flooding and landslides can cause significant damage and pose a threat to life and property.
Flooding occurs when the level of water in rivers, streams, and other bodies of water rises due to heavy rainfall and causes overflow. Flooding can damage homes and other structures, disrupt transportation, and contaminate water sources.
Landslides occur when the ground becomes unstable and starts to move downhill. This can be caused by heavy rain, changes in the terrain, or other factors. Landslides can destroy homes and other structures, disrupt transportation, and pose a threat to life.
To reduce the risk of flooding and landslides, it is important to take the following steps:
Stay informed: Keep up to date on the latest weather forecasts and warnings to understand the risk of flooding and landslides.
Elevate or relocate your home: If you live in a flood-prone or landslide-prone area, consider elevating your home or relocating to a safer location.
Protect your property: Install flood barriers and sandbags around your home to reduce the risk of flooding. If you live in a landslide-prone area, consider stabilizing the soil around your home.
Evacuate if necessary: If you live in an area at high risk of flooding or landslides, consider evacuating to a safer location before a typhoon hits.
Do not drive or walk through flooded areas: Driving or walking through flooded areas can be dangerous and should be avoided.
Seeking Safe Shelter During the Storm
Seeking safe shelter during the storm season in The Philippines can be challenging. With strong winds and flooding rain, staying indoors is often the safest option.
However, traveling in floods or other extreme weather-related events should only be undertaken if absolutely necessary. It is important to be aware of the risks associated with being exposed to the elements, such as heat stroke and lightning strikes, in order to stay safe.
Furthermore, if a building cannot adequately protect against wind and flood damage, evacuating may be a viable option.
Preparing for such an eventuality by having an emergency supplies kit on hand and knowing of nearby shelters available is essential for keeping oneself sheltered and safe in these scenarios.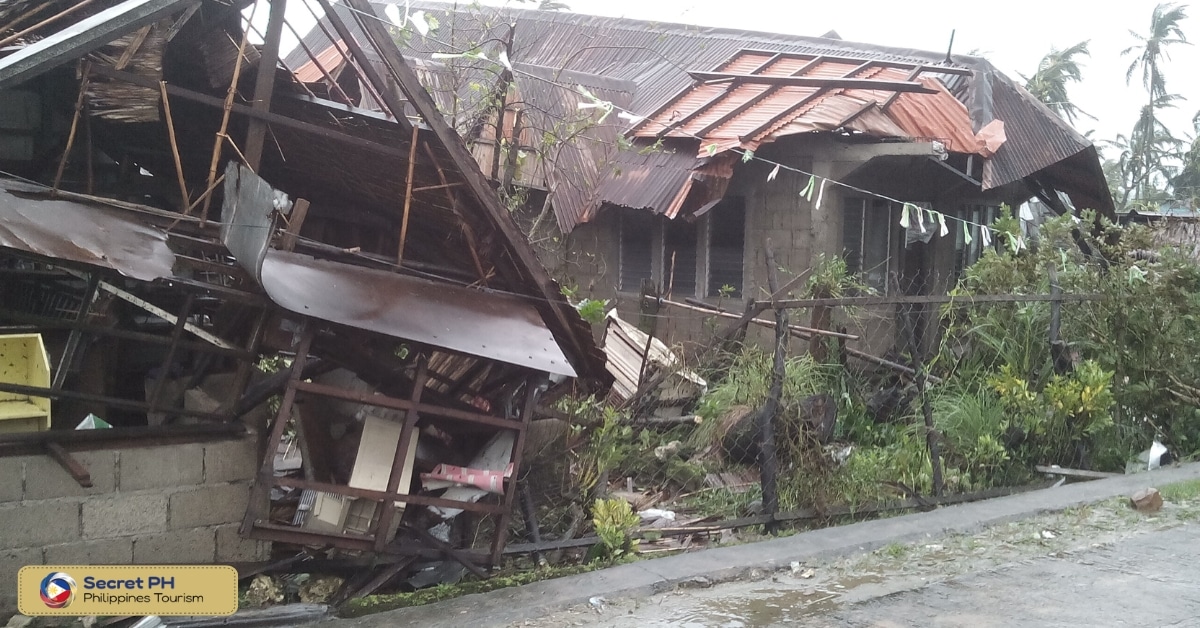 Dealing with Power Outages and Communication Disruptions
Dealing with power outages and communication disruptions is a common challenge during a typhoon in the Philippines. Heavy rainfall and strong winds can cause power lines to fall and damage communication infrastructure, leaving you without electricity or a means of communicating with others.
Here are some tips for dealing with power outages and communication disruptions during a typhoon:
Have backup power supplies: Invest in backup power supplies such as battery-operated lanterns, flashlights, and portable generators. Keep a fully charged power bank for your phone or other electronic devices.
Store food that does not require refrigeration: Keep a supply of non-perishable food such as canned goods, crackers, and dried fruit on hand in case of a power outage.
Stay informed: If possible, tune into local news stations or weather updates to stay informed about the typhoon's progress and any power outages or communication disruptions in your area.
Keep communication lines open: If you lose power or phone service, try to communicate with others using alternative means such as social media or two-way radios.
Be careful with generator use: If using a generator, make sure to follow the manufacturer's instructions and place it in a well-ventilated area to reduce the risk of carbon monoxide poisoning.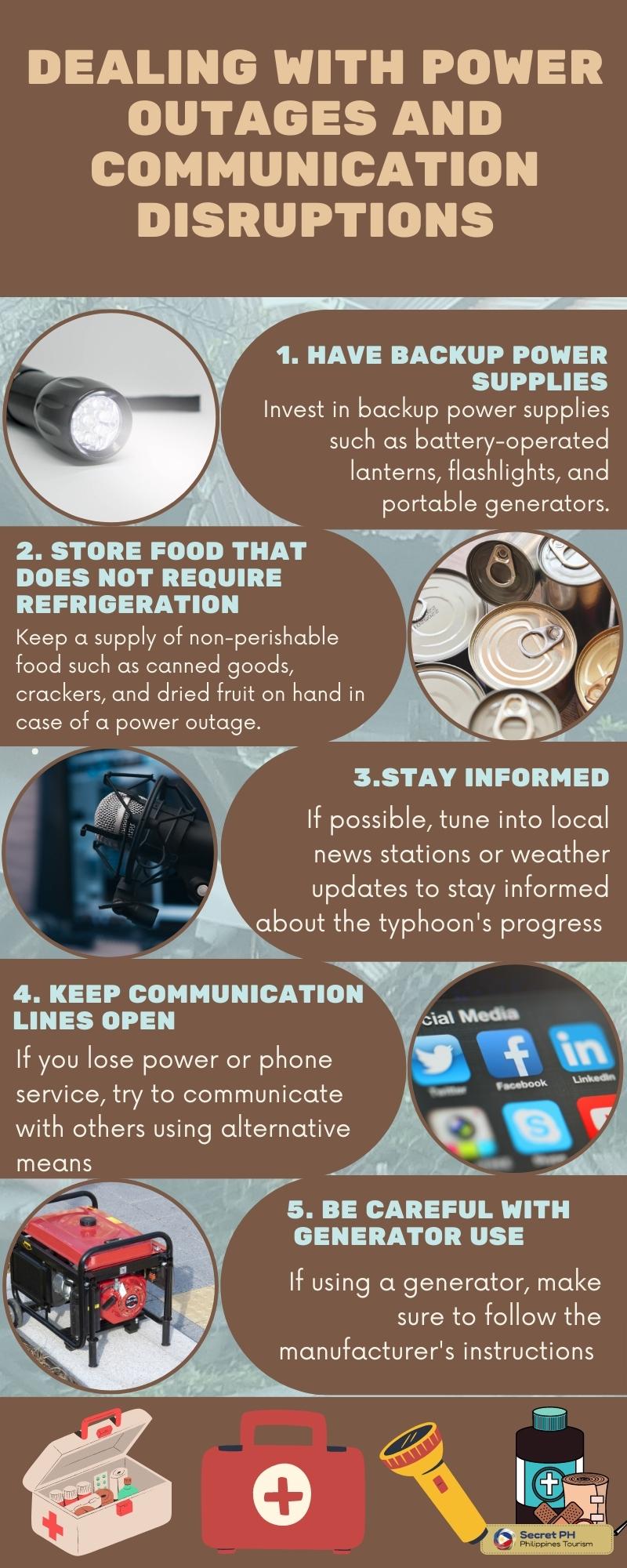 What to Do After a Typhoon: Cleanup and Recovery Tips
After a typhoon passes, it's important to take the necessary steps for cleanup and recovery in the Philippines. The first step is to secure any remaining debris from a storm. It includes fallen trees and large objects. These could become dangerous if left unchecked.
It's also important to inspect all buildings and structures damaged by the storm. They may be unsafe to use until they are properly repaired.
If a property has been flooded, it's important to remove any standing water. It will dry all wet surfaces as quickly as possible in order to prevent mold growth.
Any food that has been exposed to floodwater should be discarded. It's also important to inspect electrical systems, as they may need to be replaced if they were damaged by water.
Once the cleanup is finished, it's important to begin the recovery process. This includes filing insurance claims for any damages and contacting contractors who can help with repairs.
It's also important to check in with neighbors and family members who may have been affected by the storm.
Finally, it's important to be prepared for future storms by having an emergency plan. You should have a place and storing essential items such as food, water, flashlights, and first-aid kits.
By taking these steps, families in the Philippines can recover quickly from the effects of a typhoon.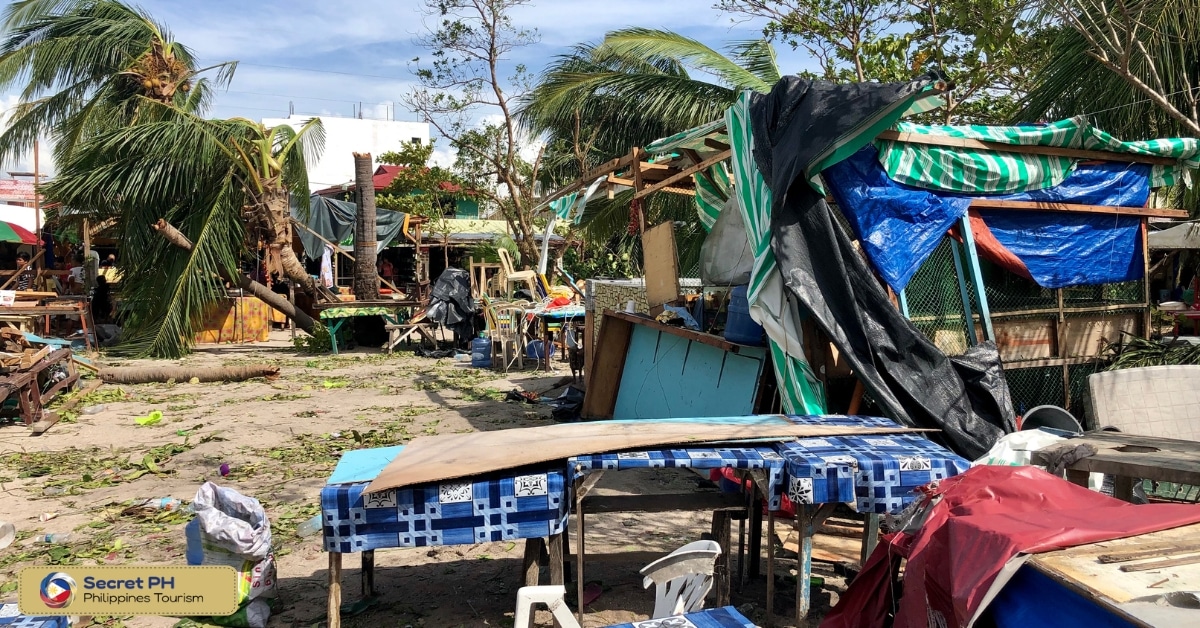 In conclusion
It is easy to feel powerless in the face of severe weather such as typhoons. Preparation for a typhoon begins with gaining awareness of what lies ahead and making the necessary preparations in advance.
Having accurate weather forecasts and assessment of potential hazards is important. Combined with stockpiling supplies such as food, water, fuel, building materials, and tools are essential ahead of any big storm.
Being properly informed and prepared gives people the best chance of surviving a typhoon. It ensures that the aftermath of such an event is as manageable as possible.