Traveling to the Philippines can be an exciting adventure, but it's important to prioritize safety and health. Before your trip, research potential health risks, pack a first-aid kit and be aware of local laws. During your trip, practice good hygiene, protect yourself from the sun and avoid risky activities. Stay safe by being aware of your surroundings, keeping important documents secure and knowing emergency contacts.
Knowing the best tips for staying safe and healthy will ensure that you have an enjoyable experience without any hiccups along the way. In this blog, we'll provide invaluable advice on how to stay safe and healthy during your time in the Philippines – from navigating airports to recognizing signs of sickness – so that your adventure goes off without a hitch.
Philippines as a Travel Destination
The Philippines is a beautiful archipelago of over 7,640 islands located in Southeast Asia. It is famous for its stunning beaches, turquoise waters, and diverse landscapes that range from lush rainforests to dramatic cliffs. The country is also home to a rich culture, fascinating history, and warm hospitality that makes it an attractive travel destination.
From island hopping in Boracay to exploring the bustling city of Manila, there is something for every type of traveler in the Philippines. Whether you're looking for adventure, relaxation, or cultural immersion, this beautiful country is sure to captivate you.
Preparing for your Trip
Preparing for a trip can be a major undertaking, so it's important to make sure that you plan ahead and take all the necessary steps to ensure it goes smoothly. By following these guidelines, you will be well on your way for an unforgettable and enjoyable journey.
Research the destination and potential health risks
Researching the destination should be the first step in the process to ensure that you are taking all necessary precautions. Researching ahead of time allows for understanding local customs and traveling regulations, mapping out your route, and finding relevant safety information.
Additionally, make sure to familiarize yourself with any potential health risks included with the destination as this is important to keep you safe and healthy throughout your journey. It is recommended to also look up vaccination requirements prior to leaving and confirm that your travel documents are in order before booking a flight or any other transport services.
Get necessary vaccinations
First of all, it's important to make sure that you have the most up-to-date information about your destination; research the necessary visas or documents you will need as well as any health requirements such as recommended vaccinations.
Get the proper vaccines for your destination advised by your local doctor; booking an appointment with them at least 6 weeks before your departure is ideal. Taking these precautions beforehand can help ensure a healthy and safe trip.
Pack a first-aid kit
The anticipation of an upcoming trip can be exciting, but the preparation that comes with it is essential. To make sure your vacation goes off without a hitch, take steps to prepare in advance. Pack all necessary items at least a day before you depart and check your list twice.
Consider bringing a first-aid kit which should include any necessary prescriptions, band aids, antiseptic wipes, pain killers as well as any other items you may need in case of an emergency or injury.
Consult with a doctor before travel
Consult with your doctor if you are unsure whether the destination is right for you based on any health considerations or age restrictions. Make sure to check current travel advisories and restrictions before booking a flight and familiarize yourself with the rules and regulations around entry into your destination.
Take time to research guidelines provided by the area's government and health experts, such as social distancing protocols or any limits on group size, so you are adequately prepared for quarantine requirements upon arrival. Have a plan for navigating through major airports as well as local transport when you're at your final destination.
During your Trip
Planning a trip that honors your budget and includes all you'd like to do can be tricky, but with the right strategies, it is possible. From mapping out a reasonable budget to taking advantage of free or discounted activities. Here are some ways for travelers to make the most of their journeys.
Practice good hygiene
During a trip, it is important to practice good hygiene. This means washing your hands frequently, traveling with hand sanitizer and sanitizing wipes to use for hard surfaces and personal items, such as doorknobs and luggage handles.
Avoid touching your face and wear a face mask whenever possible in public areas. Remember to keep an eye out for any signs of illness that may occur during travel, such as coughing or fever. Finally, be sure to get some rest! A well-rested body is better able to fight off germs and stay healthy during your trip.
Drink only safe water and eat safe food
Planning a trip can be exciting, but it's also important to make sure your health is protected. Drink only safe water and eat safe food during your travels that has been properly stored, prepared and cooked.
Drink bottled water if necessary. Avoid uncooked vegetables or fruit unless you know they have been washed in clean, drinkable water. If you're unsure about the safety of food or drink, it's best to be caution and to find other options.
Protect yourself from the sun
Overexposure to the UV rays can result in serious damage to your skin and eyes. Protecting your skin with sunscreen should be a priority, especially when spending time outdoors.
Bring a wide brimmed hat and sunglasses if you plan on being in the sun for more than 15 minutes. Clothing that covers multiple layers is also recommended as it provides further protection against harmful rays.
Be cautious of insect bites
During any trip, it is important to be mindful of your surroundings and take precautions from potential risks. Be sure to use insect repellent while outside and wear long-sleeved shirts and pants when necessary. Cover exposed skin as much as possible in order to avoid insect bites and reduce exposure to the elements.
Be sure to watch for signs that an insect bite has occurred, such as redness and swelling around the area. If you experience any of these symptoms, treat the area immediately with an over-the-counter ointment or cream.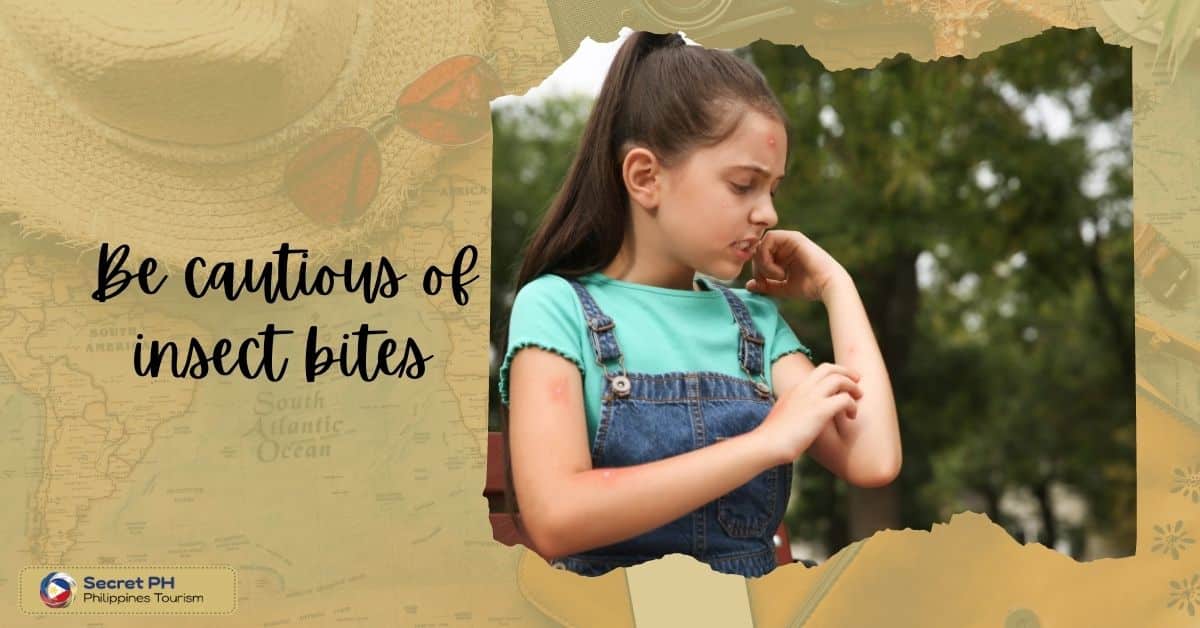 Avoid risky activities and situations
Avoiding risky activities and situations is the best way to ensure safe passage from your point of departure to your destination. Avoid any place that may pose a physical threat like abandoned buildings, high crime areas and other unsafe sites.
Be prudent about people you come into contact with. Shady deals and dangerous activities should be avoided whenever possible. By applying basic common sense and taking precautions against potential risks, you can make sure you have an enjoyable travel experience.
Staying Safe
As a society, it's important to stay safe while living our lives. Whether it be physical, mental or emotional safety, it is essential that we take the necessary steps to ensure our security. Staying safe isn't all just common sense. There are measures that should be considered and precautions that must be taken in order to protect ourselves and those around us.
Be aware of your surroundings
Staying safe is a fundamental part of living, no matter where you are or what you're doing. Avoiding potential risks wherever possible can help protect your safety and that of those around you. Be aware of your environment and the people around you.
Be sure to know who to turn to in potentially dangerous situations. You need to familiarize yourself with local helplines so that help can be swiftly contacted when necessary. By being mindful of your surroundings and understanding potential threats, staying safe can become second nature.
Keep important documents and valuables secure
It is important to remember to keep important documents such as identification cards, passports, and other items of value stored in a safe place. Keep them hidden from plain sight to minimize the possibility of theft or loss. Keep an eye on your belongings in public places, particularly if you're traveling alone or with small children.
Keep conversation private and limit the information you share with others. Make sure you know who has access to your house when away from home by minimizing the number of spare keys given.
Familiarize yourself with local laws and customs
Familiarizing yourself with local laws and customs will help you have an enjoyable journey. This will provide a tranquility of knowing that you are abiding by the law in a foreign land. Researching about necessary documents, familiarizing yourself with transportation options, and checking for weather advisories.
Obtaining a comprehensive travel insurance, preparing an emergency kit and ensuring the safety of your important personal items. You should know some primary steps that you take before any trip to ensure your safety abroad. Each journey potentially encompasses new challenges and precautions we should take in order to enjoy our trips.
Know emergency contacts and how to call for help
Knowing the safest course of action in any situation can make all the difference. It is essential to be aware of potential risks and how to respond swiftly and appropriately. You also need to know emergency contacts and how to call for help. Taking the necessary precautions before or while in a hazardous event can save lives. Be prepared, know the signs, and stay safe.
In Conclusion
Traveling in the Philippines can be a fantastic experience. But it's important for travelers to stay safe and healthy during their trip. No matter where you're going, it's always sensible to invest in travel insurance that covers medical expenses in case of unexpected illness or injury.
If you fall ill during your travels, it is important to seek medical assistance right away as soon as symptoms appear. Following these tips will not only make your trip more enjoyable but also ensure that you stay healthy while exploring the magnificent country of the Philippines.