The Philippines is home to some of the world's most diverse and stunning natural landscapes, including lush rainforests, pristine beaches, and breathtaking mountain ranges. To protect and preserve this rich biodiversity, the country has established several nature reserves and conservation areas, including the Tubbataha Reef National Marine Park, Palawan Island, Bongsanglay Natural Park in Masbate, and Mount Pulag National Park, among others.
In this blog, we'll highlight the best of these protected areas and the unique attractions they offer, from marine life and bird watching to hiking and scenic viewpoints. Join us as we discover the beauty of the Philippines and learn about the importance of supporting conservation efforts.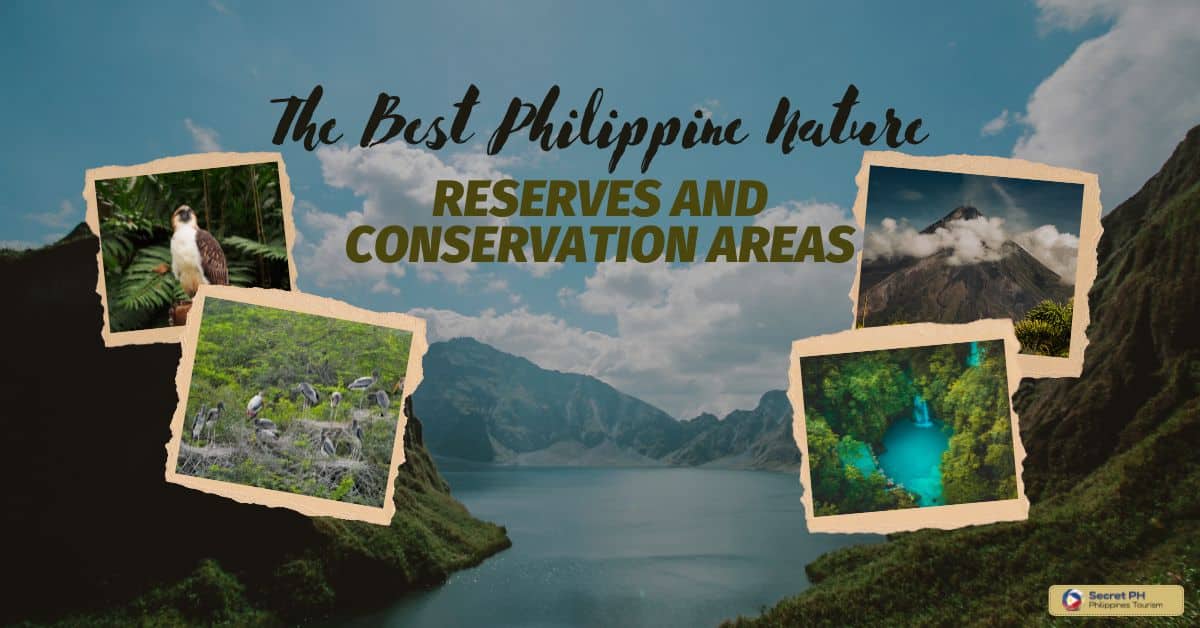 Tubbataha Reef National Marine Park
Tubbataha Reef National Marine Park is located in the Sulu Sea, in the Palawan province of the Philippines. It covers over 100,000 hectares and is renowned for its diverse marine life and coral reefs, including over 700 species of fish and 360 species of coral. It was declared a UNESCO World Heritage site in 1993.
Marine life and attractions
Tubbataha Reef National Marine Park is a prime destination for marine enthusiasts, with its abundant marine life and diverse coral reefs. Divers and snorkelers can expect to encounter colorful fish, sea turtles, manta rays, and even the occasional whale shark. The park's crystal clear waters offer unique underwater experiences and memorable sightings that are sure to be a highlight of any trip to the Philippines.
How to visit
Choose a reputable dive operator offering trips to the park.
Book your trip, including transportation and accommodations.
Obtain a park permit from the Tubbataha Management Office in advance.
Arrive in Puerto Princesa, Palawan, the jump-off point for trips to the park.
Embark on a liveaboard or day trip to the reef.
Note: The park is only accessible by boat, and only open for visits from mid-March to mid-June each year. It's best to plan your trip well in advance to secure a spot and avoid disappointment.
Address
Tubbataha Management Office (TMO)
Manalo Ext., Bgy. Milagrosa
Puerto Princesa City 5300, Palawan
Phone: (63) (48) 434 5759
For pictures, booking, and more information, click here.
Palawan Island
Palawan Island is located in the southwestern region of the Philippines, known for its stunning natural beauty and biodiversity. It is the largest island in the Calamian Islands archipelago and is often referred to as the "Last Ecological Frontier" of the Philippines. Its lush rainforests, crystal clear waters, and diverse wildlife make it a popular destination for nature lovers and adventure seekers.
Best places to visit for nature lovers
Palawan Island offers a wealth of natural attractions for nature lovers. Some of the best places to visit include:
Tubbataha Reef National Marine Park
El Nido Marine Reserve
Calauit Game Preserve and Wildlife Sanctuary
Honda Bay Island Hopping
St. Paul Underground River National Park.
Each of these destinations offers unique experiences and the chance to explore diverse ecosystems and encounter a variety of wildlife.
Whether it's snorkeling with sea turtles, hiking through tropical forests, or kayaking through scenic lagoons, Palawan has something to offer every nature lover.
Unique flora and fauna
Palawan Island is a true gem for nature lovers, offering a unique and diverse array of flora and fauna. Endemic species such as the Palawan bearcat, Palawan peacock-pheasant, and Philippine cockatoo can be found here, along with lush rainforests, towering limestone cliffs, and diverse coral reefs. The island's rich biodiversity and stunning landscapes make it a must-visit destination for anyone looking to experience the beauty of the Philippines.
For pictures, booking, and more information, click here.
Bongsanglay Natural Park in Masbate
Bongsanglay Natural Park is located along the southern coastline of Masbate, Philippines. It features 3.2 kilometers of pristine shores and high limestone cliffs topped with lush greenery and dynamic landscapes. This lush park offers what can best be described as a paradise on earth.
The clear, turquoise-blue waters are home to many species of fish, coypus, and other unique aquatic life forms. There's an abundance of trails that weave through this terrain, intertwining the many natural habitats that gather here including wetlands full of species like crab-eating macaques and Philippine mouse deer.
Unique Biodiversity and Endemic Species
The Bongsanglay Natural Park in Masbate provides an excellent example of unique biodiversity and an abundance of endemic species. This park is surrounded by pristine forests and stories natural homes harboring birds, mammals, butterflies and amphibians that can't be seen anywhere else in the world.
Bongsuanglay Natural Park is truly a conservation gem as it serves as a safe haven for its wildlife as well as providing vital resources to people living in the area. Not only that, but its incredible biodiversity makes it a popular destination for visitors interested in learning more about the marvels of nature.
Activities and Excursions
Bongsanglay Natural Park in Masbate is ideal for those seeking outdoor activities and excursions. The area is rich in breathtaking landscapes and it offers an array of fun-filled activities. Nature trails, trekking, camping, and bird watching are just some of the possibilities available to visitors.
Bogsanglay's complicated network of caves also provides a unique experience as there are tunnels that form an intricate labyrinth waiting to be explored inside. With its many attractions, Bongsanglay Natural Park is definitely worth your time if you're looking for a memorable activity-packed trip.
Address: 9QPM+JCQ, Batuan, Masbate
Phone: 0947 119 9891
For pictures, booking, and more information, click here.
Balinsasayao Twin Lakes in Negros Oriental
Balinsasayao Twin Lakes is a secluded mountain lake and reservoir in Negros Oriental, Philippines. It lies peacefully among the forested mountains of this sun-kissed province, making it the perfect destination for nature lovers looking to escape the hustle and bustle of modern life.
The two lakes, connected by a narrow causeway connecting two small islands, are bordered by lush vegetation to make the area even more beautiful. At over 1,600 FEET above sea level, visitors can get away from it all and enjoy the cool mountain air while overlooking breathtaking views of the lake's crystal clear waters. Balinsasayao Twin Lakes is a dreamy destination no outdoor enthusiast should miss out on!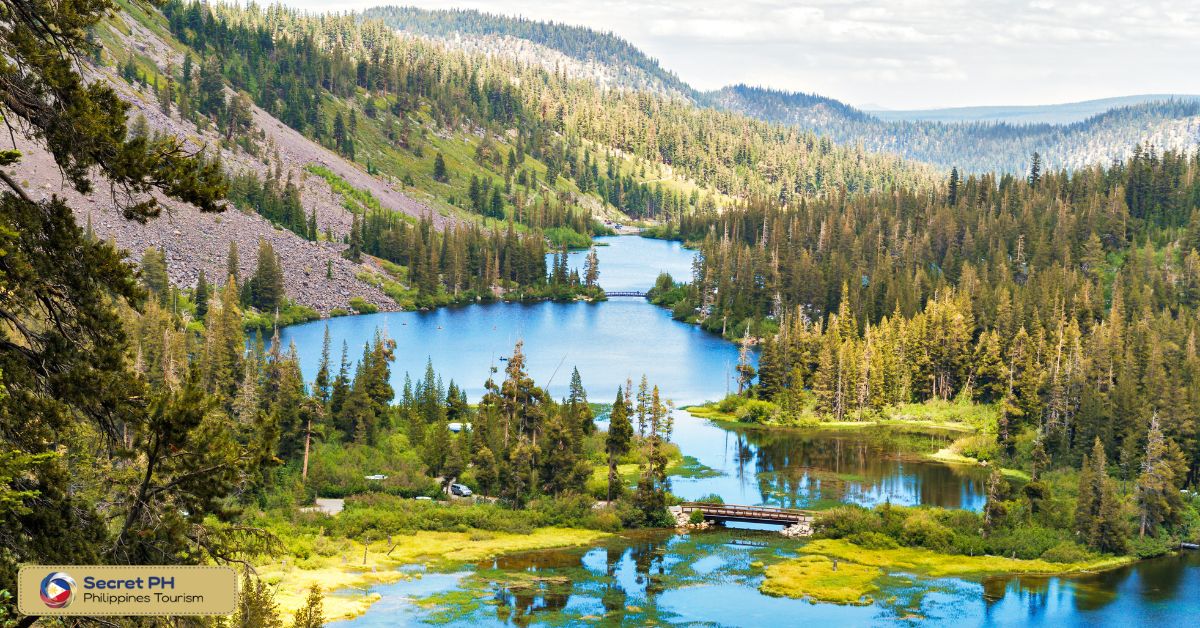 Marine biodiversity and coral reefs
Balinsasayao Twin Lakes in Negros Oriental is home to some of the most amazing marine biodiversity and coral reef systems in the world. Its pristine and crystal clear waters nourishes, sustains and preserves all forms of life within its secure realm, from tiny plankton to majestic sea turtles.
Balinsasayao Twin Lakes boastsof a flourishing ecosystem for both fish and plant life, providing scientists with unparalleled opportunities to research the complex relationships between species within the coral reefs. The vibrant colors, lush growth and unique characteristics of Balinsasayao Twin Lakes remain a testament to nature's harmony.
Diving and Snorkelling opportunities
Balinsasayao Twin Lakes offers a truly unique experience unlike any other dive site, with its freshwater lake surrounded by limestone walls. Dive masters are available on-site to accompany visitors who may be inexperienced as well as share stories about the history of Balinsasayao Twin Lakes.
Snorkelers of all levels can quickly observe a diverse range of fish and aquatic plants, particularly along the hidden reefs near the outlet. Balinsasayao Twin Lakes provides an excellent opportunity for those looking for both a tranquil swim or an adventure filled with stunning marine life – making it one remarkable dive location.
Address: 953H+HPQ, Sibulan, Negros Oriental
Phone: (035) 421 0325
For pictures, booking, and more information, click here.
Mount Pulag National Park
Mount Pulag National Park is located in the Philippines, specifically on the borders between Benguet, Ifugao, and Nueva Vizcaya provinces. This park is home to a variety of lush forests, home to numerous species of wildlife.
Its landscape is varied and boasts an impressive 3,976 meters above sea level providing hikers with beautiful views and sweeping panoramas. In the forests, hikers can find unique and endangered species carefully preserved in their natural habitats. During the summer months, these alpine meadows provide the perfect escape from the oppressive heat that blankets most of the country.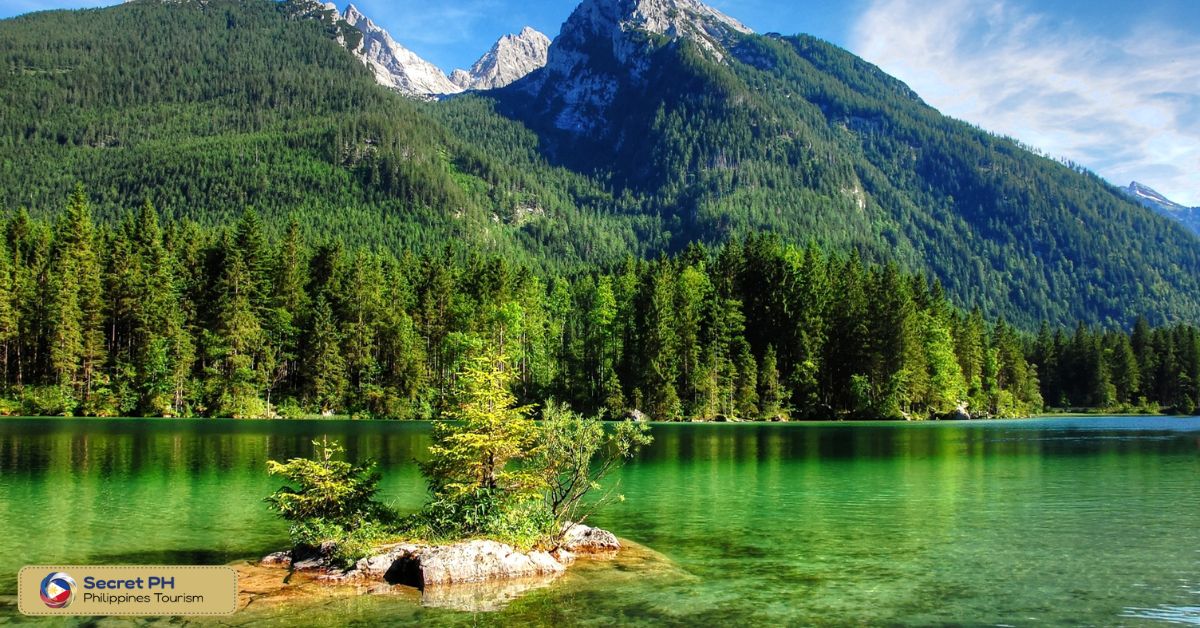 Best hiking trails and scenic viewpoints
The Mount Pulag Summit Trail takes hikers up Mount Pulag's peak, offering spectacular views of Cordillera Landscape and magnificent sunrises and sunsets. Other trails include Akiki Trail, Ambaguio Trail and Tawangan Trail which wind through pine trees making for an exciting nature explorations.
For more leisurely trails, visitors can try out Mount Dolipol trail or Eddet River Trails – both are flat, easygoing paths between towering mountain ranges. Whether you're searching for tranquil or rugged terrain, Mount Pulag has something to offer every type of hiker.
Rare and Endemic Species
Located within Mount Pulag are at least five different species that are exclusive to this area, and are in danger of endangerment due to human activity. These endemic species include the Philippine brown deer, which is found nowhere else in the world, as well as a specialized bird called the Mount Pulag Megapode.
Mount Pulag is also home to various other unique species like flying lizards and mountain frogs. As such, Mount Pulag is an incredible example of how rare and endemic species inhabit singular regions, making it vitally important for us to protect special environments like Mount Pulag National Park so these species can continue to thrive without any disruption.
Address: HVXX+3C5, Kabayan, Benguet
Phone:  0949 822 3922
For pictures, booking, and more information, click here.
Olango Island Wildlife Sanctuary
Located 11 kilometers off the coast of Mactan, in the central Philippines, Olango Island Wildlife Sanctuary is a haven for resident and migrant birds. A hotspot for both local and international bird-watchers, Olango offers an abundance of migratory species during the months of October to April, particularly shorebirds like terns, herons, and sandpipers.
The Sanctuary is composed of five islets: Cabuloan, Sulpa, Gilutungan, Nalusuan and Olango. These small islands maintain different habitats from grasslands and intertidal mudflats to mangrove forests providing safe harbor for hundreds of birds -some are even unique to the area! The shoreline also serves as a nursery ground for various marine species such as jellyfish, green sea turtles and sea snakes making it an ideal spot for snorkeling and beachcombing.
Bird Watching and Migratory Birds
Bird-watching is an entertaining hobby for many nature lovers as it allows for one to observe and appreciate the beauty of migratory birds. Olango Island Wildlife Sanctuary in the Philippines is a popular site for bird enthusiast as it houses over 32,000 birds from more than 90 species.
These flocking birds will be heading back from Australia in November, making Olango an ideal spot to witness their return. Olango also offers guided bird watching tours with knowledgeable staff where one can learn more about rare and unique bird species that frequent the sanctuary. If you're looking for a great way to spend time outdoors while connecting with nature, Olango Island Wildlife Sanctuary is definitely worth checking out!
Best time to visit
The best time to visit Olango Island is during the dry season, which typically runs from September through May. This is due to the fact that these months offer milder temperatures and less rain than the rest of Olango's year. During this time visitors will be able to enjoy numerous outdoor activities such as bird watching, snorkeling, and kayaking in Olango's crystal-clear waters.
Additionally, over 500 species of birds have been recorded at Olago Island Wildlife Sanctuary, making it an ideal spot for those looking to view rare wildlife in their natural habitat. Visiting Olango Island during the dry season will make sure that your trip is an unforgettable one!
Address: 62HG+M3C, San Vicente, Olango, Lapu-Lapu, Lalawigan ng Cebu
Phone: 0915 386 2314
For pictures, booking, and more information, click here.
In Conclusion
The Best Philippine Nature Reserves and Conservation Areas are a great asset to the country. Showing off its varied ecosystems and providing natural habitat for plants and animals. Not only do they offer educational experiences and entertainment, but they also protect vulnerable species of creatures and the entire environment of the Philippines.
With continued development in these areas, we can ensure that Filipinos can enjoy nature far into the future. By learning more about the best Philippine Nature Reserves and Conservation Areas, we can benefit both local communities and wildlife by promoting better stewardship of our precious natural resources.