The Moriones Festival is a celebration of religious devotion and cultural tradition in Marinduque, Philippines. This unique festival features elaborate costumes, a dramatic reenactment of the events of Holy Week, and an energetic procession and street dancing. Visitors will be inspired by the passion and devotion of the participants and get a glimpse into the rich culture and heritage of Marinduque.
The passion and devotion of the participants are on full display, making the Moriones Festival a truly inspiring experience. If you're looking for a one-of-a-kind celebration of faith and culture, don't miss the Moriones Festival.
History of Moriones Festival
The Moriones Festival is steeped in rich history and tradition, dating back to the Spanish colonial era in the Philippines. The festival is said to have originated from the story of Longinus, a Roman soldier who blinds Jesus during his crucifixion but later becomes a Christian after being healed by his blood.
During the festival, participants dress as Morions, or Roman soldiers, and reenact the events of Holy Week in colorful and lively parades and processions. Over the years, the Moriones Festival has become a staple of Marinduque culture, celebrated by locals and visitors alike. Today, it remains an important celebration of religious devotion and cultural heritage, showcasing the passion and devotion of the people of Marinduque in a truly unique and unforgettable way.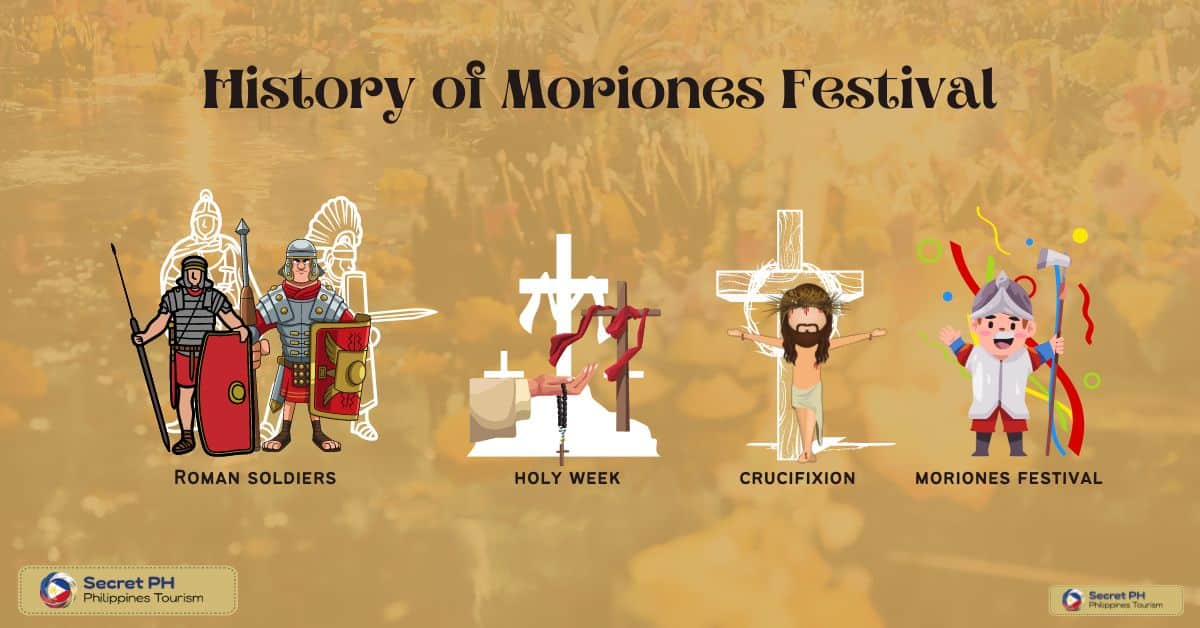 The Festival's Purpose
The Moriones Festival is a religious and cultural celebration that serves several purposes. Firstly, it is a way for the people of Marinduque to express their devotion to their faith and commemorate the events of Holy Week. Secondly, it is an opportunity to showcase their cultural heritage and traditions, as participants dress in colorful costumes and reenact the story of Longinus in a lively and spectacular fashion.
Additionally, the Moriones Festival is a way for the people of Marinduque to come together and celebrate as a community, promoting unity and a sense of belonging. It is also a time for visitors to experience the unique culture and traditions of Marinduque, and to learn about the history and significance of the festival.
The Term "Moriones"
Moriones is a Spanish word meaning "masked men" or "hooded figures." In the context of the Moriones Festival in the Philippines, it refers to participants who wear elaborate masks and costumes to reenact the biblical story of Longinus, the Roman soldier said to have pierced the side of Jesus Christ.
According to local folklore, the tradition of Moriones started many centuries ago when Longinus, the Roman soldier who pierced Jesus' side with a spear, escaped from Jerusalem and came to an island in the Philippines where he found solace among local fishermen. Over time, this unique custom was adopted by Filipinos then eventually turned into a festive celebration of Easter known around the world as "Moriones".
The Moriones Festival Costumes
Moriones Festival costumes consist of colorful, gaily-painted masks and suits that depict a Morion, a character from the biblical story of Longinus. The Morions wear colorful dress patterned after the Roman armor and helmet, as well as capes made of buri or pandan leaves.
Carrying wooden swords and large shields, Morions parade through the streets in a reenactment of the story: searching for Longinus, often referred to as 'Lenten Soldier'. Morions are said to keep faithful watch for three days so that evil remains at bay throughout the entire festival.
How the costumes are made and decorated
The Moriones Festival is an annual Holy Week celebration in the Philippines where locals dress in elaborate costumes that depict characters from the bible. The costumes are artisanally designed and decorated, often with a variety of fabrics, dyes, and beading. Every traditional Moriones costume features brightly-colored facemasks depicting long-bearded characters, often inspired by Saint Longinus or another memorable figure from the Bible.
To complete their look, Moronines also wear a cape-like garb with various geometric patterns, crosses or other symbols that tells a story of when Jesus was alive. These intricate costumes are not only fun to wear but also demonstrate the Moriones festive spirit during this exciting time of year.
Significance of the costumes in the Festival
The participants dress up in elaborate Morion costumes with face masks that are replicas of Biblical Roman soldiers and villagers as Morions or Longinus. The significance of these costumes lies in the representation of the characters from the Moriones legend—Saint Longinus and his Marcus Legionnaires—to remind civilians of the stories passed down generation to generation.
Besides its importance in representing the Christian faith, each Morion costume has its own meaning. The various adornments reflect tradition, rank, and occupational status while depicting significant encounters between Jesus Christ and Saint Longinus during Good Friday. During festival days, Morions roam around town bringing joy as they re-enact scenes from Passion Week and Easter Sunday.
The Passion Play
It is believed watching the play can bring blessings to Moriones and onlookers alike, with penitence and prayer as part of the observance being practiced during its duration. Along with this celebration comes feasting which usually takes form of light snacks or sharing of food among household relatives as a sign of unity among Moriones communities.
It is also customary for Moriones men who join these festivities to grow their beard until Easter Sunday in order to keep within the theme of celebrating Christ's story from start to finish. The Moriones Festival encourages devout Catholics and local communities alike to take part in traditions that dates back several centuries for both remembrance and entertainment purposes.
Depiction of the events of Holy Week
One unique way this event is celebrated in the Philippines is through a Moriones Festival. Morions, notably figures that wear costumes and masks, re-enact various scenes from Christ's last days on Earth. Morions are often teachers and farmers that voluntarily portray Roman soldiers during Holy Week as part of their faith. In addition to Moriones Festival, local events typically include street processions and others ceremonies, providing viewers a glimpse into this special religious tradition.
In many cities Morion groups gather together in large plazas or staircases with artfully decorated churches as striking backdrops while they follow their very own life-sized carroza (chariot). This is followed by multiple Morion performances depicting the events of Holy Week including experiences such as Jesus's passion, trial before Pilate and ascension.
Explanation of the role of the Moriones in the Passion Play
During the festival, the Moriones dress up in elaborate costumes and masks to portray the soldiers who were involved in the events leading up to the crucifixion. The Moriones specifically play the role of Longinus, a Roman soldier who was said to have pierced the side of Jesus with a spear.
The Procession and Street Dancing
The procession includes Morions wearing colorful costumes depicting biblical characters while singing traditional Morion hymns, dancing to folk music, playing native instruments, performing street plays, and tossing water on one another in an act of merrymaking.
The Moriones Festival culminates each year with a grand finale parade featuring Moriones from different villages across Marinduque Island marching while carrying statues and flags of the local patron saint.
Significance of the procession in the Festival
The Moriones wear colorful costumes that depict the characters in the story of Longinus, while Roman soldiers wear full-body armor adorned with feathers or intricate designs. Spectators flock to witness the procession as Moriones and Roman soldiers march through town in an exciting series of parades.
Each parade features theatrical performances that retell Longinus' story, giving viewers a deeper appreciation of the significance of Moriones Festivities. It is not only the vibrant costumes and energetic performances that make the procession stand out; there are also opportunities for locals to participate by providing food stalls, merienda carts, or donating their time or money to support Moriones Festivities.
Description of the street dancing
Street dancing is one of the highlights of Moriones Festival, a traditional and religious festival celebrated in the province of Marinduque in the Philippines. It is characterized by brightly-colored costumes depicting various characters from biblical stories, mainly the Roman soldiers that were chasing Longinus during the Passion Week.
This merriment traces its roots to the Moriones tradition which states that those who seek to find Longinus should roam around town's streets while wearing Morions (Roman helmets) and different masks to represent their colorful personalities. Every day, Moriones parade around the streets, with music and cheers coming from onlookers. At night, it turns into a street dance as people gather around these Moriones and join in their festive spirit. Although Moriones Festival lasts only a week, street dancing remains an integral part of this celebration.
The Significance of Moriones Festival
During this parade, participants dress up as characters from events that are referenced in the Bible such as Roman soldiers and martyrs of Jesus' crucifixion. This religious festival serves to strengthen citizens' faith and draw attention to the significance of Christianity in everyday life.
Explanation of the religious significance
The festival has deep religious significance as it serves as a way for participants to reflect on the sacrifice of Jesus and to reaffirm their faith. The Passion Play is an important part of the festival and serves as a visual representation of the events leading up to the crucifixion.
The Moriones Festival is a major tourist attraction, but it is also an important event for the local community, who participate in the festival with devotion and reverence. The festival is a testament to the strong Catholic faith of the people of Marinduque and the Philippines.
Cultural significance
Moriones Festival celebrates Longinus' conversion and his search for God. Besides paying homage to the Biblical account, Moriones Festival is seen as the region's way of keeping traditional customs alive, as participants don Morion masks and costumes resembling those worn by ancient Roman soldiers searching for Longinus.
Moriones Festival has become a rallying point for local communities who come together in celebration and engage in friendly competitions as they parade through downtown Marinduque. Through this expression of faith and cultural loyalty, Moriones Festival remains one of the Philippines most anticipated traditions.
Economic significance for the local community
Moriones Festival provides employment opportunities through souvenir production and sales, restaurant services, and entertainment shows, just to name a few. In addition, it allows locals to showcase their culture with Morion costumes and performances that are sure to entertain visitors.
Finally, Moriones Festival celebrates and promotes religious beliefs as part of its core purpose which helps support faith-based practices in the area. Through Moriones Festival, local businesses stand to benefit economically while preserving cultural traditions within the community.
In Conclusion
Moriones Festival is an event that definitely deserves to be watched. It enriches cultural knowledge and encourages the appreciation of history. The traditional costumes, dancing, parades and vibrant celebrations offer an interesting glimpse of long standing Philippine traditions.
With the Moriones Festival, participants learn more about the beliefs and customs from a different time period while also having fun and creating lasting memories. Moriones Festival is therefore a unique experience that presents a unique opportunity to witness culture through a meaningful community celebration.