The Philippines is home to some of the world's most stunning natural hot springs. Soaking in the warm, mineral-rich waters of these hot springs is a perfect way to relax and rejuvenate after a long day of exploring. From the well-known Puning Hot Spring in Pampanga, to the hidden Maquinit Hot Spring in Coron Palawan, these natural hot springs offer visitors a chance to immerse themselves in the tranquil beauty of the Philippines' lush landscapes.
If you're looking for a way to unwind and rejuvenate, then a trip to the natural hot springs of the Philippines is a must. In this blog, we'll take you on a journey to explore some of the most beautiful and relaxing hot springs in the country, and provide you with all the information you need to plan your own rejuvenating getaway.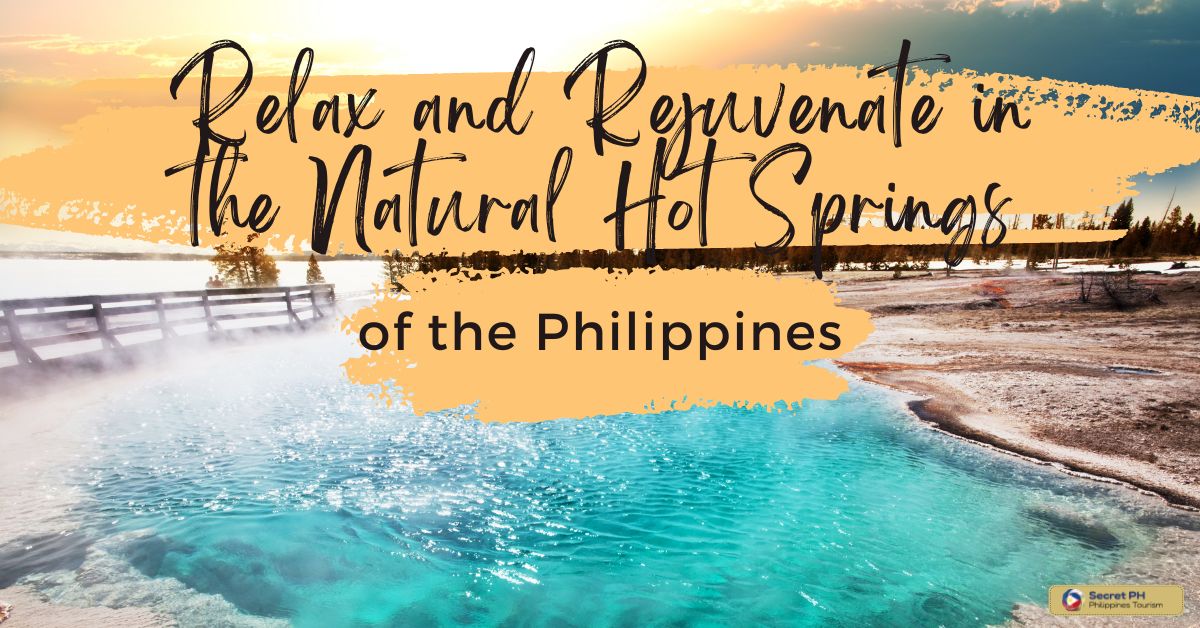 Benefits of Visiting Hot Springs
Hot springs are a unique and wonderful way to experience the benefits of nature for both physical and mental well-being. Soaking in the warm, mineral-rich waters can relieve stress, tension and pain in the muscles, improve circulation, and promote skin health.
The minerals found in hot springs, such as magnesium, calcium and potassium, are important for maintaining overall health. Hot springs also offer a peaceful and relaxing environment, making them the perfect escape from the hustle and bustle of daily life.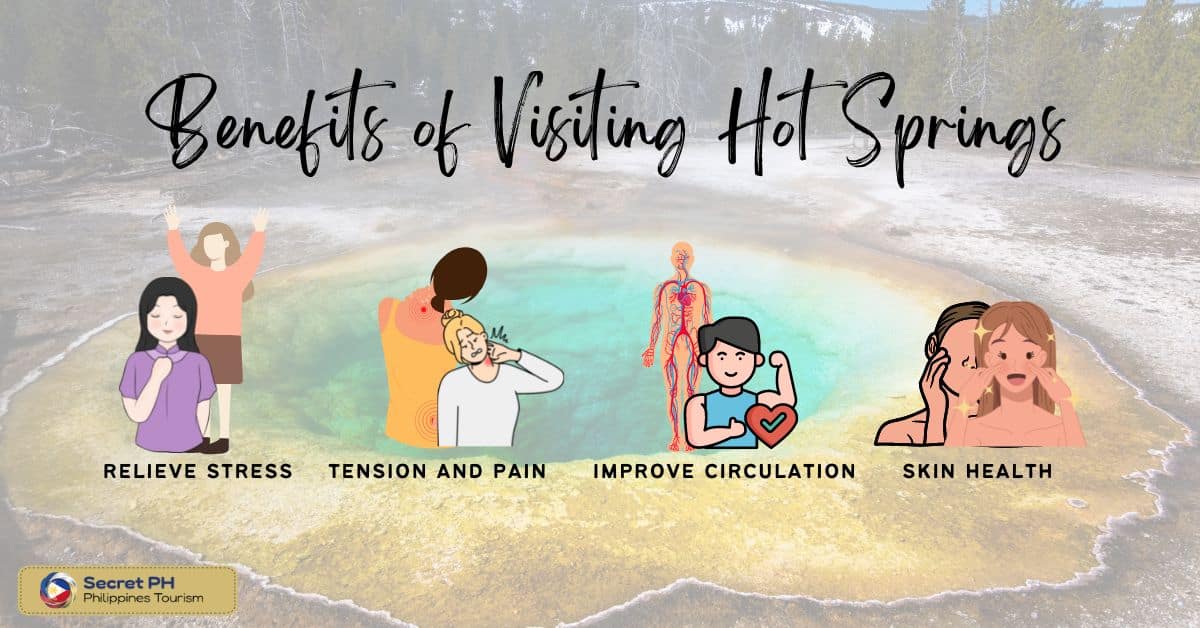 Popular Natural Hot Springs in the Philippines
The Philippine Islands offer a diverse landscape ranging from culturally rich urban cities to tranquil beaches, majestic mountains, lush rainforests that provide plenty of natural hot springs to explore.
Puning Hot Spring (Pampanga)
Puning Hot Spring is a natural hot spring located in the province of Pampanga, Philippines. The hot spring is renowned for its therapeutic and relaxing benefits, attracting tourists and locals alike.
The water temperature ranges from 35-40°C and is believed to have minerals that can soothe tired muscles and improve blood circulation. The hot spring also features amenities such as changing rooms, showers, and hot spring pools for visitors to enjoy.
Address: Sitio Target, Barangay, Angeles, 2009 Pampanga
Phone: 0968 724 0148
For pictures, booking, and more information, click here.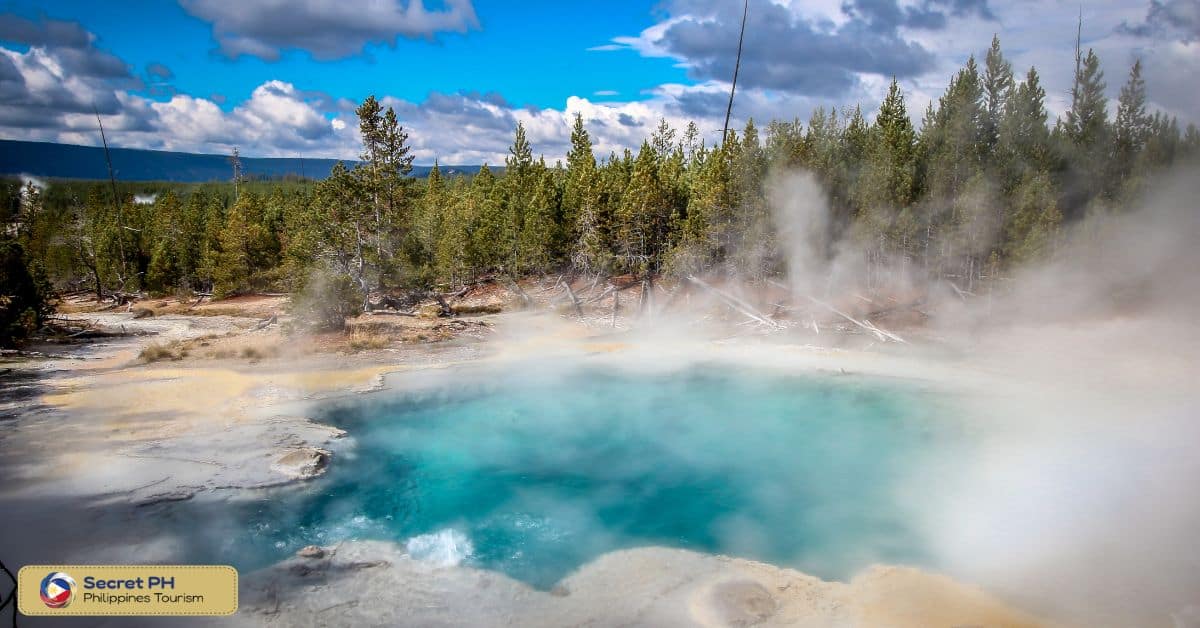 Maquinit Hot Spring, Coron, Palawan
Maquinit Hot Spring is a natural hot spring located in the island of Coron, Palawan, Philippines. It is situated in a mangrove forest and is surrounded by lush vegetation and crystal clear waters. The hot spring is known for its unique and stunning scenery, making it a popular tourist destination in the area.
The water temperature is around 40°C, and it is believed to have healing properties for various ailments. Visitors can take a dip in the hot spring and enjoy its natural warmth while taking in the breathtaking views of the surroundings.
Address: Sitio Maquinit, Barangay, Coron, Palawan
Phone:  0917 819 5327
For pictures, booking, and more information, click here.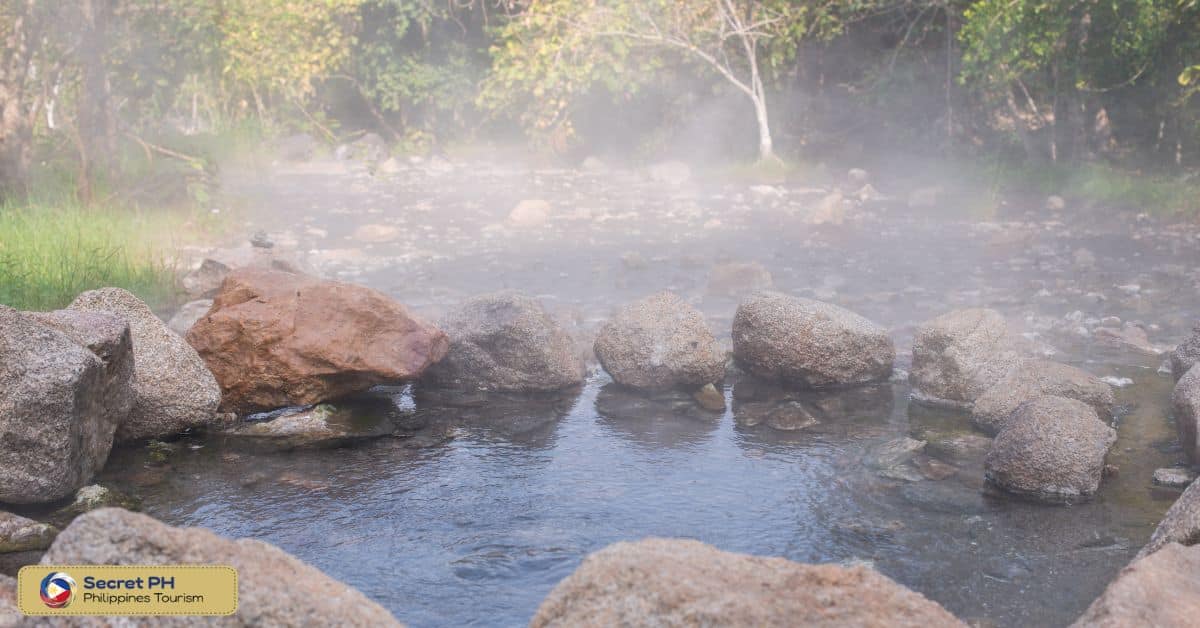 Mambukal Hot Spring Resort (Bacolod)
Mambukal Hot Spring Resort is a scenic resort located in Bacolod, Philippines. It is surrounded by lush tropical forests and features natural hot springs that are fed by the nearby Mambukal Mountain.
The resort offers visitors the opportunity to soak in the warm waters and relax while enjoying the natural beauty of the surroundings. The hot springs have a temperature of around 35-40°C and are believed to have therapeutic properties that can help soothe tired muscles and improve blood circulation.
Address: Minoyan, Bacolod, Negros Occidental Philippines
Phone:  (034) 433 8516
For pictures, booking, and more information, click here.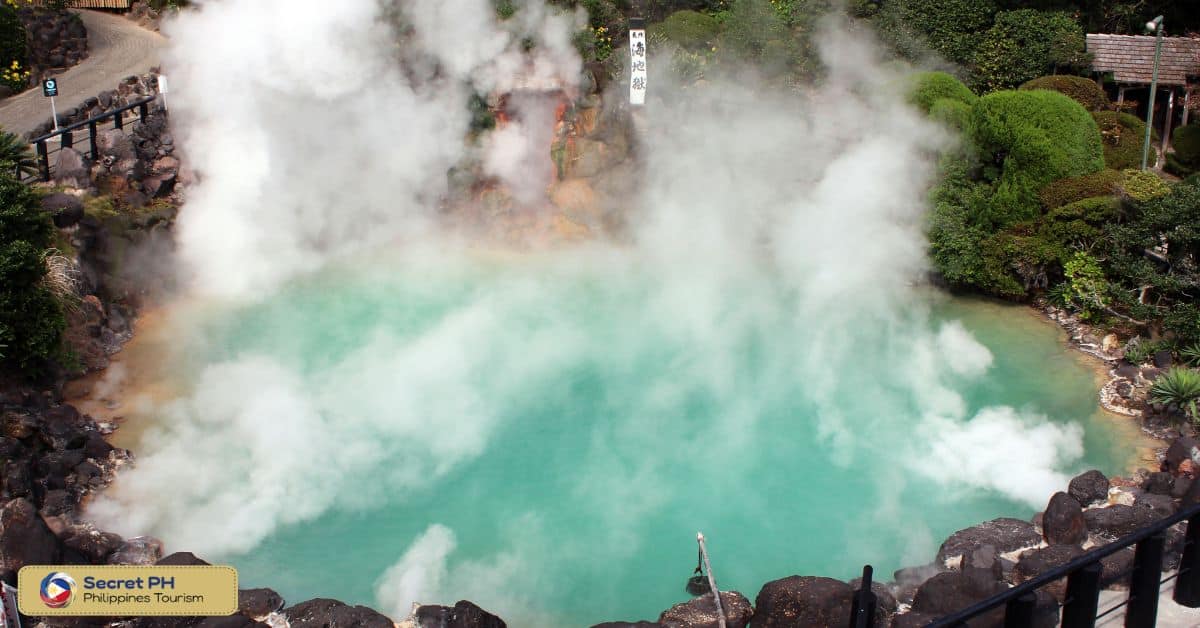 Ardent Hibok-Hibok Spring Resort (Camiguin)
It is an oasis of relaxation with its tropical landscaped gardens, natural thermal pools and boutique spa services. Boasting six fully equipped swimming pools with naturally heated spring water, the resort provides a sanctuary for visitors looking to escape from their busy lives.
The resort also offers a selection of outdoor activities including kayaking, snorkeling and diving trips, as well as guided eco-tours and hikes up nearby Mount Hibok-Hibok. With comfortable suites, spacious cottages and modern amenities, Ardent Hibok-Hibok Spring Resort is ideal for a peaceful getaway.
Address: 6MGQ+Q6F, Esperanza, Tagdo, Bayan ng Mambajao, Camiguin
Phone:  (088) 387 0948
For pictures, booking, and more information, click here.
What to Expect from a Visit to the Natural Hot Springs
A visit to a natural hot spring can be an unforgettable experience. These naturally formed geological wonders provide a combination of health benefits and tranquil beauty that can be hard to find elsewhere. Depending on the type of hot spring, visitors may be able to take advantage of mineral-rich water that is known to relieve joint pain, ease stress, improve circulation, and aid digestion.
Soaking in the warm, mineral-rich water
Natural hot spring water is full of minerals like calcium sulfate, magnesium sulfate, sodium bicarbonate, and more which can lead to improved skin health and reduce inflammation. However, it's important to keep an eye on temperatures since some springs can reach up to 133 degrees Fahrenheit!
Prior to bathing in any hot spring it's best to check with a local ranger or lifeguard station for temperature ranges and any potential hazards you should know about. After doing so, you're sure to find yourself recharged after your visit there!
Surrounding natural beauty
A visit to a natural hot springs is an opportunity to enjoy the stunning beauty of nature while also taking advantage of its therapeutic effects. Surrounding natural beauty such as mountains, rolling hills, or wooded areas will provide a serene backdrop for your experience.
The temperature of the water may differ depending on the springs, but it can range from comfortably warm to downright hot. You may find various rocks and terraces within the pools, allowing you to relax in any number of comfortable positions. Due to their mineral content, some hot springs are known for their remedial effects and can be used to aid with joint or muscle pains.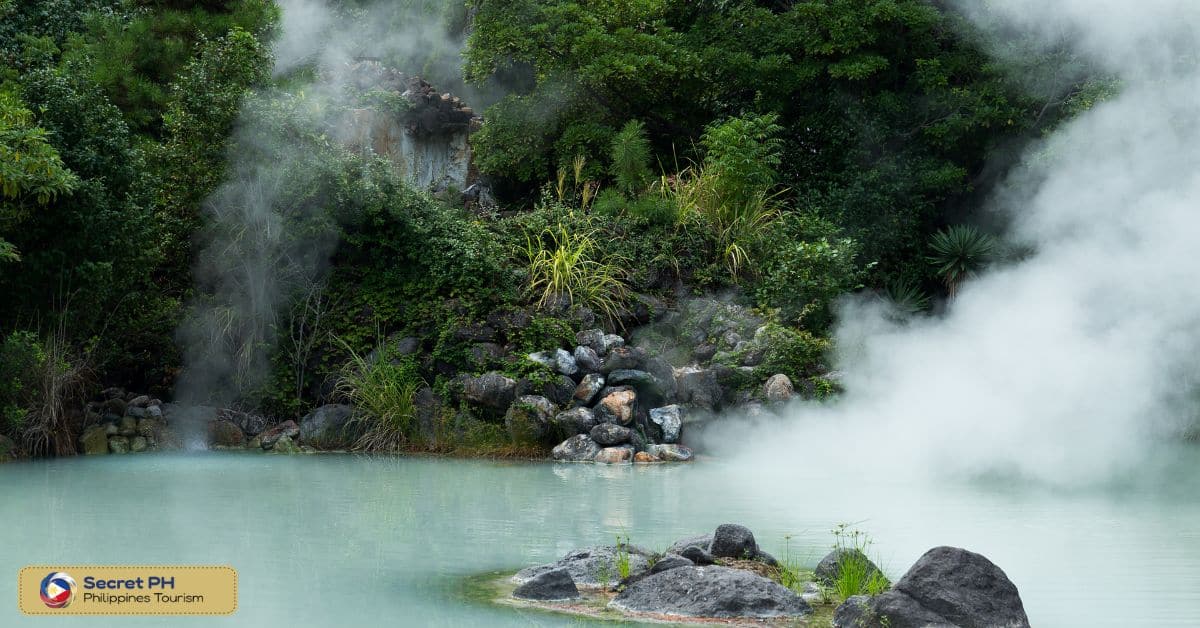 Opportunities for relaxation and rejuvenation
A visit to the natural hot springs can provide an opportunity for relaxation and rejuvenation. Soaking in the mineral-rich waters is thought to help alleviate stress and pain, while also promoting better well being.
Furthermore, this unique experience allows you to enjoy nature's beauty as it occurs naturally in its own environment. Those visiting can take advantage of many additional activities such as rock pools, snow fed pools, or even swimming alongside wildlife. If a private spot is preferable, many hot springs offer private locations for guests to relax without the disruption of crowds.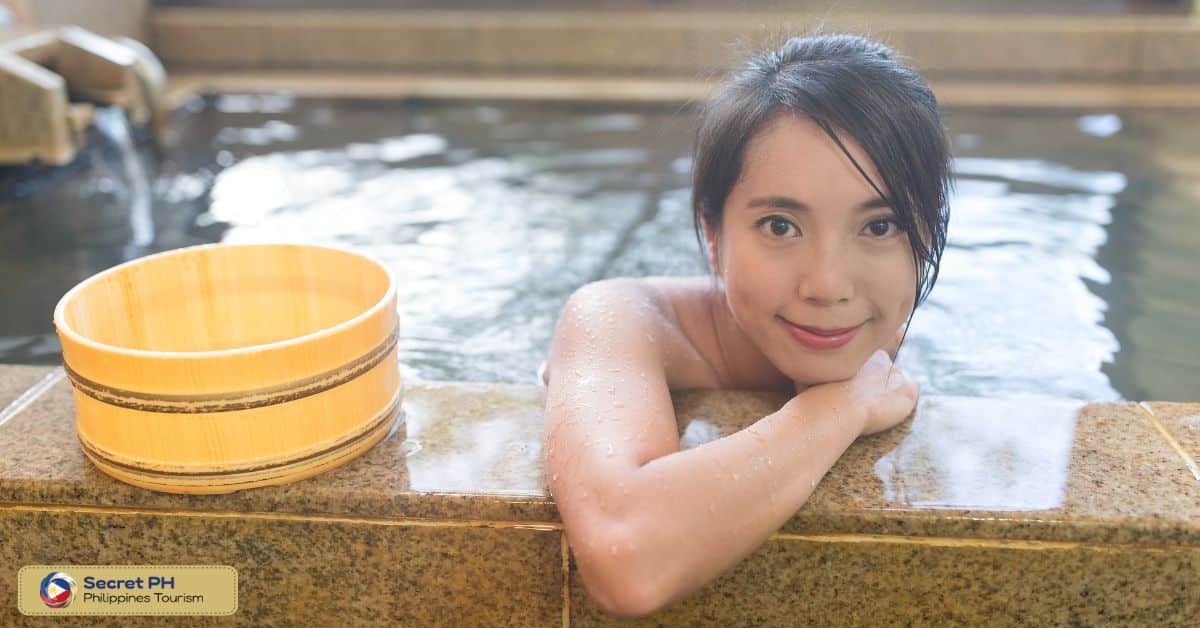 How to Plan Your Trip to the Natural Hot Springs
Planning a trip to a natural hot spring is an ideal way to spend a vacation or weekend getaway. Taking the time to research the best locations, map out travel routes, and schedule reservations in advance can make all the difference between an enjoyable experience and a stressful one.
By understanding the conditions of each location's natural springs and identifying what amenities are offered nearby, you can create your own customized itinerary that will let you make the most of your trip.
Best time to visit
Whether you're going solo or with your family or friends, all you need to do is pick the right destination and create an itinerary for yourself. Depending on the natural hot springs, there might be some additional costs such as entrance fees, locker rentals and spa treatments.
To maximize your experience, it's important to research ahead of time activities that are available in the local area and decide on accommodations which fit both your needs and budget. With thorough planning and preparation, you can ensure that you get an enjoyable and memorable vacation at the natural hot springs.
Cost and budget considerations
A trip to the natural hot springs offers a unique and restorative experience unlike any other. Cost considerations should be taken into account, along with lodging and transportation, in order to make the most of this vacation.
Weather and local activities, such as hiking and sightseeing, are all part of the adventure that makes a visit to the natural hot springs so enjoyable. Adequate research and budgeting can ensure you get the most out of your trip without overspending on unnecessary amenities.
Tips for a safe and enjoyable experience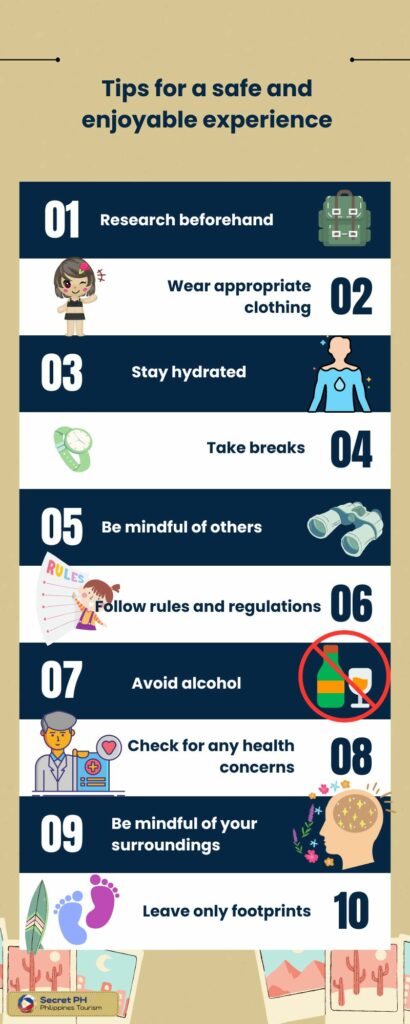 Research beforehand: Make sure to research the hot spring's reputation and safety standards before visiting.
Wear appropriate clothing: Wearing a swimsuit or proper clothing while visiting hot springs is essential.
Stay hydrated: Drink plenty of water to avoid dehydration while soaking in the hot water.
Take breaks: Soaking in hot water for too long can lead to dizziness, so it's important to take breaks and rehydrate.
Be mindful of others: Respect others' privacy and personal space while enjoying the hot spring.
Follow rules and regulations: Follow the rules and regulations of the hot spring facility to ensure everyone's safety.
Avoid alcohol: Alcohol and hot springs don't mix well, as it can increase the risk of accidents or health issues.
Check for any health concerns: If you have any health concerns or conditions, it's important to check with a doctor before visiting a hot spring.
Be mindful of your surroundings: Be aware of your surroundings, including any slippery surfaces, to avoid accidents.
Leave only footprints: Remember to keep the hot spring clean and maintain its natural beauty for future visitors.
In Conclusion
For those seeking to relax and re-energize, the natural hot springs in the Philippines are an ideal destination. Soaking in one of these unique springs provides a serene and peaceful experience as you take in the stunning natural backdrop of this picturesque region.
Mineral-rich waters help improve circulation while they spiritually cleanse your body, soul and mind. Here, visitors can reap the benefits of their time away by relieving stress, recharging energy levels and detoxifying their bodies all at once. With many different hot springs found across the islands, travelers have plenty of opportunity to discover the healing power that has been used for centuries.