Are you looking for ways to beat the heat and escape scorching temperatures? If so, then look as far as the Philippines! The Philippines is a tropical paradise that offers plenty of cool places to relax and unwind. This archipelago has something for everyone, from pristine beaches to lush mountain ranges and towering waterfalls.
Discover the breathtaking beauty and cooler climes of the Philippines with our top 10 coolest places to visit. These destinations offer a respite from the tropical heat and a chance to immerse in the country's rich culture and natural wonders. Get ready to escape the heat and embark on an unforgettable adventure. 
Here's a list of the top ten coolest places to visit in the Philippines to help keep you refreshed and beat the heat. Read on to discover these incredible destinations perfect for escaping the summertime temperatures!
1. Baguio City
Baguio City is one of the most beautiful places to visit in the Philippines. Its prime location at the heart of the Cordillera Mountain Range provides a spectacular backdrop wherever you go. The average temperature never climbs over 25°C, making it great for those who plan to spend some time outdoors for an adventure.
For example, Mines View Park and Wright Park offer amazing city and countryside views. Tourists can go there and look around and be amazed. Nature lovers will enjoy horseback riding or hiking through Pongas Falls National Park. They can also see beautiful sights and explore mysterious natural caves.
For an even more unique outing, why not witness firsthand how Baguio locals dye fabrics with indigo? Baguio City has something for everyone, making it a must-visit destination in the Philippines.
Address:  Baguio City, Philippines
Website: rp.baguio.gov.ph
If you want to visit this place, check the directions here.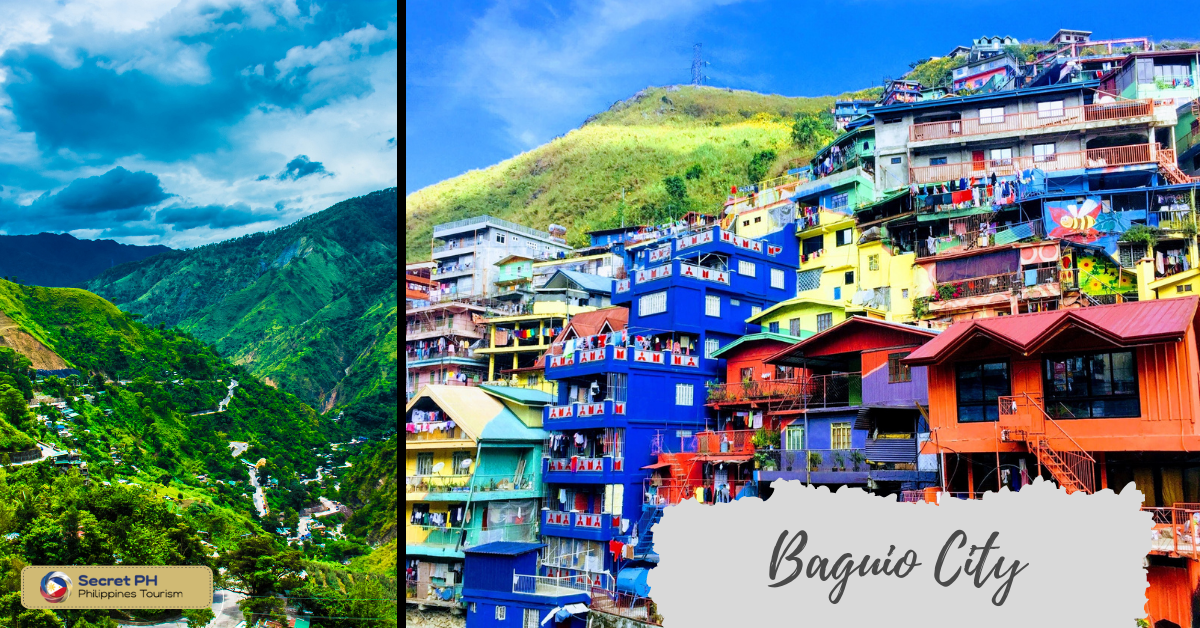 2. Tagaytay City
Home to fascinating natural attractions, Tagaytay City is one of the most beautiful places in the stunning Philippines. Famous for its overlooking views of Taal Volcano, picture-perfect Lake Taal, and endless rolling hills, Tagaytay is a picturesque destination perfect for all types of travelers.
Ziplining above lush forests and hiking volcanic ridgelines are two activities that are highly recommended for the adventurist traveler.
Sports enthusiasts can also partake in Taal's various outdoor activities, such as horseback riding and mountain biking. But Tagaytay isn't just about outdoor activities; its many restaurants serving delicious local cuisine offer visitors the opportunity to taste Filipino culture.
With its relaxing ambiance created by stunning views, Tagaytay City is truly a place not to be missed during a visit to the Philippines.
Address: Cavite, Philippines
Phone: (046) 413-3400
If you want to visit this place, check the directions here.
3. Mount Pulag
Mount Pulag is one of the coolest places in the Philippines in Benguet province. Standing at 2,922 meters (9,587 feet), it's one of the country's highest mountain peaks and home to various wildlife species.
People often talk about how beautiful the location is. The hikers can see rare things like dwarf bamboo, moss-covered grasslands, and beautiful pine forests. Keep an eye out for the endangered Mindoro bleeding-heart bird, a unique species that live only on Mount Pulag.
Spending time walking around this exquisite location – from the Akiki Trail to Ambangeg Trail or Babadak Ridge Trail – is an unforgettable experience due to its stunning views and flourishing environment.
Address: Kabayan, Benguet
Phone: 0919.5539-647
If you want to visit this place, check the directions here.
4. Sagada
Sagada is an incredibly picturesque mountain municipality located in the northernmost part of Mountain Province, Philippines. It is situated 1,500 meters up in the Cordillera Mountains and is blessed with boundless terraced rice fields, waterfalls, cliffs, and caves.
One of its main attractions is the world-famous "Hanging Coffins," which can be found in two locations – near Mt. Polis and Echo Valley. This tradition originated from a belief that burial above ground appeases the spirits of nature.
A long time ago, this was where important people or those who stood out for their bravery or wealth were buried. Some of the country's biggest caves can be found in Sagada. Beadwork and pottery have been found in these caves, which shows that people lived there thousands of years ago.
Furthermore, visitors will find Echo Valley unique for its natural acoustics created by huge limestone cliffs around it that create amazing echoes when people speak or make any noise within the valley. In short, Sagada offers marvelous sights that make it one of the coolest places to visit in the Philippines!
Address: Mountain Province, Philippines
Phone: 0945 638 9936
If you want to visit this place, check the directions here.
5. Bukidnon
People often call the province of Bukidnon in the Philippines the "Plateau region of Mindanao," and tourists can do and see a lot there. People go to Bukidnon to escape the busyness of the country because it has many beautiful rainforests, hills, and mountains that show nature at its best.
For those looking for adventure, there are a lot of trails and paths to explore, and for those interested in culture, there are a lot of native tribes that can tell you about their history and way of life. This only adds to the variety of the local food, where the flavors of each dish tourists can try are very different. Several churches in Bukidnon are hundreds of years old and can be seen by tourists who want to learn about the area's history.
Thus, for anyone looking for a unique destination in the Philippines, visit Bukidnon with its vast and versatile attractions!
Address: REGION X (Northern Mindanao)
Phone: 813-2457
If you want to visit this place, check the directions here.
6. Mt. Apo
Mount Apo, located in Mindanao, Philippines, is one of the most fascinating natural landmarks to visit. Standing at a staggering 10,311 feet above sea level, Mount Apo is a dome-shaped stratovolcano that towers over its nearby landscapes. It's home to abundant fauna and flora, including hundreds of birds and various plants.
Hiking up Mount Apo's trails is an adventure unlike any other, with stunning views of nearby lakes, such as Lake Agco and Digol River. For the more fearless hikers, it's possible to ascend the summit, wherein you can behold extraordinary sunsets atop the majestic Mount Apo. 
All in all, it's no surprise why this remarkable place is known for being a prime destination for avid adventurers.
Address: Dabaw, Lalawigan ng Davao del Sur
Phone:  0998 950 2558 
If you want to visit this place, check the directions here.
7. Banaue Rice Terraces
Banaue is in a region of the Philippines with many mountains. It is known for its beautiful rice terraces, some of the oldest in the world and have been named a UNESCO World Heritage Site. There are many things to do here, such as visiting traditional villages, hiking through the jungle, and taking in the beautiful views from panoramic vistas.
The Batad Amphitheater is one of the most famous places here. It has huge terraced structures that follow the curves of the mountains, and it is a truly amazing sight to see. Other great things to do include visiting the museum to see artifacts from different tribes and going river tubing at Lumiang Cave.
Hang gliding over Banaue's beautiful rice paddies is a once-in-a-lifetime experience for people who like to do exciting things at high altitudes.
Address: W4MP+V49, Nueva Vizcaya – Ifugao – Mountain Province Rd, Banaue, Ifugao
Phone: 0946 068 6965
If you want to visit this place, check the directions here.
8. Batanes
Batanes, Philippines – a vision of unspoiled paradise! A beautiful and relatively undiscovered network of islands at the northern tip of the Philippine archipelago, it enjoys pleasant weather all year round.
Famous for its rolling hills, breathtaking cliffs and golden sand beaches, and traditional Ivatan culture that's still alive and well, it is one of the must-see tourist destinations in the world. If you want to appreciate this country's beauty and charm, a visit to Batanes should surely be high on your list!
From exploring its lush mountains and taking an exciting hike through its fascinating caves to touring windmills or kayaking around idyllic coves – there's something for everyone here. And don't forget to take some time to relax and take in the stunning views of nature at its finest.
Address: Kilometer Zero, National Road, Basco, Philippines
Website: [email protected]
If you want to visit this place, check the directions here.
9. Siargao Island
Siargao Island is one of the coolest places to visit in the Philippines, and it's easy to see why. With picturesque natural wonders and high-adrenaline activities, Siargao Island is an amazing destination for all kinds of travelers. Visitors who enjoy leisurely oceanside days should check out Cloud 9 Beach, a stunning beach that has become an iconic image of Siargao Island.
There's also General Luna Beach, ideal for surfing with its strong waves that attract visitors worldwide. Siargao Island also has lots of caves, canyons, and lagoons for exploring and trekking that will satisfy travelers who like to try new things.
In addition to spectacular nature spots, lively nightlife scenes and traditional cultural sites offer plenty to fill a memorable itinerary when visiting Siargao Island.
Address: Brgy. San Jose, Del Carmen,  Siargao Islands, Surigao del Norte
Website: www.siargaoislands.com
If you want to visit this place, check the directions here.
10. Lake Sebu
Lake Sebu in the Philippines is one of the coolest places for anyone seeking an escape from the hot temperatures. It is about four hours by car from General Santos City. It is in the highlands of southern Mindanao, about 3,000 feet above sea level.
Visitors can enjoy lakeside camping and swimming in Lake Sebu's crystal-clear waters, surrounded by lush vegetation, evergreen forests, and breathtaking landscapes. Aside from its cool temperatures, many come here for fish-feeding tours and to absorb the rich culture of its friendly tribes, such as The T'duray people and their interesting weaving traditions.
Lake Sebu offers other activities such as kayaking, ATV rides, zipline gliding, tubing, or rafting through river rapids. This natural paradise is worth taking time off to explore!
Address: 6PF7+52W, Lake Sebu, South Cotabato
Contact Information: 0966 476 1620
If you want to visit this place, check the directions here.
In Conclusion
The Philippines is one of Southeast Asia's most popular tourist destinations due to its stunning scenery, distinctive culture, and welcoming people. This list includes something for everyone, whether you want to escape the summer heat or discover the country's top places. These top ten coolest spots in the Philippines will give you a memorable experience, from Baguio City's beautiful scenery and
Tagaytay City's delectable local cuisine to Mt Pulag's natural caves and Sagada's hanging coffins. The Philippines' natural beauty and unforgettable activities will make your trip worthwhile, no matter where you go. So what are you waiting for? Pack your bags now and start planning your visit to these top ten coolest places in the Philippines! You won't regret it!