Looking for a tranquil dining experience? Look no further than these 10 most beautiful garden restaurants in Manila.
Discover the beauty of dining in nature with our list of the top 10 garden restaurants in Manila. From stunning scenery to delectable cuisine, these restaurants offer the perfect combination for a memorable dining experience.
This blog post will guide readers through 10 of the best outdoor and garden restaurants in Manila, perfect for intimate dates or a special gathering with friends. So read on, and start planning your next unforgettable dining experience!
The Concept of Garden Restaurants
Garden Restaurants are becoming increasingly popular in the Philippines as an alternative to traditional indoor dining experiences. They can offer a more intimate and communal experience, providing guests with a unique atmosphere filled with lush greenery, natural decor, and al fresco seating areas that foster an inviting atmosphere for socializing.
These restaurants provide delectable cuisine and create a remarkable ambiance by blending rustic surroundings with modernity. Their menus range from light healthy snacks to full course meals so that they can cater to a variety of food tastes while allowing their patrons to relax in nature and appreciate the beauty of their Philippines home country.
Top 10 Garden Restaurants in Manila
Manila is an urban centre bustling with activity and culture. Amidst the hustle and bustle lies a great selection of Top 10 Garden Restaurants in Manila. These restaurants are the perfect spot to take a break from the crowded city streets and enjoy a peaceful meal in beautiful garden settings. Whether you're after classic Filipino fare or looking for flavours more ethnic, all your cravings can be fulfilled here. Not to mention panoramic views of stunning gardens that make any dinner setting a truly unique experience!
The Food Truck at Sofitel
The Food Truck at Sofitel is the perfect place for food-lovers looking for a unique and delicious taste of Manila. Located in an open-air garden restaurant setting, diners can enjoy an array of international flavors from various street stalls, complete with music and other entertainment. There's something for everyone at this vibrant and constantly evolving culinary destination – from traditional Filipino favorites to freshly grilled kebabs, creative pasta dishes, and surprisingly tasty desserts.
Address: Sofitel Philippine Plaza Manila, CCP Complex, Roxas Blvd, Pasay, 1300 Metro Manila
Opening Hours: Friday & Saturday, 6PM – 9:30PM
Phone: (02) 8573 5599
Menu offerings
The Food Truck, located on the premises of this five star property, creates a sensational array of flavors and techniques. For a truly authentic dining experience, don't pass up the garden's invitingly fresh flavors served from the Food Truck at Sofitel!
| Dish | Description |
| --- | --- |
| Beef Caldereta | Slow-cooked beef with potatoes, carrots and bell peppers in a tomato sauce. |
| Grilled Porkchop | Marinated porkchop grilled to perfection. Served with your choice of side dish. |
| Chicken Asado Sisig | Tender chicken cubes cooked in a special asado sauce and topped with sisig toppings. |
| Bagoong Rice | Rice cooked in bagoong, a Filipino fermented fish paste served with crunchy fried fish on the side. |
| Crispy Pata | Deep-fried pork leg served with homemade sweet and sour sauce for dipping. |
Nobu Restaurant – City of Dreams Manila
Nobu Restaurant is one of the Garden Restaurants in Manila where visitors and locals alike can experience the world-renowned modern Japanese cuisine prepared by award-winning Chef Nobuyuki Matsuhisa. Famous for its signature dishes such as black cod miso and rock shrimp tempura, Nobu goes beyond delivering high-quality gastronomy, thanks to their spacious establishment as well as their attentive service team who are dedicated to creating an unforgettable dining experience for every guest.
Address: Level 1 Nobu North Tower, Aseana Ave, Parañaque, Metro Manila
Opening Hours: Monday – Saturday, 5PM – 11PM / Sunday, 11AM – 3PM / 5PM – 10PM
Phone: (02) 8691 2882
Menu offerings
Guests can choose from an amazing selection of world-class cuisine featuring traditional and modern Japanese dishes, complemented by creative cocktails and fine wines. With an emphasis on fresh seasonal ingredients, delectable seafood and tantalizing sakes, every meal here is sure to be unforgettable. Whether you're looking for a romantic evening or simply a delicious meal out with friends, look no further than Garden Restaurants at Nobu Restaurant.
| Menu Item | Description |
| --- | --- |
| Edamame and Shishito Pepper | Start your meal with edamame and shishito pepper, a delicious combination of sweet and smoky flavors. |
| Sashimi Moriawase | Enjoy a selection of the freshest sashimi including tuna, salmon, sea bream, yellowtail and shrimp. |
| Omakase Course | A carefully curated tasting menu featuring the best dishes from Nobu's kitchen. Includes sushi, tempura and other specialties. |
| Robatayaki Selection | An assortment of charcoal-grilled Japanese specialties cooked to perfection in an open-flame robata grill. Enjoy beef short rib, salmon fillet or spinach gomaae with yuzu soy sauce. |
Rustic Mornings By Isabelo Garden
Rustic Mornings by Isabelo Garden is one of Manila's most beloved Garden restaurants. Offering modern cuisine inspired by both Filipino and global flavors, it's a great spot for leisurely lunch or dinner with family and friends. The Garden offers a unique dining experience unlike any other as it's nestled in the lush greens of San Juan. Its menu features dishes prepared using only the freshest ingredients—perfect for those seeking to feel close to nature while relishing flavor-rich food.
Address: Marikina, 1800 Metro Manila
Opening Hours: Monday – Sunday, 8AM – 4PM
Phone:  (02) 8425 8610
Menu offerings
Rustic Mornings By Isabelo Garden is one of the most unique Garden Restaurants in Manila. Offering a peaceful and tranquil atmosphere, it boasts a diverse selection of dishes on its menu that is sure to appeal to any palate. From classic all-day breakfast meals including pancakes and omelets, to grilled mains such as steaks, chicken and pork belly, this restaurant offers plenty of options for a comforting and delightful experience.
| Item | Description |
| --- | --- |
| Breakfast Burrito | Scrambled eggs, bacon, cheese, and salsa in a grilled tortilla wrap |
| French Toast | Thick slices of brioche bread dipped in cinnamon-vanilla batter and grilled till golden |
| Blueberry Pancakes | Buttermilk pancakes filled with fresh blueberries and topped with maple syrup |
| Pulled Pork Sandwich | Tender pulled pork served on a classic bun with housemade BBQ sauce, pickled onions, and coleslaw |
| Chicken Caesar Salad Wrap | Grilled chicken strips tossed in Caesar dressing served on a wrap with lettuce, tomatoes, parmesan slices, and croutons. |
The Loggia by Margarita Forés
The Loggia by Margarita Forés is a luxurious garden restaurant located in the heart of Manila. Featuring luxury items such as interior decorations from world-renowned designers and an al fresco area, this dining spot is home to Mediterranean flavors and high quality ingredients. Guests can enjoy high quality international wines and specialty cocktails handcrafted with molecular mixology. They can enjoy delicious food ranging from salads, soups and small plates to brick oven pizzas, pastas, charcoal-grilled steak and more.
Address: 95, 1701 Roxas Blvd, Tambo, Parañaque, Metro Manila
Opening Hours: Monday – Sunday, 11AM – 9PM
Phone : +639177113714
Menu offerings
The Loggia by Margarita Forés is an exquisite Garden Restaurant located in Manila that offers a variety of tantalizing menu options featuring only the freshest and highest-quality ingredients. Inspired by cuisines from all around the world, this eatery combines flair with flavorsome recipes to craft delightful dishes that delight the palate. Whether you're looking for a classic or something more unconventional, you can be sure to find something to satisfy any craving at The Loggia by Margarita Forés.
| Menu Item | Description |
| --- | --- |
| Tuna Tartare Salad | Lightly spiced tuna tartare served with cucumber and mango salsa |
| Garden Flatbread | Flatbread with seasonal vegetables, figs, pesto and mozzarella cheese |
| Duroc Pork Belly | Slow-cooked pork belly served with pickled shallots, kale and meyer lemon aioli |
| Prawn Linguine Pasta | Roasted garlic basil prawn linguine pasta served with roasted tomatoes and parmesan crisps |
| Chocolate Soufflé Cake | Dark chocolate soufflé cake served with espresso ice cream and hazelnut crumble |
Spices at The Peninsula Manila
This exquisite restaurant offers a selection of aromatic and flavorful spices in their renowned dishes that are sure to ignite all senses. Every dish is carefully crafted with ingredients sourced locally and internationally, bringing forth an exciting palatable experience. With 30 years of experience, Spices has become well known for presenting some of the most noteworthy cuisines and gastronomic delights in the city. Whether you're looking to enjoy a full course meal or just light snacks, this opulent Garden Restaurant is certain to provide a culinary adventure that will leave everyone satiated.
Address:  Corner Ayala and, 1226 Makati Ave, Makati, Metro Manila
Opening Hours: Monday – Sunday (except Tuesday) 11AM – 2PM / 6PM – 9PM
Phone:  (02) 8887 2888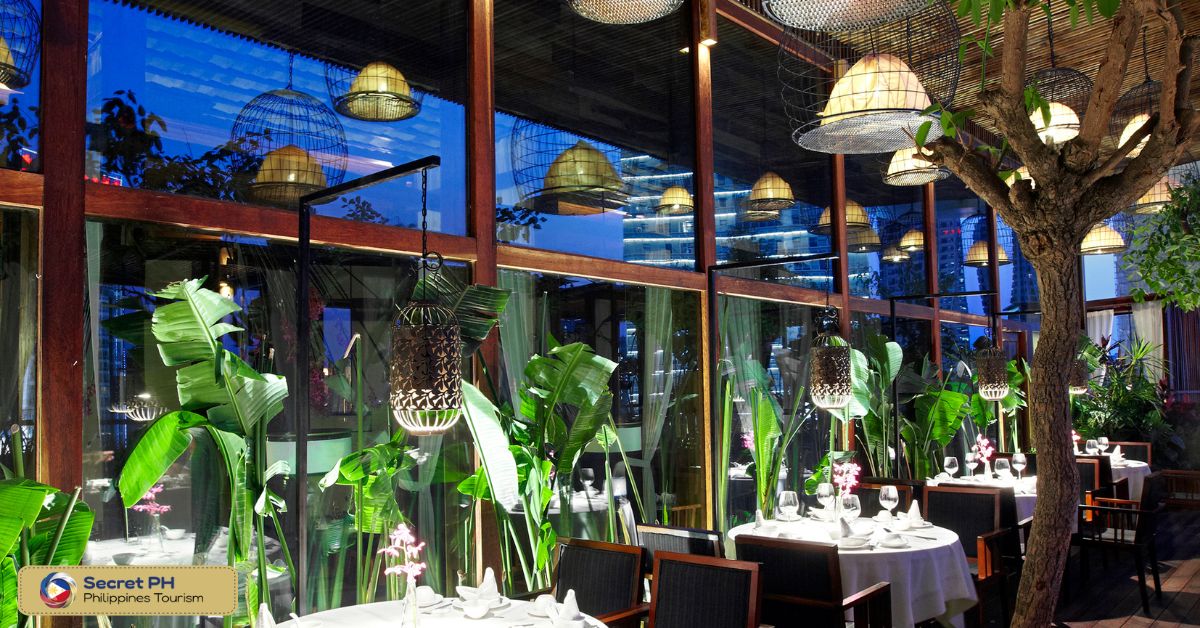 Menu offerings
Drawing from the local cultures and seasonal ingredients, sophisticated and elegant international dishes are crafted for guests to experience authentic flavors. Fresh seafood is paired with succulent meat dishes, produced with meticulous technique and care that showcases the restaurant's cutting-edge, modern take on traditional recipes. For vegetarians, Spices has a variety of appetizing choices to complement any meal.
| Menu Offerings | Spices |
| --- | --- |
| Masala Chicken Biryani | Coriander, Cardamom, Cinnamon, Cloves and Bay Leaves |
| Pan-Fried Sea Bass with Aromatic Rice & Coconut Milk Sauce | Cumin Seeds, Turmeric Powder, Dried Red Chilies and Curry Leaves |
| Shan Noodle Soup with Seafood and Curry Leaves Broth | Mustard Seeds, Fennel Seeds and Asafoetida (Hing) Powder |
| Tomato & Onion Sabzi | Cumin Powder, Dry Mango (Amchur), Red Chili Powder and Garam Masala Blend Spice Mix |
Ilustrado Restaurant
Ilustrado Restaurant is an exquisite garden restaurant located in Manila, Philippines. It has two lush and beautifully landscaped gardens to choose from for an evening of delectable fine dining. Whether you're planning a romantic evening with your partner or catching up with friends, this unique open-air setting provides the perfect ambiance. With a wide selection of exceptional dishes to choose from and superior service, Ilustrado aims to please every palate. The attentive staff creates an enjoyable and seamless dining experience that's sure to have you returning time and time again.
Address: 744 General Luna St, Intramuros, Manila, 1002 Metro Manila
Opening Hours: Monday – Sunday, 8AM – 10PM
Phone: (02) 8527 2345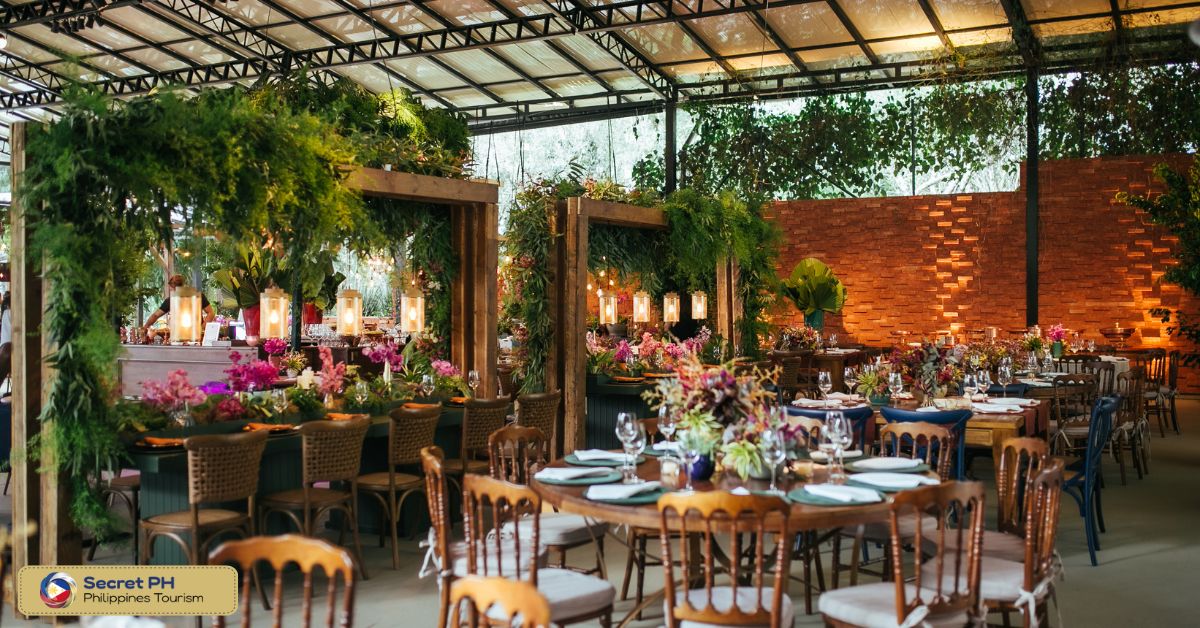 Menu offerings
Their menu selection features a variety of Filipino favorites, from Filipino Paellas to crisp and savory vegetable dishes. These traditional delights are only enhanced by a modern fusion of flavors that make for a truly unique dining experience. The menu at Ilustrado Restaurant offers something for everyone, sure to please even the most discerning palate.
| Appetizers | Main Courses | Desserts |
| --- | --- | --- |
| Bistik Tagalog | Grilled Salted Milkfish | Crema de Fruta |
| Lumpiang Ubod with coconut milk sauce (vegetarian) | Penne ala Pesto (vegetarian) | Mais con Hielo (corn ice cream) – vegan option available |
| Adobo Flakes Salad with mango puree and crispy chili-crusted pork floss topping. | Seafood Kare-Kare with salted egg, bokchoy and white shrimps. Served with steamed rice. | Queso de Bola Cheesecake in a Jar. Served with vanilla ice cream and pandan syrup. |
Talisay The Garden Cafe
Talisay The Garden Cafe is an outdoor restaurant located in the heart of Manila, providing guests with an oasis in the bustling city. As one of the most popular garden restaurants in Manila, it's no surprise that Talisay The Garden Cafe is well known for its fresh meals and scenic atmosphere. All the dishes are exquisitely prepared with locally sourced ingredients, taking full advantage of Filipino cuisine. Visitors enjoy al fresco dining in a relaxing environment surrounded by lush foliage, ornamental ponds and cascading fountains.
Address: 44 Maginhawa, Diliman, Lungsod Quezon, 1101 Kalakhang Maynila
Opening Hours: Monday – Sunday, 11AM – 9PM
Phone: (02) 8293 9077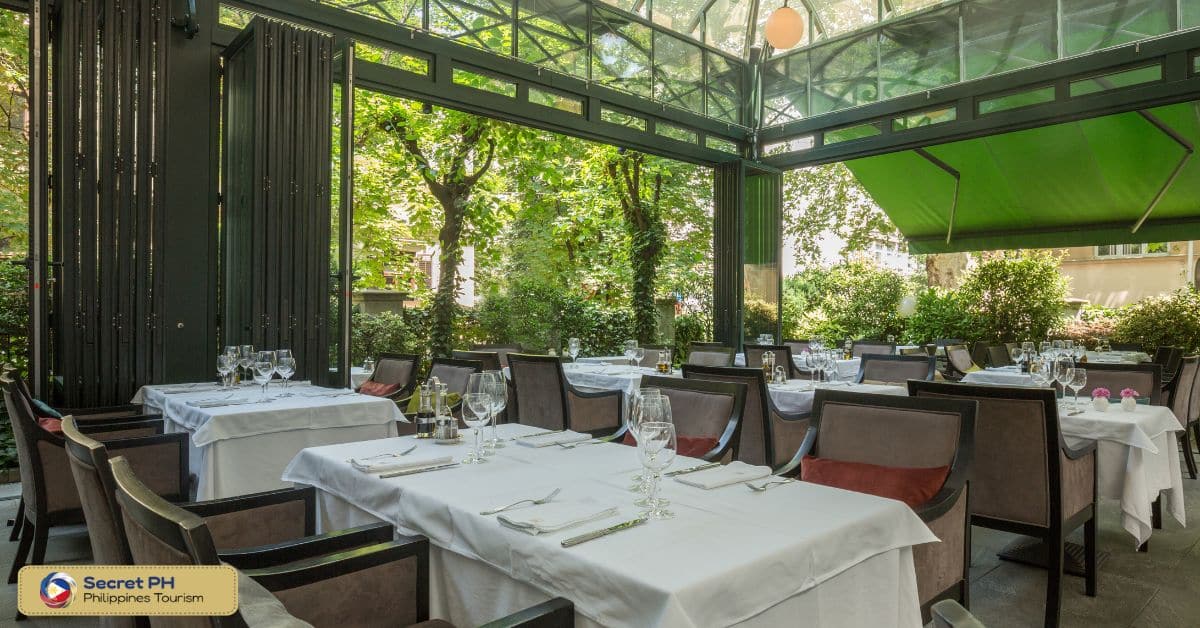 Menu offerings
Talisay The Garden Cafe offers an amazing selection of dishes to suit every appetite. Highlighting the flavors of Filipino cuisine, their chefs prepare each dish from fresh, locally sourced ingredients with attention to detail. This incredible mix of menu options ensures that every guest has an enjoyable and unforgettable experience at Talisay The Garden Cafe.
| Dish | Description |
| --- | --- |
| BBQ Pork Ribs | Oven-roasted pork ribs, served with a sweet-and-spicy glaze. |
| Spicy Chicken Lollipops | Crispy fried chicken lollipops, coated with an Asian-style marinade. |
| Classic Carbonara | Rich, creamy carbonara sauce made with cream and Parmesan cheese. |
| Vegetarian Paella | Saffron rice and vegetables cooked in olive oil and white wine. |
| Truffle Soup | Hearty mushroom soup infused with truffle oil and cream. |
Apartment 1B at The Henry Hotel
From the moment you walk in to the restaurant, you'll be greeted by a team of friendly staff, ready to make your meal experience one you won't soon forget. Dine with friends and family as you chose from a curated menu of delicious Filipino dishes that are sure to tantalize your taste buds. Enjoy al fresco dining on the restaurant's terrace and marvel at the stunning foliage of tropical plants surrounding you from all sides. The atmosphere is warm, inviting and full of life, making it the perfect destination for when you want an enjoyable evening out on the town.
Address: 2680 F.B. Harrison St, Pasay, Metro Manila
Opening Hours: Monday – Sunday, 7AM – 9PM
Phone: (02) 8831 4610
Menu offerings
The Garden Restaurants at The Henry Hotel in Manila offer a menu that's sure to please anyone. You can enjoy a variety of cuisines in this restaurant that has something to suit any taste – from Mexican and American favorites to Filipino specialties and international flavors. Each dish is made from fresh, local ingredients and puts a unique spin on traditional comfort foods. The restaurant also offers an extensive selection of creams and cakes, perfect for sweet cravings.
| Menu Items | Description |
| --- | --- |
| Appetizers | Grilled calamari, fried wonton, tempura shrimp, and roasted pork belly. |
| Soup & Salad | Clam chowder, shrimp bisque, gazpacho, Caesar salad, and garden greens with vinaigrette. |
| Entrees | Grilled flank steak, pan-seared salmon, braised short ribs, and chicken parmesan. |
| Desserts | Chocolate cake, crème brulée, tiramisu, and mango mascarpone cheesecake. |
Café Ysabel
Cafe Ysabel is one of the most popular Garden Restaurants in Manila. With its unique lush and beautiful garden setting, it serves as a wonderful place to relax after a long day and provides an enjoyable atmosphere which makes it a great restaurant to come with family and friends. Its menu offers a variety of Filipino and international dishes cooked to perfection for anyone looking for a delicious meal. It also offers cool drinks to go with their meals such as beer, wines, refreshing juices, shakes and smoothies that can suit different tastes.
Address: 175 M. Paterno, San Juan, 1500 Metro Manila
Opening Hours: Tuesday – Sunday, 11AM – 9PM
Phone: +639955905515
Menu offerings
Café Ysabel, located in a Garden restaurant in Manila, specializes in Mediterranean cuisine. With its emphasis on fresh, local ingredients the restaurant's menu offers a unique selection of salads, flatbreads and pastries as well as traditional entrees that patrons can enjoy in an exquisite setting. The restaurant also serves creative cocktails and has an extensive wine list that pairs perfectly with their culinary offerings.
| Food Type | Menu Offerings |
| --- | --- |
| Appetizers & Salads | Caprese Salad, Grilled Pesto Chicken, Grilled Fish with Mango Salsa |
| Pasta & Risotto | Spaghetti Carbonara, Fettuccine Alfredo, Mushroom Risotto |
| Main Course | Rosemary Roasted Chicken, Slow-Baked Baby Back Ribs, Stuffed Squid in Squid Ink Sauce |
| Desserts | Caramelized Banana Tartlette, Crème Brulee Cheesecake, Chocolate Lava Cake |
Delgado.112
Delgado.112 is a restaurant located in Manila, Philippines. With its beautiful garden restaurant setting and unique menu of Filipino fusion cuisine, Delgado.112 offers an unforgettable culinary experience for all its guests. Their restaurant combines traditional flavors with modern cooking techniques to make their food come alive, presenting guests with dishes that are familiar yet excitingly new. The restaurant also houses a selection of flawlessly crafted cocktails which will offer a delightful pairing for your meals.
Address: 112 Scout Delgado Street, Tomas Morato Ave, Quezon City, Metro Manila
Opening Hours: Monday – Sunday, 11AM – 12AM
Phone: +639669765520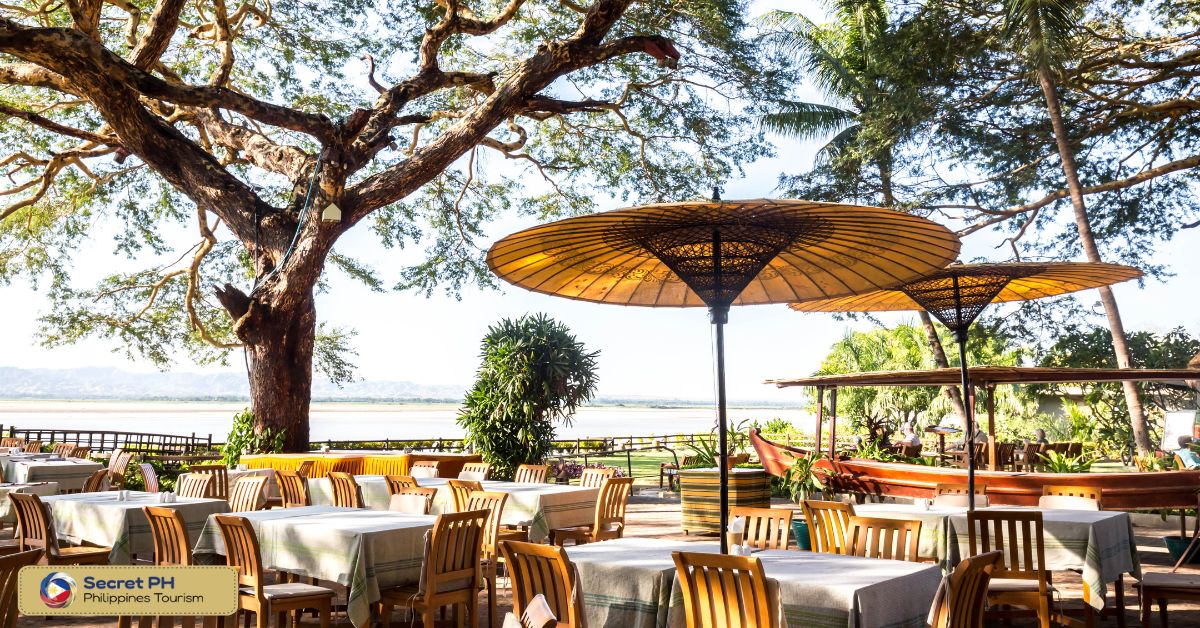 Menu offerings
Delgado.112 is a restaurant like no other. Whether you're looking for traditional dishes such as spicy adobo, or a more contemporary take on Filipino cuisine like the pork ribs bbq. You can even enjoy your choice of food with their assortment of drinks from smoothies to fruit shakes that will perfectly complement your meal.
| Item | Description |
| --- | --- |
| Paella | A Spanish dish of rice, seafood, chorizo and vegetables. |
| Carbonara | Spaghetti tossed with a creamy bacon sauce and parmesan cheese. |
| Bacon Cheeseburger Sliders | Bite-sized Angus beef burgers topped with bacon and cheddar cheese. |
| Baked Salmon in Olive Oil Sauce | Wild-caught salmon cooked in olive oil, herbs, garlic and white wine. |
| Grilled Pork Chops | Bone-in pork chops marinated in rosemary and thyme and served with roasted potatoes. |
In Conclusion
Dining in a restaurant surrounded by gardens can bring out the best in Filipino cuisine, offering diners a truly unforgettable experience. Whether it's the tranquility nature brings or the savory aromas of restaurant-cooked meals, these ten most beautiful garden restaurants in Manila will provide an experience unlike any other. With its unique settings and delicious food offerings, dining in Nature is an experience that no restaurant-goer should miss.