Cebu City is a top tourist destination in the Philippines, offering a mix of historical, cultural, natural, and modern attractions. From the historic Magellan's Cross and Fort San Pedro to the stunning Osmeña Peak and island getaways like Mactan and Malapascua, there's something for everyone in this vibrant city.
If you're the adventurous type, Cebu City can offer some of the most exciting destinations. With its breathtaking shores, enchanting forest trails and remarkable historical sites, there's absolutely no shortage of places to explore. Whatever you choose, each destination in Cebu City will give you a unique life experience that'll leave a lasting impression on your heart and soul.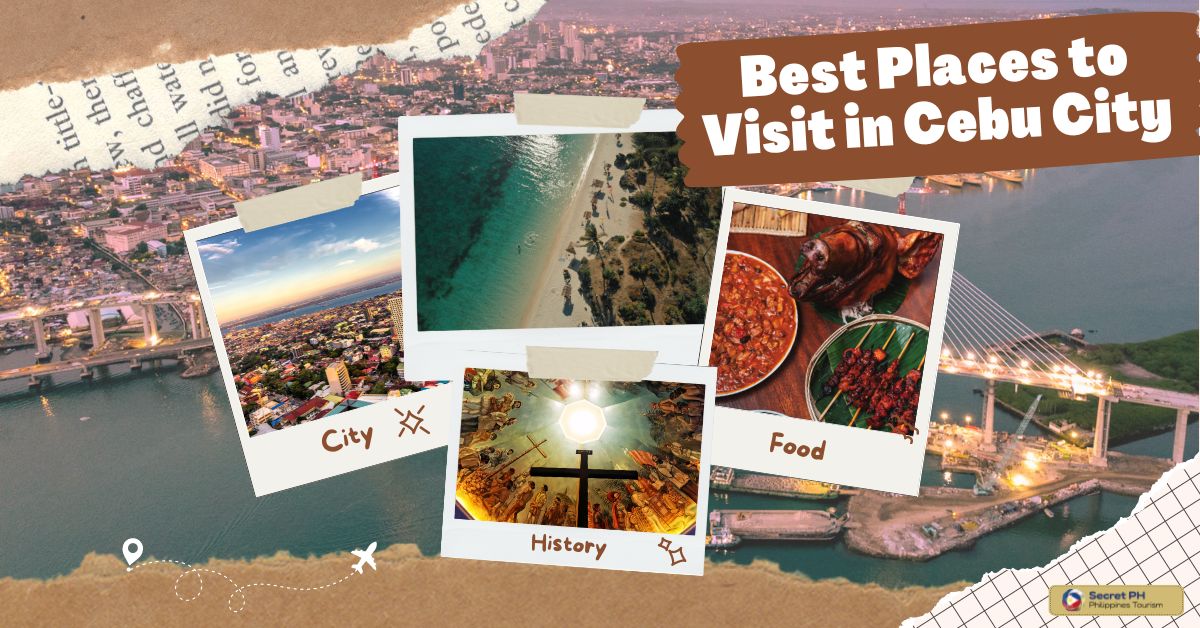 Cebu City as a Top Tourist Destination in the Philippines
Cebu City, located in the central Visayas region of the Philippines, is a top tourist destination in the country. It's known for its rich history, cultural heritage, natural attractions, and modern developments. With its perfect blend of the old and new, Cebu City offers something for every kind of traveler.
One of the main attractions of Cebu City is its historical and cultural sites. The city has several landmarks and monuments that are significant to Philippine history, such as Magellan's Cross, Basilica del Santo Niño, and Fort San Pedro. The Taoist Temple and Museo Sugbo are also popular cultural attractions that showcase the city's diverse cultural heritage.
Historical and Cultural Attractions
Cebu City is a historical and cultural destination with a variety of attractions for enjoyment. The Cebu Heritage Monument in the center of Cebu City marks the unification of Cebu as Philippines' first city under Spanish rule. There are many colonial-style Spanish churches, and streets. The structures reflect the former influences on Cebu's rich history.
Cebu has also been influenced by other cultures throughout its history. It holds many cultural attractions such as Taoiste Temples and Islamic mosques that display Cebu's multicultural identity. Visitors also have access to modern shopping malls and entertainment spots.
Magellan's Cross and Basilica del Santo Niño
Cebu City is home to two iconic historical landmarks: Magellan's Cross and the Basilica del Santo Niño. Magellan's Cross, a wooden cross erected by Portuguese explorer Ferdinand Magellan in 1521, stands in Cebu City as a relic of great cultural significance.
The Basilica del Santo Niño, or Basilica of the Holy Child, is one of Cebu's oldest Roman Catholic churches, originally built in 1565. Inside the basilica lies venerated image of the Santo Niño de Cebu (Holy Child of Cebu), preserved since its gift to Cebuano natives by Ferdinand Magellan himself more than four centuries ago. Together with their unique stories and important cultural ties, Magellan's Cross and The Basilica Del Santo Niño are essential elements to Cebu City's vibrant history.
Magellan's Cross
 Address: 7WV2+CQG, P. Burgos St, Cebu City, Cebu
Opening Hours: Monday – Sunday, 8AM – 6PM
Phone:  (078) 945 6321
Basilica del Santo Niño
Address: Osmeña Blvd., Cebu City, Cebu (show location map)
Phone:(32) 255 – 6697 to 99
Mass Schedule: Mon-Thur and Sat: 4PM – 6PM. Fri: 8AM-12NN and 4PM-6PM.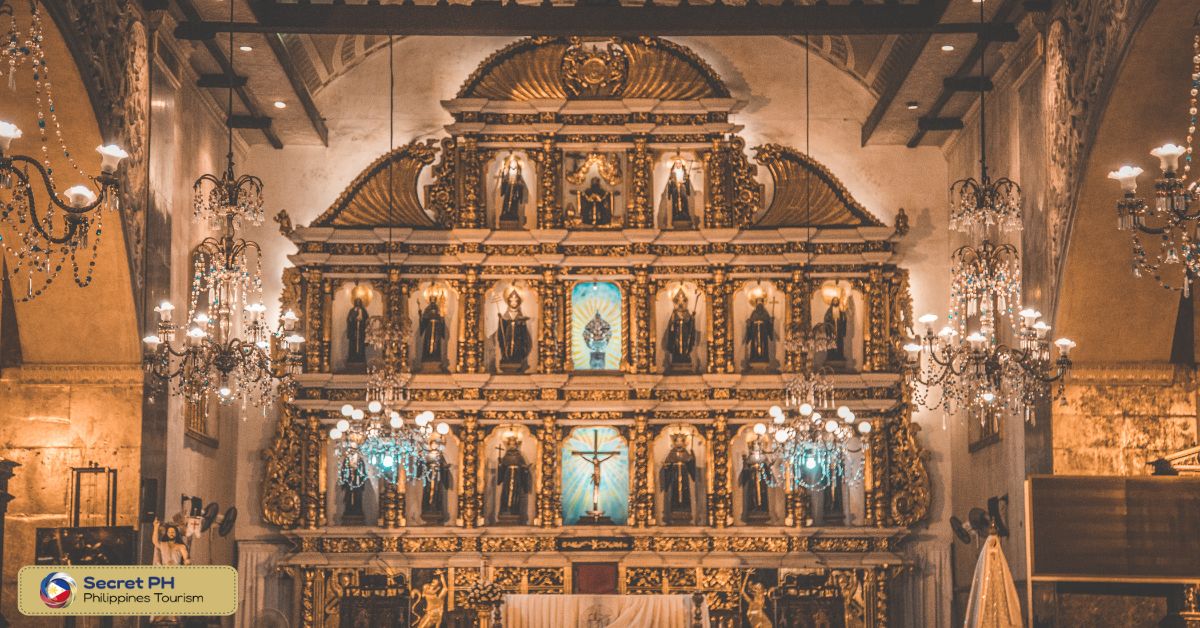 Fort San Pedro
Nestled in Cebu City, Fort San Pedro is a significant piece of Cebuanos' history. It has become Cebu's and the Philippines' most important landmark with its rich & colorful past and being the oldest, smallest and cheapest fort in the entire country.
Built by Miguel Lopez de Legazpi, who formed the first Spanish settlement inthe Phillips Islands and is considered the founder of Cebu, the walls of this fort have seen much action over the years. The majestic structure is now a park and a museum wherein visitors can view artifacts from Cebu's past, as well as understand what life was like hundreds of years ago.
Address: 7WR4+X7J, A. Pigafetta Street, Cebu City, 6000 Cebu
Opening Hours: Monday – Sunday, 8AM – 5PM
Phone:  (032) 256 2284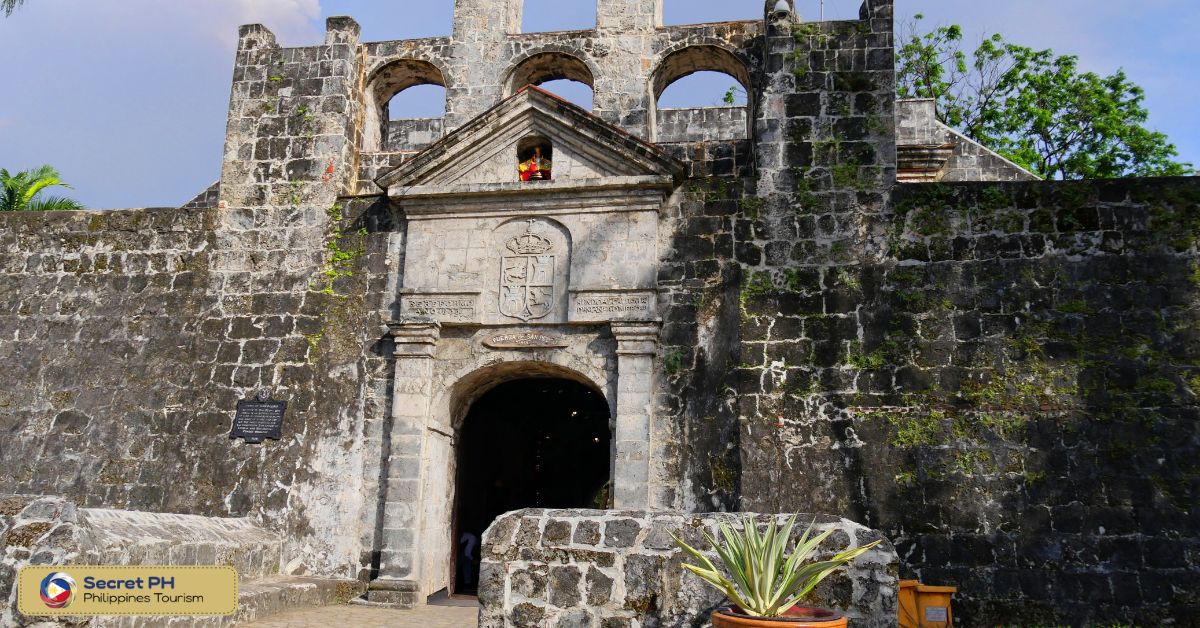 Taoist Temple
Cebu City's Taoist Temple is an architectural wonder that stands proudly within the city's limits. This Chinese-style temple dedicated to a number of Taoist deities reflects Cebu's long history of cultural and religious influences. Its ornately decorated steps and closely manicured gardens lead up to a three-tiered structure, which is topped with intricate sculptures and carvings.
Inside, there are beautiful shrines where worshippers come to seek blessings from the gods or just admire the elegance of this unique building. Visitors can browse through the store lining the temple's entryway and purchase amulets or lucky charms endowed with the power of the divine before moving on to explore other Cebu attractions.
Address: 8VMQ+M5X, Cebu City, Cebu
Opening Hours: Monday – Sunday, 8AM – 5PM
Phone: (032) 254 6503
Museo Sugbo
Museo Sugbo is Cebu City's answer to a modern gallery experience. This museum takes visitors on a journey through Cebuanos' past and cultural experiences. Housed in Cebu's old provincial jail, Museo Sugbo displays artifacts and items from Cebu's Spanish colonial period, as well as old photographs of Cebu City from the turn of the 20th century.
Aside from its artifacts and exhibits, Museo Sugbo also holds activities like lectures and workshops on Cebuano culture. All in all, Museo Sugbo is Cebu City's ultimate destination for exploring the province's roots and past, making it an ideal place to visit no matter who you are or where you come from.
Address: 731 M. J. Cuenco Ave, Cebu City, 6000 Cebu
Opening Hours: Monday – Sunday, 10AM – 3PM
Phone: (032) 239 5626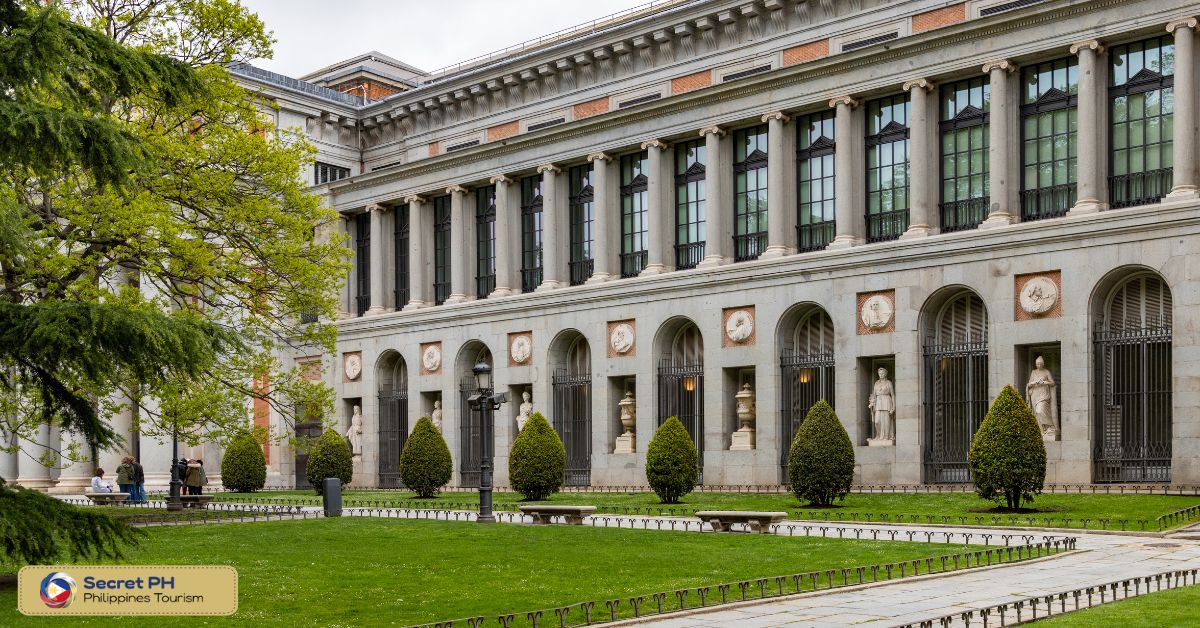 Natural Attractions
Cebu City, located on Cebu Island in Philippines, provides visitors with a wide array of natural attractions to visit. From its white sand beaches to its rolling hills, Cebu City is a paradise of outdoor activities waiting to be explored.
For those looking for something more laid back, whale watching opportunities are available year-round, where you can watch the majestic creatures swim alongside their babies in picturesque waters. All this makes Cebu City an excellent destination for travelers seeking adventure or just simply wanting to enjoy Cebu's beautiful natural attractions.
Osmeña Peak
Osmeña Peak is an iconic mountain peak located in Cebu City in the Philippines. It is a popular tourist destination, offering stunning views and an array of recreational activities for hikers. The hike up Osmeña Peak consists of a steep and challenging but scenic 3-kilometer trail, perfect for experienced hikers looking to challenge themselves.
At the peak, adventurers can take in the breathtaking view of Cebu City's sprawling landscapes with its beautiful beaches, vibrant green scenery and clear blue waters. It is indeed one of Cebu's hidden gems that attracts both locals and travelers alike.
Address: RFC8+MHC, Dalaguete, Cebu
For more information, click here.
Sirao Flower Farm
Sirao Flower Farm is a must-see destination for Cebu City locals and tourists alike. Situated in the hills of Cebu City, this farm is renowned for its beautiful floral landscape adorned with rows of vibrant celosia flowers known as the "Mini Amsterdam" because of its resemblance to scenery often seen in Europe.
Visitors can also expect amusing plants shaped like animals, pandas, koalas and other unique sights! Enjoy the vistas of this flower oasis while you visit their shop filled with souvenirs, tea blends, coffee variants, jams and more sure to bring out your inner creativity. Six different flower gardens make up Sirao Flower Farm and provide a stunning backdrop to your vacation photos – so don't forget your camera.
Address: CV48+MPV, Cebu City, 6000 Cebu
Opening Hours: Monday – Sunday, 8AM – 5:30PM
Phone: +639286566128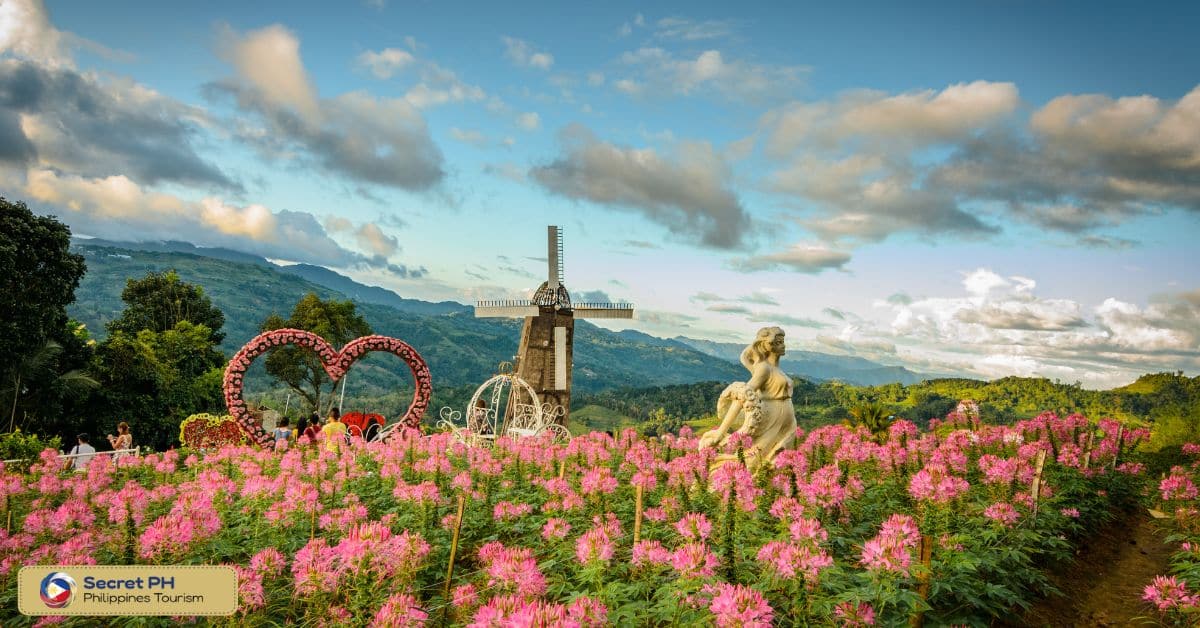 Temple of Leah
Cebu City's impressive Temple of Leah stands out as a testament to love and devotion. Located at the top of a hill, this stately brick building is surrounded by lush greenery and stunning views. Built in 2012 by Teodorico Adarna III for his wife, temple walls adorned with sculptures of figures that tell the story of their life together.
Inside the temple are several large plaques, each inscribed with sweet messages from the donor to his beloved. The grand gaze overlooking Cebu City ensures that this token of dedication remains embedded in public consciousness for years to come. The Temple of Leah is a unique architectural treasure that epitomizes true love and devotion worth visiting.
Address: Cebu Transcentral Hwy, Cebu City, Cebu
Opening Hours: Monday – Sunday, 6AM – 11PM
Phone:  +639063245687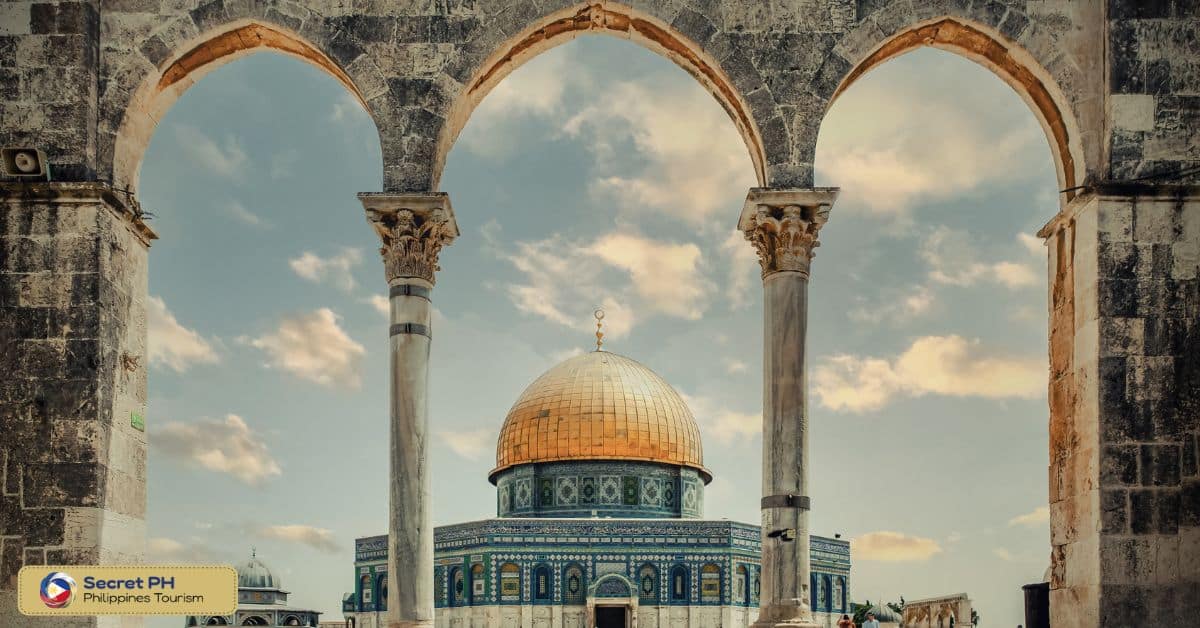 Beaches and Island Getaways
Cebu City provides some of the most breathtaking views for beach and island getaways. This enchanting destination has beaches boasting immaculate white sand stretching to meet crystal-clear blue waters glistening under the sun, inviting travelers to explore all Cebu City has to offer.
There are plenty of options, ranging from superb accommodations and world-class resorts with family–friendly amenities, to secluded and romantic hideaways on a private island where weary travelers can relax in complete privacy. With its tantalizing combination of hypnotic ambiance and captivating landscape Cebu City is an ideal spot for beach and island getaways.
Mactan Island
Mactan Island, an island located in Cebu City in the Philippines, has become a major tourist destination due to its beauty and abundance of attractions. It is known for its stunning beaches with powder-white sands, such as Maribago, Cacupangan, Buyong, and Matingking that offer swimming and stunning views of sparkling blue waters.
Active travelers will also find plenty to do here including snorkeling and diving around the tropical coral reefs full of colorful fish. There are even old ruins with stories that visitors can explore throughout the area. With a variety of hotels and resorts nearby, Mactan Island is a wonderful place to escape reality for an unforgettable vacation.
For more information, click here.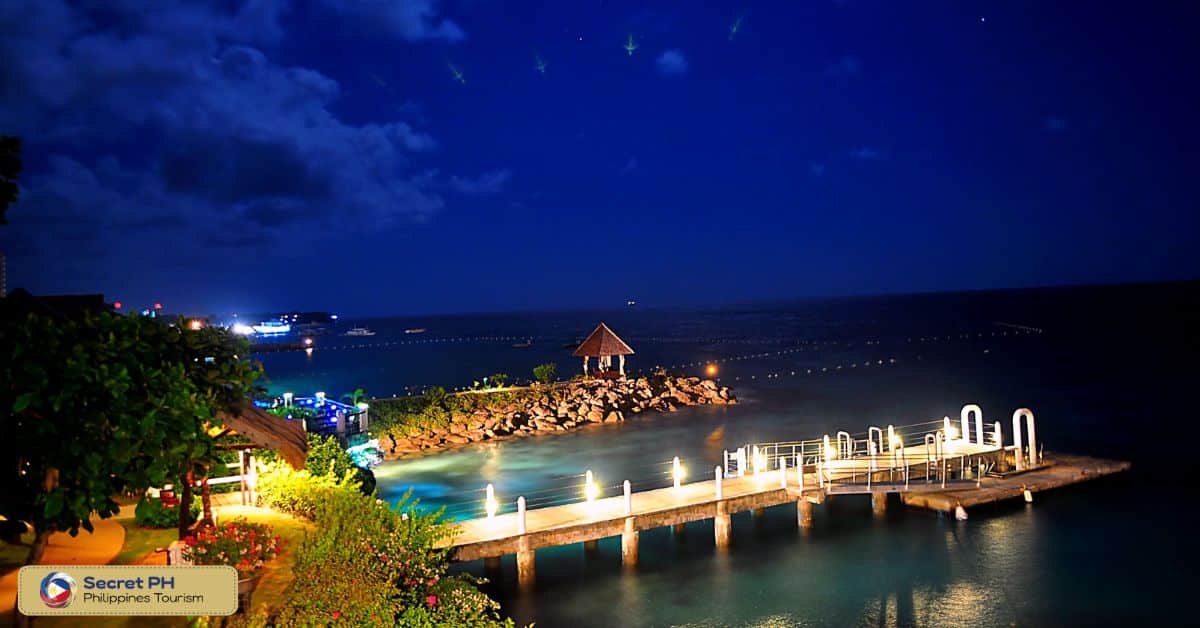 Malapascua Island
Malapascua Island is a small, secluded island located on the northeast coast of Cebu City. Its white sandy beaches and crystal-clear blue waters make it an idyllic vacation spot for people looking to escape from their daily lives into a peaceful retreat.
Its warm climate and abundance of interesting activities, such as snorkeling, kayaking and trekking, mean that there is something to keep everyone entertained against its picturesque backdrop. As well as this, the island is home to some local species of wildlife ranging from exotic birds to manta rays, giving nature lovers plenty to observe.
For more information, click here.
Bantayan Island
Cebu City may not be the first place that comes to mind when you think of vacationing in the Philippines, but a visit to Bantayan Island will surely make it worth your while. Located northwest of Cebu City, Bantayan Island is known for its untouched beauty. With crystal-clear waters teeming with tropical fish and white-sand beaches lined with palm trees, it's no wonder why many come here for rest and relaxation.
Apart from the stunning natural landscape, visitors can partake in a variety of activities such as snorkeling, kitesurfing and diving, or simply enjoy limoncello made from freshly harvested lemons. From exciting adventures to much-needed rest and rejuvenation, Bantayan Island is the perfect spot for any kind of holiday.
For more information, click here.
Moalboal
Moalboal is a small municipality in Cebu City, Philippines. Located on the western side of Cebu Island, Moalboal is known for its pristine coral reefs and white sand beaches. Its crystal clear waters are ideal for swimming, snorkeling and scuba diving, attracting tourists from all over the world.
The area is famous for breathtaking underwater scenery as well as great marine life like manta rays, sea turtles and colorful fish. In addition to its aquatic attractions, Moalboal also offers plenty of land activities such as waterfall trekking and mountain biking.
For more information, click here.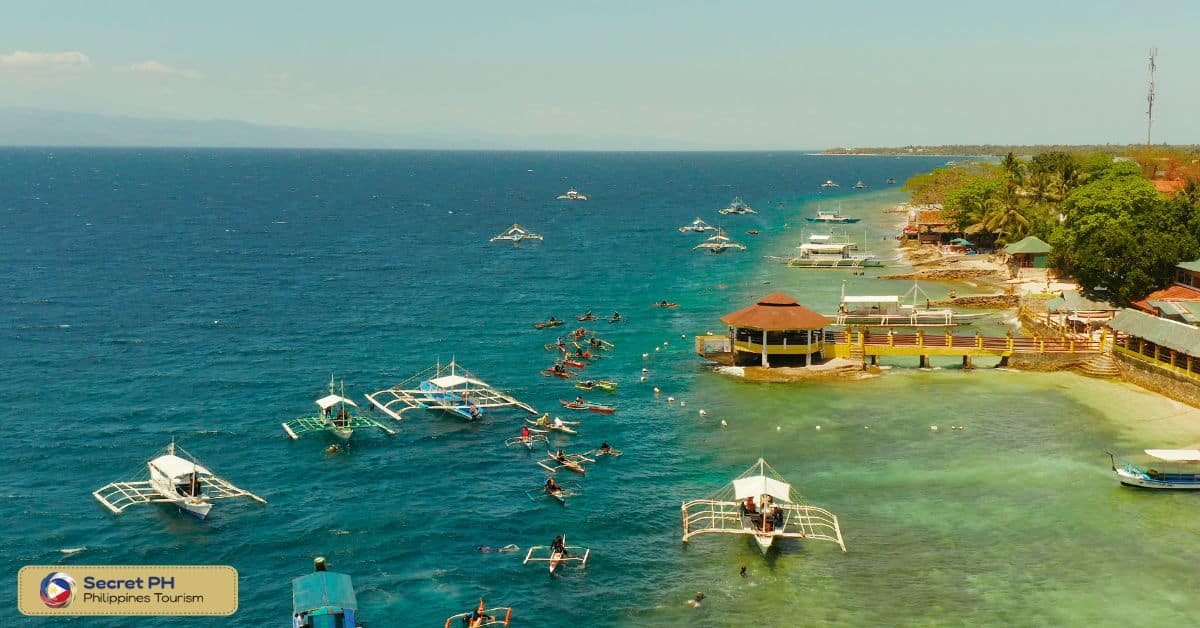 Food and Nightlife
Cebu City is full of life, especially when it comes to food and nightlife. With dozens of top-notch restaurants, tourists, locals and even celebrity chefs all contributing to the city's vibrant culinary culture, Cebu City has become one of the most exciting places in the Philippines when it comes to food.
Cebu City also offers endless nightlife fun with venues ranging from low-key local bars to trendy hangouts with live music and international DJs. Whether you're in Cebu for a weekend or for longer, you won't be disappointed by Cebu's energetic range of delicious foods and lively night scenes.
Cebu Lechon
Cebu Lechon is a traditional Cebuano delicacy that originates from Cebu City in the Philippines. It is an entire pig roasted to perfection in firewood, making the skin incredibly crisp and flavorsome while keeping the meat juicy and tender.
Cebu Lechon uses indigenous Cebuanos condiments and seasonings, giving it a unique flavor profile. It has gained popularity worldwide due to its complex flavor and the way it melts in your mouth. Cebu Lechon offers an authentic Filipino experience, making it a must-try for anyone visiting Cebu City.
Larsian Barbecue
Cebu City's Larsian Barbecue can't be beat when it comes to smoky grilled flavors. As one of Cebu's ultimate street foods, Larsian Barbecue offers a wide variety of barbecued meats that have been slow-cooked over hot charcoal until they become tender and juicy.
Served in Cebuano style with fragrant garlic rice and freshly cooked fish, pork or chicken, the point of this dish is to revel in balance between the sweet and salty flavors. This Cebuano signature dish is sure to hit the spot with its smoky aroma and taste!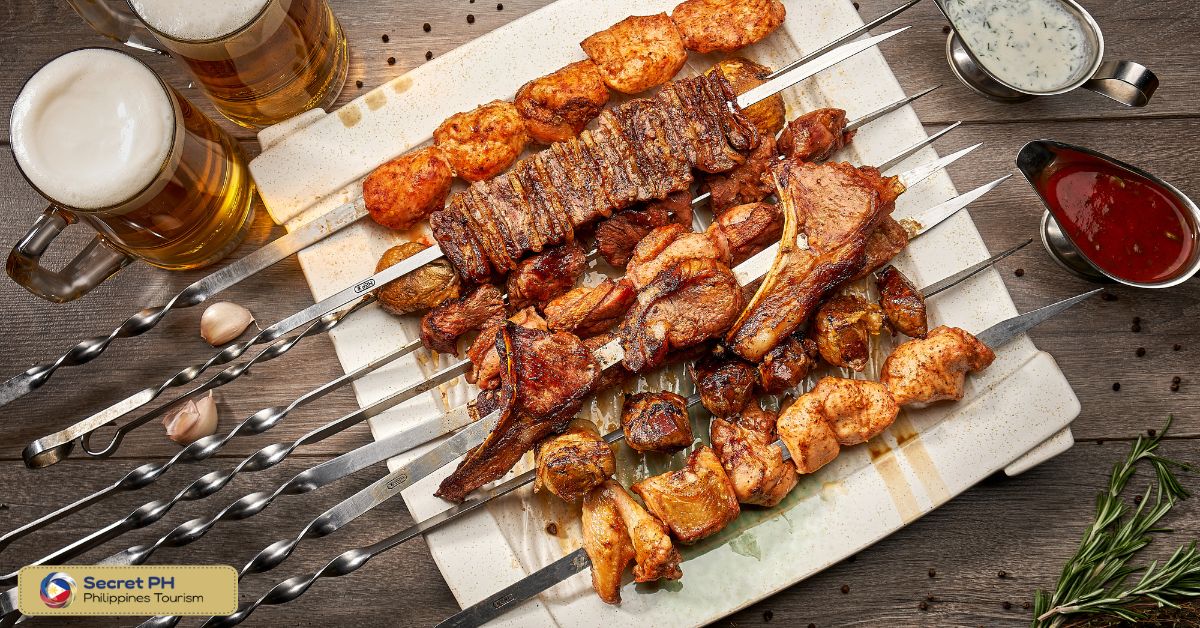 Sugbo Mercado
Sugbo Mercado is Cebu City's premier food hall, bringing together the best flavors and ingredients from across the city. The newly-opened space boasts a variety of specialty cuisines and dishes that offer something for everyone. From Cebuano favorites such as Cebuchon to Western interpretations like Cebu's Chicken Parmigiana, this food hall has it all.
The atmosphere is energetic, with a lively buzz and bright neon lights that add to the open market feel. Plus, every meal comes with a heaping scoop of Cebuano hospitality on top! If you're looking for a truly unique taste of Cebu City's culture, then Sugbo Mercado should be at the top of your list.
Address: Abad St, Apas, Cebu City, Cebu
Opening Hours: Wednesday – Sunday, 5PM – 1AM
Phone: +639173115777
Mango Square
Mango Square is a prime location for tourists and locals alike in Cebu City. This bustling hotspot on Cebu's Mango Avenue houses numerous shopping centers, restaurants and cafes, giving those looking for something to do plenty of options.
Not only can you eat at top-tier establishments, but the area also offers captivating cultural sights such as landmarks and other attractions. The atmosphere around Mango Square is also lively and upbeat, making it an ideal spot for social gatherings or leisurely strolls.
Address: Mango Square, General Maxilom Ave, Cebu City, 6000 Cebu
Opening Hours: Monday – Saturday, 10AM – 6PM
Phone: (032) 255 1852
Shopping Destinations
Cebu City is a great shopping destination for locals and tourists alike. With a large selection of department stores, night markets, and independent stores, Cebu City offers something for everyone. From luxury boutiques to bargain-priced flea markets, Cebu City has something that fits any budget or unique style.
Whether you're looking to buy a special souvenir or just exploring the vibrant shopping scene in Cebu City, it is sure to have something exciting to discover. The Cebu City shopping experience always promises an unforgettable time browsing through its lively streets.
Ayala Center Cebu
Ayala Center Cebu is a premier shopping, dining, and entertainment destination in Cebu City. Located in one of Cebu City's most important commercial districts, Ayala Center Cebu offers guests a comprehensive range of shopping and lifestyle experiences.
From world-class luxury brands to global favorite stores and restaurants, the mall provides something for everyone. With its impressive selection of products and services as well as captivating ambiance and state-of-the-art design. Ayala Center Cebu has become a major tourist attraction due to its convenient location within Cebu City.
Address: Cebu City, Cebu
Opening Hours: Monday – Sunday, 10AM – 9PM
Phone: (032) 888 3777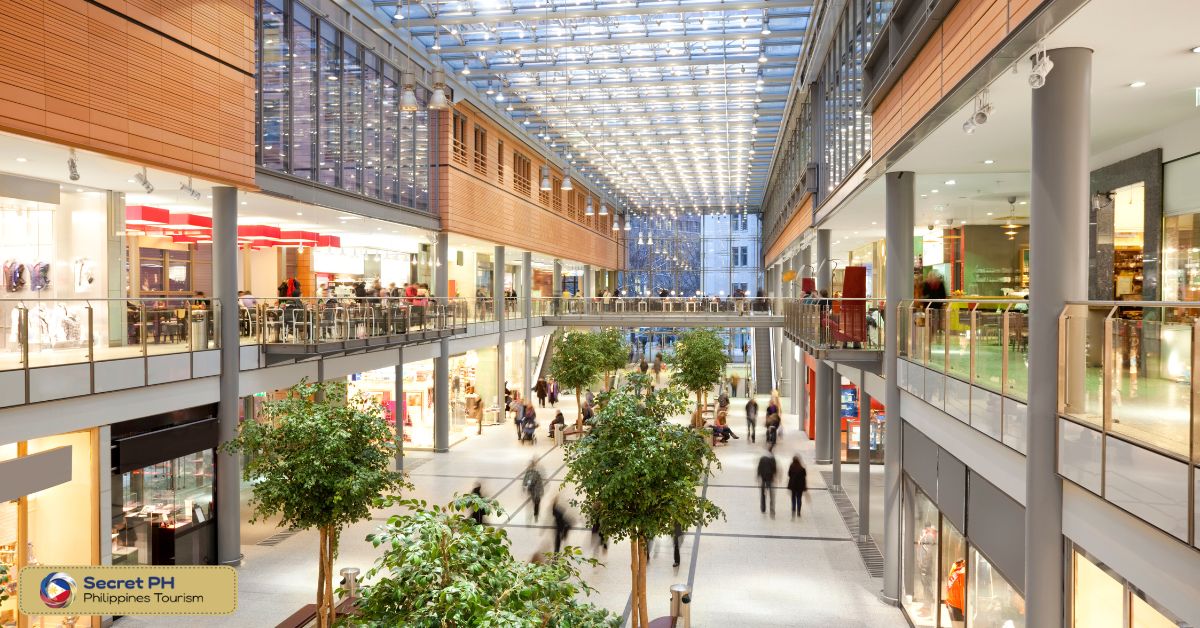 SM Seaside City Cebu
SM Seaside City Cebu is Cebu City's largest shopping, dining, and entertainment complex. One of the biggest SM Mall developments in Visayas and Mindanao, it provides an exciting experience for both local and international visitors who come to Cebu. Spanning 4 levels and more than 400,000 square meters of land area, it is home to over 600 shops offering a wide range of lifestyle products, services and dining options.
Entertainment areas such as game centers, pool tables, art galleries, cinemas, arcades, virtual reality chat rooms are also available at SM Seaside City Cebu. For those looking for more leisure activities outdoors there is a Sky Park with outdoor living spaces located on the top level with majestic views over Cebu City. With its wide variety of attractions and entertainment opportunities that cater to all ages and interests combined with vibrant Cebuano culture featuring events throughout the year.
Address: Cebu South Coastal Rd, Antuwanga, Cebu City, Cebu
Opening Hours: Monday – Sunday, 10AM – 9PM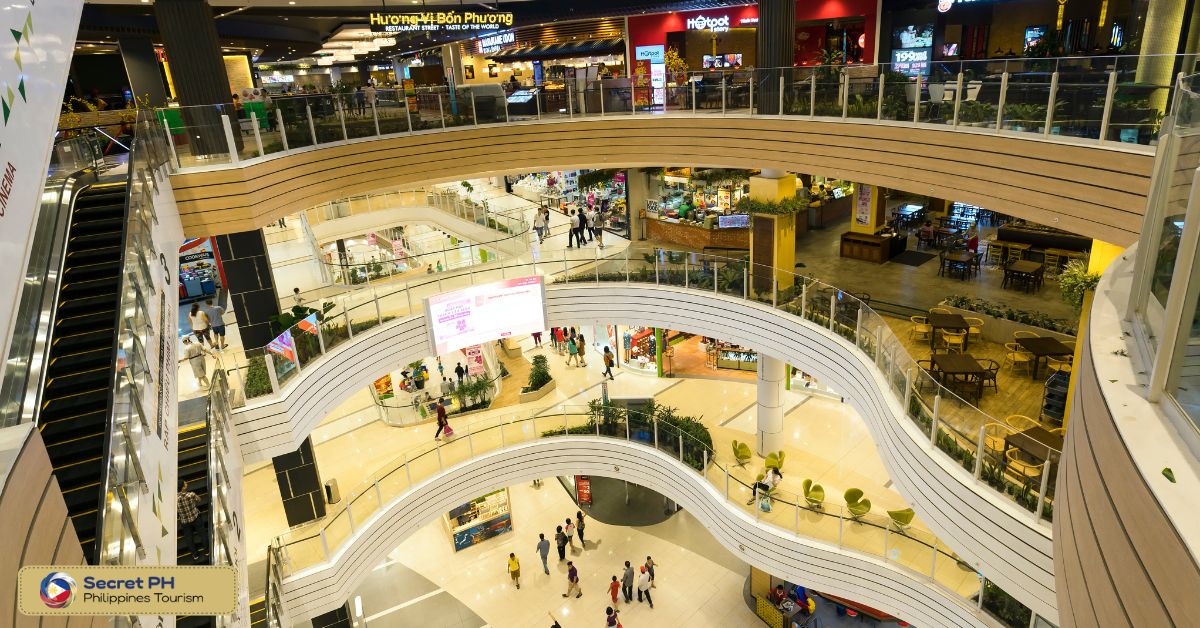 Taboan Public Market
Taboan Public Market is the most famous market in Cebu City, Philippines. Located in the downtown area of Cebu City, Taboan Public Market is known for its abundance of fresh produce and seafood. With rows of shops bustling with buyers and sellers, the market provides locals with a variety of goods from clothing to electronics.
It's a great environment for bargain hunters as prices are often negotiable and every day there is an influx of new products. For visitors, Taboan Public Market provides an interesting cultural experience as well as an opportunity to find unique items.
Address: Cebu City, Cebu
Opening Hours: Monday – Sunday, 4AM – 7PM
Phone: (032) 261 7551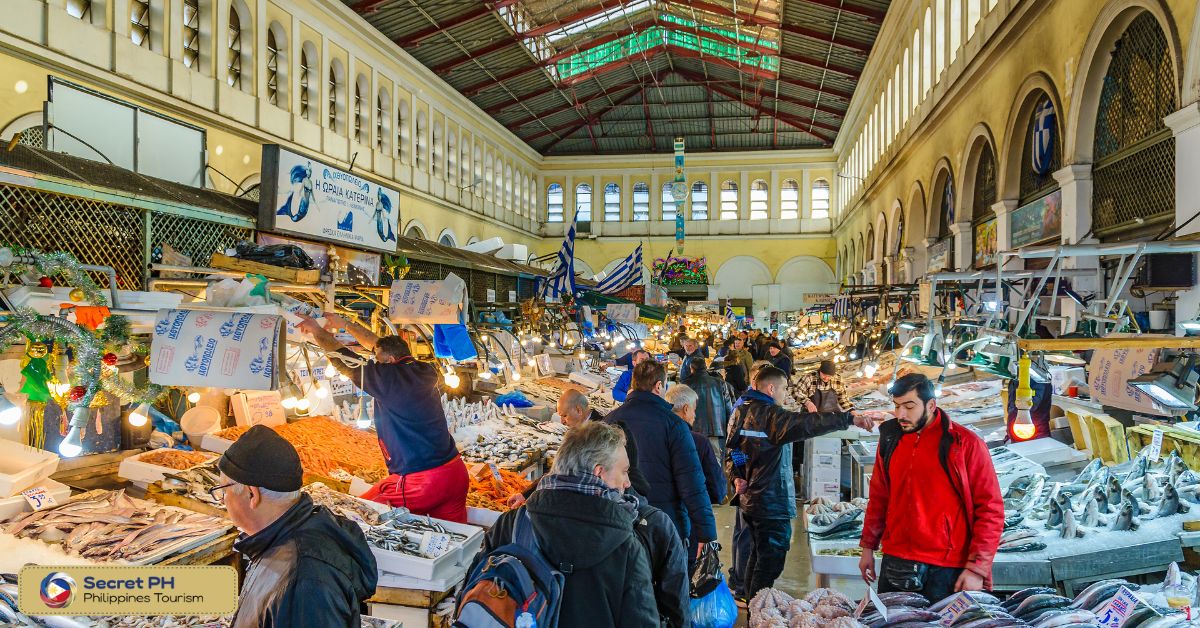 Tips and advice for navigating the city
Cebu City is a thriving metropolis that offers a variety of cultural, historic and modern attractions. With so much to explore and experience, it can be tricky to know where to start – but fear not! Whether it's your first time there or you've visited Cebu several times, these tips and advice will help you find your way around Cebu City successfully, ensuring you have an amazing trip.
Research transportation options
Cebu City has various transportation options, including taxis, jeepneys, buses, and tricycles. It's essential to research and understand the different modes of transportation and their respective fares to avoid overcharging.
Use ride-hailing apps
To avoid the hassle of negotiating fares, you can use ride-hailing apps like Grab, which is widely available in Cebu City. This option offers fixed prices and allows you to track your ride's location and estimated time of arrival.
Be mindful of traffic
Traffic in Cebu City can be heavy, especially during rush hour. It's best to plan your route and travel time in advance to avoid getting stuck in traffic. You can also ask locals for advice on the best routes to take.
Stay alert and be cautious
As with any city, it's essential to stay alert and be cautious when navigating Cebu City. Keep your valuables secured, especially in crowded areas, and avoid flashing expensive items.
Learn basic Filipino phrases
While many locals in Cebu City speak English, learning basic Filipino phrases like "salamat" (thank you) and "paalam" (goodbye) can help you communicate better with the locals and make your navigation experience smoother.
In Conclusion
Cebu City offers a wealth of attractions and activities to discover, and each one is unique in its own way. From awe-inspiring historical sites to vibrant nature scenes, Cebu City has something for everyone to enjoy.
With its myriad of cultural, historical, and recreational attractions, there's no better way to take time out and immerse oneself in the beauty of the Philippines than by visiting Cebu City! Whether you're looking for an adventure or just a peaceful place to relax, this stunning coastal city has everything you need to make your next trip unforgettable.