Magellan's Cross is a symbol of Spanish colonialism and Catholicism in the Philippines. It was built on April 14, 1521, by Portuguese explorer Ferdinand Magellan to commemorate his successful Christianization of the country's native people. Since then, it has become an important part of Philippine history and culture and continues to attract both locals and tourists alike.
This guide aims to provide historical and cultural background, along with tips for visiting this special place in Cebu. It's a must-see spot for any history lover who visits the Philippines!
Magellan's Cross and Its Role in Philippine History and Culture
Magellan's Cross is an important and iconic symbol of the Philippines. It marks a defining moment in the nation's history, as it was planted by Ferdinand Magellan during his expedition to the islands in 1521. The cross is a representation of Christianity and its introduction to the Philippines.
It has become an essential part of Filipino culture over the years, with many festivals celebrating its significance and the legend surrounding it. Magellan's Cross is a reminder for Filipinos of their past, and the faith that binds them together.
Visiting the site has become an important annual tradition for many locals, with thousands gathering on Easter Sunday to witness religious ceremonies honoring this symbol of Philippine heritage. Magellan's Cross stands tall today as a reminder to all who visit that this small corner of Asia had a large role to play in shaping world history.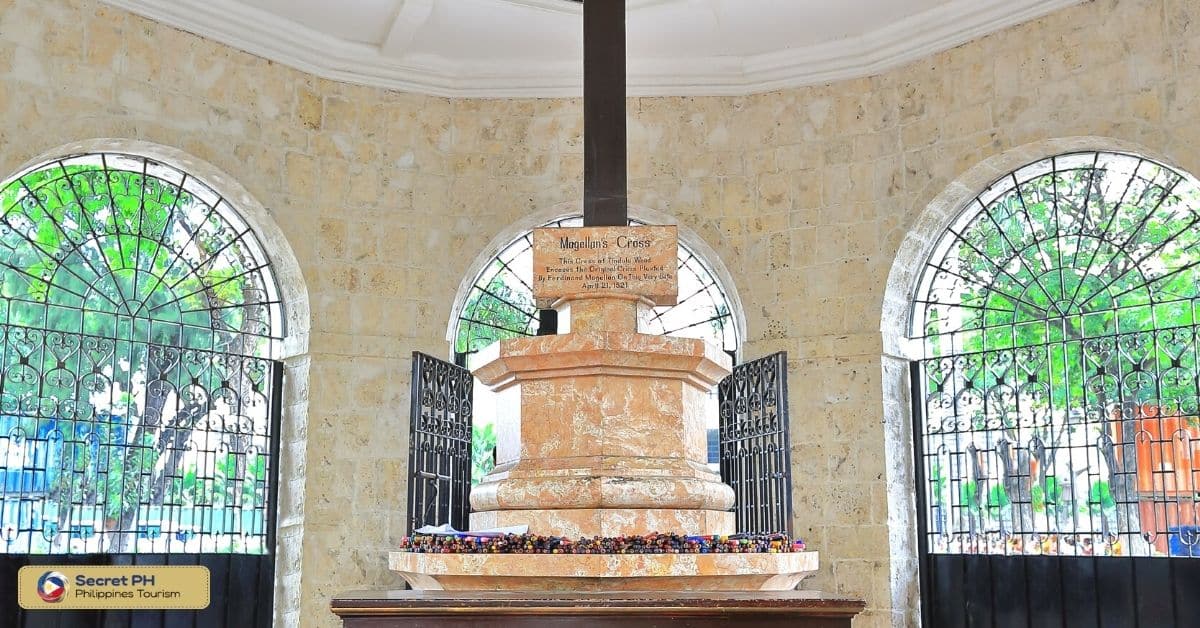 Symbolic Significance of the Cross
Magellan's Cross symbolizes the Filipinos' Christian faith, which began with the missionary work of St. Columban in 1295. Along with being a sacred spiritual symbol, it also serves as a reminder of Spain's colonial rule over the Philippines, which lasted for over 300 years.
The cross also stands for Filipino resilience against foreign threats, having survived several attempts to destroy it throughout its long history. To this day, countless Filipinos still make their way to Magellan's Cross to pay respect or give thanks for blessings received from God or any other higher power they believe in.
The Restoration and Preservation Efforts of Magellan's Cross
Magellan's Cross, a Christian cross planted by Ferdinand Magellan in 1521, is an important part of Cebu's history and tradition. Over the years, this significant symbolic artifact underwent considerable damage as a result of calamity and natural elements.
As time passed by, concerned citizens, together with religious leaders and government officials launched preservation and restoration efforts to save this symbol of Christianity in the Philippines. One effort involved using agarwood encasing to protect the cross' original timber core; this ensured that both dampness and termites could not further harm the artifact.
Another preserved the identity of the wooden fragments attached to it which were believed to have come from regions beyond Cebu itself – a reminder of how far Christianity had traveled with Magellan during his expedition. These careful efforts today keep this reminder of the Philippine faith alive for future generations.
The Religious and Cultural Celebrations Involving Magellan's Cross
Magellan's Cross is a religious and cultural symbol in Cebu that is celebrated every April 14th. The celebration involves the veneration of Magellan's Cross, which marks the first Christian mass that took place during the Spanish conquest of Cebu in 1521. The following are 3 popular religious and cultural celebrations involving Magellan's Cross:
Procession of Sinulog: This procession celebrates the presence of Christianity on Cebu Island by reenacting how it was introduced to its people centuries ago. Everyone joins together in prayer as they process down to Magellan's Cross carrying statues, flowers, and candles while music plays in the background.
Offerings of Candles: Every April 14th local citizens gather around Magellan's Cross to offer candles as a sign of faith in their religion and culture for prosperity for their families throughout the next year ahead.
Holy Mass: A traditional mass is held in honor of the anniversary of Magellan's Cross with a sermon that expresses gratitude and thanksgiving for Christianity to the Philippines.
Magellan's Cross is a symbol of faith and cultural identity for the Philippine people. Celebrations such as these help keep its spirit alive, reminding us all of the importance of our religious and cultural heritage in the Philippines.
Things to Do Around Magellan's Cross
Magellan's Cross is one of the places to visit in Cebu City and there are plenty of things to do around it. Here are a few ideas:
Visit historical sites nearby. Explore key landmarks such as Fort San Pedro, Plaza Independencia, and the Cebu Provincial Capitol Building, all within minutes from Magellan's Cross.
Take a cultural tour. Visit nearby attractions such as the Basilica del Santo Niño, Casa Gorordo Museum, and Lapu-Lapu Shrine to gain more insight into Cebuanos' culture and faith.
Shop and dine around Magellan's Cross. There are plenty of shops and restaurants that offer a variety of traditional Filipino cuisines and souvenirs.
Enjoy the local flavors and culture. Enjoy the flavors of Cebu with street food vendors and explore the local culture through cultural shows. Magellan's Cross is an important symbol in Philippine history and culture, and a great way to learn more about it and connect with the Filipino faith is to visit this iconic landmark.
No matter who you are, Magellan's Cross is a must-visit for any traveler in Cebu. It's the perfect spot to learn more about the unique culture and faith of Cebuanos – all while enjoying a breath of fresh air from bustling city life.
Location and How to Get There
Magellan's Cross is located in Plaza Sugbo in Cebu City, Philippines. It is near several important landmarks and can be reached by foot, car, bus, or taxi.
By Foot: Magellan's Cross is just a few minutes away from the Basilica del Santo Niño and Plaza Independencia. Simply turn right after crossing over Osmeña Boulevard and head straight until you reach Magellan's Cross.
By Car: There are several parking areas located in the vicinity of Magellan's Cross, including one along Osmeña Boulevard and another across the street from the plaza.
By Bus: The nearest bus stop is located at the corner of P. Burgos Street and Osmeña Boulevard, just a few hundred meters away from Magellan's Cross.
By Taxi: You can easily hail a taxi along Osmeña Boulevard or any of the nearby streets to get to Magellan's Cross.
The Best Time to Visit
Visiting Magellan's cross is a memorable experience that offers visitors vast opportunities to learn and reflect on the rich history of Cebu, Philippines. The best time to travel to view Magellan's Cross is from December through April.
During these months, temperatures are comfortable and ideal for outdoor exploration. In addition, during this time flights are less expensive compared to other months which makes it an optimal time for travelers who are on a budget.
Tourists have ample access to historical sites and attractions as well as luxurious resorts and hotels throughout the region. Although it may be more crowded during peak periods of travel, going at the right time ensures travelers will get more bang for their buck!
Address: 7WV2+CQG, P. Burgos St, Cebu City, Cebu
Phone: (078)9456321
For pictures, booking, and more information, click here.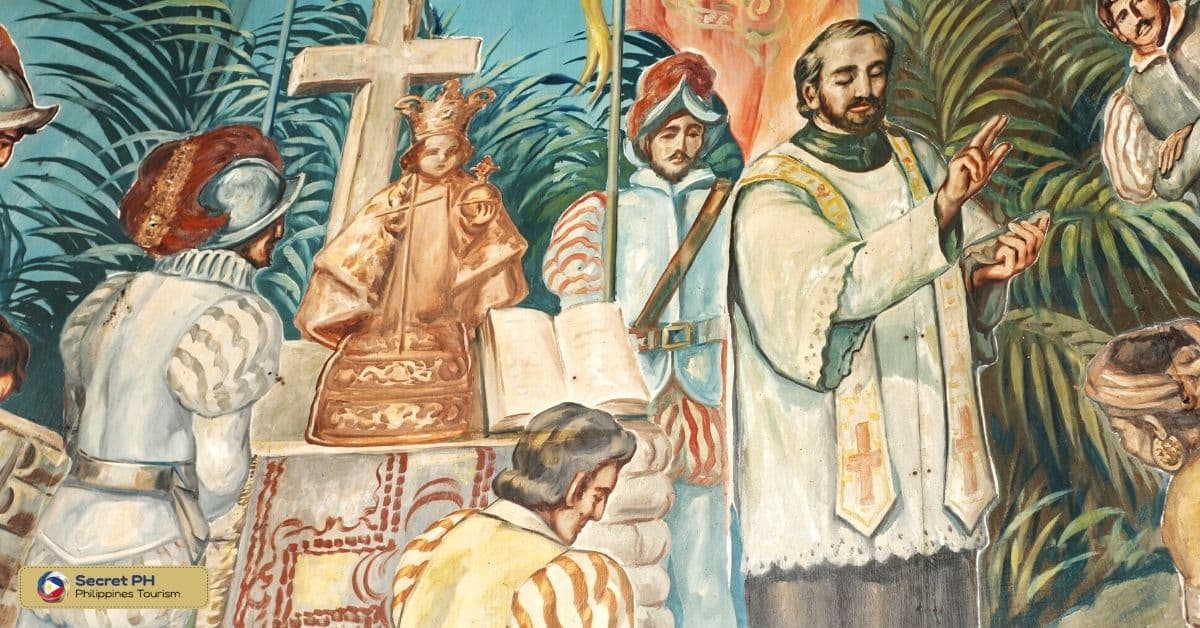 Nearby Attractions
In addition to Magellan's Cross, there are many other attractions near Plaza Sugbo. Some of the popular nearby attractions include:
1. Fort San Pedro
Fort San Pedro, located on the southwestern coast of the Phillippines, is a great tourist attraction for those interested in history and culture. Aside from the historical fort itself, there are many nearby attractions to discover and explore.
Within walking distance are Mansilungan Biga and Magellan's Cross, a landmark of great importance in Philippine history as it marks where Ferdinand Magellan first brought Roman Catholicism to the islands. All around Fort San Pedro, there is a rich history, interesting attractions, and a wealth of knowledge to explore.
Address: 7WR4+X7J, A. Pigafetta Street, Cebu City, 6000 Cebu
Phone: (032)2562284
For pictures, booking, and more information, click here.
2. Basilica del Santo Niño
The Basilica Del Santo Niño is one of the Philippines' most celebrated attractions and a prominent religious pilgrimage site. Strategically situated on the banks of the Cebu River, this Catholic basilica is located in close proximity to Magellan's Cross, making it a convenient destination for pilgrims and travelers alike.
This grandiose structure houses several magnificent artifacts, including a recast statue of the infant Jesus (Santo Niño) which was discovered during the Spanish colonial era. Since its establishment in 1565, this Basilica has remained an important beacon of faith to millions around the world; however, its cultural personality transcends various struggles and hardships that have tested its endurance over time.
Address: Osmeña Blvd, Cebu City, 6000 Cebu
Phone: (032)2556699
For pictures, booking, and more information, click here.
3. Lapu-Lapu Shrine
The Lapu-Lapu Shrine is a popular tourist attraction located near Magellan's cross in Cebu, Philippines. This shrine honors the chieftain of Mactan Island, Lapu-Lapu, who heroically fought against Magellan and repelled his conquistador forces in 1521.
This historic memorial is constructed from a combination of native materials such as coral stones and marble, as well as modern features like colorful neon lights. Its convenient location close to Magellan's cross makes it the perfect stop when exploring historical Filipino heritage.
Address: Mactan Shrine, Lapu-Lapu City, Cebu
Phone: +639669111472
For pictures, booking, and more information, click here.
Tips for Visiting Magellan's Cross
Magellan's Cross is a popular tourist attraction in Cebu City, Philippines, and draws many visitors throughout the year. Here are some useful tips for those planning to visit Magellan's Cross:
Respect the site: Magellan's Cross is a revered historical and religious landmark for Filipinos, so visitors should be respectful of the site and its surroundings. Dress modestly and behave appropriately while at the site.
Arrive early: To avoid the crowds and the heat of the day, it is best to visit Magellan's Cross early in the morning. The site opens at 6 am, so arriving early will give you a chance to enjoy the peaceful atmosphere and take photos without the crowds.
Bring sunscreen and water: The weather in Cebu can be hot and humid, so it's important to bring water and sunscreen to protect yourself from the sun's rays.
Hire a guide: To fully appreciate the historical and cultural significance of Magellan's Cross, consider hiring a guide. A guide can provide you with information about the site's history, significance, and context.
Plan your visit around religious celebrations: Magellan's Cross is an important religious site for Christians in the Philippines, and many religious celebrations are held here throughout the year. If you are interested in attending these celebrations, plan your visit accordingly.
Explore the surrounding area: Magellan's Cross is located in the heart of Cebu City, which is home to many other historical sites and landmarks. Consider exploring the surrounding area to learn more about Cebu's rich history and culture.
By following these tips, visitors can have a meaningful and enjoyable experience at Magellan's Cross while respecting its cultural and historical significance.
In Conclusion
Magellan's Cross is a prominent symbol of religious and cultural significance in the Philippines. Its annual celebration offers a unique opportunity to honor the country's faith and commemorate its history. Visiting Magellan's Cross is an unforgettable experience that offers insight into the Philippines' unique culture, heritage, and faith.
With its convenient location in Cebu City and the nearby attractions, travelers are sure to have an unforgettable experience when visiting Magellan's Cross. Whichever way you choose to experience this iconic landmark, don't forget to bring water and sunscreen for the hot tropical weather.