Discover the beauty and history of Cebu's Taoist Temple with this comprehensive guide. Learn about its origins, architecture, religious significance, and tips for a better experience. Find out why this temple is a must-visit destination for both tourists and locals alike.
We invite you to explore with us as we discover what makes Taoism unique and discover how this temple has changed throughout time. Thank you for joining us as we journey through a sacred place that remains an important part of Filipino culture today.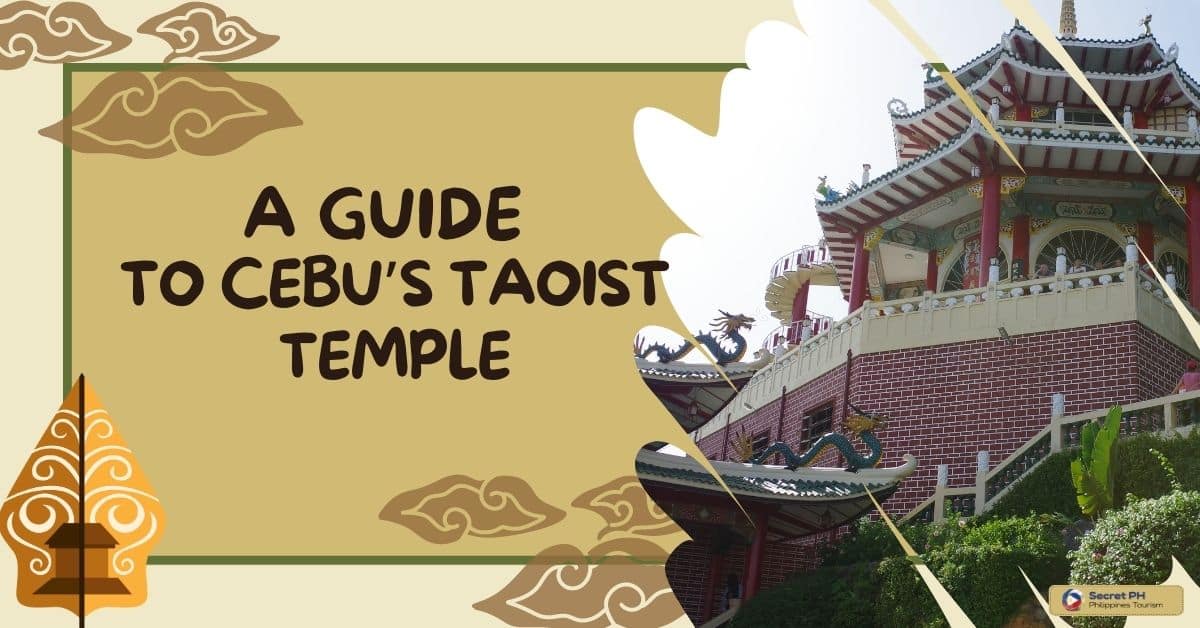 Cebu's Taoist Temple
Beautifully built in 1972, the Taoist Temple of Cebu stands at 10,000 square feet. It is a distinctively unique structure sitting atop the Beverly Hills subdivision. It was a generous donation from philanthropic Chinese-Filipino businessmen lead by Dr. Jose Ch. Alvarez. This is to serve as their faith center and a place where they could practice their beliefs.
Visitors can enjoy stunning views of Cebu City while marveling at the complex's intricate ornamentation. The spiraling staircases, candy-colored columns, shimmering mosaics and its pagoda roof gives an awe-inspiring experience for guests.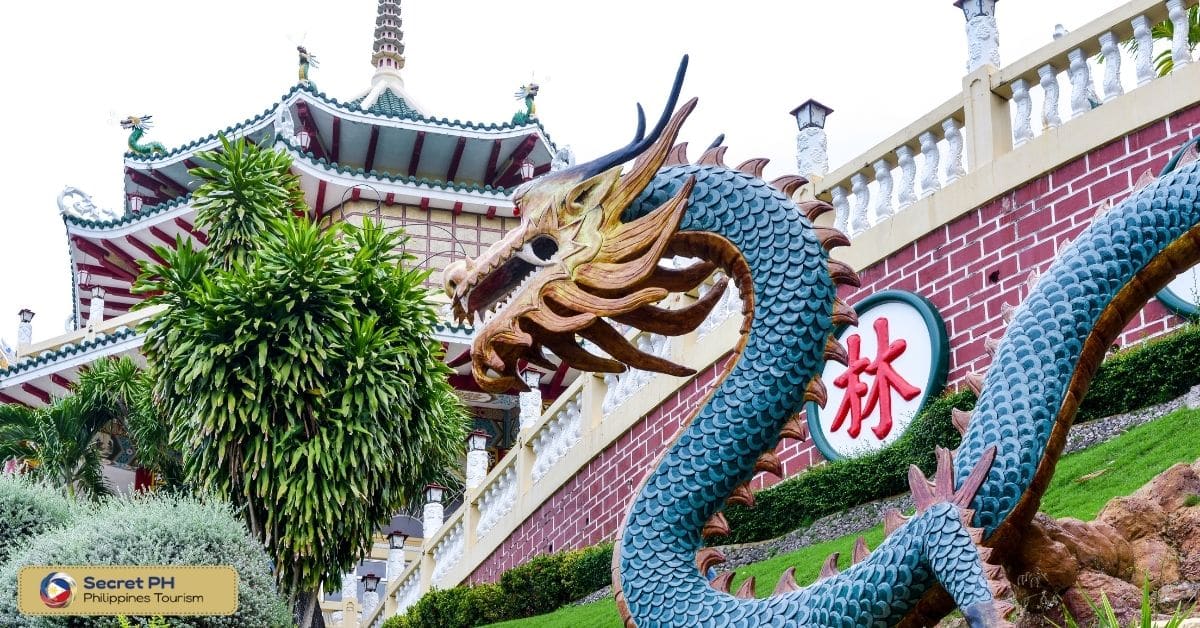 Architecture and Design
The Taoist Temple of Cebu is renowned for its stunning architecture and design. Blessed with breathtaking views of the skyline. It is constructed in the traditional Chinese style. Its stone façade displays intricate images from various Chinese religious cave carvings.
Given the grand exterior and impressive structure, visitors will also appreciate its ornately decorated interiors. They can marvel at its plethora of sculptures, carvings and paintings which are all faithful recreations.
The temple's design elements
The temple's design elements include a grand entrance gate and a pagoda-style roof both adorned with red and blue. With its captivating design, Cebu's Taoist Temple is truly an experience not to be missed.
Pagodas and Roofs: The temple features a number of colorful pagodas and roofs. Each adorned with intricate details and designs. These striking architectural elements are often layered on top of each other.
Stone Sculptures: The temple is also home to a number of decorative stone sculptures. Many of which depict mythical creatures like dragons and lions. These sculptures are placed throughout the temple complex, adding to the overall sense of grandeur.
Dragon Motifs: Dragons are an important symbol in Chinese culture. The temple incorporates a number of dragon-inspired motifs throughout its design.
Multiple Levels: The temple is built on a hillside and features multiple levels. Visitors can climb steep stairs to reach the main temple area, which offers stunning views of Cebu City.
Ornate Arches and Doorways: The temple features a number of ornate arches and doorways, each with its own elaborate carvings and decorations. These entrances add to the overall sense of mysticism and wonder that pervades the temple complex.
Religious Significance
Taoism is a longstanding Chinese philosophical and religious tradition with roots dating back to Cebu in the 4th century BCE. It has continually evolved over time, but certain core tenants remain constant. The goal of Taoism is to seek oneness with nature, allowing individuals to become more harmonious with themselves, each other, and the universe.
This is done through practices such as meditating, trying to be mindful of one's outward appearance and demeanor, and adhering to ancient codes of ethics rooted in concepts such as balance, gentleness, and humility. For followers of Taoism, understanding these principles leads to greater self-awareness and inner peace.
The temple's symbolism and rituals
The temple houses three important areas: the Celestial Palace, the Hall of the Great Sacrifice and the Hall of Prayer for Good Harvest where many rituals are conducted regularly such as rituals to the ancestors, burning incense sticks to bring good fortune and assisting in spiritual cleansing.
As part of celebrations that mark the lunar calendar, there are also regular festivals held at Cebu's Taoist Temple including dragon dancing, costumes and traditional firecrackers which represent bringing prosperity to Cebu. These symbolism and rituals signify Cebu's ties with its Chinese heritage and its commitment to preserving these values for future generations.
Visiting the Temple
Cebu's Taoist Temple is open to visitors of all ages and backgrounds. The temple offers free admission and accessibility, making it an ideal place to explore both the city's culture and beliefs.
Guests will be welcomed at the temple where they can view various religious artifacts, take part in cultural offerings, as well as make donations if financially able. Overall, Cebu's Taoist Temple is a unique experience offering visitors a chance to discover the history of this beautiful part of Cebu City.
Proper attire when visiting the temple
It is recommended to wear long-sleeved shirts, the preferred color being white as this is traditionally seen as respectful and a sign of purity. Avoid wearing revealing clothing such as shorts and skirts that are too short or spaghetti-strapped blouses that show too much skin.
It is also appropriate for women to cover their heads with a hat or scarf to teach respect for the sacred space. It is important to remember that Cebu's Taoist Temple is an active religious site, so it should be treated with reverence.
Touring the temple: what to see and do
If you're planning to visit Cebu's Taoist Temple, here are some of the things that you can see and do during your tour:
Explore the Temple Grounds: Take a walk around the temple's grounds to appreciate the unique architecture and design. The temple has a peaceful atmosphere with beautiful gardens and statues that depict various deities.
Visit the Main Chapel: The Main Chapel is where devotees come to pray and offer incense to their gods. It is the center of Taoist worship and the most important area in the temple. Inside the chapel, you will see intricate carvings, paintings, and decorations that represent Taoism's principles.
Climb the 99 Steps: To reach the main chapel, visitors must climb 99 steps, representing the 99 questions that Lao Tzu, the founder of Taoism, was asked by his disciples. As you climb, you'll pass by colorful dragon statues and arches with intricate designs.
Learn about Taoism: At the temple, there are volunteers who can provide information and answer any questions about Taoism. Visitors can learn about the religion's beliefs, practices, and history.
Best time to visit the temple
The best time to visit the temple would be early morning or early afternoon. This is due to the fact that the atmosphere at this time will be more serene compared to when it gets crowded as the day progresses.
During these hours one can appreciate the beauty of Cebu's unique blend of religion, culture, and architecture while getting away from everyday life stress. You may get lucky enough to see some interesting performances put on by practitioners, adding further charm to your visit.
Where to Eat
Cebu's Taoist Temple is an attraction that cannot be missed. Along with the history, culture and architecture of this grand temple complex, Cebu provides visitors plenty of chances to taste local cuisine and explore international flavors.
Top of Cebu
Top of Cebu restaurant is a premier restaurant in the city that offers delicious contemporary and modern international cuisine. To make sure guests have the best dining experience, the restaurant seeks to make sure all dishes take advantage of high-quality, locally available ingredients.
Address: 9VCC+HCM, Tops Road, Cebu City, Cebu
Opening Hours: Monday – Sunday, 11AM -11PM
Phone: (032) 516 0718
Tops Korean Restobar
This restaurant serves up some of the best traditional dishes from both sides of the Korean Strait, ensuring that whether you prefer meals from the northern or southern half of Korea, you'll find something that's sure to please your taste buds. The restaurant also offers a wide variety of beer and wine to enjoy with all their delicious fare.
Address: Cebu Veterans Dr, Cebu City, 6000 Cebu
Opening Hours: Monday – Sunday, 9AM – 11PM
Phone:  +639323088917
In Conclusion
Cebu's Taoist Temple provides visitors with a unique religious experience. It is an essential part of learning about the culture, religion and history of Cebu. The temple serves as a place of spiritual guidance for those seeking the answer to life's questions, and is a powerful symbol of the city's multiculturalism.
By visiting this remarkable structure, one can learn what makes it so important to people in Cebu and beyond. Whether you're looking to deepen your knowledge or simply appreciate the cultural significance of Cebu's Taoist Temple, it is sure to provide an interesting exploration journey filled with elegance, serenity and fascinating facts.