The Sandugo Festival in Bohol is a vibrant celebration that showcases the rich cultural heritage of the Boholanos. This annual event commemorates the Blood Compact, a significant event in Philippine history, and features traditional dances, music, attire, and more. Plan your visit and immerse yourself in the colorful festivities.
Immerse yourself in the vibrant atmosphere of this historic event and get a more personal glimpse into the local culture of Bohol. Whether you're looking for an exciting holiday destination or an interesting day trip, be sure to include the Sandugo Festival when visiting Bohol!
The Sandugo Festival
The Sandugo Festival is an annual event celebrated in Bohol province to commemorate the blood compact. It is between Datu Sikatuna, a local chieftain, and Miguel Lopez de Legazpi, the Spanish conquistador. Sandugo or 'blood compact' stands for an ancient tradition of entering into a bond of friendship. Or of honoring an agreement through the mixing of two individuals' blood.
The festival has become an iconic representation of friendship and national unity in the Philippines. Events take place throughout the week leading up to July 16th every year including street parades. Cultural performances, music and dance as well as century-old activities like barbecues and bullfights. Tourists also flock to watch elaborate reenactments from costumed performers portraying Sikatuna and Legazpi.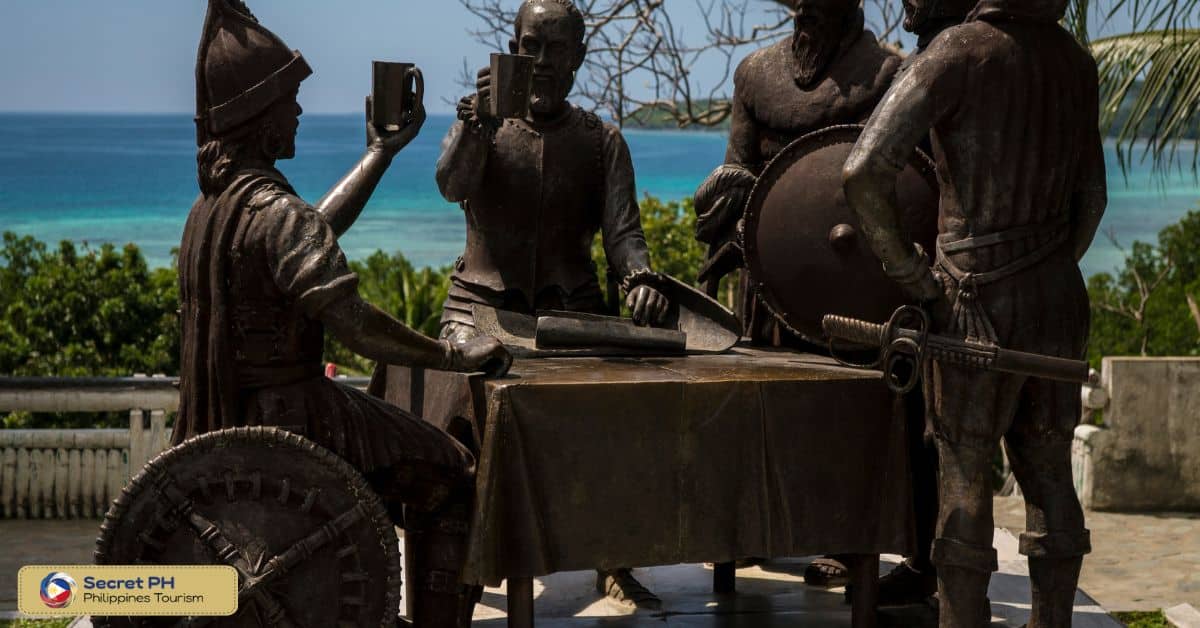 History of the Sandugo Festival
The word "Sandugo" came from the Spanish phrase "Sangre de Cristo", which translates to the English words "Blood of Christ". It is believed that this phrase was uttered by Miguel Lopez de Legazpi. The first governor-general of the Spanish East Indies, in 1565. He and Datu Sikatuna, a native chieftain from Bohol, executed a ritual called sandugo.
A tradition of binding two people's wrists together with a piece of cloth to symbolize their promise of perpetual friendship. This powerful custom eventually gave its name to a national seal and motto adopted by the Philippine Republic in 1898.
Historical significance of the Blood Compact
The Blood Compact is an important event in Philippine history as it is regarded as the first official treaty of friendship between two nations. It was signed in 1565 on the island of Bohol between Miguel Lopez de Legazpi and Rajah Sikatuna. This marked an agreement in which both sides accepted to co-exist peacefully. Setting aside any territorial disputes they were previously engaged in. The Blood Compact has come to serve as a reminder that a spirit of mutual understanding existed between two cultures. This message continues to be relevant today and serves as a reminder that people can work together despite their differences.
Cultural Significance of the Sandugo Festival
The Sandugo Festival is an annual celebration of Boholano culture that first began in 1982. Taking place in the capital city of Tagbilaran, the festival aims to promote cultural awareness and understanding among all its citizens. Through intricate dance routines, vibrant costumes and traditional folk music, the festival highlights Philippine culture's diversity and rich history.
Aside from promoting historic items associated with the Visayan people such as musical instruments and fashion styles, the Sandugo Festival also raises funds for local charities throughout Bohol. It serves to strengthen a sense of community and bring together local businesses to help them create a legacy for future generations.
Showcase of traditional dances and music
Sandugo is a celebratory festival with its own unique significance in Philippine culture. It offers an engaging showcase of traditional dances, music and other art forms that have been passed down through generations. From thunderous drumbeats that welcome the opening ceremonies, to graceful and intricate steps of the Hajjah dance, it is evident that each cultural element has a special meaning that comes from centuries of heritage. Not only does the festival revive ancestral traditions, it also brings communities together to celebrate their shared cultural identity.
Highlighting traditional dress and attire
The Sandugo Festival celebrates the historic blood compact, or 'Sandugo' in Boholano term, of Datu Sikatuna and Miguel Lopez de Legazpi in 1565. As part of the annual festivities, traditional and regional costumes are worn by many to emphasize the deep cultural heritage and significance linked to the event.
Dancers parade down streets wearing bright and vibrant attire and clothes clothed in intricate beading, accompanied by hand-made props to represent local stories brought through time. Both men and women of the province wear unique headpieces related to their cultutal identity. Through these costume elements, it is believed that through unified celebration with audiences clapping to their wonderful performances can rejuvenate their links with their ancestral roots.
Activities and Events during the Sandugo Festival
The Sandugo Festival is a time for celebration and joy worthy of an annual event. Each year, locals and tourists alike join in on the festivities to experience the unique mix of culture and adventure offered by the town of Tagbilaran. During this 9-day festival, visitors will have plenty of opportunities to get involved through events. Here are the lists of activities and events during the Sandugo Festival:
Street dancing competition
The annual Sandugo Festival includes a special street dance competition, which is open to all age groups. Participating dancers must showcase their own style, as well as the traditional art of sandugo. Their performance is judged on creativity, accuracy of movements and rhythm, and overall presentation. At the end of the competition, awards are given out to recognize the best performers in each category. This exciting event provides an exciting opportunity for dancers to express themselves throughout the festival celebration.
Cultural presentations
The Sandugo Festival offers a variety of cultural presentations for those who wish to gain insight into the local culture. From traditional Filipino musical and dance performances, to art exhibitions displaying different forms of creativity from the region, each presentation provides an exciting glimpse into the Philippines' diverse culture. The festival also features passion plays and religious processions which allow spectators to explore the country's spiritual history through vibrant rituals as well as a range of activities and events that are centered on celebrating the people, places, and traditions of this unique area.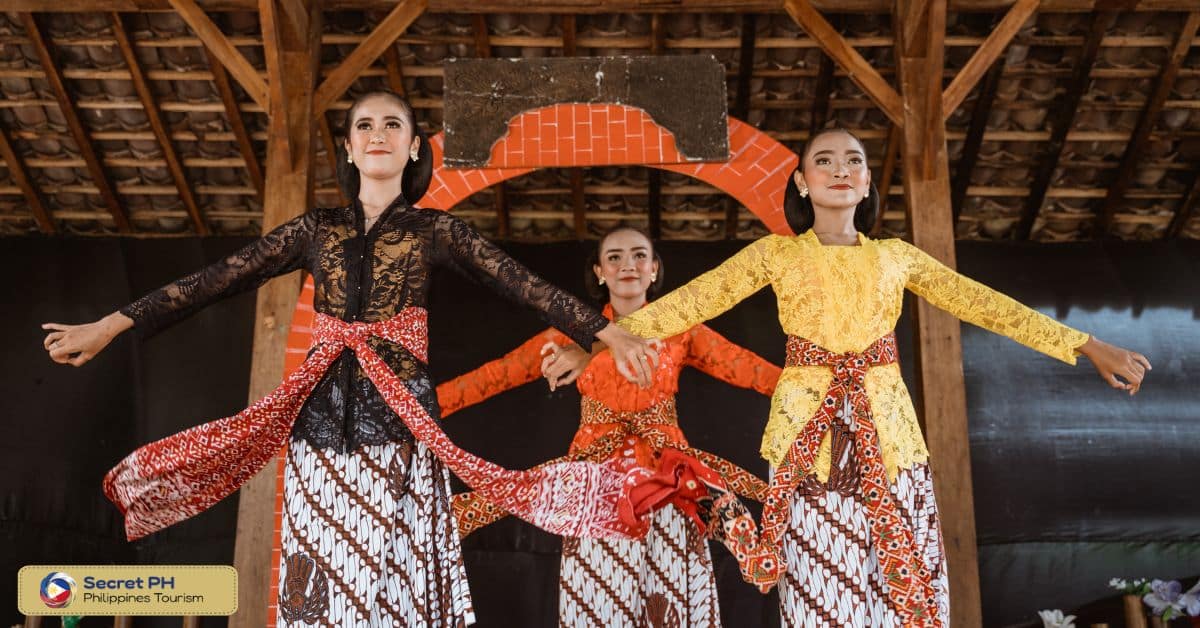 Food and souvenir booths
The most enjoyable activities during the festival period are the abundance of food and souvenir booths. Here, you can find an array of local snacks, including sweet and salty treats like biko, banana chips, and turrones de mani. But visitors can also purchase unique souvenirs that capture the spirit of the islands such as handcrafted fans, traditional jewelry, and beautiful artwork.
And best of all, many items can be purchased through friendly "haggling," allowing guests to find rare goods without breaking their budgets! With so much variety on offer at every booth, no two visits to Sandugo Festival are ever the same.
Tips for planning your trip
Planning a trip to Bohol for The Sandugo Festival requires some strategy and foresight in order to make the most of the experience. Consider researching details such as when and where the event will take place, and what kind of festival activities you may participate in. here are some tips to consider when planning your trip to the Sandugo Festival:
Book accommodations in advance: The Sandugo Festival is a popular event, and accommodations can quickly fill up. Make sure to book your lodging well in advance to ensure you have a place to stay.
Dress appropriately: Boholanos take pride in their traditional attire, and you'll see many people dressed up during the festival. If you're planning to participate in the festivities, consider wearing traditional clothing to immerse yourself in the culture.
Plan your itinerary: The festival offers a wide variety of activities and events, and it's easy to get overwhelmed. Plan your itinerary ahead of time so you can make the most of your trip and don't miss any must-see events.
Bring cash: While some vendors may accept credit cards, it's always a good idea to bring cash to the festival. You'll need it to purchase food, souvenirs, and other items.
Be respectful: The Sandugo Festival is a celebration of Boholano culture and history, and it's important to be respectful of the traditions and customs. Follow the rules and regulations of the festival, and be courteous to other attendees and locals.
Where to Stay During the Trip
Tagbilaran City in Bohol is a great destination for travelers planning to join the annual Sandugo Festival. Tagbilaran offers a wide variety of accommodations including luxury hotels, resorts, and inns that provide guests with excellent services.Whether looking for budget-friendly or luxurious options, Tagbilaran City has the right sort of accommodation for any traveler. For those wanting to take part in the excitement of Sandugo Festival this summer, Tagbilaran's lodging options make it the ideal place to stay during their vacation.
Ocean Suites Boutique Hotel
Tagbilaran City visitors are sure to enjoy the comfort and deluxe facilities provided by Ocean Suites Boutique Hotel. Located right next to Tagbilaran's wharf, this 4-star hotel prides itself on providing each guest with a luxurious and expansive stay. Designed with generous space and a contemporary feel, the hotel features spacious suites with private balconies offering seaside views of Tagbilaran Bay. They also have plenty of amenities like a spa, an infinity pool, a fitness center, and even a mini golf course for those seeking a little entertainment.
Address: VP Inting Avenue,, Bool District, Tagbilaran City, 6300 Bohol
Phone: (038) 427 1237
For bookings and more information, click here.
Dao Diamond Hotel and Restaurant
Dao Diamond Hotel and Restaurant is a premier boutique establishment in Tagbilaran City. With modern amenities, first-class services, and luxurious rooms, this hotel is the perfect place to stay for business or leisure trips. Guests are provided with thoughtful amenities like complimentary Wi-Fi, an outdoor pool, and an international cuisine restaurant. Personalized care from the staff makes this hotel an exceptional destination for travelers looking for comfort and relaxation.
Address: 821 J.A. Clarin St, Dao District, Tagbilaran City, 6300 Bohol
Phone: (038) 411 5568
For bookings and more information, click here.
Hotel Gabriella
Located in the Tagbilaran City harbor, guests will find stunning surroundings of serene waters, beach views and natural beauty. The hotel offers a unique lodging experience with friendly and attentive staff who are dedicated to making sure your stay is enjoyable. With amenities like free wifi, an outdoor pool, restaurant and suites with modern decor and all the comforts of home, Hotel Gabriella ensures each guest relaxes in style.
Address:  MVF9+VJJ, Simbit St, Tagbilaran City, 6300 Bohol
Phone: +1 713-298-4880
For bookings and more information, click here.
Metrocentre Hotel
Stay in modernly appointed rooms that have all the necessary comforts for a relaxed stay, including complimentary toiletries, coffee making facilities and free Wi-Fi access. Guests can also take advantage of the pool, garden, fitness center and business area; ideal for travelers on business trips or simply looking for a convenience in Tagbilaran City. The restaurant at Metrocentre Hotel offers quality cuisine made with fresh local ingredients, setting it apart from other Tagbilaran City restaurants.
Address: JVV4+P65, C. P. Garcia North Ave, Tagbilaran City, 6300 Bohol
Phone: (038) 411 2599
For bookings and more information, click here.
In Conclusion
The Sandugo Festival in Bohol is a vibrant and colourful cultural showcase that celebrates the rich heritage of the island. It attracts tourists from all over the world, who get to witness both traditional and modern performances, try unique street food, take pictures with locals dressed in traditional clothing and sample an array of authentic local handicrafts.
From its iconic street dancing parade to creative competitions showcasing folk art, the festival continues to uphold important customs passed on for generations. As an annual celebration rooted in Boholano tradition, it remains as an inspiring reminder that culture and heritage are living values we must continue to pass on to future generations.