Visayas, a region of the Philippines in the central part of its archipelago, is known for its stunning beaches and vibrancy. But it's also for foodies—rich in flavors and authentic culinary delight.
Embark on a gastronomic journey in the Visayas and discover the region's rich culinary heritage. From seafood specialties to street food finds, the Visayas offers a range of dishes that will delight your taste buds. Experience the farm-to-table movement by visiting organic farms and local food producers. Satisfy your sweet tooth with Visayan desserts and bring home local products as souvenirs.
In this article, we explore the many flavors that make up the culinary scene of Visayas—from its influential history to must-try dishes per province, to sweet treats and local products.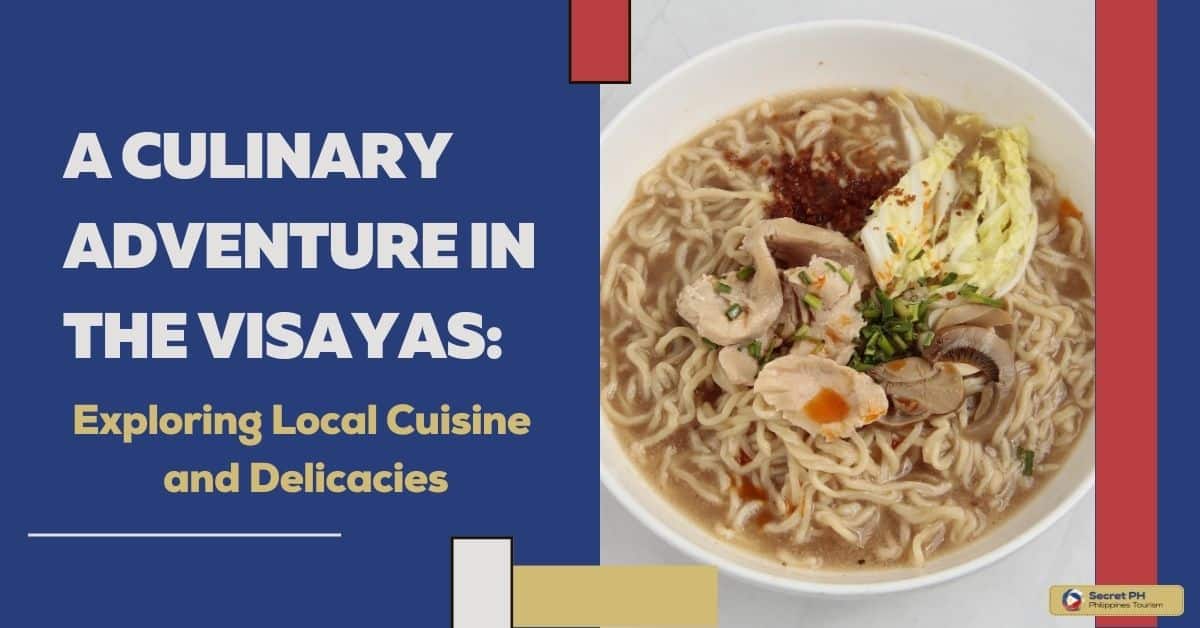 A Taste of History: Influences on Visayan Cuisine
Visayan cuisine is a reflection of the region's rich history and diverse cultural influences. The Visayas is located in the central part of the Philippines, making it a melting pot of different cultures. The region was also a hub for trade and commerce during the pre-colonial era, which brought various spices and ingredients that influenced the local cuisine.
Chinese, Malay and Spanish influences are evident in Visayan cuisine. The Chinese brought soy sauce, noodles, and various cooking techniques that are still used today. Malay traders introduced coconut milk, turmeric, and chili peppers, which are now staples in many Visayan dishes.
Meanwhile, Spanish colonizers introduced ingredients such as tomatoes, potatoes, and onions, as well as cooking techniques like stewing and sautéing. All of these influences come together to create a unique and delicious culinary experience that reflects the region's rich history.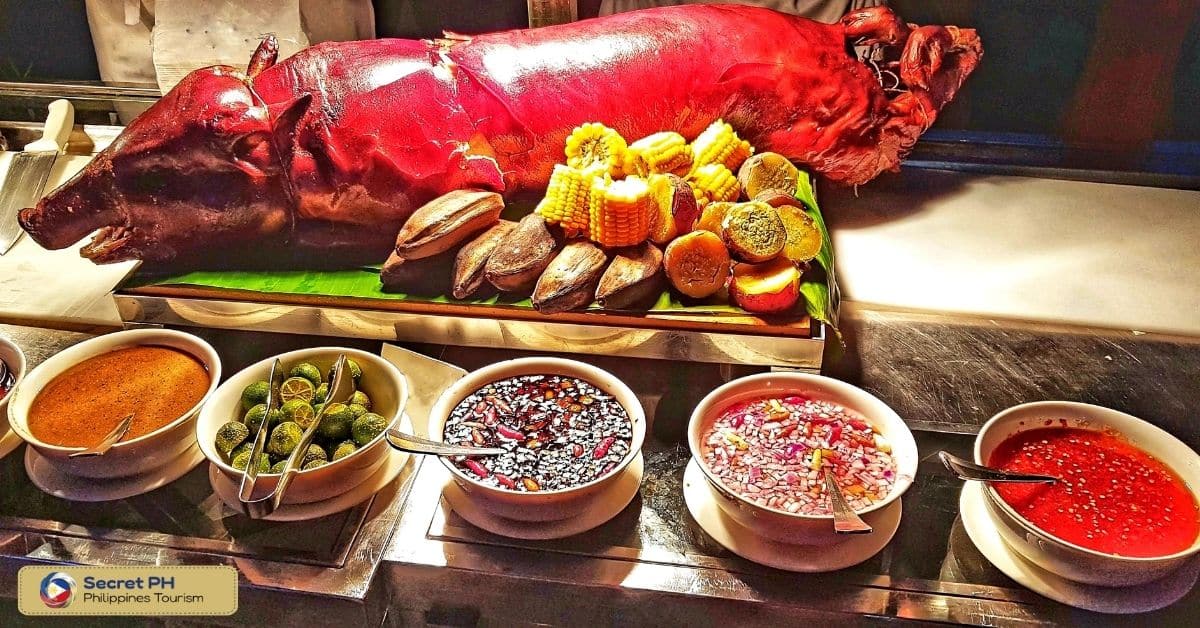 Island Hopping and Food Tripping: Must-Try Dishes per Province
If you are a food enthusiast who loves to travel, then the Visayas should be on your list of destinations. It is home to a diverse array of local delicacies and cuisine that will surely satisfy your taste buds. Join us on a culinary adventure as we explore the must-try dishes per province in the Visayas.
Cebu
Cebu is known as the "Queen City of the South" and for a good reason. It is home to lechon, a roasted pig dish that is a staple in most celebrations in the country. But aside from lechon, Cebu also has other must-try dishes such as:
Kinilaw: a ceviche-like dish made with fresh fish or seafood, vinegar, onions, and chili. It is a perfect appetizer for any meal.
Chorizo de Cebu: a spicy and tangy sausage made with pork, vinegar, and garlic. It is best grilled and paired with a cold beer.
Buwad (dried fish) : dried fish is a staple breakfast food in Cebu. The most popular type of dried fish is danggit, which is best paired with garlic rice and vinegar dipping sauce.
Bohol
Bohol is known for its Chocolate Hills, tarsiers, and powdery white sand beaches. But aside from its natural wonders, Bohol is also home to some of the most delicious local cuisine. Here are some must-try dishes:
Utan Bisaya: a vegetable soup made with a variety of local vegetables, seafood, and pork. It is best paired with rice and fried fish.
Calamay: a sweet sticky rice dessert made with coconut milk, glutinous rice, and brown sugar. It is perfect as a snack, dessert, or even as a pasalubong (gift).
Hinatukan nga Manok: a chicken dish cooked in coconut milk, ginger, and lemongrass. It is a comforting and flavorful dish that is perfect for rainy days.
Iloilo
Iloilo is known as the "Heart of the Philippines" because of its central location in the country. It is also known for its heritage houses, old churches, and local cuisine. Here are some must-try dishes in Iloilo:
La Paz Batchoy: a noodle soup made with pork broth, pork liver, pork belly, and noodles topped with crushed pork cracklings and chopped green onions. It is a comfort food that will warm your soul.
Kadyos Baboy Langka:  a triad of ingredients, pork hocks, jackfruit, and pigeon peas that makeup into one of Iloilo's most famous stews. It's a hearty dish that will definitely satisfy your appetite.
Baye-Baye:  is a famous kakanin (rice snack) made from malagkit (sticky rice) and coconut. It is best eaten with ripe mangoes or hot chocolate.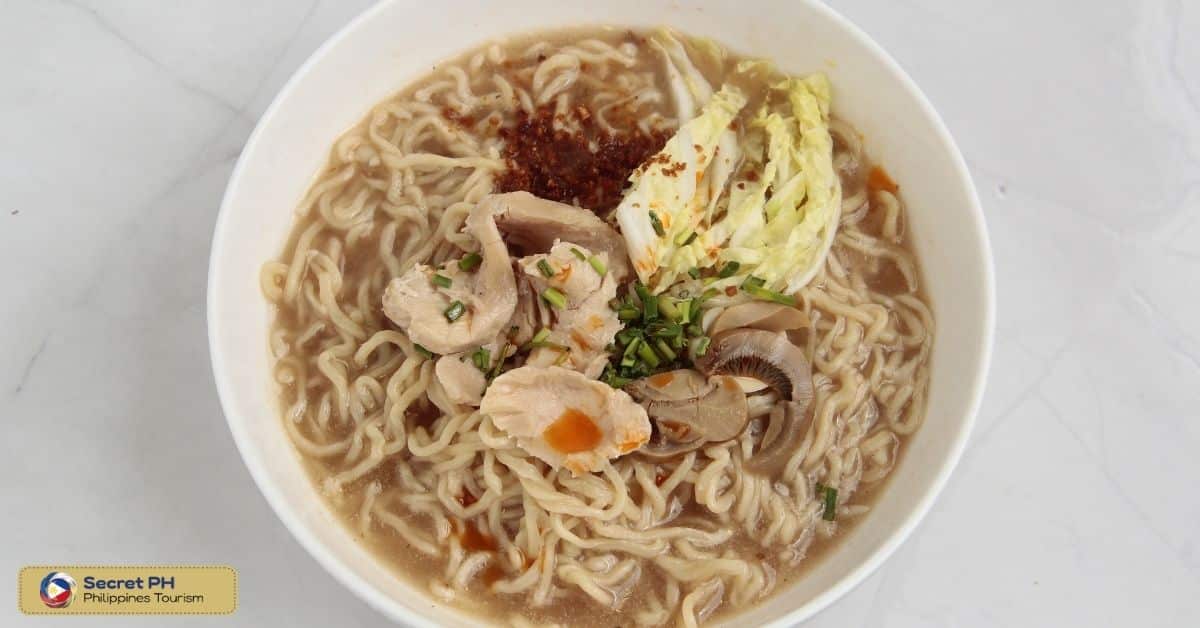 From the Sea to the Plate: Seafood Specialties of the Region
The Visayas region of the Philippines is known for its abundant and diverse marine life, making it a haven for seafood lovers. From the humble sorbetes vendor to five-star hotel restaurants, there are many dishes on offer that feature the bounty of the sea. In this culinary adventure, we explore some of the local seafood delicacies that you must try when visiting the Visayas.
Kinilaw: Kinilaw is a ceviche-like dish made with fresh raw fish or other seafood marinated in vinegar, calamansi juice, onions, ginger, and chili peppers. The type of fish used varies, but tanigue (Spanish mackerel) is a popular choice.
Inun-unan:  Inun-unan is a sour and savory fish stew that hails from the Cebuano region. The dish is made with fish (usually mackerel or sardines) that is marinated in vinegar, salt, and pepper before being cooked in a sauce made from vinegar, onions, garlic, ginger, and tomatoes.
Fresh Sea Urchin:  Fresh sea urchin is a delicacy that is often served raw or barely cooked in the Visayas. The urchin's meat is creamy and sweet, and it's often eaten straight out of the shell. Some restaurants also serve it with rice or as a topping for pasta dishes.
Grilled Squid: Grilled squid is a favorite street food and appetizer in the Visayas. The squid is marinated in a mixture of soy sauce, calamansi juice, garlic, and ginger before being grilled over hot coals.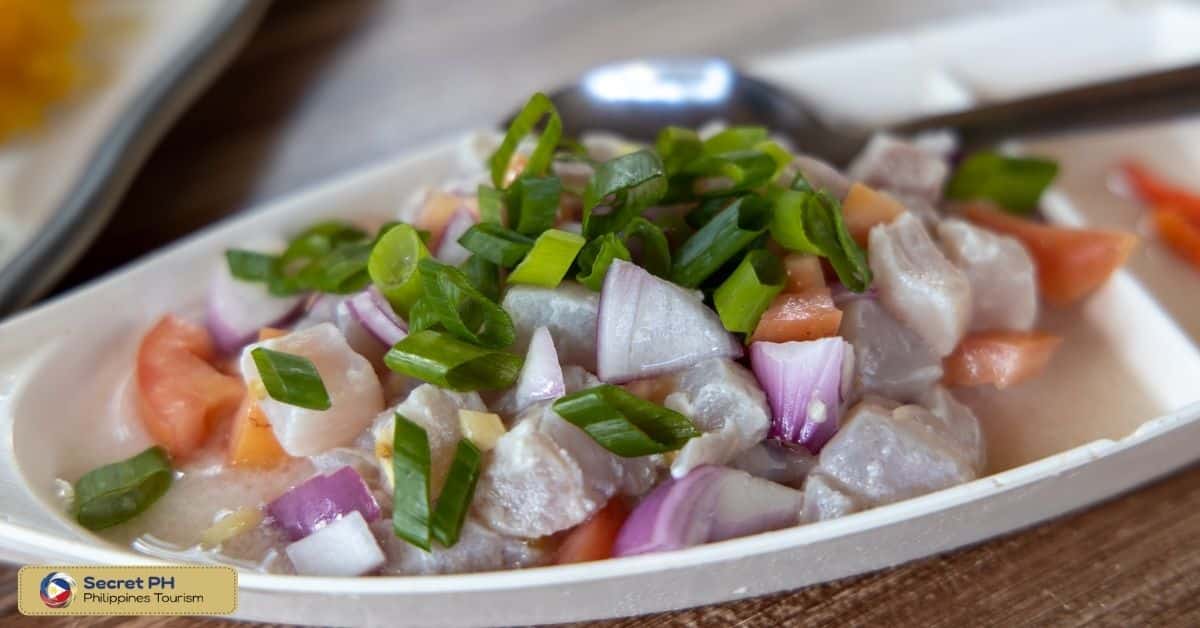 Tasting Local Delicacies in Visayan Streets
One of the best ways to experience Visayan cuisine is through the street food scene. From savory skewers to sweet treats, Visayan street food is a must-try for any food enthusiast. Here are some of the top street food finds that you should taste during your culinary adventure in the Visayas.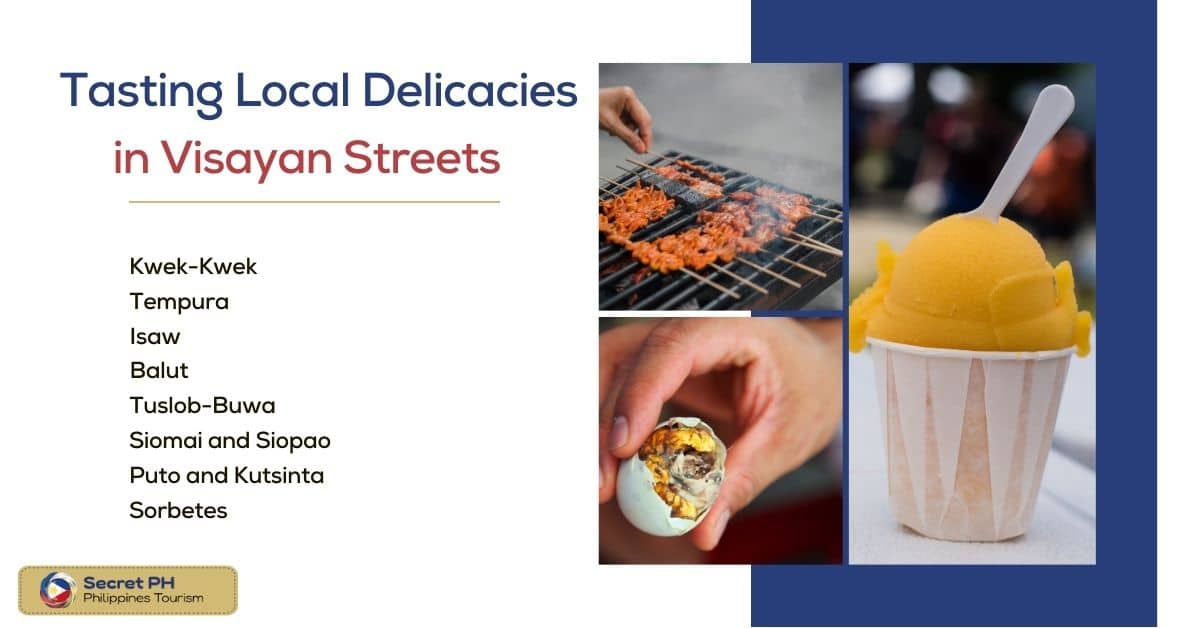 Kwek-Kwek (Quail Egg Fritters) – Hard-boiled quail eggs coated in orange-colored batter and deep-fried until crispy.
Tempura (Deep-fried Seafood and Vegetables) – A popular Japanese dish that has been adapted to Visayan taste. It is made by dipping seafood or vegetables in a batter and deep-frying until golden brown.
Isaw (Grilled Chicken or Pork Intestines) – A popular street food made from grilled chicken or pork intestines. It is often marinated in a mixture of vinegar, soy sauce, and spices before being grilled.
Balut (Duck Embryo) – A fertilized duck egg that is boiled and eaten as a snack. It is a popular street food in the Philippines and is often served with salt and vinegar.
Tuslob-Buwa (Pig Brain Gravy) – A unique street food found in Cebu. It is made by boiling pig brain and mixing it with garlic, onions, and soy sauce.
Siomai and Siopao (Steamed Dumplings) – Popular Chinese-inspired street food in the Visayas. Siomai is a steamed dumpling filled with ground pork, shrimp, and other ingredients.
Puto and Kutsinta (Rice Cakes) – Small steamed rice cakes that come in different flavors and colors. Puto is usually white and has a sweet taste, while kutsinta is brown and has a slightly sweet and sticky texture.
Sorbetes (Local Ice Cream Flavors) – A Filipino-style ice cream made from coconut milk or carabao milk. It comes in various flavors such as ube, mango, and jackfruit.
Farm to Table: Visiting Organic Farms and Food Producers
For foodies who are interested in sustainable and healthy eating, exploring organic farms and food producers in the Visayas is a must. From fresh fruits and vegetables to locally produced cheeses and meats, the Visayas has a lot to offer for those who want to experience a farm-to-table dining experience. Here are some of the top organic farms and food producers that you should visit during your culinary adventure in the Visayas.
Musfa Bohol Organic Farm
Musfa Bohol Organic Farm is a prime example of the vibrant organic farming community in the Visayas region of the Philippines. This farm is committed to producing high-quality organic food while promoting sustainable agriculture practices.
With its rich soil and ideal weather conditions, Bohol is the perfect location for Musfa's organic farm. From fresh fruits and vegetables to free-range livestock, their diverse range of products caters to the demands of the local market.
Besides focusing on the quality of their produce, Musfa's farm also promotes eco-friendly methods of farming such as composting and crop rotation. The efforts of Musfa Bohol Organic Farm are just one of the many initiatives taken by the Visayas community to promote healthy and sustainable food production.
Address: P8RJ+5CF, Sampong Rd, Sierra Bullones, Bohol
Opening Hours: 7 AM–5 PM
For directions, click here.
Nisol's Organic Farm
Nisol's Organic Farm is one of the leading organic food producers in Cadiz. Their commitment to sustainability, healthfulness, and deliciousness makes them stand out among other food producers. Nisol's Organic Farm uses only natural methods and materials to grow fruit and vegetables, raise livestock, and cultivate rice.
They go beyond merely growing organic food, offering educational tours of the farm and workshops on healthy living, composting, and growing your own food.  If you want to experience the freshness and flavor of wholesome, nutritious food while experiencing the beauty and wonder of a natural environment, Nisol's Organic Farm is the place to be.
Address: Q5QQ+MF8, Gawahon, Cadiz City
Hours: 9 AM–5 PM
For directions, click here.
God's Grace Farm
God's Grace Farm is one of the many organic farms and food producers located in the Visayas region of the Philippines. With a commitment to sustainable agriculture, they use only natural methods to grow their crops and raise their livestock. This dedication to organic farming not only ensures that their products are free of harmful chemicals and additives but also helps to protect the environment for future generations.
By supporting God's Grace Farm and other organic food producers in the Visayas, consumers can enjoy fresh, healthy, and responsibly grown food while also supporting a more sustainable food system.
Address: 4HVF+3GX, Barili, Cebu
Phone: +63917 309 4370
For pictures, booking, and more information, click here.
For directions, click here.
Crisel Integrated Farm
Crisel Integrated Farm is one of the leading organic farms and food producers in the Visayas region of the Philippines. With their commitment to sustainable agriculture practices, they have been able to produce high-quality organic fruits and vegetables, as well as meat and poultry products. Their farm is also home to a variety of livestock, allowing them to provide customers with fresh and healthy produce year-round.
What sets Crisel Integrated Farm apart is its dedication to promoting a healthy lifestyle through its products. They believe that by consuming organic foods, people can improve their well-being and reduce their risk of developing chronic illnesses. With their active involvement in the organic farming community and their professional approach to agriculture, it's no wonder why Crisel Integrated Farm has become a trusted name in the industry.
Address: RH8V+HP5, Bypass, Rd 4, Santa Barbara, 5002 Iloilo
Opening Hours: 8 AM–5 PM
Phone: +63939 917 8285
For directions, click here.
Satisfying the Sweet Tooth: Desserts and Sweets of the Visayas
No culinary adventure is complete without satisfying your sweet tooth. The Visayas is home to a wide variety of desserts and sweets that are unique to the region. From classic Filipino favorites to lesser-known delicacies, there's something for everyone. Here are some of the must-try desserts and sweets during your culinary adventure in the Visayas.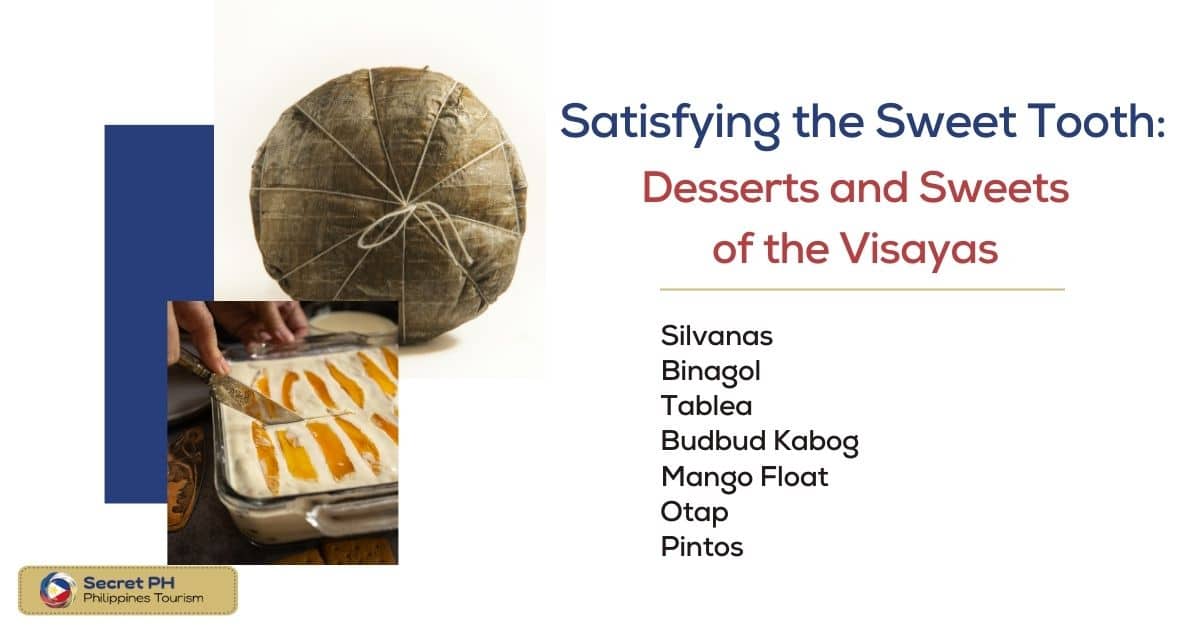 Silvanas: A buttercream-filled cookie coated with cashew meringue from Dumaguete, Negros Oriental.
Binagol:  A taro pudding made with coconut milk, glutinous rice, and caramelized sugar from Leyte.
Tablea: A rich and thick hot chocolate drink made from locally sourced cocoa beans from the provinces of Bohol and Cebu.
Budbud Kabog: Sticky rice cooked with millet and coconut milk, wrapped in banana leaves from Leyte.
Mango Float:  Layers of graham crackers, whipped cream, and fresh mangoes from Guimaras.
Otap: A flaky, sweet biscuit made from sugar, lard, and flour from Cebu.
Pintos:  Small, colorful cakes made from ground rice, coconut milk, and sugar, often sold in markets and festivals in the Visayas.
Bringing Home the Flavor: Local Products and Pasalubong to Take Home
One of the best ways to bring back memories of your culinary adventure in the Visayas is by taking home some local products and pasalubong. Whether you're looking for unique flavors to add to your pantry or souvenirs to share with friends and family, the Visayas has a lot to offer. Here are some of the top local products and pasalubong that you should consider taking home with you.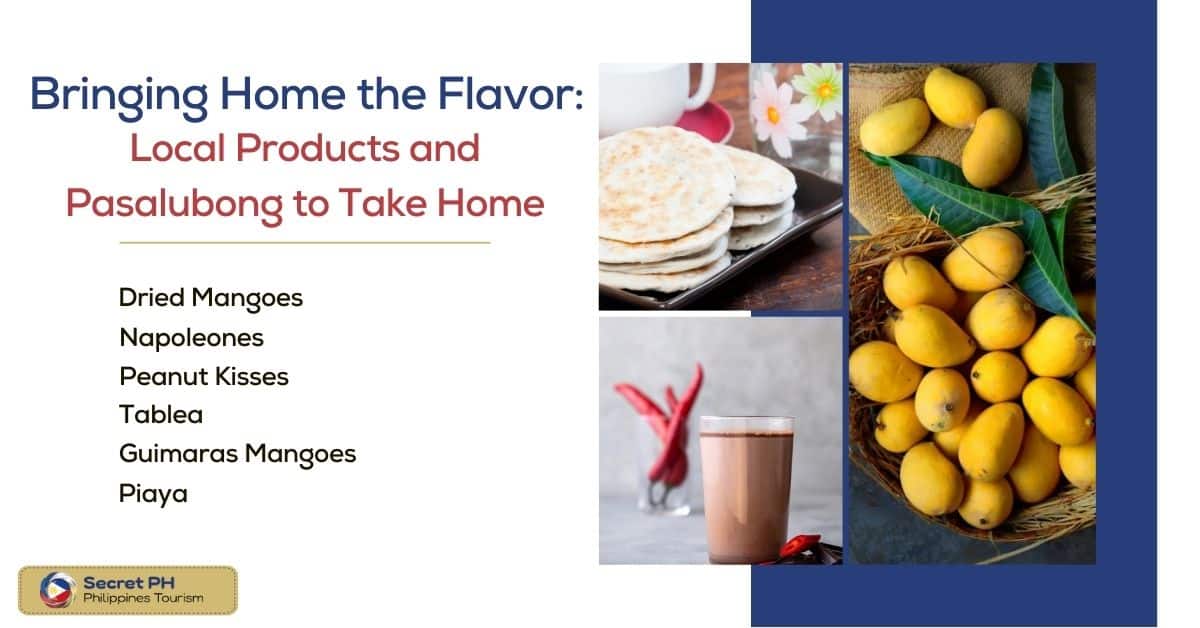 Dried Mangoes:  A classic pasalubong from Cebu, known for its sweet and chewy texture.
Barquillos:  Crispy, wafer-like rolls made from flour, sugar, and eggs, from Iloilo and Bacolod.
Napoleones: Layers of puff pastry filled with custard cream and glazed with sugar, from Bacolod.
Peanut Kisses: Bite-sized, crumbly peanut cookies made with local peanuts and egg whites, from Bohol.
Tablea: Locally sourced cocoa beans that are roasted, ground, and molded into tablets, from Cebu.
Guimaras Mangoes:  Dubbed as the sweetest mangoes in the world, this fruit is a must-try when in Guimaras.
Piaya: Sweet flatbread filled with muscovado sugar, from Negros Occidental.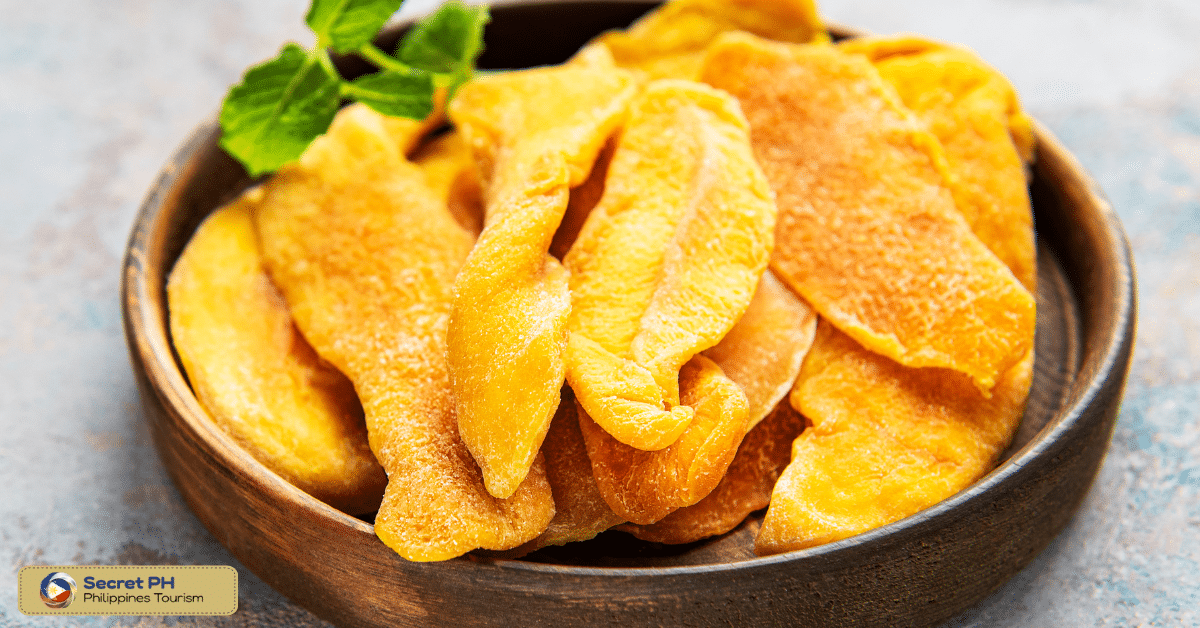 In conclusion
The Visayas region of the Philippines is a food lover's paradise. A culinary adventure in the Visayas is sure to be an unforgettable experience, with its diverse range of flavors and ingredients.
From fresh seafood dishes to sweets and pasalubong, there's something for everyone to enjoy. By visiting organic farms and food producers, you can also learn about the importance of sustainable and healthy eating. So come explore the flavors of the Visayas, and bring home some unique local products and pasalubong to share with your friends and family!