If you're in search of delicious and flavorful Filipino vegetarian dishes, look no further! The Philippines offers a wide array of mouth-watering vegetarian dishes that are sure to tantalize your taste buds. From Pinakbet to Puto Bumbong, there are 23 must-try Filipino vegetarian dishes that offer the ultimate gastronomic experience.
These savory dishes incorporate an array of vegetables, fruits, and spices from the local cuisine. So if you're looking for something light yet flavorful, these vegetarian Filipino dishes won't disappoint! So get ready to dig into these 23 must-try Filipino vegetarian dishes and experience an array of flavors like never before.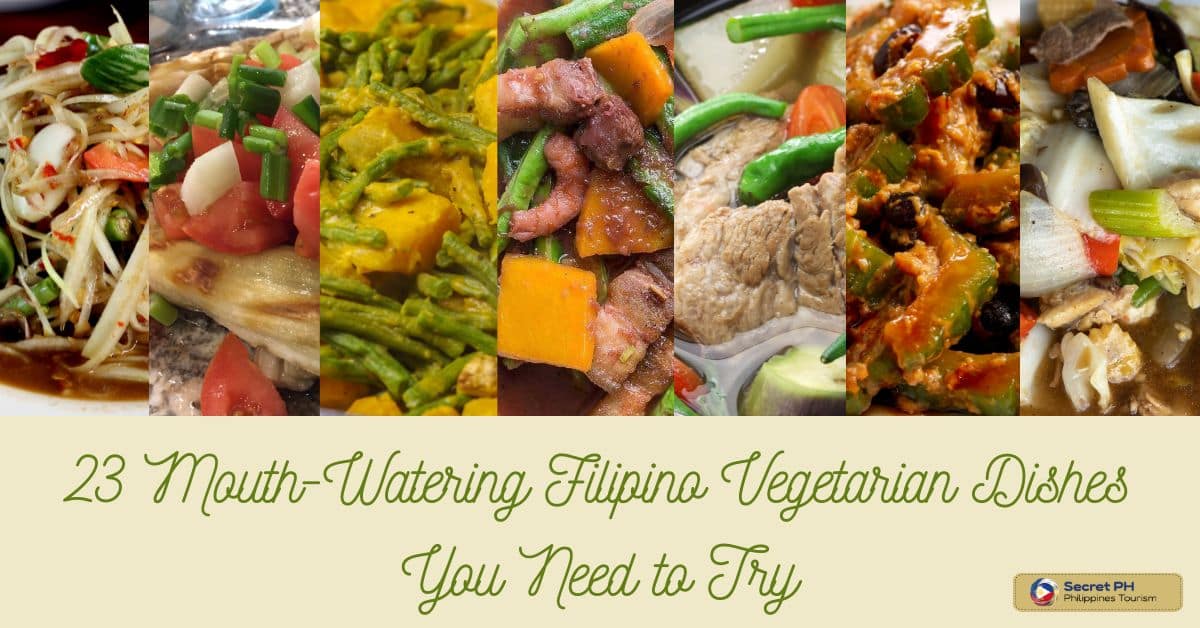 1. Pinakbet
Pinakbet is a healthy, delicious, and vegetarian-friendly dish that hails from the Philippines. It's traditionally made by stir-frying okra, eggplant, and bok choy in an aromatic mixture of garlic, ginger, and fish sauce.
A variety of healthy ingredients are incorporated, including squash, string beans, tomato, chili pepper, and onion which have been cooked on low heat to preserve the nutrition of the veggies while developing maximum flavor.
Its savory taste and succulent texture make it an irresistible choice for any meal. If you want to try something new in cooking healthy and mouth-watering vegetarian dishes for your family or friends, then Pinakbet is definitely a great option.
2. Adobong Kangkong
Adobong Kangkong is a healthy Filipino vegetarian dish that is packed full of flavor. This delicious dish includes healthy ingredients such as onion, garlic, tomato, and chili pepper, all cooked in a soy sauce-vinegar mixture to bring out the unique flavor.
The healthy vegetables also add texture to the dish. The result brings about a naturally sweet and savory taste that makes it difficult not to want more! Adobong Kangkong pairs perfectly with steamed rice or on its own as an appetizer. It is definitely one of the mouth-watering Filipino vegetarian dishes you need to try!
3. Dinengdeng
Dinengdeng is a popular Filipino vegetarian dish that mixes several green vegetables and beans. It's a traditional dish served during special occasions, but can be enjoyed as an everyday meal too. It's known for its mix of flavors and textures, which is achieved by blending colorful vegetables such as string beans, okra, malunggay leaves, and bitter melon.
This is usually mixed with shrimp paste, knotted nightshade, along with white or yellow corn grits. As a result, you get a taste bud-tingling unique vegetable dish that is sure to leave you asking for more! If you want to try something different yet flavorful in your next meal, then go for Dinengdeng as it's guaranteed to satisfy your taste buds.
4. Bicol Express
Bicol Express is a classic Filipino vegetarian dish that encompasses the flavors of the Bicol region in the Philippines. It is made of silky coconut cream and spicy chili peppers, spiced with garlic, onions, and ginger.
The delicious concoction is then cooked with succulent vegetables like eggplants, bell peppers, and string beans to add even more flavor and nutritional value to the dish. Thickening it further with pork fat adds a nice smoky flavor while still keeping it protein-rich but entirely vegetarian-friendly.
This classic Bicolano dish can satisfy any tummy yet still adjusts well to modern tastes with several variations available. Try this unique mouth-watering meal with rice for a truly delicious experience!
5. Laing
The Philippines is home to an array of vegetarian dishes, most of which feature Laing. Laing hails from the Bicol Region in the Philippines and is made up of taro leaves, grilled coconut meat, and chilis cooked in a creamy base of shrimp or pork.
As a result of its strong flavors and balance between sweet and salty, Laing has become a fan favorite amongst Filipino vegetarians. From rice bowls to soy tapa meals, many classic Filipino dishes can be transformed into scrumptious vegetarian meals through the use of Laing as an ingredient.
Fortunately for those looking for a tasty vegetarian option, there's no shortage of mouth-watering recipes that include this beloved vegetable dish from the Philippines.
6. Veggie Lumpia
Veggie Lumpia is a food or dish originating in the Philippine Islands and offers an incredible take on Philippine vegetarian cuisine. It is prepared by wrapping up a mixture of chopped vegetables, such as potatoes, carrots, and mushrooms in a thin spring roll wrapper.
The result is a delightful and mouth-watering blend of colors and flavors that can be served as an appetizer or main dish. Philippine vegetarian restaurants have adopted this dish and included it as one of their many vegan menu items, creating an even more diverse palette of Philippine dishes for vegetarians to enjoy.
7. Chop Suey
Chop suey is an undeniably delicious Filipino dish. It is considered a vegetable medley, combining numerous fresh ingredients like carrot, cabbage, cauliflower, and celery. In some variations, chewy noodles or bean sprouts may be added for texture.
What sets chop suey apart from other vegetarian dishes is its mix of flavors and umami tastes due to the combination of lechon sauce, oyster sauce, and ground garlic – this alone creates an unforgettable burst in the mouth that no meat dish can even widely match.
Its flavor lingers long afterward but many find themselves going back for more because of how appetizing it could be. With the right combination of heat and spices, chop suey takes the experience to a whole new level while still maintaining its healthy goodness–as if it were made in heaven!
8. Tofu Sisig
Tofu Sisig is a savory, mouth-watering vegetarian dish of Philippine cuisine. The most popular version uses fried, seasoned tofu and is served with lemon juice and chili pepper, creating an explosion of flavorful sensations. In some regions, the fried tofu is further mixed with onions, garlic, mushrooms, and peppers to create an even more delightful medley of taste.
While it has roots in traditional Filipino dishes that use pork or chicken as the main ingredient, this veganized version is a tasty substitute that achieves similar flavor profiles in every bite. Not only does it taste amazing, but marinated tofu also provides numerous health benefits when consumed in moderation. Tofu Sisig makes for a delicious appetizer or side that you won't soon forget!
9. Tortang Talong
Tortang Talong, also known as grilled eggplant omelet, is a classic Filipino vegetarian dish that is not only delicious and enjoyable to eat but also packed with nutritional benefits. These savory omelets usually consist of eggplants that have been fire-roasted, peeled, mashed, and mixed in with seasonings like garlic, onion, tomato, and eggs or flour; then fried to golden perfection.
Tortang Talong comes in various styles depending on the cook's preferences; most often served with garlic rice and a sweet or chili fish sauce. This traditional Filipino vegan meal is a testament to the nourishing power of vegetables and a must-try for anyone looking to add more delicious plant-based recipes to their culinary repertoire.
10. Ginisang Monggo
Ginisang Monggo, a type of Filipino vegetarian dish, is an easy meal to whip up with your favorite assortment of veggies. Made with mung beans, as well as eggplant, squash, and tomatoes, the combination of these flavors create a tasty meal that's sure to please!
The addition of golden onions not only adds texture but also enhances the flavor profile. Traditional Filipino spices like bay leaves are used to season this delicious dish. Serve Ginisang Monggo warm over freshly cooked rice for an enjoyable lunch or dinner that doesn't compromise on taste.
For a heartier vegan-friendly experience, substitute coconut milk for the traditional chicken broth. With its versatility and easy assembly process, Ginisang Monggo is sure to become one of your favorite vegetarian meals.
11. Ginisang Amplaya
Ginisang Amplaya is a flavorful traditional Filipino dish that consists of long beans, eggplant, and tomatoes cooked with garlic and onions until they become tender. This vegetarian-friendly dish is savory and filling, thanks to the fact that the vegetables are cooked in a variety of spices.
Some ingredients you might find that add extra flavors include fish sauce, bagoong (a type of fermented shrimp paste), and chilis for an additional kick. With a combination of sweet and sour flavors, Ginisang Amplaya makes for an incredibly satisfying meal every time!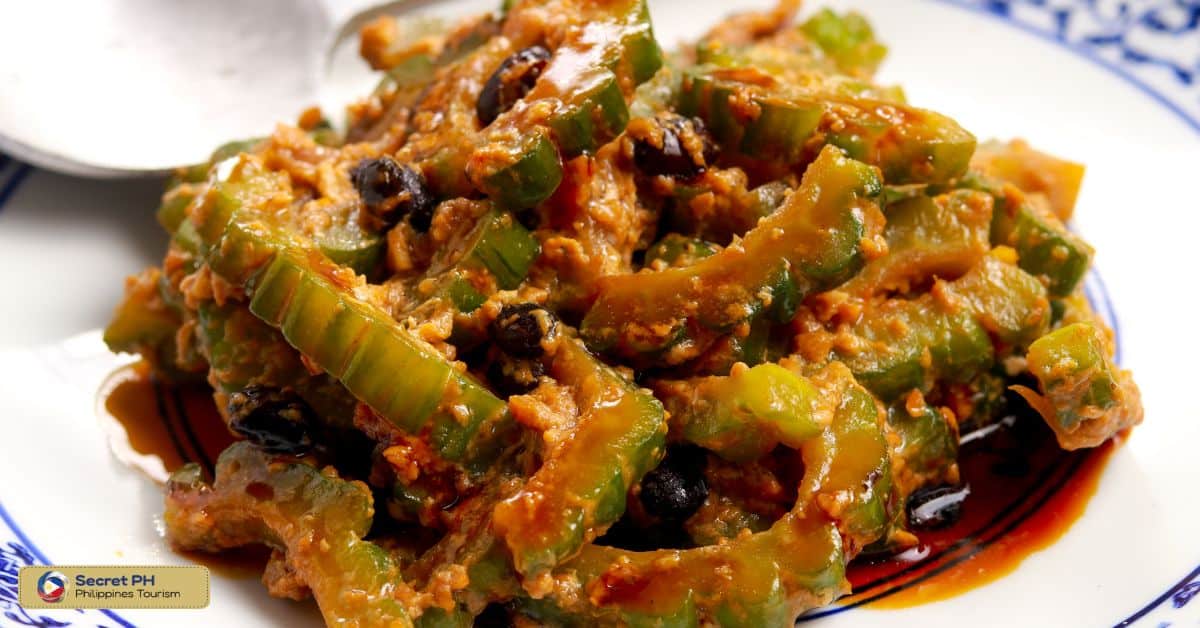 12. Sinigang
Sinigang is a must-try Filipino dish that has gained immense popularity among foodies all around the world. Its primary flavors are derived from the tamarind, making it sour and tart yet delicious. This vegan-friendly stew is a hearty mix of vegetables combined with various powdered stock mixes or sour fruits like green mangoes, guavas, and tomatoes.
Not only are these ingredients thoroughly enjoyable, but they are also filled to the brim with healthy vitamins and minerals. Must-try dishes include sinigang na kalabasa (pumpkin sinigang) and sinigang na bayabas (guava sinigang); you can even turn up up the spice level by adding siling haba (long chili peppers). With its wide range of flavors, the combinations are endless – so give it a try!
13. Kare Kare
Kare kare is a traditional Filipino vegetable stew that has been tantalizing taste buds for generations. It's known for its rich and flavorful peanut-based sauce made with many ingredients like garlic, onion, and annatto seeds.
Typically it is served with a variety of vegetables like eggplants, string beans, okra, and bok choy. The best part is that it can easily be turned into a vegetarian dish just by substituting the meat with tofu or mushrooms. For those looking to venture into an eclectic culinary experience, this must be on the top of your list!
14. Atchara
Atchara, an all-time favorite Filipino vegetarian dish, is teeming with ingredients that make it both hearty and flavorful. It consists of pickled green papaya, carrots, onions, and ginger combined with garlic, salt, and a splash of white vinegar.
As the ingredients are marinated in a mixture of these ingredients over time, they develop a delightfully tangy taste that will tantalize the taste buds. The ingredients can be further enhanced by adding raisins or small pieces of pineapple to create an even more mouth-watering dish.
With its simple yet delectable ingredients, Atchara is sure to please any vegetable lover's palate as well as provide a nutritious alternative for those looking for healthier choices.
15. Gising-Gising
Gising-Gising is a popular vegetarian dish from the Philippines, made with diced eggplant, chilis, garlic, and shrimp paste. This savory concoction is sure to tantalize your taste buds, perfect for those who have a penchant for bold flavors without any meat.
The ingredients combine together to create an irresistible fusion of textures and layers of flavor – from the mild eggplant to the spicy chilis. Moreover, its zestiness brings about an explosion of excitement in your mouth when you take a bite. If you're seeking a unique and delicious vegetarian dish that packs a punch, then give Gising-Gising a try!
16. Ginataang Gulay
Ginataang Gulay is an incredible Filipino vegetarian dish that is a must-try for any person serious about trying delicious new dishes. Using coconut milk, ginger, garlic, and chili pepper, this stew packs a lot of flavors. It's especially popular for its creamy consistency and ability to be adapted to suit different dietary needs.
Combining the sweetness of the coconut milk with the spiciness of the chili pepper creates a perfect balance between sweet and spicy flavors that tantalize your taste buds. To make it truly special, add some green beans, squash, or eggplant. It's guaranteed to be a hit with vegetarians and meat-eaters alike – perfect for one of those nights when everyone wants something different!
17. Ensaladang Talong
Ensaladang Talong is a traditional Filipino recipe that is sure to please vegetarians. It's incredibly tasty and surprisingly simple to make! This warm vegetarian dish combines lightly roasted eggplants with tangy tomatoes, fragrant onions, salty fish sauce, and sweet shrimp paste for an intriguing mix of sweetness, umami, and sourness.
The smoky flavor of the roasted eggplant pairs perfectly with the other ingredients to create a mouth-watering delicacy. Not only is Ensaladang Talong bursting with flavor but it's also packed full of protein and nutrients thanks to the inclusion of shrimp paste and fish sauce.
If you want an interesting vegetarian option on your plate or just want to try something exciting, look no further than this delicious Filipino dish.
18. Tinolang Manok
Tinolang Manok is a much-loved classic Filipino dish that has captivated the taste buds of people everywhere. It is a type of vegetarian stew or soup that consists of chunks of vegetables, boiled chicken broth, and pieces of ginger, simmered together with spices to create an incredibly unique and delightful flavor.
The dish has found recognition across the globe as one of the most flavorful and nourishing vegetarian dishes available. Generally, it's served hot in individual bowls with delicious side dishes like steamed rice or mashed potatoes.
Eating it for lunch on a cozy afternoon altogether adds to its pleasures! It makes for not just a succulent meal, but also provides huge servings of protein at low-calorie counts – which makes it an ideal choice among vegetarians who want to stick to their dietary restrictions but enjoy flavorsome meals too.
19. Arroz Caldo
Arroz Caldo is a traditional Filipino vegetarian dish that is both comforting and mouth-watering. It is prepared using aromatic long grains of rice cooked in a broth made with ginger, garlic, and onion then topped off with sautéed vegetables such as carrots, green beans, and Chinese cabbage.
The final step involves adding your favorite seasonings to create the perfect balance of flavor. Add some hard-boiled eggs on top for an even more satisfying meal! With its unique ingredients and combination of flavors, Arroz Caldo is sure to tantalize your taste buds and have you wanting to have this wholesome Filipino dish day after day.
20. Ukoy
Ukoy is a classic Filipino vegetarian dish that will tantalize your taste buds! Originating from the town of Marilao in Bulacan province, these savory morsels consist of julienned sweet potatoes, mung bean sprouts, and carrots coated in a batter made with rice flour and spices.
Typically served as an appetizer or snack paired with a spicy vinegar dipping sauce, ukoy is crispy on the outside yet velvety smooth inside. For an extra burst of flavor, garnish your ukoy with kalamansi juice or sprinkle it with grated coconut.
The combination of ingredients makes for a unique balance of flavors that make for an unforgettable dining experience. So if you're a fan of trying new vegetarian dishes, you absolutely have to give Ukoy a try!
21. Champorado
Champorado is an undeniably mouth-watering Filipino dish that everyone needs to try. It's a classic porridge made from ground malagkit (sticky) rice, boiled in cocoa and often featuring evaporated or condensed milk.
The sweetness of the dish lies in its splash of sugar and a generous garnish of toasted/fried coconut shavings or strips, truly giving it a unique flavor that is unlike any other. Depending on the region, some recipes might even include sliced bananas and sesame seeds.
For vegetarians, this protein-packed dish delivers the perfect punch of sweet and savory flavors making sure your taste buds are satisfied after each bite. Enjoy the delectable texture of malagkit rice with this simple yet tasty breakfast meal!
22. Sotanghon Guisado
Sotanghon Guisado is a popular Filipino vegetarian dish that is bursting with flavor and texture. This dish is made with sotanghon or cellophane noodles which are stir-fried in garlic, onion, and vegetables such as carrots, sweet peas, and bell peppers.
The vegan version of this dish simply omits the use of fish sauce and swaps meat for mushrooms, making it the perfect meal for vegetarians. It's also easy to prepare – all you need to do is simmer it until the noodles have reached the desired tenderness.
Whether landing on a dinner table or served during special occasions, Sotanghon Guisado is sure to bring joy to all with its hearty combination of flavors, colors, and textures – a delightful dish that's meant to be savored.
23. Puto Bumbong
Puto bumbong, a popular Filipino dish enjoyed during the holiday season, is a delicious vegetarian treat that you need to try. Prepared with freshly ground purple rice and coconut or butter, this sweet delicacy is steamed in bamboo tubes, then traditionally served with grated coconut and melted butter.
With its soft texture and pleasantly sweet flavor, this savory treat is an ideal dessert for those who prefer something not too sugary. It is widely known by all Filipinos as one of the staples of the holiday season, but it can easily be enjoyed any time of year as part of any traditional meal. Puto bumbong provides a unique experience that will surely leave your mouth watering!
In Conclusion
The Philippines has a wide variety of delicious vegetarian dishes to suit any taste. From Ginisang Monggo and Sinigang to Kare Kare and Puto Bumbong, these traditional Filipino meals will tantalize your taste buds while providing you with a hearty meal without having to consume meat.
With their unique flavors and textures, these vegetarian dishes are sure to become favorites among vegetarians and meat-eaters alike! So, what are you waiting for? Get out there and try some of these amazing recipes today!