Are you looking to expand your vegan horizons? If you love trying unique and exciting dishes, then Philippine vegan street food is a must-try!
The Philippines has a vibrant street food scene, and with the rise of veganism, there are now plenty of plant-based options to try. From the popular banana cue to the lesser-known ginataang bilo-bilo. Here are 15 must-try vegan Filipino street foods that offer both delicious flavors and health benefits.
In this blog post, we'll be covering 15 must-try vegan Filipino street food dishes that will tantalize your taste buds and make your mouth water! So without further ado, let's dive right into the world of Philippine vegan street food and explore some of these amazing dishes!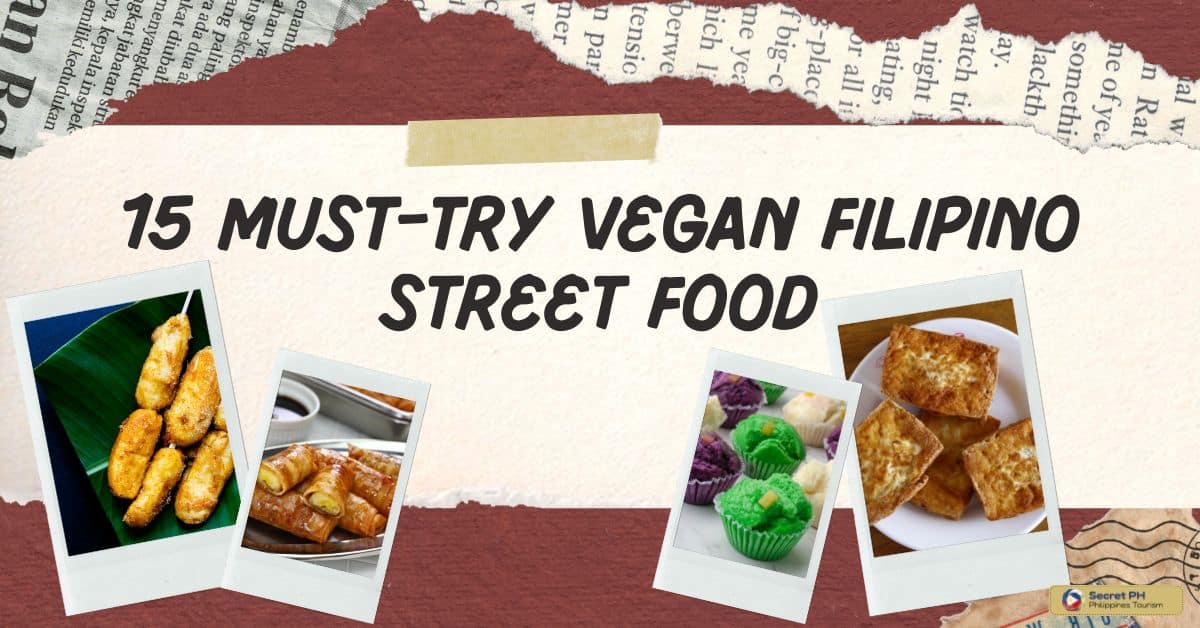 Veganism in the Philippines
Veganism is quickly growing in popularity in the Philippines. With more and more people recognizing its health and environmental benefits. However, transitioning to a vegan lifestyle can present some challenges. Since many Filipino dishes include meat, poultry or fish. Fortunately, there are now countless plant-based recipes as well as vegan-friendly restaurants scattered across the country. They are ready to cater to those looking for great-tasting meals without any animal products.
As veganism continues to become more accepted in Philippine culture, it will only be a matter of time before the many rewards of adopting this lifestyle. This will become accessible to anyone that wishes to reap its benefits.
15 Must-Try Vegan Filipino Street Foods
Filipino cuisine is renowned for having a diverse array of dishes that everyone can enjoy. The country's street food scene has tasty vegan options. From hearty plant-based soups and noodles to sweet treats and fried snacks. There are many vegan Filipino street foods that can satisfy both omnivores and herbivores alike.
Sample a variety of flavors, textures, and ingredients all within one meal. It's no wonder why Filipino street food is so wildly popular among locals and travelers alike! With authentic flavors made from fresh ingredients prepared with love and careful attention to detail. A vegan trip to the Philippines would be nothing short of remarkable.
Puto
Puto is a popular traditional dessert or snack in the Philippines. Made with rice flour, it has a soft and fluffy texture that contrasts nicely with its slight sweetness. It can be served hot or cold. It is usually topped off with coconut or cheese to enhance the flavor. It's a great vegan option for Filipino street eats and often appears at festivals, gatherings, parties and other special events. Puto can also be made into different shapes or sizes according to taste.
Banana Cue
Banana Cue is a popular Filipino street food snack that is an absolute must-try for all vegan. Bananas are deep fried, skewered and coated in a caramelized sugar syrup coating. It creates a crunchy outer layer over the sweet, soft banana. It's like having dessert on a stick! This vegan Filipino street food can be found in most cities at nighttime stalls and markets. It's a perfect way to enjoy snacks while exploring the city sights.
Lumpiang Sariwa
Lumpiang Sariwa is a classic vegan Filipino street food delicacy that packs an impressive flavor punch. Usually served uncooked and wrapped in thin crepe-like pancakes made from wheat flour. The dish elevates traditional ingredients like steamed vegetables, mushrooms, and tofu.
It's usually topped with freshly chopped garlic, onions, celery, crushed peanuts, and a sweet sauce made of sugar and vinegar. It is to create a harmonious balance of salty, savory notes. It is distinctively flavored yet concise to assemble. Lumpiang Sariwa can frequently be found at Filipino picnics or outdoor festivities.
Ginataang Bilo-Bilo
Ginataang Bilo-Bilo is a delicious vegan Filipino street food. It is made up of a coconut milk based stew that includes boiled sago pearls, sweet potato, plantains, and other locally grown fruits. The texture of this particular dish is unique – tapioca like sago pearls blend with soft chunks of fruits and vegetables. As it's served warm, its perfect during cooler days. Not only will it fill your stomach up with much needed nutrition but will also warm your heart!
Pritong Tokwa
Pritong Tokwa stands out as one of the most popular vegan Filipino street foods. This unique snack is made from deep-fried tofu marinated in a sweet and spicy soy sauce. Perfect for those looking for a delicious vegan-friendly lunch or dinner. For those who prefer their food to be spicier, there is an option of adding hot chili peppers. The best part about Pritong Tokwa is its versatility. It can be served as a side dish, appetizer, or even as a main course.
Turon
Turon is a snack that contains bananas, and jackfruit wrapped in spring roll wrappers and deep-fried. It is usually served with a sprinkling of brown sugar or cinnamon as well as some vanilla ice cream. This most often found at street pushcarts or small restaurants. Turon often delights with its attractive golden-brown color and perfectly crispy exterior. This snack can be enjoyed freely without any concern over animal products.
Carioca
Carioca is a popular vegan Filipino street food that packs a burst of flavor. The dish consists of small tapioca pearls suspended in sugar and coconut milk, with added topping of shredded coconut. Its lightly sweet yet nutty taste complements the creamy texture. Enjoy it on its own or pair it with other vegan snacks as an after-meal dessert. Either way, Carioca will surely be one of the most exciting treats.
Taho
Taho is a delicious Filipino street food that is vegan-friendly. This snack consists of soft, silky tofu cooked in a warm syrup or arnibal, made with sweetener and sago pearls. To finish off the dish, it is garnished with white pearl tapioca and either fresh calamansi or lemon juice. Taho is usually served at breakfast but can be enjoyed any time during the day for a sweet and satisfying treat.
Kamote Cue
Kamote Cue is a sweet, savory and delightfully crispy snack; made with boiled sweet potatoes skewered on a stick and then deep fried. It is one of the most popular street foods in the Philippines. The batter used to coat it has just the right amount of sweetness; it's not too overpowering but complements the flavor of the sweet potato.
Suman Malagkit
Suman Malagkit is a popular Filipino street food that can be found in night markets. It is made from sticky rice and coconut milk, and it is often served with sweetened cocoa powder. Although traditionally prepared with animal-based ingredients, it's not uncommon to find vegan versions of this dish. This traditional street food provides an alternative for vegans looking for something sweet. The combination of flavors in this warm and comforting food make it a favorite across different demographics.
Suman Lihiya
Suman Lihiya is the perfect Filipino street food to try if you're looking for a vegan alternative. This sweet, savory, and tangy dish allows vegan eaters to experience a traditional Filipino favorite. It's made of glutinous rice cooked in coconut milk and spices then wrapped into a pyramid shape and boiled. With flavors that are both hearty and vibrant, this dish is sure to please the most discerning palates. As an added bonus, it can easily be prepared in advance when entertaining guests.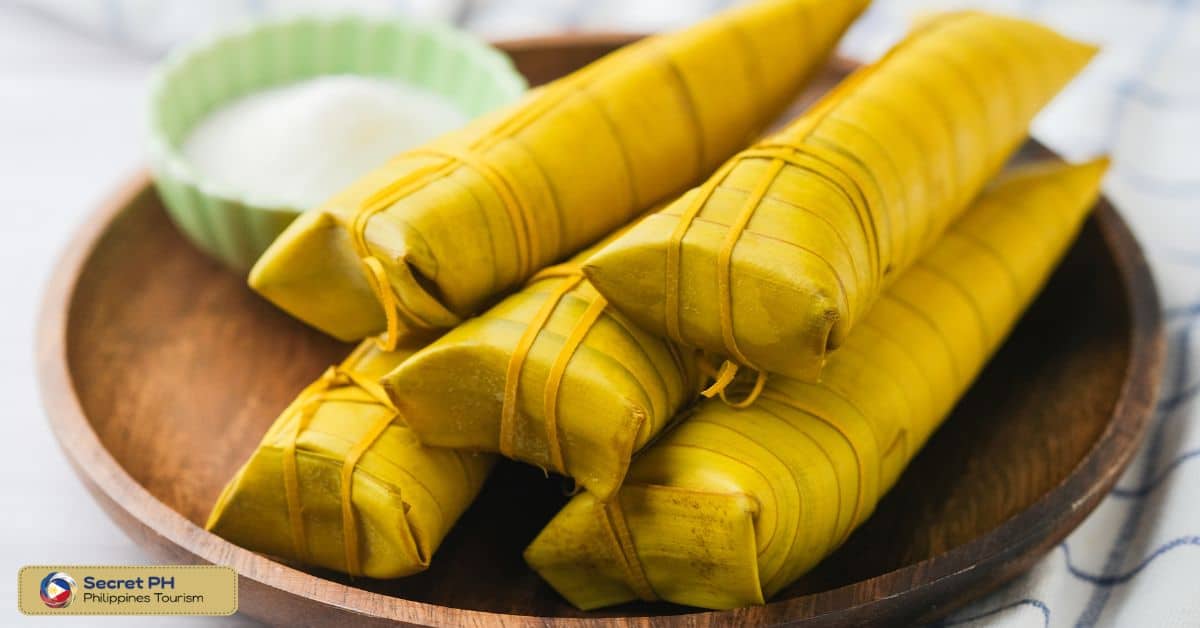 Mais Con Yelo
Mais Con Yelo, a classic Filipino street food that translates to sweet corn with ice. The vegan version swaps out the standard sugar and evaporated milk for coconut sugar, sweetened condensed non-dairy milk. As simple as it looks, Mais Con Yelo has a distinct flavor profile. The coconut sugar gives it an earthy sweetness. Those who want to get creative can top their Mais con yelo with whatever they like. With its vibrant colors and diverse flavors, this unique Filipino treat is sure tantalize your taste buds!
Espasol
Espasol is traditionally a Filipino snack made of ground sticky rice, and coconut milk. It is cooked in an earthenware pot, then shaped into small log-like pieces when cool. This deliciously light sweet treat is often served with latik syrup. Espasol is versatile and can be served with ice cream on hot days or enjoyed plain. For the vegan foodie who wants a unique take on Filipino street food, Espasol can be the highlight.
Kutsinta
Kutsinta is a must-try for any fan of Filipino street food. This traditional delicacy is prepared with rice flour, sugar, and lye water. It is often served with grated coconut or a sweet syrup topping. While it can be enjoyed on its own, Kutsinta can also be embellished with additions like ube (purple yam), cheese, pastillas (milk candy), or fruits. Whether you're looking for a vegan snack option or simply want to try a classic Filipino favorite, Kutsinta is sure to please the palate!
Buko Juice
Buko juice is one of the most popular vegan Filipino street foods. This refreshing drink has its roots in Philippine culture and makes a perfect accompaniment to a meal or as a thirst-quencher. It is made from young coconut flesh, blending the sweet flavor. Topped off with ice cubes, this juice really hits the spot on hot days.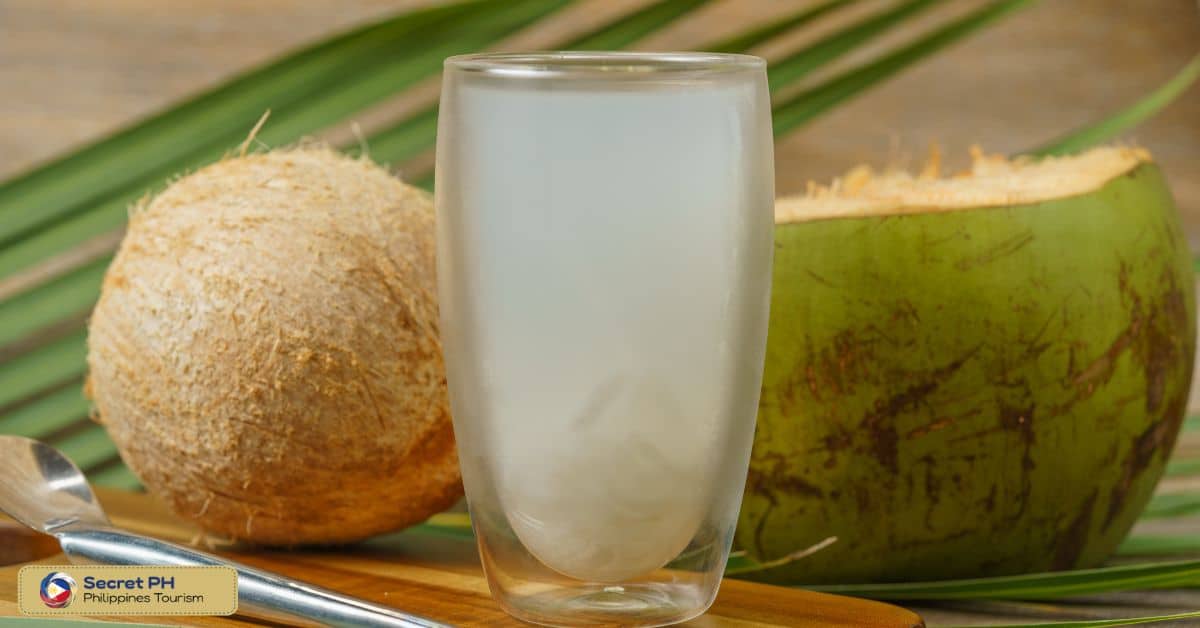 Health Benefits of Vegan Street Food
Eating vegan street food has multiple health benefits. Many vegan street foods are made with whole, unprocessed ingredients – like grains, fruits, vegetables and legumes. With so many tasty options available these days, it's never been easier to get the nutrition you need from plant-based sources while enjoying the fast and convenient.
Nutritional value of vegan street food
Eating vegan street food is a great way to get important nutrients. Plant-based dishes like seitan tacos, mung bean burgers, and falafel wraps are excellent sources of protein and essential amino acids. Not only that, vegan street food often contains numerous vitamins and minerals such as iron, zinc, magnesium, calcium, B-complex vitamins, vitamin A, and vitamin E.
In addition to these important micronutrients for fueling the body with energy and nourishment, vegan street food is typically low in saturated fat and cholesterol, making it a healthier choice than many animal-based offerings. It's also worth noting that most vegan recipes involve whole plants instead of processed ingredients – meaning you'll be getting more fiber as well!
Importance of choosing healthy vegan options
Eating vegan street food can have a positive impact on your wellbeing. Rather than indulging in greasy and unhealthy fast food, going vegan can give you healthier options that are packed with flavor. From savory tacos with spicy salsa to falafel sandwiches made with fresh ingredients, there is something for everyone when it comes to vegan street food.
While the long-term health benefits of eating a healthy and balanced vegan diet are well known, having access to convenient yet nutritious vegan street food makes it easier to stick to these dietary guidelines even when you don't have time to cook from scratch. Furthermore, choosing vegan street food goes hand in hand with supporting small businesses, as well as ethical and sustainable practices that benefit local communities.
Importance of choosing healthy vegan options
In recent years, vegan street food has been gaining in popularity. This type of cuisine is becoming more and more mainstream, both for its health benefits and its environmental impact. Here are the impact of vegan street food on the environment:
Reduced Carbon Footprint: Vegan street food has a lower carbon footprint than non-vegan street food. Animal agriculture is a major contributor to greenhouse gas emissions, including methane and carbon dioxide, which contributes to climate change. By choosing vegan street food options, customers can reduce their carbon footprint.
Conservation of Water Resources: Animal agriculture requires significant amounts of water for feeding and cleaning animals, which can strain water resources. In contrast, vegan street food does not require these resources, thus contributing to the conservation of water resources in the Philippines.
Biodiversity Preservation: Vegan street food vendors typically use locally grown and seasonal produce, which promotes biodiversity by supporting local agriculture. This reduces the demand for mono-cropping and promotes the use of natural fertilizers, which contributes to the preservation of the ecosystem.
Reduced Waste Production: Vegan street food generally produces less waste than non-vegan street food since the preparation and cooking methods require fewer materials. This leads to a reduction in the use of packaging materials, plastic utensils, and paper products, thus decreasing waste production.
Health Benefits: Vegan street food is typically prepared using whole, plant-based ingredients, which provides numerous health benefits to the consumer. A diet high in fruits, vegetables, whole grains, and legumes is associated with lower rates of heart disease, diabetes, and certain cancers, which can lead to a healthier population and reduced healthcare costs.
In Conclusion
Filipino street food has something for everyone, regardless of dietary restrictions. Vegan eaters can have their fill with 15 vegan recipes that will satisfy even the most rigorous omnivore's palette.
Whether you're a vegetarian looking for new flavor combinations or a vegan looking to explore traditional Filipino recipes, these creative and delicious vegan dishes offer endless meal possibilities. These Filipino street foods are sure to take you on a flavorful journey across the many unique tastes of the Philippines.