The Philippines is a beautiful and diverse country, known for its white-sand beaches and vibrant culture. But with the arrival of monsoon season comes heavy rain, strong winds, and sometimes even flooding. Whether you're visiting or living in the Philippines, it's important to know how to stay safe during this time of year.
Understanding the Monsoon Season in the Philippines
The Philippines experiences monsoon season annually, typically lasting from June to October. During this time, the country is prone to heavy rainfall and strong winds, which can lead to flooding and landslides. The monsoon season in the Philippines is caused by the shift in wind patterns, with the southwest monsoon bringing in moist air from the Indian Ocean and the northeast monsoon bringing in dry air from China and Siberia.
It is important to understand the specific weather patterns and hazards associated with the monsoon season in the Philippines to properly prepare and stay safe. The Philippine Atmospheric, Geophysical, and Astronomical Services Administration (PAGASA) is the government agency responsible for providing weather forecasts and warnings. They issue regular updates on monsoon season conditions and any potential hazards.
It is also important to understand that not all parts of the Philippines are affected equally by the monsoon season. Some areas, such as the western Visayas and Mindanao, are more prone to flooding and landslides, while other areas may only experience heavy rainfall. It is important to be aware of the specific risks in your area and to stay informed of any updates or warnings issued by PAGASA.
Address: J2RV+PQ7, BIR Rd, Diliman, Quezon City, Metro Manila
Hours Open: 24 hours
Phone: (02) 8927 1335
For updated information about the weather forecast, click here.
Preparing for Monsoon Season: Essential Safety Measures
Monsoon season is often a time of joy and renewal, but it can also bring its own set of risks. From flooding to lightning strikes, being ill-prepared for the monsoons can leave you in a dangerous situation. Fortunately, there are several safety measures that you can take to prepare your home and family for the upcoming rainy season:
Build or maintain emergency kits: Include non-perishable food, water, a flashlight, first aid supplies, and important documents.
Secure your property: Make sure your home and property are in good condition and take steps to prevent flooding and landslides. This may include clearing gutters and drainage systems, elevating appliances and valuables, and creating a flood evacuation plan.
Stay informed: Stay informed about weather conditions and any potential hazards by monitoring PAGASA updates and alerts. It is also a good idea to have multiple ways to receive emergency alerts and information, such as a battery-powered radio or TV.
Have an evacuation plan: Make sure you have a plan in place for how you and your family will evacuate in case of an emergency. Identify safe places to go, such as designated evacuation centers or the homes of friends or family members.
Learn basic first aid: Knowing basic first aid can be essential in case of injury during monsoon season. Take a first aid course or familiarize yourself with basic techniques, such as how to treat cuts, burns, and broken bones.
Keep important documents safe: Make sure you have copies of important documents, such as ID, insurance papers, and emergency contacts, in a safe and accessible place.
Prepare your vehicle: Make sure your vehicle is in good condition and that you have emergency supplies, such as a spare tire, in case of breakdowns or accidents.
Keep in touch with family and friends: Make sure you have contact information for family and friends and have a plan for how you will stay in touch during an emergency.
Staying Safe During Monsoon Season: Tips and Tricks
Staying safe during monsoon season in the Philippines requires careful planning and a commitment to safety. Here are some tips and tricks to help you stay safe during the monsoon season: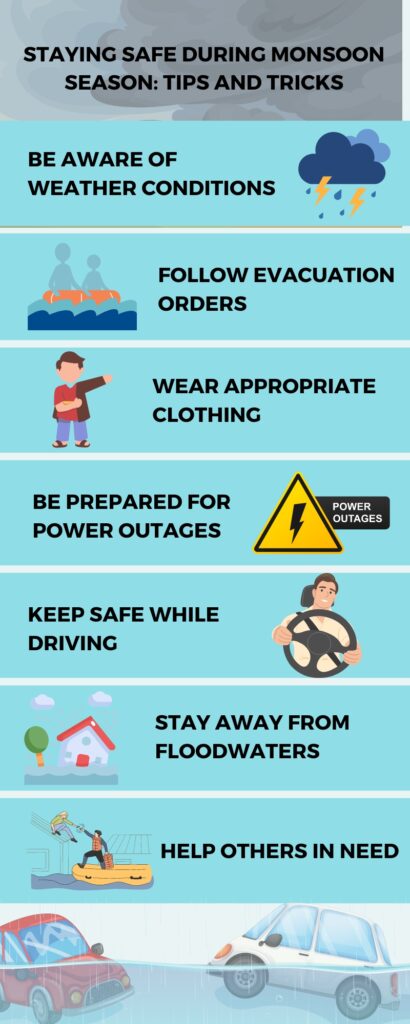 Be aware of weather conditions: Keep an eye on weather forecasts and updates from PAGASA. If a storm is approaching, take shelter immediately and avoid low-lying areas prone to flooding.
Follow evacuation orders: If an evacuation order is issued, leave immediately. Do not wait until the last minute, as this can put you and your family in danger.
Wear appropriate clothing: Wear waterproof and sturdy shoes, and a raincoat or poncho to protect yourself from the rain. Avoid unnecessary travel during heavy rain and strong winds.
Be prepared for power outages: Have a flashlight or lantern, extra batteries, and a battery-powered radio or TV on hand in case of power outages.
Keep safe while driving: Slow down and be extra cautious while driving during monsoon season. Watch out for flooding and landslides, and avoid driving through standing water.
Stay away from floodwaters: Floodwaters can be contaminated and may contain hidden dangers such as sharp objects and electrical hazards. Keep a safe distance and never attempt to drive or walk through floodwaters.
Help others in need: If you see someone in need of assistance, offer to help if it is safe to do so.
By following these tips, you can reduce your risk of injury and damage during monsoon season in the Philippines. Remember, it is always better to be safe than sorry, so stay vigilant, stay informed, and stay prepared.
Staying Informed: Resources for Monitoring Monsoon Season Conditions
As the Philippines experiences a monsoon season, it is important to stay informed of its changing conditions. There are numerous resources available to keep track of vital weather metrics such as temperature, rainfall, and windspeed. Journalists and meteorologists are spotlighting the forecasts on local news channels which can be accessed online or through television broadcasts.
Social media sites also offer real-time updates with localized statistics that allow citizens to stay abreast of developing situations in their region. Additionally, climate-focused websites such as AccuWeather and Foreca provide comprehensive information when examining broader stretches of land.
Utilizing these tools helps the general public remain aware of ominous weather predictions thus allowing them to make smarter decisions in preparation for the wet season ahead.
In conclusion
Monsoon season in the Philippines can be a time of beauty and renewal, but also a time of danger. It is important to be prepared for the monsoons and stay informed about changing conditions. By understanding the causes and types of hazards associated with monsoon season, and preparing emergency kits and evacuation plans.
By staying aware of weather updates, following safety tips, and using reliable resources to monitor conditions, you can stay safe during this time. With the right preparation and knowledge, you can enjoy the monsoon season in the Philippines without any worries.