Are you ready to explore the cultural and historical sites of Manila? This bustling city is full of exciting activities, attractions, and sights. From ancient forts to colorful temples, there's something for everyone in this diverse capital.
In this blog post, we'll be giving you an overview of some of the most popular cultural and historical sites in Manila. Want to learn more? Keep reading!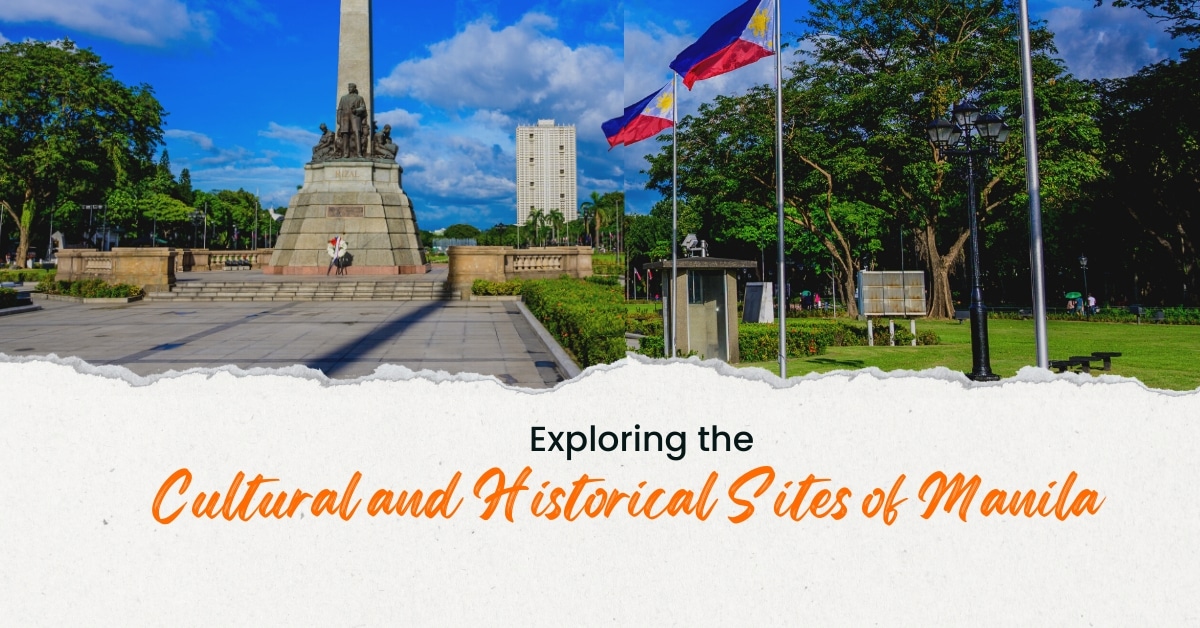 Overview and History of Manila's Cultural and Historical Sites
Since the rise of modern Manila in the 17th century, the city has been home to a plethora of cultural and historical sites. Intramuros is a walled city that contains a wealth of historical structures including:
Fort Santiago
San Agustin Church,
University of Santo Tomas
Manila Cathedral
Bahay Tsinoy
San Agustin Church is an iconic Baroque church built in 1571 while Casa Manila Museum offers a glimpse into old Manila's heritage and culture. Rizal Park and the National Monument are symbols of Philippine patriotism, honoring national hero José Rizal. Lastly, Malacanang Palace is where you can explore the residence of Philippine presidents.
Why You Should Visit the Sites
Visiting the sites listed in this article is a great way to appreciate the natural beauty of our planet. From ancient ruins to breathtaking landscapes, these sites are home to some of the most incredible and awe-inspiring sights in the world. Here are the top reasons why exploring these places can help you gain an appreciation for history, culture, and nature:
Learn about the history and cultural heritage of Manila: Visiting the cultural and historical sites in Manila allows you to gain a deeper understanding of the city's past and the events that have shaped its present.
Experience unique architecture and art: The sites in Manila are home to a diverse range of architectural styles, from the Spanish-colonial architecture of Intramuros to the modern monuments of Rizal Park. You can also see the art and architecture of the Philippines during Spanish colonization, as well as contemporary art and monuments.
Appreciate the country's national heroes: Rizal Park and other sites in Manila pay homage to the country's national heroes, including Jose Rizal, and their contributions to the Philippines' past and present.
Enjoy leisure and recreational activities: Rizal Park is a great place to spend your leisure time, with beautiful gardens, a large lake, and various recreational activities such as jogging and picnicking.
Immerse in the local culture: Visiting the cultural and historical sites in Manila also allows you to immerse yourself in the local culture and interact with the locals.
Top Places to Explore in Manila
Manila is the bustling capital city of the Philippines, a unique melding of old and new worlds that offers a wealth of attractions for visitors. From glittering skyscrapers to centuries-old churches, from hipster hangouts to historical sites, there's something for everyone in Manila. Below are the lists of top historical and cultural places to explore around Manila:
Intramuros: The Walled City
Intramuros, also known as the Walled City, is a historic district located in the heart of Manila, Philippines. It was the seat of government and the religious center of the Spanish colony in the Philippines during the 16th to 19th centuries. The area is surrounded by thick walls and fortifications built by the Spanish conquistadors to protect the city from foreign invasions.
The Intramuros Administration manages several exhibits and displays within the area, including the Fort Santiago, San Agustin Church, and Casa Manila. These sites showcase the rich history and culture of the Philippines during the Spanish colonial period.
The Intramuros Administration is open from 8:00 am to 6:00 pm, Monday to Sunday. Admission fees vary depending on the site you want to visit. Fort Santiago, for example, charges PHP75 for adults and PHP50 for students and senior citizens.
Address: Bonifacio Dr & Padre Burgos St, Manila, Luzon 1002
San Agustin Church: Oldest Stone Church in the Philippines
San Agustin Church, located in Intramuros, Manila, Philippines, is the oldest stone church in the country. It was built by the Spanish conquistadors in the 16th century and has survived multiple earthquakes, fires, and wars. The church is a UNESCO World Heritage Site and a National Cultural Treasure.
The church exhibits several religious artifacts, including a collection of 18th-century religious paintings and statues. The church also features a museum, the San Agustin Museum, which showcases the history and art of the church.
The church is open daily from 7:00 am to 6:00 pm. The museum is open from 9:00 am to 12:00 pm and 1:00 pm to 4:00 pm from Tuesday to Sunday. Admission to the church is free, but there is a small fee for the museum.
Rizal Park: A Tribute to the National Hero
Rizal Park is a tribute to our national hero, Jose Rizal. Located in Manila and was formerly known as Luneta Park. It was established on December 30th, 1896, and was officially named after Rizal in the year 1956. It serves as a reminder of his bravery and courage in standing up for what he believed in.
The park holds various exhibits and displays that celebrate the life of Jose Rizal such as the Monumento de Jose Rizal. It features a central bronze sculpture with four surrounding leonine figures.
Other attractions include an outdoor amphitheater, a chess plaza, an interactive audio-visual center, and multiple museums dedicated to the works of our beloved hero.
Address: Ermita, Manila, 1000 Metro Manila
Departments: Lourdcarlo · Luneta Chess Plaza · Paco Park Presents
Phone: 0919 926 4413
Bahay Tsinoy: Understanding Chinese-Filipino Heritage
Bahay Tsinoy is a museum located in Intramuros, Manila, devoted to Chinese-Filipino heritage. It showcases the contributions of Chinese Filipinos to the Philippines and its unique bilateral relations with China. The museum's collection includes artifacts, photos, documents, and other memorabilia that depict how Chinese Filipinos have shaped Philippine society.
Bahay Tsinoy is open daily to the public from 8:30 am to 4:30 pm with no admission fee but donations are welcome. Guided tours are available upon request for an additional fee.
Address: 32 Anda St, Intramuros, Manila, 1002 Metro Manila
Phone: (02) 8527 6083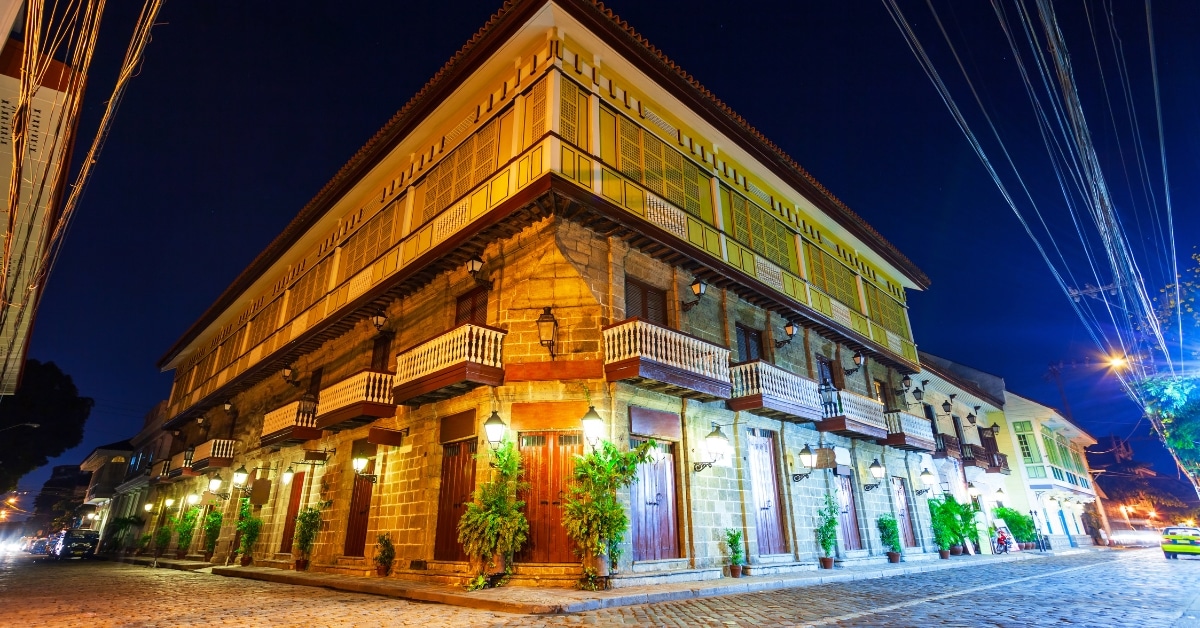 The National Museum: Preserving the Nation's Art and History
The National Museum of the Philippines, also known as the National Museum, is a government-run institution located in Manila, Philippines. The museum was established in 1901 to preserve and promote the country's art and natural history. It serves as the primary repository of the Philippines' cultural and historical heritage, housing a wide range of artifacts, artworks, and scientific specimens.
The National Museum has several branches, including the National Museum of Fine Arts, the National Museum of Anthropology, and the National Museum of Natural History. These branches showcase the diverse collections of the National Museum, including pre-colonial art, ethnographic materials, botanical specimens, and rare scientific specimens.
Some of the most notable exhibits include the Spoliarium, one of the most famous paintings by Filipino painter Juan Luna, the Tabon Cave Complex, and the "Manunggul Jar", considered one of the finest Philippine pre-colonial art.
The National Museum is open from Tuesday to Sunday, 10:00 am to 5:00 pm. Admission is free for all of its branches, but some special exhibitions may have an admission fee.
Address: Padre Burgos Ave, Ermita, Manila, 1000 Metro Manila
Departments: Personnel Office In National Museum Of The Philippines
Opening Hours: 9 AM–6 PM
Phone: (02) 8527 1215
Quiapo Church: A Place of Pilgrimage
Quiapo Church, located in Manila, Philippines, is a popular place of pilgrimage and worship. The Minor Basilica of the Black Nazarene, also known as the Parish of Saint John the Baptist, is one of the oldest churches in the country.
It is renowned for its veneration of the miraculous Black Nazarene statue which has been credited with miracles since it was brought to Quiapo Church in 1787.
The church itself is a beautiful example of Baroque architecture with its ornate façade and interior decorations. Inside visitors can find many religious artifacts such as statues and paintings that tell stories about Jesus Christ and his disciples. The most famous exhibit is the Black Nazarene statue which draws thousands of devotees every year for its annual procession on January 9th.
Address: 391, Quiapo, Manila, 1001 Metro Manila
Phone: (02) 8733 4434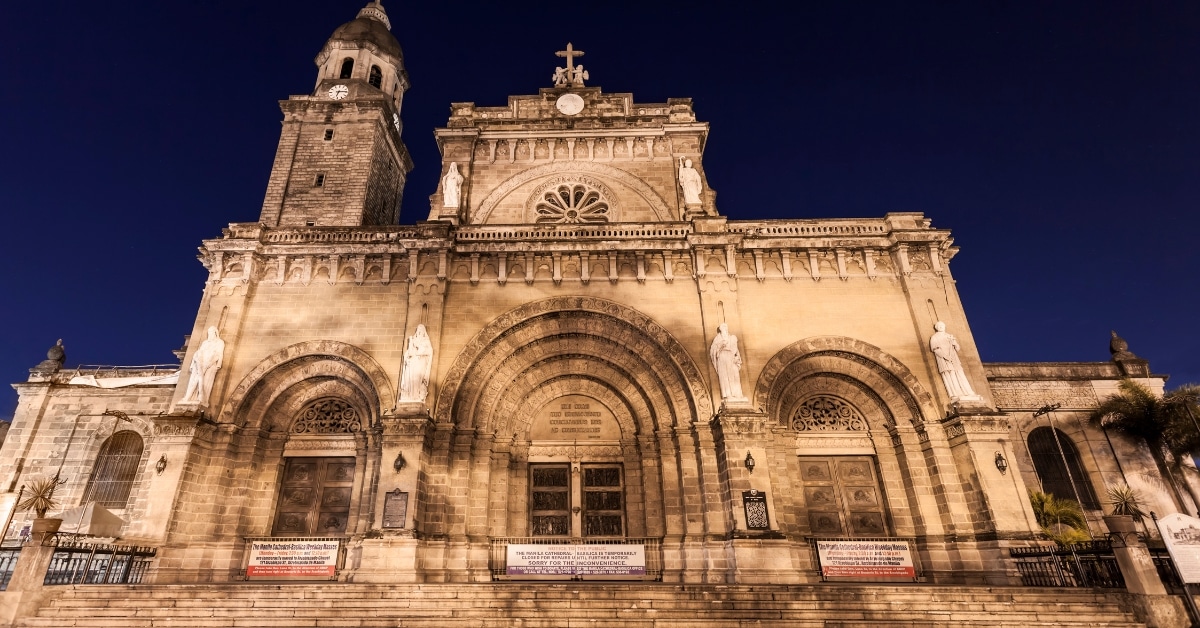 Tips for Visiting the Sites
Visiting the cultural and historical sites in Manila can be an enjoyable and educational experience. Here are some tips to make your visit even more rewarding:
Make sure to follow any safety measures and guidelines that are in place when visiting.
Wear comfortable shoes and clothing as many sites require a good amount of walking.
Bring enough water and snacks for your visit as many attractions may have limited refreshment options or none at all.
Most sites are cash only so make sure you have enough with you before heading out.
If available, take advantage of tour guides and audio guides to gain deeper insights into the area's history and culture.
Take plenty of pictures but also be mindful of not disturbing others while doing so.
Best Time of Year to Visit
The best time of year to visit Manila, Philippines is typically between January and April. These months offer the most pleasant weather with minimal rain and temperatures ranging around 71 degrees Fahrenheit (22 degrees Celsius).
During these months, outdoor attractions such as American Cemetery, Intramuros–the historical walled city of manila–and Rizal Park are accessible. However, it should be noted that May tends to be humid with a chance of rain so travelers should plan accordingly if visiting during those months.
It is also important to note that the monsoon season begins in June and continues through early December. So some attractions may not be available at certain points throughout the year due to stormy weather or flooding. Travelers should plan accordingly and check with local resources for updates on specific sites before planning their trip.
Transport Options in Manila
Exploring the cultural and historical sites of Manila is a great way to experience the city. Fortunately, getting around the city is made easy by the various forms of transportation available such as:
Jeepneys are one of the most popular modes of transport in Manila and have been in use since World War II. These colorful vehicles offer an inexpensive way to get around the city. Taxis are another option for travelers who want more comfort and convenience.
The Philippine National Railways heavy rail is also available for those who want to explore out of town.
For short distances, tricycles and pedicab vehicles can be used.
Utility Vehicle (UV) Express are minivans that run along specific routes.
In Manila's public transit system – Light Rail Transit (LRT1, MRT2, MRT 3), and P2P buses.
Overall, there are plenty of transport options available when exploring the cultural and historical sites of Manila. From jeepneys and taxis to trains and bicycles – making it easy for visitors to get around this vibrant city!
In conclusion
Exploring the cultural and historical sites of Manila is a great way to gain an appreciation for its unique culture, history, and art. From Intramuros—the Walled City—to Rizal Park, these sites are sure to offer a memorable experience for travelers.
Furthermore, with a variety of transport options available, getting around Manila is easy and convenient. So come experience the beauty of Manila for yourself – it's sure to be an unforgettable journey!