The Visayas region of the Philippines is a treasure trove of traditional and modern artistry. From intricate woodcarvings to vibrant handwoven textiles, it is no wonder why the Visayan culture has long been celebrated for its craftsmanship. For centuries, local artisans have used their skills and ingenuity to create exquisite pieces of art and functional objects using natural materials found in the region.
In this article, we will take a journey through the Visayas to explore its unique arts and crafts, its role in the culture, and how they have been adapted to fit modern times. We'll also discuss ways you can support local artisans and help preserve Visayan handicrafts for the future. Join us as we discover the wonder of Visayan arts and crafts!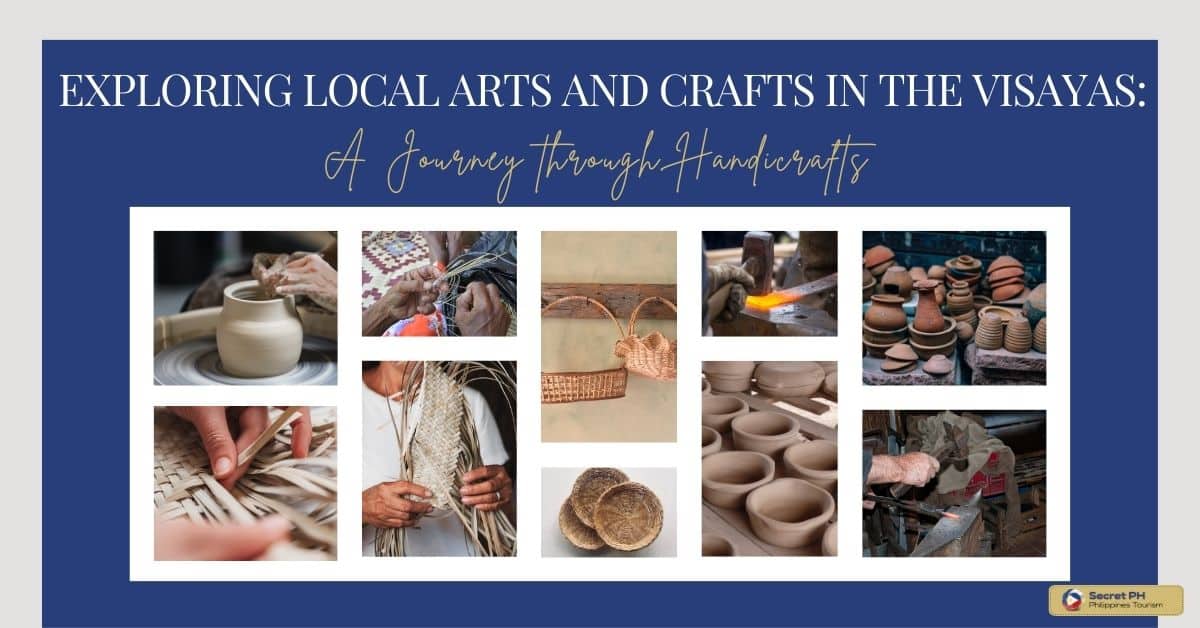 Traditional Handicrafts of the Visayas Region
The Visayas region of the Philippines is known for its rich culture and history. One of the ways this is expressed is through the creation of traditional handicrafts. These handicrafts are passed down from generation to generation and serve as a reflection of the people's ingenuity, creativity, and resourcefulness. In this article, we will explore some of the traditional handicrafts of the Visayas region.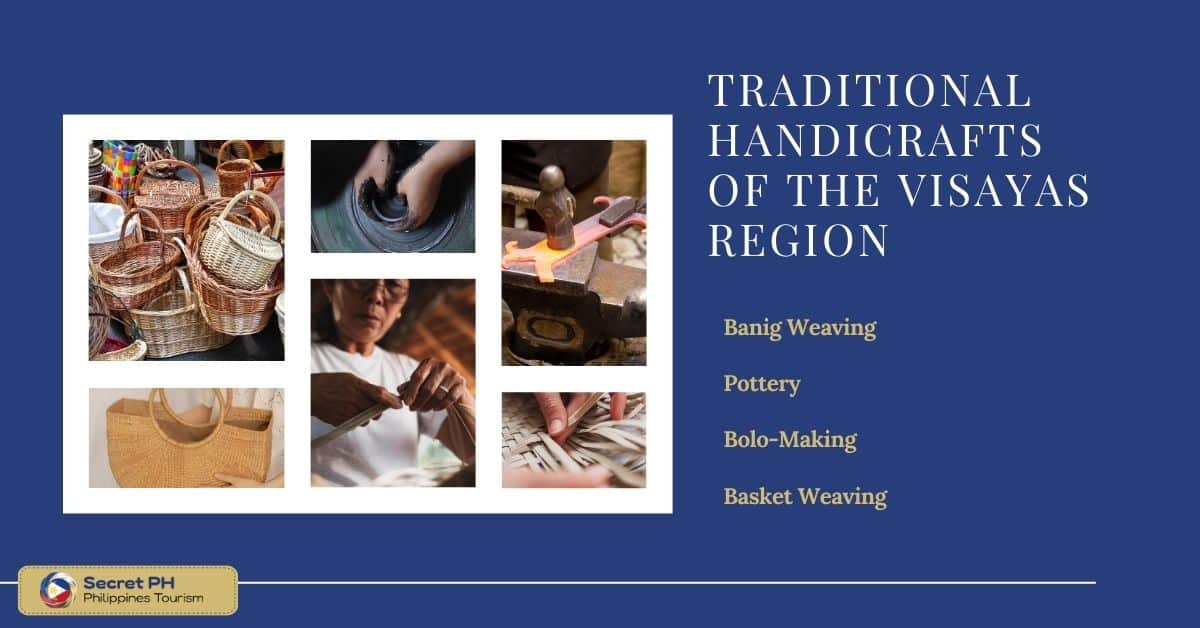 Banig Weaving
Banig is the Visayan term for woven mats. It is made from different materials such as pandan leaves, buri leaves, and other types of grass. The weaving process is intricate and involves the use of traditional wooden looms. Banigs are not only used as sleeping mats but are also used as decorative pieces, bags, and other items.
Pottery
Pottery-making in the Visayas region has been around since pre-colonial times. The pots are made from locally-sourced clay and are shaped by hand or using a pottery wheel. The pottery is then fired in traditional wood-fired kilns. The finished products vary in size and are used for cooking, storing water, and as decorative pieces.
Bolo-Making
Bolo-making is a traditional handicraft that has been around for centuries. Bolos are knives with single-edged blades and are used for various purposes such as farming and hunting. The blades are made from locally-sourced materials such as steel and carbon. Bolo-making involves a complex process that includes forging, grinding, and polishing.
Basket Weaving
Basket weaving is a traditional handicraft that has been practiced in the Visayas region for generations. The baskets are made from different materials such as bamboo, rattan, and buri leaves. The weaving process is intricate and involves a combination of weaving and braiding techniques. These baskets are used for various purposes such as carrying fruits and vegetables, storing clothes, and as decorative pieces.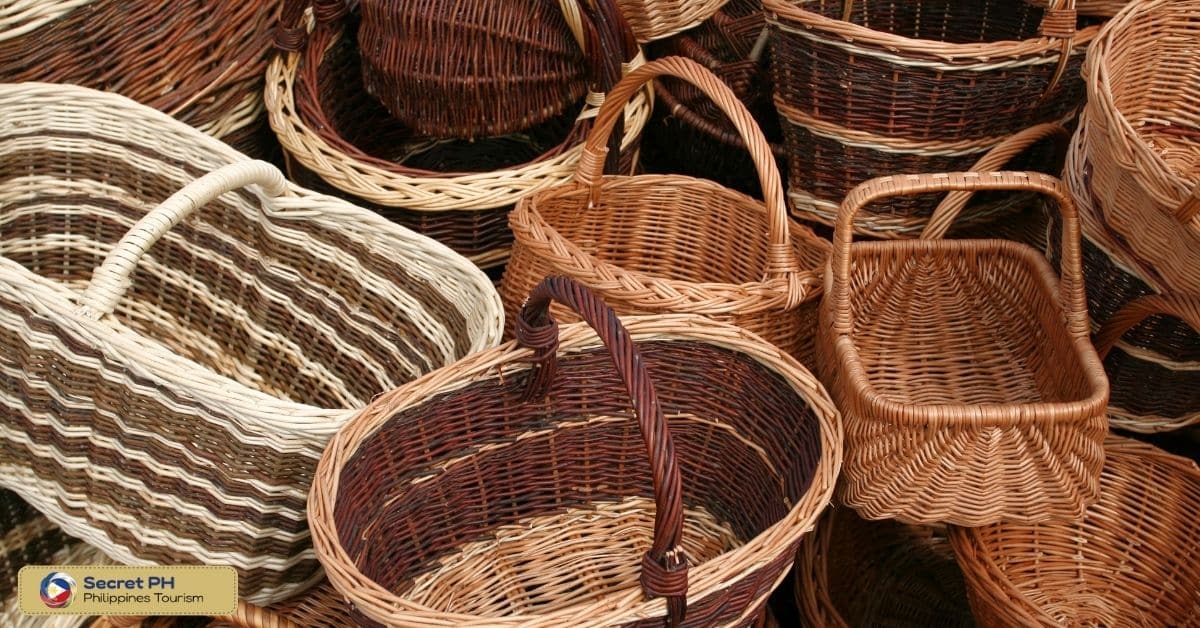 The Role of Arts and Crafts in the Visayan Culture
The Visayan region in the Philippines is known for its rich cultural heritage. One of the most significant aspects of this heritage is the community's traditional arts and crafts. These creative expressions are a celebration of the Visayan way of life and have played a vital role in shaping the culture of the people over the centuries.
Artistic Tradition and Beliefs
For the Visayans, traditional arts and crafts are much more than just a form of expression. They are an integral part of life, reflecting the community's values and beliefs. Many of these crafts are rooted in religious practices and are considered sacred by the people. For instance, weaving baskets and mats is not only a way of creating something useful, but it is also a way to offer homage to ancestors by integrating their beliefs and symbols in the designs.
Crafts as a Means of Livelihood
Arts and crafts also play an essential economic role in the Visayan culture. Many communities rely on their art forms as a means of livelihood. For example, embroidery and textile weaving provides a source of income for many women in the region, while pottery making is an essential industry in some villages.
Preserving and Passing on Heritage
The Visayan community takes pride in its cultural heritage and aspires to preserve it for future generations. Arts and crafts are a significant part of this effort as they are a tangible and visible expression of the culture. Traditional artists, known as "Master Craftsmen," pass on their knowledge and skills to the next generation. Young people are encouraged to learn from their elders and to carry forward the tradition of these art forms.
Promoting Cultural Tourism
Visayan arts and crafts have also become a significant attraction for cultural tourism. The region's festivals, crafts fairs, and exhibitions showcase the traditional art forms and crafts, offering tourists an insight into the community's way of life. The revenue generated from these events not only benefits the artisans and craftsmen but also the broader community.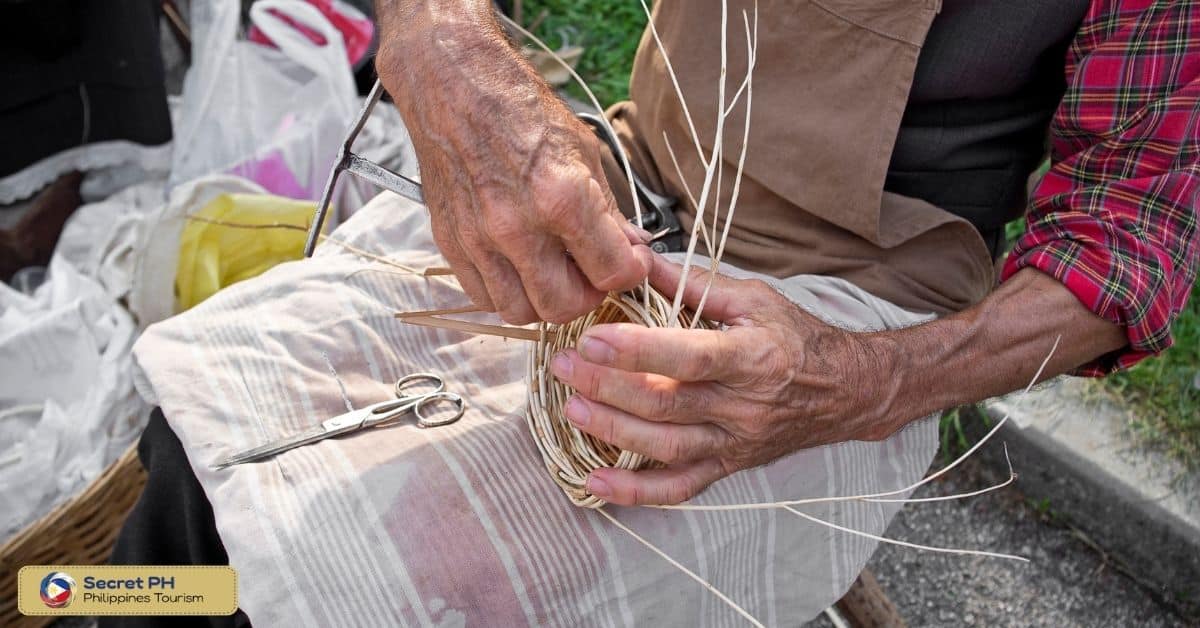 Unique Materials Used in Visayan Handicrafts
Visayan handicrafts are known for their intricate designs and skilled craftsmanship, but they are also notable for the unique materials used in their creation. From natural fibers to recycled materials, Visayan artisans use a wide range of materials to create beautiful and functional products.
Abaca: Also known as Manila hemp, is a natural fiber that is indigenous to the Visayas region. It is a popular material for weaving, and many Visayan textiles, such as the delicate piña cloth, are made from abaca fibers. Abaca is prized for its strength and durability, and it is also eco-friendly and sustainable.
Buri: A type of palm tree that is native to the Visayas region. Its leaves are used to make a variety of products, including hats, bags, and baskets. Buri is prized for its natural strength and durability, and it is also lightweight and easy to work with.
Capiz Shells: A type of mollusk shell that is found in the waters around the Visayas region. They are translucent and have a pearlescent sheen, which makes them popular for use in decorative items such as lamps, chandeliers, and window panes. Capiz shells are prized for their beauty and versatility.
Recycled Materials: Visayan artisans are known for their resourcefulness, and many of them use recycled materials in their crafts. For example, discarded plastic bags are woven into colorful mats, while old newspapers are turned into paper-mâché figurines.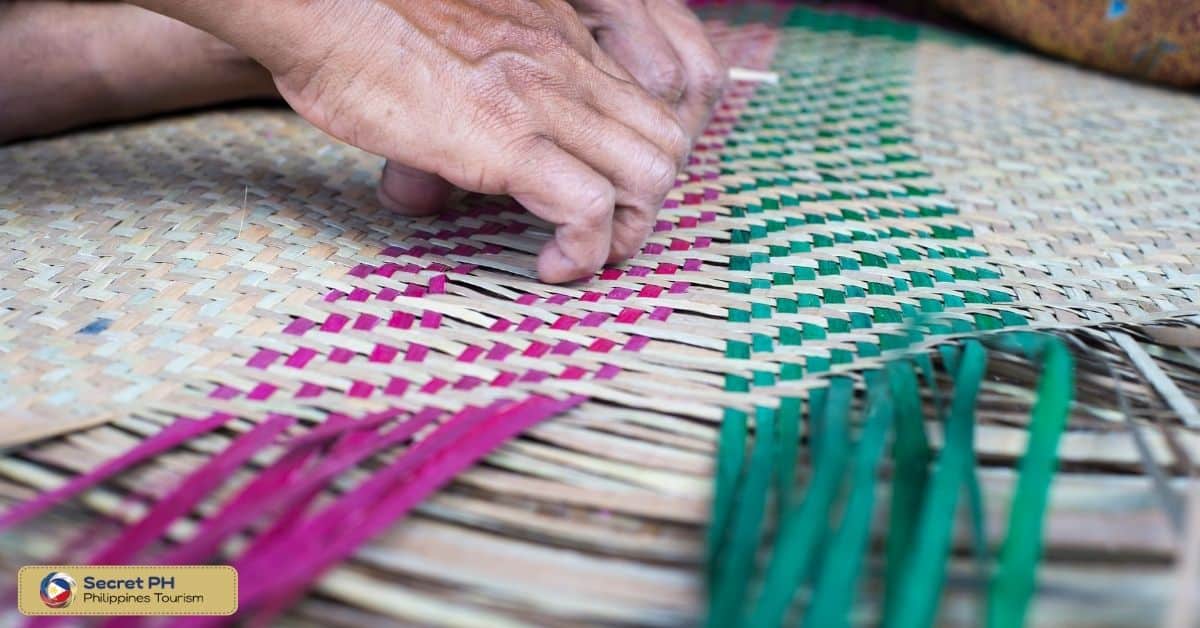 Visiting Local Artisans and their Workshops
Visiting local artisans and their workshops can be an enriching and inspiring experience. Many local artisans have honed their craft over decades, perfecting their skills and techniques to create stunning works of art. When you visit their workshops, you can witness the process first-hand and see the passion and dedication that goes into their creations. Some artisans even offer workshops and classes for others to learn their craft.
In addition to the educational aspect, visiting local artisans and their workshops can also support the local economy and help sustain traditional crafts. By purchasing from these artisans, you can directly support their livelihood and preserve their craft for future generations.
Moreover, these one-of-a-kind handmade pieces make for unique and meaningful gifts that can't be found in mass-produced stores. Whether you're a local or just passing through, taking the time to visit these artisans and their workshops is a worthwhile and memorable experience.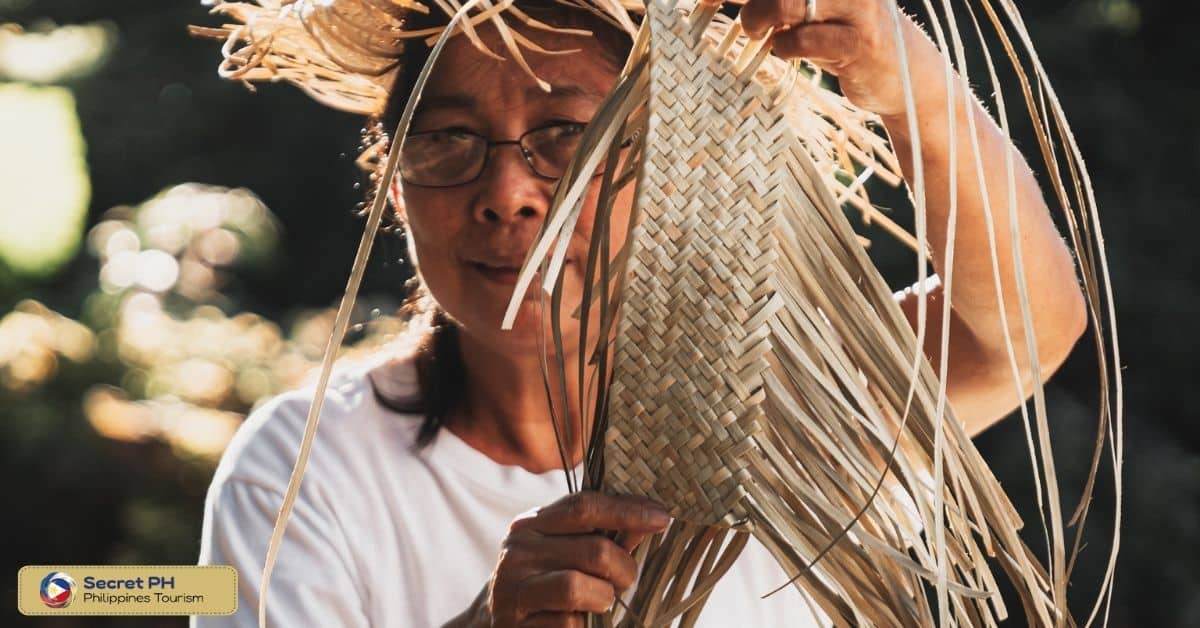 Modern Adaptations of Visayan Handicrafts
The traditional handicrafts of the Visayas region have a long and rich history, but in recent years, many artisans have been adapting their crafts to meet modern tastes and market demands. These modern adaptations blend traditional techniques with contemporary designs and materials, resulting in unique and innovative products.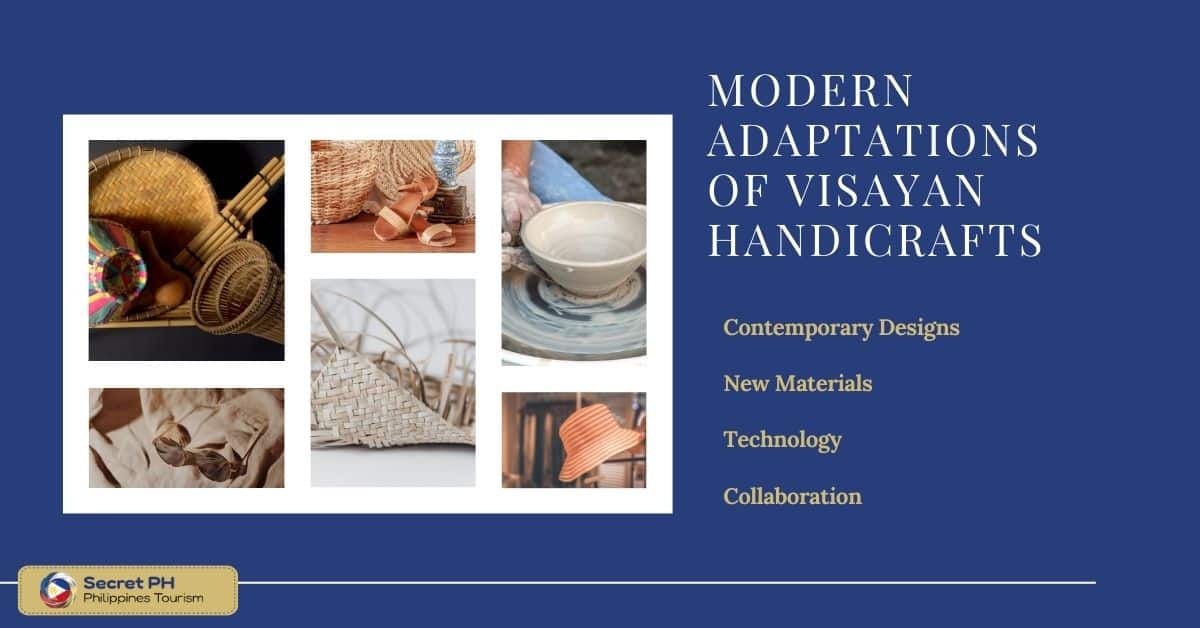 Contemporary Designs
Visayan artisans are experimenting with new designs and patterns that appeal to modern consumers. For example, traditional weaves are being combined with modern silhouettes to create clothing and accessories that are both stylish and unique. Contemporary designs are also being applied to traditional materials such as wood and clay, resulting in innovative and modern pieces.
New Materials
While traditional materials such as abaca and buri are still widely used in Visayan handicrafts, many artisans are also incorporating new materials into their crafts. For example, recycled materials such as plastic and paper are being used to create colorful and eco-friendly products. Additionally, modern materials such as acrylic and resin are being used to create contemporary jewelry pieces.
Technology
Technology is being used to enhance and streamline the production of Visayan handicrafts. For example, computer-aided design (CAD) software is being used to create precise and intricate patterns for textiles and woodcarvings. Automation and digital tools are also being used to speed up the production process, allowing artisans to create more products in less time.
Collaboration
Visayan artisans are collaborating with designers and artists from other regions and countries to create new and innovative products. These collaborations not only bring new ideas and techniques to Visayan handicrafts but also help to promote them on a global scale. Collaborations have resulted in new products such as jewelry and home decor items that blend traditional Visayan techniques with contemporary design aesthetics.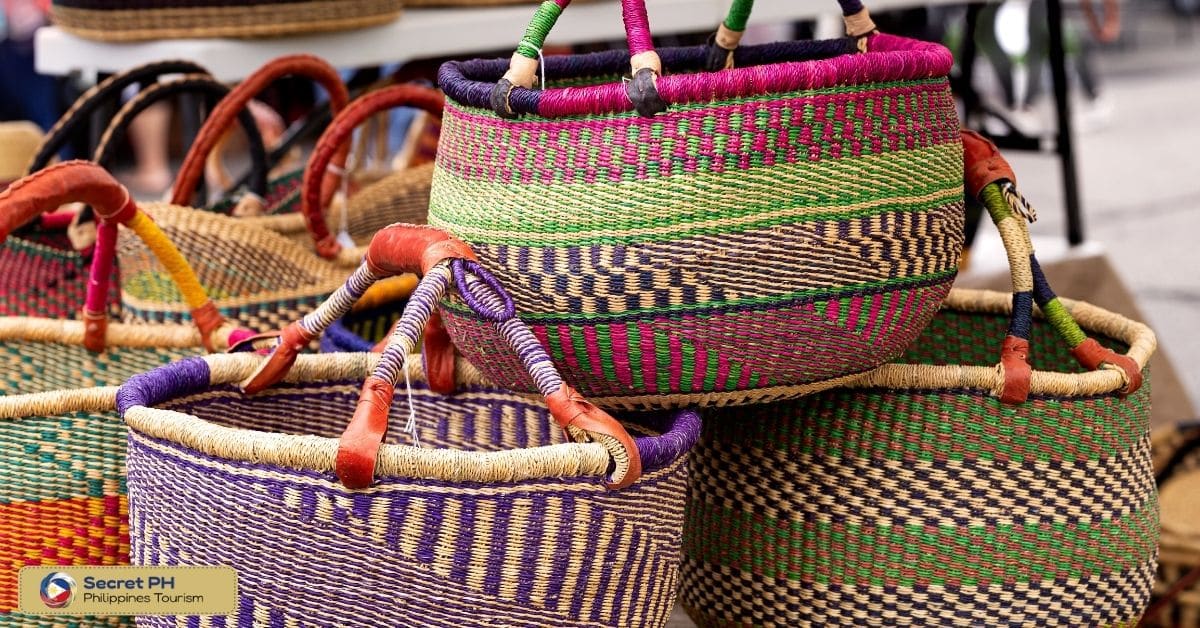 Supporting Local Artisans and the Future of Visayan Handicrafts
In recent years, there has been a growing movement towards supporting local artisans. This movement recognizes the importance of preserving traditional handicrafts and the skills needed to produce them. By supporting local artisans, we are not only preserving our cultural heritage, but we are also promoting sustainable and ethical practices in the artisanal industry.
This movement has been particularly strong in the Visayan region of the Philippines, where the tradition of handicrafts has been passed down through generations. The future of Visayan handicrafts is bright, with many young people embracing this art form and using modern techniques to produce unique and innovative designs.
Through supporting local artisans, we can help to ensure that these traditional handicrafts continue to be produced and valued for generations to come. While there are many challenges facing the artisanal industry, such as competition from mass-produced products and the difficulty of accessing markets, the preservation of traditional handicrafts remains a priority for the Visayan community.
In order to ensure the future of Visayan handicrafts, it is important that we continue to invest in these artisans and promote their unique talents and skills. By doing so, we can help to create a sustainable and thriving artisanal industry in the Visayan region of the Philippines.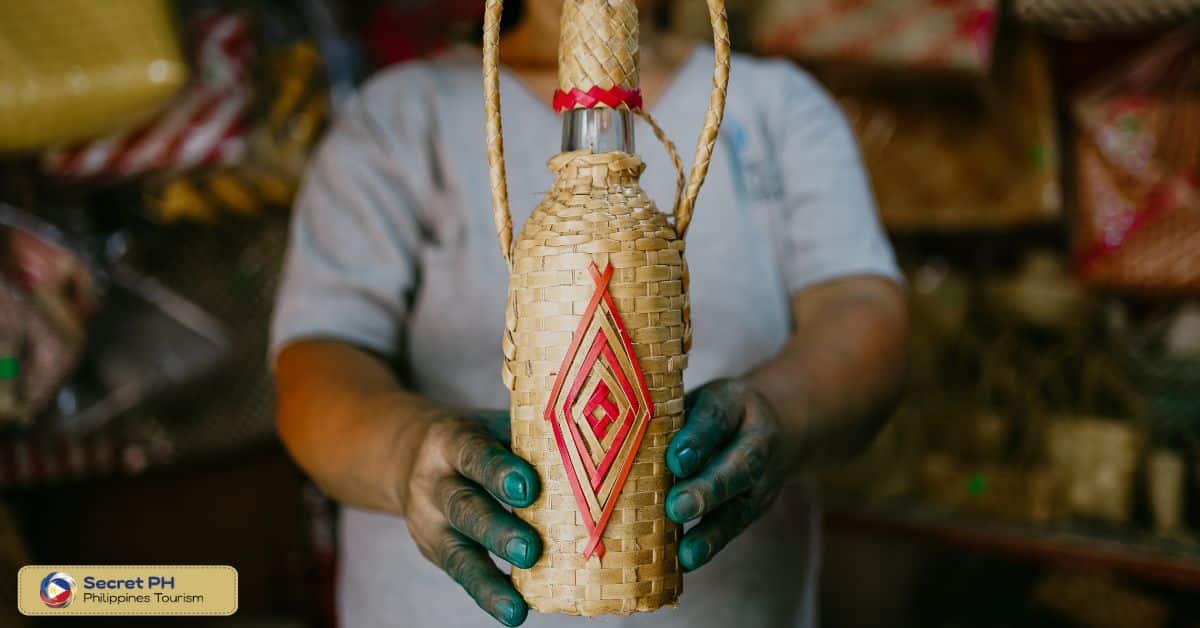 In conclusion
Visayan handicrafts are a crucial part of the region's cultural heritage and play an essential role in its economy. Whether it be weaving baskets, making pottery, or creating intricate carvings, these traditional arts and crafts have been passed down through generations and continue to shape the culture of the Visayan people. It is important