Filipino weaving and textiles are a testament to the country's rich culture and heritage. Each piece tells a unique story, featuring intricate designs and vibrant colors that reflect the country's natural beauty. From traditional fabrics like the T'nalak and Inabel to modern interpretations of weaving techniques, exploring the world of Filipino textiles is a fascinating journey of discovery.
As you delve into the depths of this complex art form, you will discover a timeless beauty that captivates the eye and lingers in the heart. Embark on this journey with us and explore the intricacies of Filipino weaving and textiles!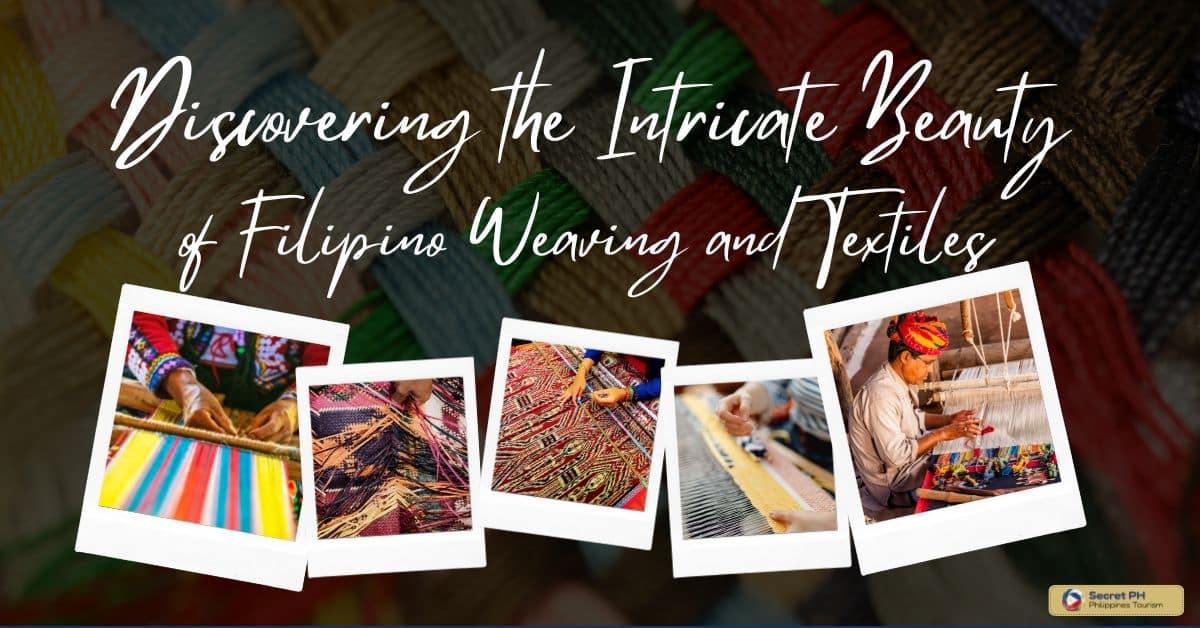 Filipino Weaving and Textiles
Philippines weaving and textiles are the pride of Filipino culture. The intricate designs that adorn traditional clothing and accessories were created using a variety of weaving techniques. It was  passed down through generations. Weaving is often used to symbolize celebrations, create pieces of art, and express devotion. The Philippines is especially known for its hand-woven Piña cloth which is made from pineapple fibers.
This unique textile is revered for its high strength, durability, and soft texture. The Philippines are increasingly becoming the hub for modern textile creation with the emergence of natural dyeing. They use locally sourced plants versus synthetic dyes that are usually found in other regions. Philippines weaving and textiles are not only a pride to the nation but also symbols of world renowned creativity and quality craftsmanship.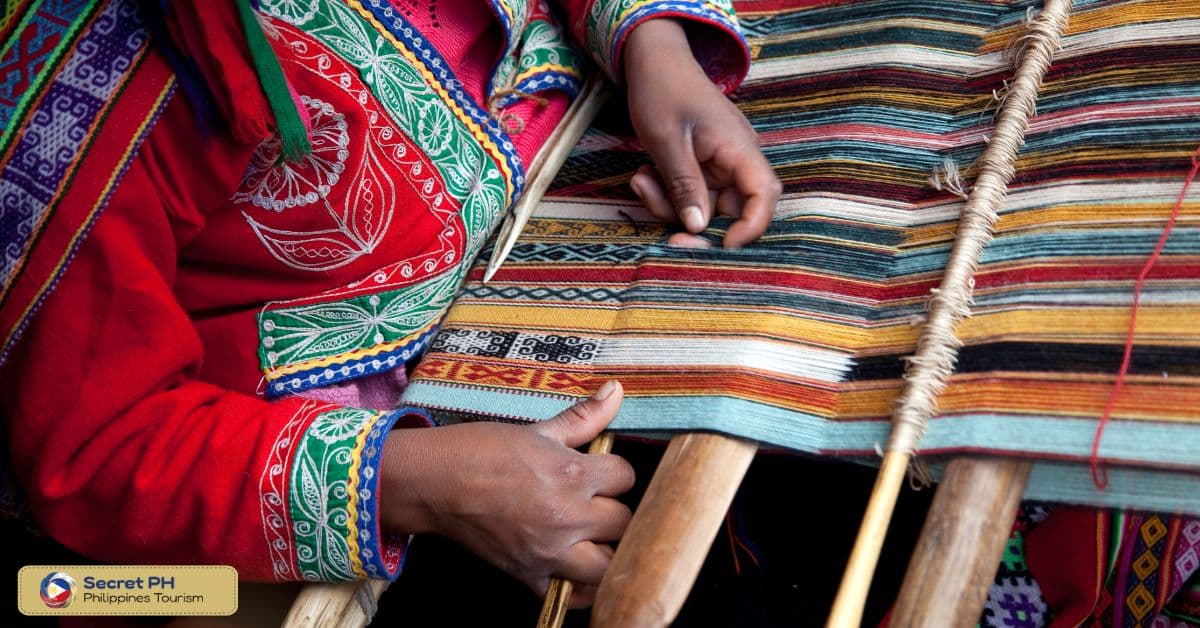 Traditional Weaving Techniques in the Philippines
Philippines is known for its unique cultural history, and traditional weaving techniques are an important part of that. Weaving has been a part of Philippines culture for several centuries. Today, the country is well known for its unique traditional weaving styles. Different regions have their own specific weaving methods, often passed down through generations of local artisans. These weavings can be very intricate and include bright colors.
Backstrap Loom Weaving
Backstrap Loom Weaving is an intricate weaving technique used in the Philippines for clothing and textile. This traditional form of weaving centers around a rectangular loom that is attached to a post or a sturdy tree, with cords held in place between the weaver's body and the loom frame it creates tension, enabling the weaver to have superior control over the fabric.
This tedious process involves countless hours picking individual colored threads, each one measuring only .2 millimeters long, and then carefully aligning section after section. The complexity of this skill is immense, taking years of dedication and practice to master. Backstrap Loom Weaving has been practiced in Philippines for centuries.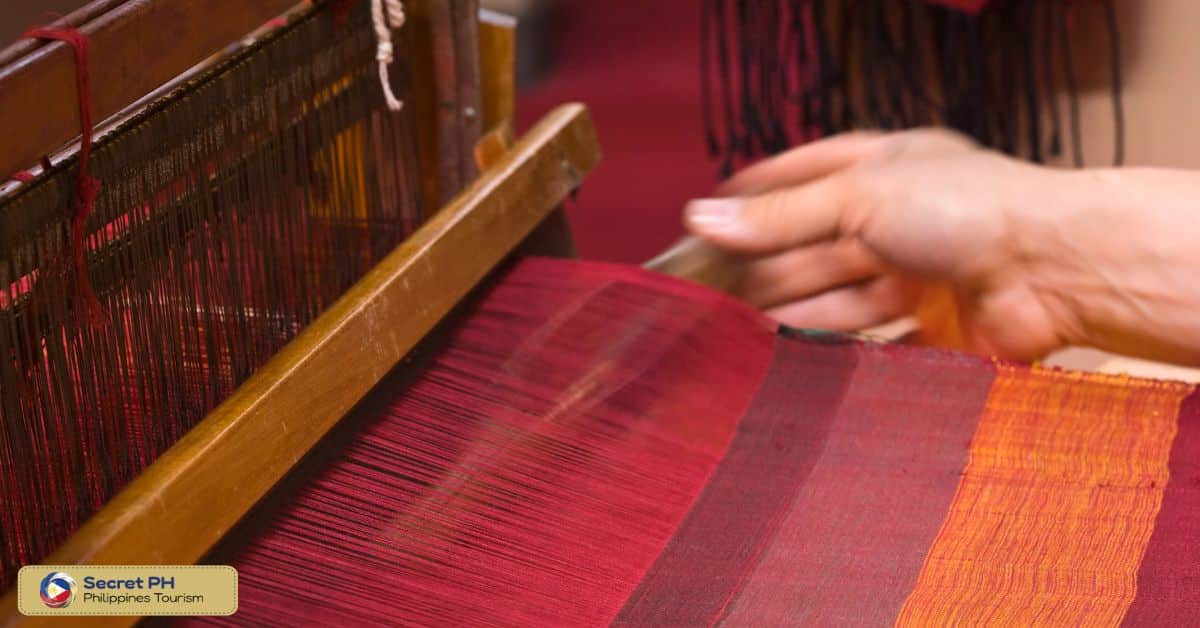 Foot Loom Weaving
Foot Loom Weaving is a traditional weaving technique used in the Philippines for centuries. This art of textile crafting is one that requires precision and patience, as each yarn is carefully placed by hand with needle or shuttle to produce amazing fabrics from silk and cotton. The fabric is created on a foot loom, which has two frames holding the end warp threads while a peddle presses down on the weft thread. This traditional weaving technique made its way through generations, preserving the culture and heritage it brings with it. It was recognized as an Intangible Cultural Heritage of Humanity in 2015 and continues to be practiced today.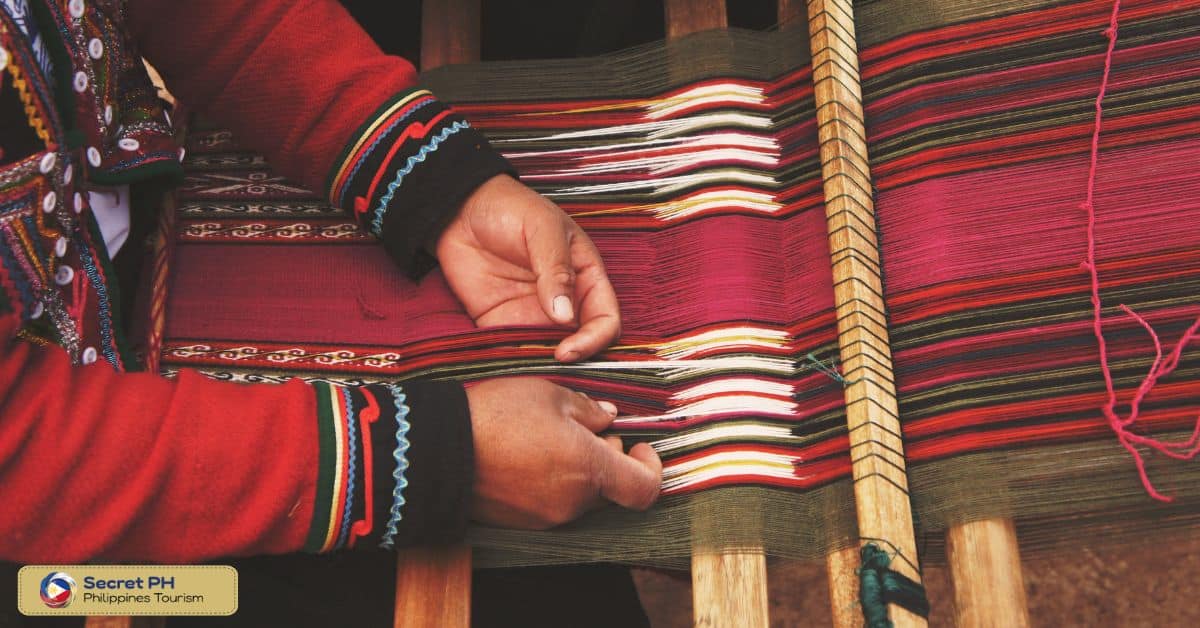 Basket Weaving
Basket weaving is a traditional form of craftsmanship in the Philippines that has been passed down over generations. It involves intertwining multiple kinds of materials such as rattan, jute, abaca, and other fibers. These weave techniques vary greatly based on the style and region; some common styles are sinamay, curved rattan weave, hexagon twill weave, and many more. The Philippines has a long history of basket weaving which can be traced back to the 18th century when it was part of diverse cultures. Today it is still an important part of their culture as many local artisans rely on this form of craftsmanship.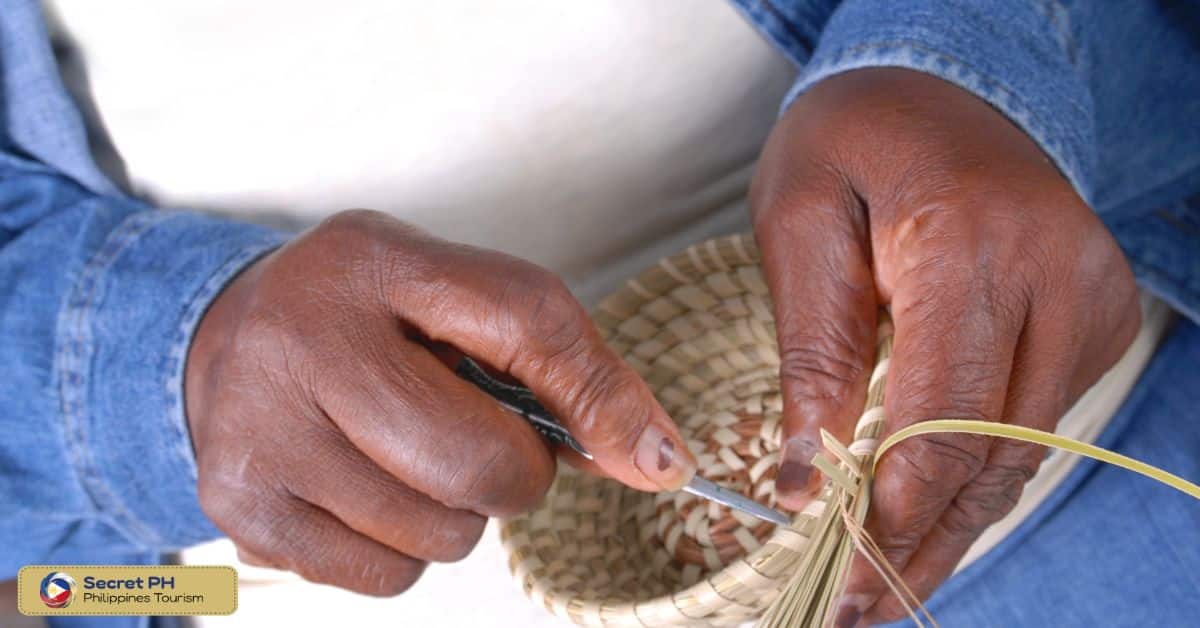 Mat Weaving
Mat weaving has been a traditional form of Philippines culture for centuries. The most popular material used to craft these intricate mats is Pandan. With this, highly skilled artisans can begin the complex craft of interweaving small pieces of Pandan into larger mats. By braiding and looping the thread by hand, they create beautiful patterns. The skill has evolved making weaving an important part of Philippines identity with artisans creating intricate textiles in vibrant colors and captivating designs.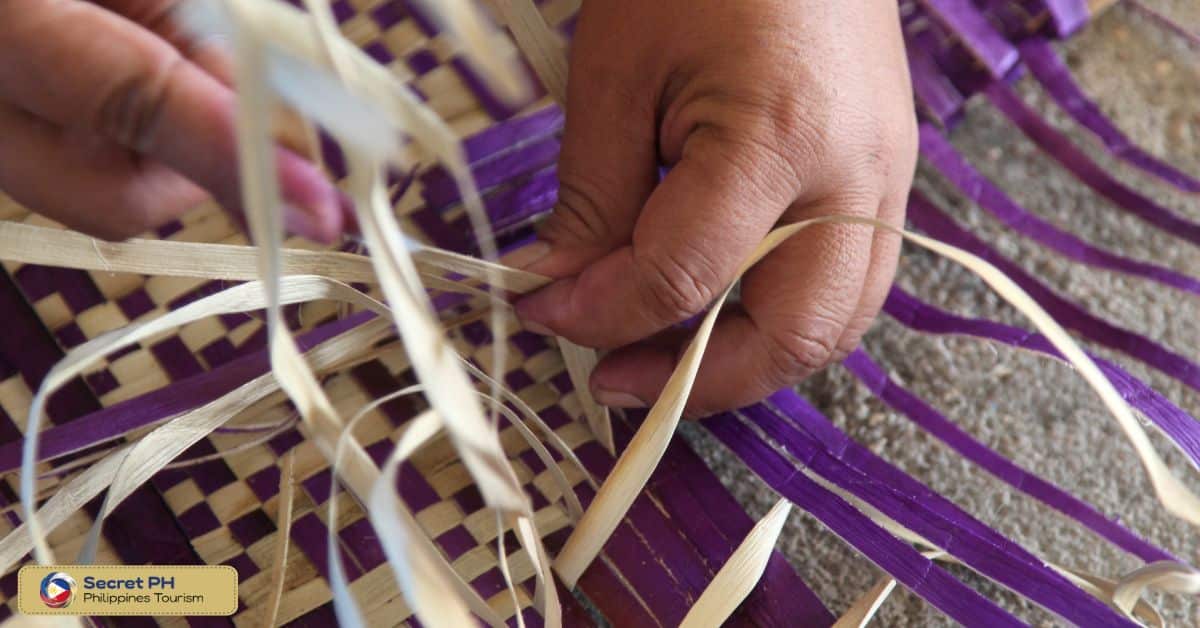 The Different Types of Filipino Weaving and Textiles
The Philippines is home to an array of intricate weaving and textiles. From the T'nalak fabric, created by the T'boli tribe in Mindanao, to the brightly coloured fabrics of the Ilocos Region. raditional Filipino weaving and textiles come in varied forms and materials. Each type has its own specific style, motifs and colours which reflects centuries-old cultural perspectives and beliefs that continue to be passed down from generation to generation. As such, these crafts are more than just aesthetic pieces. They represent Filipino culture in a very tangible way that can be seen across the Philippines even today.
Inabel
Inabel is a type of tapestry woven by the folk weaving communities of the Philippines. This textile is known for its colorful plaid pattern and "abay" geometric design, which originally came from Ilocos neighborhoods. Every piece of Inabel has its own unique colors and patterns, giving it an eye-catching visual look that is unmistakable in any setting.
It is made from natural materials like cotton and hemp, to ensure it's ability to last with frequent use. Its intricate patterns are the result of dedicated weavers who take pride in their craftsmanship, showing off their impressive skill level that has been passed down throughout generations.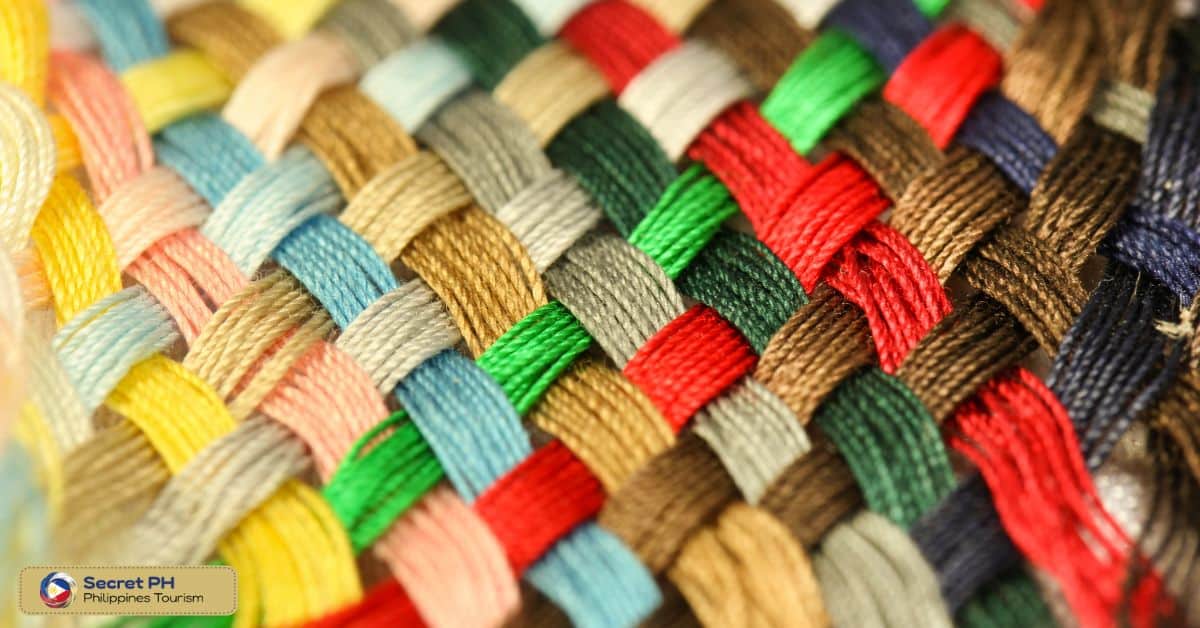 T'nalak
T'nalak is an important weaving and textile tradition originating in Philippines. It is created through a unique method of abaca fiber extraction, which gives this fabric its distinctively strong, durable qualities. Depending on the designs used, t'nalak can have cotton or spun yarn warp patterns that are intricate or ultimately simple.
The weavers involved are indigenous people known as artists who create these textiles based on their own interpretations of dreams brought to them by their gods. This makes each T'nalak piece a one-of-a-kind masterpiece that not only adds color and beauty to any setting, but also speaks to Filipino cultural values.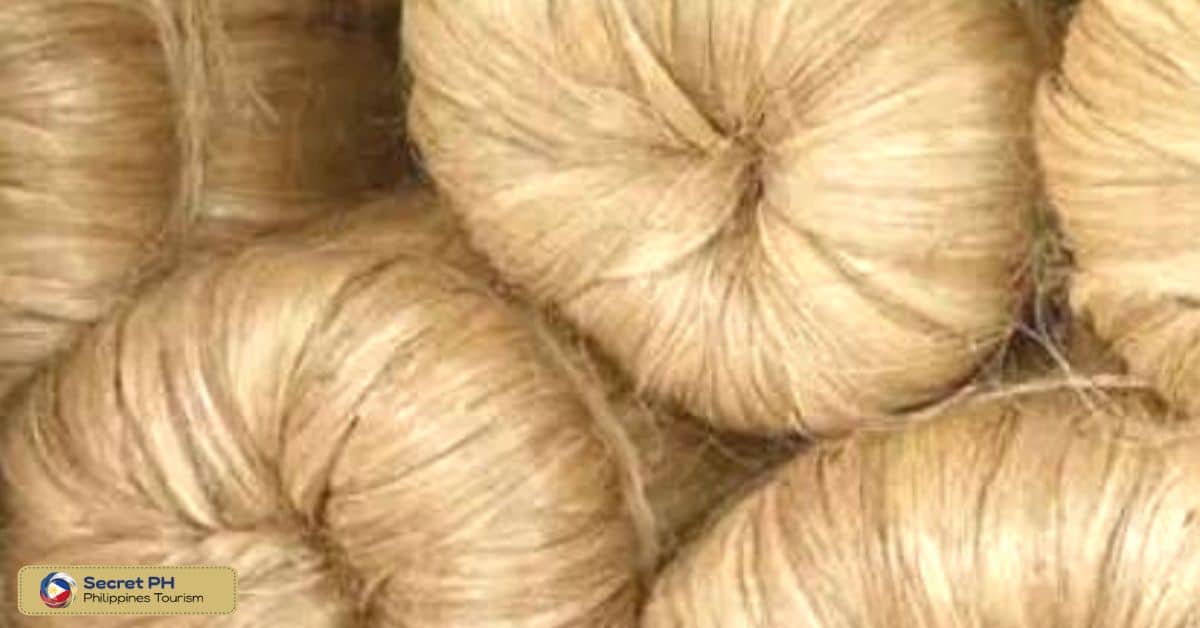 Banig
Banig is an intricate form of weaving practiced in the Philippines that has been handed down through generations. Traditionally made of pandan leaf, banig is a woven mat popularly used as bedding or floor covering in rural areas. Today, it is also crafted out of abaca, bamboo, and other materials such as sea grass, newspaper and fabric strips.
Its intricate patterns are made by interlacing strands of the material to create a striking texture and are distinctive enough to assign personalities to its individual pieces. With many different sizes available and in various types of geometrical patterns plus bright colors that look as if they were painted on the banig's surface, it has become increasingly popular for various uses both practical and decorative.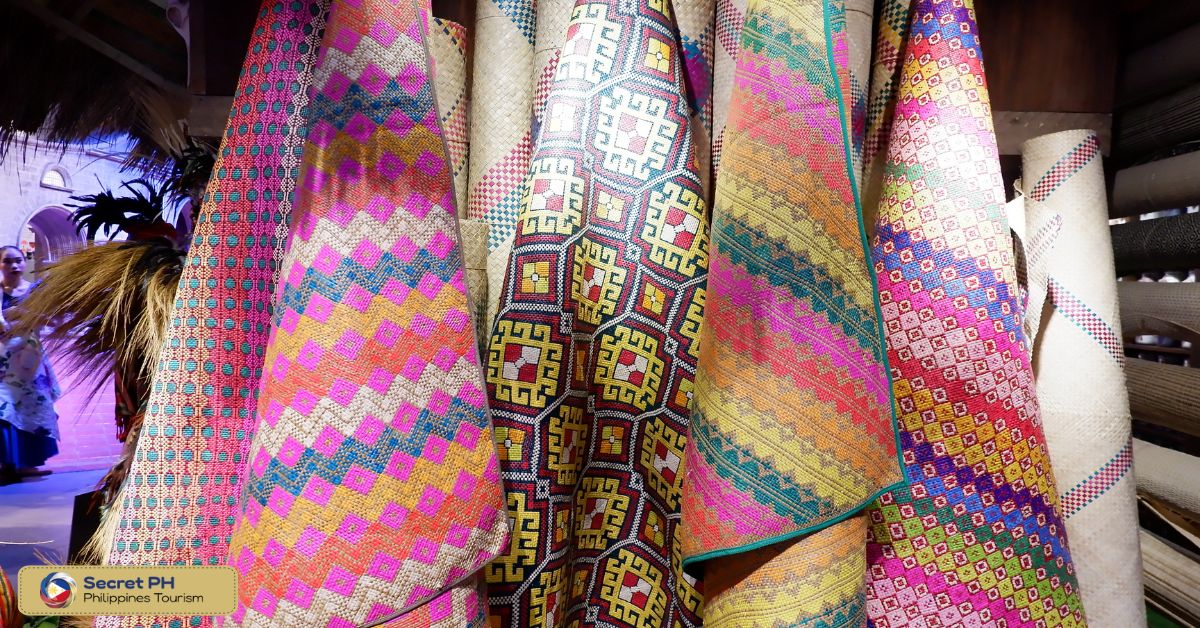 Hablon
Hablon, originating from the Philippines, is a type of weaving and textile pattern that serves both utilitarian and aesthetic purposes. This traditional technique results in beautiful and intricate designs as yarns are woven together with bright colors and geometric motifs. Hablon artisans use different materials, including cotton, jute, silk, taffeta or mohair to create these intricately crafted pieces.
The weaving process starts out by drawing simple geometric shapes on the loom which will then be transformed into stunning patterns. After the yarn is dyed, the weft or row of horizontal strings are interlaced with the vertical warp strands to yield beautifully created patterns that have been around for centuries. With Hablon, not only can you create unique clothing or accessories but also turn everyday spaces into works of art.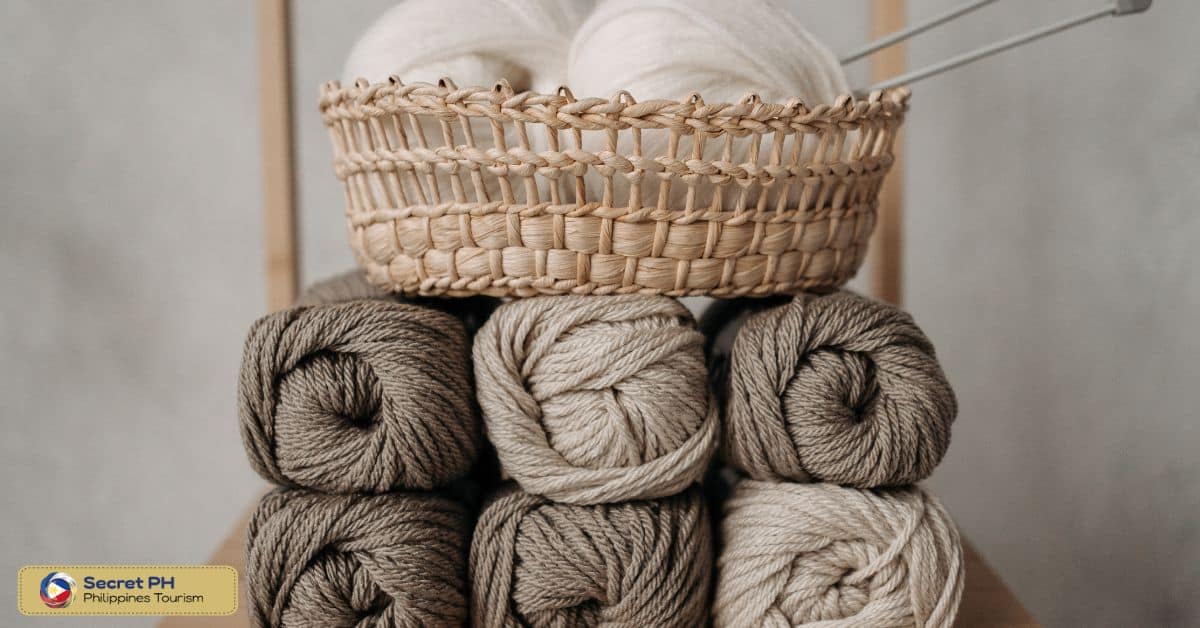 Piña
Piña is a type of weaving and textile that originates from the Philippines. This elegant fabric has been around for centuries, used to create the traditional Barong Tagalog and wedding dresses. The most distinct characteristic of piña is its delicate texture, with some sheen from the natural pineapple fibers.
It usually features dainty floral motifs, such as hibiscus, rosettes, lilies or calachuchi flowers, on a plain whitish background- making it suitable for formal occasions. Today, you can find this fine material created into clothing items such as shawls and blouses or even home décor pieces like curtains and table runners.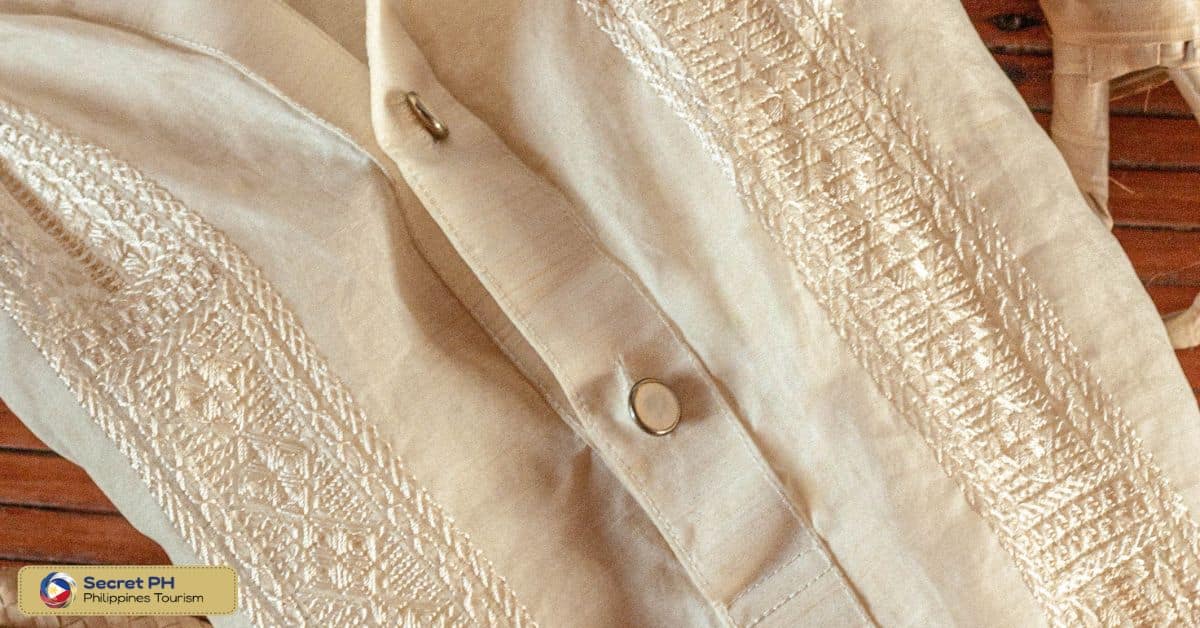 The Process of Filipino Weaving and Textiles
For centuries, Philippines' hand weaving and textile process has been a craft that is passed down from generation to generation. Handcrafted cloth or sinameki involves intricately carefully placed individual threads to be tied together with wooden sticks. This method of weaving results in the most beautiful traditional textiles found in Philippines, featuring original design and reflection of their rich culture and history. Apart from hand weaving, Philippines is also known for their more contemporary textile process using a loom machine that is fast and efficient.
Preparation of Materials
Preparation of materials is an essential aspect of traditional Filipino weaving and textile production. This process entails refining the raw wool, cotton, abaca, or any other fiber that is used in crafting the intricate designs. A weaver usually begins by soaking the materials overnight to ensure that they are soft enough to be handled efficiently.
From there, the material is placed up on a spinning wheel where it is spun into thread so it can be easily worked with during the weaving process. Once ready, the traditional patterns and motifs can then be woven together according to centuries-old techniques which results in beautiful pieces of textile art.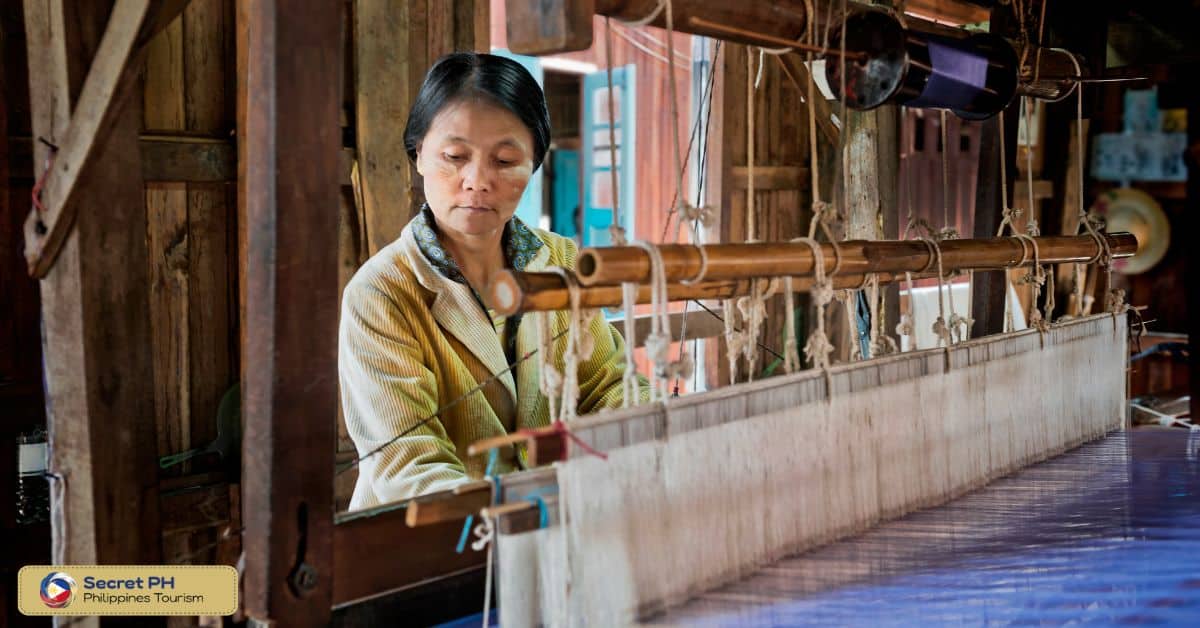 Spinning
Spinning is an important process in the traditional weaving of textiles in the Philippines. It involves creating yarn or thread from raw material, This includes cotton, wool, and silk. Through a series of manual steps, which includes spinning the fibers into yarn on a spinning wheel. The raw materials are transformed into even and usable threads for weaving.
This process has been practiced for centuries across cultures and remains one of the main ways cloth is created by hand. Each step involved with spinning has its own set of techniques and nuances that takes years to master and produce quality textiles.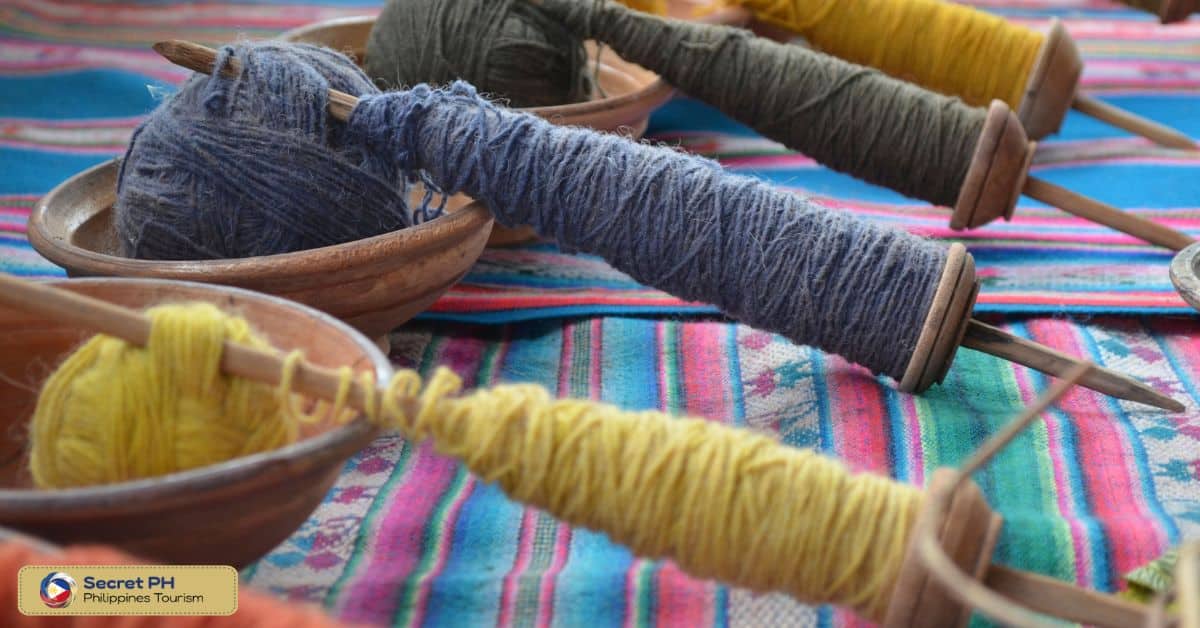 Dyeing
Dyeing is an important part of the Filipino weaving and textile tradition. It refers to the practice of applying colorants on yarn fibers. Dyes were derived from natural elements like plants, fruits, and leaves. But nowadays, synthetic dyes are more common as they are easier to use and result in brighter colors.
There are generally two techniques used for dyeing textiles. The vatting process (using a vat dyeing machine) or the hand-immersion technique (where dyes are directly skimmed onto fabrics). To ensure even dyeing results and maximum saturation levels, experts usually recommend that fabrics be boiled.
Weaving
The weaver expertly compiles fibers, threads and yarn in specific combinations. The threads are laid out along sturdy tools called loom beams. Then the creation of cloth from multiple strands of these materials begins. The weaver uses a shuttle to move back and forth between the two perpendicular axes of warp threads.
The complicated yet creative weaving process involves combining different shapes and sizes. The complimentary colors create eye-catching textiles. Oftentimes producing works that have been passed down for generations. The product is a stunning demonstration of skill, artistry, craftsmanship and history come alive in a single piece of fabric.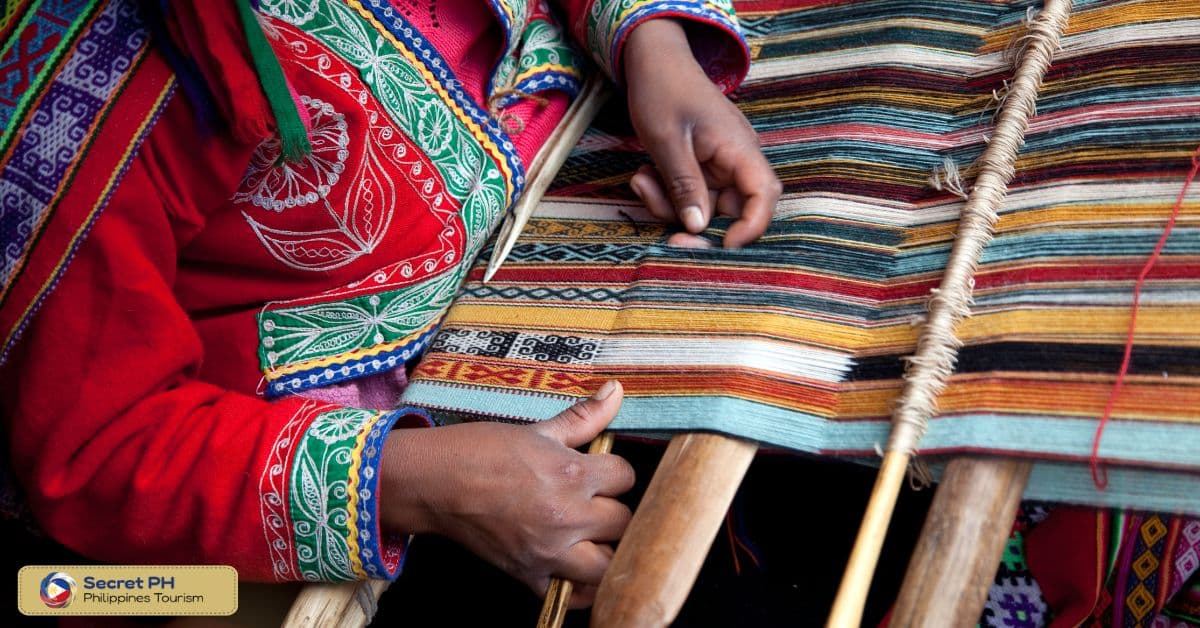 In Conclusion
Filipino weaving and textiles are wondrous works of artistry. Indigenous Philippine communities have kept the tradition of weaving alive for centuries. They pass it down their knowledge from one generation to another. These pieces not only tell stories but preserve values and cultural heritage.
Today, modern textile designers are also finding ways to combine traditional and contemporary approaches, adding value that can be appreciated by both a local and global market. The intricate craft behind these one-of-a-kind woven creations is a recognition of its true beauty.