Embarking on a journey to explore spirituality can be a transformative experience. Visiting Philippine monasteries and convents can offer a unique perspective on this journey. Discovering the history, culture, and practices of these sacred places can provide insights into the role of solitude, community, and service in spirituality.
This blog is dedicated to exploring the numerous Catholic monastic orders that can be found in the archipelago of 7,641 islands known as the Philippines. Join us as we explore this incredible part of Southeast Asia and use its beautiful religious centers as catalysts for an enhanced spiritual growth!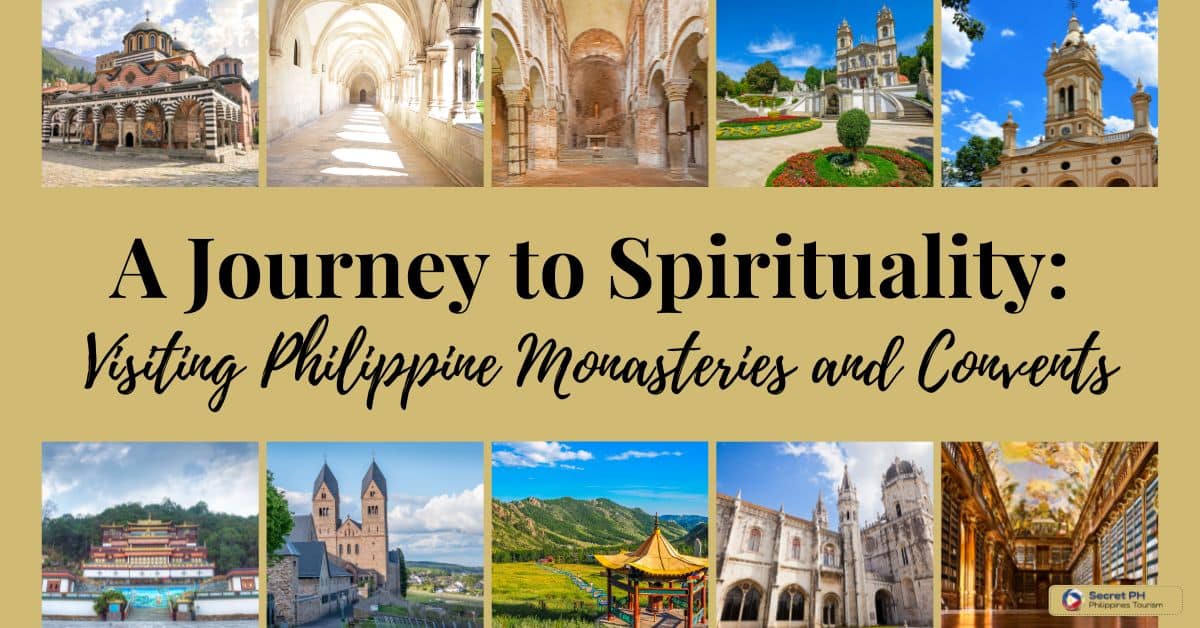 Philippine Monasteries and Convents
The Philippines is a Catholic-dominated country and its rich history of monasteries and convents are evidence of that. These buildings have been in existence since the 16th century. Many of these monasteries survive to this day. The house monks, continue to serve God through leadership in religious services, and spiritual practices.
These ancient buildings have also become tourist attractions, drawing visitors from all over the world. They marvel the antiquity while also learning more about religion and faith. Many of these historic buildings remain standing to this day, providing us with an important record of our spiritual heritage.
History of Philippine Monasteries and Convents
One of the legacies of this religious influence is the establishment of monasteries and convents. These sacred places have played a significant role in shaping the country's cultural and spiritual identity. They attract pilgrims and visitors seeking a deeper understanding of the Philippines' history and spirituality.
Origins of the establishments
The Philippines has a long history of monasteries and convents, tracing back centuries to the Spanish colonial period. These religious institutions are still very predominant in the modern-day perspective. Their origin can be traced back to the arrival of Catholicism in the 16th century. These establishments were built as chapters of The Order of Friars Minor Capuchin, Franciscan and Augustinian.
As missionaries spread their faith throughout the islands, settlements began to emerge across areas such as Quezon City, Cebu City and Cavite. The original function of the establishments was for worship, missionary work, outreach programs for the needy. Today, many of these places have been turned into museums that tell stories about beyond just its religious origins but also about Philippine culture and history.
Development in different periods
The Development of monasteries and convents in the Philippines has been long and varied. During the early periods of its history, the Spanish colonization played an important role in introducing Catholicism. As time went on, monasteries continued to spread throughout the country and gained greater influence.
During the 19th century, local churches were also established while some of them fully developed into convents. Different religious orders such as Franciscans, Augustinians and Dominicans began to arrive in larger numbers. During this period the resulting of an increased development of both monasteries and convents.
In more recent times there have been fewer additions to these religious. Many monasteries and convents still remain active across the country. Together with other places of worship such as churches and mosques, they form part of today's living culture.
Influence on society
Philippine monasteries and convents have had a strong influence over society for centuries. It showcases Filipino culture and religion in unique ways. Monasticism in the Philippines came to prominence during Spanish colonial rule. Friars were sent to bring Christianity across the region. Today, these structures can still be found in many cities.
These institutions often serve as important educational centers for children or adults who wish to learn more about Filipino beliefs. In this way, Philippine monasteries and convents play an important role in preserving the nation's history and cultural identity.
Monasteries and Convents in the Philippines
Monasteries and convents in the Philippines provide opportunities for those seeking to devote themselves to a spiritual life. These havens of prayer, service, and contemplation are highly visible throughout the region.
These spiritual sites are well worth visiting when traveling through the country, either for the chance to pray in peaceful solitude or for the educational experience.
Carmelite Monastery, Angeles City, Pampanga – Angeles City
The Carmelite Monastery in Angeles City, Pampanga is a place of spiritual solace, offering a tranquil atmosphere and the opportunity to connect with God and Nature at once. It was established by the Friars Minor Capuchin order in 1961 and is currently home to 26 cloistered nuns.
Hosting daily Mass services, the monastery also participates in other forms of religious activities such as prayer gatherings every Sunday and First Friday of the month for recitation of Rosary and Litany.  The garden is filled with peaceful pathways and breathtaking views ideal for reckoning with life's innermost questions.
Address: Sto. Rosario Street Angeles City, Philippines
Phone: (045) 3227453
Mass Schedule: Morning: 6AM – 11AM, Afternoon: 12:15PM – 5PM, Evening: 6:15PM – 7:30PM
Monasterio de Tarlac, Church Of The Risen Christ – Tarlac
The Monasterio de Tarlac (also known as the Church of the Risen Christ) is a grand example of Filipino revival architecture. This beautiful building dates back to 1894 and has stood proudly ever since.
Its impressive façade combines classical elements from both Spanish periods as well as local architecture. Inside, intricate ceramic tiles adorn its walls and floors, coupled with stained-glass windows that allow for a magical light throughout the day.
Address: CCPJ+JF9, San Jose, Tarlac
Opening Hours: Monday – Sunday, 7AM – 6PM
Phone:  (045) 493 3002
Mass Schedule: Monday – Friday, 6AM – 10:30AM, Saturday – Sunday, 10:30AM – 3:00PM
Little Souls Sisters Convent, Tagaytay City
Little Souls Sisters Convent, located within Tagaytay City, is a tranquil and serene location for those seeking spiritual guidance. Focusing on providing the best insight and understanding to the Christian faith.
This unique convent provides accommodations for visitors – allowing guests to receive full four-day programs of talks. This site has a chapel that can now accommodate up to 100 people for a service.
Address: 4W4H+879, Tagaytay, Cavite
Opening Hours: Monday – Saturday, 6:30 AM – 5PM, Sunday 7:30AM – 5:30PM
Phone:  +639171178389
St. Benedict's Monastery
St. Benedict's Monastery in Davao is a peaceful oasis tucked away in the bustling city. Located atop a hill on Mount Apo, the monastery offers breathtaking panoramic views. Established in 2005 by the Order of St Benedict, the monastery has become a crucial part of life for the locals.
The monks here offer guidance to visitors by leading service every Sunday and hosting silent retreats. With its serene atmosphere, St. Benedict's Monastery provides an opportunity for individuals to connect with themselves and peaceful surroundings.
Address: St. Benedict's Monastery, Digos City, Davao del Sur
Opening Hours: Monday – Saturday, 8AM – 5PM, Sunday 9:30AM – 5PM
Phone: (082)5537009
Mass Schedule: Monday – Saturday, 4:30AM, 7:30AM, 7PM, Sunday 8:15AM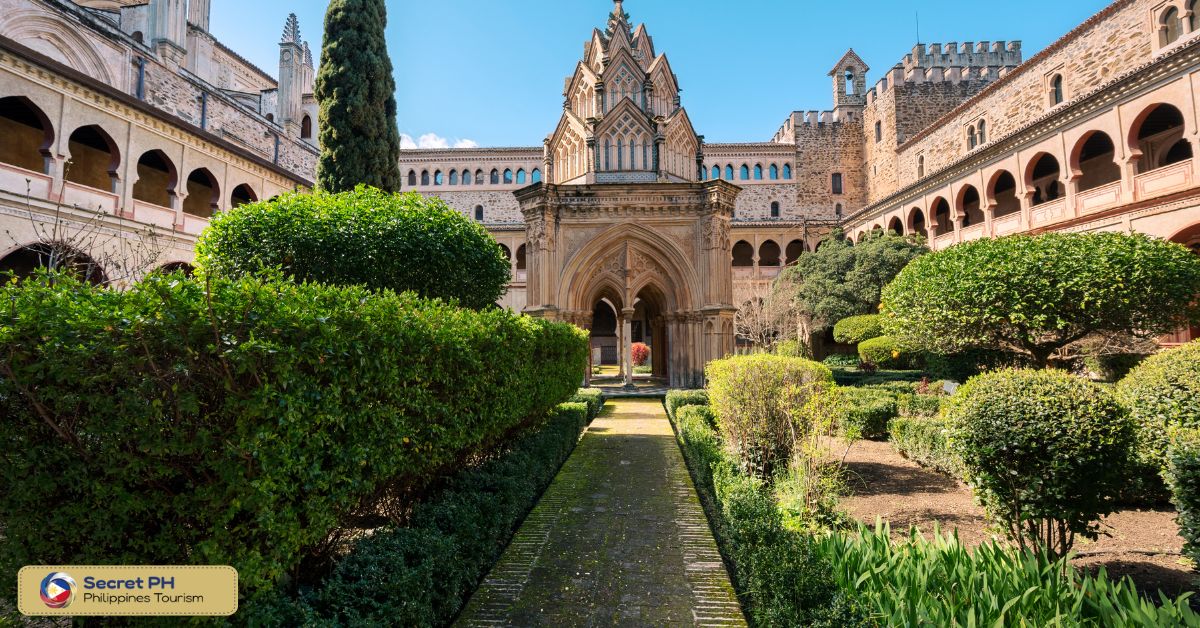 Visiting Monasteries and Convents
Visiting monasteries and convents can be a powerful and eye-opening experience. Although these locations are typically closed off to most members of the public and dedicated to peace and quiet. There is no denying the spiritual significance of such places and the wonderful opportunity they present for visitors.
Preparations for a visit
Planning a visit to monasteries and convents is a great way to explore history, religion, and culture. Before embarking on the journey it is important to do the necessary research, as visiting such places may require specific dress codes or regulations.
Being aware of local customs and laws should also be considered to ensure safety and respect for the area visited. If possible it is advised to bring along a guide as they can provide a more authentic experience with local knowledge about the destinations.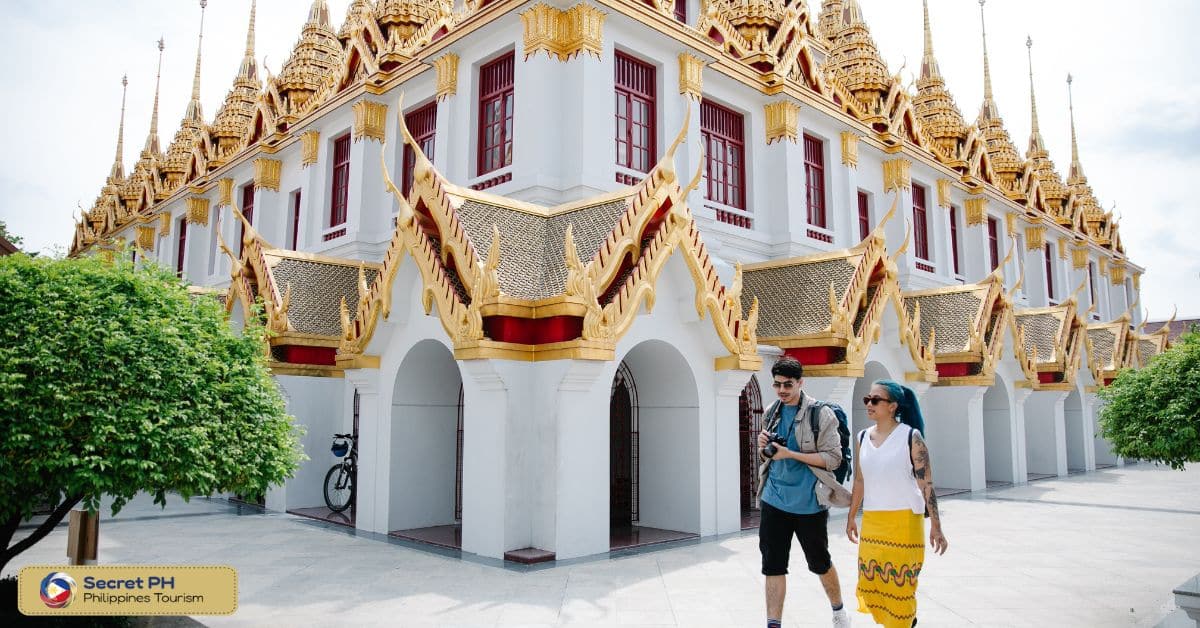 Types of activities to do while there
To make the most of such visits, consider researching some traditional activities or tours to partake in while visiting these unique places. Consider guided walks around major sights, and meditation sessions led by experienced practitioners.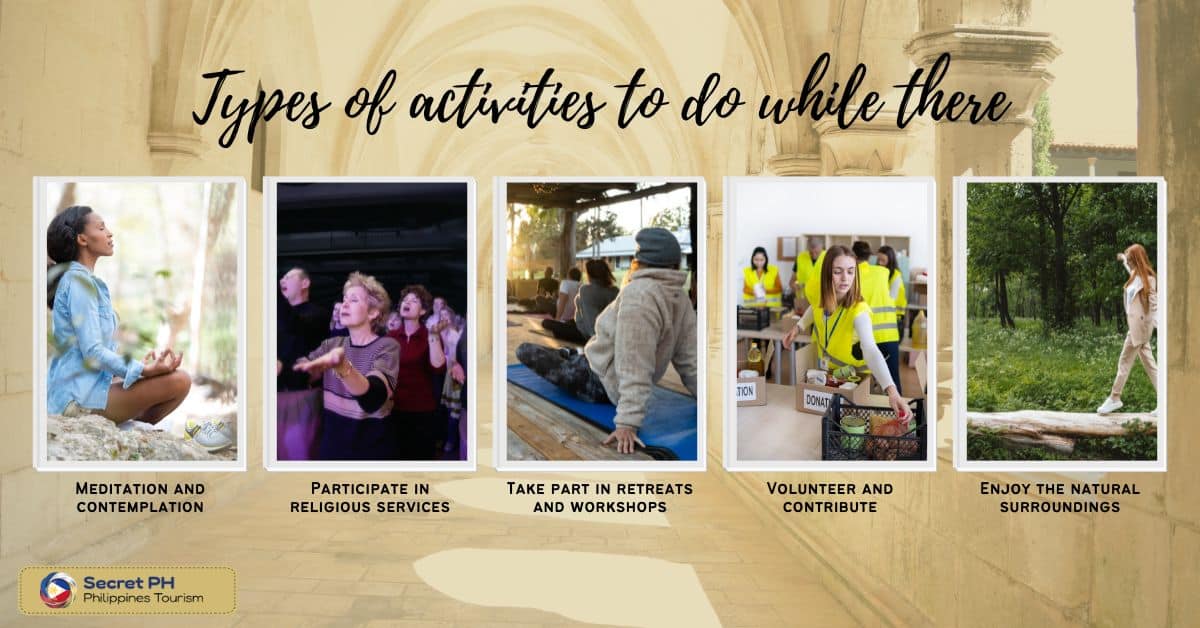 Meditation and contemplation – Monasteries and convents are often places of spiritual retreat, and a common activity is meditation or contemplation. Many of these places have quiet spaces for reflection and prayer, and visitors can spend time in silence, focusing on their spiritual practice.
Participate in religious services – Monasteries and convents are places of worship, and visitors can attend religious services or ceremonies. These may include Mass, Vespers, or other services depending on the denomination.
Take part in retreats and workshops – Many monasteries and convents offer retreats and workshops for visitors. These can range from silent retreats for meditation and reflection, to more active workshops on topics such as yoga, mindfulness, or creative writing.
Volunteer and contribute – Many monasteries and convents rely on the support of volunteers to maintain their buildings and grounds, as well as provide services to the community. Visitors can volunteer their time to help with tasks such as gardening, cooking, or cleaning.
Enjoy the natural surroundings – Monasteries and convents are often situated in beautiful natural settings, and visitors can enjoy the peaceful surroundings. Taking walks, hikes, or simply sitting outside and enjoying the scenery can be a relaxing and rejuvenating activity.
Tips for visitors
To get the most out of such a visit, reading up on monastery or convent etiquette beforehand is advisable. With these tips in mind, one is set to explore new horizons with a newfound appreciation for what awaits them among Monasteries or Convents around the world.
Respect the rules and customs: Monasteries and convents often have specific rules and customs that visitors are expected to follow. These may include rules around dress, behavior, and the use of electronic devices. It's important to respect these rules and customs as a sign of respect for the spiritual community that calls the monastery or convent home.
Be mindful of noise and disturbance: Many monasteries and convents are places of quiet contemplation, and visitors are expected to be mindful of their noise level and avoid disturbing the peaceful atmosphere. This may mean speaking softly, refraining from using electronic devices that emit sound, and being mindful of your surroundings.
Ask permission before taking photographs: Monasteries and convents are often places of spiritual significance, and some areas may be off-limits to photography or videography. It's important to ask permission before taking any photographs, and to be respectful of any rules or restrictions around photography. Additionally, some communities may prefer that visitors refrain from taking photographs altogether, so it's always best to ask first.
Benefits of Visiting Monasteries and Convents
Visiting ancient monasteries and convents can be an incredible experience. Not only provides a wealth of knowledge about the spiritual beliefs and practices of centuries past, but also offers visitors a chance to reconnect with their faith.
The architecture, and prayers of these sites still hold deep cultural significance. By spending time absorbing all that these places represent, visitors are able to reap the benefits of connecting with their deeper spiritual nature. Admire gaining valuable insights into history, culture and different cultures' ways of life.
Understanding of spirituality
Living among devotees of faith, both lay and monastic, is a great way to observe and understand faith. With solemn reflection and moral guidance, it offers an insight into the spiritual ideals that they strive for.
Monasteries and convents tend to have peaceful surroundings that provide a conducive atmosphere for quiet contemplation, prayer, and meditation. The serenity of these places offer an ideal environment to deepen one's understanding of spirituality while at the same time allowing space for spiritual orientation.
Reconnection with nature
Visiting monasteries and convents in the Philippines is a great way to reconnect with nature and yourself. Not only can you enjoy the gorgeous scenery surrounding these religious buildings, but you can also take advantage of the spiritual benefits they provide. Monasteries tend to have a feeling of peace and tranquility, allowing visitors to take a step back from their busy lives and relax surrounded by nature.
Convents often offer spiritual guidance through one-on-one or group sessions aimed at helping visitors find inner peace. With plenty of opportunities for exploration and activities both inside and outside, visiting monasteries or convents can be an excellent way to decompress from life's distractions while simultaneously connecting more deeply with nature.
Reflection on life's purpose
A visit to Philippines monasteries and convents is a deeply enriching experience that can give insight into one's purpose in life. These places offer peace and contemplation as well as guided meditation, they also provide nourishment for the soul and an opportunity to tap into the sources of spiritual growth offered by religion.
Such a stay can bring clarity to beliefs, enabling someone to reflect on life's true purpose and help make sense of its journey. For those who are stuck in a rut or at a crossroads, visiting Philippines' monasteries and convents may be just the thing needed to open up new possibilities or find inner peace.
In Conclusion
A visit to Philippines monasteries and convents offers an unparalleled opportunity to explore a spiritual path and gain deeper insight into the Philippines' culture. The accommodations bring visitors closer to the centuries-old traditions practiced inside the monastery or convent walls.
The inspiring places of peace, serenity and reflection woven into the Philippines' scenic landscape and history provide a rich backdrop for contemplation. By visiting one of these locations, travelers can open up their minds and hearts to explore a journey to true spirituality – an experience they will surely never forget!